As merciless an arena the compact car niche might be, Mazda3 manages to come out on top
Overall Score 85/100
Subtly facelifted mid-way through its career, the Mazda3 hatchback and sedan undergo the same treatment as the larger, roomier but equally desirable Mazda6.
It will take an expert eye to spot the design changes on the outside, so here's a helping hand: the front grille was tweaked and the same goes for the headlights. Plus, the Mazda3 hatchback gets a new rear bumper.
Inside, the mod list is a tad longer, but nothing too overwhelming. However, Mazda worked towards better material quality – including two new types of black seat fabric – and reshaped the dashboard and steering wheel in the process.
Just like the 6, Mazda3 receives the G-Vectoring Control system and revised struts on all four corners. Also new is the forward sensing camera (bringing a wider view angle) that can detect pedestrians as well as other vehicles, thus providing a base for the Advanced Smart City Brake Support system.
Among its rivals – in a very crowded and competitive segment – we mention the likes of VW Golf, Opel Astra, Ford Focus, Renault Megane, Peugeot 308 and Nissan Pulsar.
But enough with the press release literature. We all know you're here to find out how the 2017 Mazda3 performs on the road. Below, our findings.
---
IN BRIEF
RECOMMENDED FOR:
Driving Nuts, Families, Young And Single
CREATED FOR:
Urban Driving, Winding Roads
HATS OFF FOR:
Ergonomics, Road Handling
---
DRIVE
Powertrain 9/10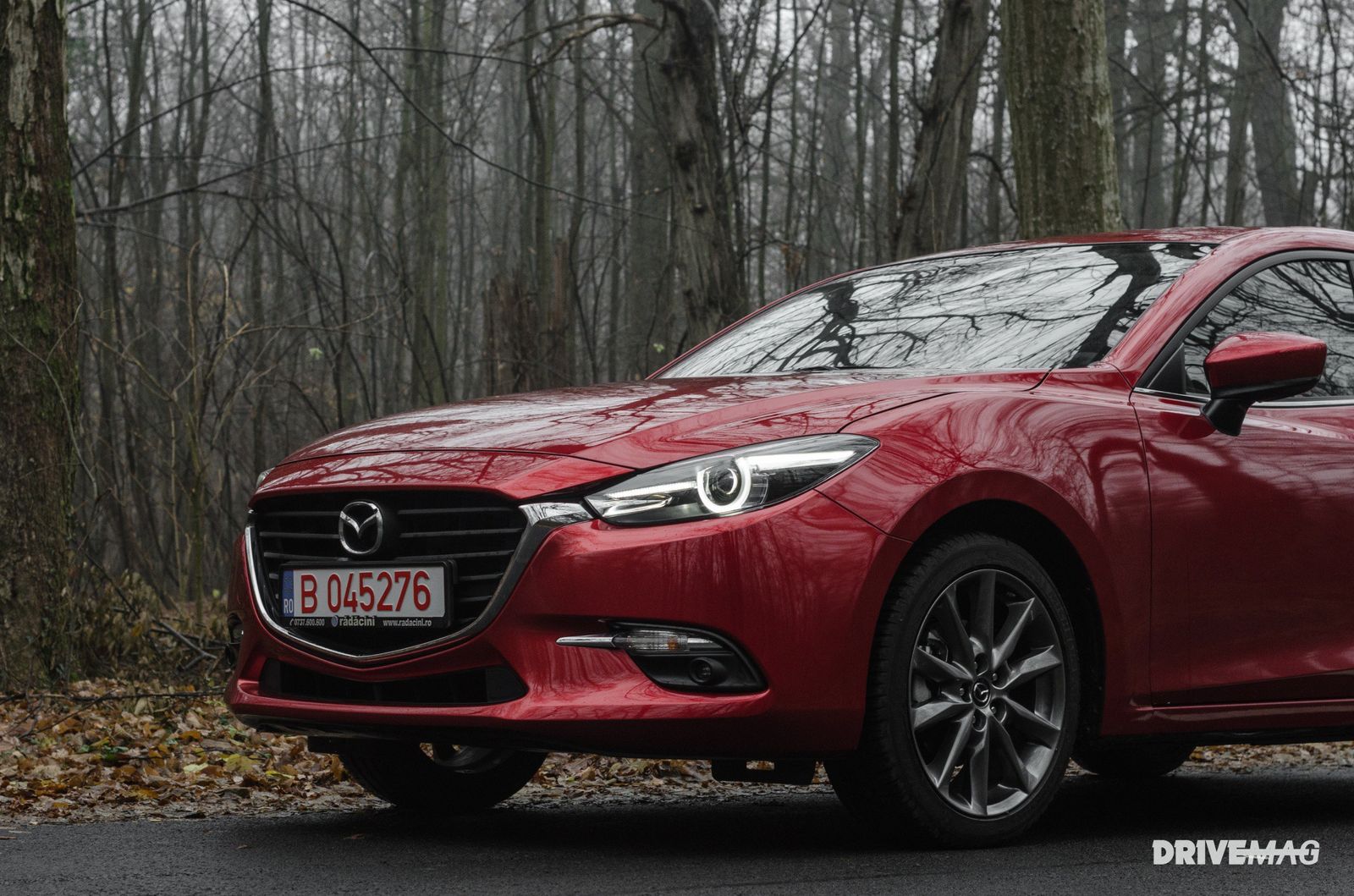 The four-cylinder, 2-liter, 118 hp Skyactiv-G powerplant is what the level-headed buyer ticks in the Mazda3 configurator. Its offerings are on par with the Mazda3's personality and performance needs – plus, it won't disappoint you on the acoustic front, so again, I'd say it fits the 3 like a glove.
Moreover, the slick six-speed gearbox enjoys (and lures you towards) a proper manhandling now and then. Combined with what's under the hood it forms, perhaps, one of the most entertaining engine-transmission couple found inside a compact hatchback, excluding hot hatches of course.
---
Handling 10/10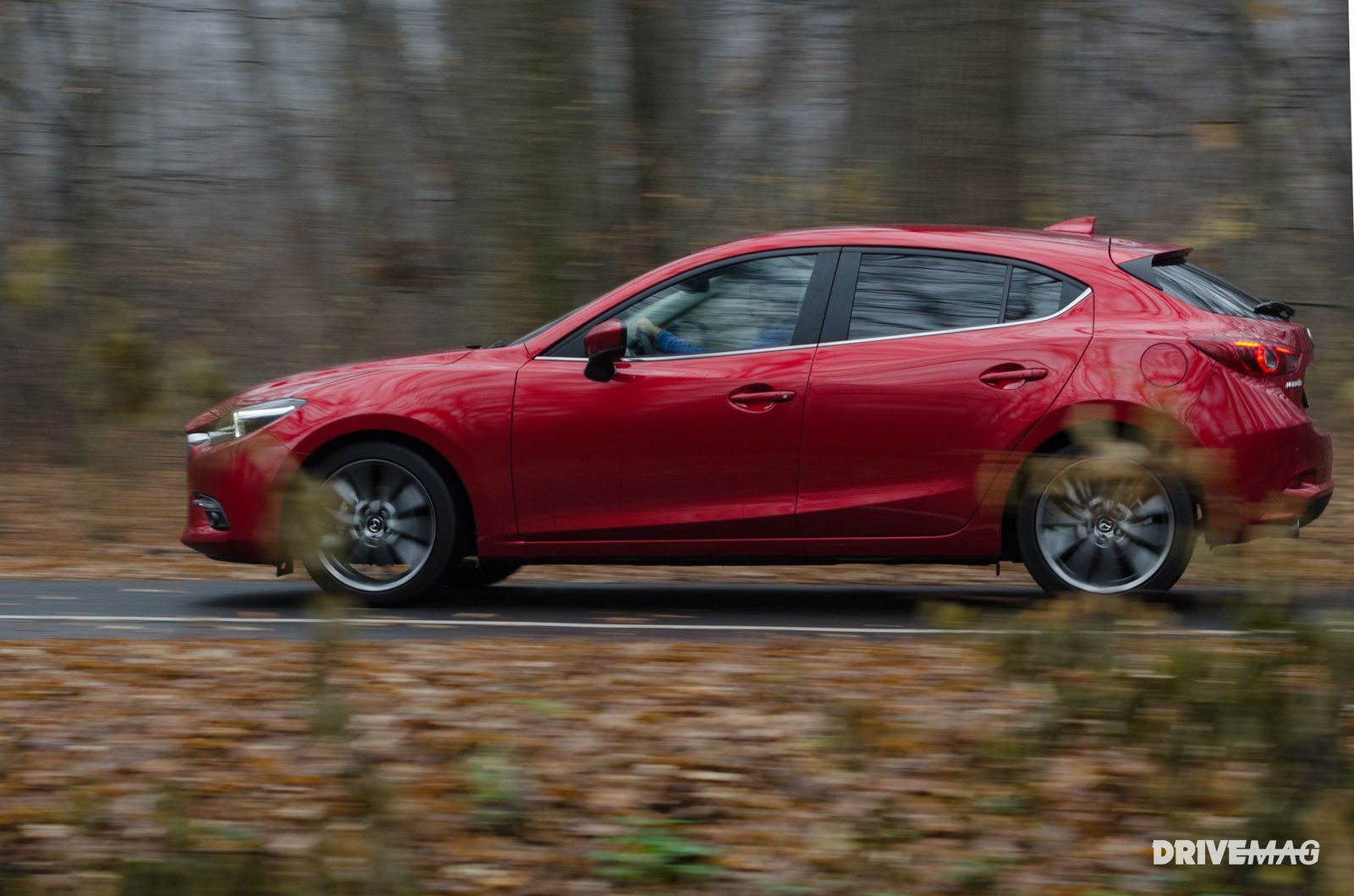 I've always said that the widely-praised on-the-road behaviour displayed by Mazda's line-up is a hint that the same carmaker builds a car named MX-5. You can spot variable doses of Miata sportiness inside the CX-5, but they're more pronounced for the Mazda6 and Mazda3.
The latter handles like a FWD BMW and while some might hold some grudges against the stiff-ish suspension, I've come to learn its ways and get used to it, helped by its silence while traveling over cheeky bumps and potholes. Which of course, are easy to slalom through since the steering wheel is your arms' extension.
---
Safety 9/10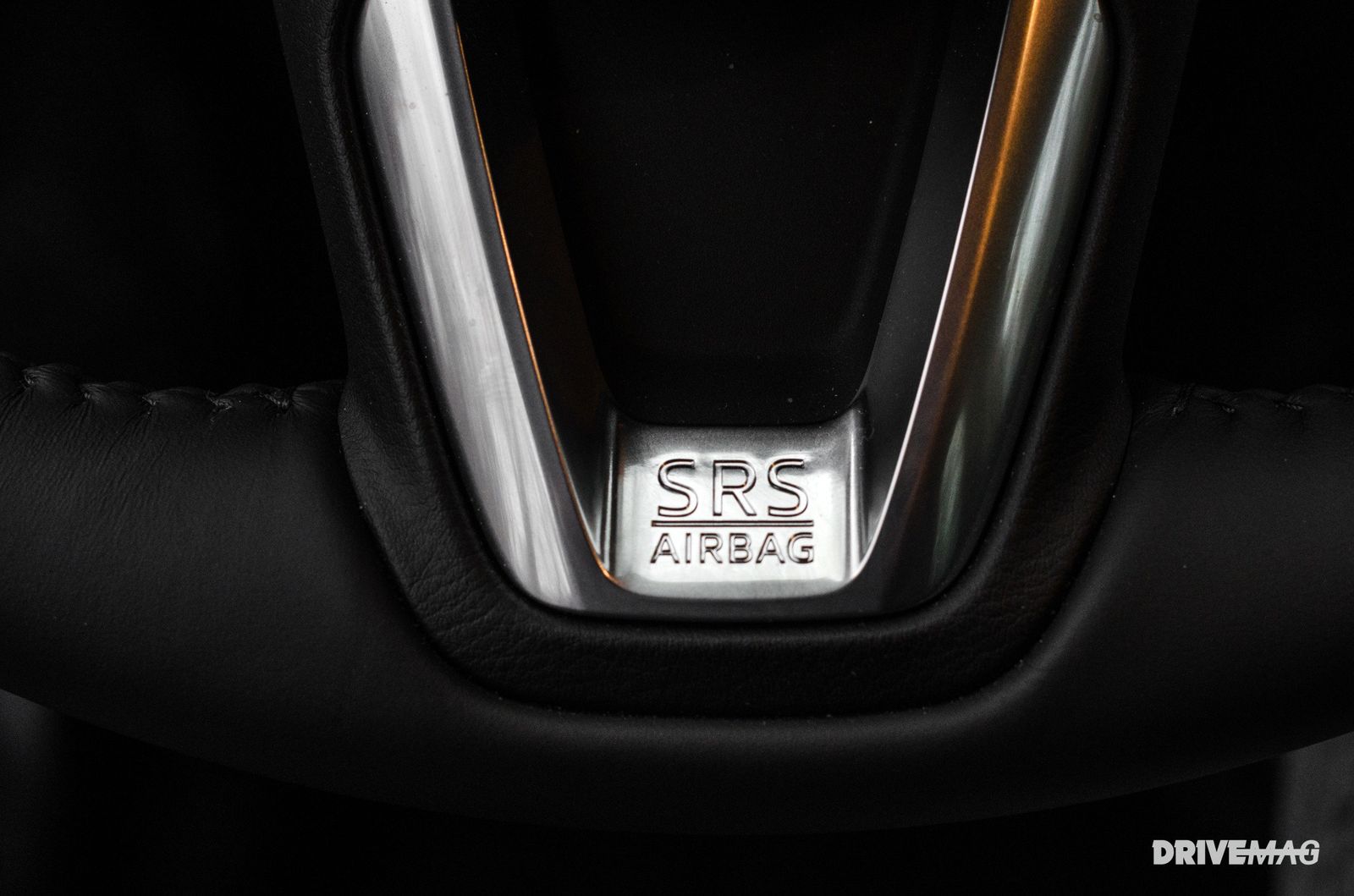 A flawless five-star performance during Euro NCAP's crash tests back in 2013 (that's the pre-facelift model, but the revised one hasn't suffered structural modifications) should put buyers' worries at ease.
But if that's not enough to induce peace of mind, then they should know that each facelifted Mazda3 has six airbags – dual front, side and curtain – seconded by ABS, EBD, dynamic stability control, hill launch assist and new for the 2017 model, Mazda's G-Vectoring Control system.
---
INTERIOR
Comfort 8/10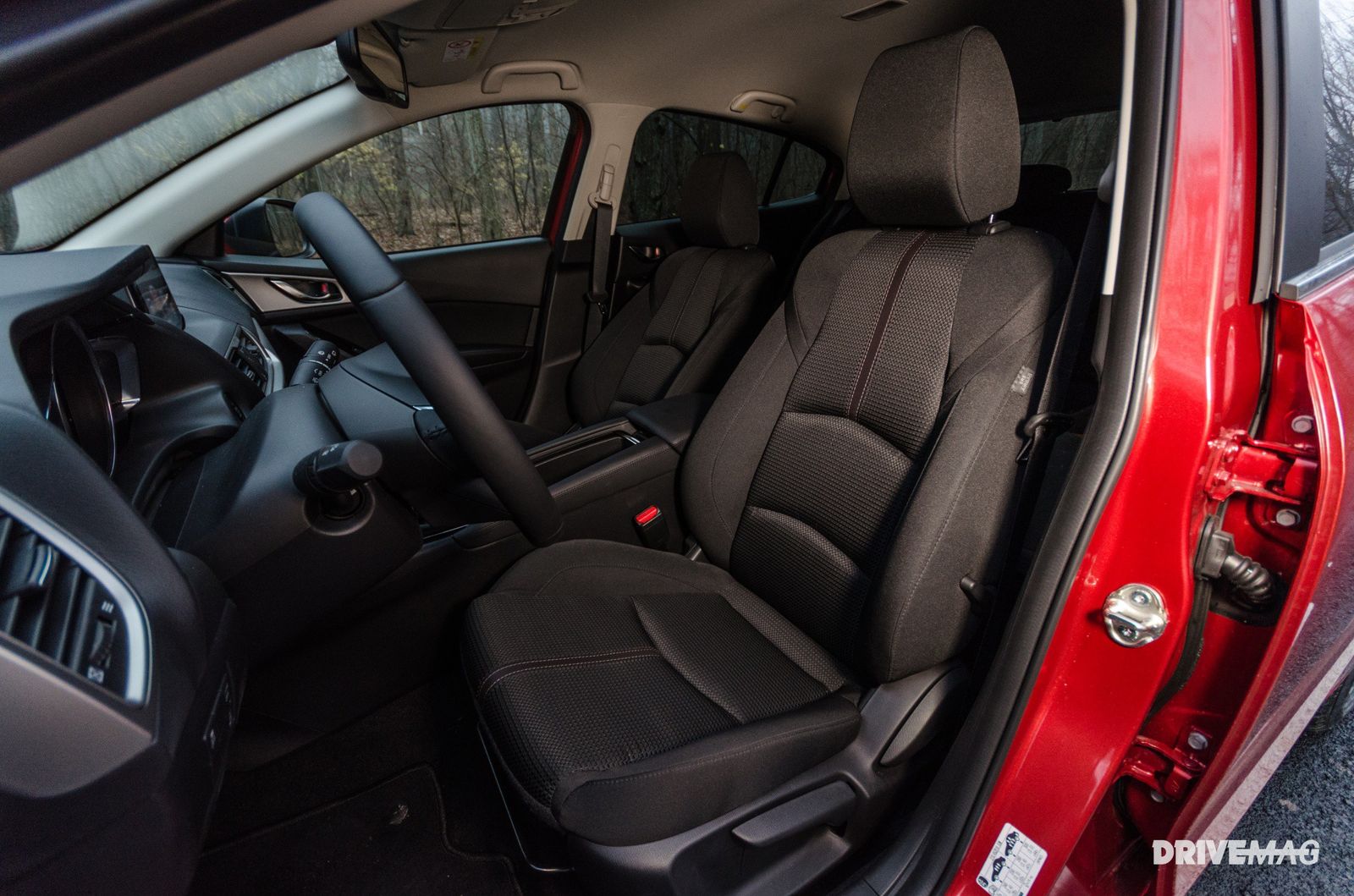 Extract the body movements induced by the polarizing suspension as it travels poorly-maintained asphalt and you're left with a cabin that's 75% leaning towards a comfy ride and most importantly, fatigue-deprived and free of unwanted outside noises.
The other 25% pleases the Mazda3's sporty side with excellent lateral support from the front seats. You could argue that the A-pillars intrude your line of sight in tighter corners – but not enough to completely wash off that smile.
---
Quality 9/10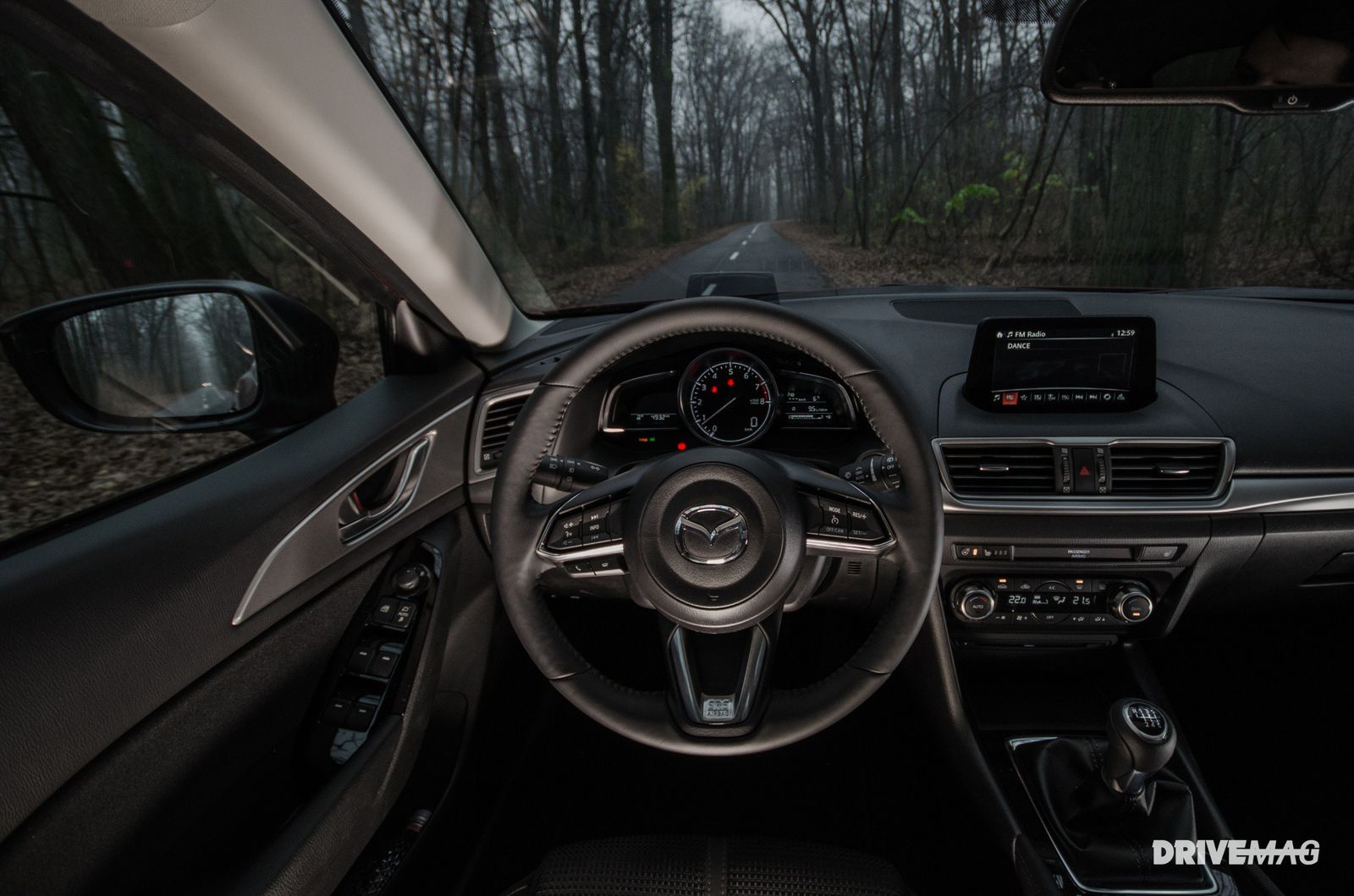 Apart from a batch of plastics positioned ankle-level and way below your sightline, Mazda3's cabin is a well-glued environment made of pleasant materials. I'm talking of course about the Takumi trim level displayed by our tester, because should you opt for Revolution Top, the premium flavour intensifies.
---
Practicality 7/10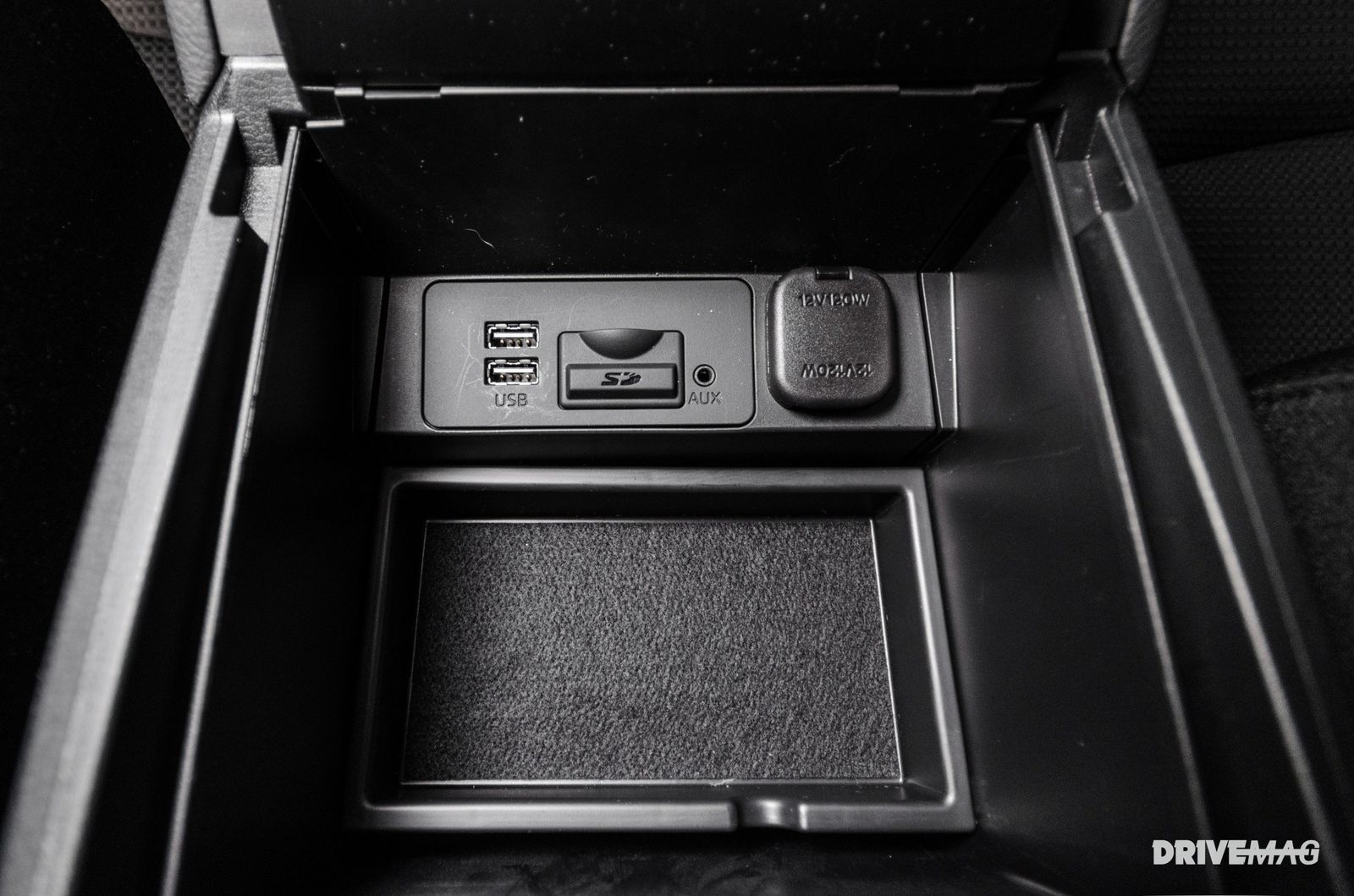 As long as you keep two adults (or three children) in the backseat, Mazda's 3 can dress as a family car. The boot can swallow 364 liters worth of luggage (419 liters if we refer to the sedan/fastback) but that goes up to 1,263 liters as the rear bench goes down and folds flat.
Up front, the new electric parking brake cleared space for two cup holders hidden by a sliding cover. Door pockets are also more generous, having increased their width from 145 mm to 400 mm.
---
Infotainment 10/10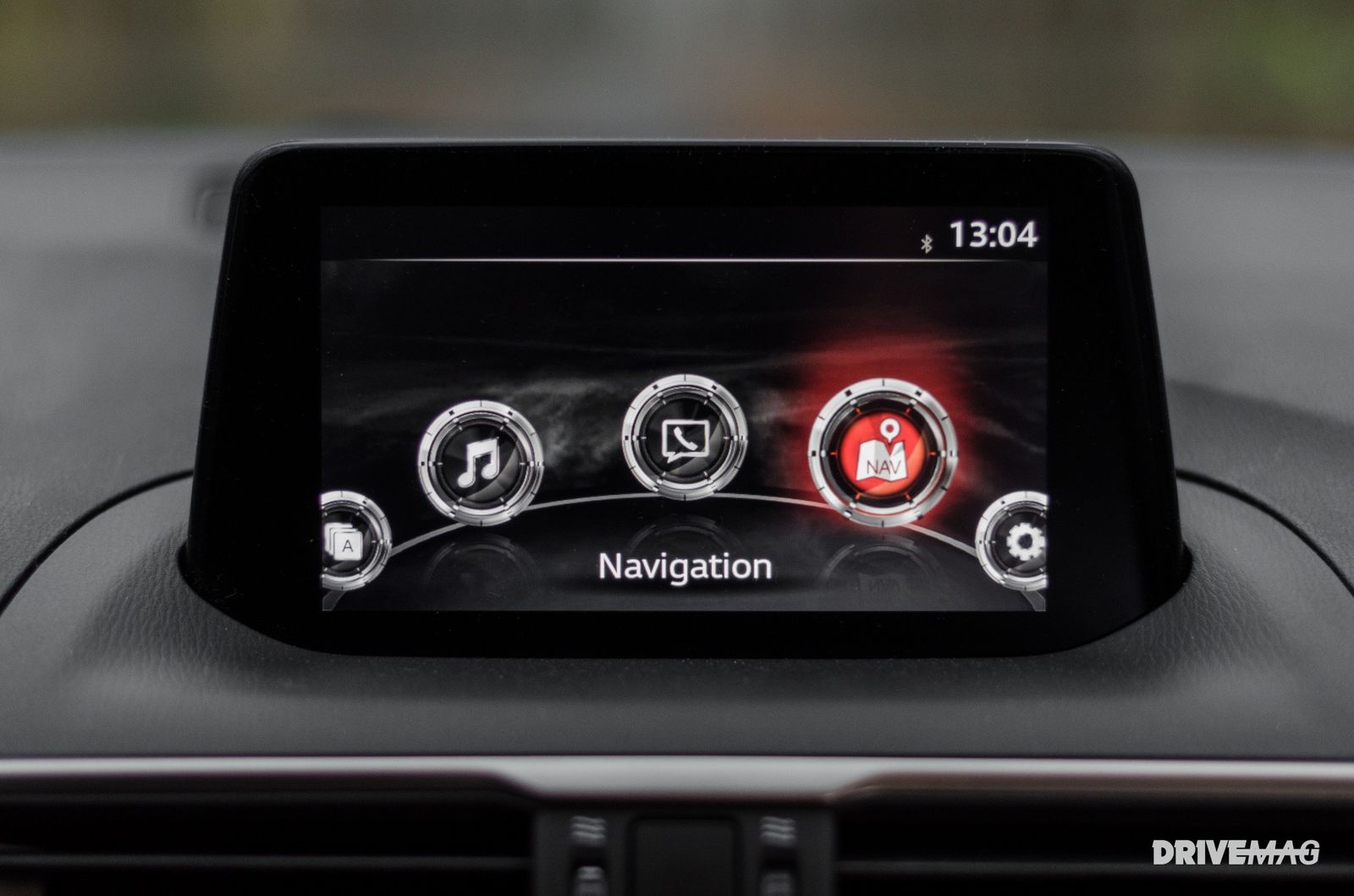 Crispness retained. Mazda's offering of infotainment systems keeps things simple and efficient. The no-nonsense menus are easy to navigate while the graphics are neat and glitch-free.
The 7-inch display dominates the center console – and so it earns points for safety during driving – although you're unlikely to lose too much time watching it given the 3's dynamic involvement. It's the same story with the plastic-screen-based head-up display that's been imbued to support colors and traffic sign recognition.
---
BUDGET
Efficiency 7/10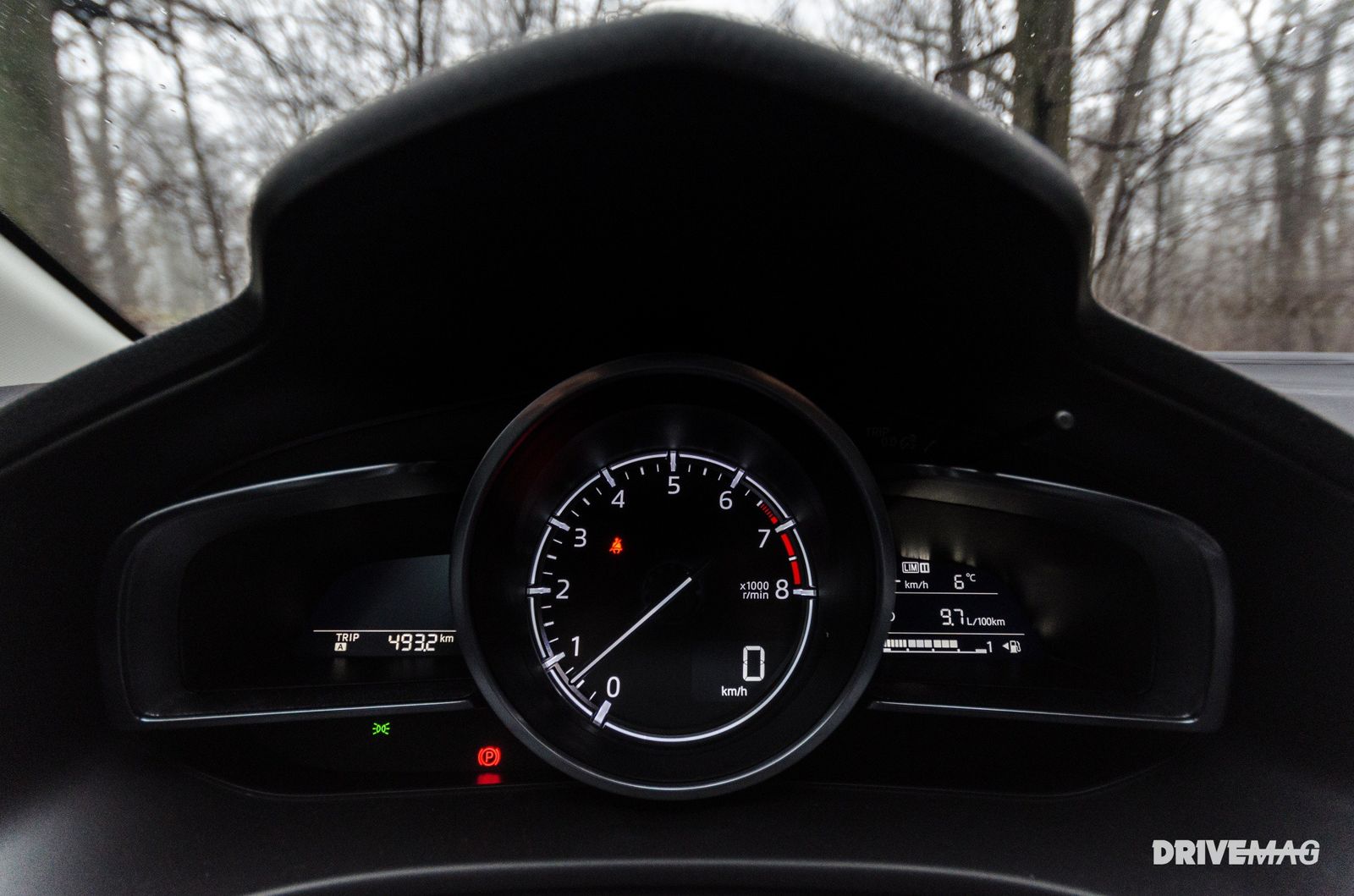 Mazda says the Skyactiv-G 2.0 engine making 120 hp and paired with the six-speed manual drinks 5.1 liters of fuel every 100 km, but reality begged to differ, as the average we got didn't drop below 9 l/100 km.
---
Equipment 8/10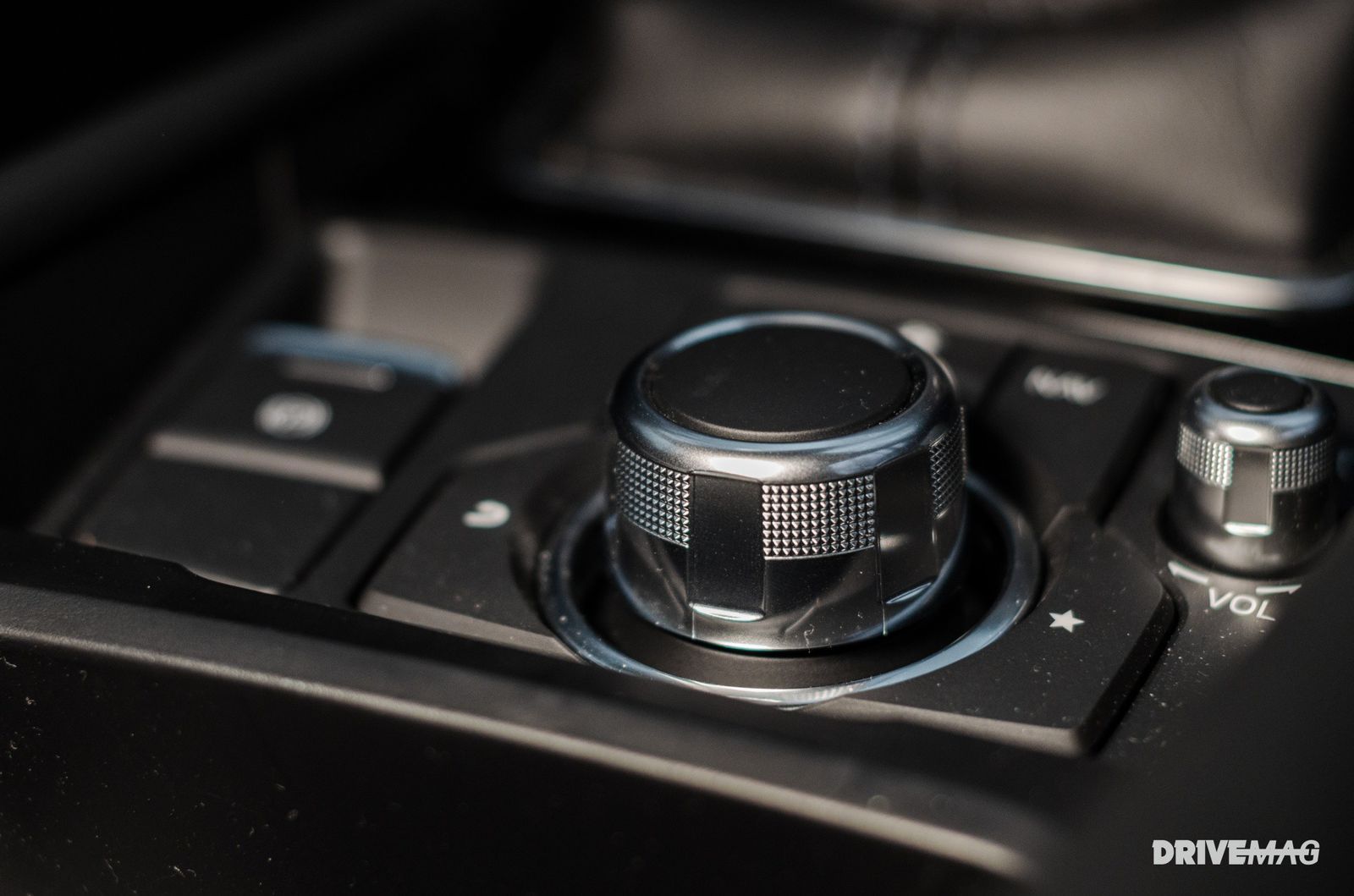 Every 2017 Mazda3 offers six airbags, ISOFIX rear seats, ABS, EBD, hill start assist and a tire pressure monitor. Other standard offerings are the 16-inch alloy wheels, halogen headlights, power windows, 7-inch touch-screen-based infotainment system, electronic parking brake and 60/40 split-folding rear seats.
As you climb the trim levels pyramid you unlock LED front fog lights, rear parking sensors, heated front seats, cruise control, 18-inch alloys, Bose premium sound system, front parking sensors. Optional features include the heated steering wheel and the Safety Pack.
---
Acquisition 8/10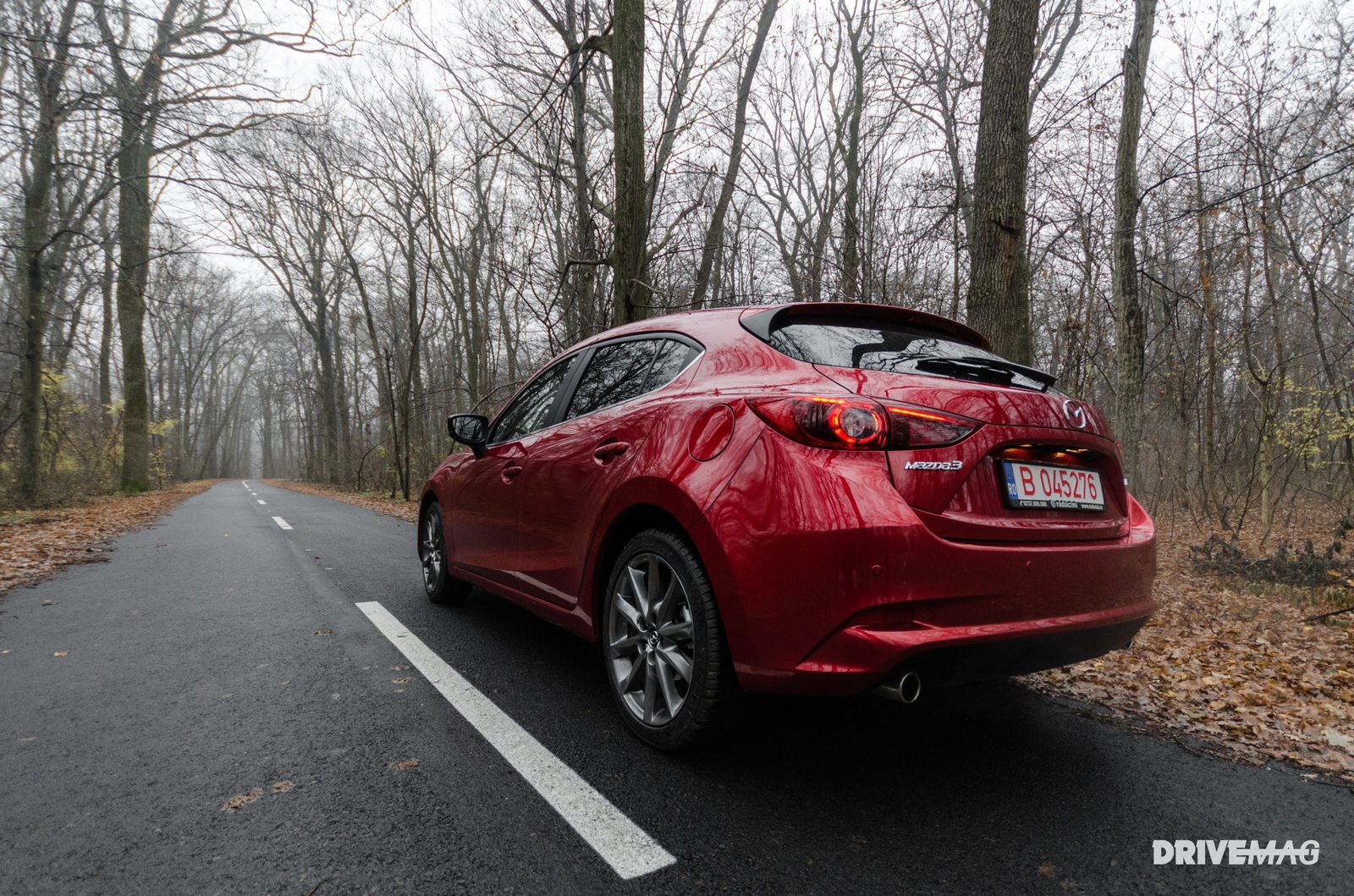 In Germany, the 2017 Mazda3 hatchback starts at €18,190, while the sedan is wearing a starting sticker of €21,790. A mid-range Mazda3 has a base price of €23,190, while the upper echelons can start at €24,590 (sans other optionals you might want to throw in).
As for what the car can deliver, well, in our books, Mazda3 is one of the best all-rounders on the market.
However, choosing it or crossing it out from your list depends on your budget but also on what you're looking to get from it. If it's sportiness and the feeling that you're truly living behind the wheel, go for the Mazda3. And while it's also apt in the art of comfort, some of its rivals might be one step ahead.