2017 Mercedes-Benz E-Class E400 4Matic test drive: More is more
E's innate elegance meets the 400 indicative, placing it right at the AMG border
Quickly labeled as the smaller S-Class or, the larger C-Class depending on the beholder's eye, the new E-Class provides further proof that Mercedes pulled an Audi when it chose the brand identity that would rule its models. With way more sex appeal, that must be said.
Versatile as it is, the design language can take the shape of sleek coupés and hunchback SUVs and visually speaking, it takes the E-Class closer to a touchline that's never been explored by the model so far.
In E400 interpretation - like our tester - and fitted with enough optional features boost the base price by 50 percent, the new E-Class eludes the old belief that Mercedes-Benz is aiming it at customers with the same age group as your grandfather.
Photos: Radu Chindriș
https://cdn.drivemag.net/images/icons/inbrief-icons.svg
IN BRIEF
Recommended for:

Created for:

Hats off for:

Bang for the buck:
Powertrain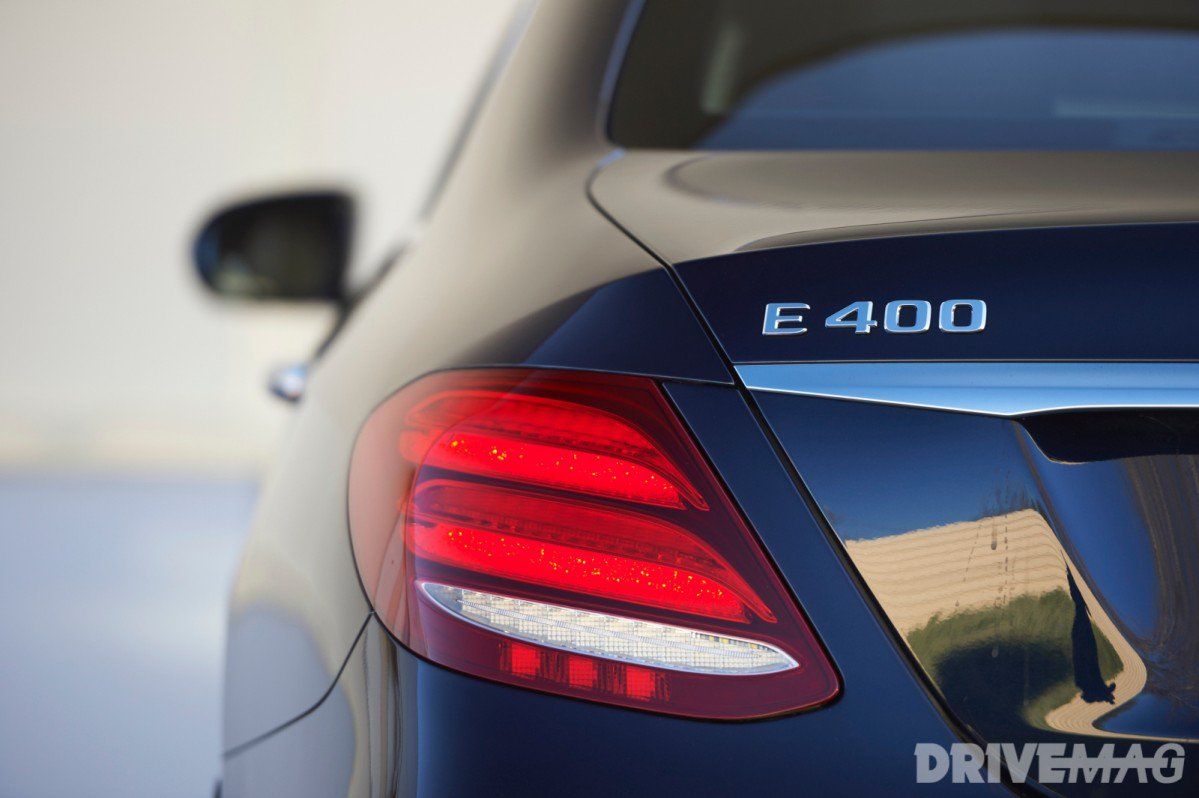 The European Mercedes-Benz E-Class E400 hosts a 3.5-liter V6 plant and whether you like it or not, channeling its joie de vivre falls on the shoulders of the 4Matic all-wheel drive setup. So no RWD for the time being, not in the sedan, not in Europe at least.

The 333 PS, 480 Nm V6 (which in the Merc-AMG E43 4Matic loses half a liter of displacement but churns out 401 hp) is the closest you can get to a full bifta AMG model. Still, it's 0.6 seconds slower in the 0 to 100 km/h sprint (needing 5.2 seconds instead of 4.6), but then again, you don't buy the E400 driven by vanity. Not in terms of sportiness, you're not.

Speaking of which: don't expect athlete-like road behavior on the E400's behalf. Even if its cylinders form a V-shaped bouquet, the engine will only arch its back if you step on its tail.

Governed by Merc's new 9G-Tronic automatic gearbox - yes, I will say it again, it's the best in the segment when it comes to serving the comfort/smoothness/silence purposes - the V6 sheds any forms of drama and just obeys your command up to an electronically restricted top speed of 250 km/h.
---
Handling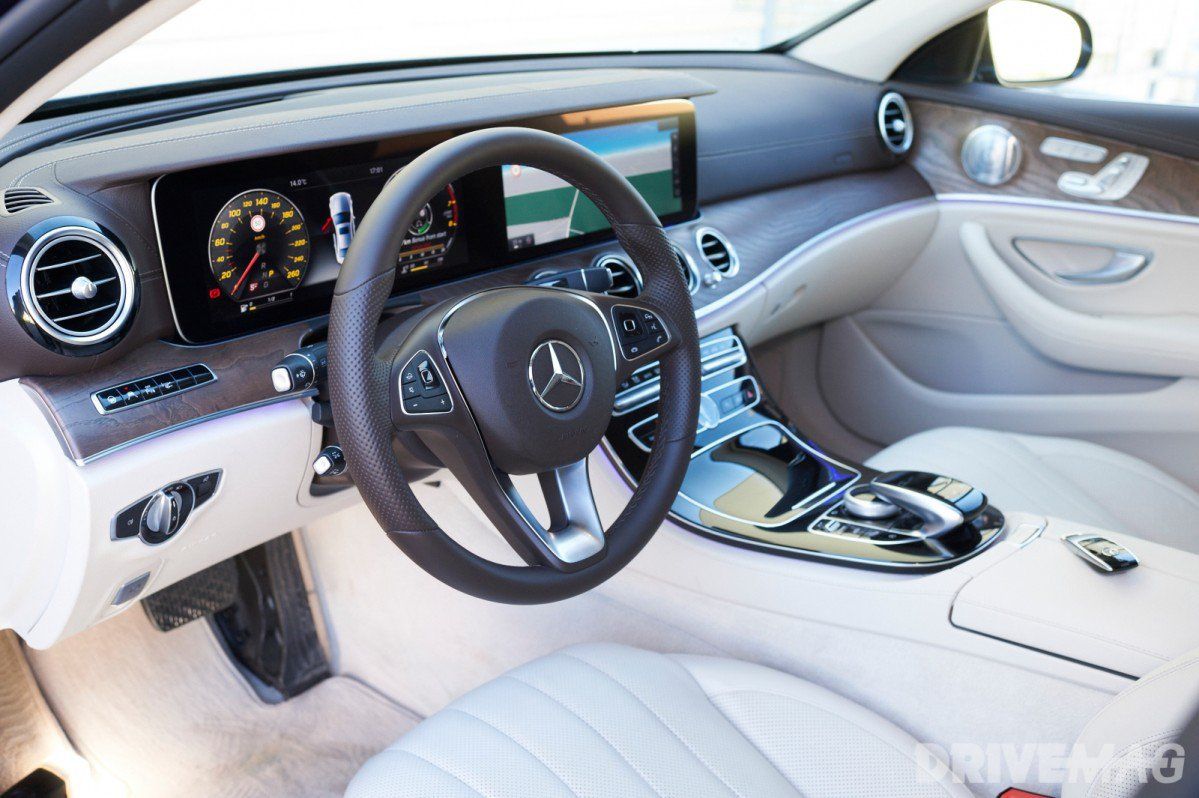 You'll have to pack your bags for Bavaria in your search for agility, and I'm looking at BMW and their 5 Series, especially the 540i, a same-league adversary for the E400 on so many levels.

Neither lazy nor wafty, the E-Class simply wasn't built for sharp cornering and all the other driving delicacies you get in the 5er. Better stopping power is what it can provide, as the front calipers will bite the standard perforated and ventilated discs with sabre-tooth tiger appetite, so all the E400's 1,680 kilos stop at once without reaching out to road furniture for support.

However, the Air Body Control works like a charm on uneven surfaces and needs just a couple of seconds to settle the ride back to linear comfort, in an effort to deplete your mind of any enthusiastic thoughts on driving. For more focus in corners it's advisable you switch to Sport+, but even so, the E400 will not part ways with refinement for the sake of better body control.

In the end, it's simply a matter of preference: a desire for slightly stiffer dampers thus more nimbleness might send you to the nearest BMW dealership, but for the recomforting touch of a pneumatic ride that soothes your back it's Mercedes that hits the spot.

As for the steering, there's not much you can ask of it as although decently accurate, it falls prey to vagueness. And regardless of how much I craved the steering wheel's luscious contour and smooth skin, in the end, the E-Class E400 got me wanting to sit in the back.
---
Safety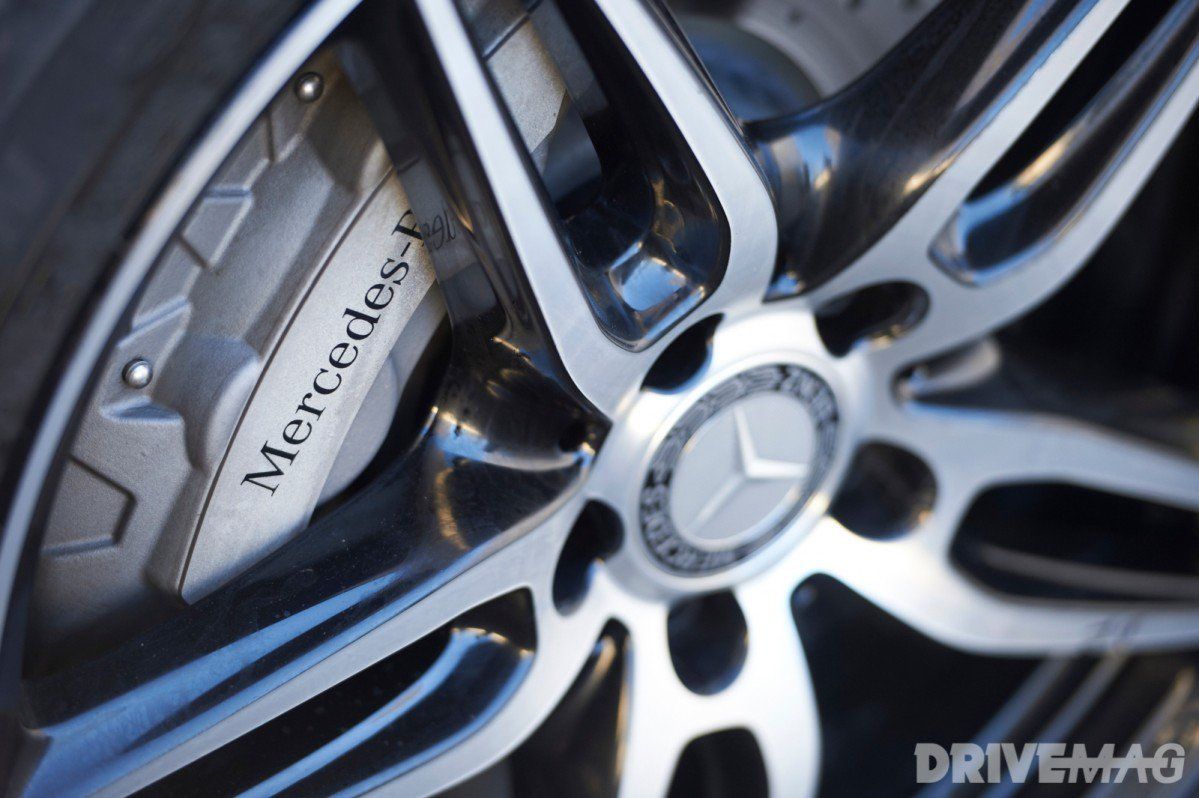 Euro NCAP results were overwhelmingly positive for the new Mercedes-Benz E-Class (overall scores rose to 95% for the adult occupant, 90% child occupant, 77% pedestrian, and 62% safety assist) so a five-star rating ensued.

Besides its frame's smart build, the executive sedan employs all the safety assistance features one can ask for including the optional Drive Pilot that parks the car automatically and single-handedly adjusts speed through braking and accelerating on the motorway, while keeping the car in the safe lane and at a safe distance from the vehicle in front.
Comfort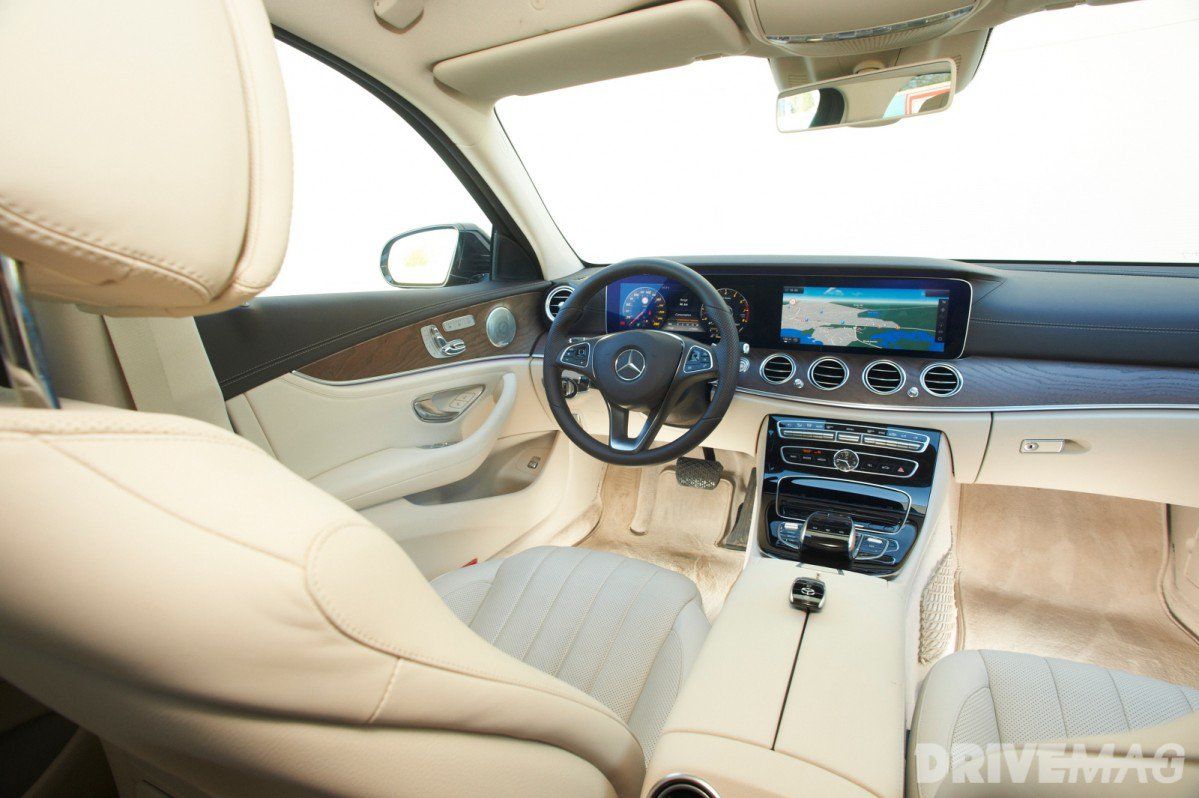 Anywhere you choose to sit inside the new E-Class will accelerate the sensation of isolation from what's happening around the car. That includes noise, engine sounds, riding over spasmodic portions of asphalt and the lot.

The cabin roominess itself coupled with the lavish materials and styling cues resemble the attributes of a villa. Spend enough time inside a well-equipped E-Class, and your blood might turn slightly blue or at least you'll grow a Gatsby cap, depending on your location withing the cockpit. Also, our tester's trim was apparently named by an Italian barista as it boasted beige Nappa leather which Mercedes calls Macchiato mixed with brown inserts which Mercedes calls Espresso.

Backbones, vertebrae and buttocks get all the spoils in any seat you might place them, and the general image that pierces my mind when I think of the E400's interior is that of a plush cocoon with de rigueur Mercedes-Benz style.

Don't believe that it ditches roominess though - expect a limited amount of headroom because sloping roofs tend to do that. Otherwise, it's all royal treatment for right about every limb attached below the neckline, especially knees and feet. Thank the 2,939 mm wheelbase for that, just 96 mm shorter than in the SWB S-Class W222 (3,035 mm).
---
Quality
It's difficult to single out something other than high-quality because at this level there's no leeway for compromise and Mercedes makes none. Considering even the dashboard is a high-tech, double-tablet, wood-seasoned burrito wrapped in leather instead of a tortilla, one could spend serious hours trying to find an argument against the ever-present quality. But these efforts are futile until you see the piano black inserts on the central tunnel.

Here's the thing: there's nothing wrong with it inside the Passat, but the E-Class could do better without this universally-adopted, fingerprint-trapping plastic.
---
Practicality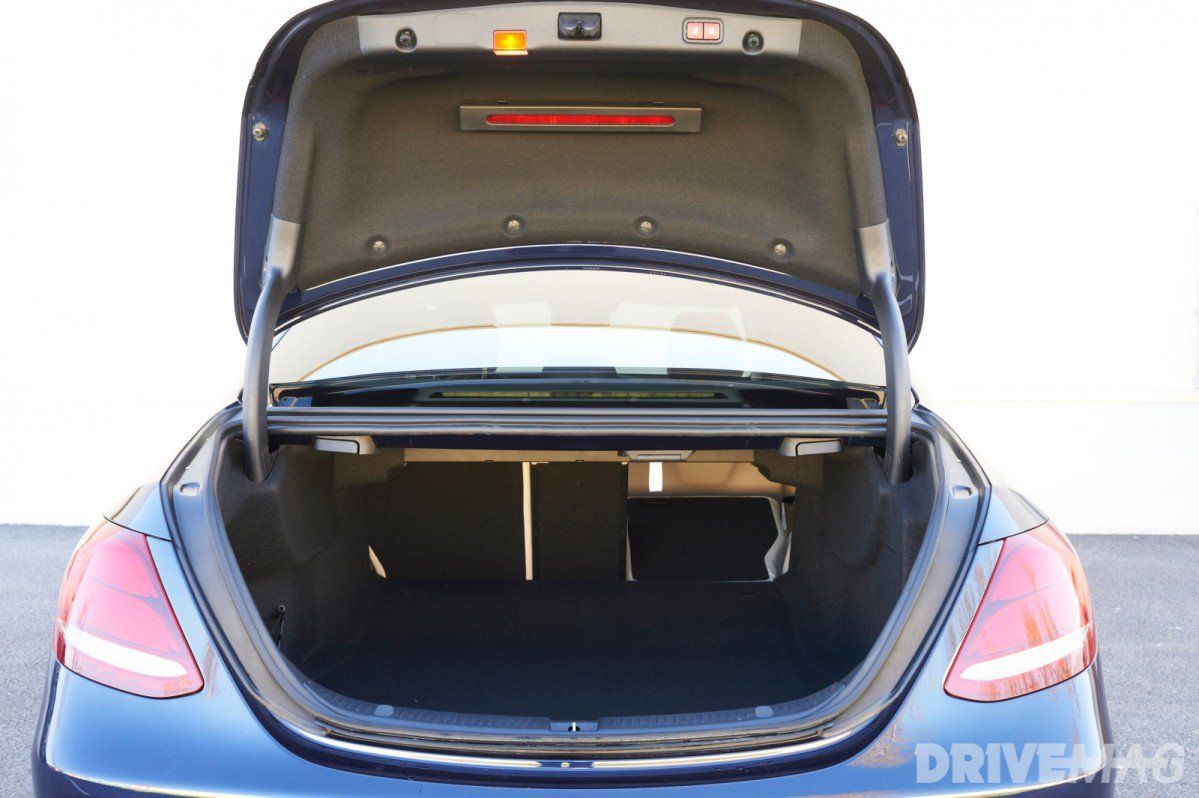 Eager to know if your golf clubs will fit in the boot? Well, they will, no added fuss. The luggage compartment offers 540 liters (19 cu ft) of space, more than the 5er but below the A6.

Needless to say, access in and out is a piece of cake whether Nigel will or will not open the door for you. Nevertheless, the assortment of cubbies and neatly hidden storage spaces can harbor a large variety of personal belongings.
---
Infotainment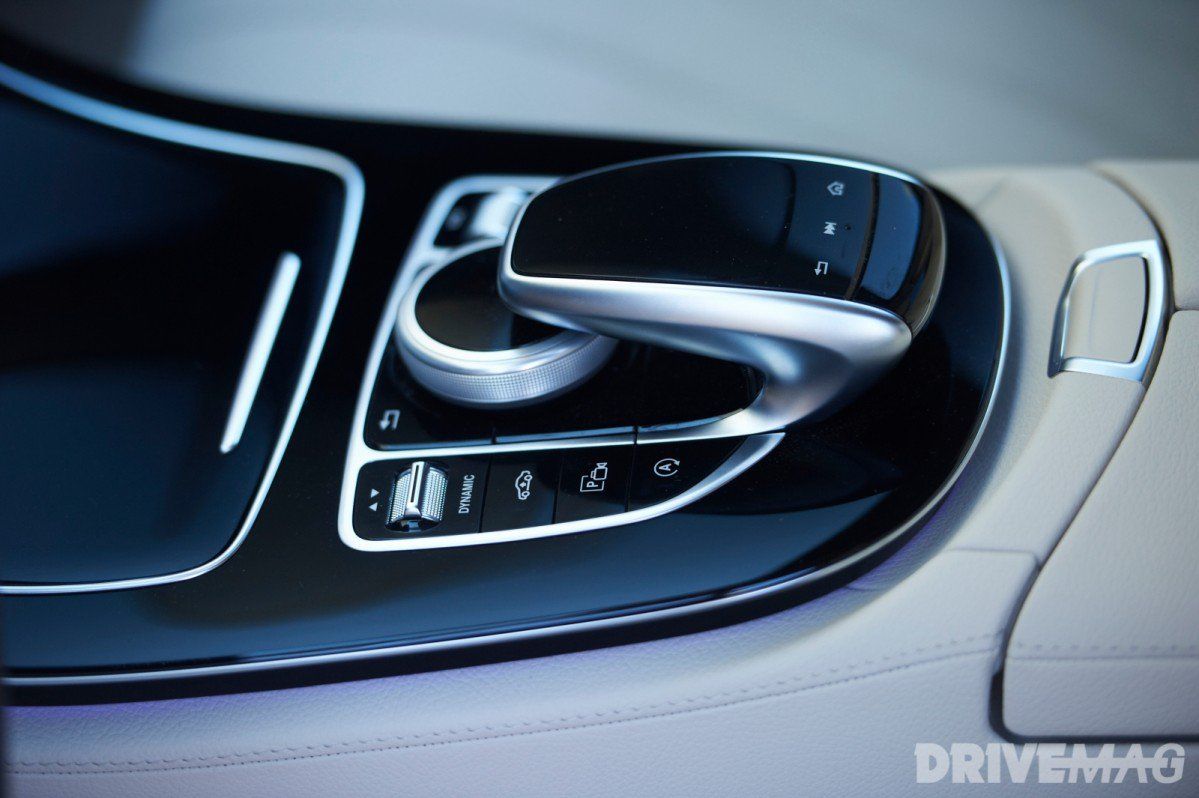 Remember when I told you our tester's interior resembled the one of a villa? Well, it also came with its own home cinema system.

In Mercedes kingdom, that stands for two broad tablets (12.3 inches each) acting as independent screens sharing the same transparent glass cover - one serves the (configurable) instrument cluster and one's a platform for the optional COMMAND Online infotainment system, air-conditioning, navigation and other car functions, controlled by the familiar rotary knob.

At times, you're navigating through menus that recreated a tangled digital jungle but after you get to explore enough, getting used to the whole setup's logic becomes a breeze.
Efficiency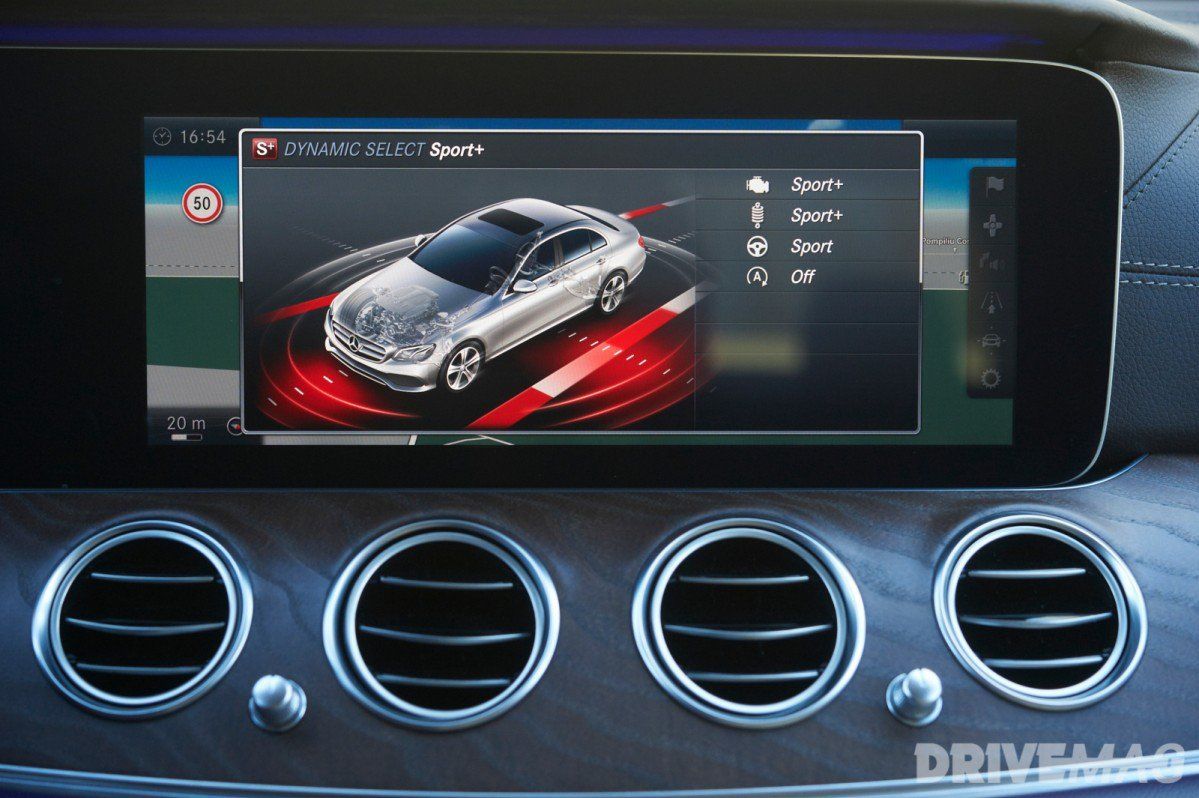 Frugality is a notion yet unknown for the 3.5-liter V6. Therefore the Mercedes-Benz E-Class E400 will not suit those on the lookout for a less thirsty sedan. In fact, the 11 l/100 km average we got is over 2 l/100 km higher than the diesel E-Class E220 we also drove, as it achieved a respectable 7.8 l/100 km, although Mercedes advertised figures as flat as 3.9 l/100 km.

It goes the same with the E400. While Mercedes says the combined fuel economy stands anywhere between 7.6 and 7.9 l/100 km, reality revolves around the figure we already mentioned above.
---
Equipment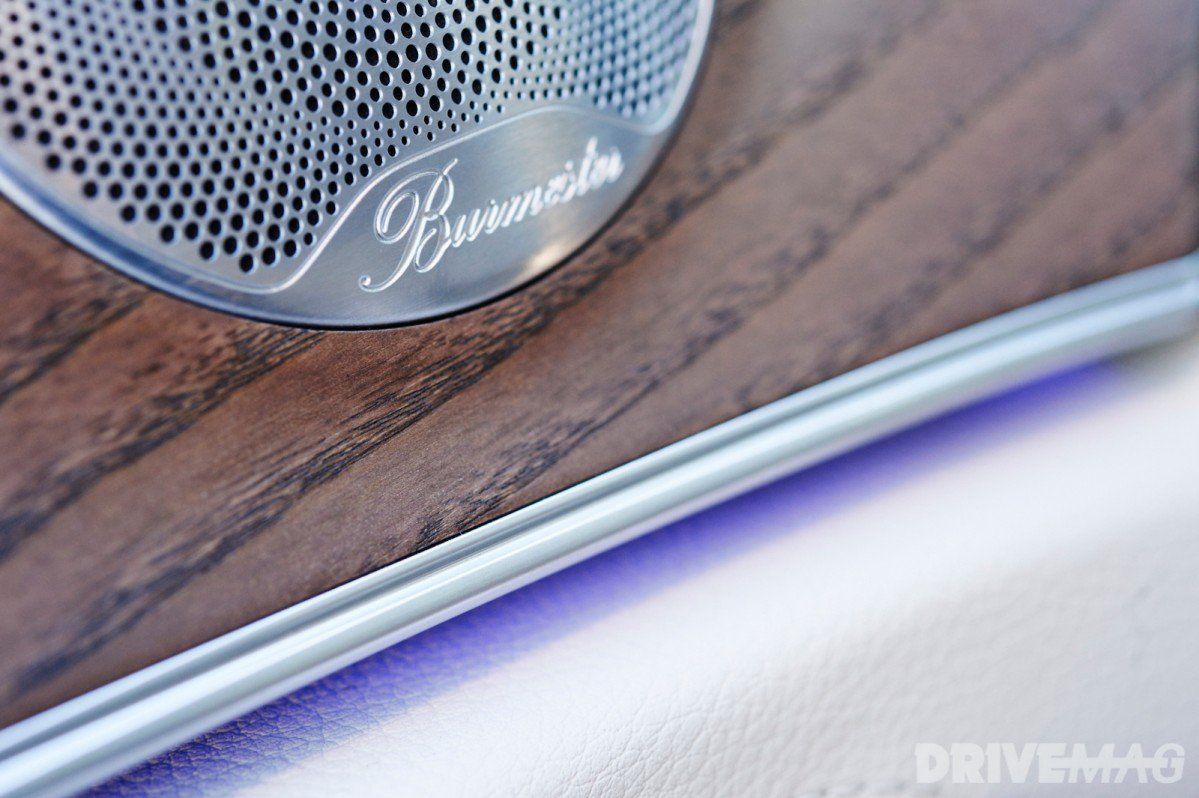 Keep in mind our tester carried optional features worth of €39,339 on top of its €53,595 starting sticker. That tells us Mercedes can fit almost any goodie you can think of for a price.

Every E400 has Apple CarPlay and Android Auto smartphone integration, automatic climate control, interior ambient lights, heated front seats and keyless go, among others.

The leather interior, for example, is an optional fitting worth €2,200. The E-Class Sport Package costs €3,815, COMMAND Online will add another €1,910 to the tally, while the active front seats (€1,950) and the head-up display (€990) are just some of the wallet burdening items you can order with your new Mercedes-Benz E-Class E400.

In our tester's case, the price tag had been bumped to €92,934 via the add-ons above and then some more.
---
Acquisition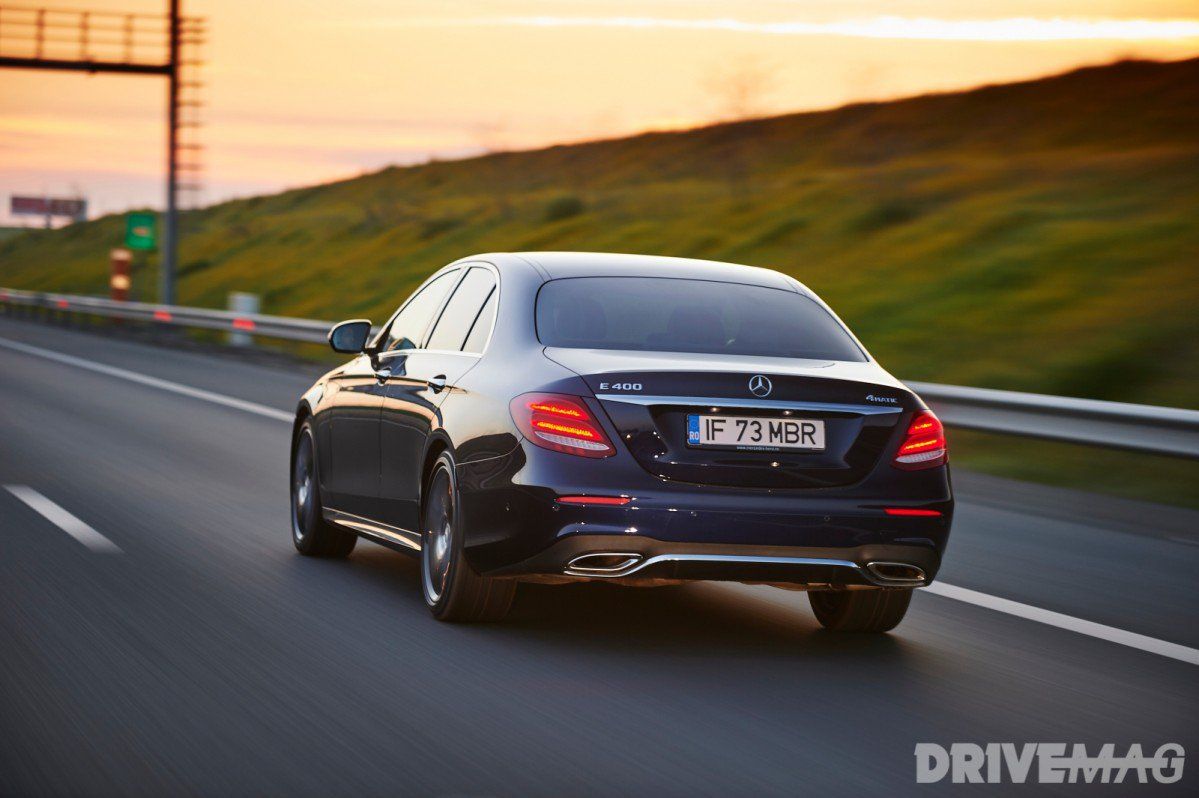 In Germany, the Mercedes-Benz E-Class E400 starts at €62,962, but as proven above, it's easy to jump into €90,000 territory once some optionals have been ticked in the configurator.
All in all, the E400 possesses an accomplished technical package couple with both comfort, practicality, style and in short bursts, some performance courtesy of its V6. It's the same with its strongest rival, the new BMW 5 Series and again, I'm pointing at the 540i we drove earlier on.

That story goes the same: competent technical package, oriented towards more fun but without limiting the other attributes so sought-after in this segment: comfort, smoothness and a bit of vanity-boosting looks both in and out.

Therefore, it's difficult to directly rule "go for the 5er" or "take the Merc E400" instead because in the end, choosing between these two cars is all about what the customers want. But for those charmed by undeniable good looks, top-notch comfort and a less enthusiastic view on driving yet enough fire in the belly, the E400 answers all the questions. As far a more hands-on approach which involves more communication with the car and a sportier attitude, you would get along a lot better with the BMW 5 Series.