The fifth-generation SEAT Ibiza stops growing in size but keeps on offering more than meets the eye
Overall Score 84/100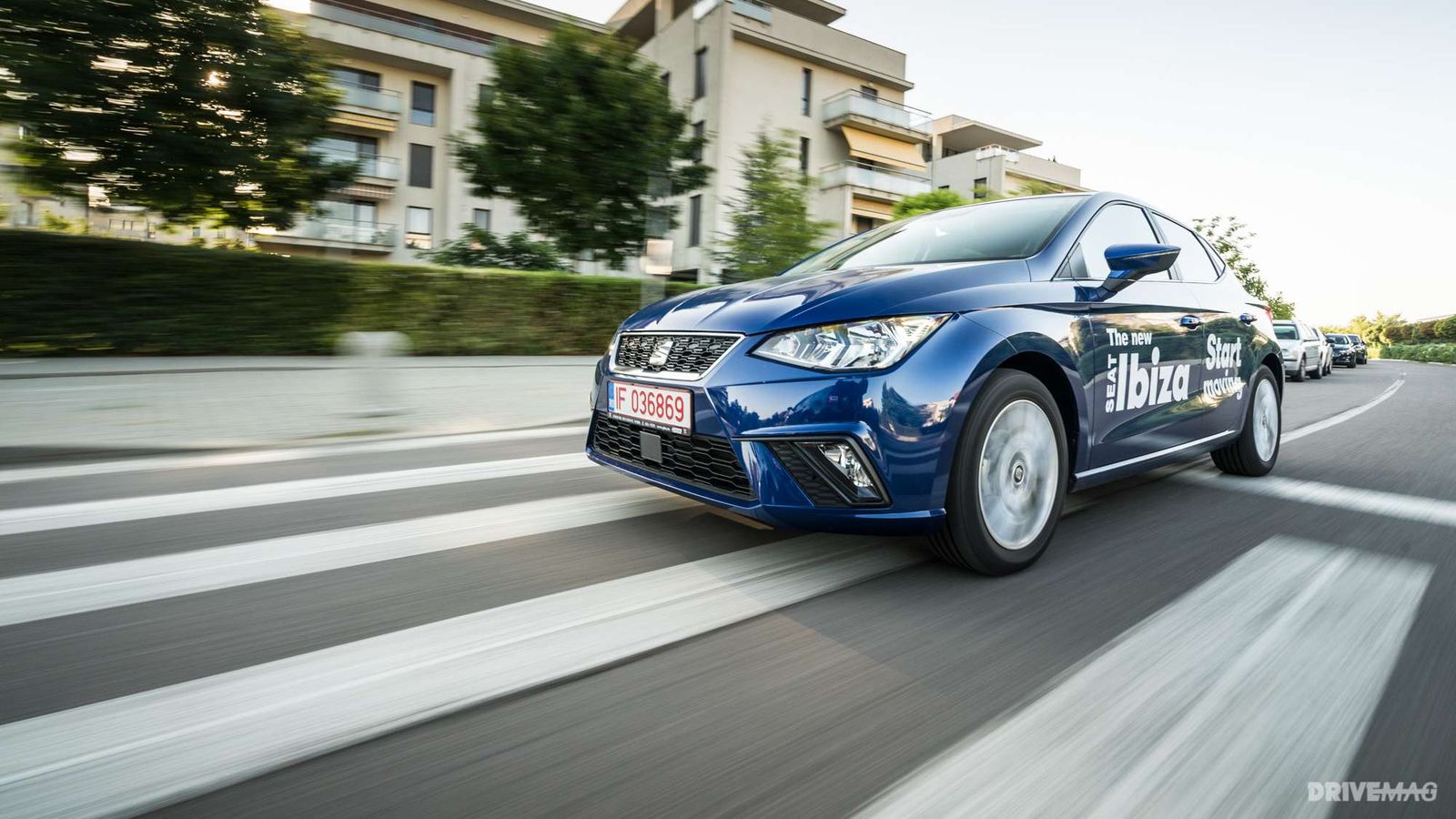 From the SEAT line-up, the funky, youthfully-styled Ibiza has always been a people's favorite, with 5.4 million units sold to date. Entering its fifth generation, the Spanish brand's supermini model is behaving just like any other youngster in its thirties: trying to keep it cool but without ignoring responsibilities.
In car terms, this means it keeps its youth design language while adopting environmental-friendly tech, and gadgetry from its bigger siblings.
The fifth-gen Ibiza shares its platform with the new Volkswagen Polo, the Audi A1, and the SEAT Arona crossover, and the list is most likely going to grow in the future. Just like any millennial, the Ibiza knows that originality costs money, and doesn't promise anything more than self-pride material, so it uses a recipe for success that's been shared with others of its kind.
Does all this make the Ibiza dull? We took it for a spin to find out.
---
DRIVE
Powertrain 9/10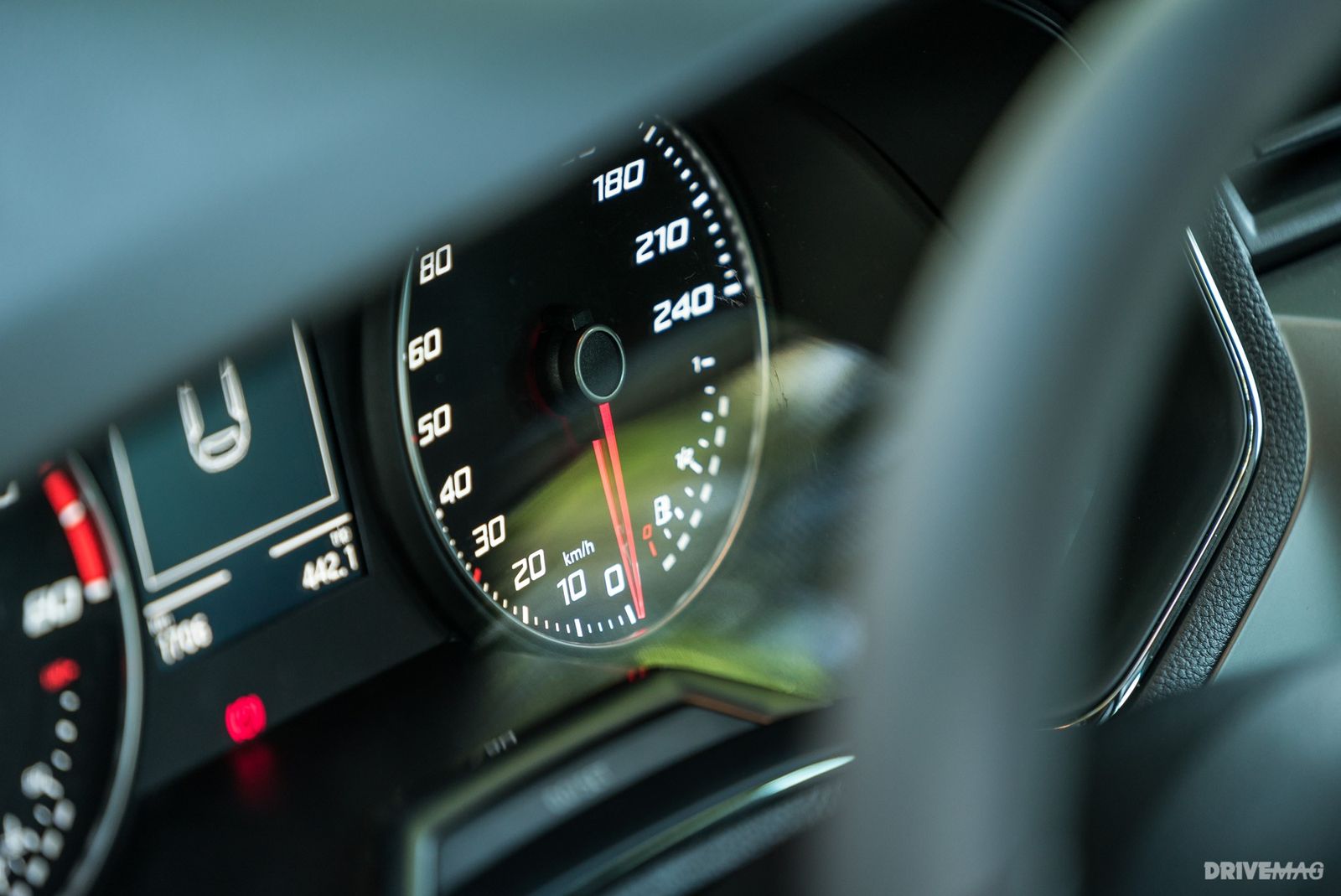 Although the three-cylinder engine has sometimes migrated to bigger classes, the supermini is the place where it belongs.
Lightweight, packing enough punch to move the Ibiza around with quite some ease, the 1.0-liter turbocharged unit is not here only to bring down the car manufacturer's emissions average but also to put a smile on your face while driving it.
There are two different power states for the force-fed 1.0 TSI: a 95 hp, 129 lb-ft (175 Nm) mated only to a five-speed manual, and a more powerful, 115 hp, 148 lb-ft (200 Nm) version that comes with a six-speed manual, or a seven-speed DSG.
The one in our tester was the former, which we truly enjoyed. The five-speed manual is crisp, although on the highway you'd really like an extra gear.
---
Handling 10/10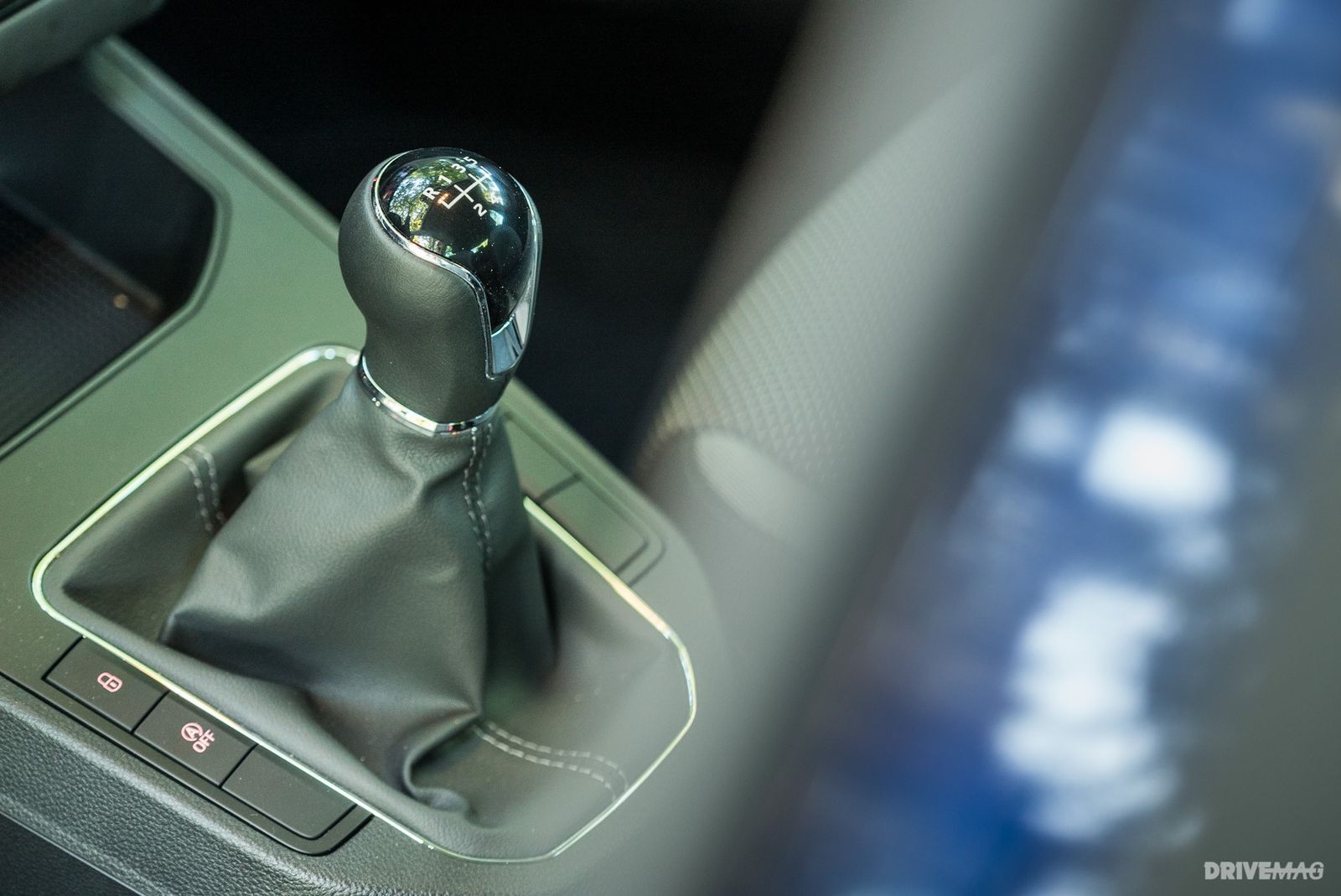 The Ibiza is underpinned by Volkswagen's versatile MQB A0 platform that is to be found under all the supermini/small SUV bodies from VW's portfolio. On paper, this means that SEAT's supermini has a 30% increase in torsional stiffness. On the road, the weight distribution is just right, offering satisfying amounts of grip and shy hints of lateral leaning even in its standard, non-FR guise. There's hardly something not to like in the way the Ibiza behaves on the road.
---
Safety 9/10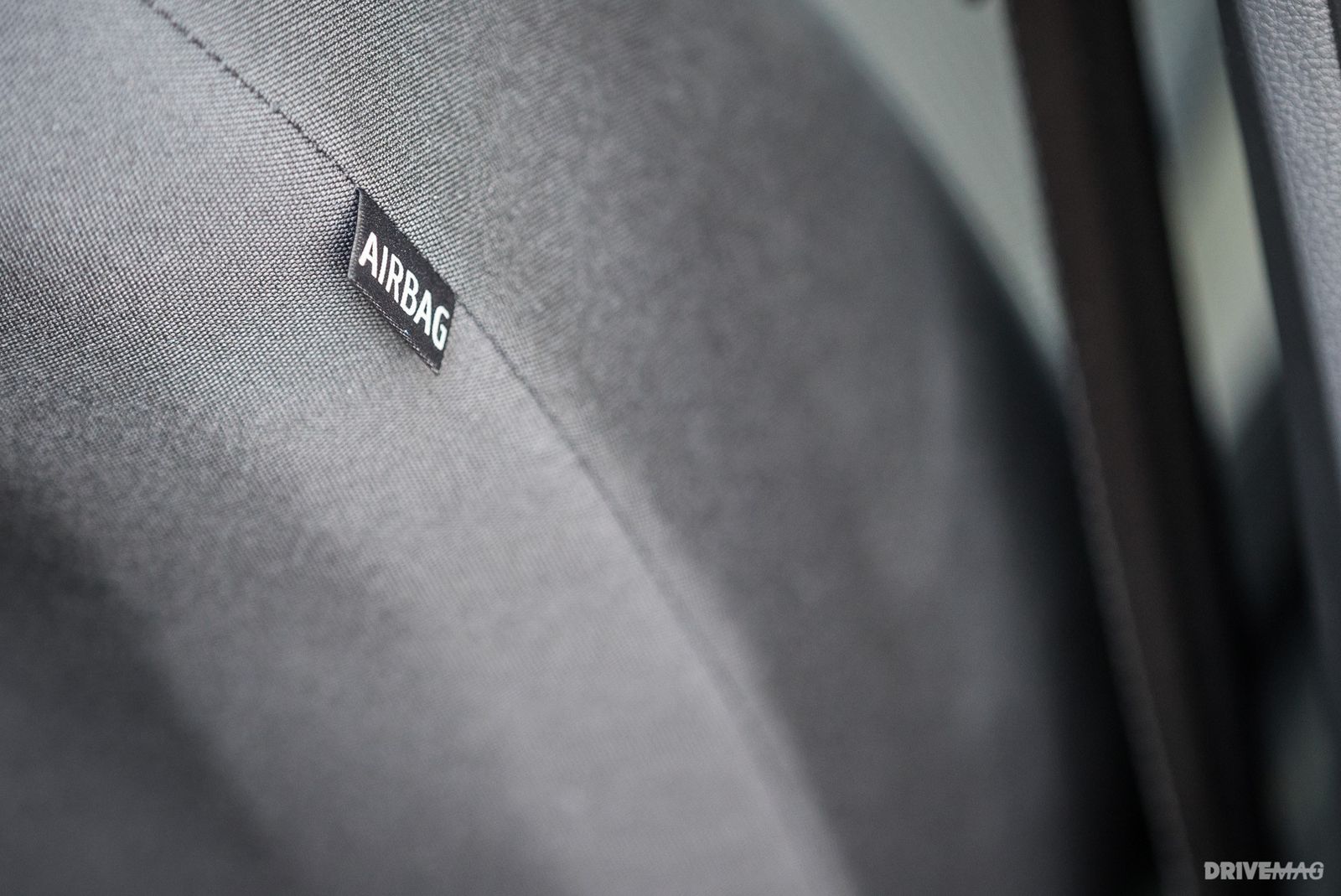 The Ibiza was awarded a five-star rating in the EuroNCAP crash tests, proving it can cope with the situation when there's nothing else to do than brace yourself. SEAT's supermini comes with the full array of inflatable pillows: two up front, head- and side-airbags come all as standard. Furthermore, it features prevention systems that help you avoid crashing, such as emergency brake assist, and even autonomous city brake assist.
---
INTERIOR
Comfort 10/10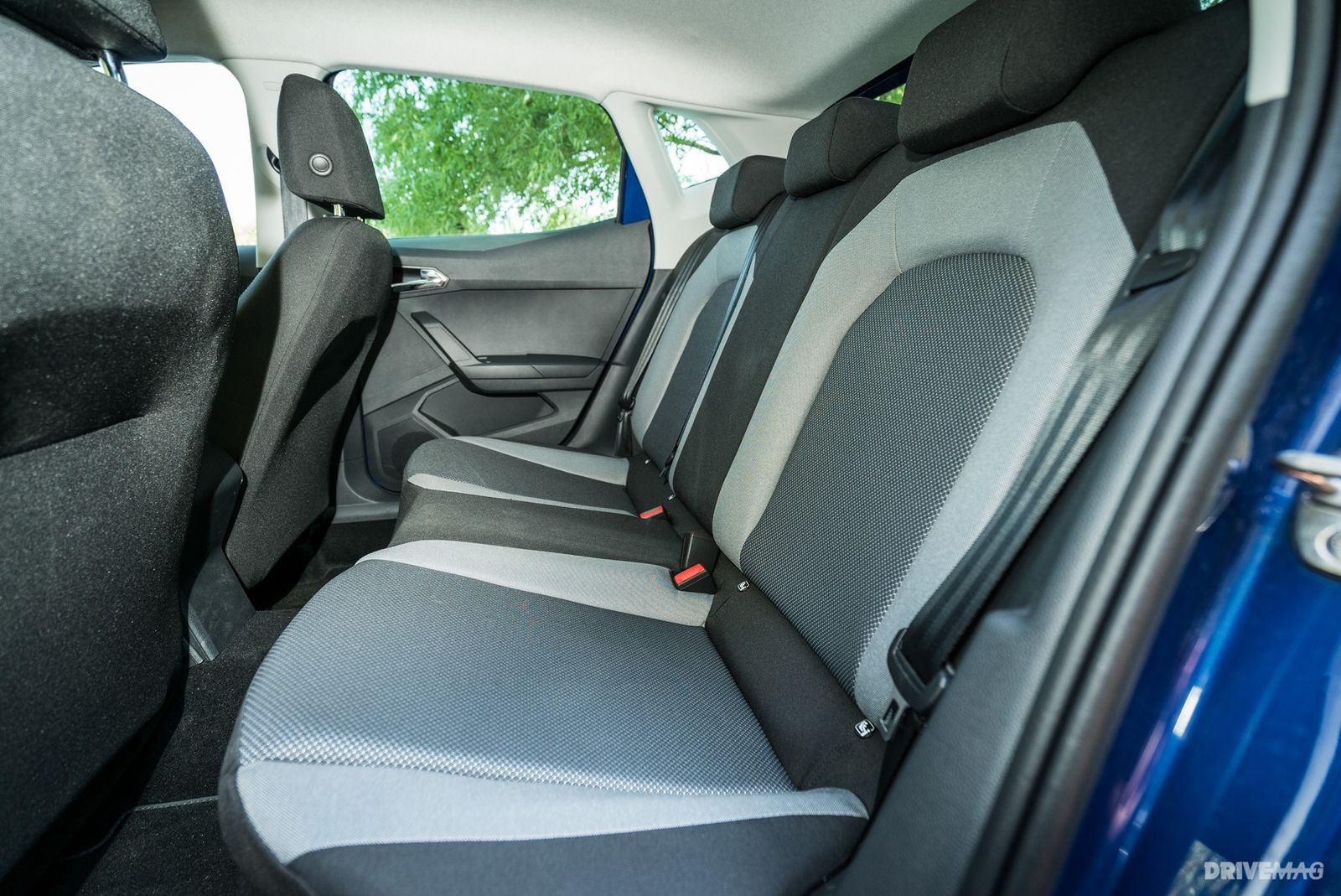 The MQB platform proves that a car can be smaller than before yet grow roomier inside at the same time. Although being a bit shorter than its predecessor, the Ibiza's cabin boasts a noticeable increase thanks to a 95-mm longer wheelbase.
It can accomodate up to five adults, although travelling in a pack of maximum four might be ideal for all the occupants. The five-door body (the only one available, actually) contributes to an easy access to the rear seats, where there's plenty of knee- and headroom ensuring a comfortable ride.
---
Quality 6/10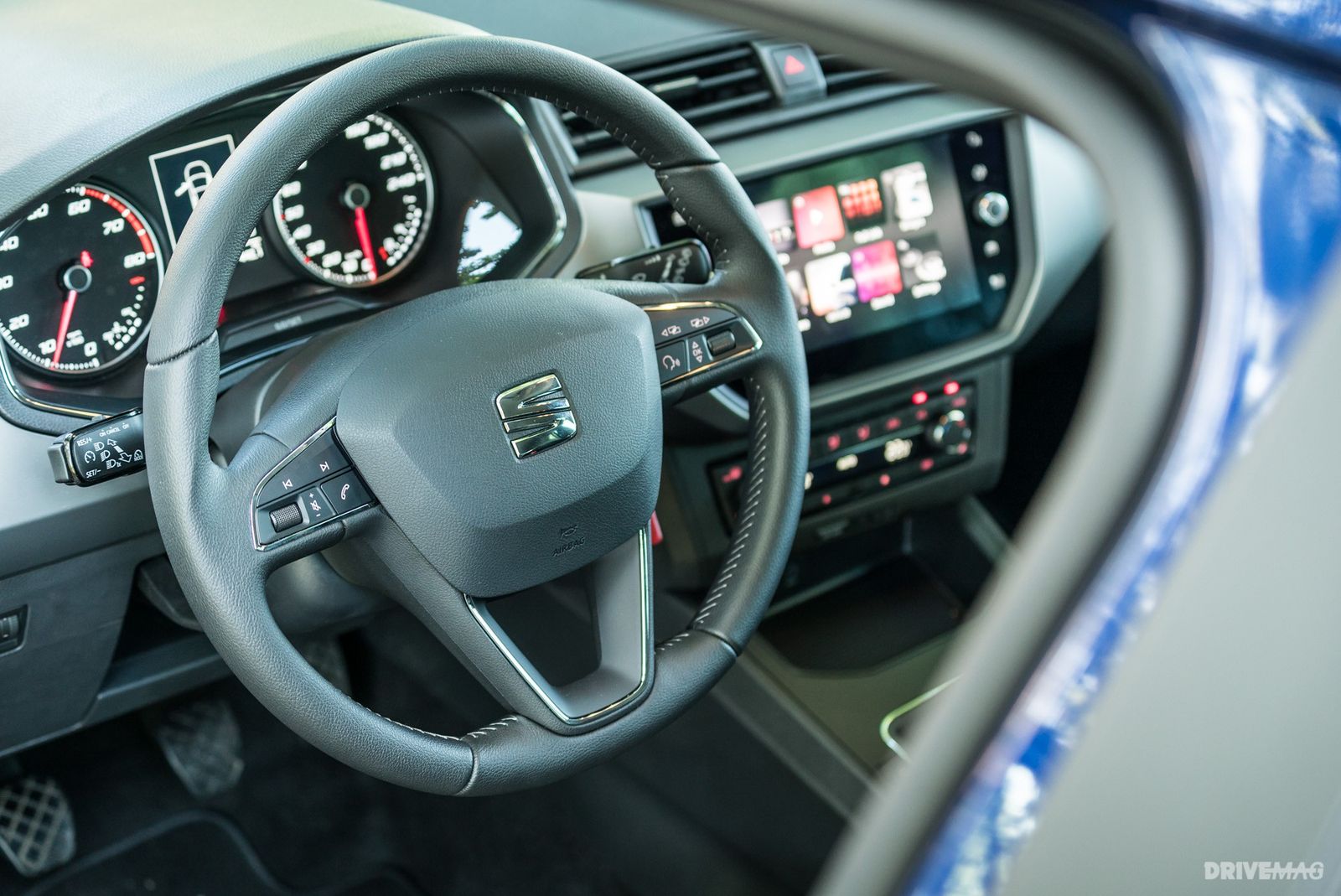 The Ibiza's edgy exterior design is successfully transposed into the cabin, although the general Volkswagen feeling is predominant still. However, the resemblance with the German counterpart is lost when it comes to the materials used — the Ibiza's hard plastics laid on the dashboard aren't what one would expect.
---
Practicality 8/10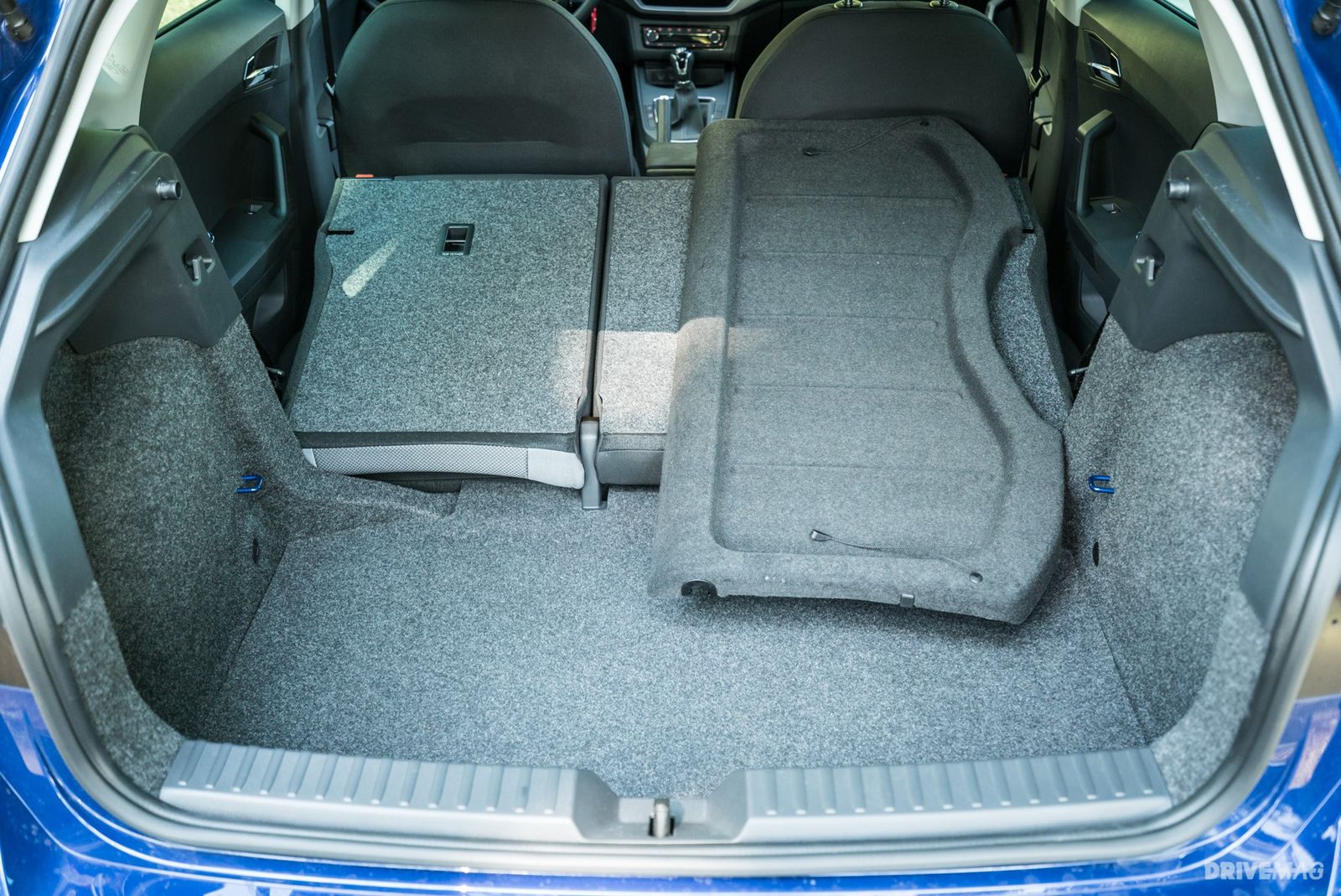 Thanks to its new underpinnings, the Ibiza is not only rommier for passengers but also for cargo. The boot space measures 355 liters, over 60 more than in the previous generation. That can be expanded to over 820 liters by folding the 60:40 rear bench. It has a decently wide opening, so you'll be able to load/unload your stuff easily. The loading lip is a bit high but that can be fixed with a variable boot floor (for a €195 extra); this will also help you create a flat floor for when you fold the rear seats.
---
Infotainment 9/10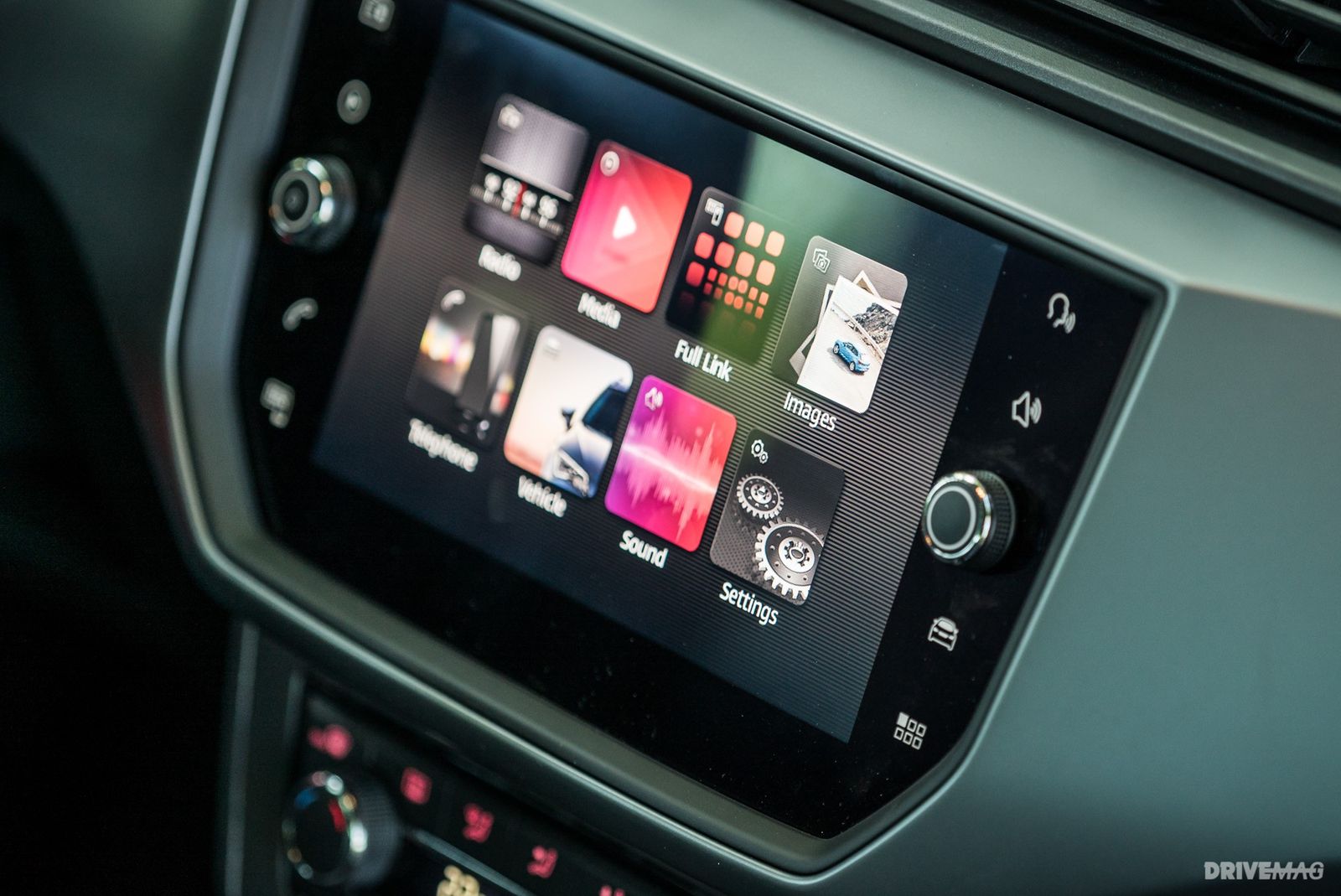 In terms of in-car entertainment, you start off with a 5.0-inch color touchscreen offering USB, Bluetooth, SD card and aux-in support. The higher trims — such as our tester's — come with a bigger, 8.0-inch touchscreen, a voice recognition feature, and a CD player in the glovebox. For those who aren't trapped in the '90s, Full Link (€190) brings you Apple CarPlay, and Android Auto with MirrorLink. Sat-nav is another €400.
Just like with other Volkswagen Group models featuring it, the in-car entertainment system works faultlessly.
---
BUDGET
Efficiency 8/10
Although the force-fed engines are the automotive equivalent of Nirvana nowadays, they're liars for the most part, especially when it comes to consumption. However, a small turbocharged engine in a small car is the best possible match. On paper, the 1.0 TSI promises fuel efficiency as good as 4.7 l/100 km (or 50 mpg US, 60 mpg UK); our tester achieved, in a mostly urban environment, around 7 l/100 km (33 mpg US, 40 mpg UK) which is what we'd call a decent figure.
---
Equipment 8/10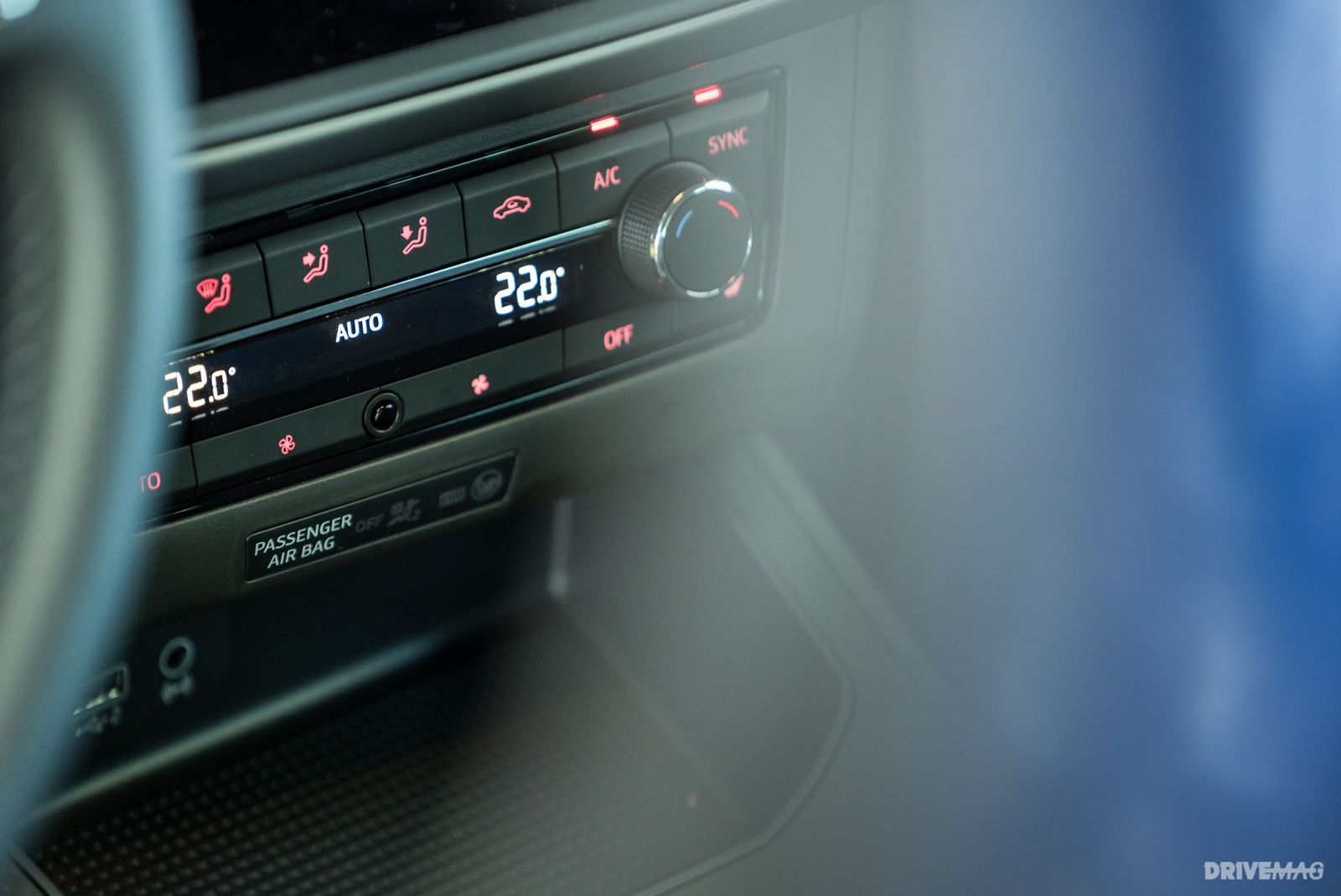 In terms of equipment offered, the second to top Xcellence trim is a fairly decent choice. SEAT throws decent amounts of equipment on all trim packages, except maybe the fleet-aimed, entry-level one. However, just like any of its VW Group siblings, if you want the really good stuff you have to start ticking boxes in the options list.
---
Acquisition 7/10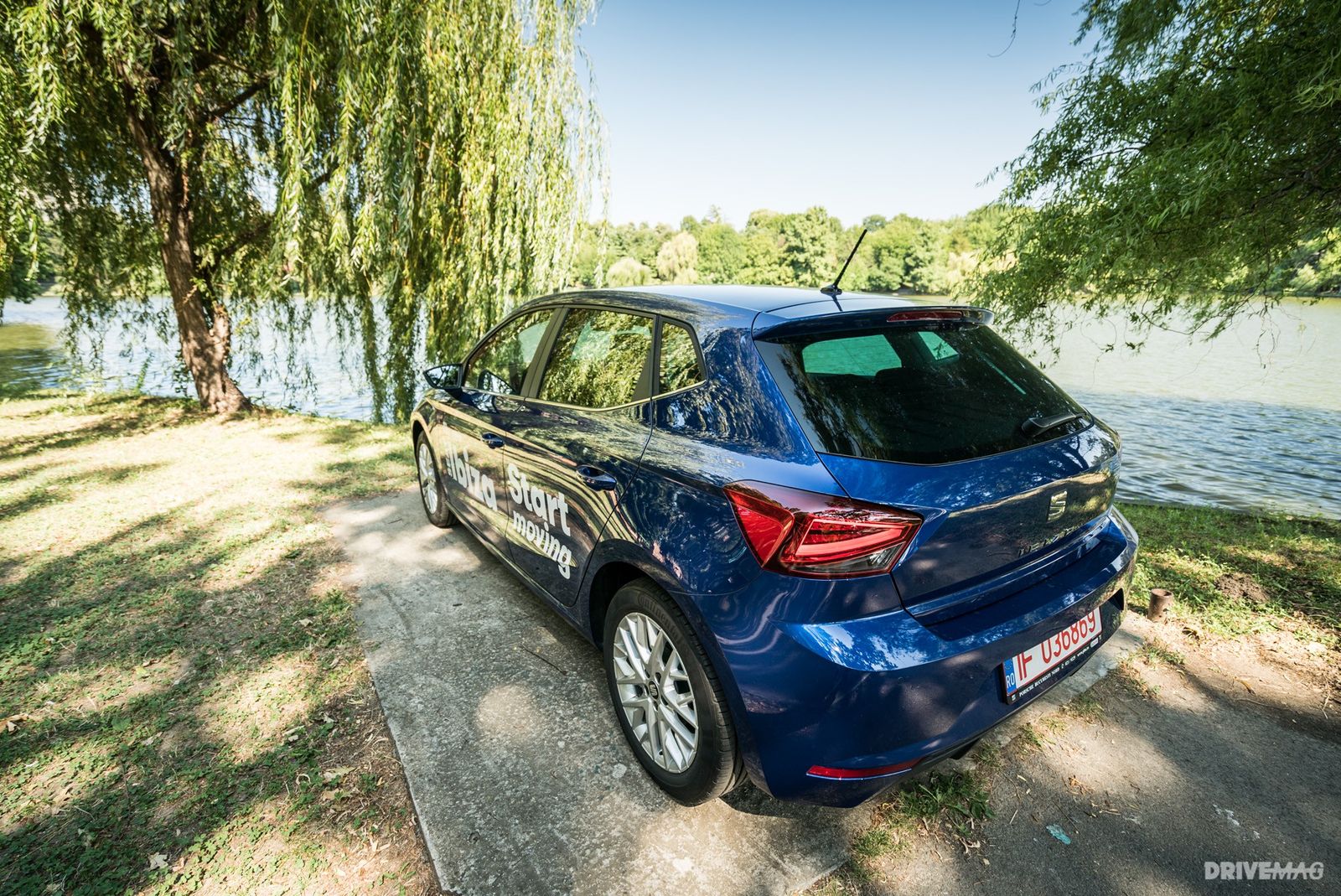 If the price accesibility is what you're looking for, don't delude yourself with the naturally-aspirated 1.0 MPI: it might be cheaper but it'll cost you at least as much as a similarly-equipped 1.0 TSI. The latter is not only lively but also available with every trim.
If you're a commuter and your daily route includes highways, you want to try the 115 hp version as well — that comes with a six-speed manual, and, even better, a 7-speed DSG 'box.
Compared to its segment rivals, the Ibiza sits quite far from the most affordable offers.