The second-generation A7 proves you can have a practical luxury car without sacrificing styling
Overall Score 84/100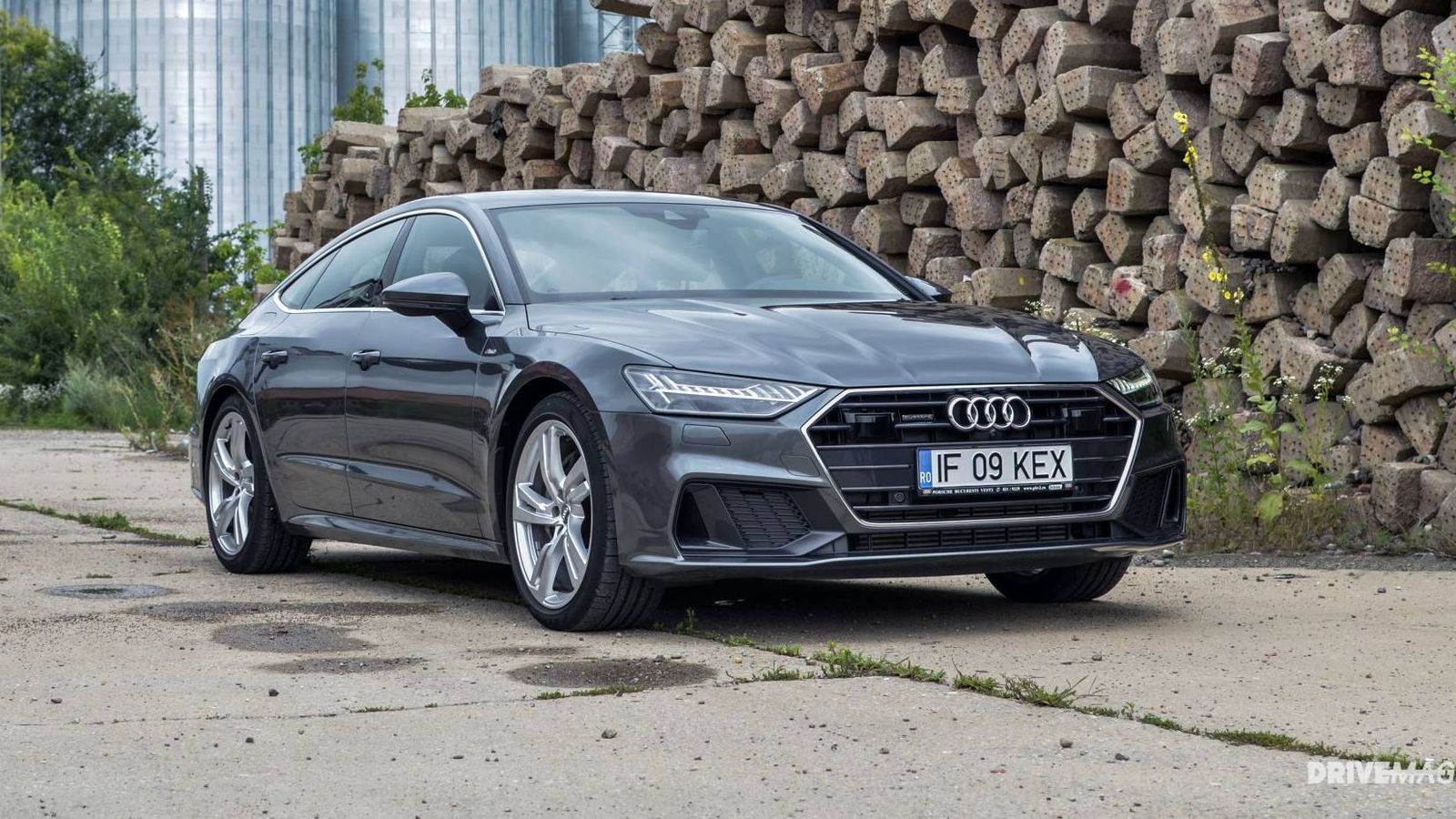 If you want a luxury car for every occasion that will get you noticed in a sea of posh sedans and SUVs, you might want to take a look at the all-new Audi A7 Sportback. Earlier this year, the big fastback returned for a second generation, bringing more technology and luxury features than before, all while improving on practicality and styling.
Speaking of styling, the A7 Sportback is an example of evolutionary design done right. The new generation model carries on key design cues that make it instantly recognizable as an A7 Sportback, but at the same time, it looks more sophisticated and upscale, as well as more polished around the edges thanks to the more harmonious proportions. I find it much better-looking than its predecessor.
As with the all-new A8 with which it shares many components, the 2018 Audi A7 Sportback uses the MLB Evo platform for longitudinally-mounted engines, bringing new hybridized powertrains, sophisticated technologies, and a slightly roomier interior.
It all sounds great, so let's delve into all things Audi A7 Sportback — reviewed in 50 TDI quattro flavor. What does that designation mean, you ask? Well, the "TDI" and "quattro" are self-explanatory. As for the "50," it's a vague hint to the engine's power, not the displacement. So, when you see the 50 badge on an Audi from now on, you should know it has between 286 to 313 metric horsepower. In our case, 286. Did I draw the short straw? Read on to find out.
---
IN BRIEF
RECOMMENDED FOR:
Families, Managers, Seniors
HATS OFF FOR:
Comfort, Engine Power, Gadgets, Luggage Space, Passenger Space
---
DRIVE
Powertrain 8/10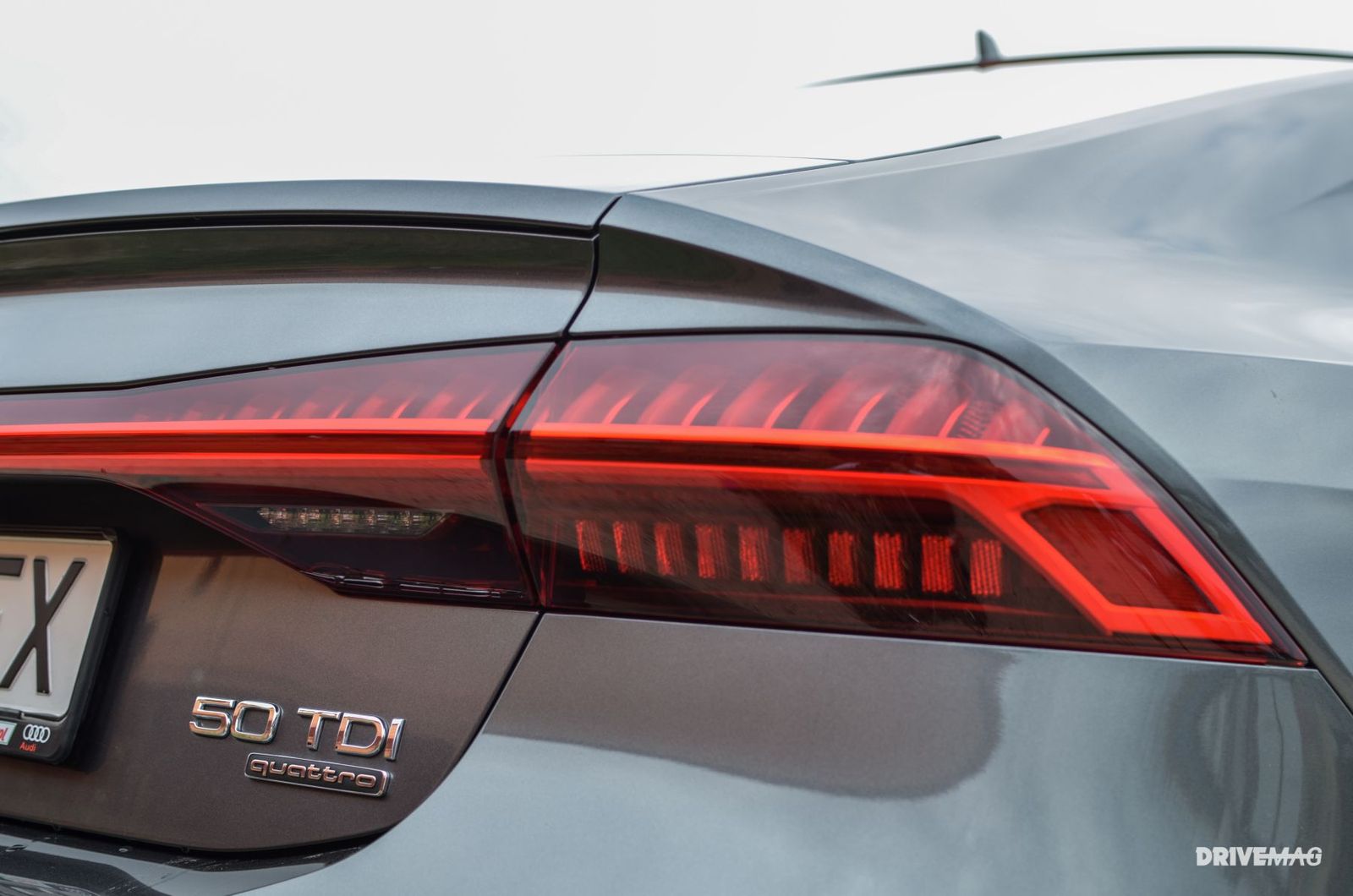 Our tester paired a 3.0-liter V6 turbodiesel engine with 48-volt mild-hybrid technology, which is why Audi calls the A7 50 TDI quattro an MHEV (mild hybrid electric vehicle). It's got plenty of power and (especially) torque on tap: 286 metric horsepower at 3,500-4,000 rpm, and 620 Nm (457 lb-ft) at 2,250-3,000 rpm.
You do feel the surge of that generous torque when you put your foot down, as the V6 catapults the massive A7 from 0 to 100 km/h in 5.7 seconds. Thank you, quattro! Top speed is 250 km/h (155 mph), and that should please frequent users of the Autobahn.
I do have an issue with the transmission, though. You see, the peak torque was too big for the S tronic seven-speed double-clutch gearbox that the 55 TFSI quattro model gets, so Audi fitted the 50 TDI quattro with a Tiptronic eight-speed automatic. Nothing wrong with that if you like to drive in a relaxed manner, but if you're into spirited driving, the transmission's delays will get to you. Pushing the throttle hard at low speeds inevitably confuses the gearbox. For a second or so, it just doesn't seem to decide which gear to engage. It's like it's asking you: what's the rush?
---
Handling 8/10
Disclaimer: the Audi A7 Sportback 50 TDI quattro is 4,969-mm long and tips the scales at 1,955 kg (4,310 lb). Any assessment of its cornering abilities should take those figures into account. That said, the big Audi exhibits safe and predictable behavior in corners, even though it leans quite a lot. It's not the most fun way of driving fast through turns, but I have to say it's remarkably effective, especially in Dynamic mode where the optional Comfort suspension with adaptive dampers is at its stiffest.
I suspect the A7's ease of negotiating corners has a lot to do with the optional quattro sport differential fitted to the rear axle that varies torque between the rear wheels. Add to that the rear-biased quattro system and the optional Dynamic All-Wheel Steering our car had, and you understand why the big fastback fails to exhibit that typical Audi understeer. Rear-wheel steering also boosts maneuverability in tight spaces, so make sure to tick that option box if you're planning to use the A7 in the city frequently.
---
Safety 10/10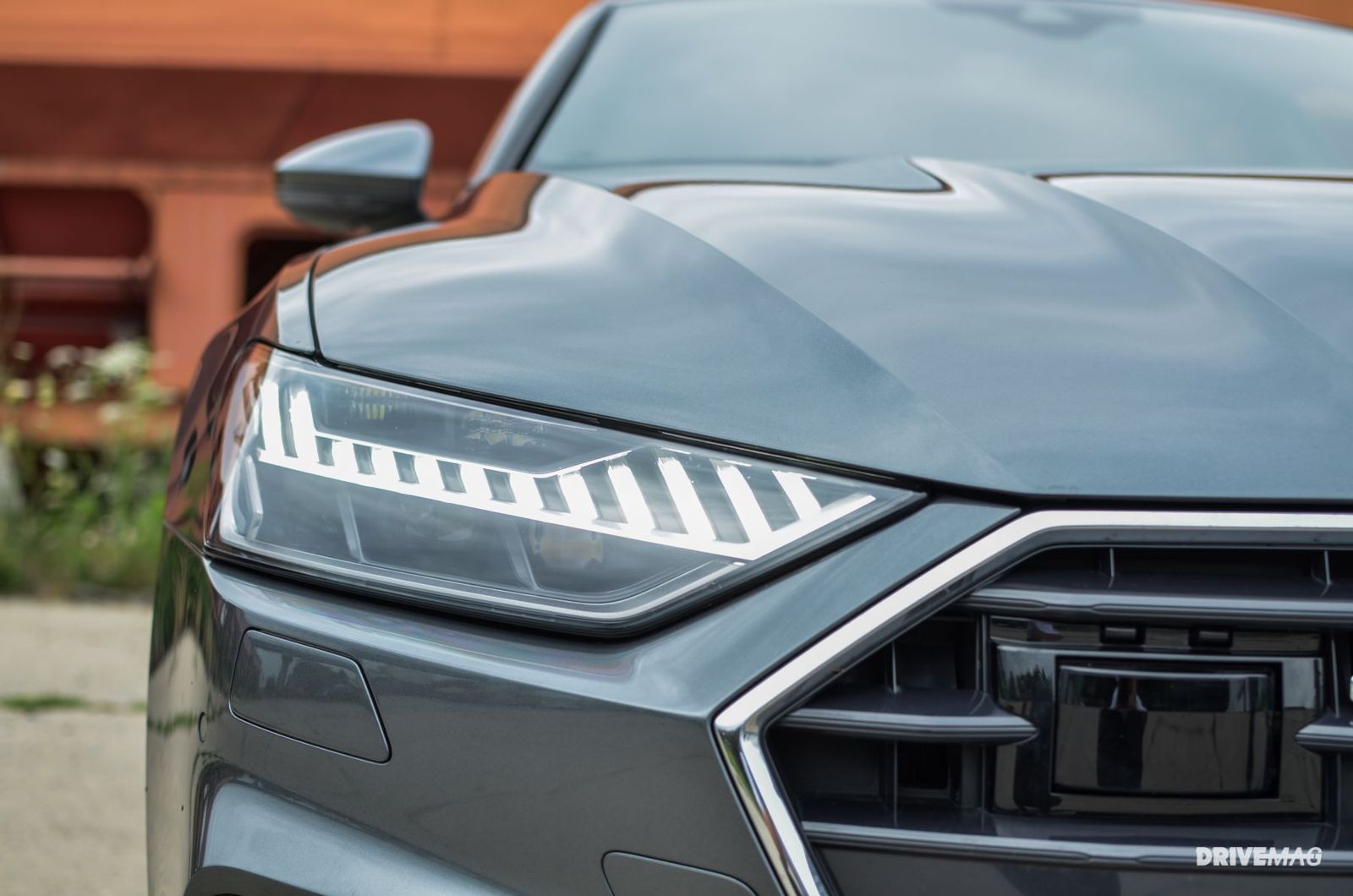 The all-new Audi A7 Sportback hasn't been assessed by Euro NCAP, NHTSA or IIHS. However, it's safe to say customers shouldn't have any worries about the car's crashworthiness. The Audi Q7, for instance, which shares the MLB Evo platform with the A7 Sportback, has received five stars from Euro NCAP, posting remarkable results in all areas.
Besides an array of airbags, ABS, electronic stability control and autonomous emergency braking systems, standard safety features of the 2018 A7 Sportback include Audi pre safe front (prepares the car for an imminent impact), lane departure warning, tire pressure monitoring system, and parking sensors. Optional safety and driver-assistive features fitted to our tester included lane departure assist, 360-degree cameras, LED Matrix headlights, traffic sign recognition, and Adaptive Cruise Control with Stop & Go.
While the cameras are cool and useful during parking maneuvers, if I had to choose just one optional safety feature I'd get the Adaptive Cruise Control with Stop & Go. That's because it's the best system of its kind I've tested so far, going almost fully autonomous in congested traffic: when you engage it, you don't need to nudge the throttle — the car will advance on itself, following the vehicle ahead.
---
INTERIOR
Comfort 9/10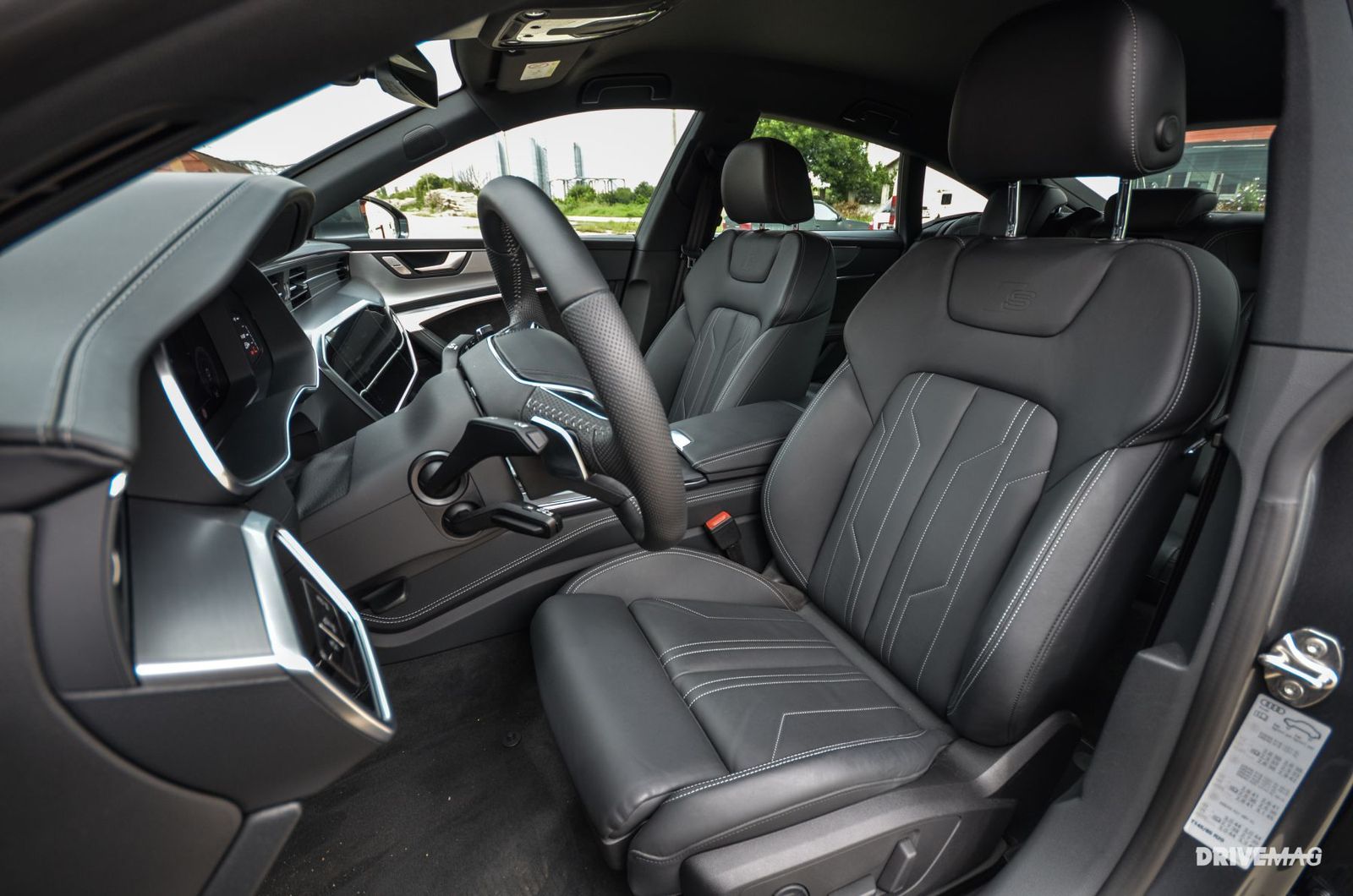 The ride quality in the Audi A7 Sportback is just superb with the optional Comfort suspension with adaptive damping. Mind you, it's not an air suspension (although you'll find one on the options list), but it's bang on when it comes to balancing comfort and handling. However, it doesn't like sharp bumps that much, and that may have something to do with the optional 20-inch alloys shod with 255/40 section tires. I believe the standard 18-inch rims with 225/55 section rubber would solve that problem. There is a trade-off, however: the A7 doesn't look that good with smaller wheels.
The front sport seats with power adjustments are extremely comfortable and supportive, and the driving position is just as you'd want it. Remarkably for a car with frameless windows, the A7 Sportback is very silent — as long as you spec the optional double-glazed anti-acoustic side windows. The cabin remains silent at all times, even at motorway speeds. Wind, engine, and tire noise are kept to a minimum, but you do hear the typical diesel clatter at start-up and when driving off. Visibility is good, except toward the rear because of the inclined window. After all, Audi offers standard front and rear parking sensors for a reason.
---
Quality 9/10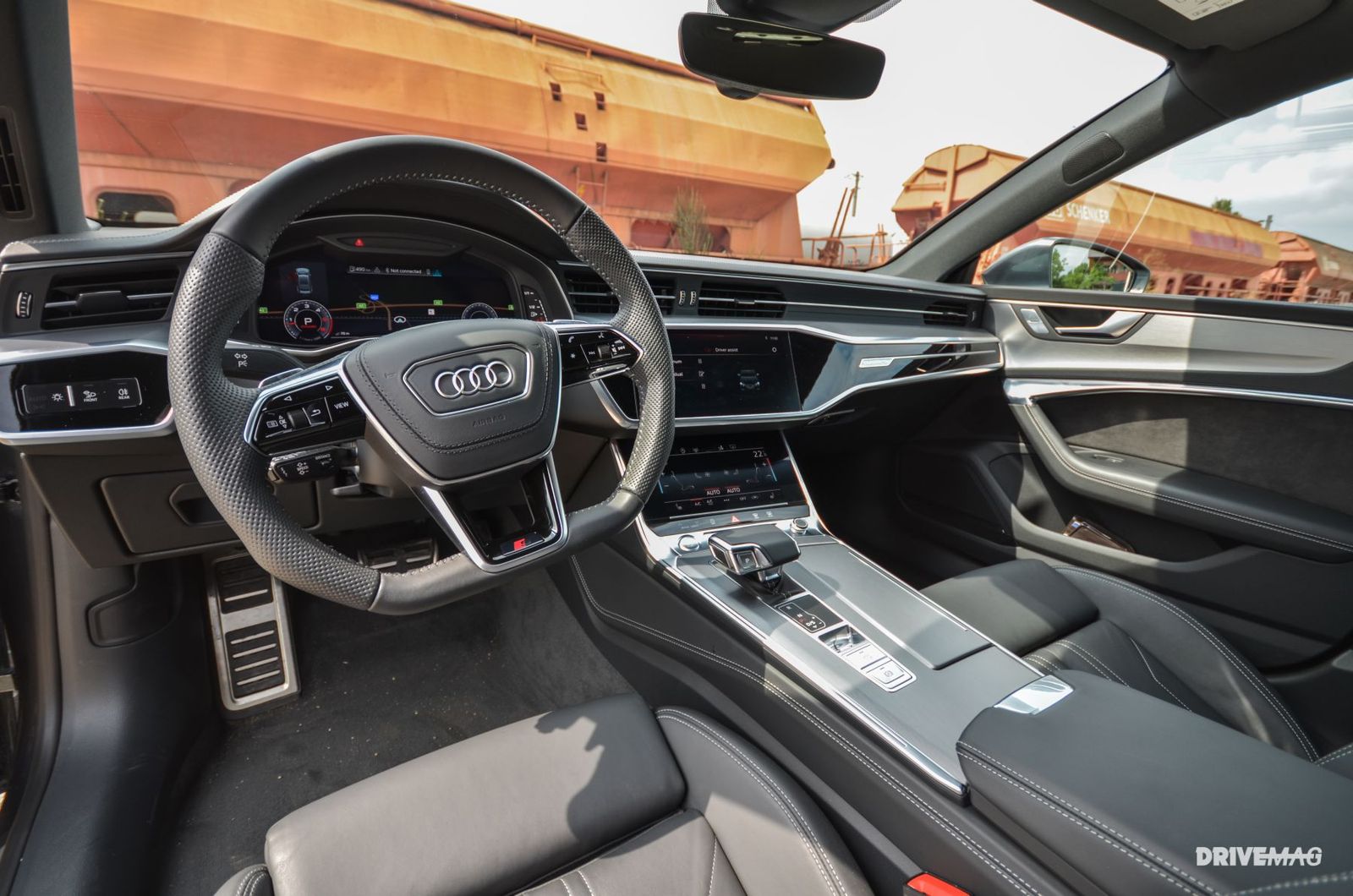 Audi's well known interior quality is at its best in the A7. Mind you, not everything fitted to our test car was standard, so you need to spend extra for things like the Valcona leather upholstery, the leather covered dashboard, and the S line goodies such as the front sport seats, multifunction, flat-bottomed steering wheel wrapped in leather, matte aluminum trim, and stainless steel pedals.
The plastics are high quality, with some minor exceptions in places you're less likely to pay attention to anyway, while fit and finish are excellent. Everything passengers touch feels upscale, even the two central displays that emit a soft click to confirm you have entered a command. I could get used to a driving environment like this, although I'm not so sure the digital screens will remain fashionable ten years from now.
---
Practicality 8/10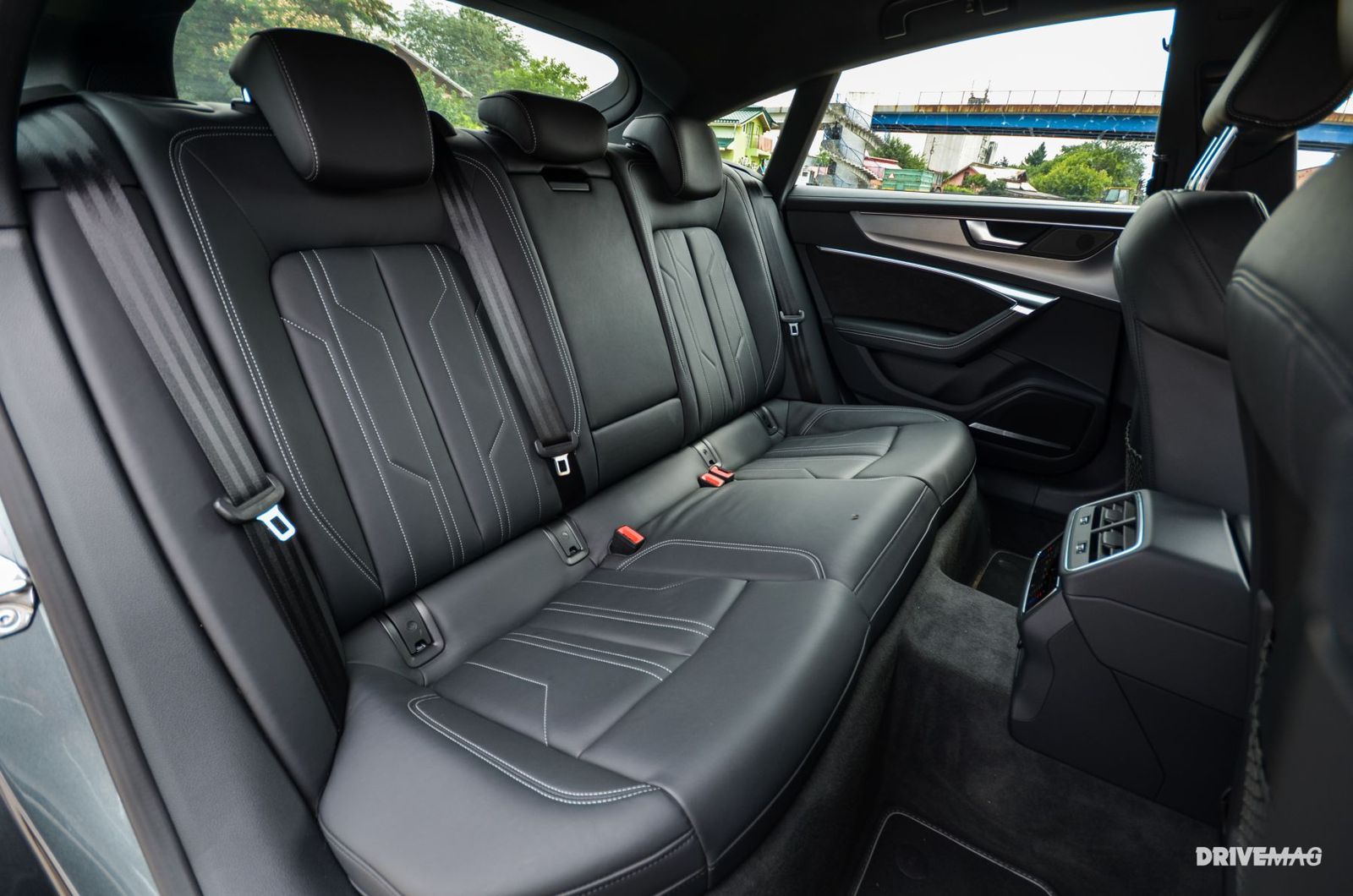 This particular car comes with optional seating for three in the rear, but having three tall adults there for long trips might not be the best idea. Those assigned the middle seat are bound to resent the driver because their feet will be in a constant struggle with the massive transmission tunnel. While knee room is generous and legroom is adequate, the sloping roofline eats into headroom — a six-foot-tall adult can just about squeeze in, but taller passengers won't fit so comfortably.
When it comes to cargo capacity, the A7's boot has a volume of 535 liters, which is more than in the Mercedes CLS, but less than in the BMW 6 Series GT. Like the BMW, the Audi is a five-door fastback which means access to the boot is good thanks to the massive tailgate. The cabin comes with plenty of storage spaces: there are two cupholders in the front and two in the rear, as well as spacious door cards. The dash even houses a surprisingly deep storage space left of the steering wheel.
---
Infotainment 8/10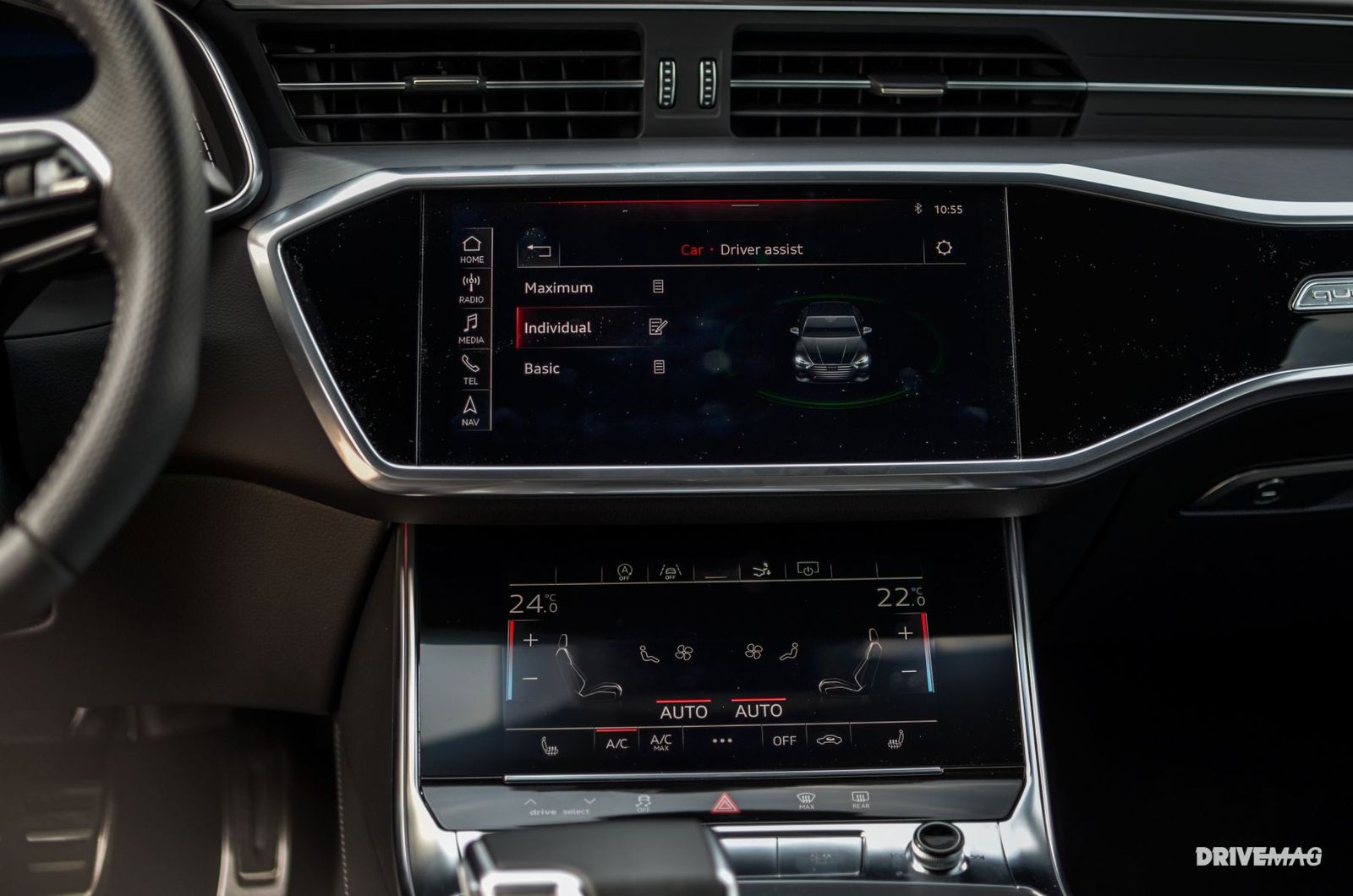 As with the new A8, the A7 adopts the latest-generation MMI infotainment system that ditches the rotary controller for touchscreen-only operation. Our car had the optional MMI navigation plus with MMI Touch response that combines a 10.1-inch central touchscreen with the 12.3-inch Audi Virtual Cockpit.
While the graphics are top notch and the operating speed is superb, I do find the interface somewhat distracting. That's because drivers need to take their eyes away from the road to operate the infotainment screen, not to mention there is now a second touchscreen for the climate control and seats. If you want to avoid that, you can try sending voice commands, although the system is not as intuitive as in the latest BMW cars. The haptic feedback offered by the displays is a nice touch, but you won't get it unless your finger hits the desired icon with accuracy.
---
BUDGET
Efficiency 8/10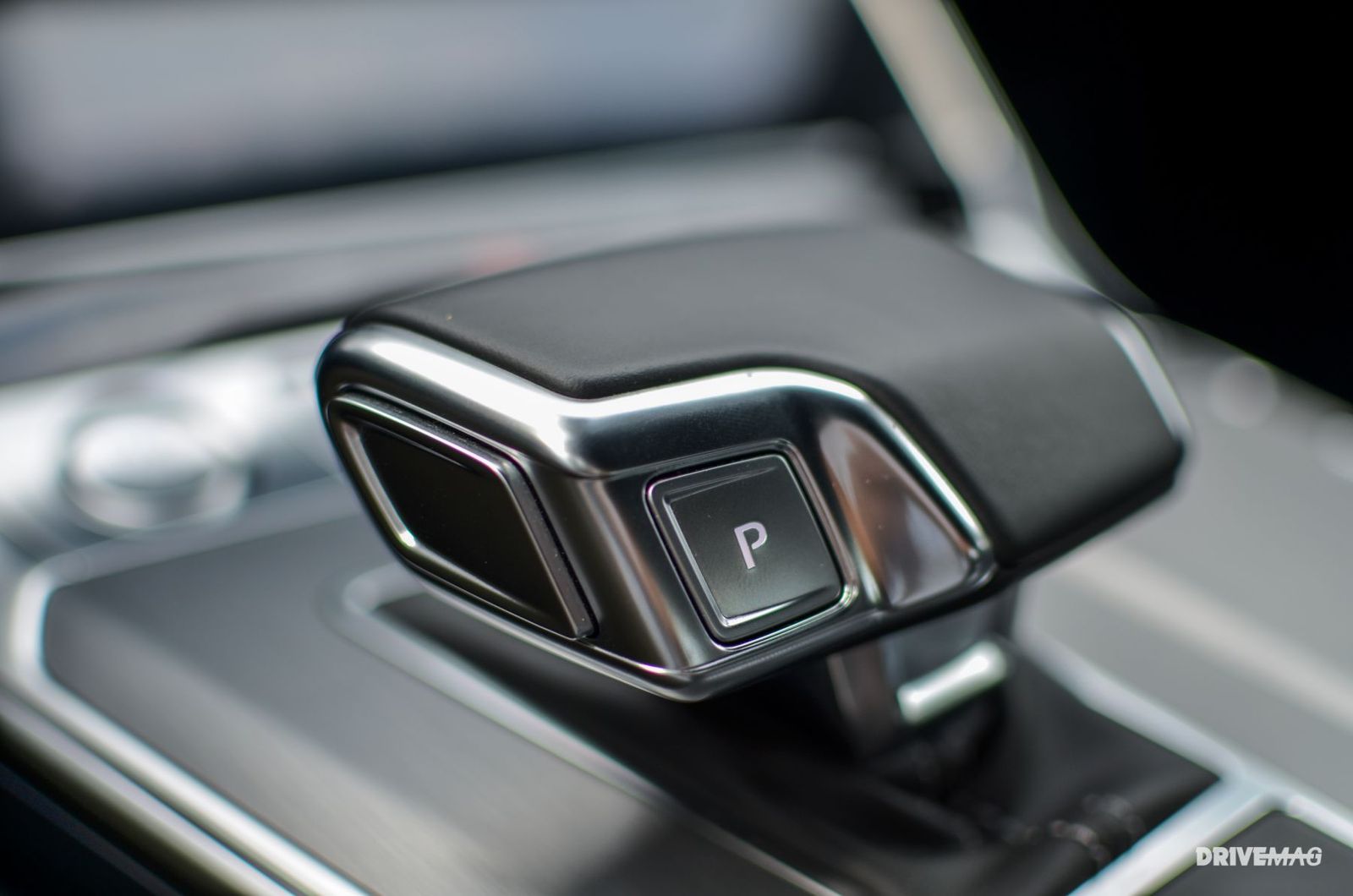 Audi claims the A7 Sportback 50 TDI quattro will average between 5.8 and 5.5 liters/100 km, depending on the wheel/tire combination. Unsurprisingly, that won't happen in real-life conditions, but that doesn't mean the big Audi is a thirsty machine.
Quite the contrary, during our time with the car the trip computer settled at 8.8 l/100 km, which is remarkable for a 2-tonne vehicle motivated by a 3.0-liter V6 engine. To be fair, about 75 percent of our test route was on the open road, but that's still more than adequate. A lot of credit goes to the coasting function, which engages in Efficiency mode between 55 km/h and 160 km/h — you even get haptic feedback in the accelerator pedal that lets you know coasting is ready to engage. The function effectively shuts down the engine to boost fuel economy before a belt alternator starter seamlessly restarts it when you touch the throttle.
---
Equipment 8/10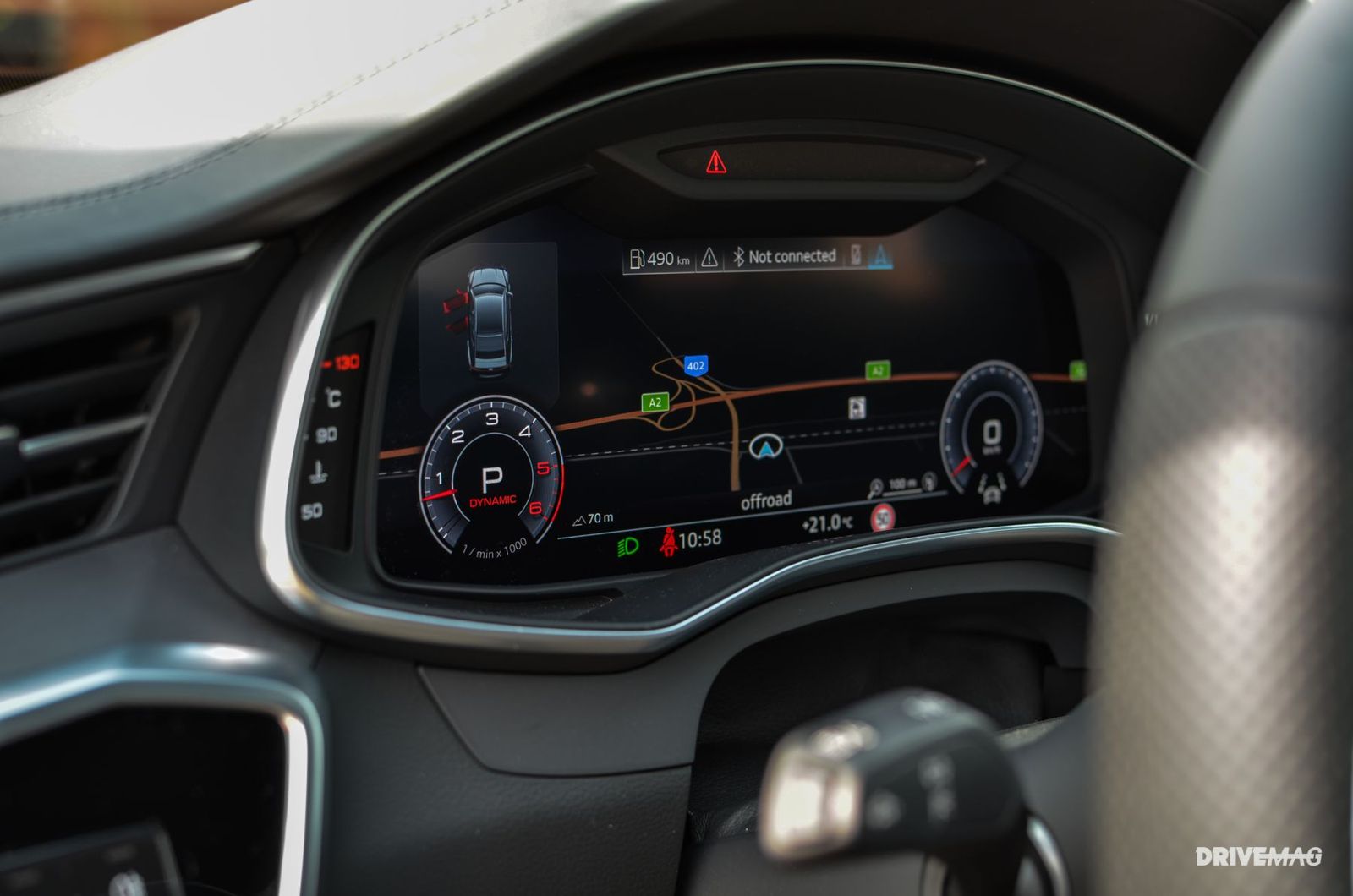 Audi is generous when it comes to standard features. Highlights include the LED headlights and taillights, parking sensors, Audi drive select, power tailgate, the MMI navigation with an 8.8-inch display, Bluetooth connectivity, power tailgate, and a front armrest.
However, you need to spend big to make your A7 look and feel as special as our test car did. The optional features I'd recommend are the Dynamic All-Wheel Steering, 360-degree cameras, Adaptive Cruise Control with Stop & Go, Comfort suspension with adaptive damping, and quattro with sport differential on the rear axle. Our car had a lot more extras than that, however. More specifically, the optional extras amounted to more than €37,000, driving the car's price to almost €110,000. That's crazy, but what's even crazier for that price is that the seats lacked ventilation and massage functions, and the car had no sunroof, making the interior a bit dark for my taste.
---
Acquisition 8/10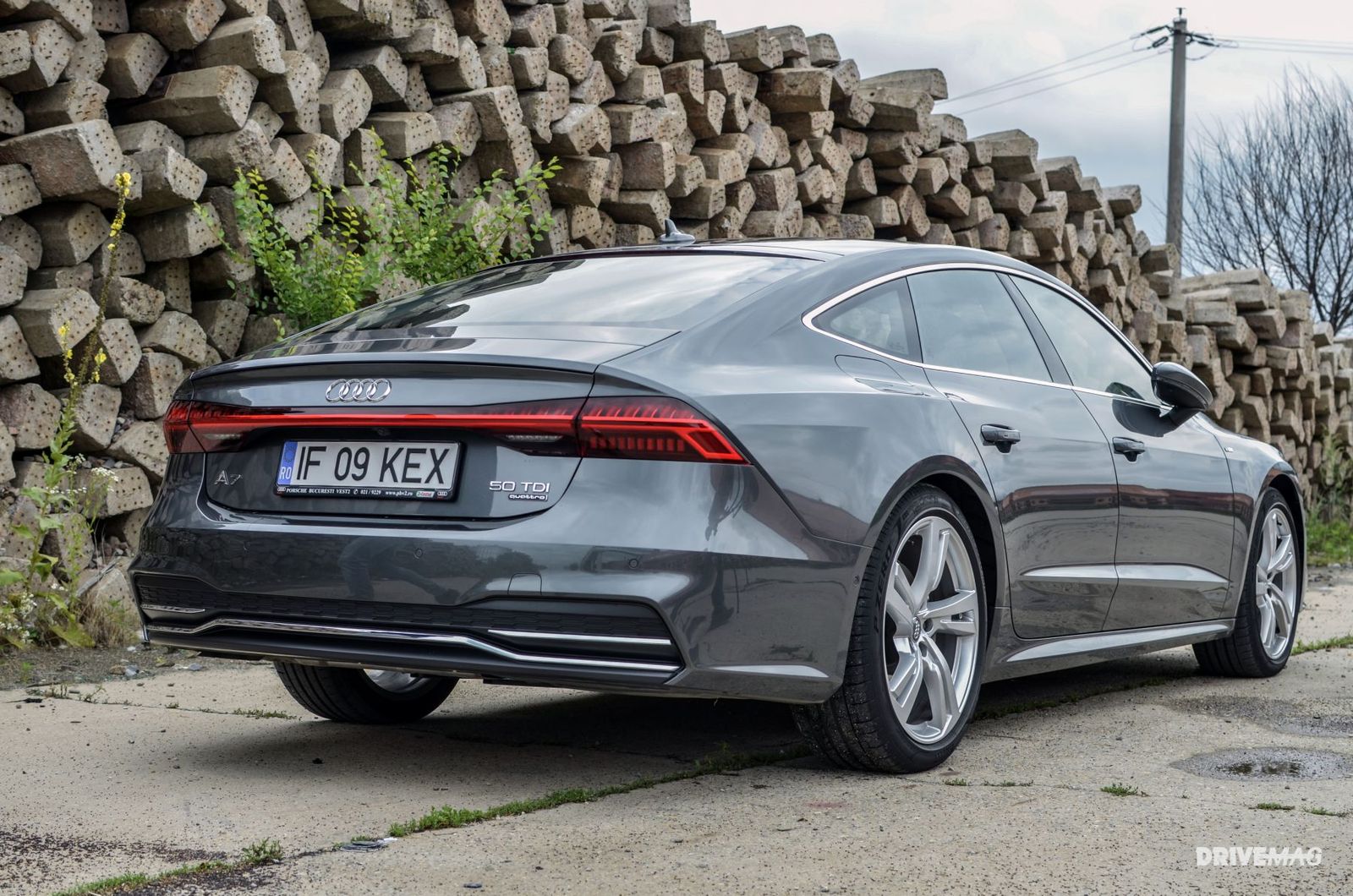 The 2018 Audi A7 Sportback 50 TDI quattro starts at €66,300 in Germany, but our Romanian-spec car had a base price of €70,740. If you think that's a lot, the extensive list of optional extras fitted to the tester had its price skyrocket to €109,237. That's A8 money, so you need to know when to stop ticking the extras boxes.
A base A7 Sportback 50 TDI quattro is less expensive than the more utilitarian 265-hp BMW 630d xDrive Gran Turismo (from €70,300) and the more stylish 286-hp Mercedes-Benz CLS 350 d 4MATIC (from €68,127). If like me, you see the Audi A7 Sportback as the arithmetic average of its two main rivals, the price will make a lot of sense. It will buy you a very comfortable, stylish, and luxurious car, without the practicality sacrifices that a CLS entails.