The best and most advanced vehicle… currently made by the Romanian automotive industry
Overall Score 77/100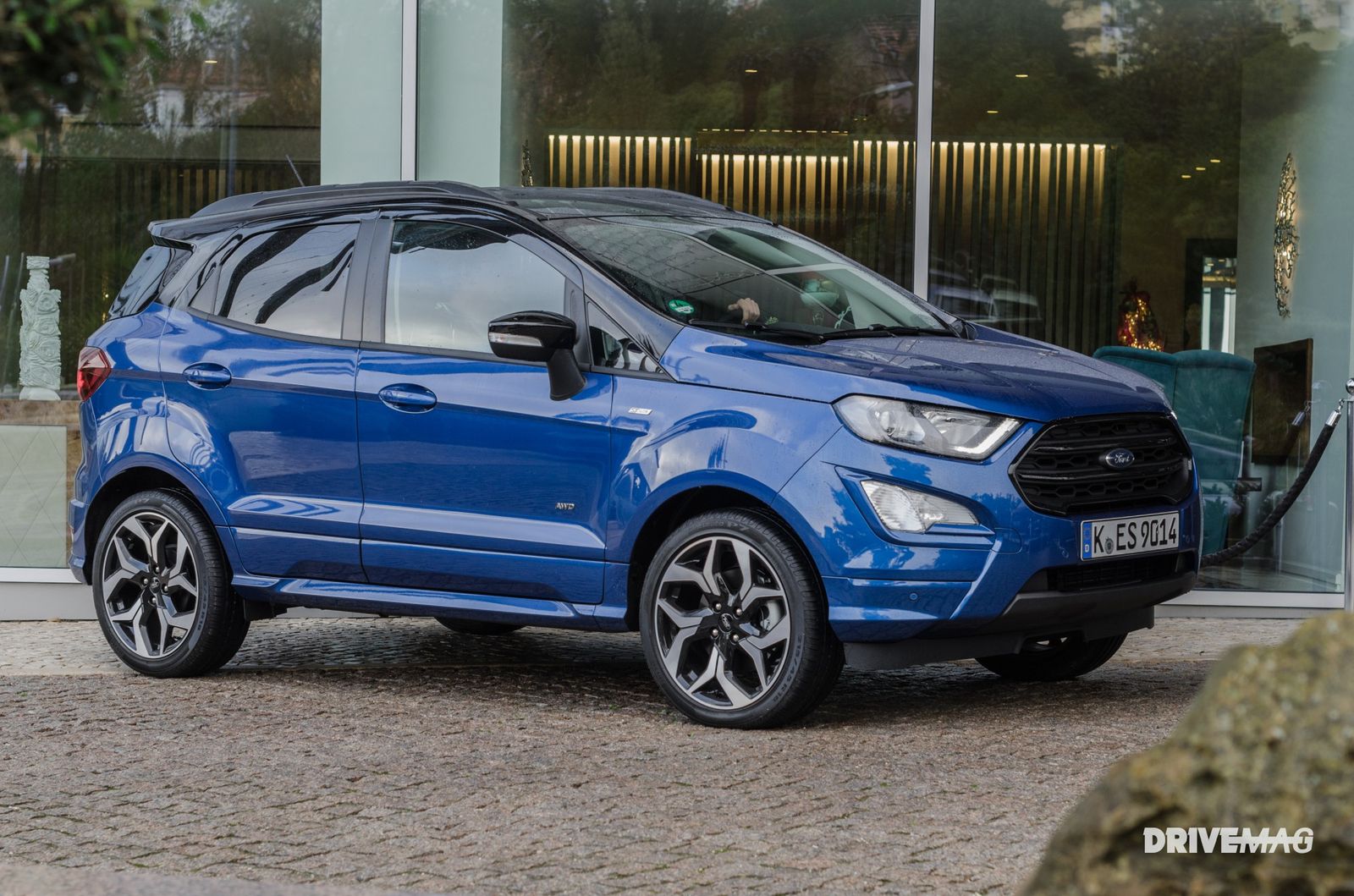 Ford has dramatically overhauled its pint-sized EcoSport mini-SUV for 2018 and the result is a drastically different car (especially to drive and travel in). Firstly, the cheap feeling and uninspired interior is gone, replaced with something much more along the lines of the new Fiesta.
Driving dynamics have also been addressed and, at least in the top ST Line trim which I tried, felt much more composed on the road than anything this tall would ever have a right to. Front-wheel drive is standard on all versions, but all-wheel drive is now available for the first time to aid in low grip conditions.
But from what I was able to experience during my relatively short first drive, the EcoSport is a mostly on-road kind of SUV and I actually had more fun threading the front-wheel drive model around the twisty mountain roads around its Lisbon launch location – sending power to all four wheels adds a weight penalty and makes the vehicle feel slightly duller to drive in a spirited manner.
Styling is also mostly new – Ford's attention has been concentrated on on redesigning the front end of the EcoSport. The rear is for the most part unchanged, but slight detail tweaks and personalization options help set it apart from the pre-overhaul model.
---
IN BRIEF
RECOMMENDED FOR:
Driving Nuts, Families, Seniors, Young And Single
CREATED FOR:
Urban Driving, Winding Roads
HATS OFF FOR:
Ergonomics, Road Handling, Sound System
---
DRIVE
Powertrain 8/10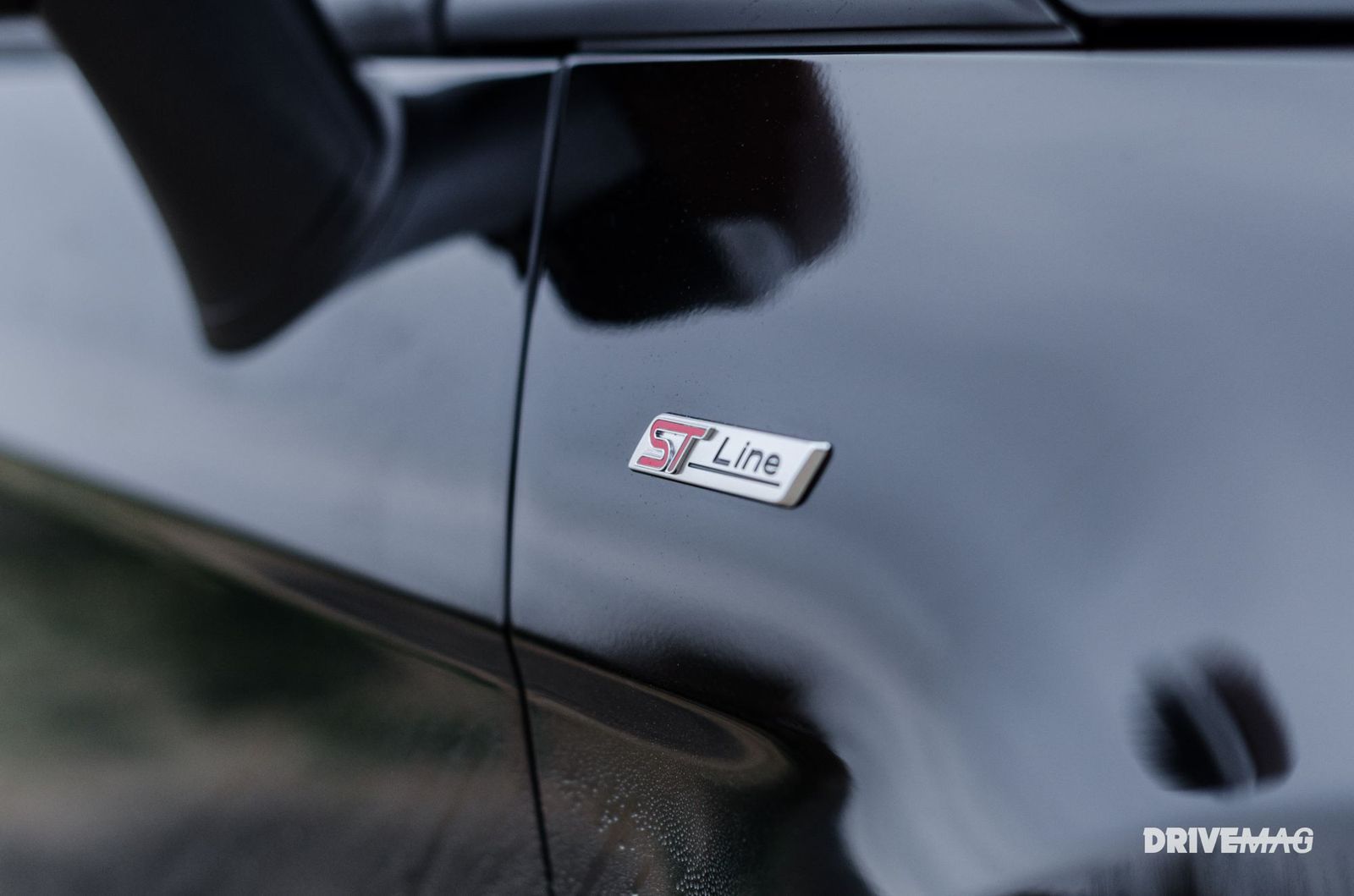 The EcoSport I tested was the sporty ST Line trim model with the peppy 1.0-liter EcoBoost engine in its most powerful 140 PS guise. Hooked up to a slick-shifting six-speed manual gearbox (it's new, replacing a five-speed unit)One glance at the EcoSport will tell you it's not the kind of vehicle you'd choose for attacking bends at high speed. But you'd be wrong as it is actually one of the best handling small SUV/crossover vehicles currently on the market.
Sprinting out of corners, it manages to put is to put its power down admirably and the traction control hardly ever intervenes to keep the vehicle in check, unless the road is wet. But on dry roads, it has more handling prowess than something this tall has any right to have., it made light work of motivating the vehicle, giving it lively acceleration (especially in its first three gears) and up to highway cruising speeds where aerodynamics slow down its acceleration quite noticeably.
One highlight of the experience was the very precise feel you get when rowing through the gears. The shifter itself is not the shortest, but its range of motion is not excessive, and slotting it into gear is surprisingly pleasant.
What's certain is that the vehicle feels much quicker than its leisurely claimed 0 – 100 km/h sprint time of 11.8 seconds would suggest. In fact, I only read the spec sheet after driving the car for the first time and to me it felt a good two seconds quicker to sprint, possibly thanks to its 180 Nm torque output.
---
Handling 9/10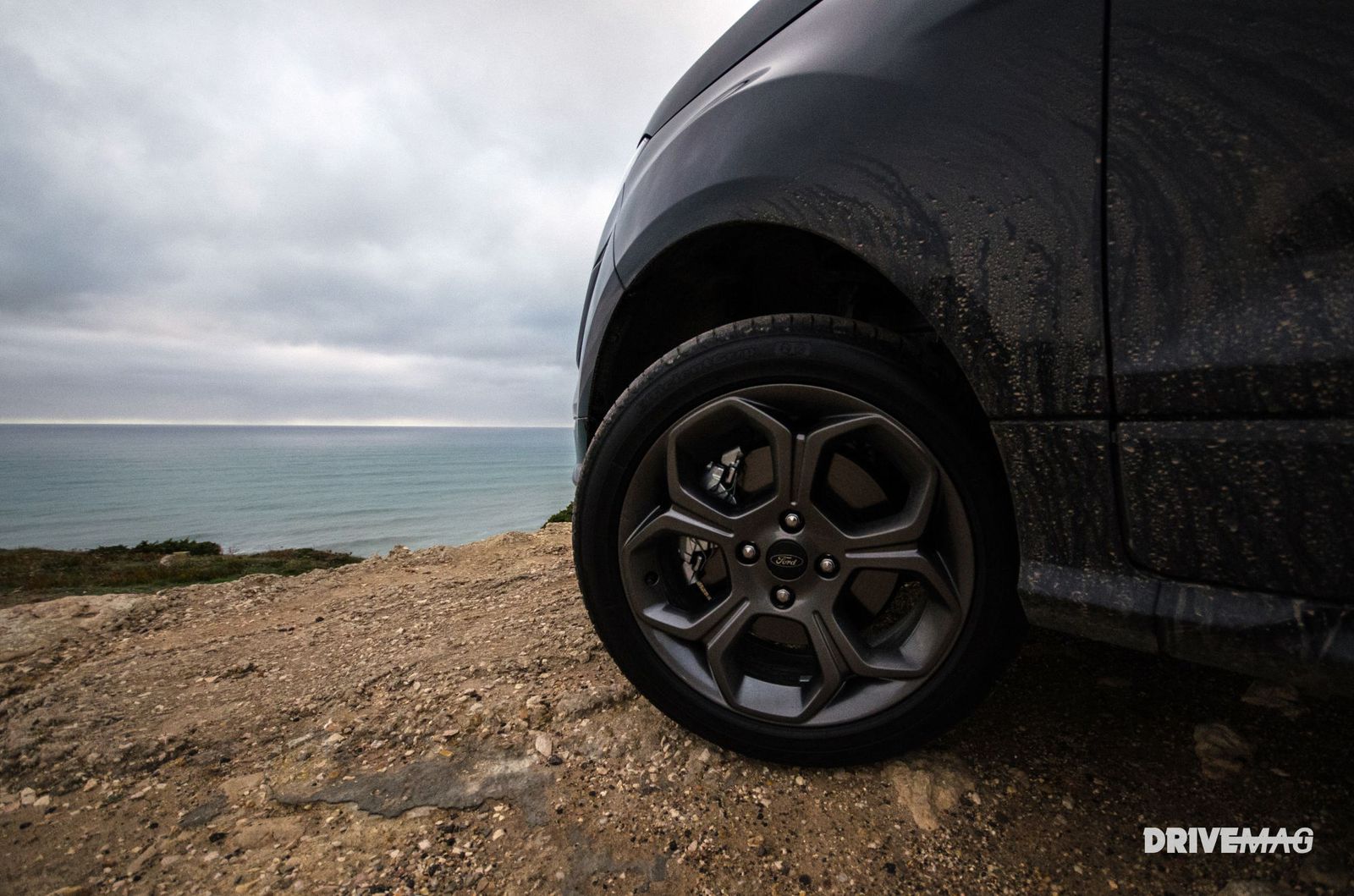 One glance at the EcoSport will tell you it's not the kind of vehicle you'd choose for attacking bends at high speed. But you'd be wrong as it is actually one of the best handling small SUV/crossover vehicles currently on the market.
Steering feels precise, with minimal on-center vagueness, and approaching bends at speed poses no problem for the EcoSport in ST Line guise. Its suspension is quite stiff and this results in really minimal body roll through the bends, oodles of grip (even in the front-wheel drive-only version) – there is fun to be had driving it in this spec.
Sprinting out of corners, it manages to put is to put its power down admirably and the traction control hardly ever intervenes to keep the vehicle in check, unless the road is wet. But on dry roads, it has more handling prowess than something this tall has any right to have.
---
Safety 8/10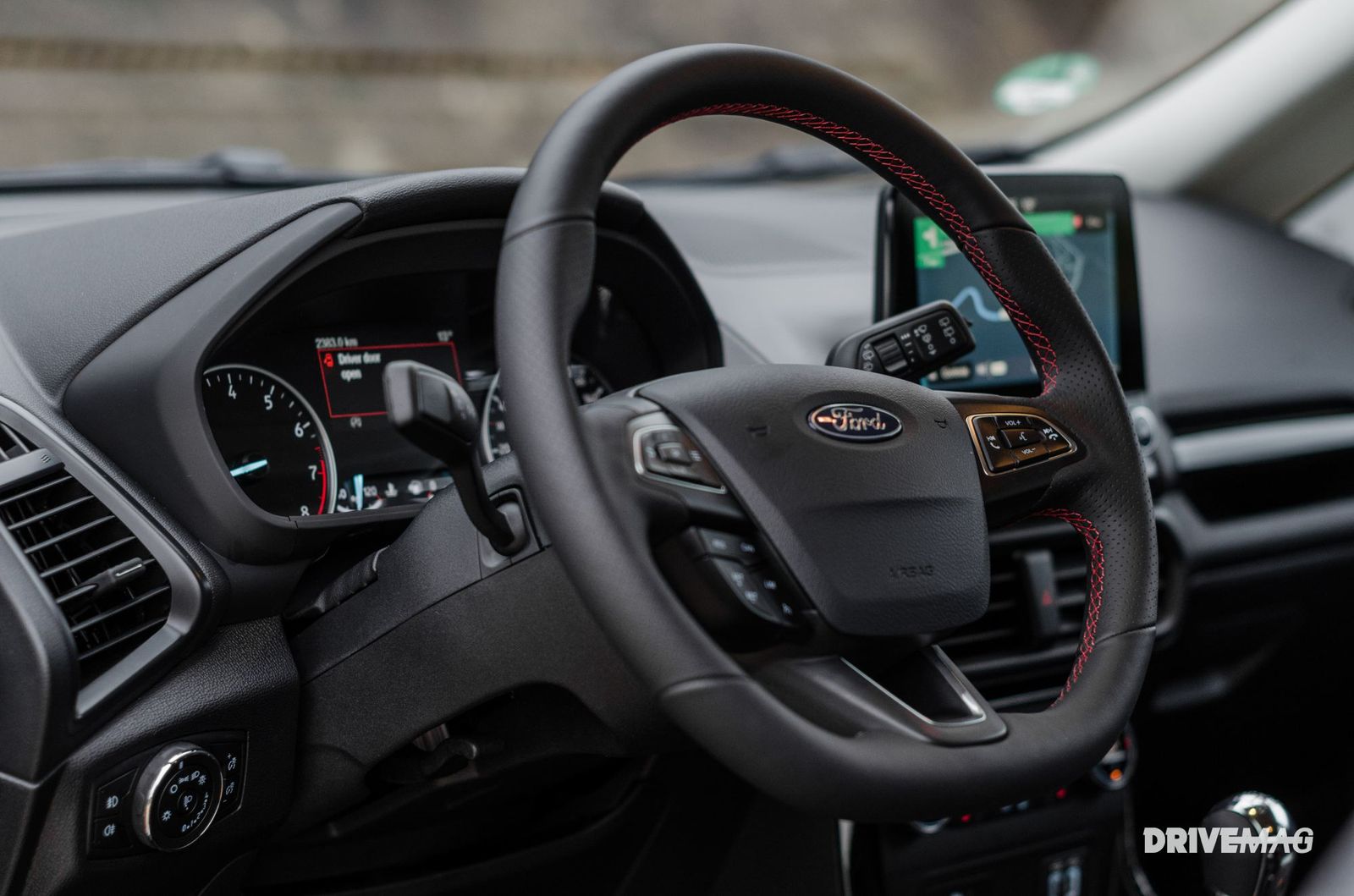 Back in 2013 when the pre-revamp model was tested by Euro NCAP it achieved a four-star rating, with a good adult occupant score of 93 percent. This new one has yet to be tested, but it should be even better as Ford says it's used more high-strength steel in its construction and it also comes with more electronic safety tech.
It has, for instance, what Ford calls "Roll Stability Control" which "adjusts engine torque and braking to help drivers maintain control."
It also has a new driver's knee airbag, new side airbags with improved chest protection and a larger coverage area.
---
INTERIOR
Comfort 7/10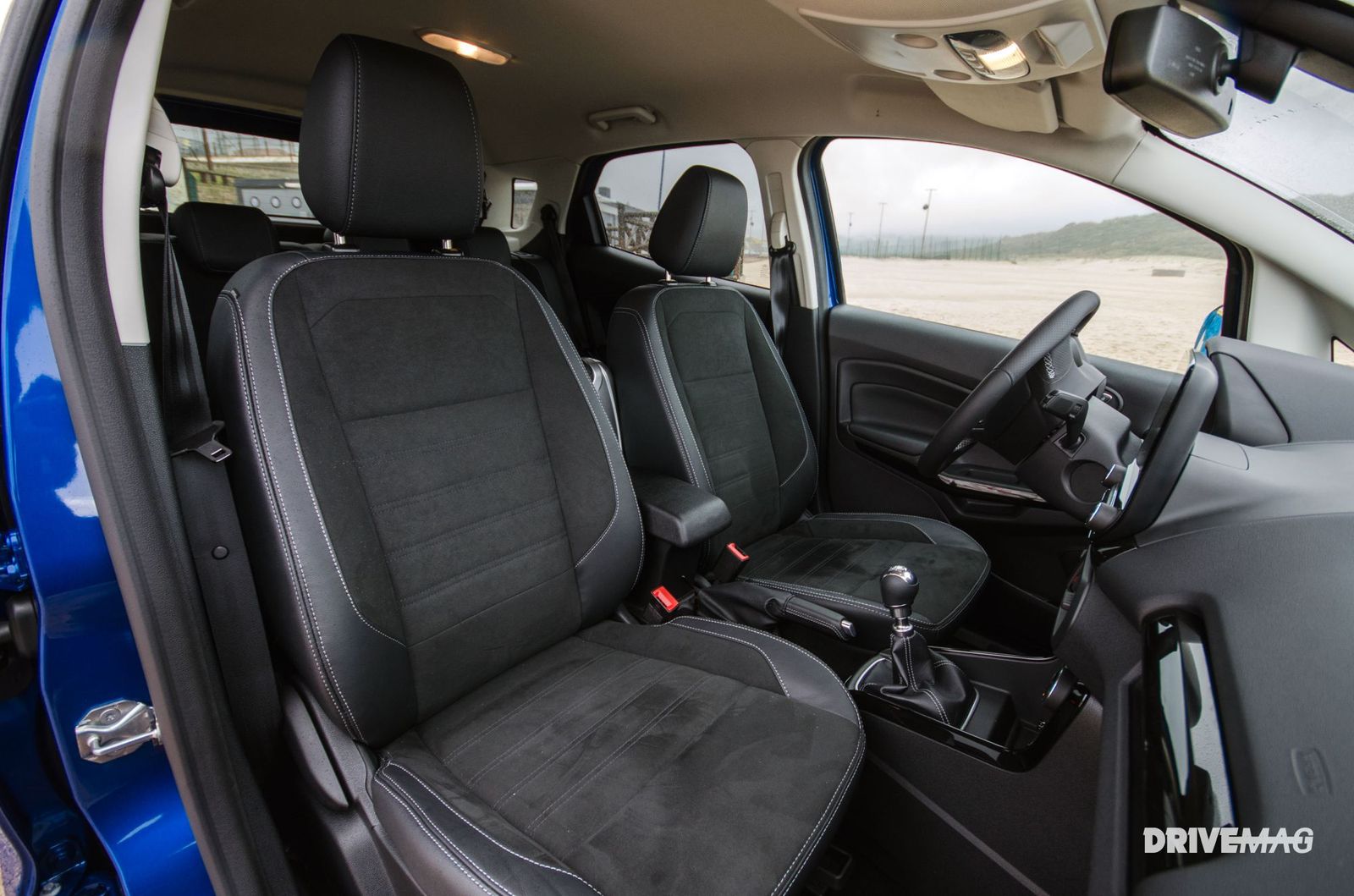 Ford now sells the EcoSport with 18-inch wheels for the first time, but while they do make the car stand out visually, they negatively affect comfort. With the 17-inch wheels, though, even the sporty ST Line model I drove felt quite settled on the road.
The smaller the rims you get on it, the better it will be able to cope with uneven surfaces, but the suspension is quite refined for class standards, resulting in no knocking over big potholes – mid-corner bumps are also dealt-with in a surprisingly calm and composed manner.
The seats are not the best, though, and even if the ST Line model I drove used a very pleasant Alcantara-like material for the center, there's no getting away from their lack of support in the front.
Move to the rear and knee room is not the best – only a short passenger could sit behind a driver any taller than 185 cm – my height is 183 cm and I could just about fit behind myself in the EcoSport. I would also have liked the seat height adjustment to allow for a lower driving position, although you can get comfortable thanks to the reach- and rake-adjustable steering wheel.
Headroom is great for all passengers, though. This is definitely a car that would quickly gain the appreciation of fans of tall hats.
---
Quality 7/10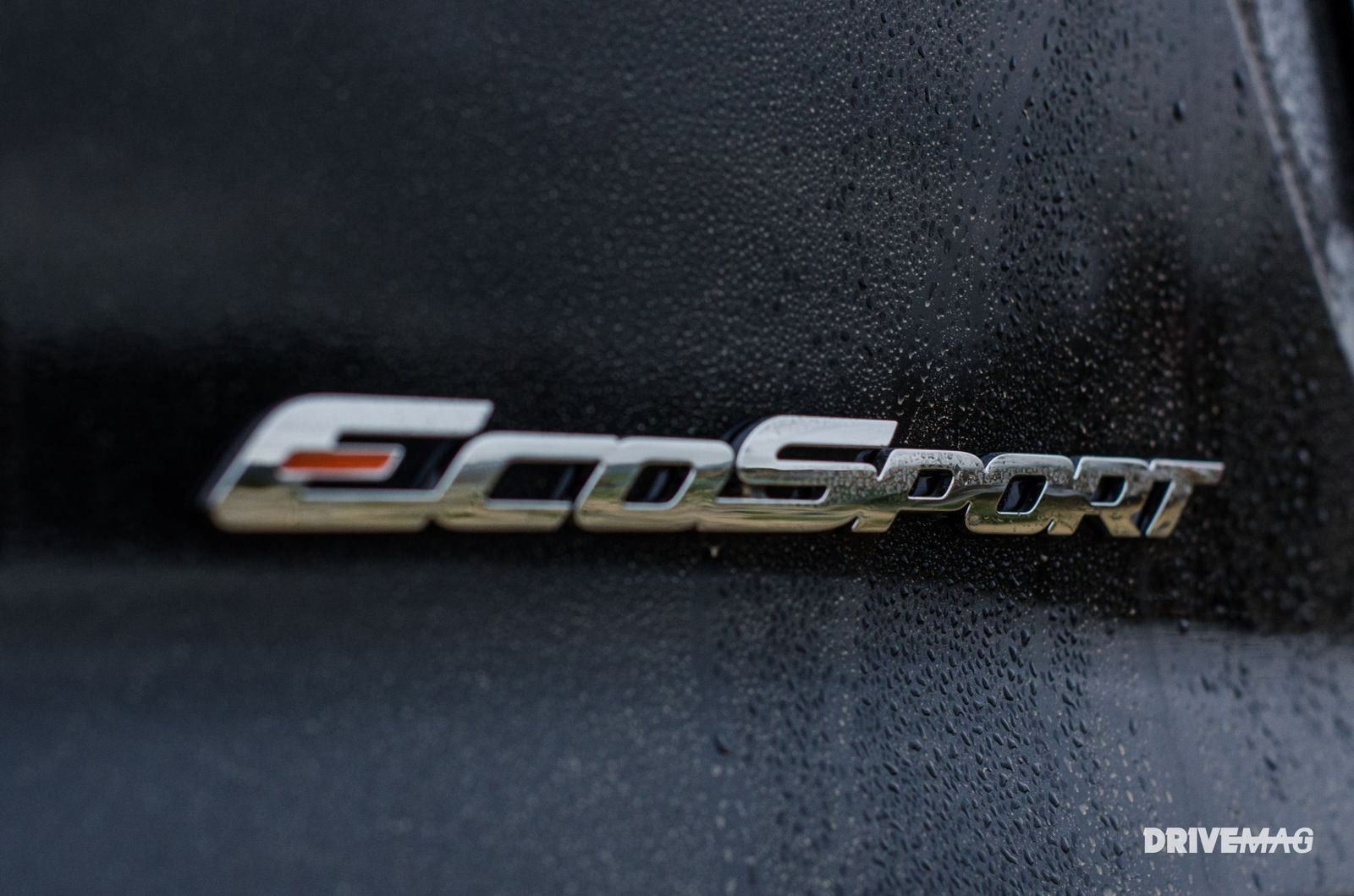 This is where the pre-overhaul EcoSport was seriously taxed by European tester, but thankfully this revised model elevates the cabin to whole new level. It's on par with its Fiesta supermini cousin and really feels modern and of the times.
Ford did skimp on the plastic on the top of the doors, though, although with the softly-padded armrests right below it can be forgiven – I'd much rather have the plush elbow padding than a soft-touch top of the door.
Seat upholstery in the ST Line uses a part Alcantara-like material and pleather combo and it definitely helps visually lift the cabin.
Front occupants get surprisingly soft armrests (central and on the doors) – the padding used is really rather good and your elbow pleasantly sinks into the thick foam. It's as thick as you get in some premium cars and something I'd like to see in more cars yet is surprisingly uncommon.
---
Practicality 7/10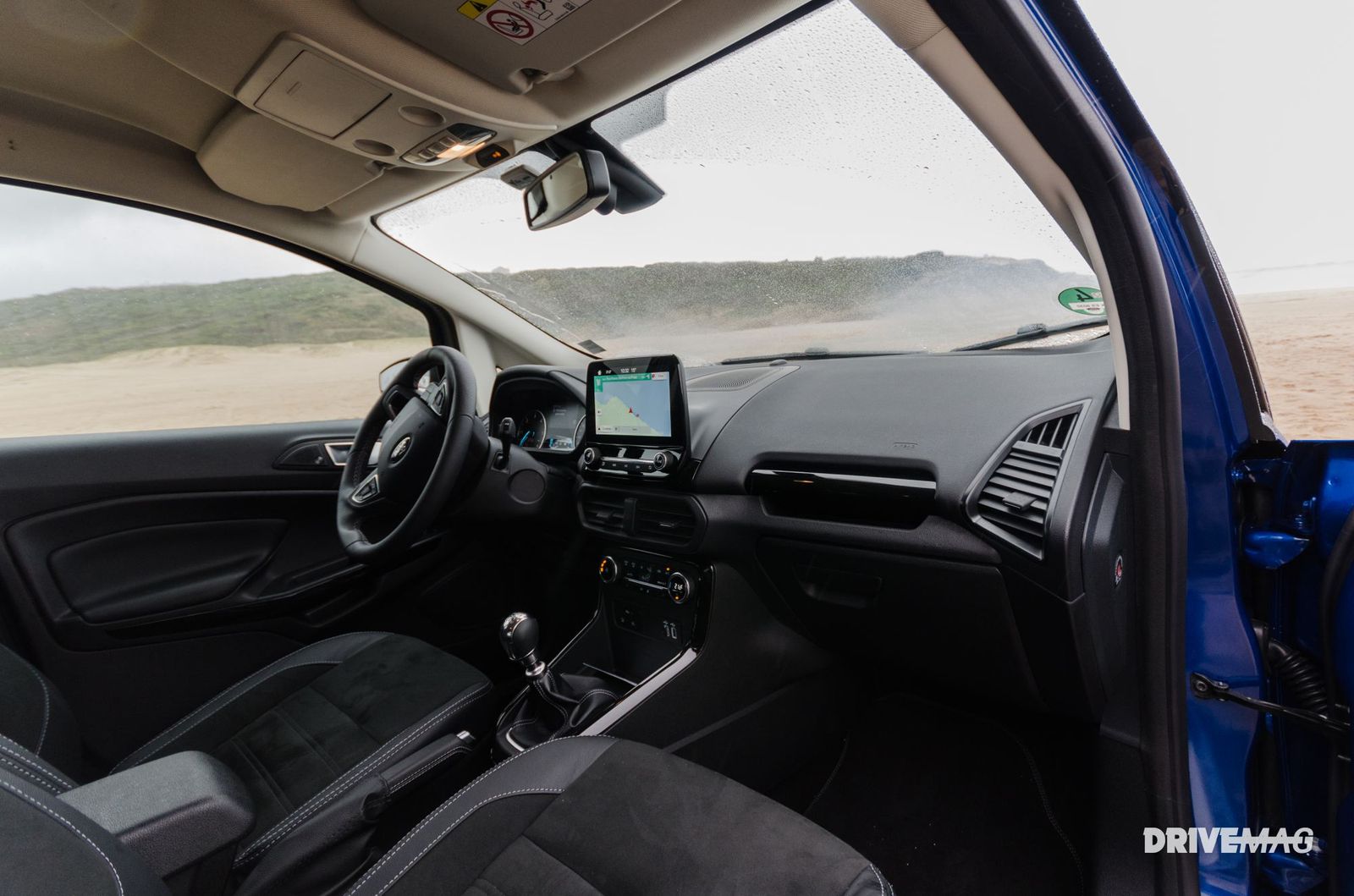 The revised EcoSport's cabin is fairly practical by current standards, although it's not class leading in this respect.
There is a decently deep center armrest cubby and the glovebox is of a decent size too, but the cupholders in the middle of the side door bins are really quite shallow and couldn't be trusted to hold a tall latte.
The cumbersome rear cargo area door is still hinged on one side thus making it tricky to fully open in tight spaces (sometimes even at all). Ford says reengineering it with top hinges would have cost 50 million euros so they decided to keep it as it was – at least the electronic door release button is quirkily hidden in the tail light.
Total load volume in the boot is 334 liters (with the new adjustable boot floor in its lowest position) which is 42 liters more than you get in a Fiesta which has roughly the same overall length and wheelbase. Interestingly, the EcoSport's maximum volume is lower than that of its main rival, the Opel Mokka (356 liters), while the Suzuki Vitara nudges further ahead with its 375 liters.
---
Infotainment 7/10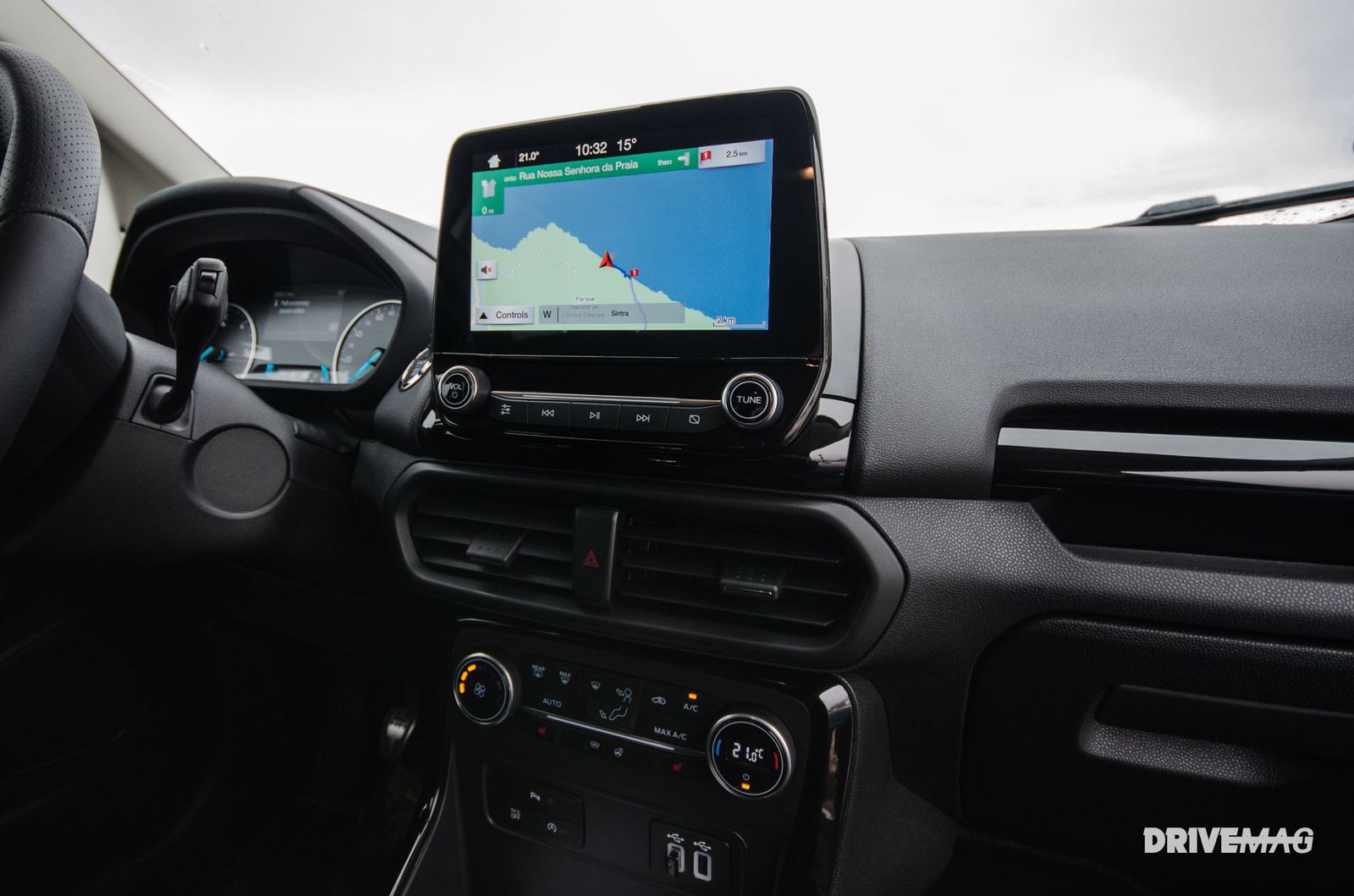 Ford offers three sizes of infotainment for the EcoSport and during my press launch drive, I only got to use the largest of the screens – the 8-inch unit, but smaller 6.5- and 4.2-inch variants are present in lower-spec models.
Much improved SYNC 3 is now standard on the two larger optional screens and the system works well for the most part. It's still far from the best on the market, but Ford has made it much more bearable than SYNC systems of old.
My two main gripes with were mainly concerned with the sat-nav; firstly, it's tricky to use its pinch function at times and have to prod the screen once to access the zoom buttons and then press the zoom buttons – that's one press too many when you're on the move and most certainly not ideal.
Another concern has to do with how the system announces a direction change on your planned route – it splits the screen showing you a closeup view of the upcoming junction and which road you should take, but the highlighted road isn't always visible enough and the information regarding what you do is displayed in the furthest possible corner from the driver, being hard to make out at times.
Other than that, SYNC 3 seems like a good system, with decent processing power, only moderate lag present at times and good graphics and menu structure.
---
BUDGET
Efficiency 8/10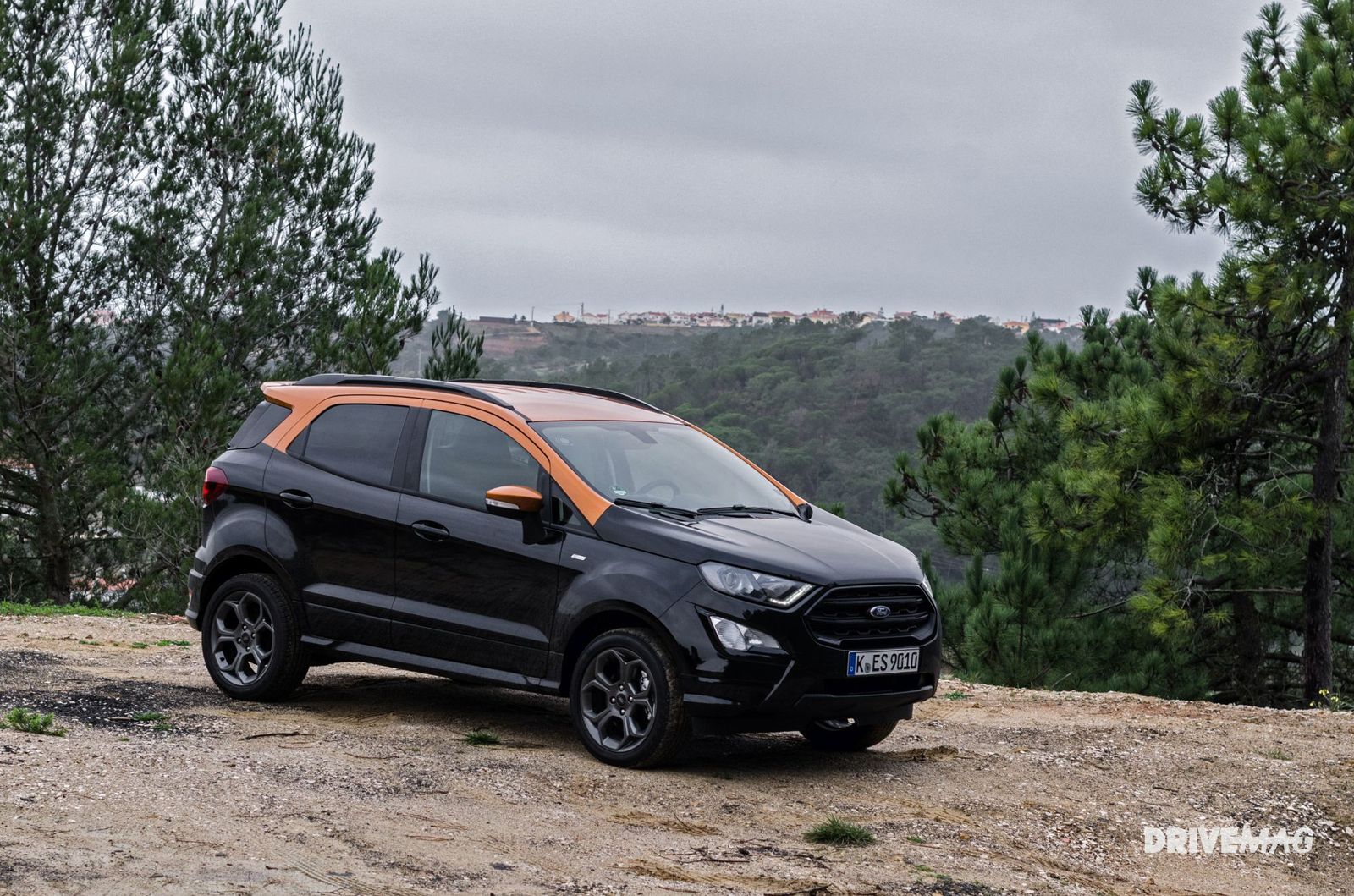 The 140 PS EcoBoost-equipped EcoSport I got to try during my press drive was the sportiest of the lot, so I didn't really drive it in an economical fashion – quite the contrary.
Ford quotes the 140 PS EcoSport as being able to return 5.2 l/100km on the combined cycle.
The front-wheel drive example I drove, though, returned just under 10 l/100km most of which was achieved on twisty road blasting complete with close-to-redline upshifting. You can therefore easily drop that figure below 7 l/100km if you tickle the throttle instead of stabbing it.
---
Equipment 8/10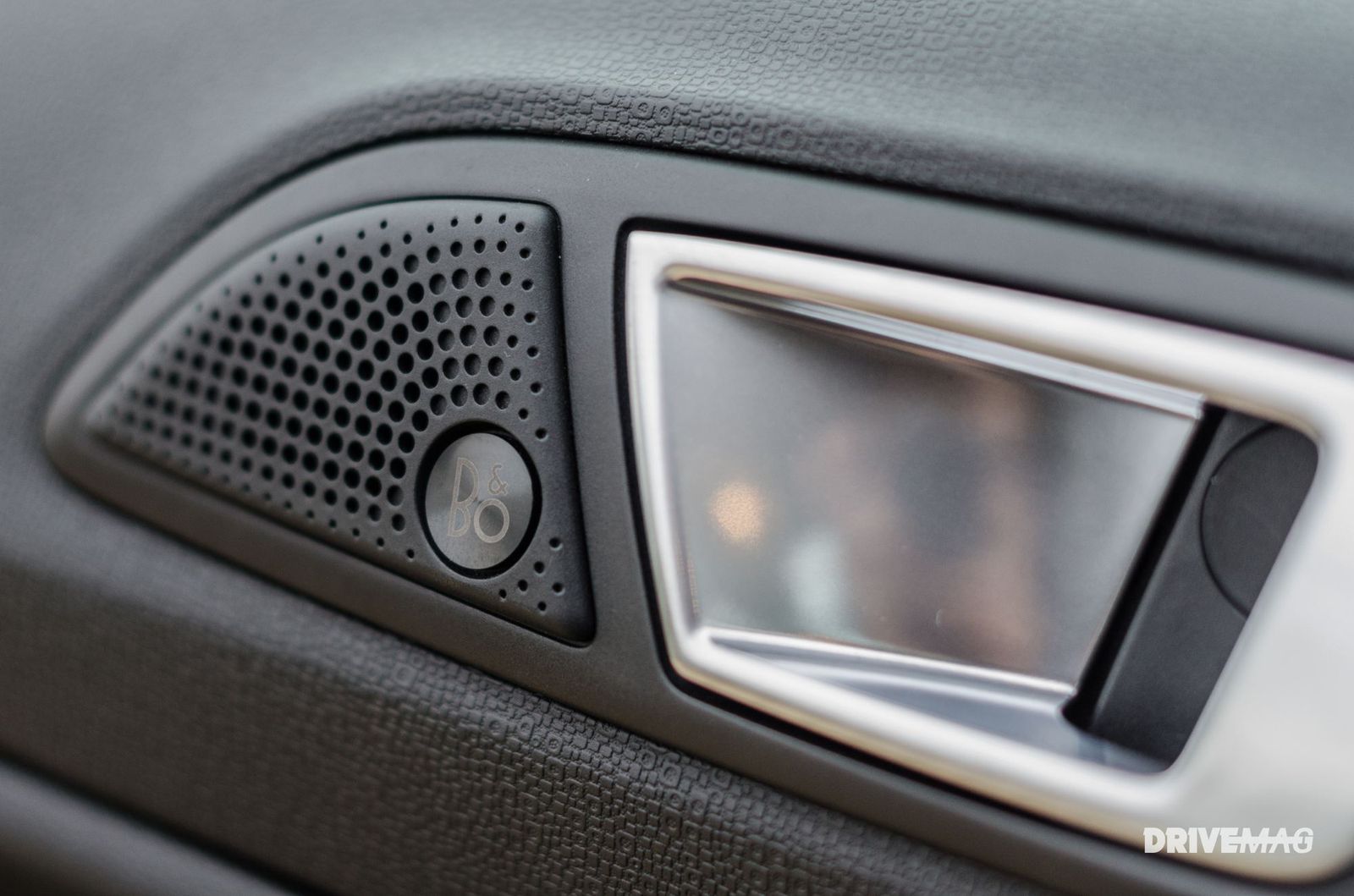 The top spec ST Line model literally had everything on it. From its premium-feeling seats complete with Alcantara-like material made out of recycled polyester, to blind spot monitoring, a sporty flat-bottomed (and optionally heated) steering wheel and even a new B&O PLAY sound system which Ford is very proud of – it genuinely sounds quite pleasant from what I was able to experience.
It also had power-folding mirrors, a 4.2-inch color screen in the gauge cluster, a rear-view camera, cruise control, rims up to 18-inch and ST-branded scuff plates.
---
Acquisition 8/10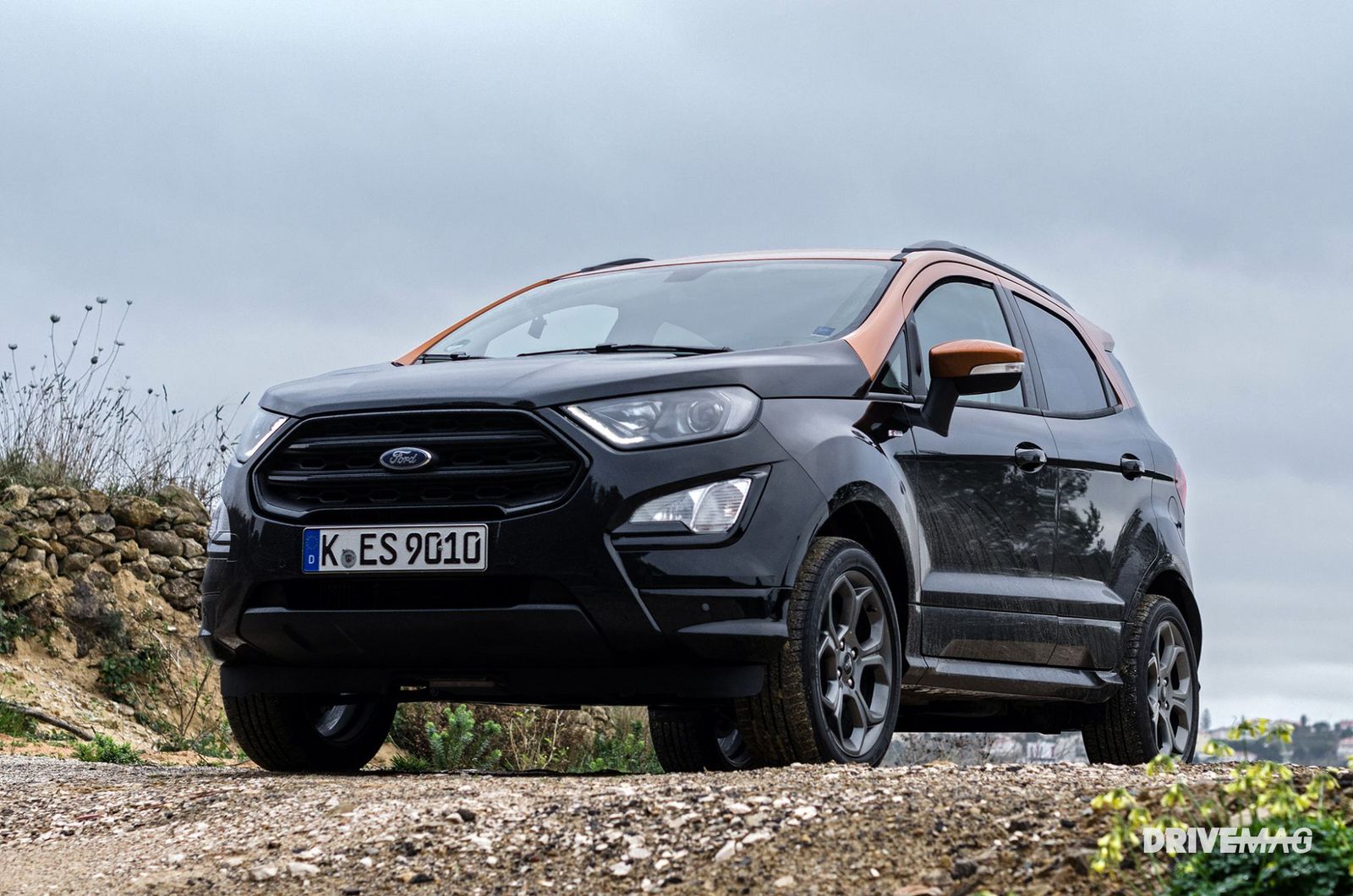 Ford has finally turned the EcoSport into the vehicle it was originally intended to be with this major overhaul and production move from India into Romania. It feels like a different vehicle compared to before, addressing its road manner and interior quality concerns all while adding a dash of sporty premium character and personalization into the mix.
Whereas previously it was a small SUV you didn't really want to own unless you were a serious Blue Oval fan, now you can definitely shortlist it if you're in the market for a pint-sized high-rider not that much longer than 4 meters.
It looks as good as it can now, given its slightly awkward proportions (it's a short and tall looking thing whichever way you try to spin it), with the front end redesign doing it a massive favor.
Ford wants you to call this a mini SUV and not a crossover, hinting at the fact that you can now order it with all-wheel drive, but don't go thinking you can take it off-road, even with all-wheel drive specified. But I wouldn't get the EcoSport with AWD simply because it feels like a very on-road kind of vehicle, capable of brisk and safe cornering and lacking properly high ground clearance.
Top spec EcoSport models with the ST Line pack specified (the one you want, really because it looks and drives better than lesser models) nudge prices well above €20,000, so make sure you test drive competing models before making a final purchase decision.