Let's not beat about the bush: the aptly-named Stinger means business
Overall Score 83/100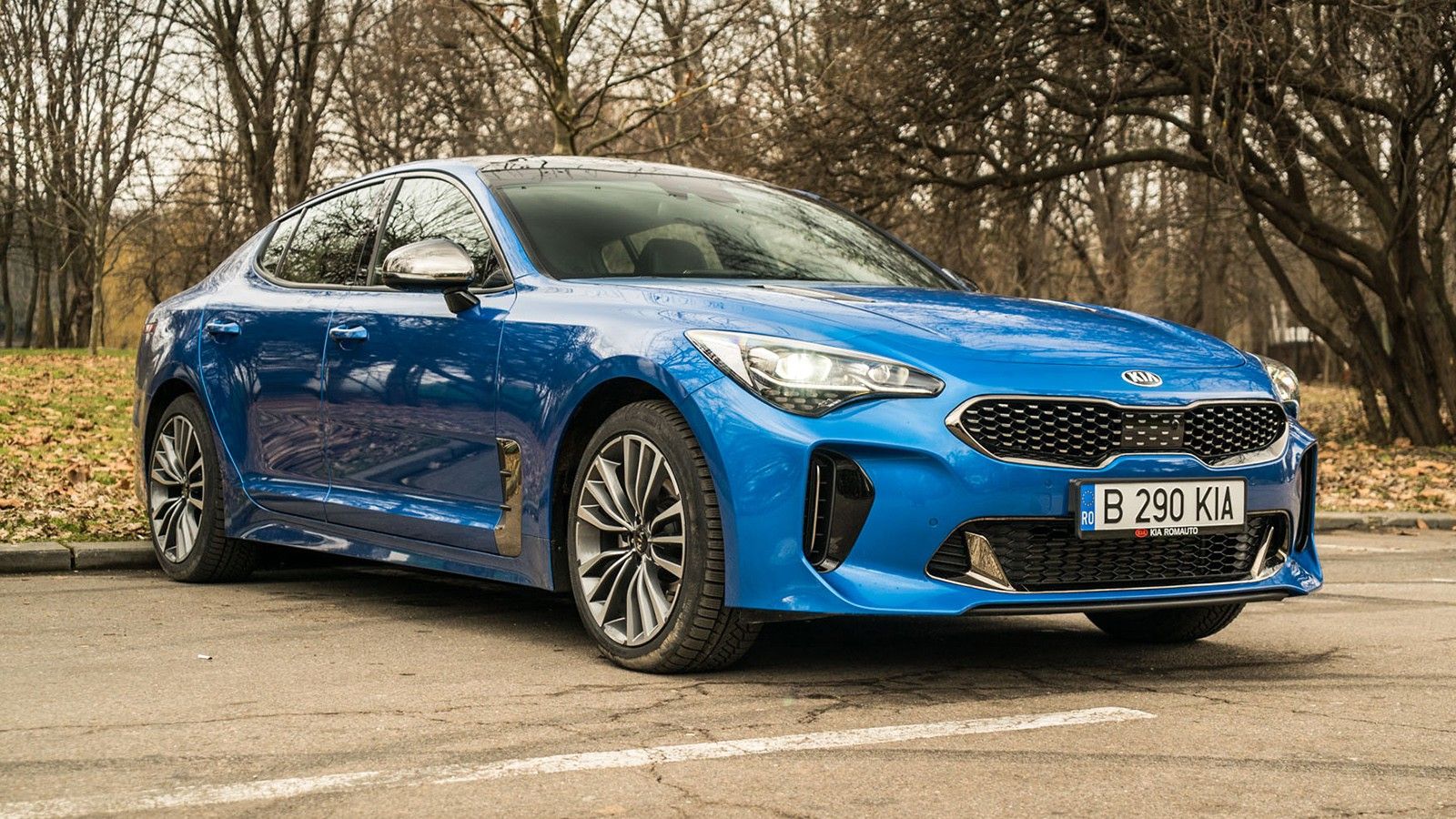 Kia, the automaker which you were making jokes about just over a decade ago, is now challenging the established premium automakers with its latest and greatest (ever) offering – the new Stinger. And it's dead serious about it, the proof being just how good its new luxo fastback is.
If you approach the Stinger with no expectations or any bias whatsoever (as I did, having a neither positive nor negative view of the Korean brand) you will be thoroughly impressed.
Even if you approach it with skepticism and deliberately want to hate on it, you will have a hard time doing so, while if you love it already, you will find more to love.
I can't believe I'm writing this about a Kia, but this is a Kia you want to buy. It's a Kia you want to drive and want to be seen in. It's genuinely also a car in which you can peacock to attract a mate as you would in any expensive-looking luxo barge.
By barge I mean it's quite a big car with a big footprint, not that it handles like one. Quite the contrary, actually, as I found the Stinger to be a pleasant companion on all the roads I took it to – and I took it to a few different ones to make sure it copes. And it does. Brilliantly so.
---
IN BRIEF
RECOMMENDED FOR:
Driving Nuts, Managers, Young And Single
CREATED FOR:
Highways, Winding Roads
HATS OFF FOR:
Comfort, Gadgets, Passenger Space, Road Handling, Safety, Sound System
---
DRIVE
Powertrain 8/10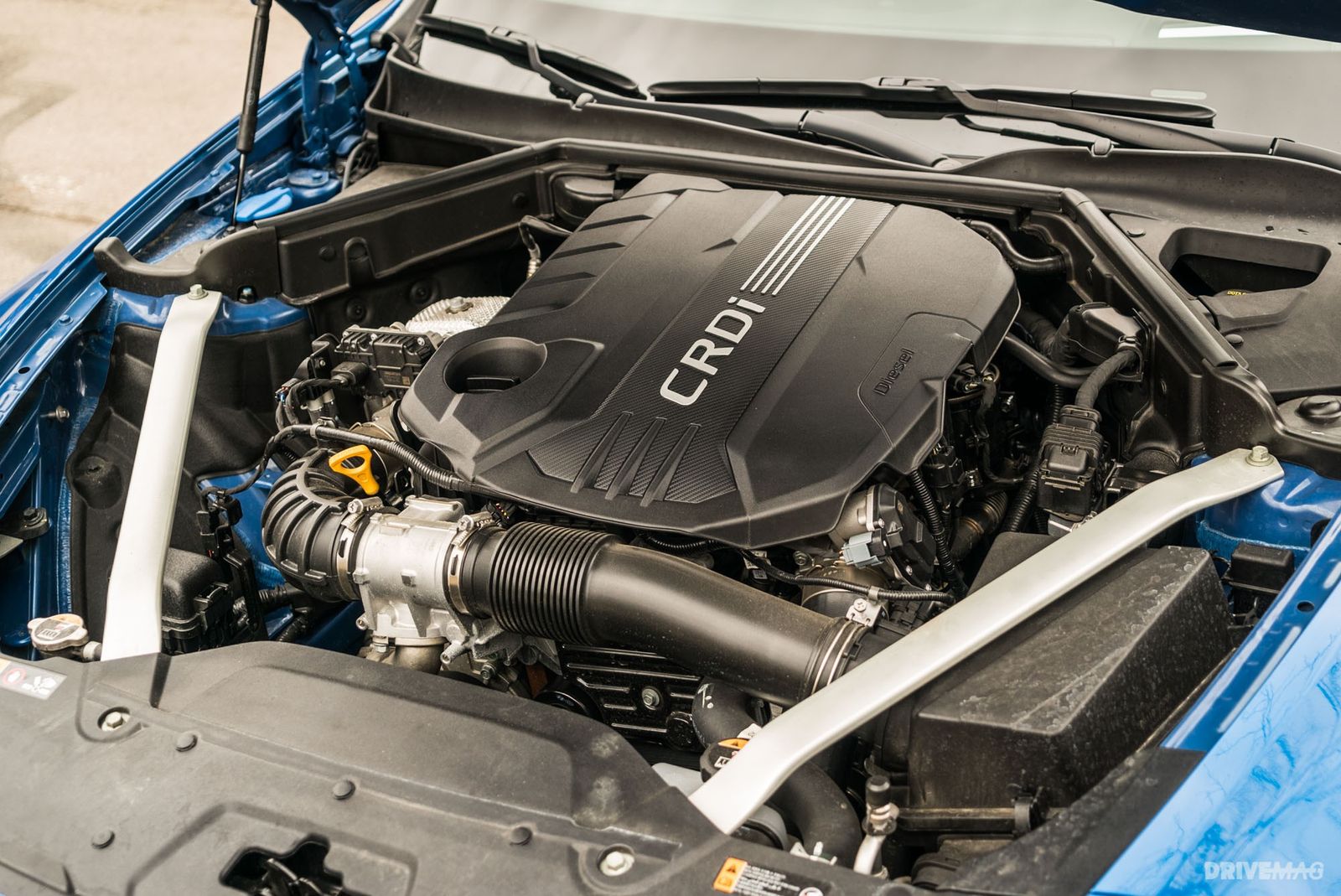 Our tester was powered by the mid-range engine option (for Europe, at least), the 2.2-liter diesel engine which is good for 200 PS and 440 Nm and can launch the Stinger to 100 km/h or 62 mph in 7.6 seconds and on to a top speed of 230 km/h / 143 mph – it also featured optional all-wheel drive too.
In order to get the negatives out of the way first, I must mention the fact that the engine is not terribly refined overall and unless warmed up it really makes its presence felt inside the cabin with audible compression ignition clatter.
Once you get it up to temperature (which in winter takes a good few minutes of driving), though, its drone dies out and you start to hear more induction and turbo noises which to my ear are more pleasurable – it's nothing to write home about since it's a four-banger diesel, but it's bearable.
The performance it provided in conjunction with the optional all-wheel drive and standard eight-speed gearbox was really quite brisk. The car has great in-gear punch, and even picking up from lower rpms (by using the option to shift manually via steering wheel paddles), it still pulls strongly all the way to the red line.
The transmission is an eight-speed automatic, but unlike many manufacturers which just order their self-shifter from ZF, Kia actually makes it in-house. And it's really about as good as the popular ZF transmission, shifting with similar creamy smoothness in comfort mode or alert crispness when selecting sport. It's truly a great transmission whose only fault seems to be the slight jerkiness when shifting from revers into drive or vice versa.
---
Handling 8/10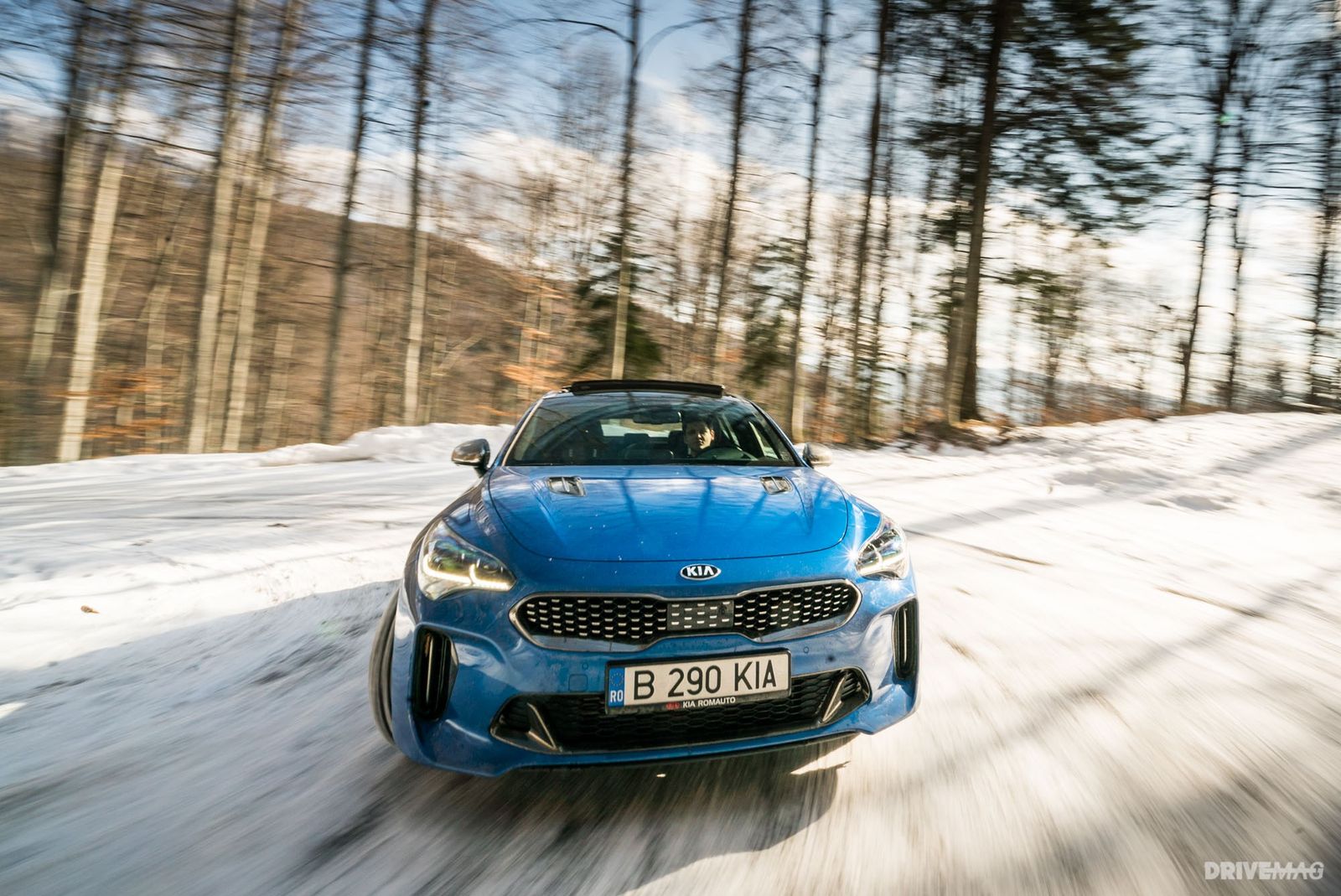 The Stinger is not a light car and our tester, with its diesel engine and all-wheel drive, tipped the scales at nearly 1,850 kilos. Even so, it is more agile than you'd give it credit for given its heft, it has sharp and direct steering and excellently judged suspension – our tester didn't have adaptive dampers, but I didn't really miss them.
When cornering hard, you do feel inertia trying to get the car to understeer, but it always somehow holds its line and powers through completely undramatically. With all-wheel drive, you really have to struggle to throw the car in order to make it slide its tail out.
Thankfully, while we were filming the video review we came across a snowy, twisty mountain road. There the Stinger became a lively but controllable sideways machine which was definitely more capable than I had balls to try to drive it on said road.
Overall, the handling experience of the Stinger diesel all-wheel drive is sporty, but it's definitely more of a cruiser than a corner carver.
---
Safety 10/10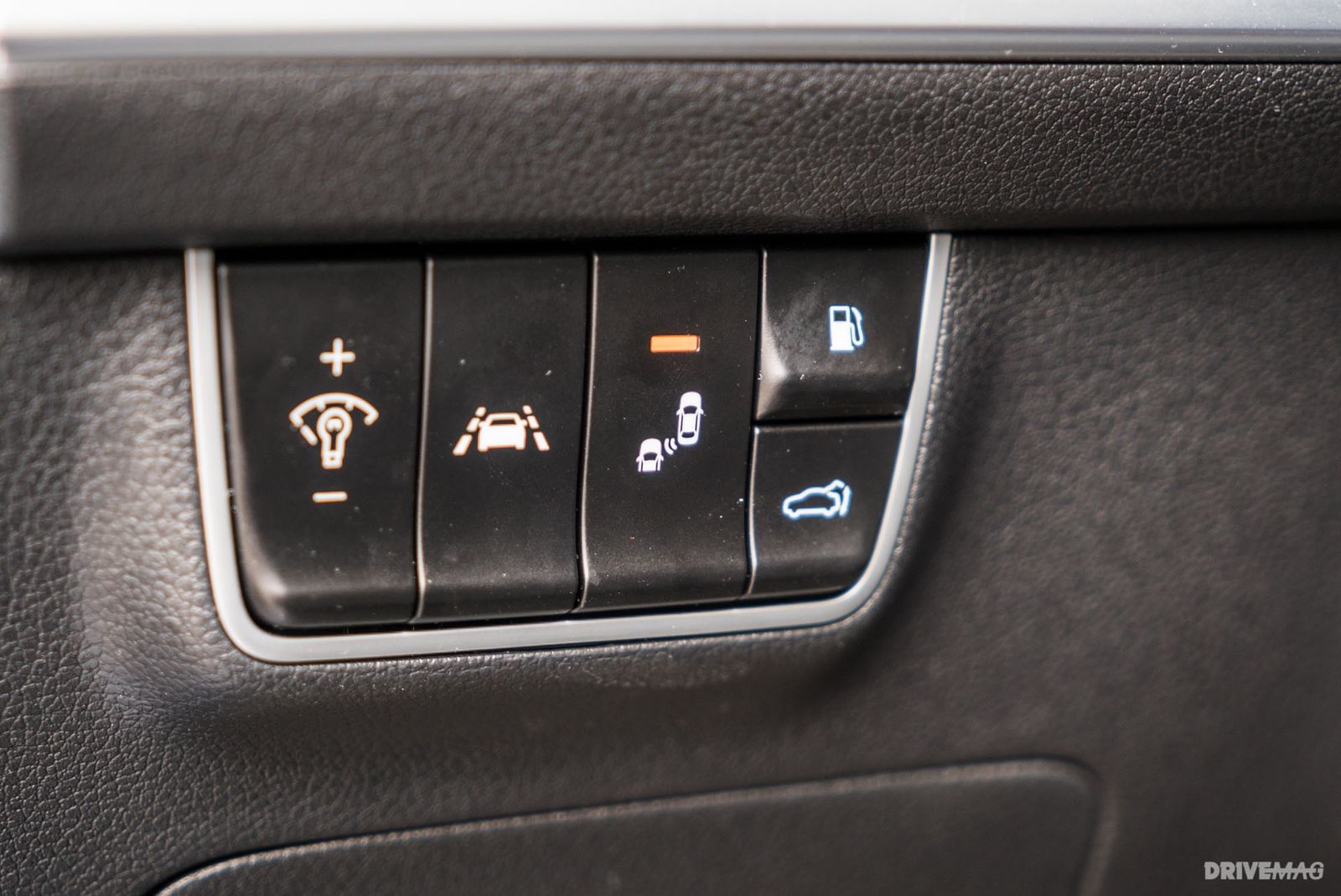 Kia Stinger was awarded the full five stars by Euro NCAP which aside from the usual crash worthiness also means it has all the active safety gadgets too.
And they work a treat, as I discovered on the return leg of our journey to the mountains to shoot the Stinger. It'd be an overstatement to say that I drove the car the 200-odd kilometers back, as it did most of the driving for me and I intervened at the occasional junction or overtaking maneuver.
Autonomous emergency braking proved quite useful too, when a car in front slammed on its brakes violently to let a running pedestrian cross the street and by the time I moved my foot to press the bake myself, the car had already started slowing down – I could have stopped on my own, but with the car's help the entire episode was far less dramatic.
---
INTERIOR
Comfort 7/10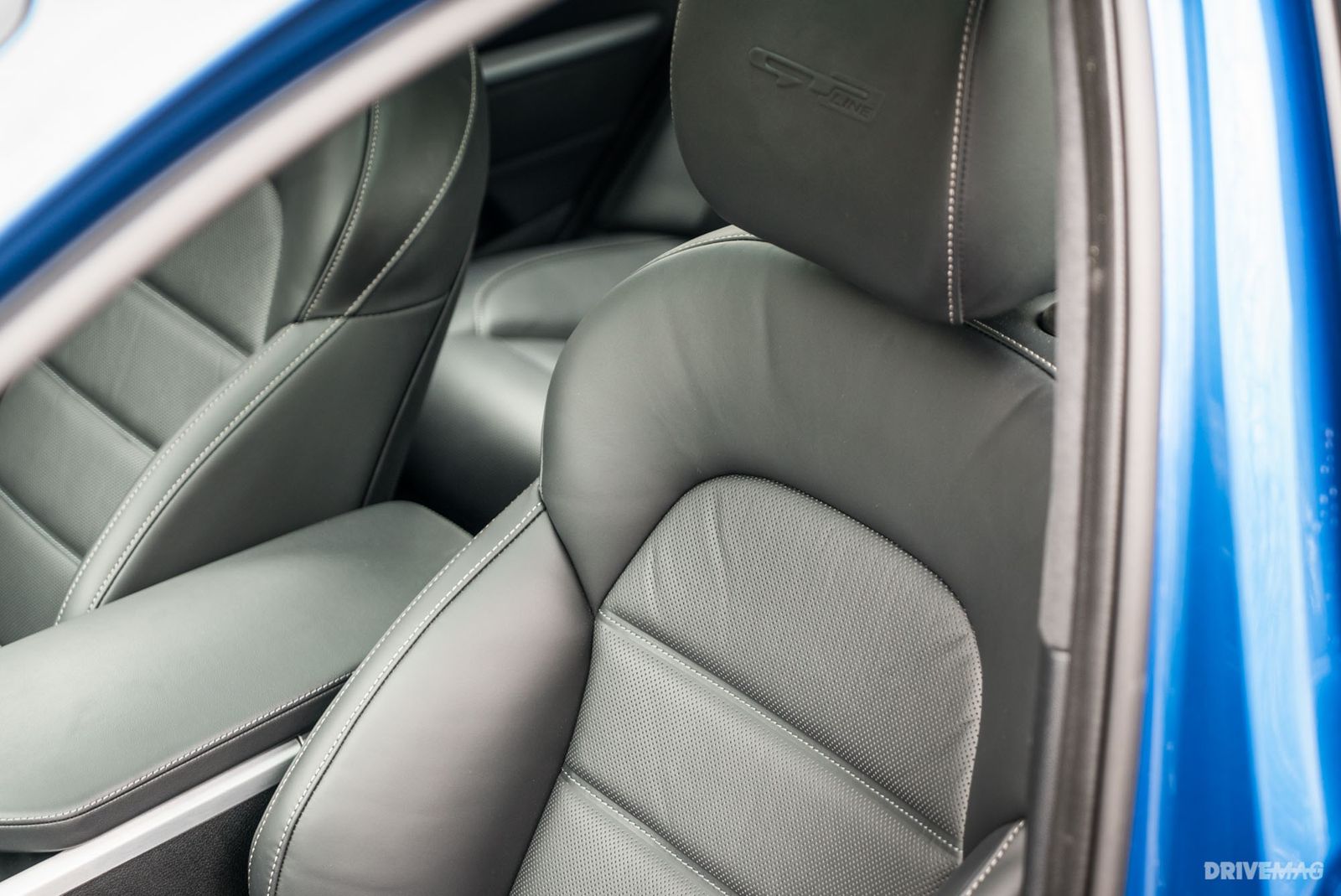 Four people can sit quite comfortably in the Kia Stinger, with emphasis on the front two occupants who not only have excellent seats that are both comfortable an highly adjustable, but also great shoulder and elbow room.
In the rear headroom is not plentiful due to the tapering roofline, but there is soft memory foam under the headliner so when you touch it with your head (which you will if you are over 1.8 meters tall) it's not that bad and you at least don't hurt yourself.
Another comfort niggle in the back is the fact that if the front occupants' seats are set in their lowest position, you cannot slide your feet underneath, so while there is ample knee room and the rear cushions are very big and welcoming, it's not perfect.
The Stinger's non-active suspension also proved a terrific compromise. It strengthens the age-old cliche of perfectly blending comfort and engaging driving dynamics – it is a textbook application of that principle and the result is a swift cruiser that is rewarding to drive fast but won't rattle your spine out of alignment on bumpy roads.
---
Quality 9/10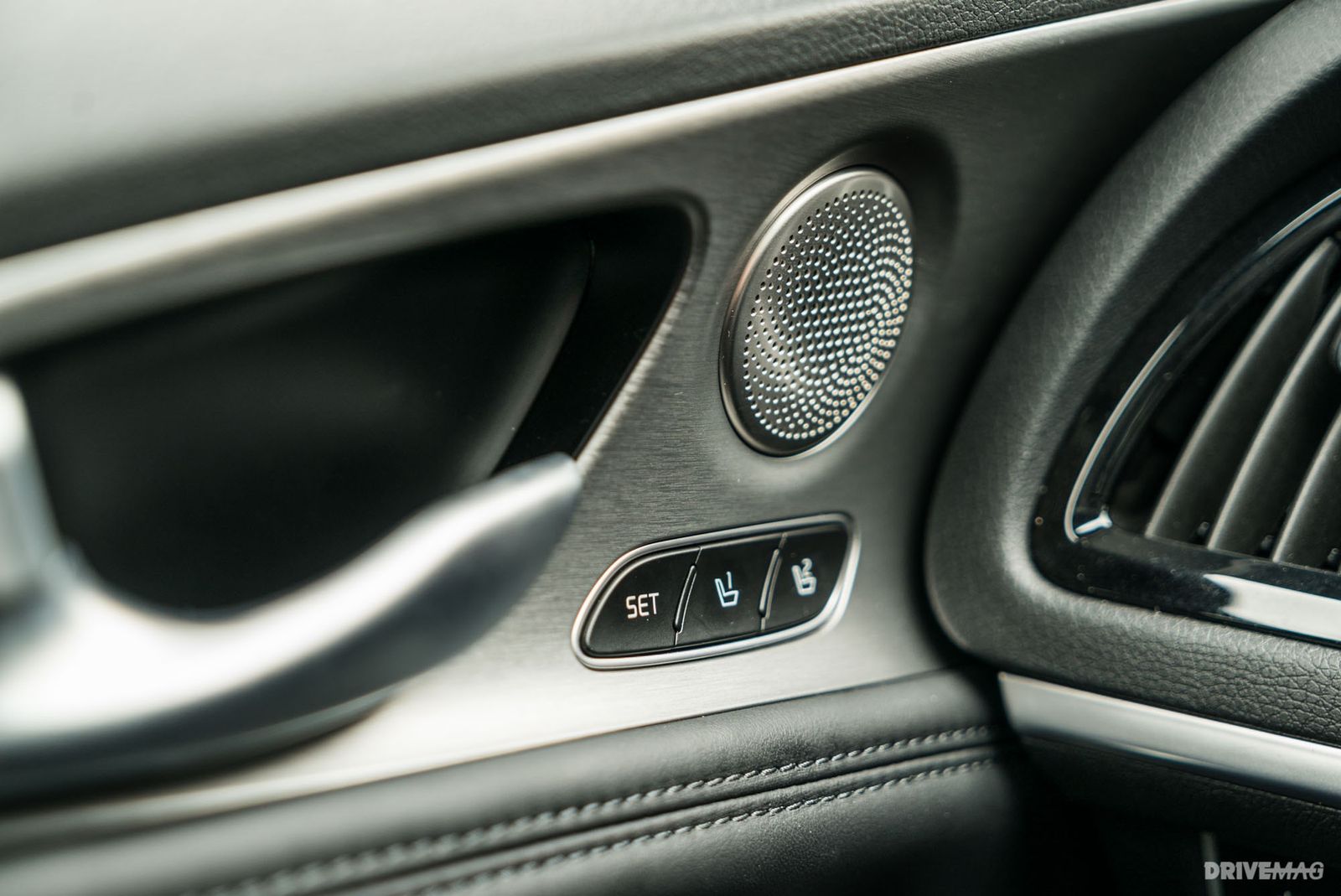 Climbing aboard the Stinger in GT Line trim, you will definitely fell like you're in a luxury car. The cabin is dominated by nice-to-touch materials that are both soft and tactile, with real metal touches and a very sturdy build.
We also tried to jiggle the center console around like we saw in a certain YouTube review but in our example of the car, it didn't really budge. Overall quality is just superb in this car, especially assembly quality as some materials lower down do feel lower rent than what you'd find in an equivalent German car. But then again the Kia does undercut rivals on price and the places where costs have been saved are really rather out of reach.
The only place where a nasty material really stands out is on the steering wheel – the plastic trim that covers the airbag is just plan nasty: it looks and feels it too.
---
Practicality 6/10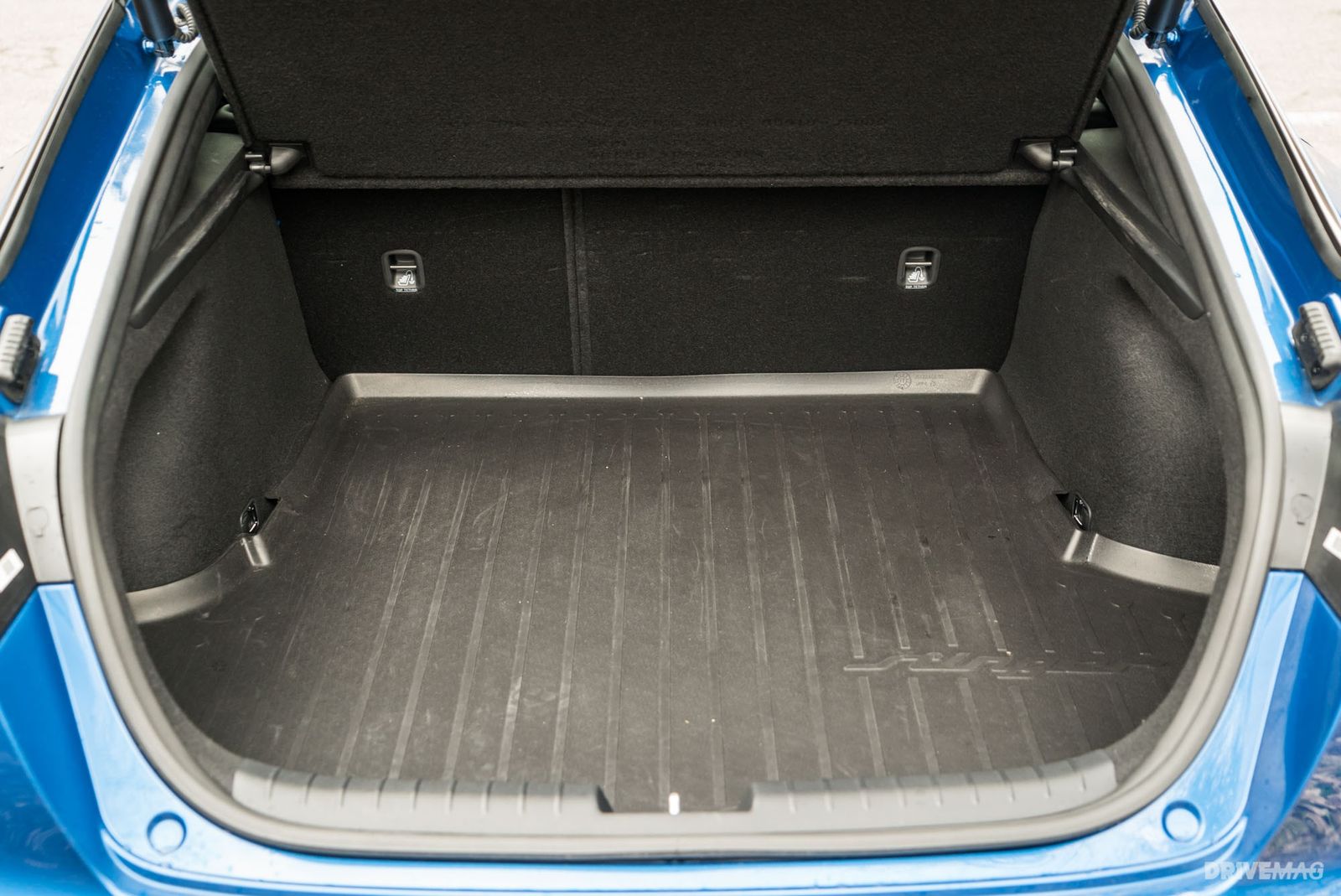 The Stinger can't really carry three passengers in the back on longer journeys, as it has a big transmission tunnel. Nor can it carry a huge cargo in the back, with its quite shallow boot that has a quoted capacity of 406 liters or just over 1,100 liters with the rear seats folded (which you can only do from inside the passenger compartment, not the boot like in some rivals).
But the door bins on all doors are big, the glove box and center armrest cubby are pretty big too, and there are additional places to put your things all throughout the cabin.
Both front seatbacks also get useful nets, and the rear fold-down armrest has its own cupholders.
Overall, it's not the most practical thing around, but it's still very good to live with day-to-day.
---
Infotainment 8/10
I encountered no problem using the car's infotainment system which in this example is accessed via a eight-inch touchscreen display. The screen itself is nothing to write home about, neither in terms of image quality nor in terms of how it works with the dash design.
However, it makes up for that in its functionality – aside from adjusting the usual parameters you have access to in most cars' infotainment, the one in the Stinger adds another layer of customizability to many settings.
For instance, you can customize what shows up on which screen when you move through the different driving modes. You can also choose if you want the fake engine noise pumped in through the speakers – and even here you have on and off options, but also an in-between one too.
I also really liked the fact that just plugging my iPhone 6 in via a data cable allows the car to immediately stream whatever audio you're playing, be it YouTube or SoundCloud which is what I used. And you can even shuffle through songs with the seek button on the left of the steering wheel right away – you don't have to pair anything which is really refreshing in my book.
---
BUDGET
Efficiency 7/10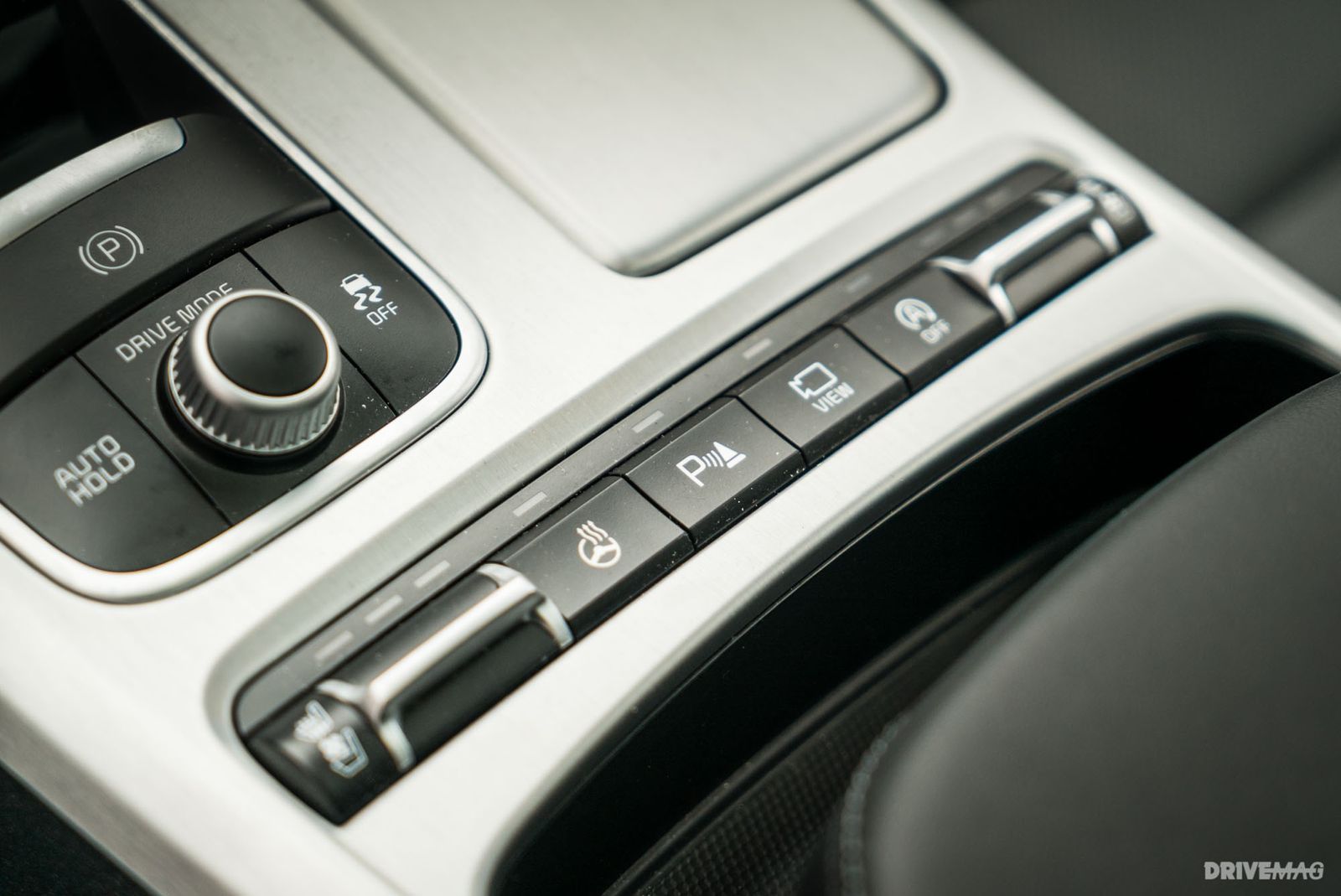 Kia quotes the diesel Stinger with all-wheel drive as being able to return a claimed average 6.4 l/100km, which is quite a bit more than the rear-wheel drive-only model whose figure is 5.6 l/100km.
During my drive, which involved a lot of city driving and some out-of-town driving too (most of which was driven with a complete and utter disregard for hypermiling), I averaged just under 11 l/100km, which I find acceptable.
---
Equipment 10/10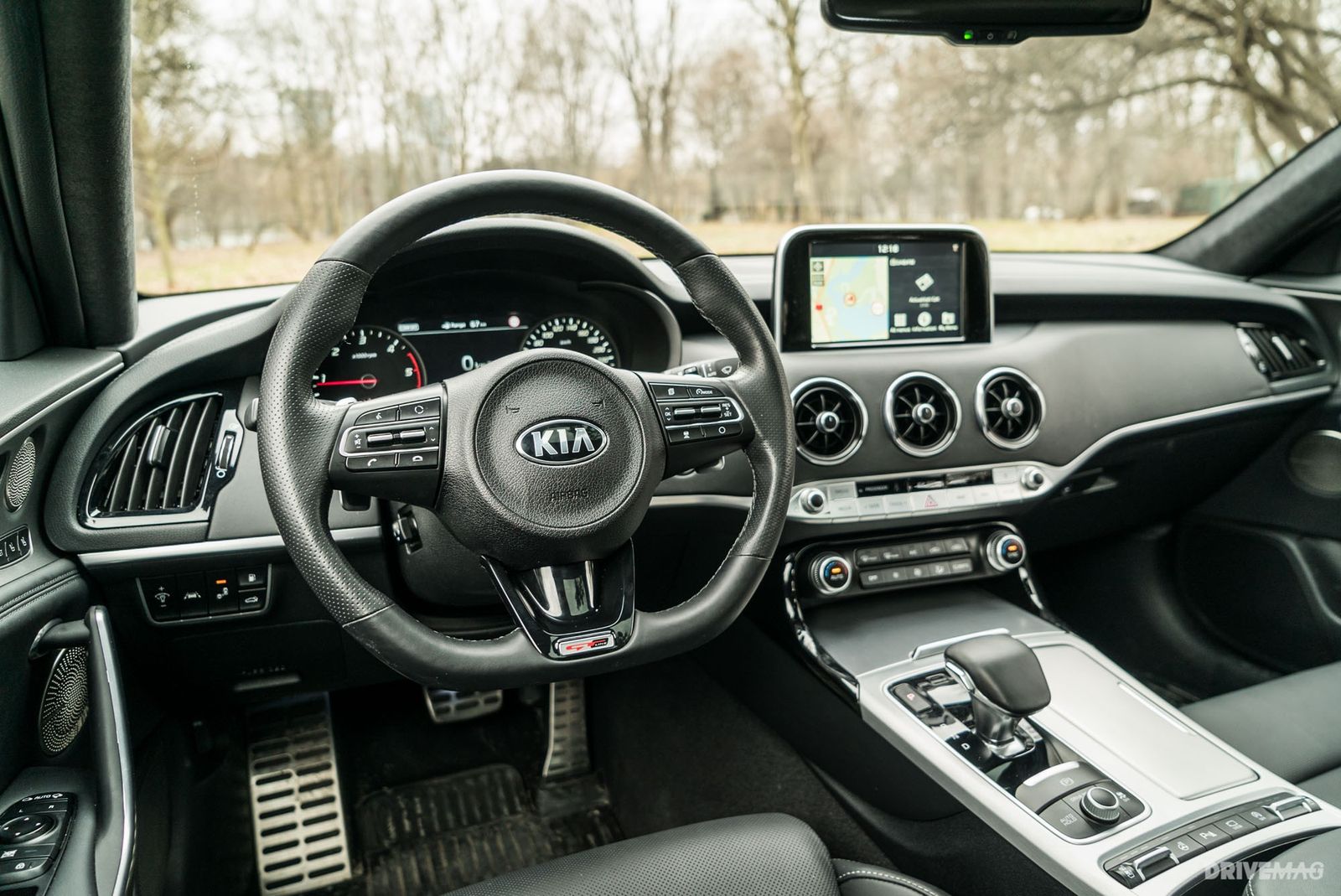 Our top trim GT Line tester, which retails locally for €41,126, has good standard kit including 18-inch alloys, electric front seats with driver's seat memory function which are also heated, heated steering wheel clad in perforated leather, full black leather upholstery that extends to the lower part of the dash, a driver's knee airbag, smart cruise control, USB charging and rear ventilation.
But the list goes on with a large dual chrome exhaust tip, the infotainment screen, the second (full color, customizable) screen located in between the dials as well as all the active safety features.
The car we tested had the only two options available fitted: the €255 space-saver spare and the electric panoramic sunroof for €696. I really recommend the latter as you can drive with it fully open and interior buffeting is minimal thanks to the generous wind deflector that pops up when you open it.
The Harman Kardon premium sound system also deserves a shout out – literally, as you have to shout out loud in order to talk to passengers on anything above half volume. It sounds superb with zero distortion all the way through its volume range – it made my time with the Stinger that much more pleasurable, although I didn't find it on the manufacturer's local site so I don't know on which models it's available.
---
Acquisition 10/10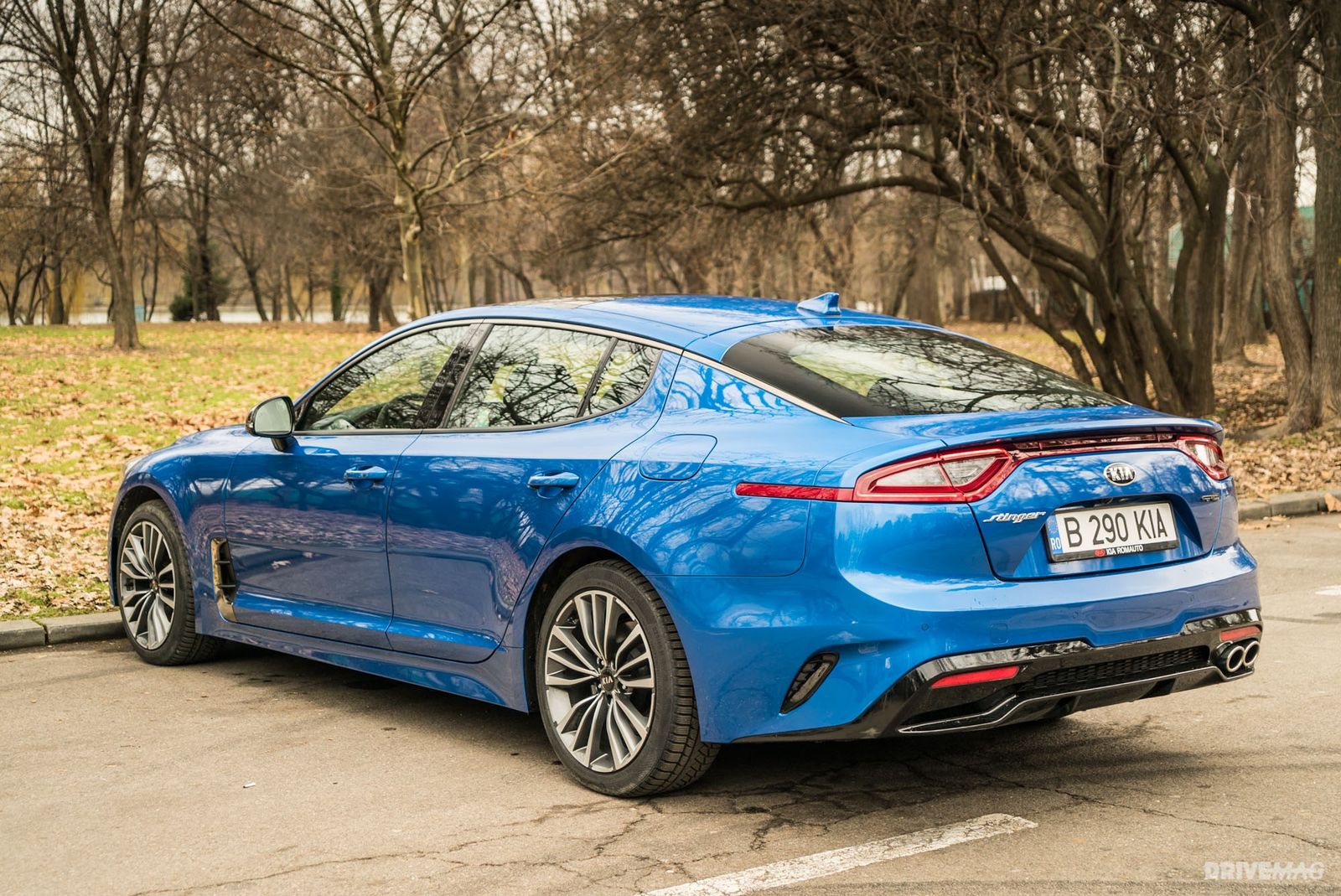 The Stinger is, after our few days with the car, an apparent winner and a car that is on par with its established rivals. It is a thoroughly convincing package that offers an engaging drive, a great interior, decent practicality and head-turning good looks – people will snap their necks to check it out when you drive down the street.
I was at one point waiting at a set of traffic lights and not one, but two drivers in cars next to the Stinger (which still had a red light as I wanted to make a left turn) ignored they had a green light to go straight ahead because they were staring at the car. Other drivers had to honk to wake them up from their fried kimchi wet dream about what they'd like to do with it.
The thing about the Stinger is that you don't have to justify buying it. It is definitely a competent car, a sign of great things to come from the Korean brand (and a sign that things have been going well for a while now), but at the same time this is the first Kia which you will buy with your heart. It is one of the most refreshing new cars I've driven in a long time and after spending a few days with it I really want one. Badly. It is that good.