2018 Opel Insignia Grand Sport 2.0 CDTI 170 AWD Dynamic review - Going upscale without paying a premium
Specced properly, the Opel Insignia Grand Sport can make a compelling alternative to a premium family car
Premium car manufacturers are doing better than ever thanks to the market's insatiable appetite for upmarket cars, whatever the segment.
But luxury automakers are thriving at the expense of mass-market carmakers, pushing the latter to release upscale versions of their models in a bid to stop or at least curb their customers' exodus to premium brands. In recent years, we've witnessed the arrival of premium sub-brands such as Ford's Vignale, Renault's Initiale Paris, and Buick's Avenir. Mind you, some manufacturers even went on to establish standalone premium marques as PSA did with DS and Hyundai with Genesis.
Opel hasn't jumped on any of those bandwagons, but that doesn't mean the PSA-owned automaker doesn't want a piece of the action. Look at the brand's current flagship model, the second-generation Insignia Grand Sport. It's arguably the best-looking car in the segment thanks to its coupé-like profile, harmonious proportions, and flowing lines, and it marks the introduction of many sophisticated technologies and features that not long ago were exclusive to premium cars.
Add to that the fact that it's now lighter than before, as well as more fun to drive, refined, and luxurious, and it makes you wonder whether it is the best way to get your hands on the equivalent of a premium car for a massive discount. Particularly since the (almost) fully-loaded Insignia 2.0 CDTI AWD Dynamic we tested costs about the same as an entry-level premium sedan in a similar powertrain configuration.
While on paper this sounds enticing, I was curious to see whether this generously-specced Insignia was closer to premium or mainstream. Its name certainly conveys premium aspirations, so let's see whether that holds true.
https://cdn.drivemag.net/images/icons/inbrief-icons.svg
IN BRIEF
Recommended for:

Created for:

Hats off for:

Bang for the buck:
Powertrain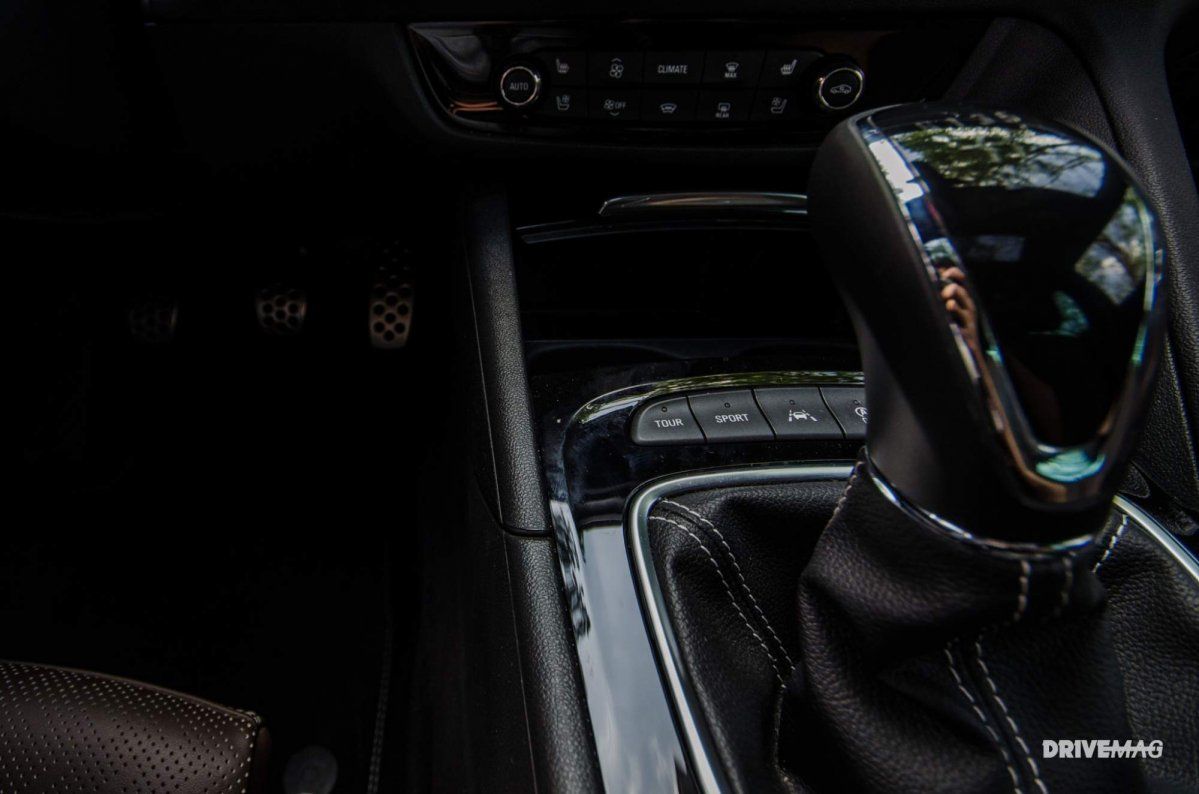 The car we sampled featured the strongest turbodiesel engine you can get this side of an Insignia GSi: a 2.0-liter unit that delivers 170 hp at 3,750 rpm and 400 Nm (295 lb-ft) of torque from 1,750 rpm to 2,500 rpm. It's a great engine that feels lively and revs quickly all the way up to almost 5,000 rpm.

It's also pretty refined: you do hear it, but it lacks the annoying clatter some oil burners have. In this car, it's hooked to a six-speed manual gearbox and an all-wheel-drive system with torque vectoring. While the six-speed box is precise and exploits the engine's torque curve remarkably well, it comes with a hard clutch pedal that is tiresome to use around town.

That's why I believe the optional eight-speed automatic suits the refined character of this car much better. Not to mention that the auto makes the Insignia almost one second quicker from 0-100 km/h (8.9 seconds compared to 9.7 seconds) — despite the curious fact that you can't have it with AWD on this engine (you need to step up to the 210-hp biturbo diesel for that). Another reason why I would choose the automatic is the better integration with the adaptive cruise control and parking assist systems.
---
Handling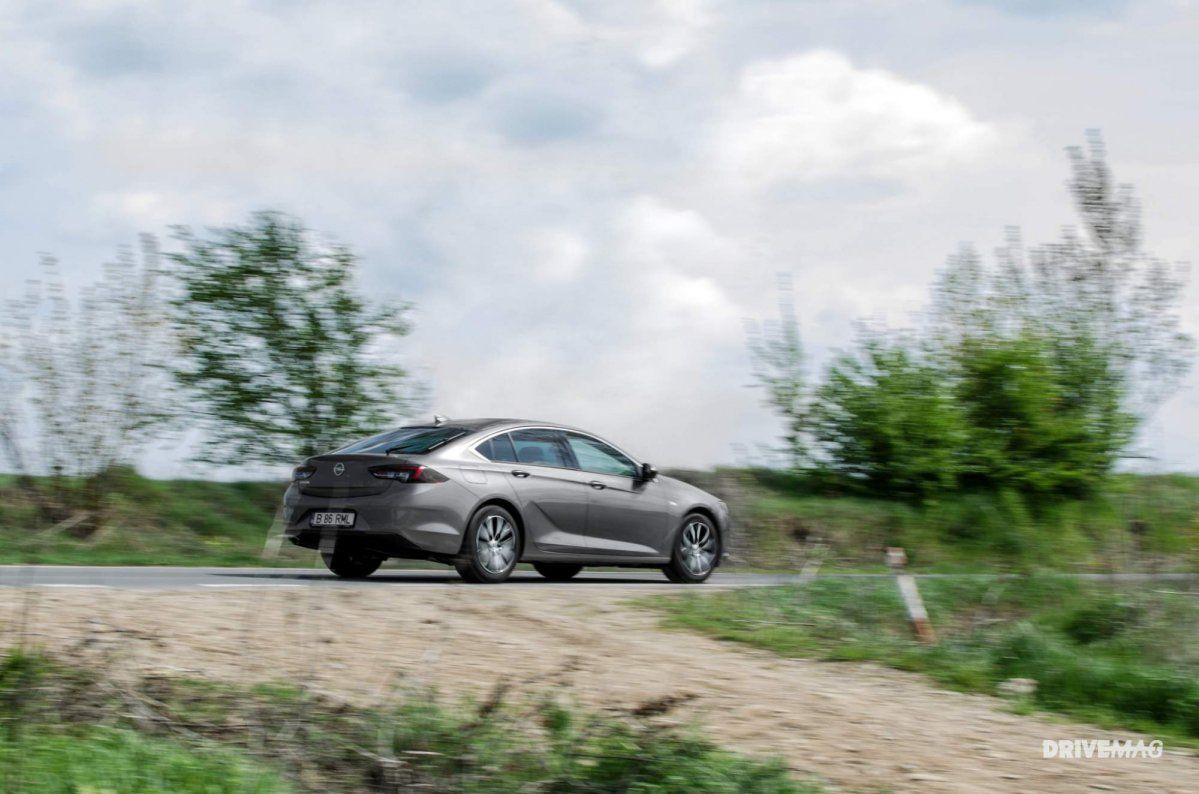 I've got one word for those of you interested in buying an Insignia: FlexRide. That's the name of the optional adaptive chassis that is a must-have on this car because it completely transforms the driving experience, making the car much more versatile.

There are three settings for the adaptive dampers, steering feel, and throttle response: the Standard mode that adapts to your driving style and road conditions, the comfort-oriented Tour, and Sport. The latter setting needs no explaining: activate it, and you'll immediately feel the Insignia flex its muscles. The engine responds as if all of a sudden more horses have joined the stable, the steering becomes firmer, and the dampers stiffen up so that you can go faster through turns. While the 4.9-meter long, nearly 1.7-tonne heavy Insignia is no small car, it feels light and nimble in corners for its size.

There's something else the Sport mode modifies, and that's activating a more dynamic setting of the AWD system with torque vectoring. What that does is keep you on track at cornering speeds you wouldn't think possible in a car like this. When you overdo it and enter a corner too fast, you might feel something strange happening with the rear axle. Don't worry, that's torque vectoring in action sending higher torque to the outside rear wheel to improve turn-in and exit speeds. This system helps make the car more stable and keeps understeer in check.
---
Safety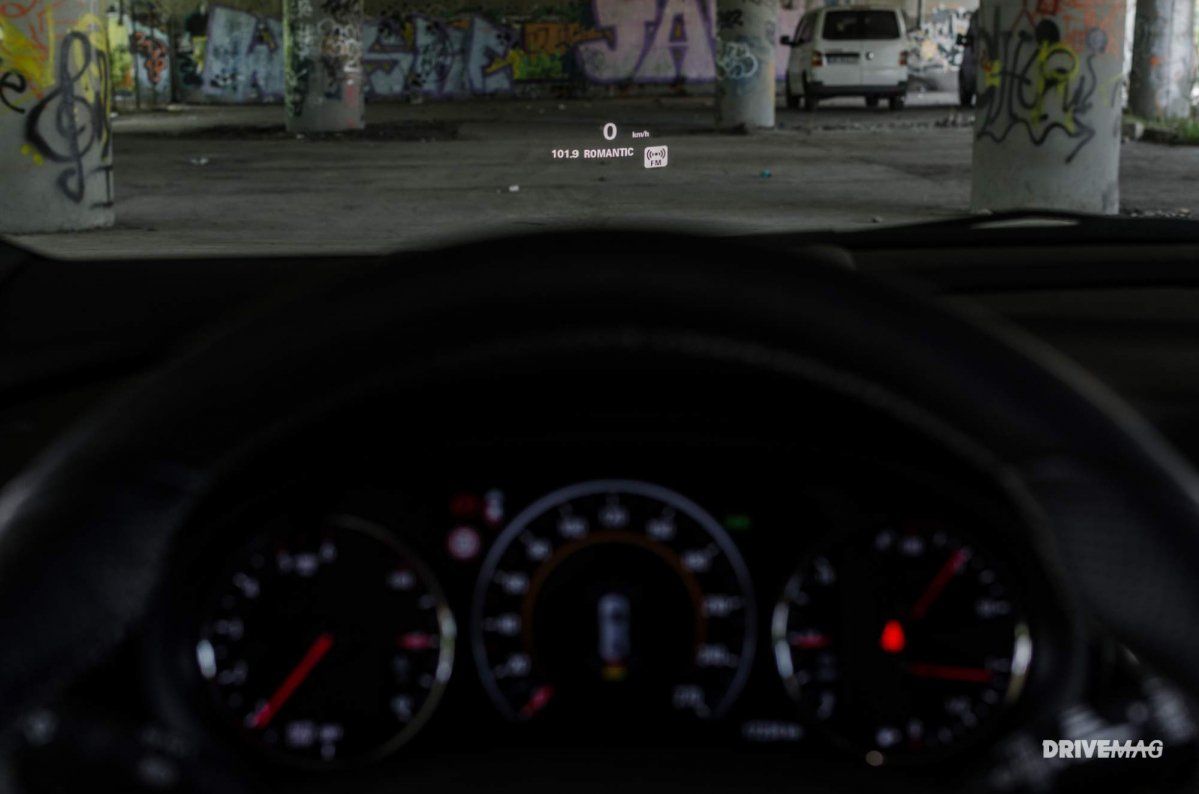 Euro NCAP put the Opel Insignia Grand Sport through its complex crash test procedure and found it to be very safe. The five-door liftback received five stars overall, with a 93-percent rating for adult occupant protection, 85 percent for child occupant protection, 78 percent for pedestrian protection, and 69 percent for safety assist systems.

That's an excellent score that places the Insignia very close to the top of its class, with only the VW Arteon and Kia Stinger faring better in Euro NCAP's 2017 safety ranking. Standard safety systems include autonomous emergency braking, lane departure warning, and cruise control with speed limiter. Our test car featured far more safety enhancing systems, though, with the most important being the excellent IntelliLux LED Matrix adaptive headlights, Head-Up display, adaptive cruise control, parking assistant, 360-degree camera, and more.
Comfort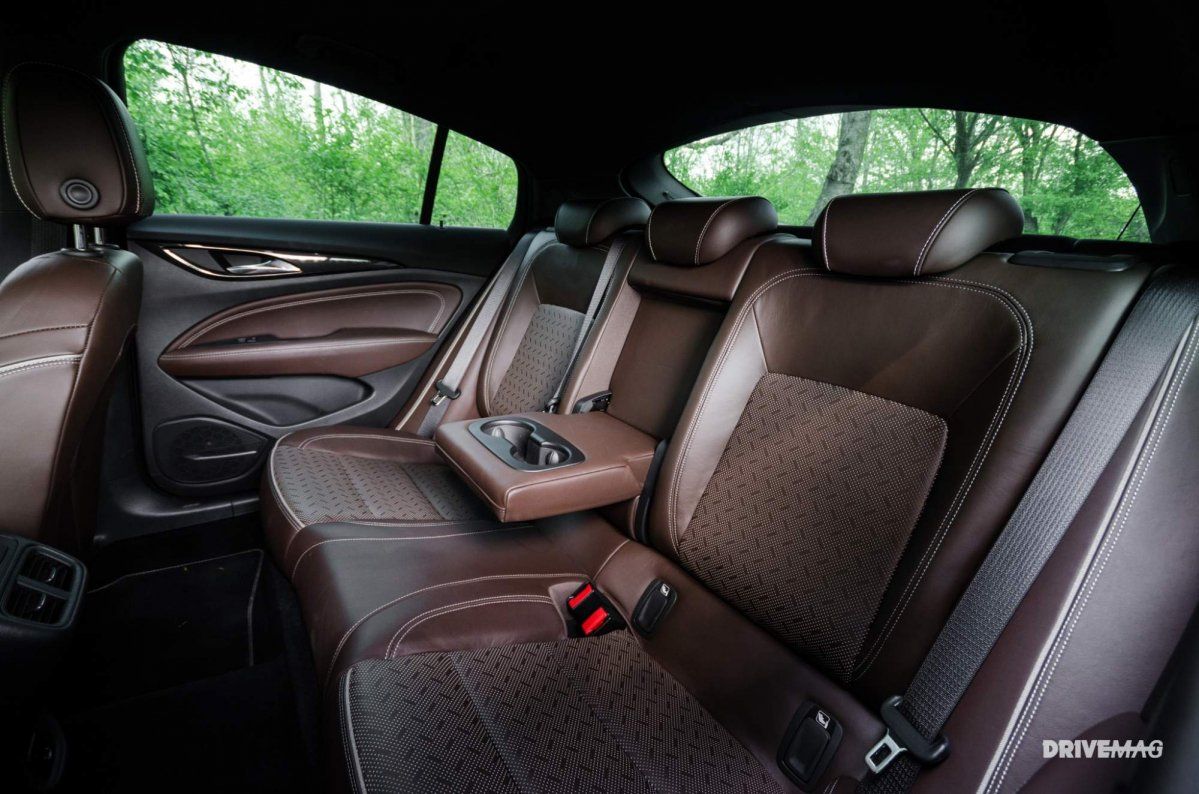 In Tour mode, the FlexRide chassis is equally competent at making the Insignia a comfortable cruiser as it is at sharpening its responses in Sport Mode. Press the Tour button on the center console and you'll feel the car relax: the suspension becomes softer than before, the steering wheel easier to turn, and the throttle response more laid back.

That is the way to travel if you want to cover long distances in the Insignia in comfort. The ride quality is cushy in Tour mode, but you do feel slight shudders when going over nasty bumps and potholes. I guess that has something to do with our car's optional 18-inch wheels shod with 245/45 tires — I imagine the standard 17-inch alloys with 225/55 rubber provide an even smoother ride.

The optional AGR-approved, leather-wrapped seats would deserve a chapter of their own but they're surely the most comfortable seats I've sat on in a non-premium car: they're heated, ventilated, and feature a soothing massage function on the driver's side. Furthermore, they literally hug you, thanks to the backrest's adjustable bolsters. The driving position is superb.

Noise levels are below average (which is good), but I would have liked to hear the engine less: after all, it's just a diesel four-pot. Wind noise is subtle most of the time, as is tire noise — you only hear it when driving over rough road surfaces.
---
Quality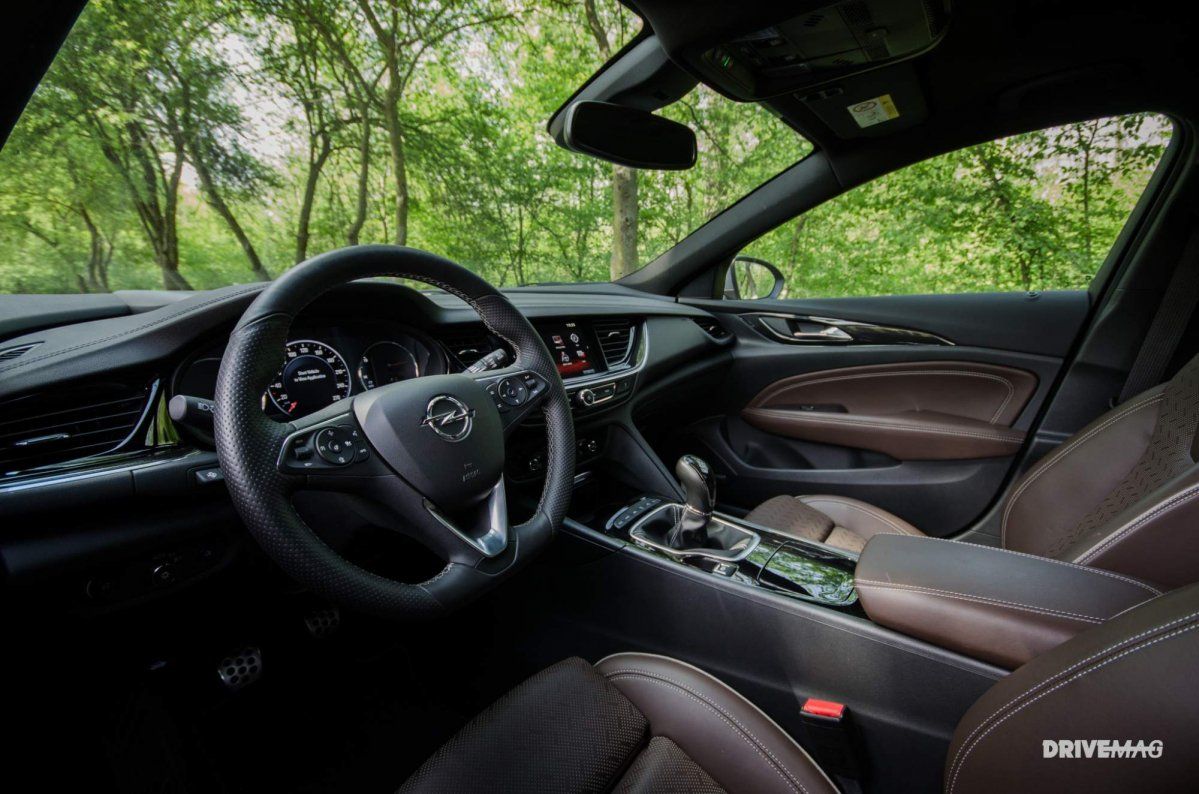 Specced like this, the Insignia is as close to premium as it gets. The Brownstone perforated leather upholstery looks and feels better than what you get in some luxury cars. Mind you, these leather seats alone cost almost €4,000. The soft, grippy leather on the flat-bottomed sports steering wheel offers a pleasant tactile experience as well.

The plastics found in the upper half of the cabin are nice and soft, and the harder material found lower down isn't unpleasant either. However, a two-tone dashboard would improve the cabin's appearance — don't worry, Opel offers that as an option. Build quality is solid, with some minor exceptions: a center console panel that felt a bit flimsy on our test car and a squeaky wiper stalk (maybe it needed some greasing). Thankfully I didn't hear any rattles inside, even though the press car had covered more than 17,000 kilometers — which is the equivalent of a much higher mileage under regular use.

Opel also deserves praise for how its designers integrated the infotainment system's touchscreen into the dash. It's refreshing to see an automaker bucking the trend of floating displays.
---
Practicality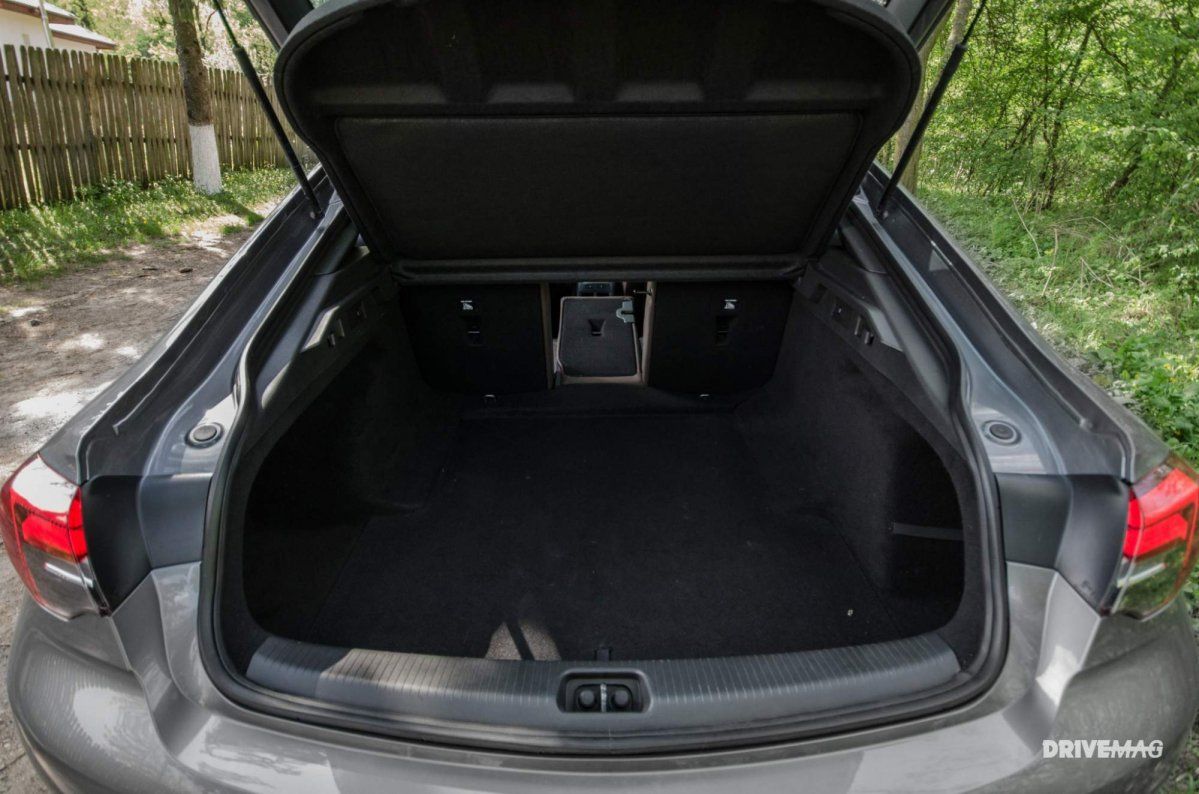 For practicality purposes, the Insignia cleverly uses a five-door liftback body style, and you can see the logic in that when you lift the enormous tailgate: the big opening allows you to load bulky items, and the boot can swallow 490 liters of stuff. Granted, that's almost 100 liters smaller than the Passat sedan's boot, but access is better in the Insignia. And if you fold the rear seats, the loading capacity grows to 1,450 liters.

Passenger space is excellent at the front and very good in the back. There's enough knee room and legroom on the second row, while headroom is decent for a six-foot (1.83-meter) tall adult. However, taller passengers will need to slide down the seat to fit because of the sloping roofline. Three adult occupants can fit on the rear bench seat, but the one in the middle will rub shoulders with the other two, and his or her head may touch the ceiling.

Your belongings will have enough space in the Insignia as well: there are some rather large door bins, along with three storage spaces on the center console, a roomy glovebox, and four cup holders.
---
Infotainment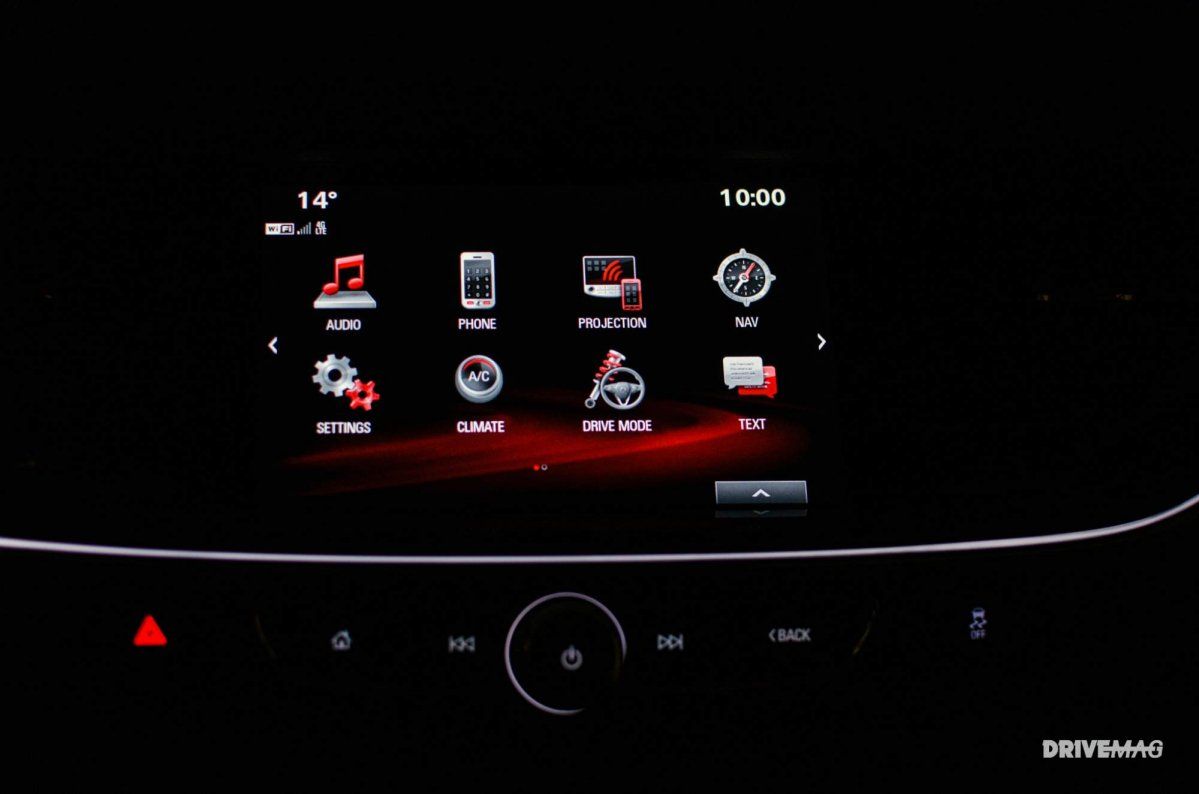 The optional Navi 900 IntelliLink infotainment system uses an 8-inch touchscreen that's within easy reach thanks to its high-set position. It's responsive, and it has decent graphics, not to mention the clear menu structure that makes the system easy to adjust to. However, some may prefer a bigger screen.

The physical buttons under the central display, including a much needed "Home" button, are a welcome addition, helping the driver get the job done quickly without getting distracted while driving. The customizable screen in the instrument panel, the head up display, and the buttons on the steering wheel all serve the same purpose.

Navi 900 IntelliLink comes with a built-in navigation system that is pretty straightforward to use, but not as convenient and intelligent as Google Maps or Waze, for example. You can use those in the Insignia as Android Auto and Apple CarPlay are standard — not wirelessly, unfortunately. Pairing your smartphone with the interface via Bluetooth is a breeze, as is mirroring its functions on the car's display.
Efficiency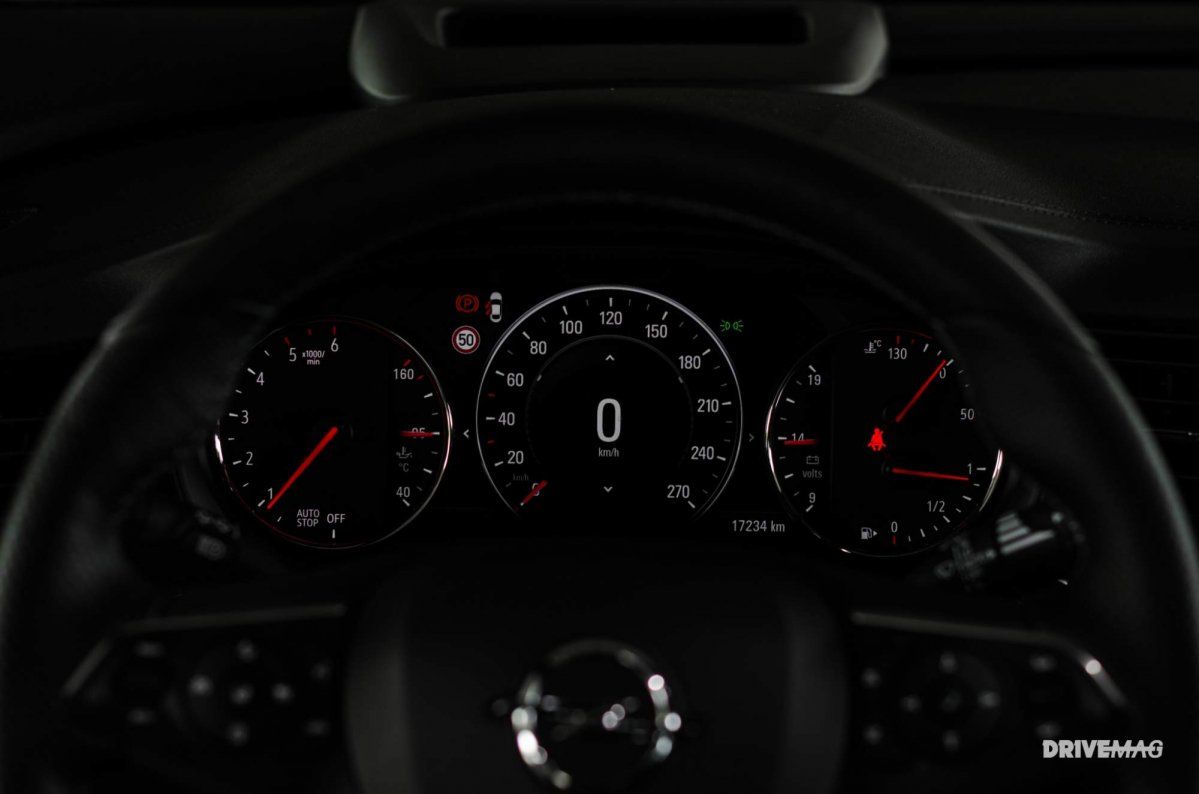 The claimed average fuel economy for the 170-hp diesel-powered Insignia with manual transmission and all-wheel drive is 6.1 l/100 km, but during our alert test routine of more than 700 kilometers, it settled at around 8.1 l/100 km. That's a reasonable figure, given that we didn't go to great lengths to get a low fuel consumption.

The eight-speed automatic once again comes to mind, as Opel's claimed fuel economy for the Insignia equipped with the same engine mated to the auto gearbox is slightly lower at 5.6 l/100 km. That's without all-wheel drive, it's true, but one could argue the only reason you'd need AWD is if you lived in a place with harsh winters. Special credit goes to the start-stop system which I think is one of the smoothest, most silent of its kind.
---
Equipment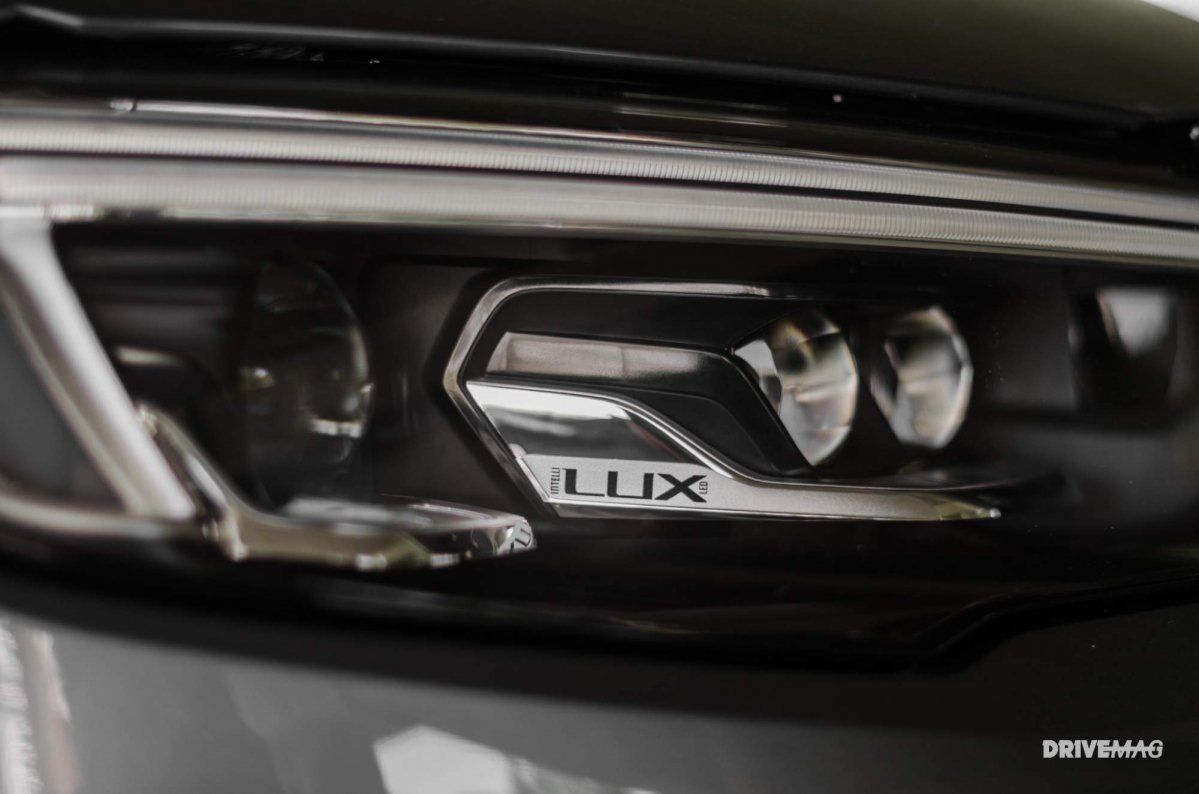 Our tester was a mid-range Dynamic trim level which offers extensive standard equipment. You get stuff like air conditioning, electric parking brake, 7.0-inch infotainment system with Bluetooth and USB, cruise control with speed limiter, start-stop, power windows and side mirrors, multifunction steering wheel wrapped in leather, 17-inch alloys, and more.

Think that's impressive? Wait till you see the options our press car had — a total of €11,480. Highlights included the fully automatic IntelliLux LED Matrix headlights (a blessing during the night), the AGR-certified front leather seats, Navi 900 IntelliLink infotainment system, Bose audio system, FlexRide adaptive chassis, power sunroof, parking assist, adaptive cruise control, 18-inch alloys, and then some.

Not all are essential, but the headlights, leather seats, and adaptive chassis should definitely be on your list — along with the eight-speed automatic transmission.
---
Acquisition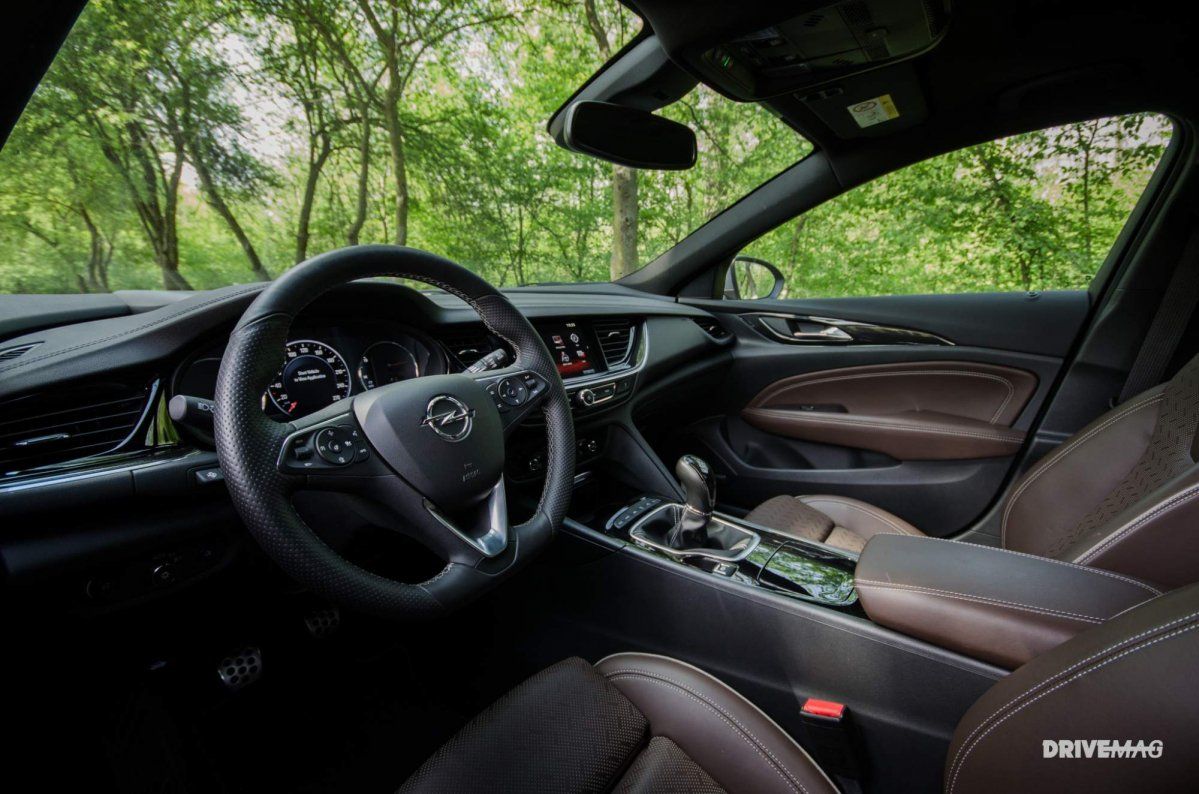 I have to say this car turned out to be more impressive than I expected. It's a great all-rounder, and it can also play the premium game if you spec it right. If you are in the market for a family car you should check out the Insignia because not only will you look better than in a Passat, you'll also feel special as there are way fewer Insignias on the road.

Loaded with €11,500 worth of optional extras this car costs around €42,500, depending on the market. Add to that the fact that most dealers will offer you a discount on a high-spec model like the one I drove (worth almost four grand in this case), and the Insignia becomes a tempting proposition.

After all, that kind of money will buy you a Mercedes C-Class or a BMW 3 Series with no options. It's your choice if you want to look good and have all the goodies you want, or just look good.