Massive Korean SUV is big bang for your buck
Overall Score 79/100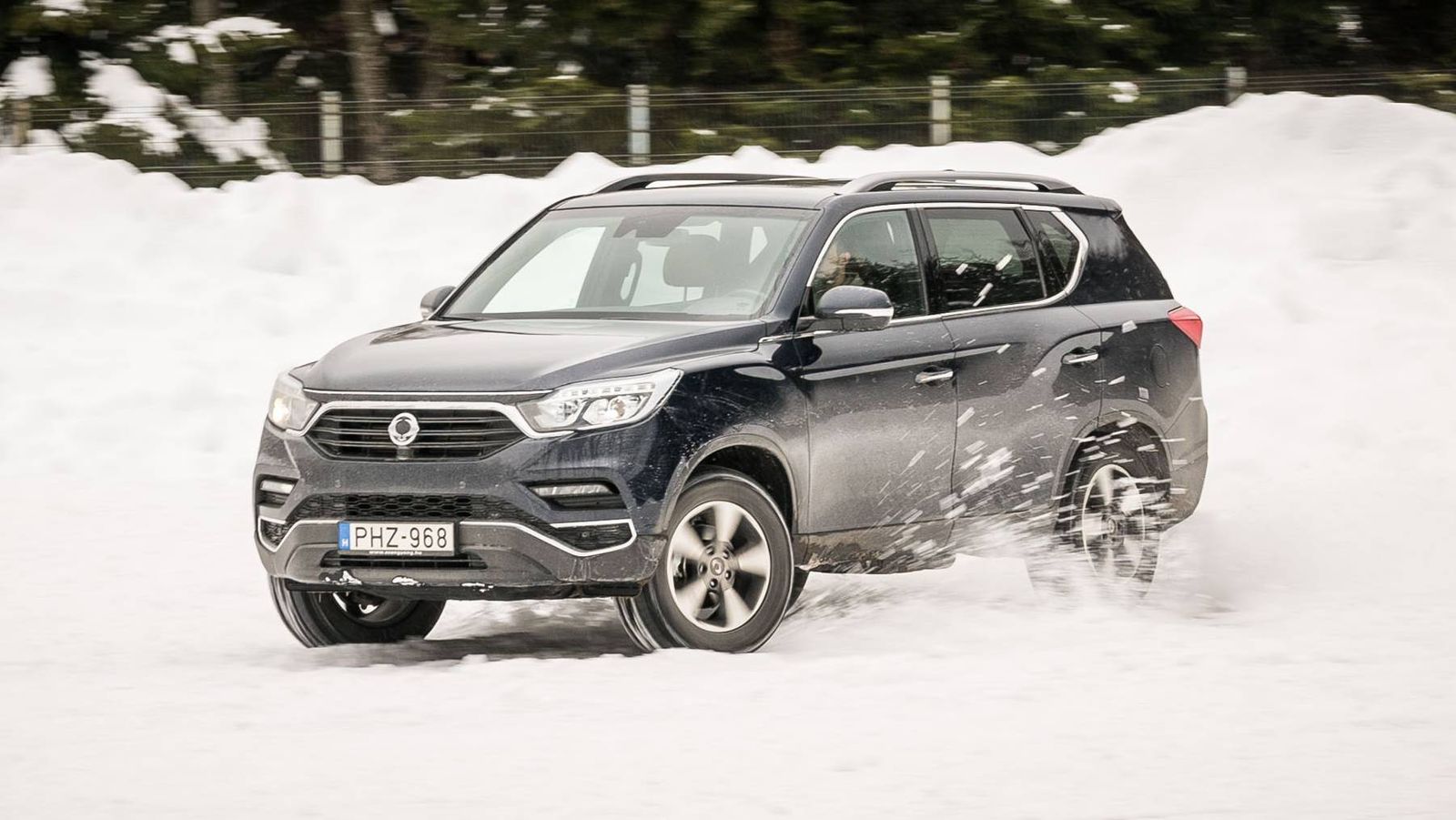 Launched in 2001, the first-generation SsangYong Rexton carried on until 2017 with two major facelifts. A replacement model was long overdue, and thankfully SsangYong unveiled one last year at the Seoul Motor Show.
As expected, the second-generation Rexton (sold as the Rexton G4 in Korea) is a major departure from its aging predecessor, despite the fact that it still sits on a ladder-frame chassis — whereas all other SsangYong SUVs are monocoques.
Styling-wise, the SsangYong's new flagship has nothing in common with the outgoing model, as it adopts the brand's latest design language. The Rexton is no beauty, but it looks contemporary and smarter than before. There are hints of the Tivoli in the prominent wings, but the rest of it doesn't remind of any other SsangYong model — which is a good thing because the Korean automaker doesn't have a history of making beautiful cars.
Some might say there's too much going on as far the exterior design is concerned, but the many creases and surfaces are there for a reason: to break the monotony of the massive sheets of metal that make up the Rexton's gargantuan body.
Yes, this is a big SUV, measuring 4,850 mm in length, 1,960 mm in width, and 1,825 mm in height. It's big enough to offer a seven-seat option, and the rugged frame combined with the all-wheel-drive system with low-range gearing should make it shine off-road.
Everything looks good on paper, but how do all these ingredients come together? Time to find out.
---
IN BRIEF
RECOMMENDED FOR:
Families, Seniors
CREATED FOR:
All Terrain, Off Road
HATS OFF FOR:
Luggage Space, Modularity, Passenger Space
---
DRIVE
Powertrain 8/10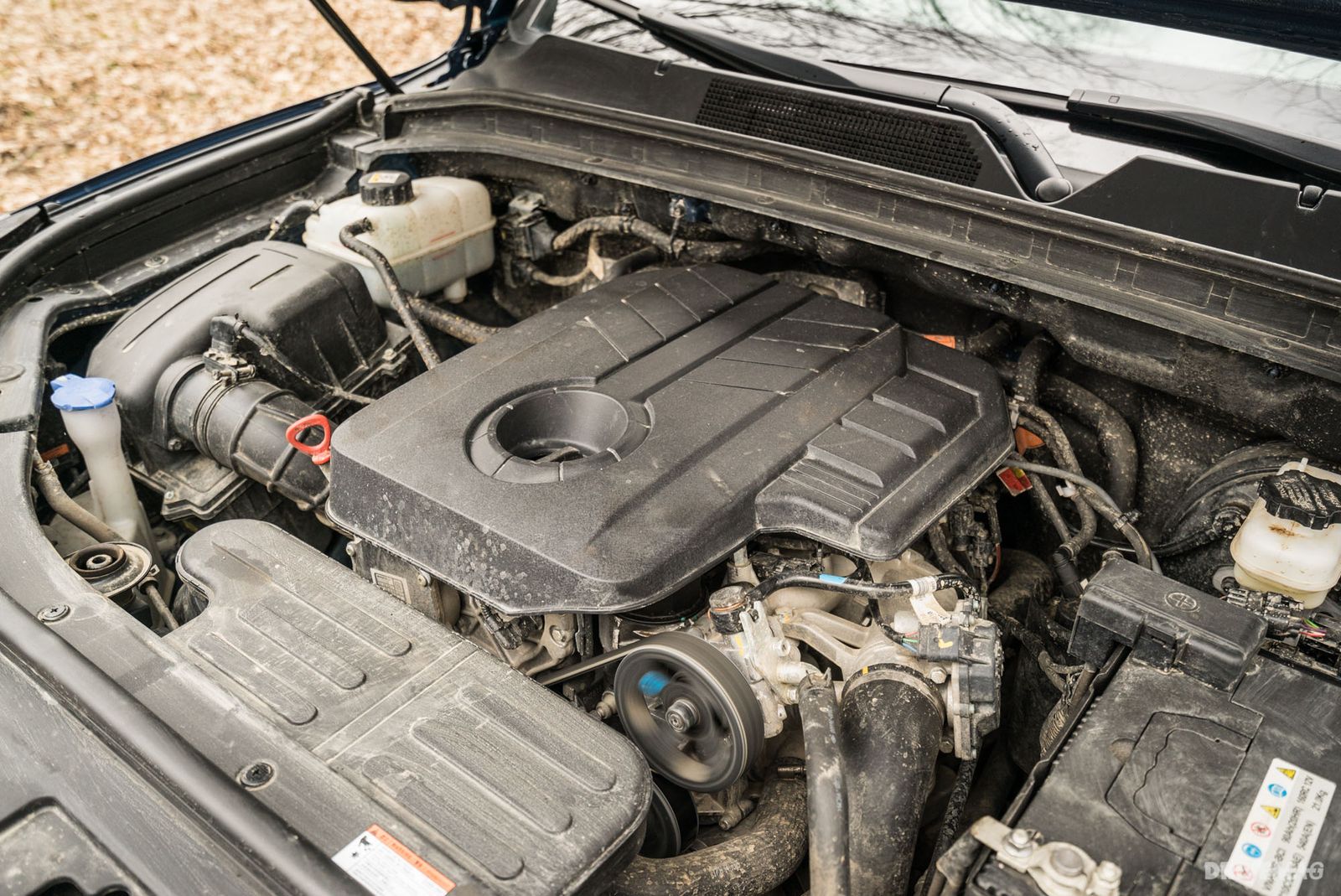 Our tester featured a 2.2-liter four-cylinder turbodiesel built by SsangYong under license from Mercedes-Benz, while the transmission was a Mercedes-built seven-speed automatic. The powertrain delivers 181 metric horsepower at 4,000 rpm and 420 Nm (310 lb-ft) of torque from 1,600 rpm to 2,600 rpm.
While the engine is refined and nippy, it cannot work wonders for an SUV that weighs more than 2.1 tonnes. The transmission is civilized, albeit a bit slow, and the acceleration and top speed show it. Getting from 0 to 100 km/h takes 12 seconds, and maximum speed is just 185 km/h (115 mph).
Changing gears yourself doesn't improve acceleration times, but it increases your frustration as a driver because you need to use a completely unergonomic switch attached to the left side of the chunky lever to shift gears up or down. Better leave the transmission do its thing, as the Rexton proves to be quick enough for everyday driving needs.
---
Handling 7/10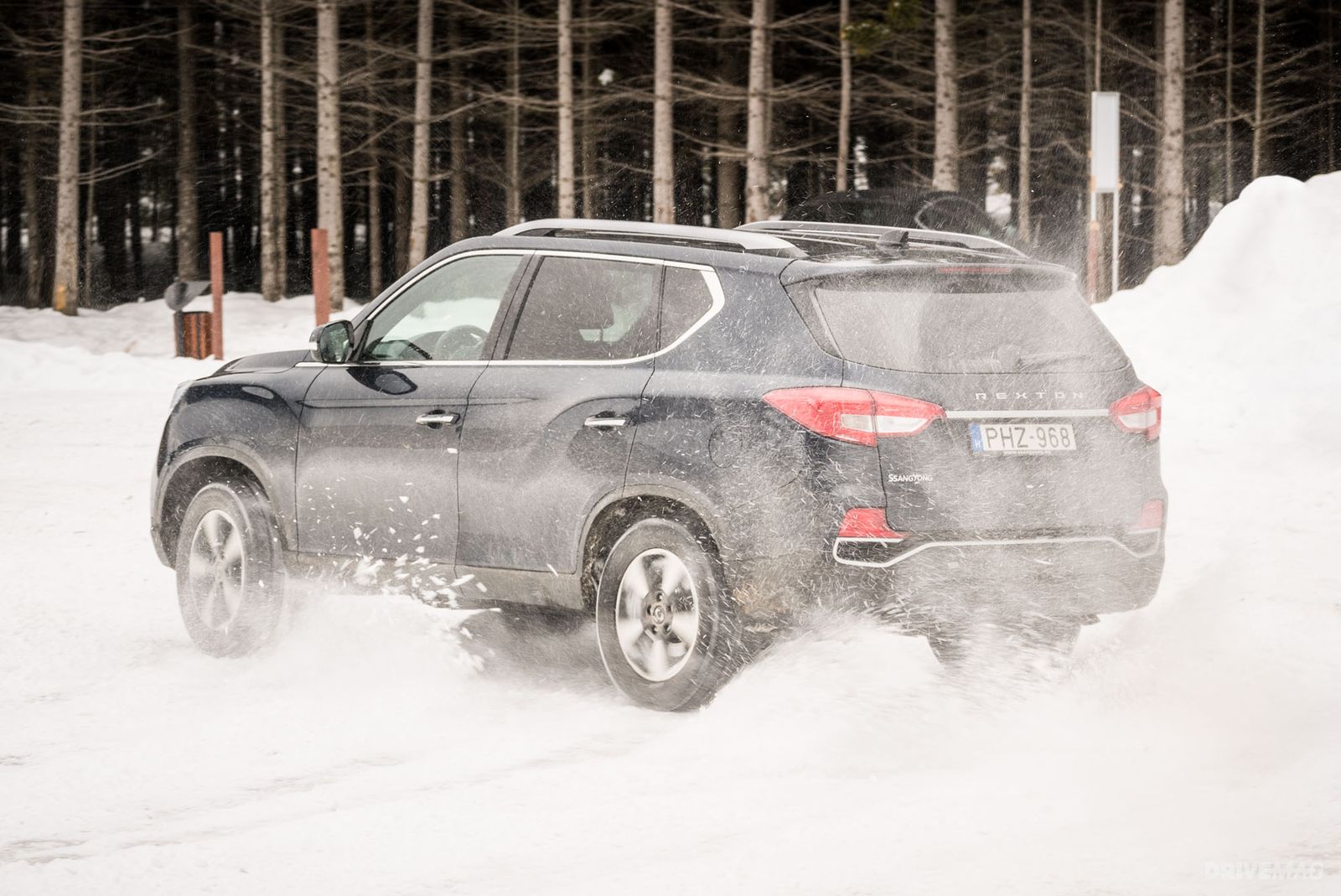 Since it's a body-on-frame SUV, the Rexton feels out of its element in corners. Add to that the fact that it's a tall and heavy vehicle, and the pronounced body roll and numb steering will make you think twice before trying to go too quickly through turns.
Once you leave the asphalt behind, however, the Rexton can get you farther than most of its unibody rivals. By default, the engine sends power to the rear wheels, but you can use the selector on the center console to switch to 4H (4WD High) for low-traction, slippery conditions and 4L (4WD Low) for tough terrain.
There is no Terrain Response-like system, but you should be okay in 4H most of the time. If not, 4L should get you out of (almost) any trouble. It's too bad SsangYong doesn't offer a locking rear differential, but the dealer that loaned us the test car plans to retrofit one for customers who are really into heavy off-roading.
---
Safety 8/10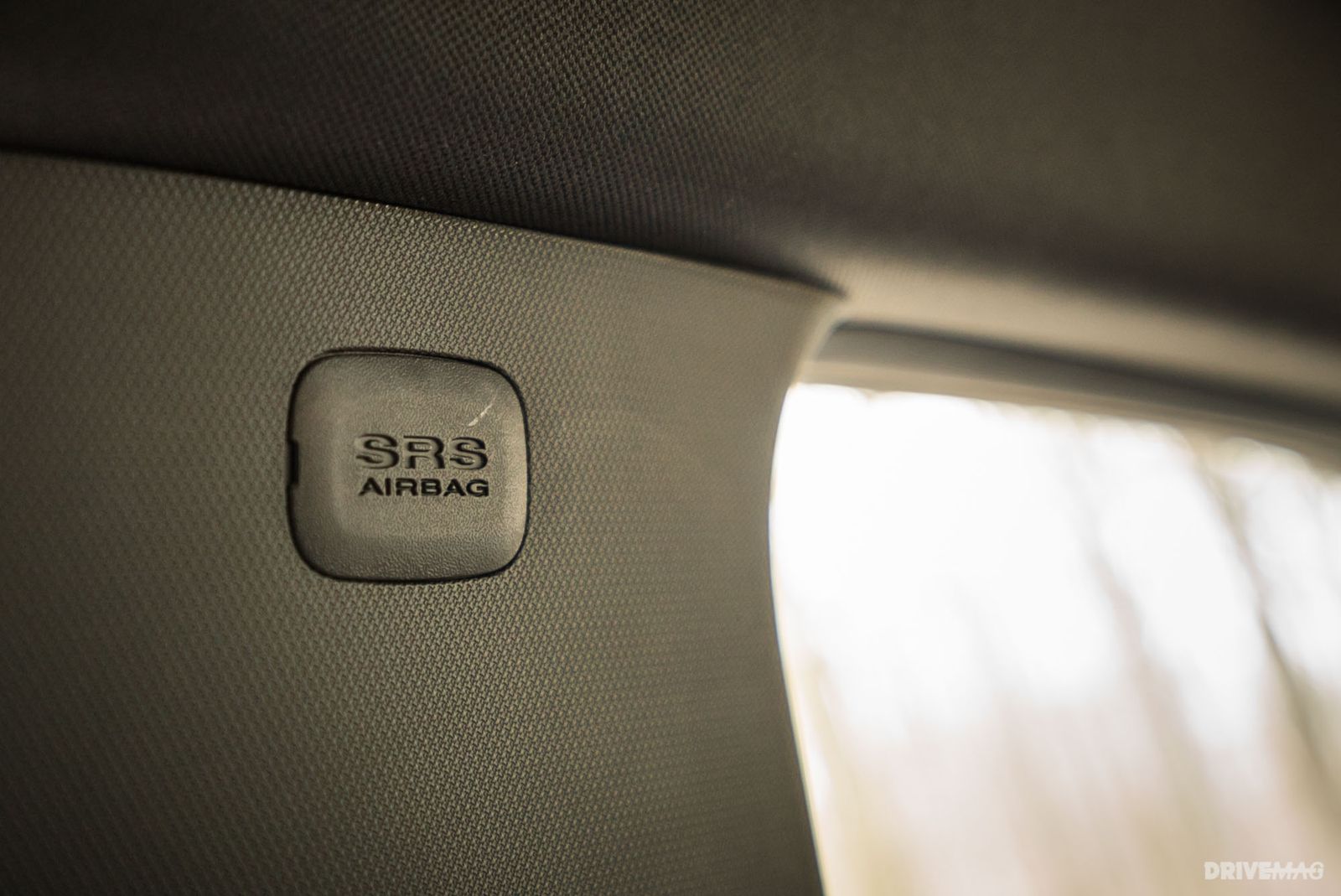 The SsangYong Rexton hasn't been assessed by Euro NCAP yet, but the SUV has gone through KNCAP's crash test procedure. KNCAP stands for Korean New Car Assessment Program and is the Euro NCAP's Korean equivalent.
The Rexton scored an overall 88.5 points out of 100, with KNCAP giving it a 100-percent rating for Crash Safety (60 points), a 74-percent rating for Pedestrian Safety (18.5 points), and a 62.7-percent rating for Safety Assist (9.4 points). The SUV also got an additional 0.6 points for safety assist systems. The test didn't measure child occupant protection, though. Still, until Euro NCAP assesses it, we'll give the Rexton the benefit of the doubt.
---
INTERIOR
Comfort 7/10
The Korean vehicle offers good ride quality for a body-on-frame SUV. However, it's not as comfortable as a monocoque SUV, with the chassis sending vibrations to the cabin when going over rough stretches of road. The way the Rexton absorbs bumps is similar to a pickup, and that's not surprising given that the SUV shares the platform with the all-new Musso truck.
However, the Rexton is unquestionably more comfortable than a pickup thanks to the all-round dampers and multi-link rear suspension. The seats are comfortable and offer plenty of adjustments, and noise levels are reasonable, at least under 130 km/h. Go above that, and you start to hear more wind noise than you'd want, however.
---
Quality 8/10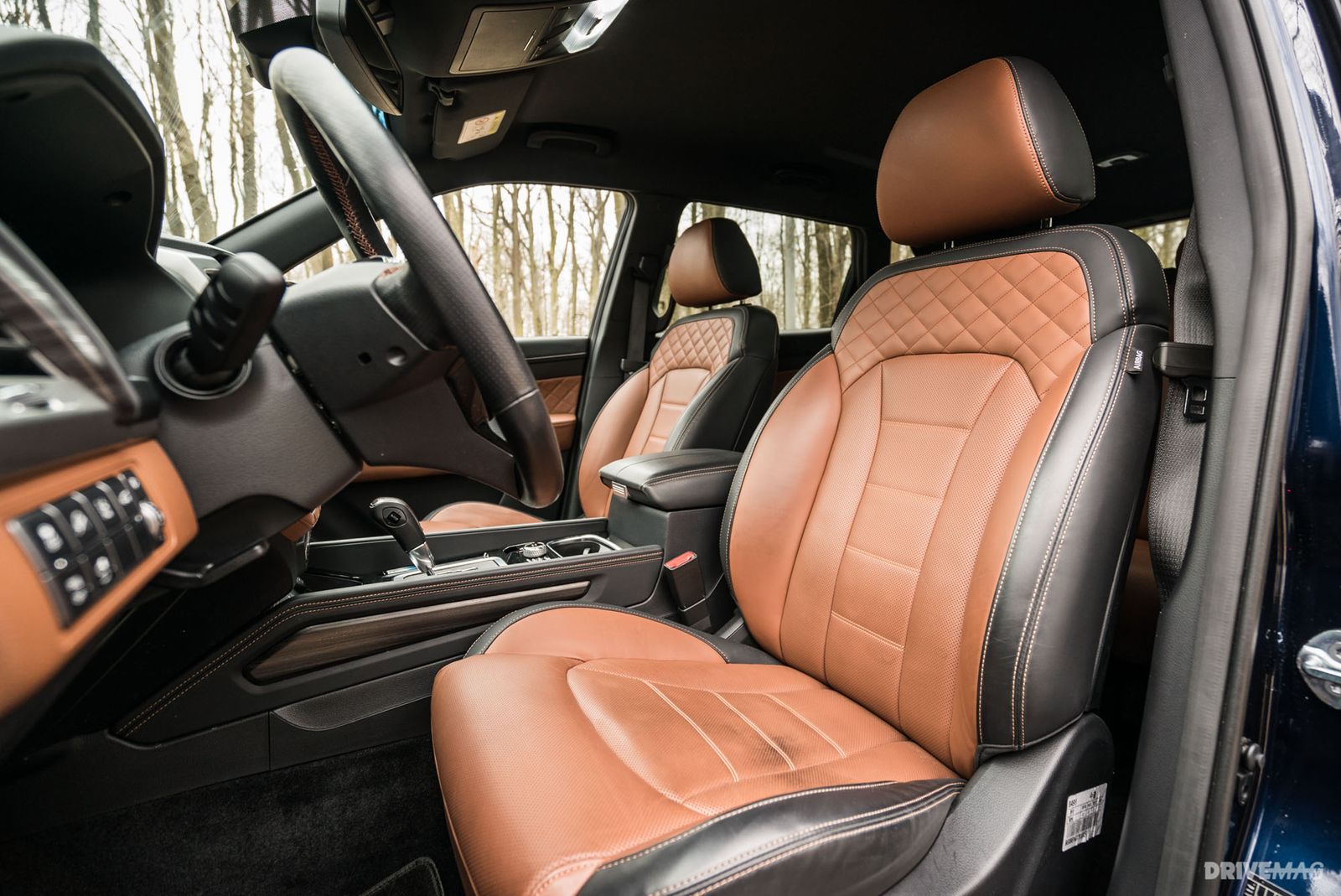 Step inside the range-topping Rexton Premium, and you're surprised by the abundance of materials such as Nappa leather, real wood, and brushed aluminum trim. It's not every day that you see quilted leather on the dashboard and door panels of a SsangYong.
Still, the Cognac Brown leather doesn't seem to hold up that well to wear and tear, with the driver's seat already catching stains from jeans. Compared to the previous Rexton, the progress is significant, both quality-wise and as far as the design is concerned — despite the fact that the dashboard is a potpourri of influences, the most obvious of which are from Mercedes-Benz. Build quality is improved as well, but I don't see why SsangYong chose to fit piano black trim on the door armrests and center console — those surfaces had already lost their appeal because of scratches, despite the fact that our tester was a brand new car.
---
Practicality 10/10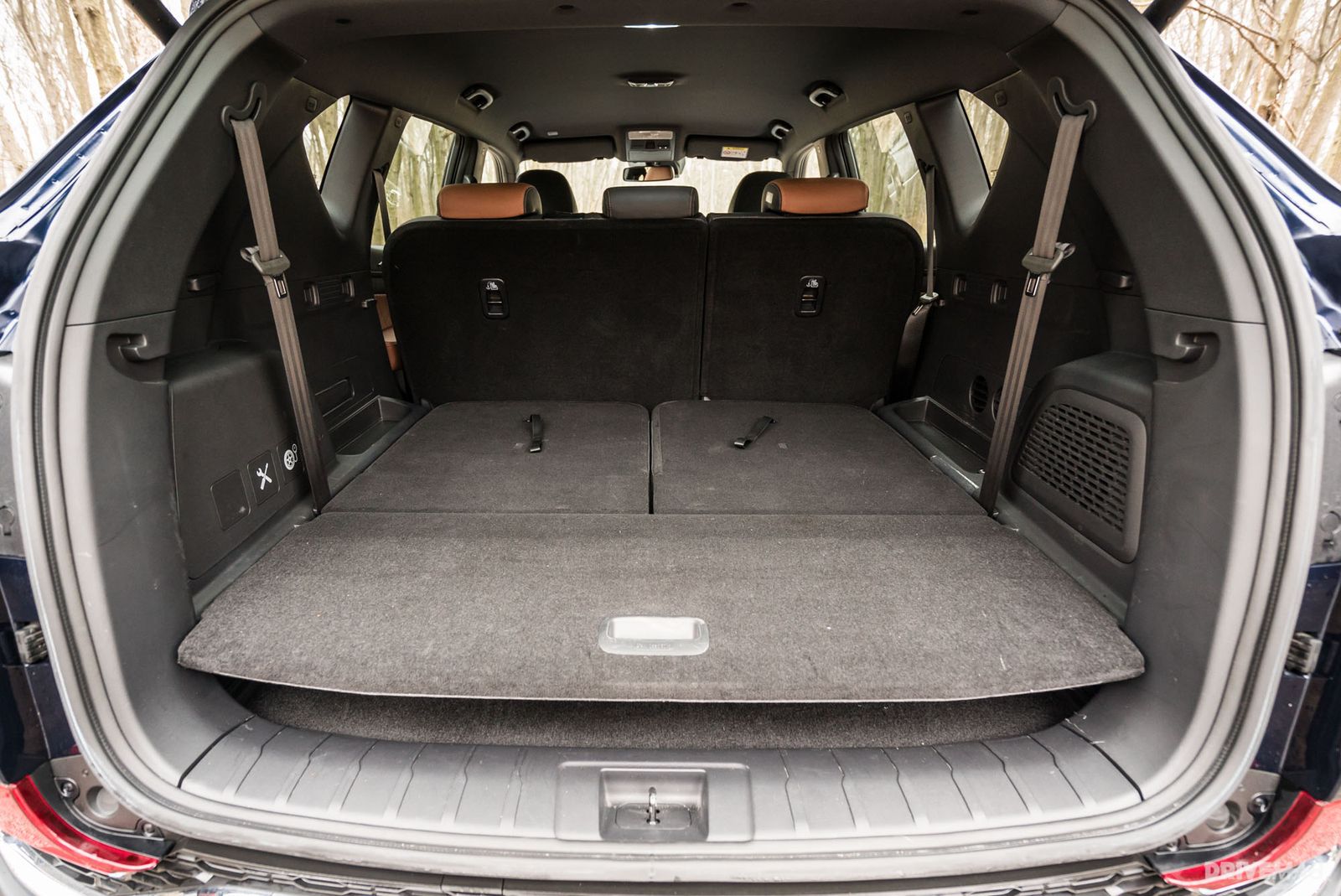 There are few SUVs on the market today that can compare to the Rexton when it comes to interior space and practicality. Come to think of it I can't find any other SUV within this price range that offers an equally roomy cabin.
Passengers of all sizes can fit on the first and second rows of seats, and you can even squeeze two adults on the third-row seats for shorter trips. They won't enjoy the same level of legroom and headroom as they would in a Land Rover Discovery, but they will be better off than in most similarly-priced three-row SUVs.
The storage spaces situation is excellent too, as is modularity. The second- and third-row seats can fold flat, expanding the boot volume from a standard 236 liters (with all seven seats in place) to a cavernous 1,806 liters (with the second- and third-row seats folded).
---
Infotainment 8/10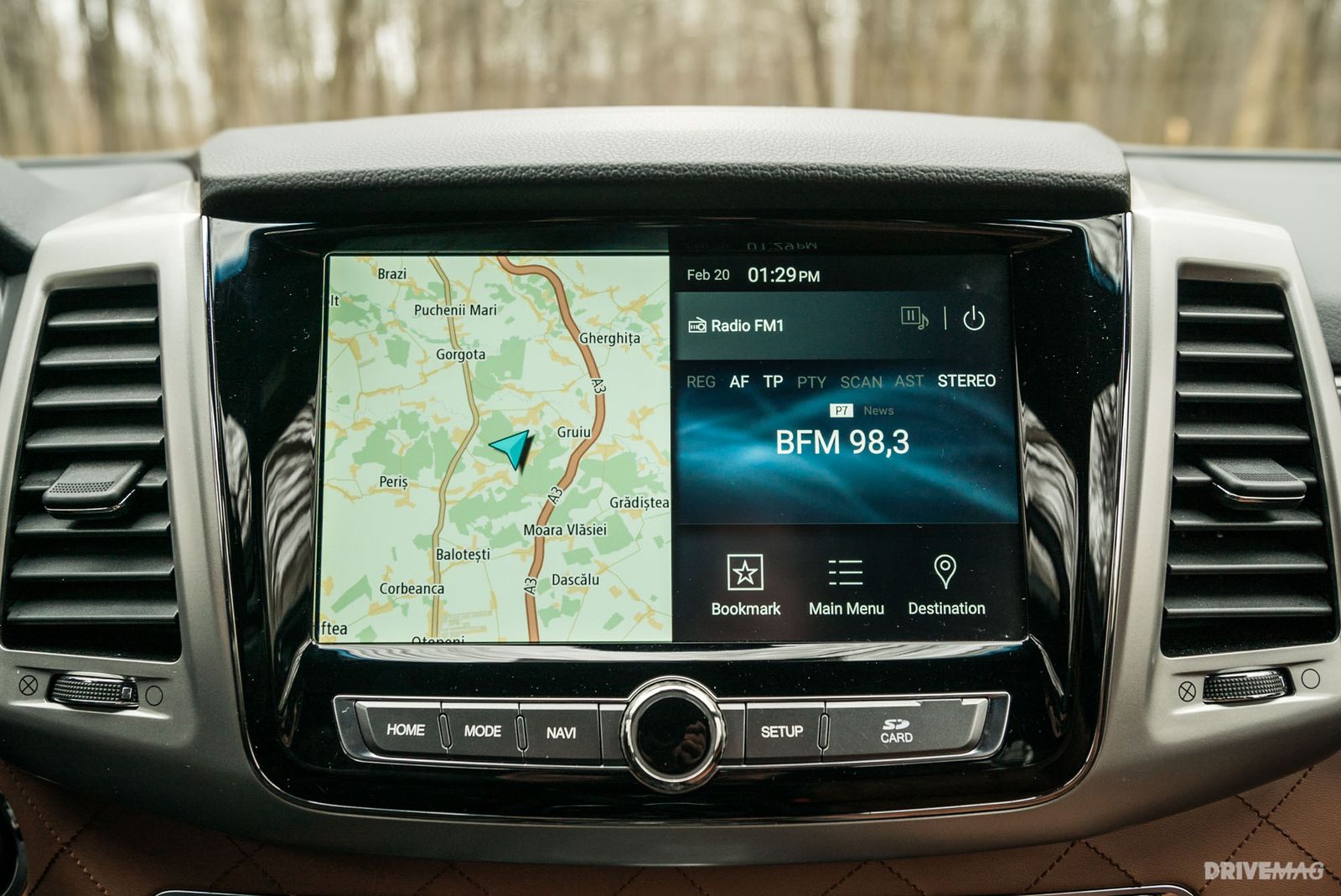 The Rexton's infotainment system may seem a bit too complicated to use at first, but once you get accustomed to it, you realize it's quite capable. The HD Smart Audio interface combines a 9.2-inch central touchscreen with a 7-inch color display located between the dials.
The system offers Apple CarPlay and Android Auto compatibility, and mirroring your smartphone on the big screen is less complicated than in other systems from rival models. In fairness, the menu as a whole is not that intuitive and takes some time to get used to. Once you do that, however, you start to appreciate the interface's quick responses and attractive graphics.
---
BUDGET
Efficiency 6/10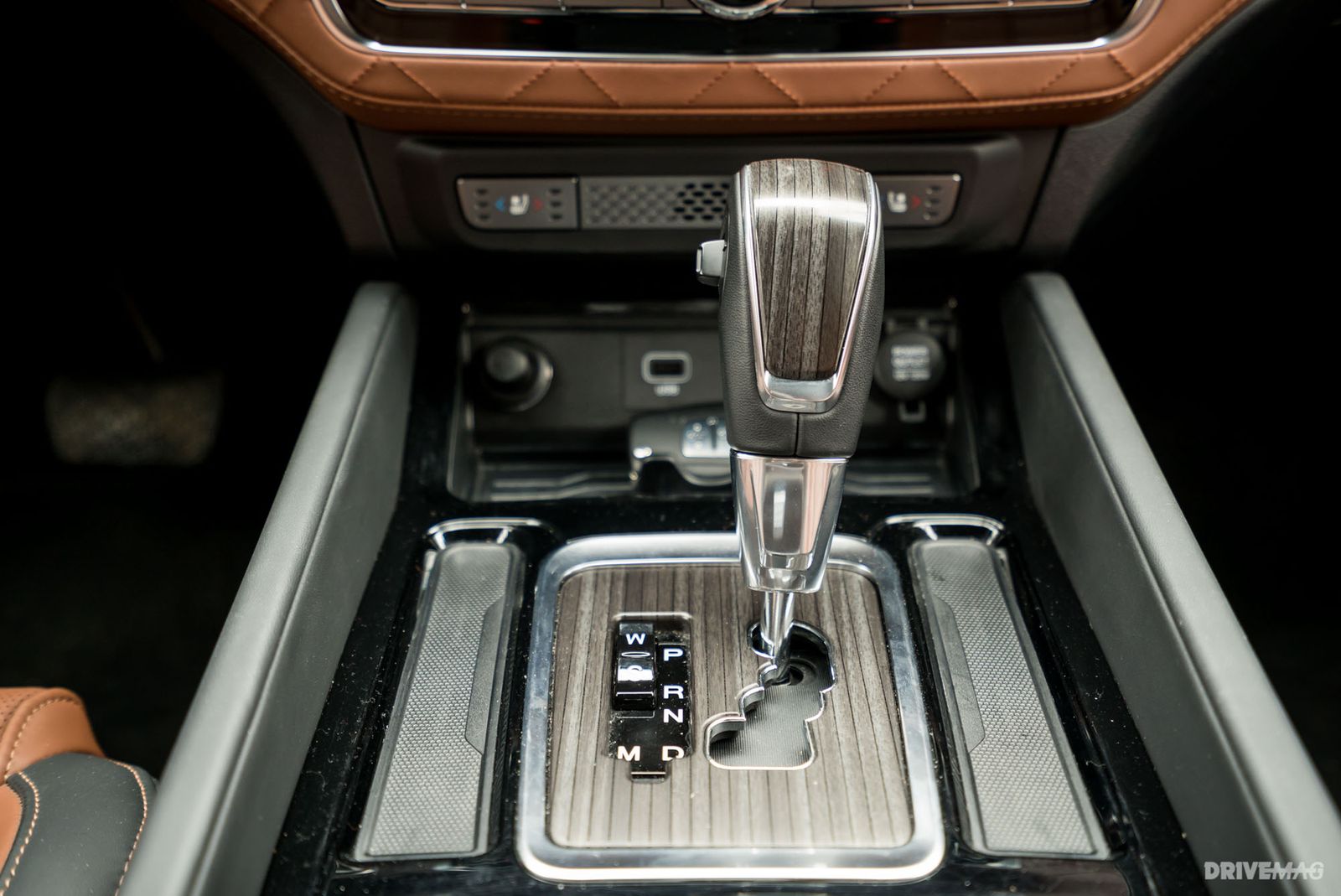 There's a big gap between SsangYong's claimed fuel economy for the Rexton and reality. While the automaker quotes an average fuel consumption of 8.3 liters/100 km for the diesel-powered seven-seat model, we couldn't get the trip computer to show anything below 11 l/100 km. Single-digit figures are within reach only in a lab environment.
If you're used to spirited driving, you should certainly expect higher numbers. Frankly, the average consumption is too high for a 2.2-liter diesel engine, but we have to remember the four-cylinder unit has to move around a vehicle weighing in at more than 2.1-tonnes. Surprisingly (and not in a good way), SsangYong doesn't equip the Rexton with a start-stop system which would have made the big SUV more economical and eco-friendly around town.
---
Equipment 9/10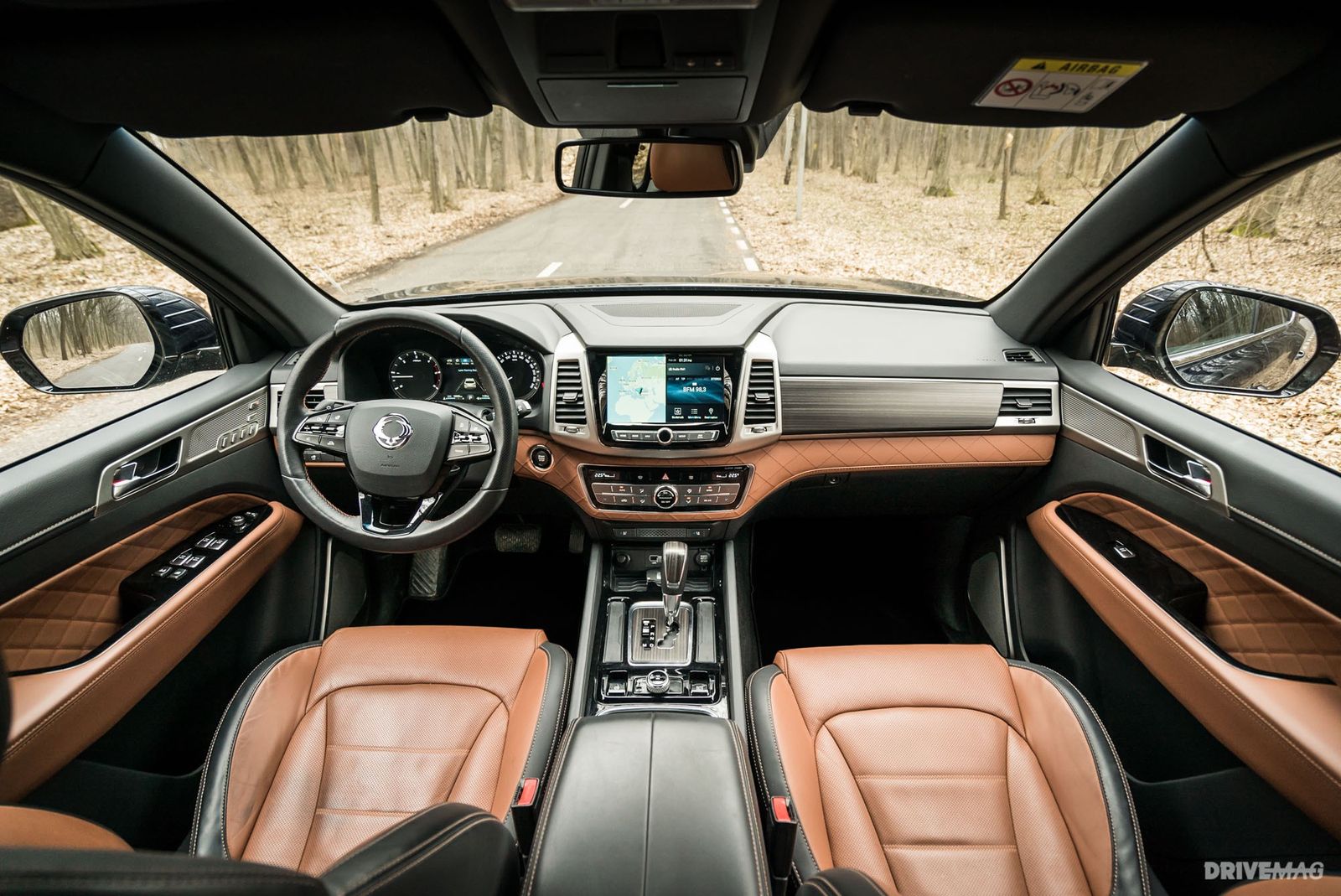 If you go for the top-spec Premium model (trim level names vary depending on the market), you can expect your Rexton to pack a lot of stuff. Our tester's standard equipment included power adjustable, ventilated and heated front seats (with memory for the driver's seat), heated second-row seats, keyless entry and start, cruise control, 360-degree camera, parking sensors, automatic climate control, electronic parking brake with auto hold function, and much more.
Optional extras fitted to the car included the seven-speed automatic transmission, seven-seat configuration, Cognac Brown leather pack, and Atlantic Blue metallic paint.
---
Acquisition 8/10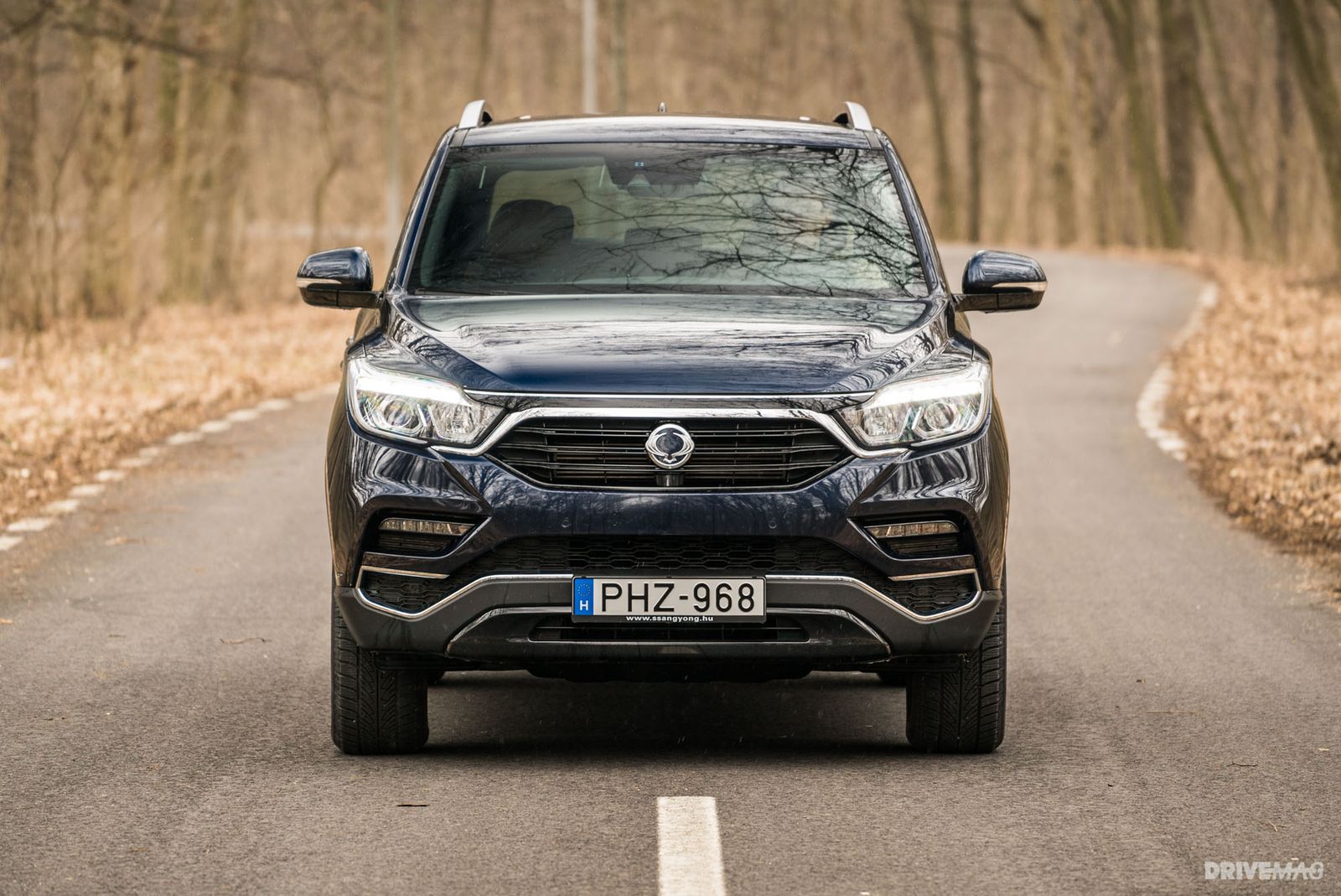 If you're in the market for a big, roomy SUV that's very capable off-road and doesn't break the bank, the SsangYong Rexton should unquestionably be on your list. An entry-level model with a six-speed manual transmission starts at just under €31,000 in Germany, and the Romanian-spec Rexton Premium I drove was priced at €37,220 (including VAT). That's a competitive price that buys you a seven-seat, body-on-frame, all-wheel-drive SUV that features all the amenities an average user wants.
Sure, it doesn't look sensational, and it's not a premium SUV, but the Rexton doesn't target buyers who look for that. It appeals to value-oriented customers who want the biggest bang for their buck, and in this respect, it's hard to argue with the SsangYong Rexton.