2018 Volkswagen T-Roc 1.5 TSI review: youth of the nation
With the new T-Roc, Volkswagen is turning its attention towards the younger clientele. But can it convince this customer pool?
Long story short, Volkswagen has a plan: to saturate its lineup with no less than 19 crossovers in the coming years. The T-Roc is one of them. So, what is a T-Roc?
The gist of it lies in its name: T, says VW, brings it closer to its Touareg and Tiguan peers, although the T-Roc is smaller than both of them as it sits below the Tiguan. While Roc, well, it comes from rock music. Confused already? We can help.
Although not explicitly stated in press blurbs, VW is aiming the new T-Roc at the younger clientele, and the car has a few hints regarding this strategy. We'll get to that later, after we get you prepped up with some T-Roc essentials.
VW's fourth SUV sits on the widely-used MQB modular architecture and unlike some of its rivals, it can be had with the 4Motion all-wheel-drive and seven-speed dual-clutch DSG gearbox – but these are optional features, mind you.
Volkswagen assembles the T-Roc in Portugal at its Palmela plant near Lisbon. A total of six TSI (petrol) and TDI (diesel) units make up the engine range, with power outputs varying between 114 hp (that's the 1-liter, three-cylinder entry level powerplant) and 188 hp (delivered by the range-topping, 2-liter TSI).
Our tester was fitted with the new 1.5-liter TSI Evo petrol engine making 148 hp, married to a six-speed manual and front-wheel drive. Here's what we can report.
Powertrain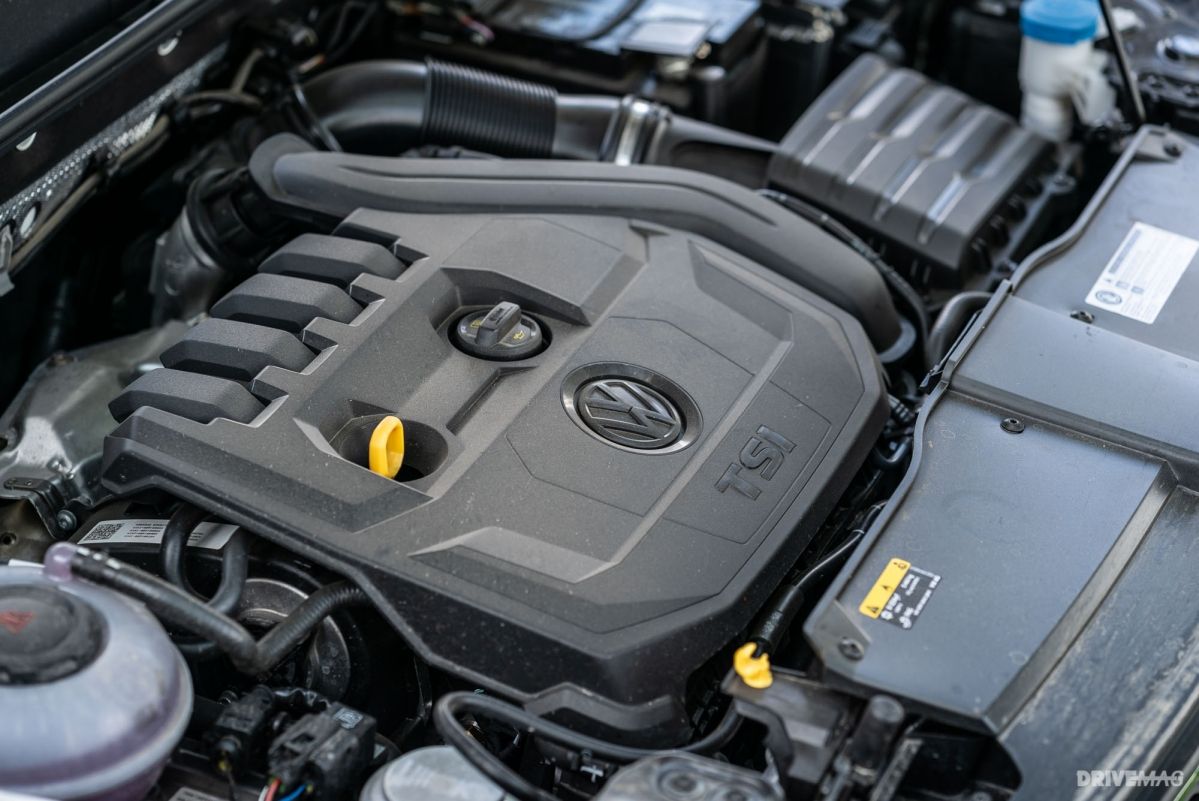 At 148 hp (110 kW) and 250 Nm, the 1.5-liter putt-putt is a well-rounded choice for the new T-Roc, as it creates a bridge between the 1-liter TSI unit (a tad less up to the challenge) and the range-topping 2-liter engine. It's also fitted with active cylinder deactivation tech which comes in handy for cutting down fuel consumption at higher speeds.

So, does it pull? Yes, it does, and you'll find out it's quite rev happy but at the same time disciplined when going up the rpm ladder. T-Roc's 1,330 kilos (75 kg driver included) also lend a hand in that direction.

The no-nonsense six-speed manual, a contraption VW also employs on the Polo and Golf, is up to the engine's energetic ways. Taken together, they form a mix that's likely to appeal in equal measure those who enjoy urban driving and the more roadtrip-savvy type.
---
Handling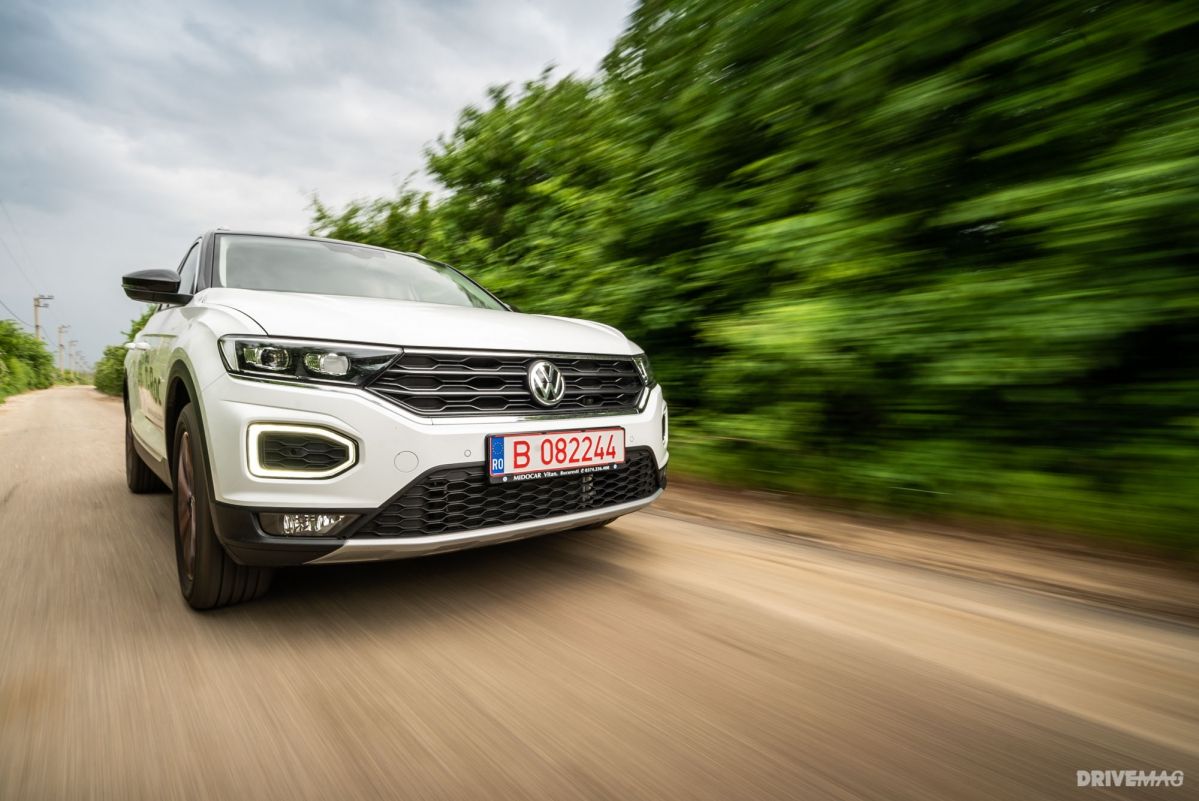 The ever-present, high adaptable MQB platform generates, more or less, the same road behavior you get in the Golf and Polo, with a more twist of body roll dictated by the car's higher center of gravity - VW says the driver sits 53 cm above the ground and that's something you'll be reminded by tighter corners.

Less feedback from the steering was expected so there's no surprise there, but it's also accurate and eases the city hassle when the decor gets crowded. However, it doesn't stiffen as much as I would've liked at higher speeds.

You'll find the suspension setup - as usually with most Volkswagens - a fine-tuned affair between comfort and road composure, although it tends to get noisy on uneven surfaces.
---
Safety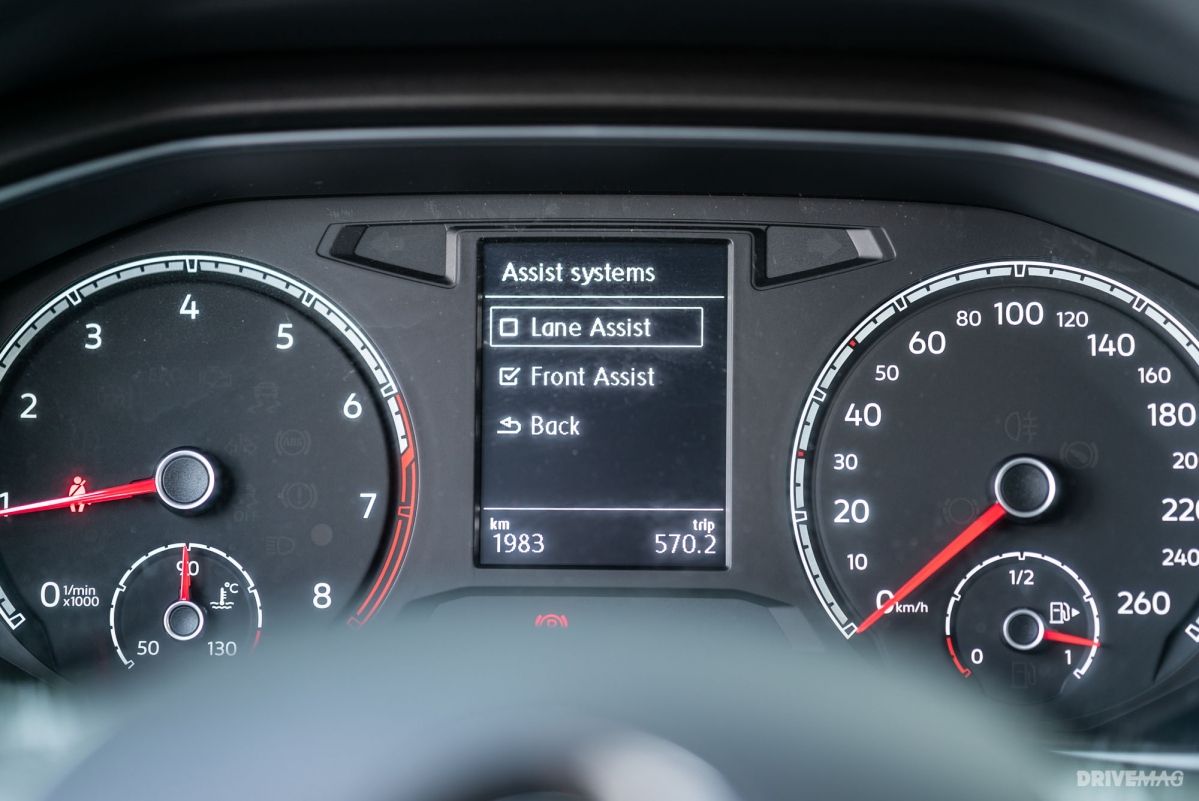 Safety is a five-star affair for the T-Roc, with stellar scores for adult occupant (96%) and child occupant (87%) protection. Pedestrian protection (79%) isn't that bad either, but it could have performed better in the safety-assist evaluation (71%).

The driver and front passenger get front, side head, chest and pelvis airbags. Those in the back will have to settle for just a side head airbag. Standard safety features include the likes of front assist with city emergency braking and pedestrian monitoring as well as lane assist, which means everything else is to be found on the optional equipment list and will require an extra fee.
Comfort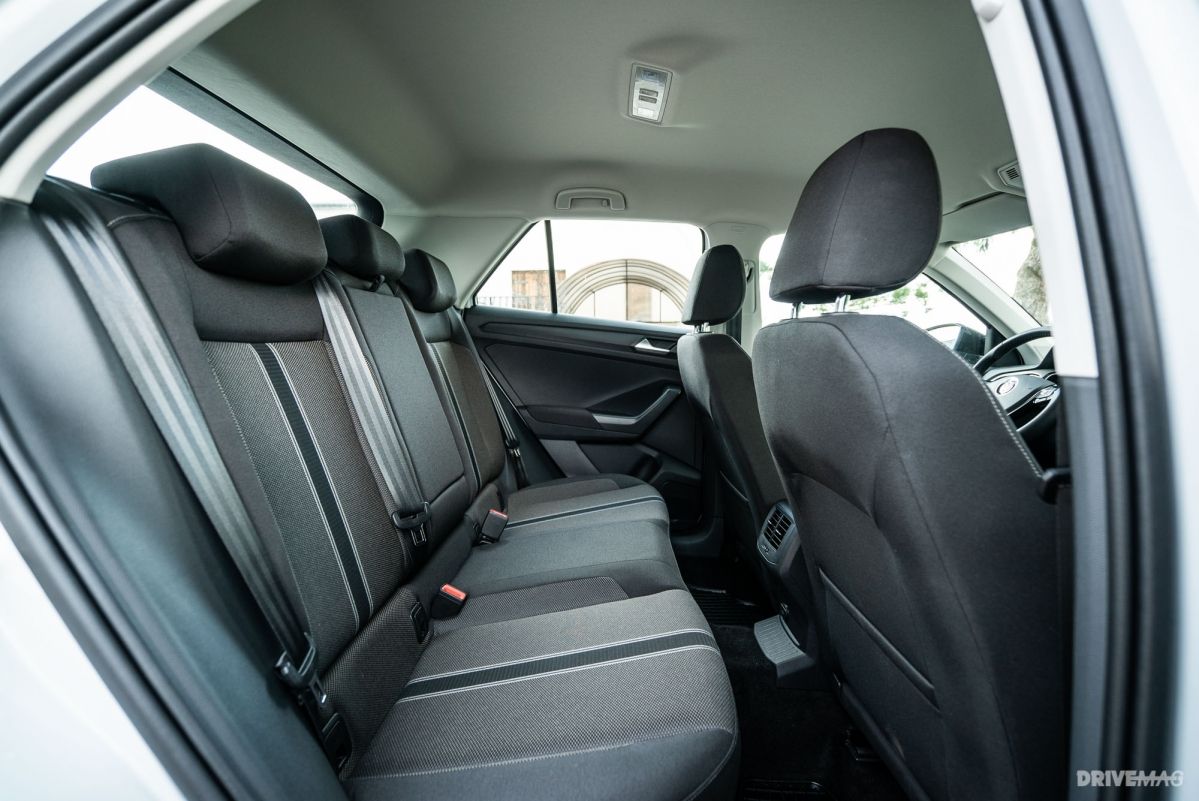 VW knows a thing or two about comfort and the T-Roc is a proper proof of concept in this regard. The seats are supportive and fatigue-beating even on longer driving periods and there are plenty of ergonomics boxes ticked in the way you sit between the steering wheel, gearbox level, pedals and dashboard controls.

But since the short wheelbase plays against any family-serving traits, room in the back is best used by just two passengers in the rear seats. You won't bump into things, as there's plenty of room left over your head, in front of your knees and around your shoulders and hips.
---
Quality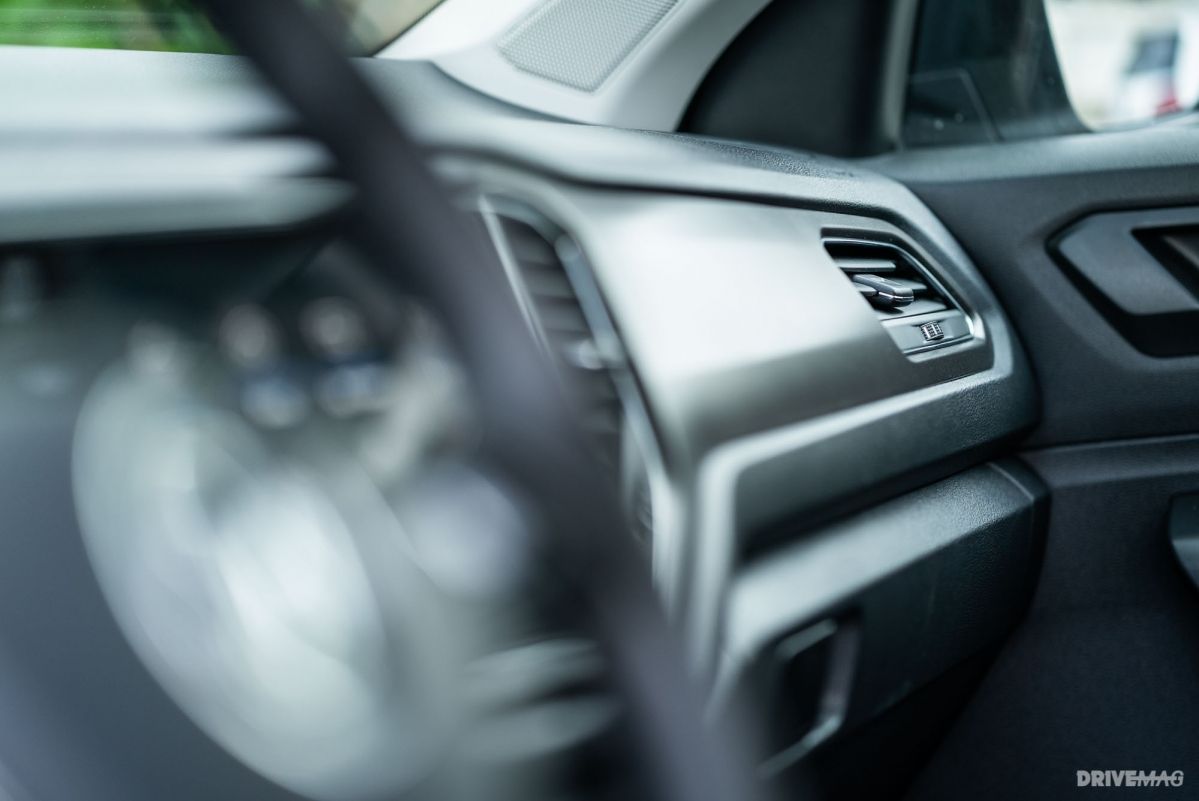 Can one think of a car's looks as a marque of quality? Well, if the answer is yes, then the T-Roc's cheery looks (for a Volkswagen, that is) have plenty of that. Even if the interior is a lot like what you get inside the Golf or Polo, it's the same no-nonsensical arrangement of things that entices. Sure, some might find it boring but with the right color choice and the presence of VW's (optional) digital instrument cluster you can turn the cockpit into a lively place.

However, the harsh plastics cladding the cabin are below par and of lesser quality than what we've expected from Wolfsburg. Yet this has to do with the target customer the Germans are aiming the T-Roc at - which is mostly young people who are more into tech and flashy appearances and less pressed by a family's needs or simply can't be bothered by a rough interior.

Otherwise, the T-Roc feels sturdy and well-built even when faced with bumpy surfaces. If only the materials were more polished…
---
Practicality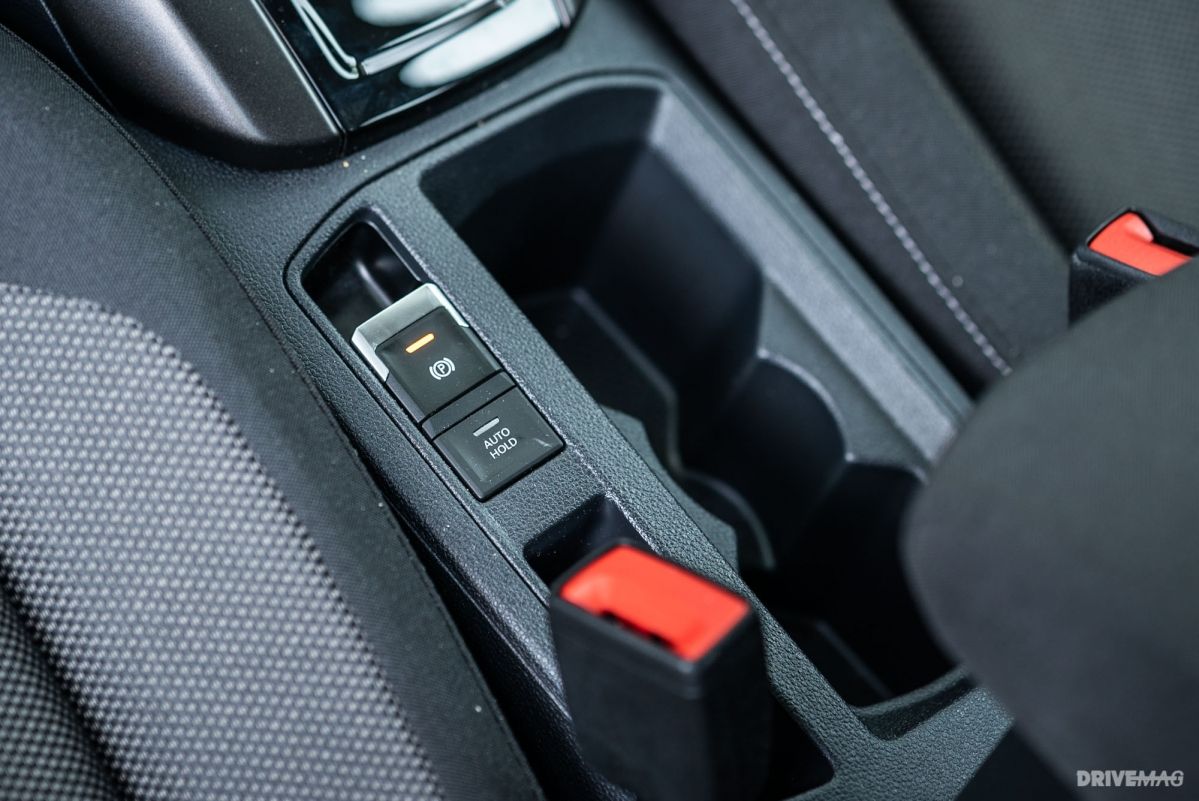 While the boot offers just 425 liters of space (that's for FWD versions, because the 4Motion all-wheel drive will leave you with just 392 liters at your disposal), cabin cubby holes and pockets are suitable for your daily use personal belongings - I'm talking water bottles, phones, wallets and whatnot.

So yes, given its large interior size, the T-Roc can serve your family a tad better than the likes of Polo and Golf.
---
Infotainment
Those familiar with the Polo and Golf - again, we must reference these two - will be already accustomed to the infotainment system. It's basically the same hardware, so you get logical and clear-cut menus, fuss-free graphics that don't glitch and physical buttons for the a/c system and turning on or off features like the parking sensors and automatic engine start/stop. Our tester did not have the optional digital instrument cluster.
Efficiency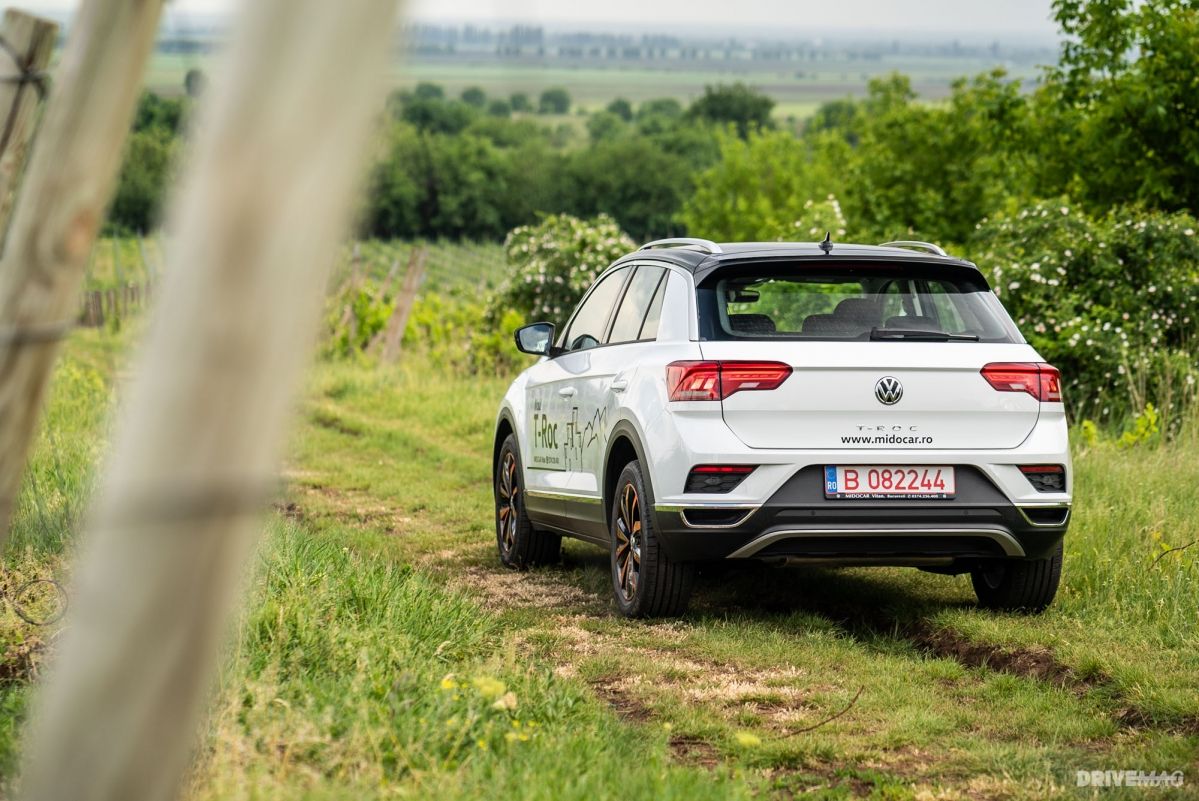 Volkswagen says a front-wheel drive T-Roc, fitted with the 1.5-liter petrol unit married to the six-speed manual drinks, on an average, 5.3 liters of fuel every 100 km. Realistically, that's rather hard to attain and we had to settle for something between 7-7.5 l/100 km combined, but we drove the T-Roc mostly outside the city, away from rush hour city traffic.
---
Equipment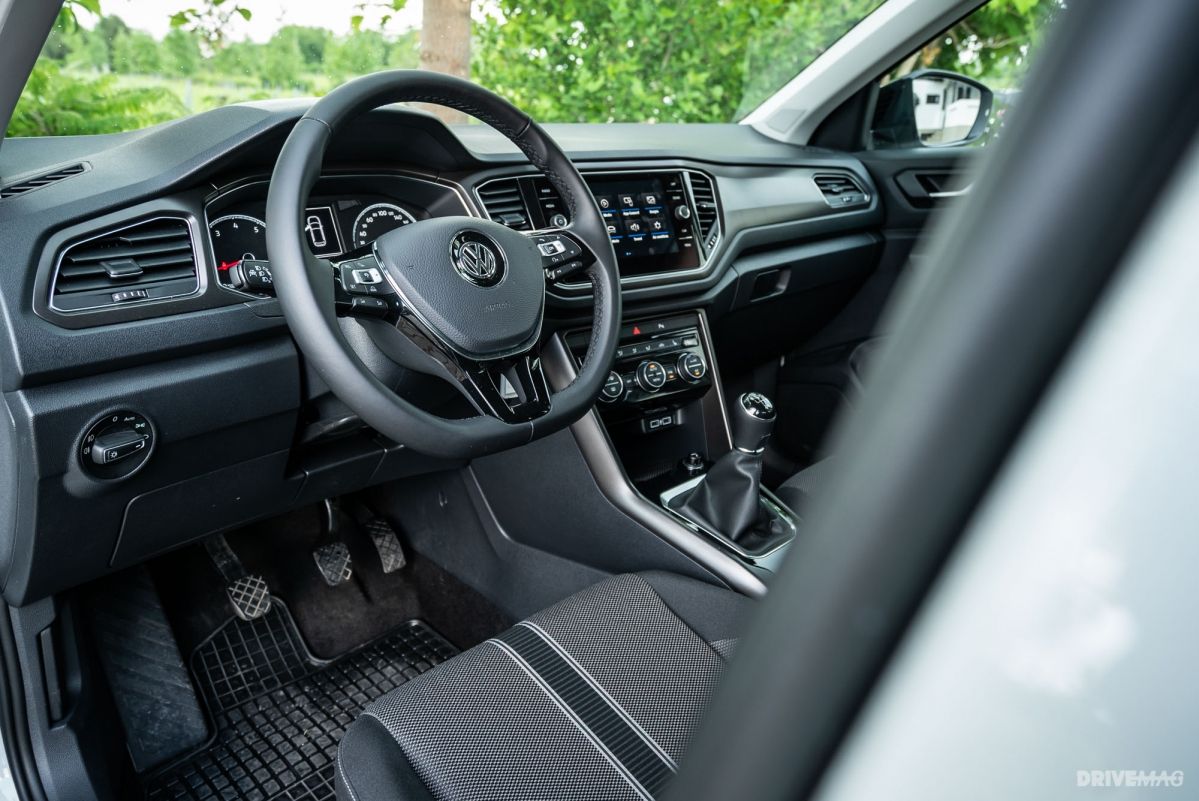 Every T-Roc has 16-inch alloy wheels, a six-speed manual, climate control, all-around power windows, ESC, an electronic parking brake, halogen headlights, front side airbags and curtain airbags, power steering, split-folding rear bench and halogen headlights.

As you go up the trim tree, personalization options pop up as well as other features, including 17-inch, 18-inch or 19-inch (on the R-Line model) alloy wheels, parking sensors front and rear, ambient lighting, leather-wrapped gearbox lever and steering wheel, adaptive cruise control, LED headlights, an active info display, heated front seats, 4Motion all-wheel drive and the DSG gearbox.
---
Acquisition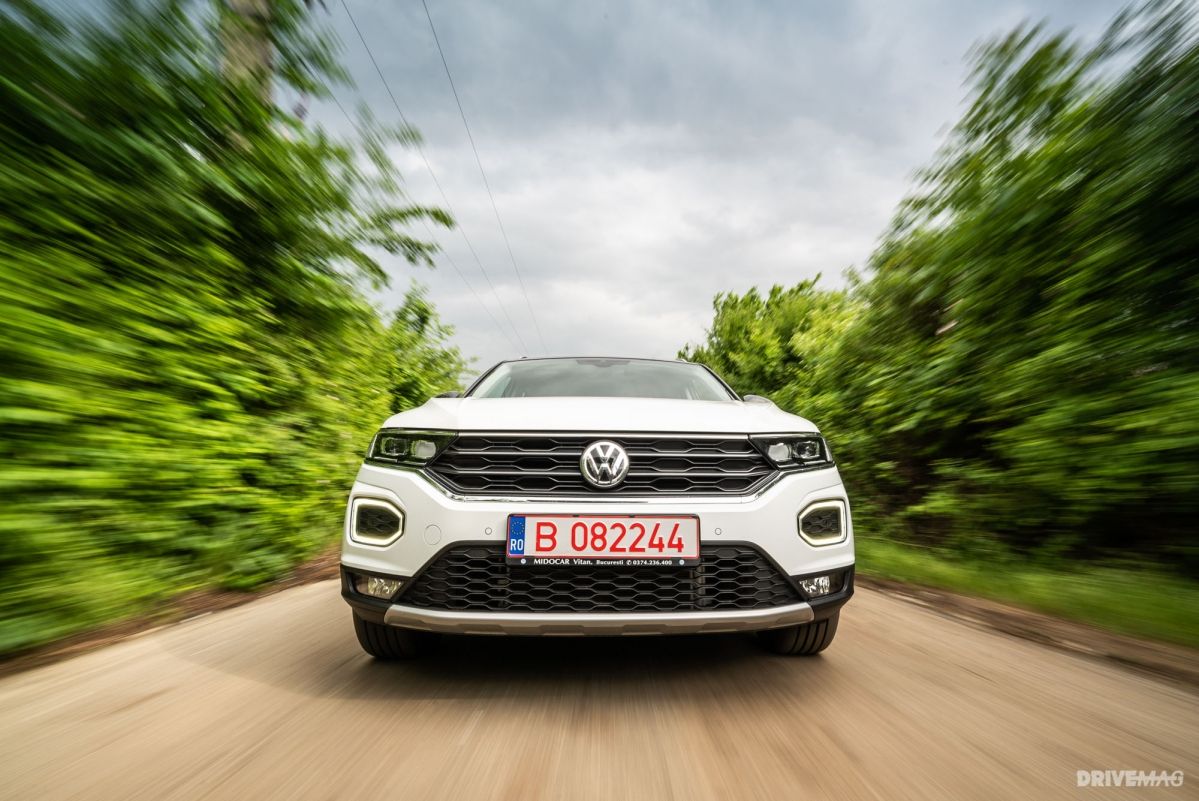 At €20,390 for the base model (in Germany), the T-Roc is not exactly cheap but does offer a fair share of standard features. Improvements could have been made, however, in the material quality department.

Keep in mind that a well-kitted Volkswagen T-Roc can ask for a starting sticker of over €25,000, while the R-Line version can easily overpass that. Even so, unlike some of its rivals, you do get all-wheel drive as an option and even a dual-clutch gearbox (also optional).

The thing is, while the T-Roc is above what the Golf can offer in terms of space and practicality, it's still quite far from what you'd want from a family-oriented car. Sure, if you're into straightforward crossovers that can climb a curb or two and handle themselves decently off the beaten path (not in off-road conditions, mind you) then, yes, the T-Roc is worth having a look at. Otherwise, for a roughly similar starting price, family-focused customers might be better off with the Golf Variant as far as space is concerned.