This is the first promoter of BMW's fuel-efficient hybrid method
Overall Score 89/100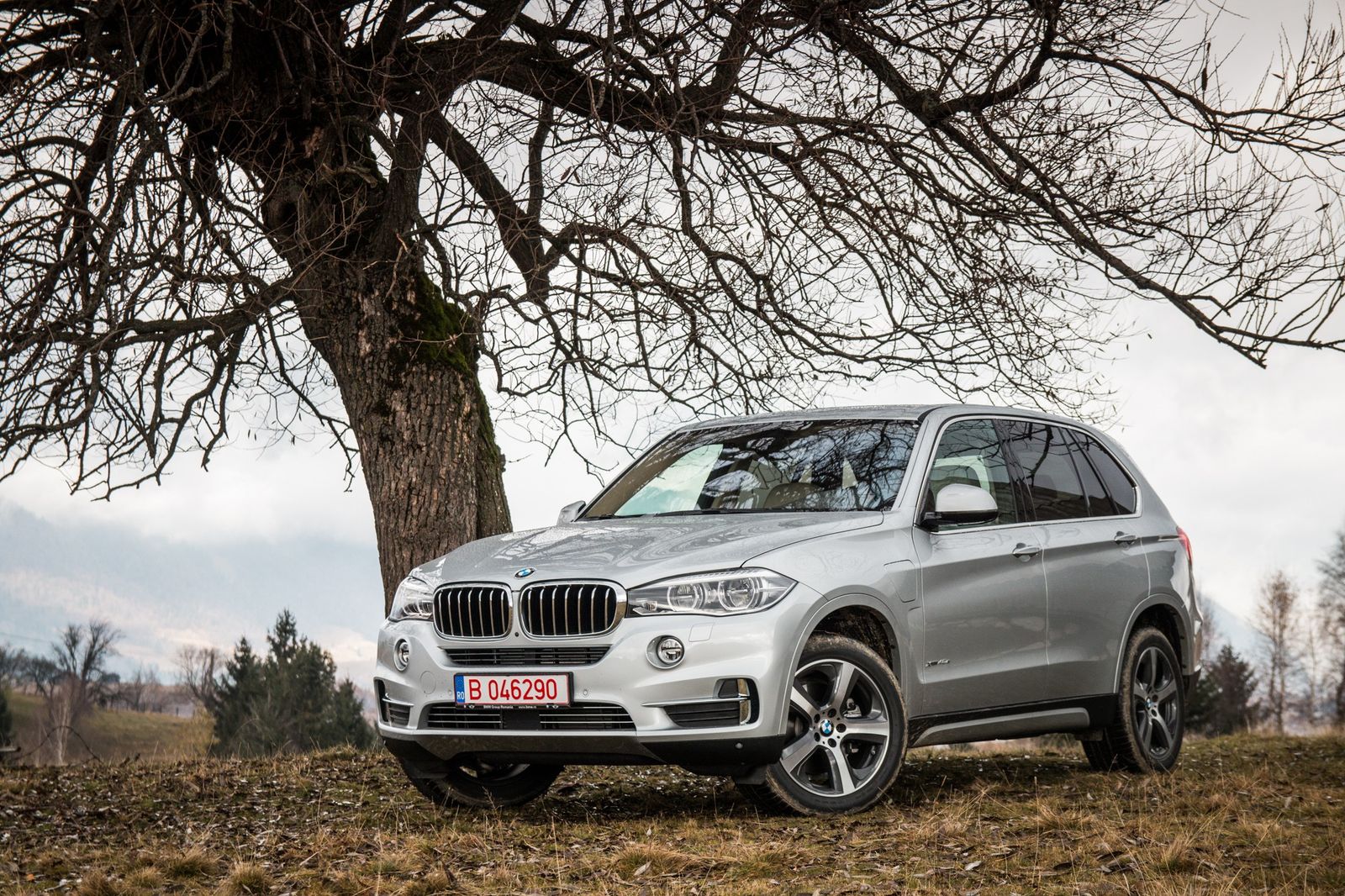 Following the electrical power exploitation path — beautifully shown with the i-subbrand models — BMW starts to implement the hybrid know-how to its large series models. The first in line was one of the biggest — the X5 SUV. So is it indeed an energy-efficient car or just a way to sell an appealing idea? We've tested one to find out.
---
DRIVE
Powertrain 10/10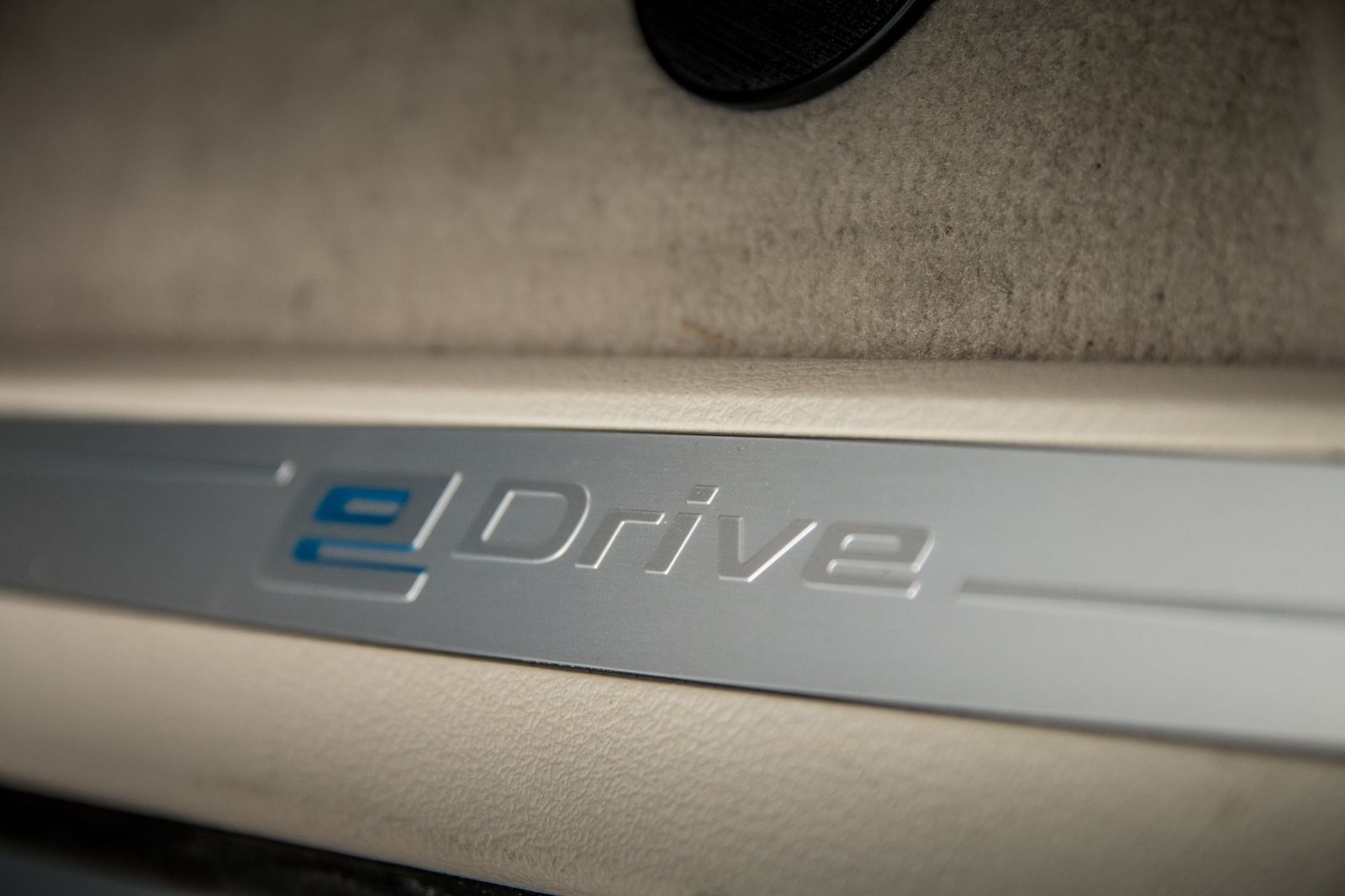 BMW X5 xDrive40e makes us of the highly-appraised 2.0-liter TwinPower Turbo gas unit as its combustion-animated part (providing 241 hp/245 PS and 258 lb ft/350 Nm), coupled with an electric motor capable of 111 hp/113 PS and with 184 lb ft/250 Nm of torque available entirely from the start.
But it's not the total system output — of 308 hp/313 PS and 332 lb ft/450 Nm — that impresses the most, it's the way the 8-speed Steptronic gearbox manages all the power giving you the impression it's effortless. Probably the most appropriate word here is smoothness.
BMW x5 xDrive40e can cover as much as 19 miles (31 km) in full electric mode thanks to its 9.0 kWh battery pack, to a maximum speed of 75 mph (120 km/h), a mark that once reached resurrects the combustion engine. And you wouldn't know of that if the tachometer wouldn't flinch. No tremble, no engine sound, nada. You have to dive your foot in the accelerator if you want to hear the engine work.
Or you can switch to Sport mode (xDrive40e comes with Adaptive Suspension Package Comfort as standard, with Eco Pro, Comfort and Sport predefined settings) and you can play with the revs through the optional paddle shifters.
---
Handling 9/10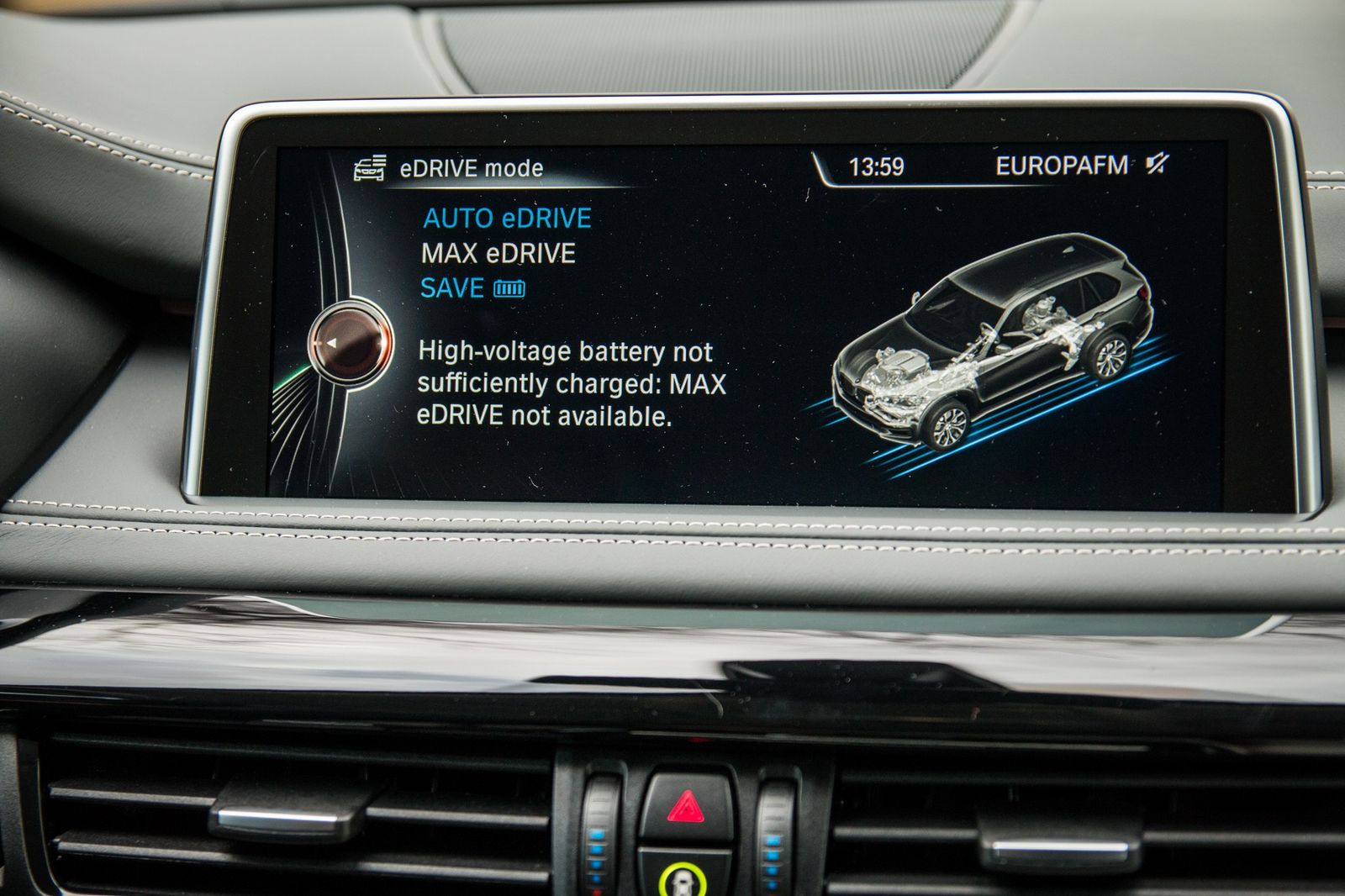 Adding batteries to a car (without getting rid of kilograms from elsewhere) is not the conventional idea of getting a car run faster or making it more agile. BMW engineers have carefully mounted the battery pack on the rear axle (in opposition with the front axle mounted engine) to keep the car balanced.
It sounds good, and it moves accordingly — X5 is one of the top choices if you want a good SUV on-roader — but yet this car mission is not the emphasis on performance, but on hybrid symbiosis and fuel efficiency.
---
Safety 10/10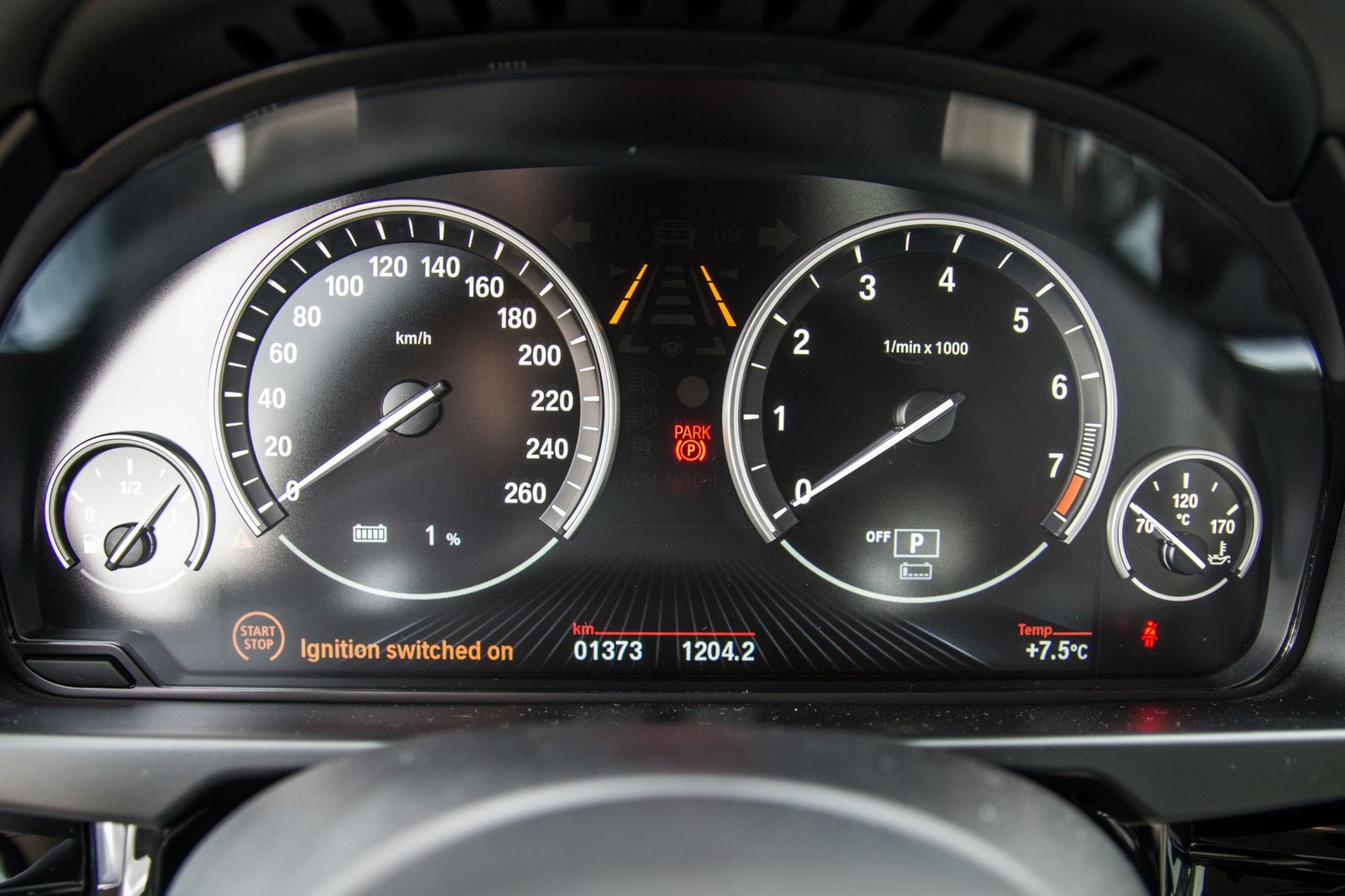 BMW X5 comes with a bunch of safety measures, regardless the powertrain or the package you choose. In addition to the two front airbags, you get side airbags for the driver and front passenger and head airbags for both seat rows. You can add here tire pressure monitor, as well as electronic dynamic systems for traction and stability.
As for the xDrive40e version, there are some extras included in the starting price: rear parking sensors, automatic pilot with braking function and Driving Assistant — with Lane Departure Warning and person warning with light city braking function.
---
INTERIOR
Comfort 9/10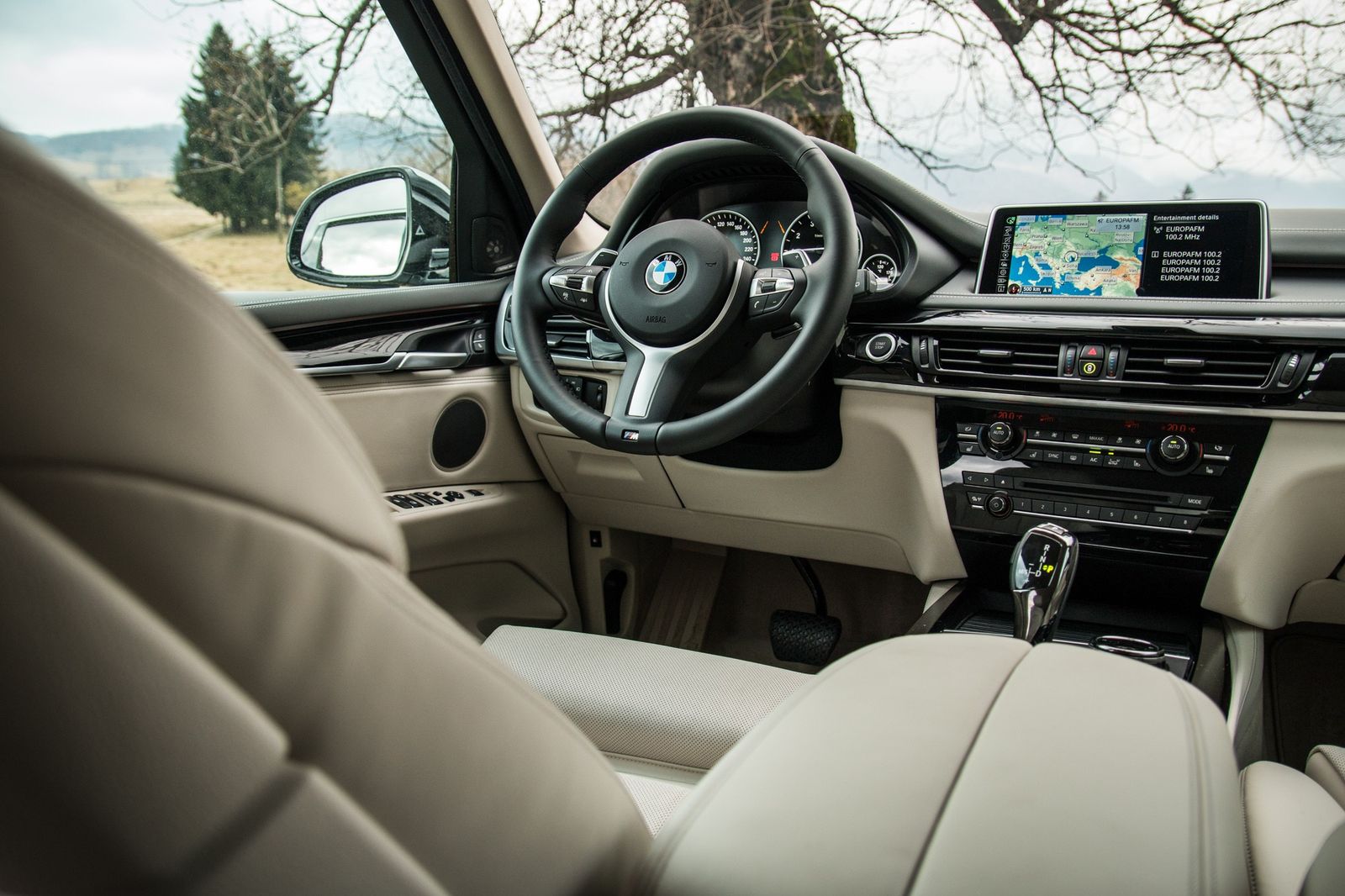 Although the X5's cabin is well soundproofed, the xDrive40e gets extra credit when it comes to silence, thanks to its EV mode. And the 2.0-liter four-pot is so refined that you barely know when it's running and when it's not — as long as you're not summoning it by excessively pushing the right pedal.
And the Adaptive Suspension Package Comfort (with rear-axle self-leveling air suspension), that also comes as standard assures a smooth ride. It doesn't have active steering so sneaking through the urban landscape is not as facile as it can be with an X5, but at least the steering is light enough in Comfort & Eco Pro modes.
The 2-zone automatic climate control is augmented here (as standard spec) with an auxiliary heating and ventilation system, with which you can prepare the cabin before entering the car.
---
Quality 9/10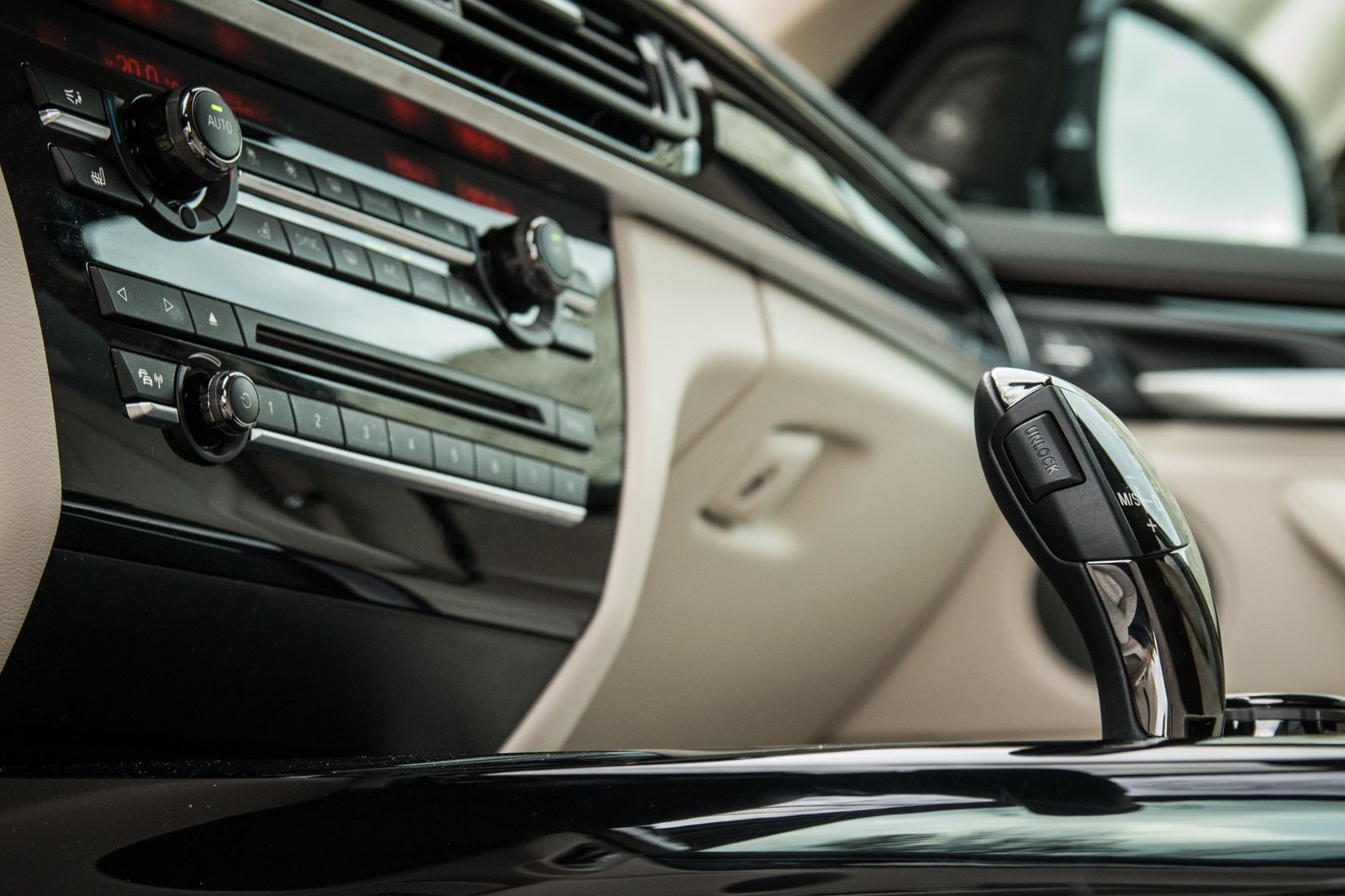 As it is with premium quality brands, you won't have too many objections here. It may not be par with Range Rover or Porsche Cayenne when it comes to pampering, but it'll never give you the impression of snugness.
In pure BMW spirit, X5 xDrive40e displays a robust dash with thick-but-pampered recycled tire material, and a selection of wood or aluminum trim and fabric, leather and/or Alcantara seat holstering available. As standard for the xDrive40e you'll get fabric upholstery and Oxyde silver ornaments for the dashboard.
---
Practicality 7/10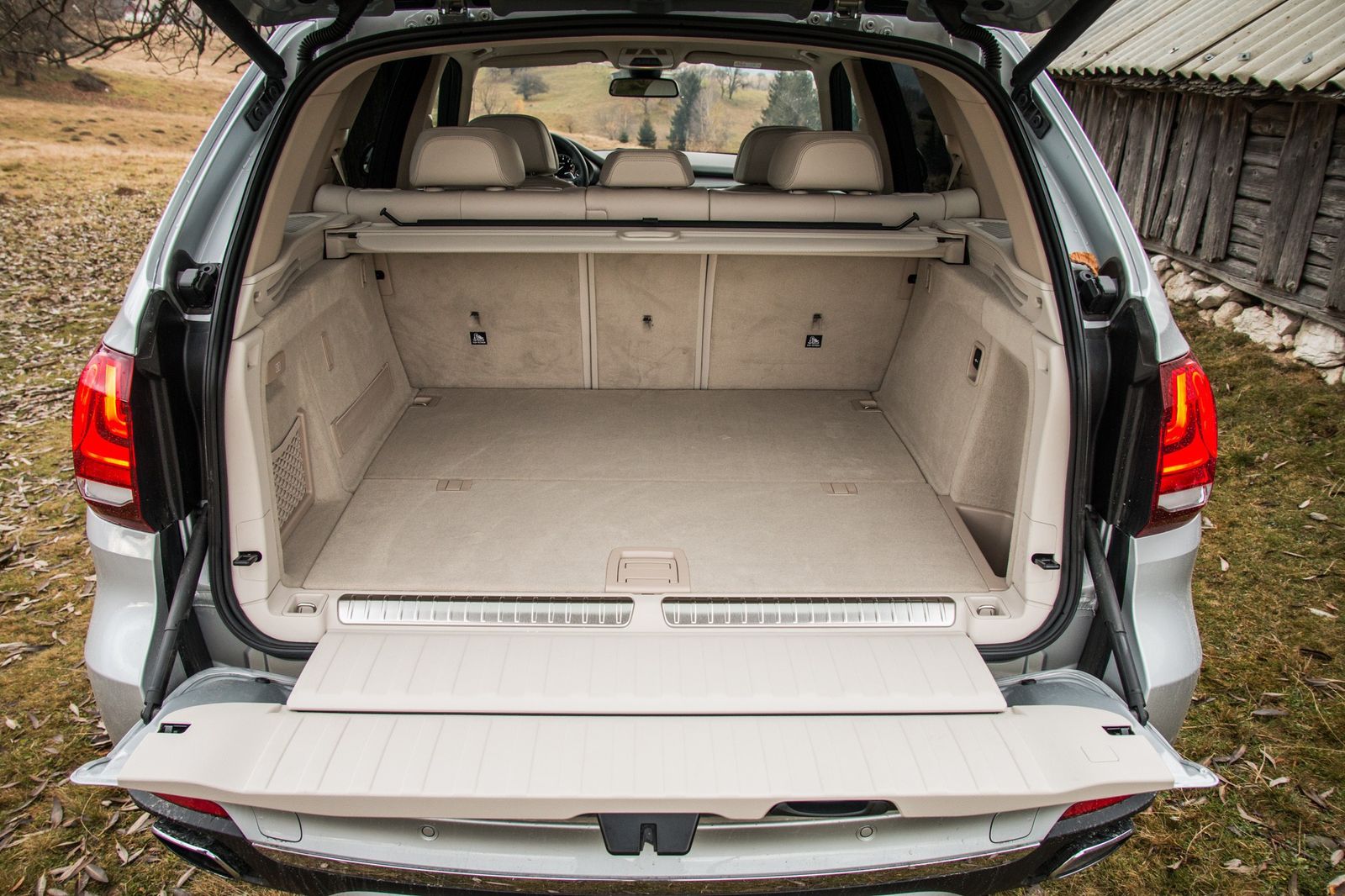 Despite the fact that it now carries an extra battery pack, the interior space — seats or boot — didn't suffer too much compromise. The boot floor is higher with mere two centimeters. The boot capacity ranges from 500 to 1,720 liters, depending on how you configure the 40:20:40 folding back seat.
The standard equipment includes the fully electric boot lid that opens vertically and is formed from two separate segments. Although it eases the opening process when there's not much space left behind the car, the hands-free access — especially when carrying a heavy/bulky objects — is a bit of a challenge, because the lower part of the boot lid is not electric. Optionally, you can upgrade to the contactless tailgate opening, but that also works only for the upper part of it.
It also lacks the third row of seats — due to the battery pack mounted under the boot — that is otherwise available for this model.
---
Infotainment 9/10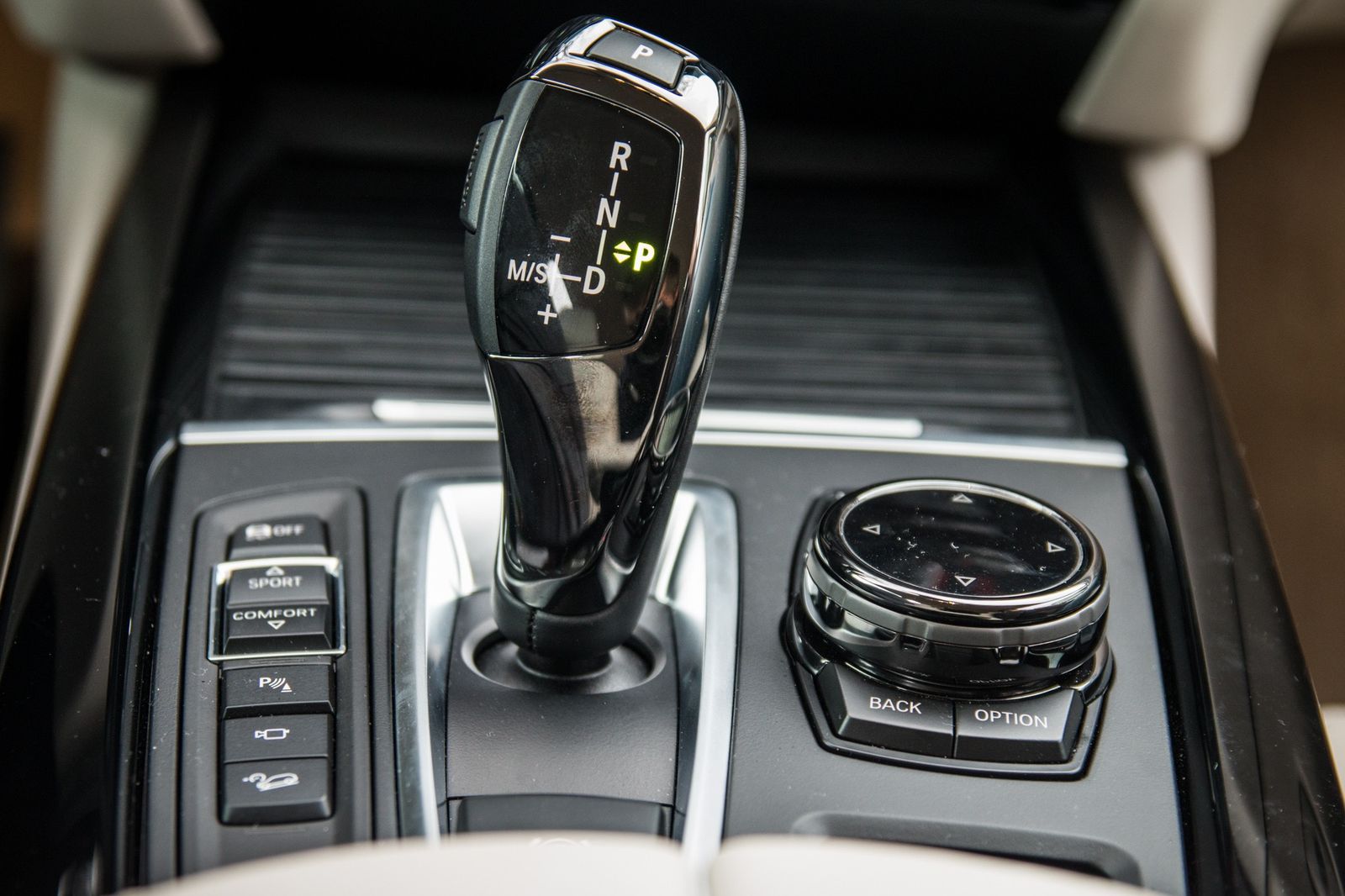 The iDrive comes with a series of hybrid-specific information screens (such as energy flow) and the Navigation system Professional — a standard feature on xDrive40e — can plan the ideal (read: most efficient) route to a destination, in such manner that it exploits the electricity perk as much as possible. Through eDrive services, you'll have the charging stations indicated on your map. With the Professional SatNav, you'll get the touch iDrive controller, alongside Real Time Traffic Information and split-screen function for the 10.25" central display. As expected from a BMW, the infotainment system is complex and super-intuitive.
---
BUDGET
Efficiency 10/10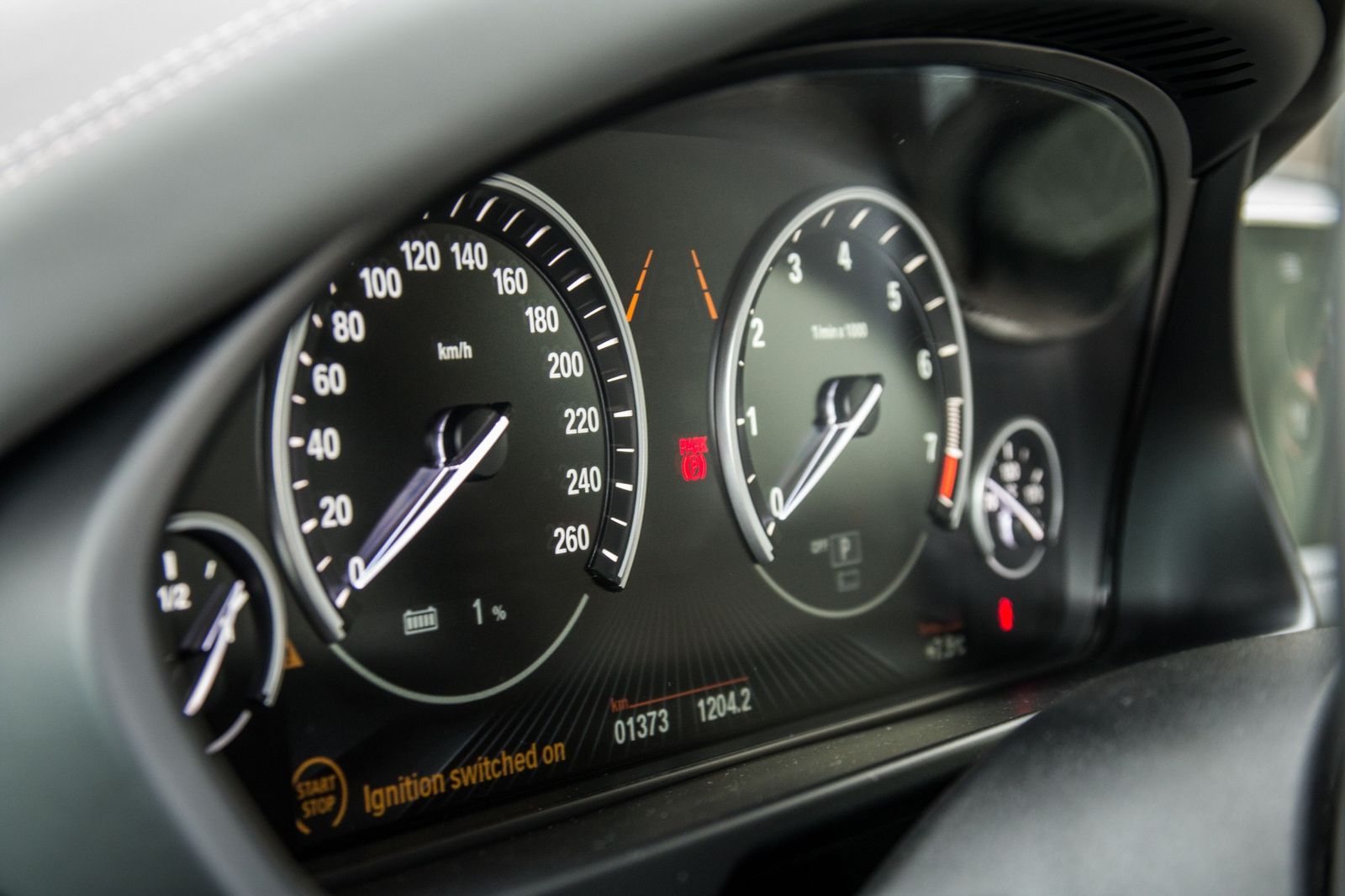 When it comes to fuel consumption and CO2 emissions, xDrive40e boasts impressive numbers: a combined cycle of 71.2 mpg (3.3 l/100 km or 85.6 mpg in the UK) and 77 g/km CO2 emissions, when equipped with the optional 19" wheels — it comes with 18" as standard. That's, of course, ideal, and the problem with the ideal is that it cannot be reached in real-life conditions.
Left in eDrive mode and avoiding throttling, the X5 xDrive40e manages a combined cycle of 29.4 mpg (8.0 l/100 km, 35.3 mpg in the UK) — the number we've managed in our all-surface trip.
If your home-office-home commute is no longer than 16 miles, you can use your hybrid X5 solely as an electric car. If it's longer, then it's good to know that it can be fully recharged in about four hours (and 2h45m using a BMW i Wallbox Pure). Even in the fully-electric mode, you'll have all-wheel-drive, so there's no compromise when it comes to adverse weather conditions.
---
Equipment 9/10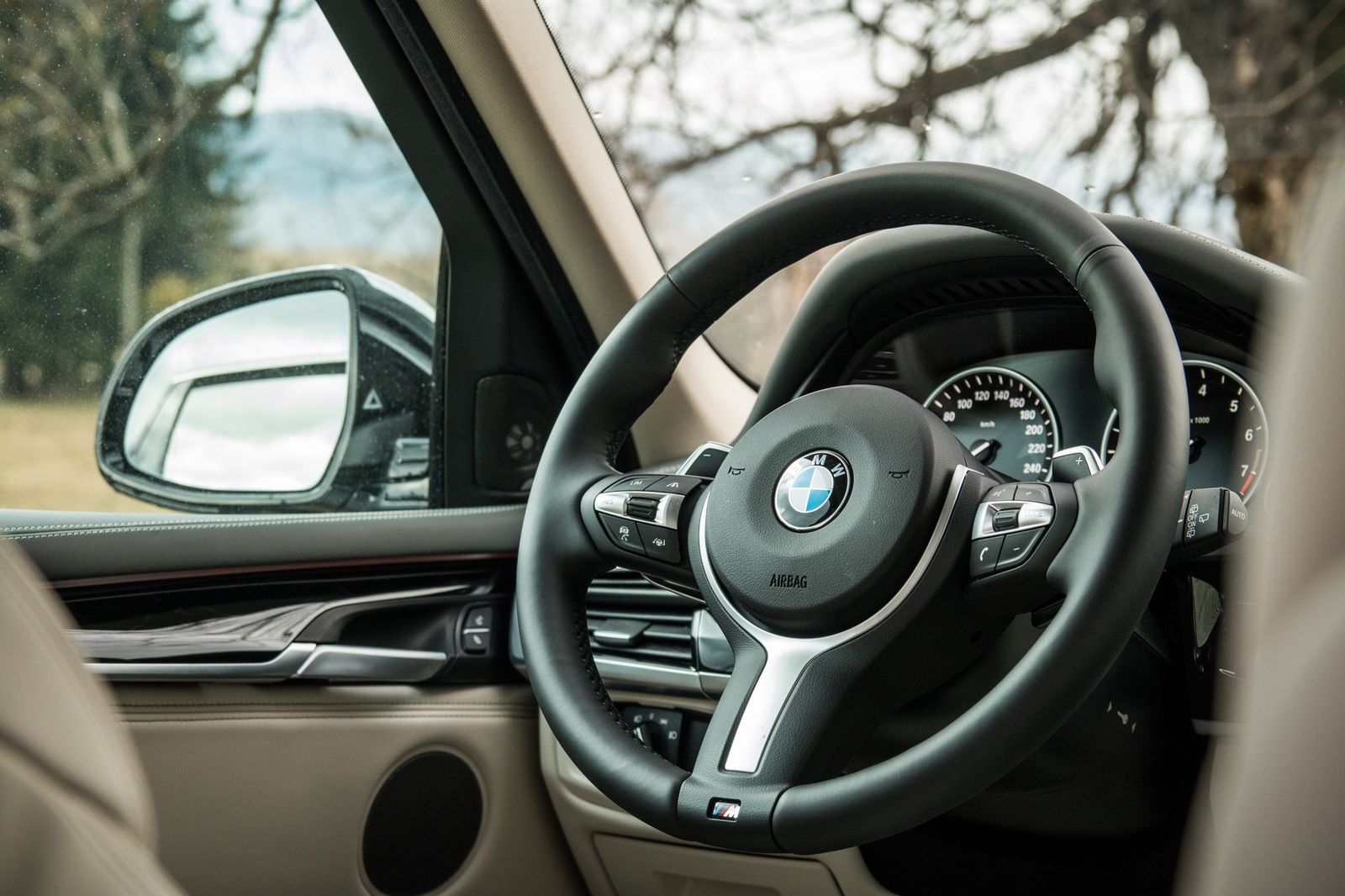 The X5 xDrive40e comes with extensive standard equipment, such as the aforementioned iDrive with Professional SatNav, auxiliary heating/ventilating system, electrically powered tailgate and the adaptive suspension. Of course, as long as you have money to spend, there are a lot of posh solutions for your xDrive40e.
---
Acquisition 7/10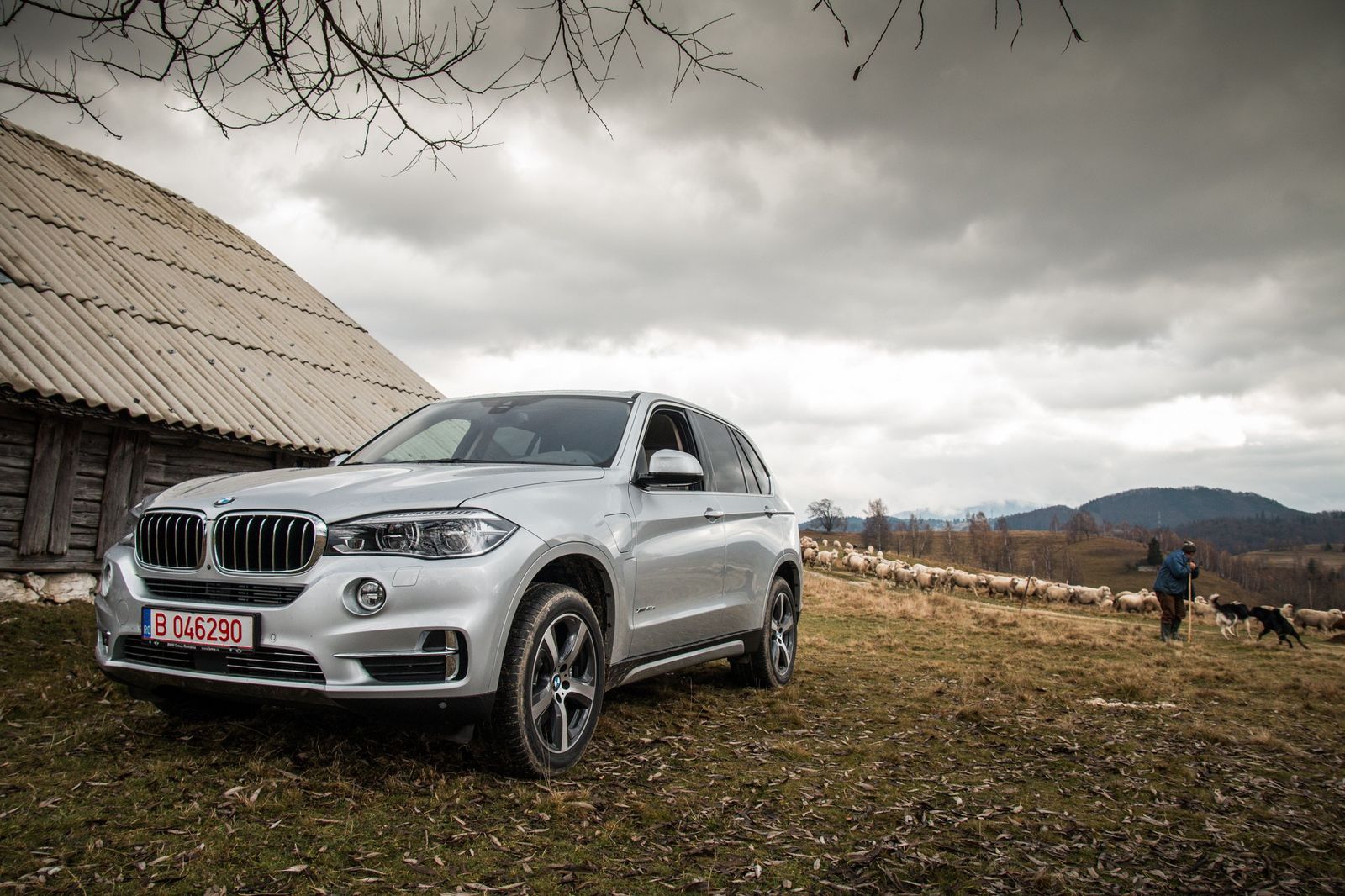 With prices starting from €70k/ $63,600/ £52,000 (EUR/ USA/ UK), the X5 xDrive40e is looking towards the most expensive end of the model range. Probably it won't come as the first choice for the buyer, but it repays you with an extensive selection of standard equipment and the advantage of spending little-to-none money for fuel in your daily commute. Not to mention that you're an early adopter of a well-implemented BMW-specific hybrid-drive technology. Before you make any buying decision, be sure to have tested the xDrive40e first.