Renault Clio RS 220 EDC Trophy Test Drive. Le coeur bat plus vite
It was pretty much about time for Renault to pump up its Clio RS in order to give fans what they'd asked for from the beginning.
Le Temps de l'Amour is one of those French songs from the sixties that will stick with you long time after you hear it. It's from a time when Renault was trying its hand at motorsports and started to have pretty nice results. Alpine, Gordini, and eventually Renault Sport made sure that the manufacturer of affordable cars for the people also had a strong presence in motor racing. This led to affordable performance cars that often deliver as much adrenaline to their owners as would much more expensive cars.
Many were disappointed by the current Clio RS offering, a car that was deemed to be a little bit too tamed, especially when compared to the previous generation. The new Renault Clio RS 220 EDC Trophy comes to deliver what Renault Sport promised in the first place: raw joy of driving, in a rather high-tech package, with a lot of amour sprinkled over.
https://cdn.drivemag.net/images/icons/inbrief-icons.svg
IN BRIEF
Recommended for:

Created for:

Hats off for:

Bang for the buck:
Powertrain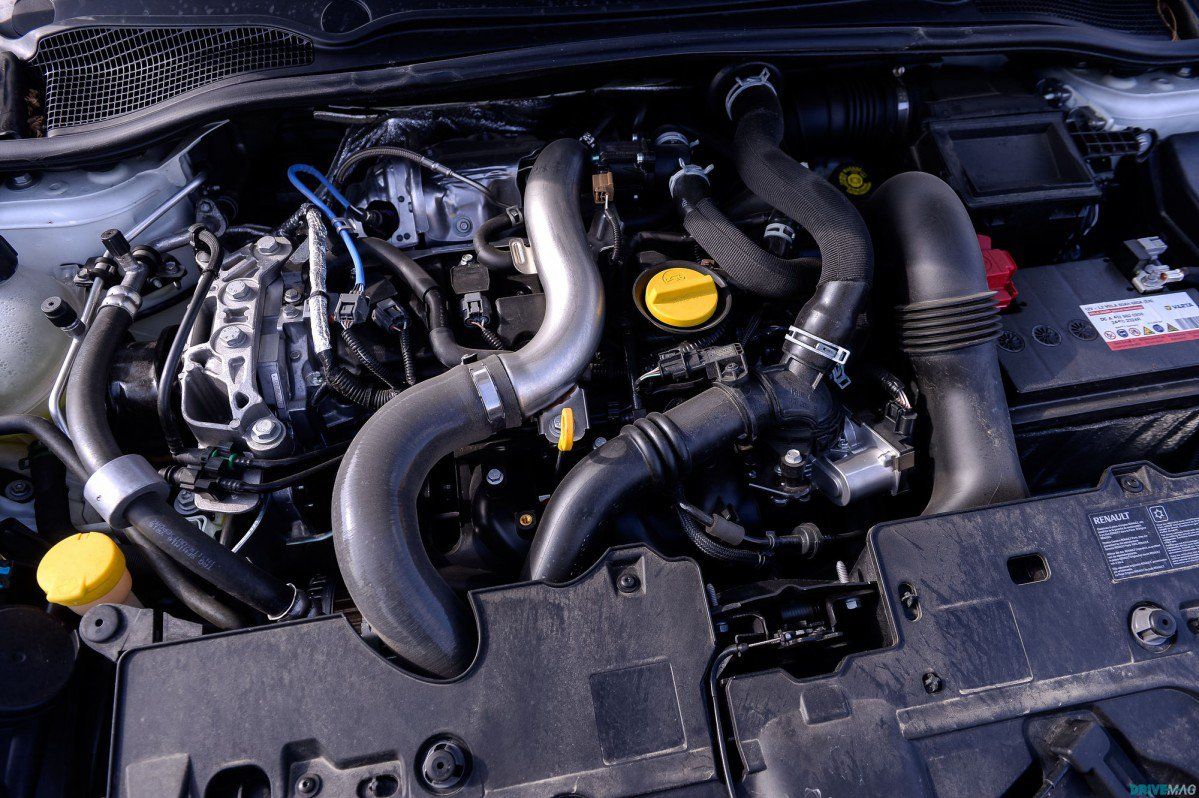 The RS 220 EDC has 20 hp more than the 200 EDC, reaching 220 hp at 6,050 rpm, and the French engineers added also 20 Nm of torque, upping it at 260 Nm (you can also reach 280 Nm with the torque boost function in fourth and fifth gear). The power increase is felt at the wheel, especially at higher speeds, but the real culprit for the sporty feeling of the car is the EDC transmission, that now changes gears up to 30 percent faster – thus, the main complaint from Clio RS users is now solved.
You can change gears extremely fast through the steering wheel paddles, and you're never short of power when you step on it, as this RS delivers it with absolute joy. It's the sparkle that missed from the `normal` RS, and it provides lots and lots of fun. Also, Sport mode is the one in which you'll stay in order to enjoy the car to the max on public roads. When you're on track, you'll switch to Race, but if you're out shopping downtown, then you can easily transform the RS in a daily driving car, by selecting the Normal mode.
---
Handling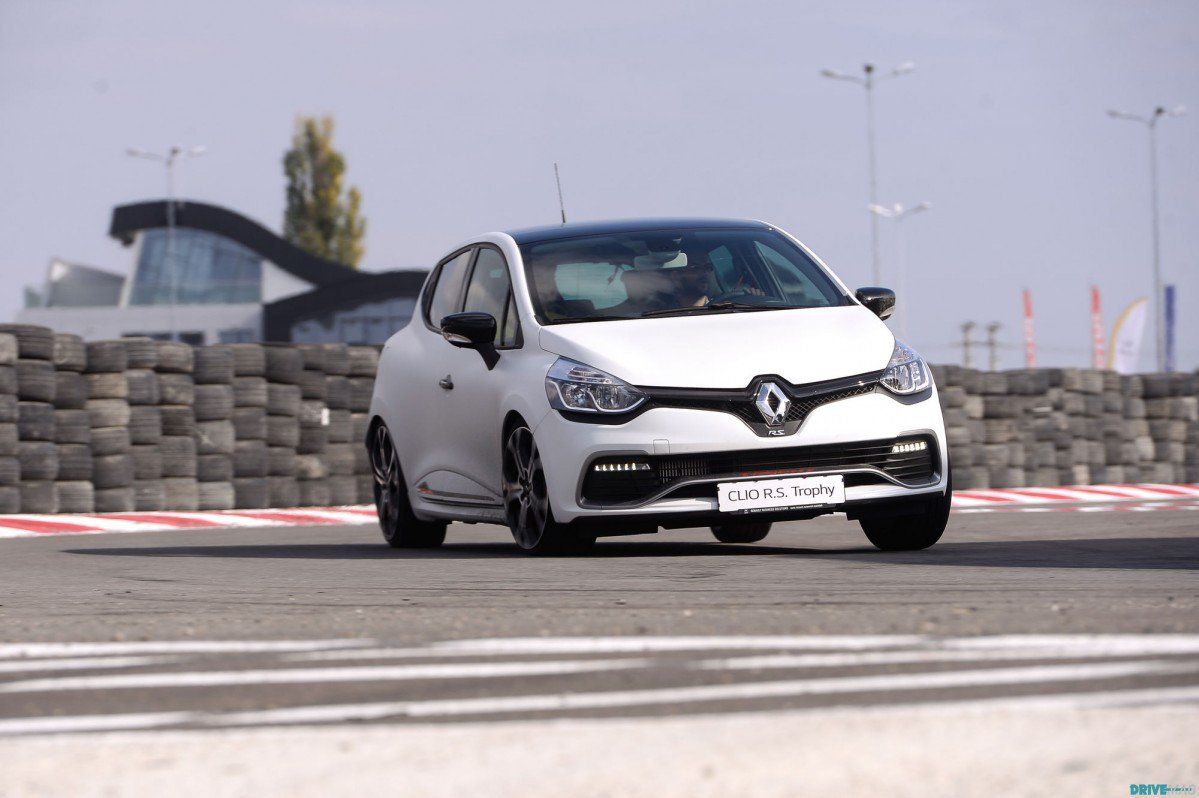 You don't get only 20 hp more than the RS, you're also getting the Trophy chassis, which is 20 mm lower at the front and 10 mm lower at the rear, but also stiffer. That, coupled with a reduced steering ratio, makes the car steer as a kart, sometimes even giving way to some oversteer if you're too harsh on the wheel.
The RS Trophy sits on some big Michelins (205/40R18), so it will stay on its trajectory even if you're coming too hot in corners, as long as you'll keep in mind that the steering is still a little bit too `electric`, not communicating 100% what happens with your wheels. The overall feeling is that you can handle this car as sporty as you want – it will do what you want it to do, and fast, but be careful that the lack of feedback could end badly if you're pushing too much.
One can sense a real improvement over the standard RS, while this Clio does exactly what the first car was supposed to do.
---
Safety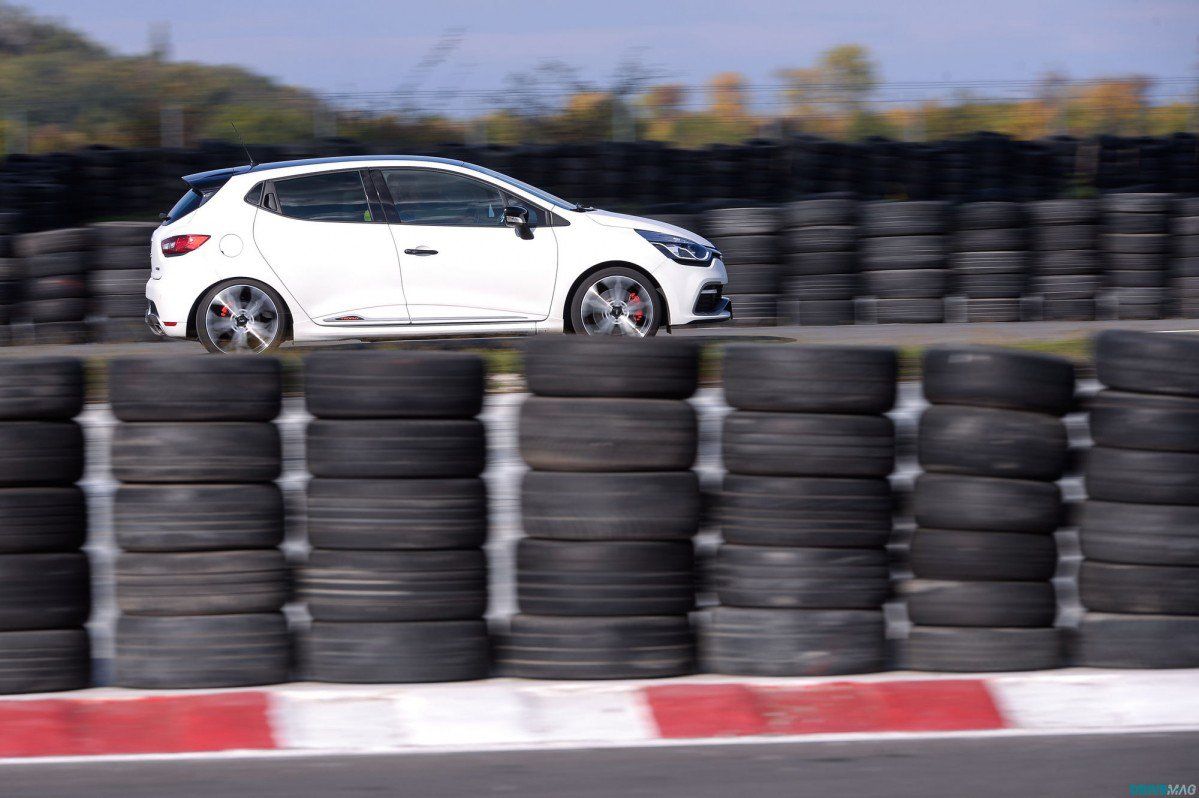 If handling is precise enough and the car is fun to drive, then you have to keep in mind that things will heat up very fast. However, the combination of Michelin Pilot Super Sport tires and standard RS brakes will allow you to pounce on corners without having to complain too soon about brake fading. It's this excellent combination that gives you the feeling of being in control.
And if you're not in control anymore, then you have ABS, ESP and a very stiff body to help you come back on the desired trajectory or survive a crash. The RS Trophy doesn't come with all the driver-assistance systems of late, but you won't buy this car if you need a nanny to brake or change lanes for you, so we'll just say that you are better off with this car in a delicate situation than with a bells-and-whistles car that tries to keep you safe from your lack of driving skills.
Visibility is good in every direction, and the high amount of grip comes in handy if you're going a little bit too fast in the corners, which means you can have lots of fun on public roads without putting yourself in dangerous situations.
Comfort
You're not going to buy this car for comfort, but Renault tried (and managed) to offer sports seats that embrace your back and keep it safe when you're going over potholes. You have enough space at the front, while the passengers on the back seat will probably regret they had to come with you, not necessarily because they'll lack proper leg room, but because they'll lack the side support of the front sports seats and will be overwhelmed by nausea pretty fast.
Engine noise is subdued – even too much, giving that you're in a bloody sports car – and, unless you decide to travel in Sport mode, it will not bother you on longer drives. A perforated leather steering wheel, Renault's hands-free keycard, along with automatic climate control plus rain and light sensors are some of the things that make driving this car something to look forward to.
---
Quality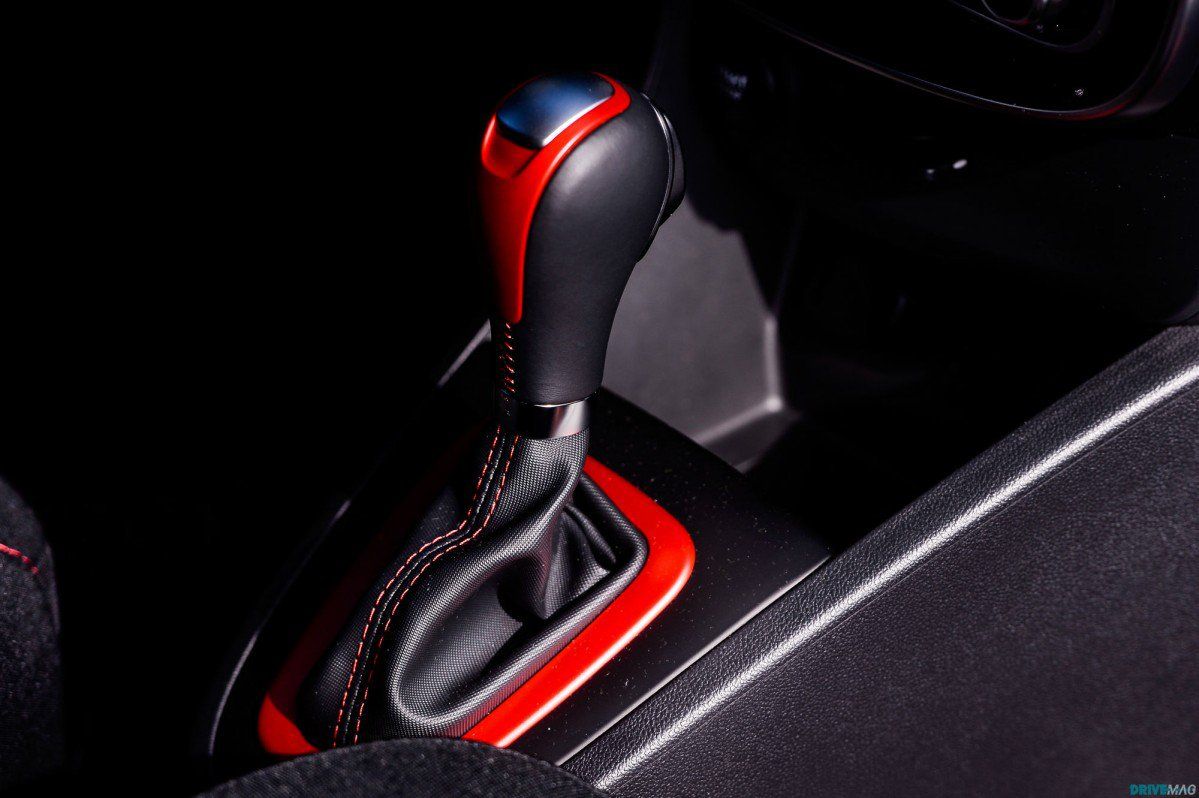 Build quality is above what Renault used to do, and this is a good thing, because you really don't want to hear dashboard squeaks as in the former RS generation. Plastics are still on the hard side, though, while the seats are cushy enough to prevent fatigue on longer drives. Overall, a good effort from Renault, that almost closes the gap between its cars and the German ones. Almost.
---
Practicality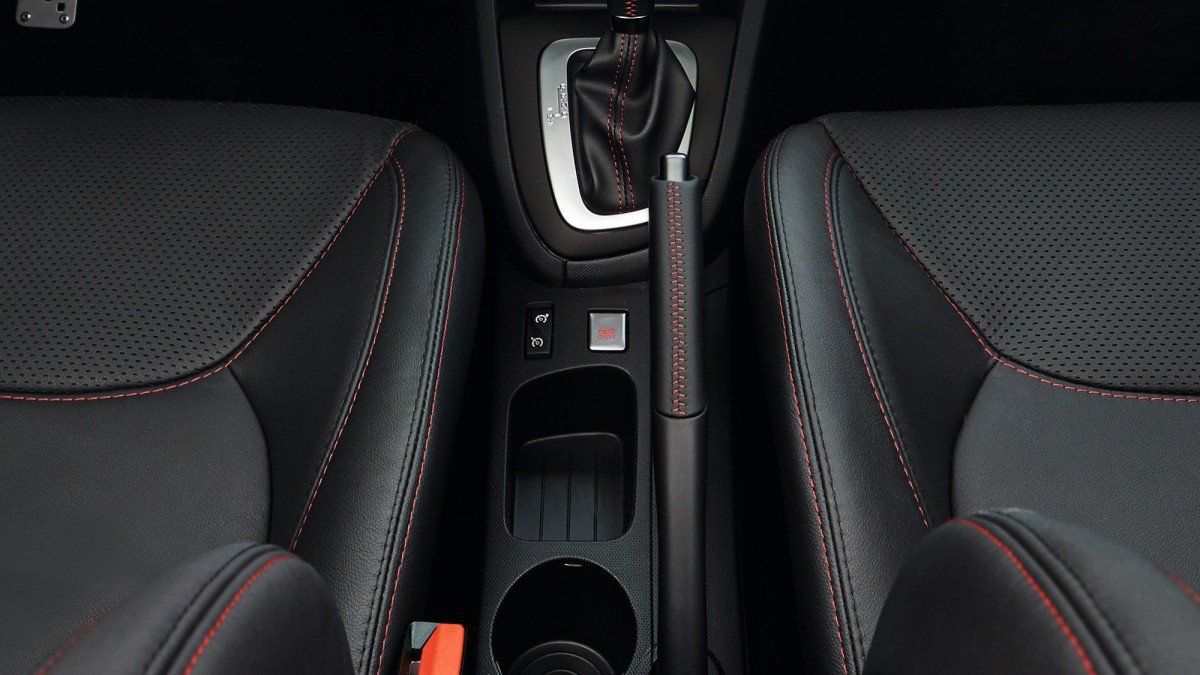 One of the things you'll like about Renault Clio RS Trophy is that you can use this car as a daily driver, because it offers you everything you'd expect from a small hatch. If space in the back is not so great because of those frontal bucket seats, you still have enough spaces to put your can of soda and other small items you need when doing long trips. The boot is still OK for most daily drives, and this is what makes the Clio RS a good (small) family car during the week.
---
Infotainment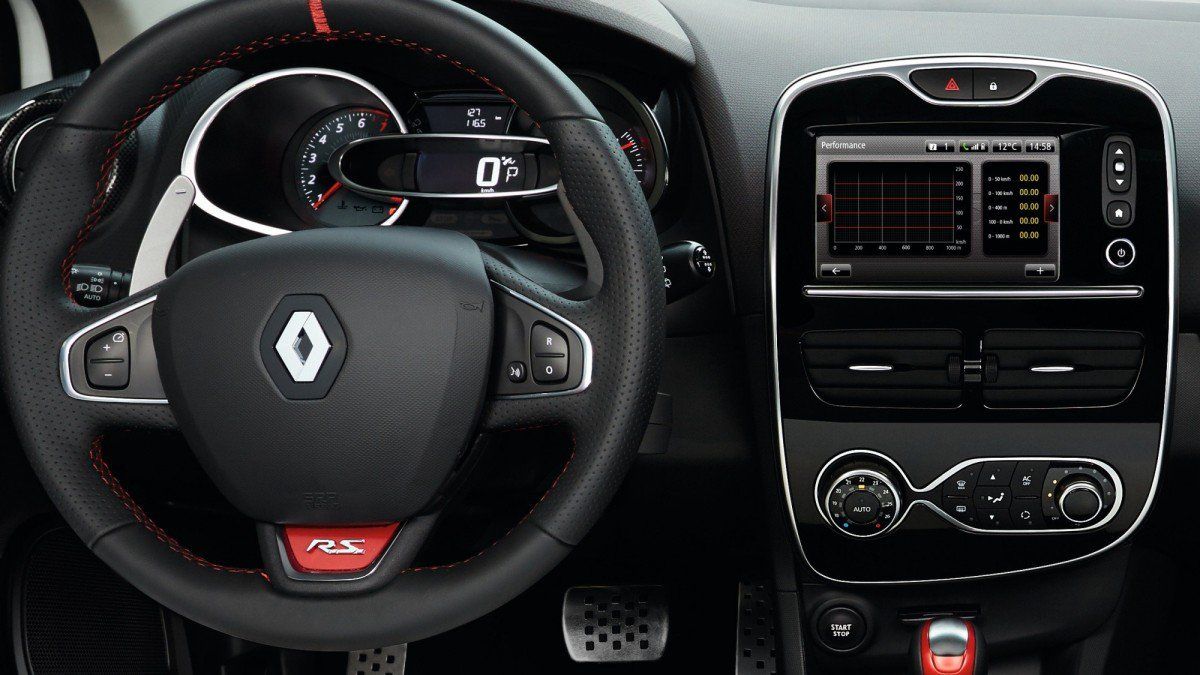 You also get some gizmos, like carbon-look air vents and door trims, heated seats and the Renault R-Link infotainment system, with a 7-inch screen that is responsive enough and comes with TomTom nav, Bluetooth and lots of apps to monitor and improve your driving skills. You can also enjoy the 3D Sound by Arkamys sound system, which does a pretty good job out of destroying your ears with your favorite music.
Efficiency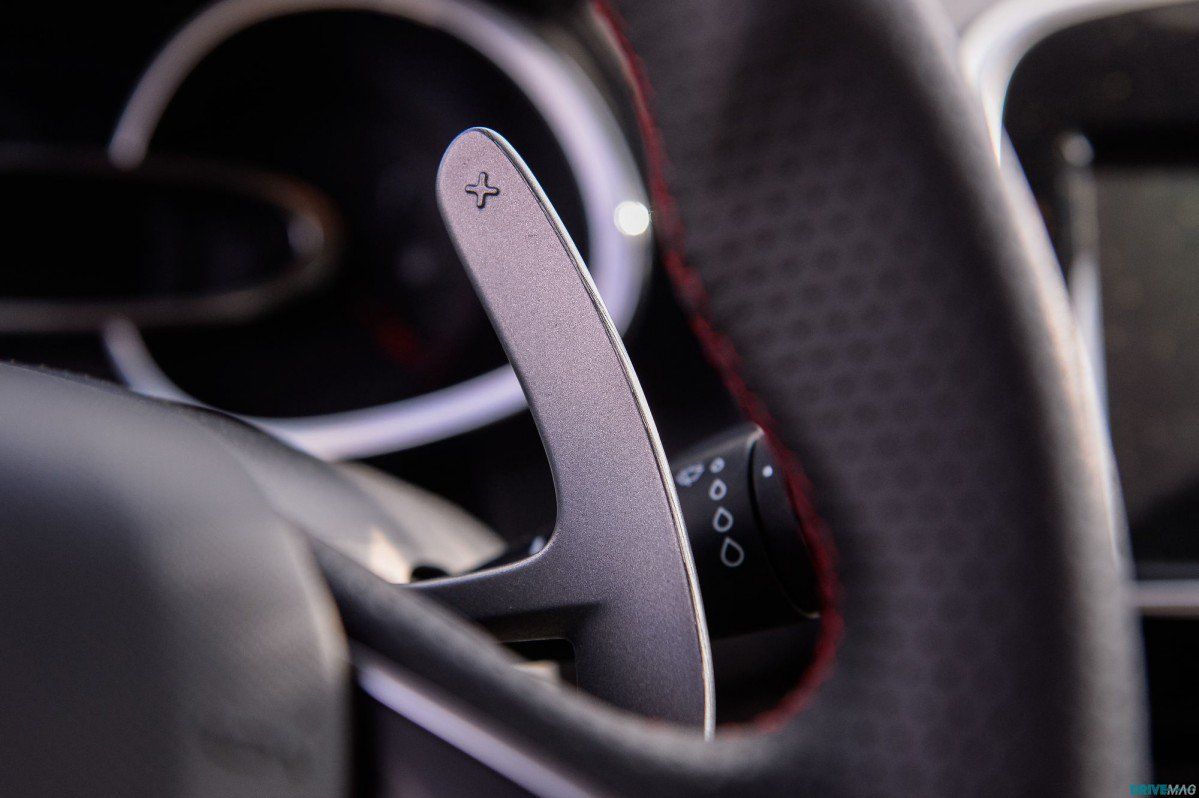 Renault says the RS Trophy needs just 5.9 liters for each 100 km, but in reality it drinks significantly more than this - around 8 l/100 km - even when driving carefully. For 220 hp, this is not at all a problem, but keep in mind that the car comes with a tiny fuel tank (45 l), so if you're planning a track day, be prepared to refill it pretty fast.
---
Equipment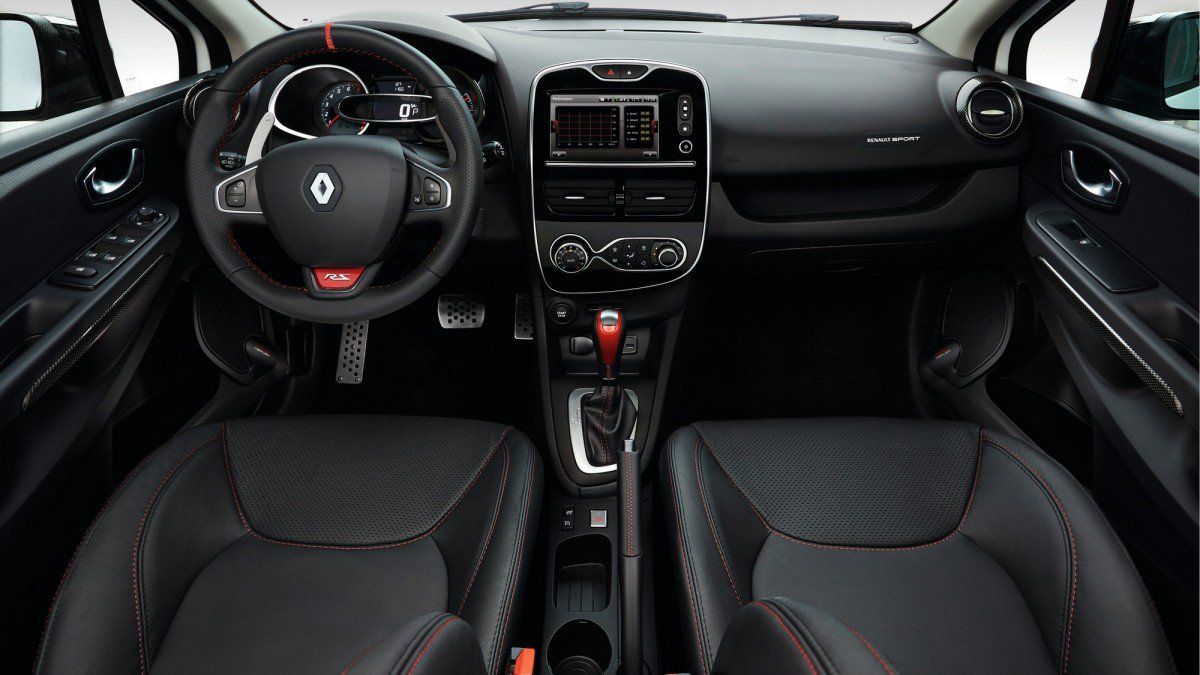 There's absolutely nothing missing – the RS Trophy comes with everything you'll need in a sports car. LED running lights, ABS, ESP, Cruise control with speed limiter, automatic climate control, 18-inch alloy wheels and the magnificent sport seats – you don't really feel there's something you'd want and you did not receive. Yes, you don't get ultramodern gizmos like an automatic drifting button or active steering, but you're not a pussy needing them either. Are you?
---
Acquisition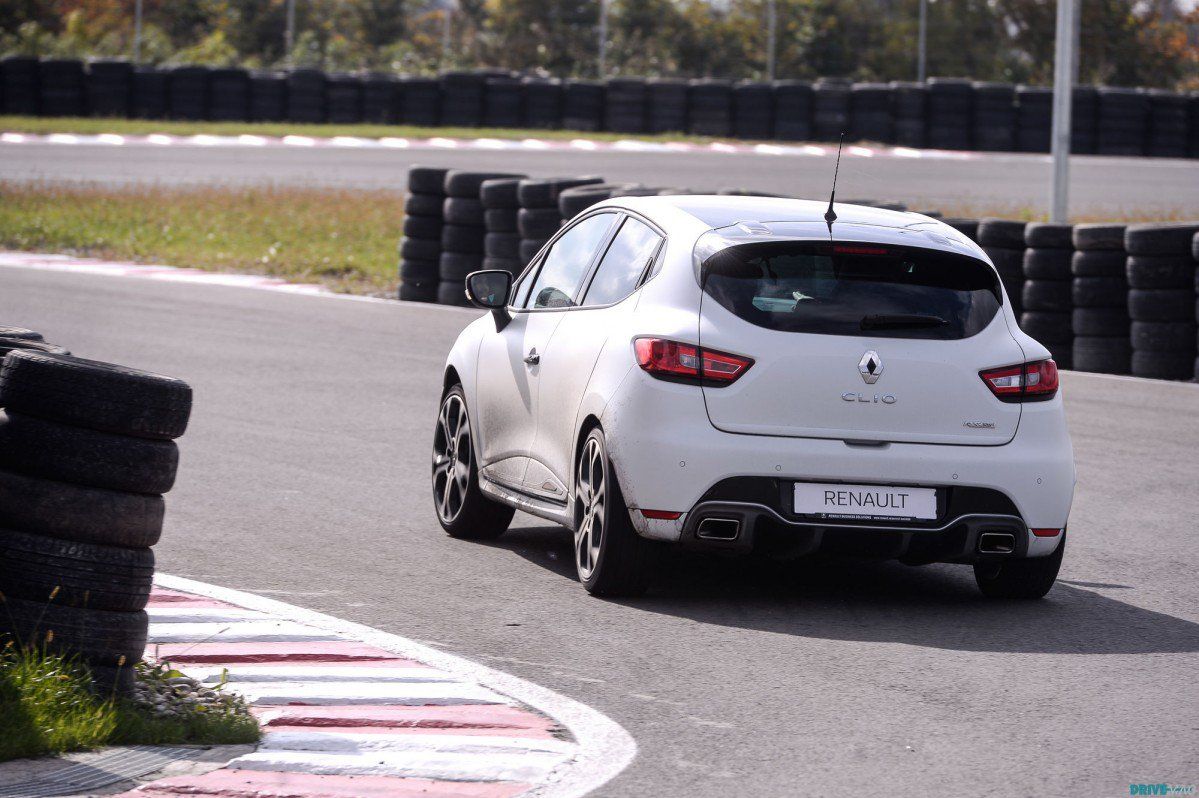 For €24,490 (in Germany), you receive a lot of car. Not only you'll have more power under the bonnet than many premium cars, but you're also provided with enough space for your (again, small) family and shopping runs, while being able to win lots of traffic light races. Not that we'd encourage this…
Keep in mind that you'll most likely invest a lot of money in tires and brake pads, though. You're buying a sports car, not an MPV, right? And, for a little thing that makes your heart beat extremely fast while remaining practical, the price you'll pay is a steal.