All-new 2019 Ram Heavy Duty is a towing monster
1,000 lb-ft of torque and 35,100-lb towing capacity should be enough for the Ram HD, eh?
Ram got out its big guns at NAIAS 2019, showing off the all-new 2019 Ram Heavy Duty as the most powerful pickup truck out there
Ram pickup trucks sales finally stopped falling in 2018, even gaining a lot of momentum towards the end of the year. The all-new 2019 Ram Heavy Duty should help them even more, as the large pickup segment doesn't show signs of weakness.
The new generation Ram HD has a lot to brag about: it was redesigned to be the "best riding, handling and towing" pickup truck out there, as FCA's press release claims. The 2019 Ram HD features lots of luxury tech like active noise cancellation, anti-vibration devices, acoustic glass, an improved suspension with Frequency Response Damping (FRD) shocks, progressive springs and re-engineered bushings, an optional rear air suspension with driver-activated Bed Lowering Mode, Normal/Payload Mode and Trailer-Tow Mode, and so on.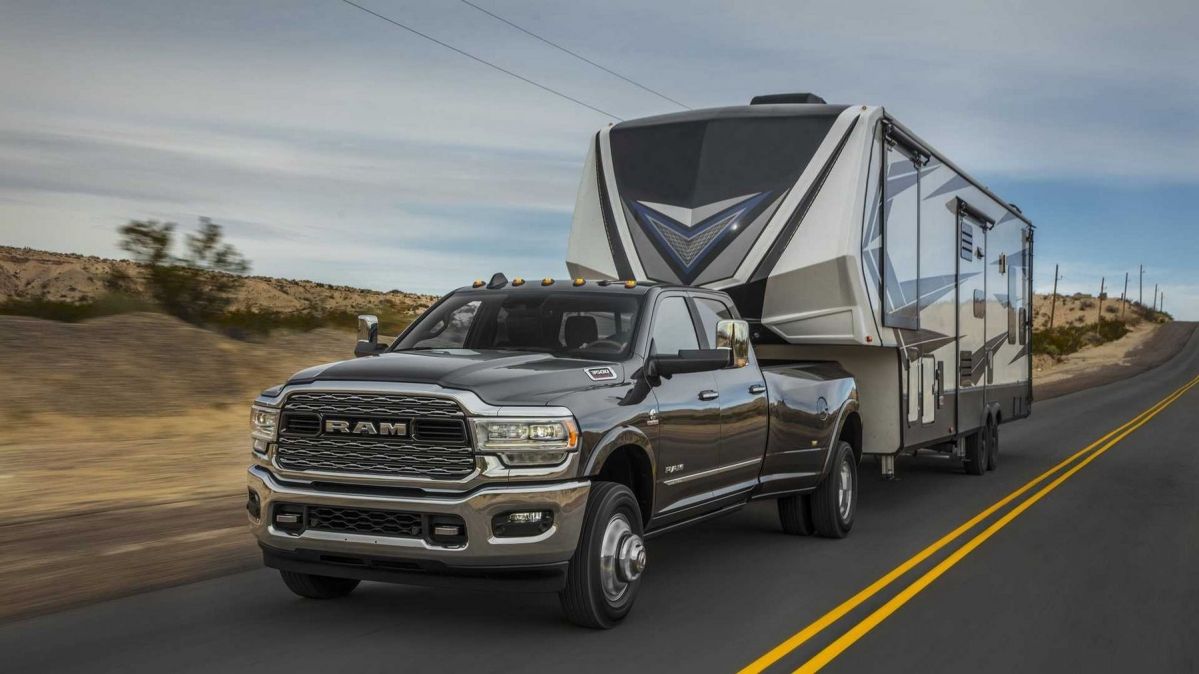 Ram made use of lightweight materials in the frame, powertrain, and an aluminum hood to reduce overall weight by up to 143 lb. The body has better rigidity and torsional resistance, too. The new Heavy Duty also comes with a lot of gadgets that help when towing or off-roading: a new 360-degree surround-view camera with trailer reverse guidance view provides a single display-screen view of both sides of a trailer to assist drivers in maneuvering towing setups, while a new auxiliary exterior camera improves visibility with custom positioning in and behind trailers.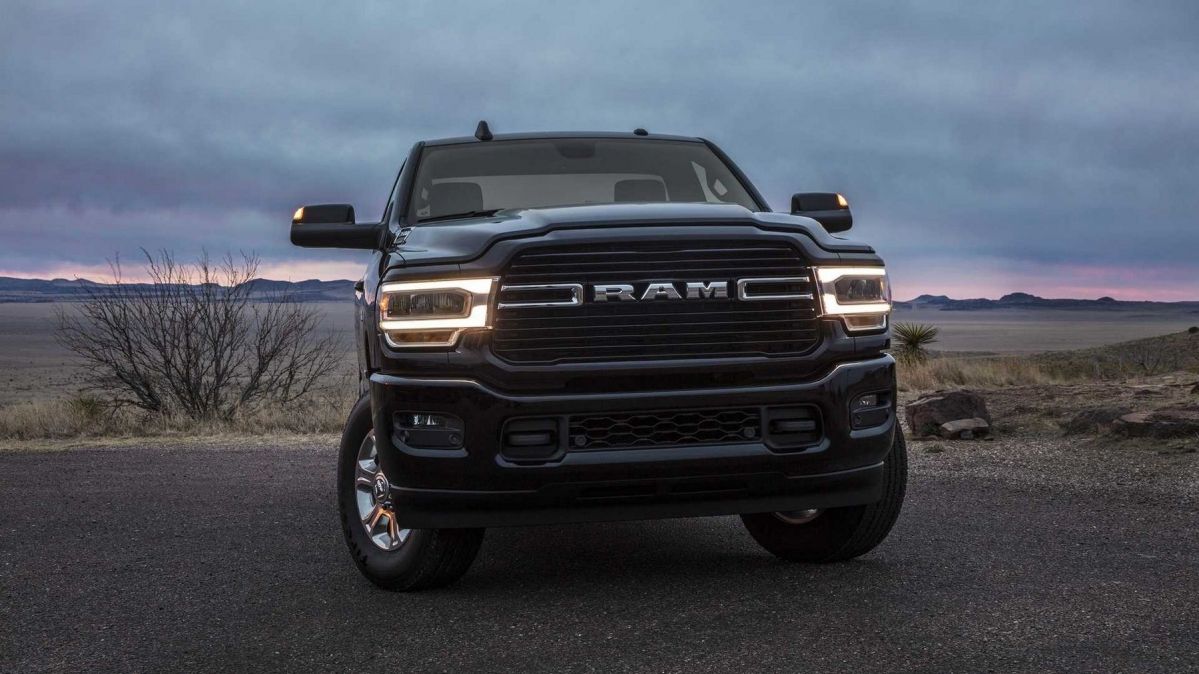 Safety was also improved, with several advanced safety systems as standard: Adaptive Cruise Control, Forward Collision Warning, Automatic Emergency Braking (AEB) and AEB with trailer brakes.
The all-new 2019 Ram HD - engines and drivetrain
A standard 6.4-liter HEMI V8 with cylinder deactivation and Variable Cam Timing coupled with a new TorqueFlite eight-speed automatic offers 410 horsepower @ 5,600 rpm and 429 lb-ft of torque @ 4,000 rpm, more than enough for the basic version of the Ram HD.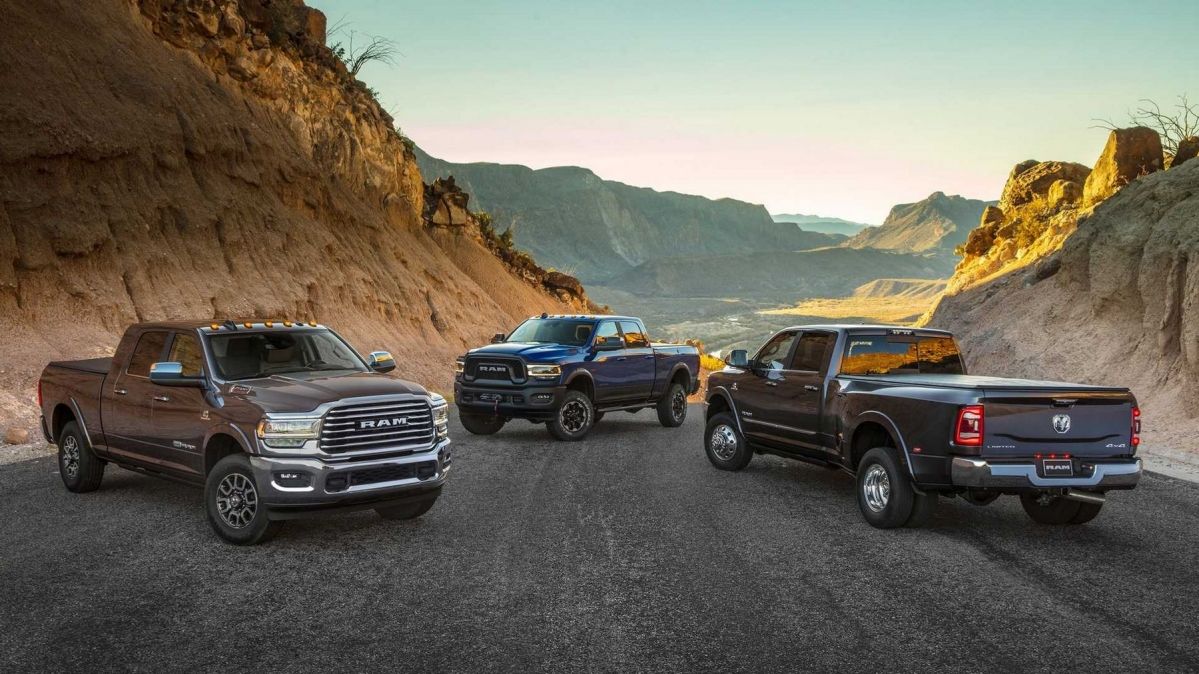 The entry variant of the Cummins Turbo Diesel gets a performance boost with 370 horsepower @ 2,800 rpm and 850 lb-ft of torque @ 1,700 rpm. But the true star is the Cummins 6.7-liter I6, high-output Turbo Diesel with a cylinder block made from compacted graphite iron. It delivers up to 1,000 lb-ft of torque @ 1,800 rpm and 400 horsepower @ 2,800 rpm. Overall, the new Cummins Turbo Diesel weighs more than 60 lb less than the previous-generation engine, yet delivers more power and torque: 35,100-lb towing capacity and 7,680-lb payload are record figures in its segment.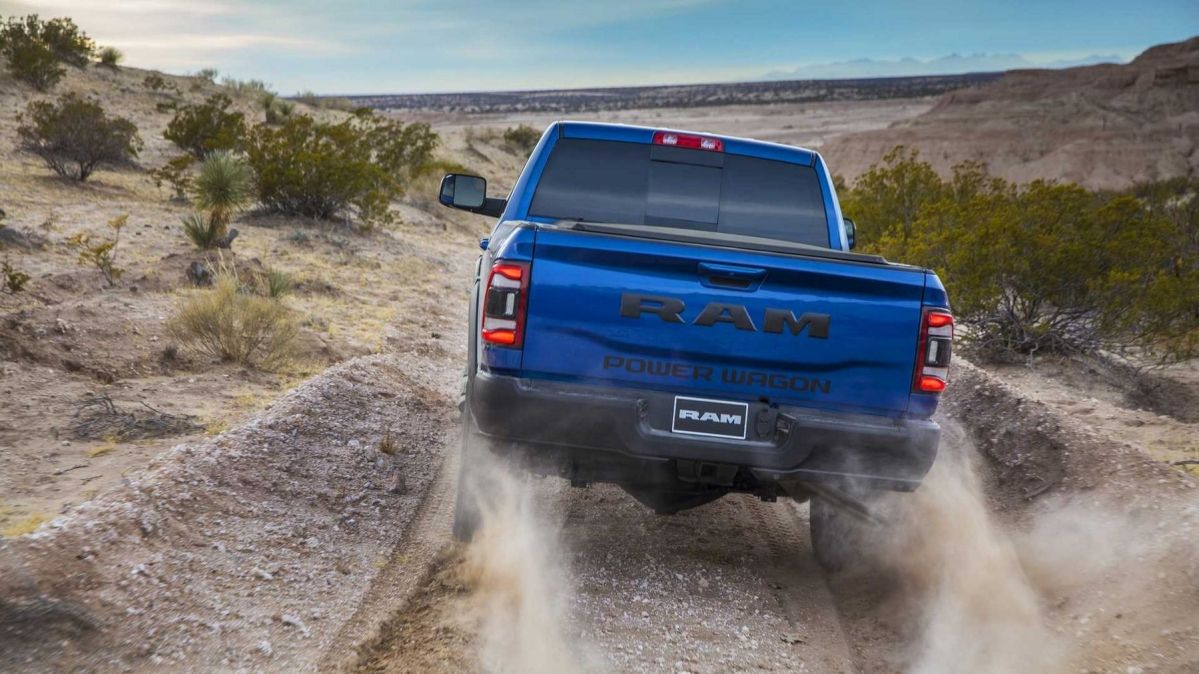 Ram 3500 Heavy Duty models equipped with the 1,000 lb-ft high output Cummins 6.7-liter Turbo Diesel employ the Aisin AS69RC electronically controlled six-speed automatic, while trucks powered by the standard output Cummins 6.7-liter Turbo Diesel are equipped with a significantly upgraded version of the 68RFE six-speed automatic transmission. The transmissions use shift-by-wire technology, eliminating a mechanical linkage between the transmission and the gear selector.
Four-wheel-drive versions of the 2019 Ram 2500 and 3500 Heavy Duty are equipped with a BorgWarner part-time transfer case. The 6.4-liter HEMI V8 and variant of the Cummins 6.7-liter Turbo Diesel drive power through either an electronic (BW 44-46) or manual shift (BW 44-47) transfer case, depending on the model.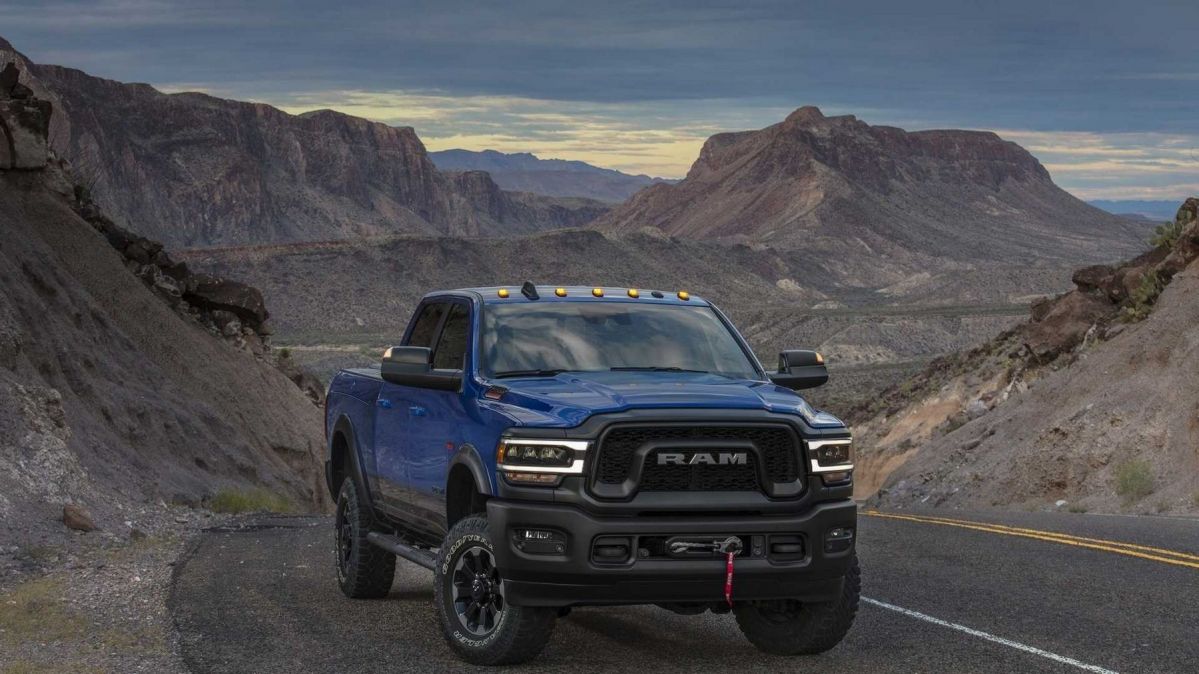 Ram Heavy Duty trucks with the high output version of the Cummins 6.7-liter Turbo Diesel are equipped with an all-new part-time BorgWarner transfer case (BW 44-48). This transfer case is designed to handle the higher input loads for maximum towing capability up to 35,100 lb.
2019 Ram HD pickup - brand new interior
The interior has been completely redesigned with new, premium materials, colors, and textures, including hand-wrapped leather instrument panels.
The center console has been reimagined, offering 12 different storage configurations and including optional dedicated/assignable switches, a wireless charging dock and up to five USBs, including type C ports.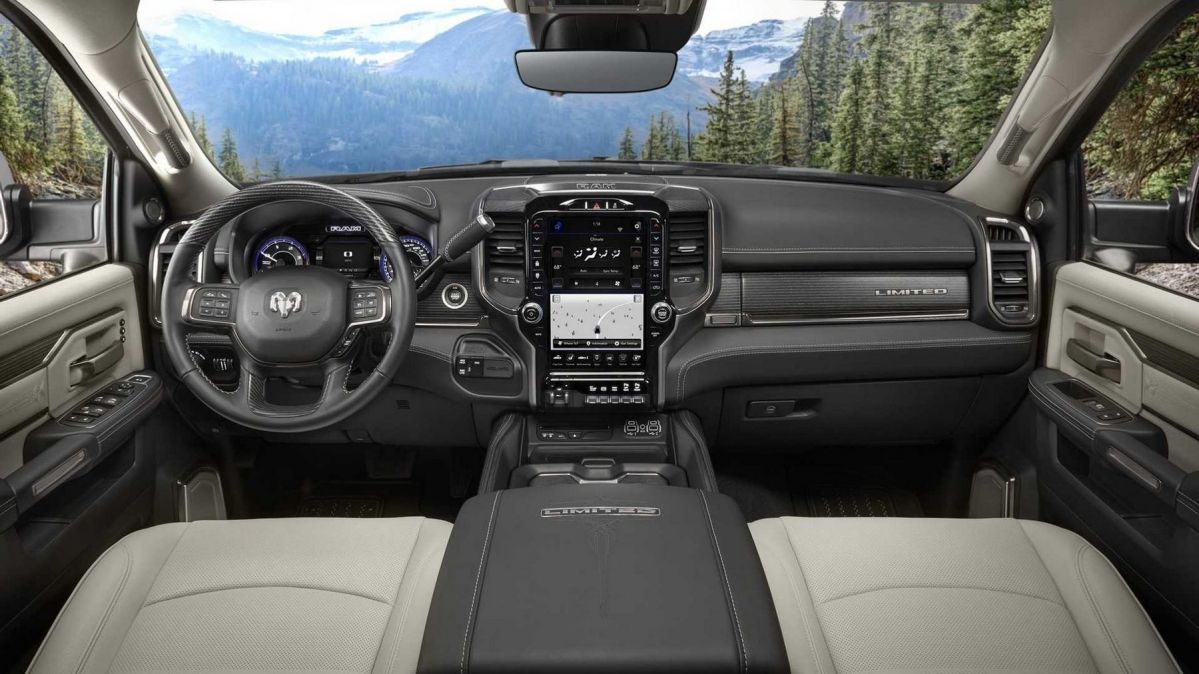 Buyers can opt for a Uconnect 4C NAV with a 12-inch fully configurable screen, including SiriusXM 360L customized listening experience through a powerful 750-watt, 17-speaker Harman Kardon sound system.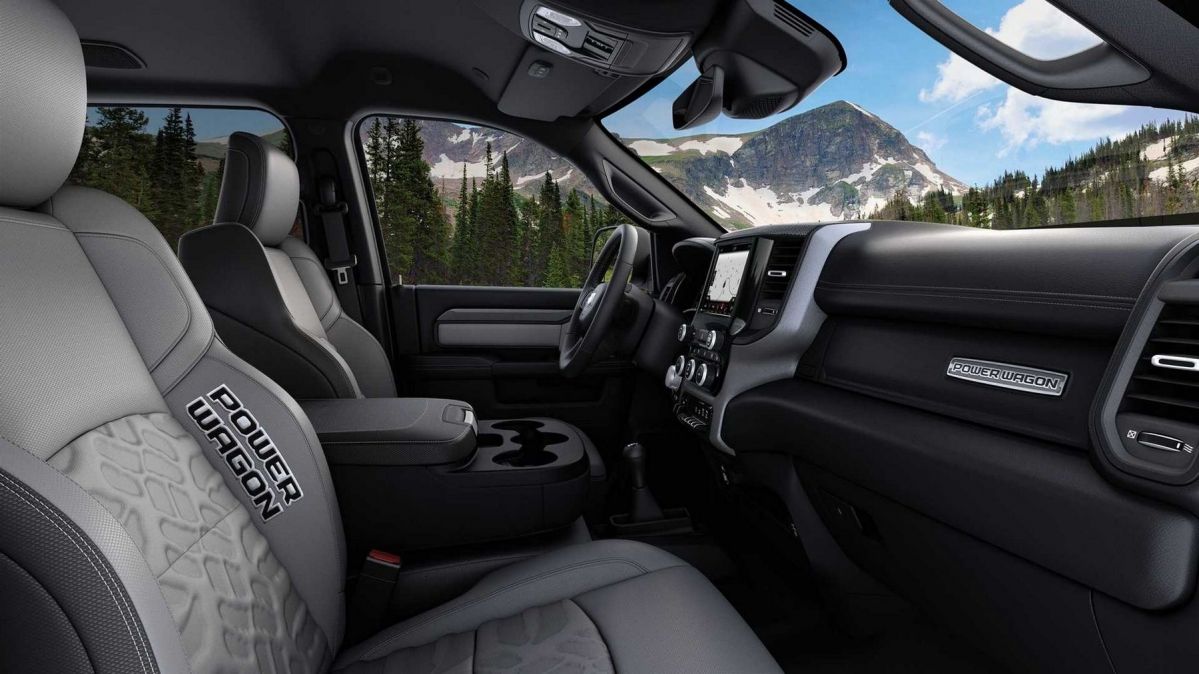 The new 2019 Ram Heavy Duty also features an optional 7-inch, full-color, 3D animation-capable driver information display, with reconfigurable functions that enable Ram truck drivers to personalize information inside the instrument cluster.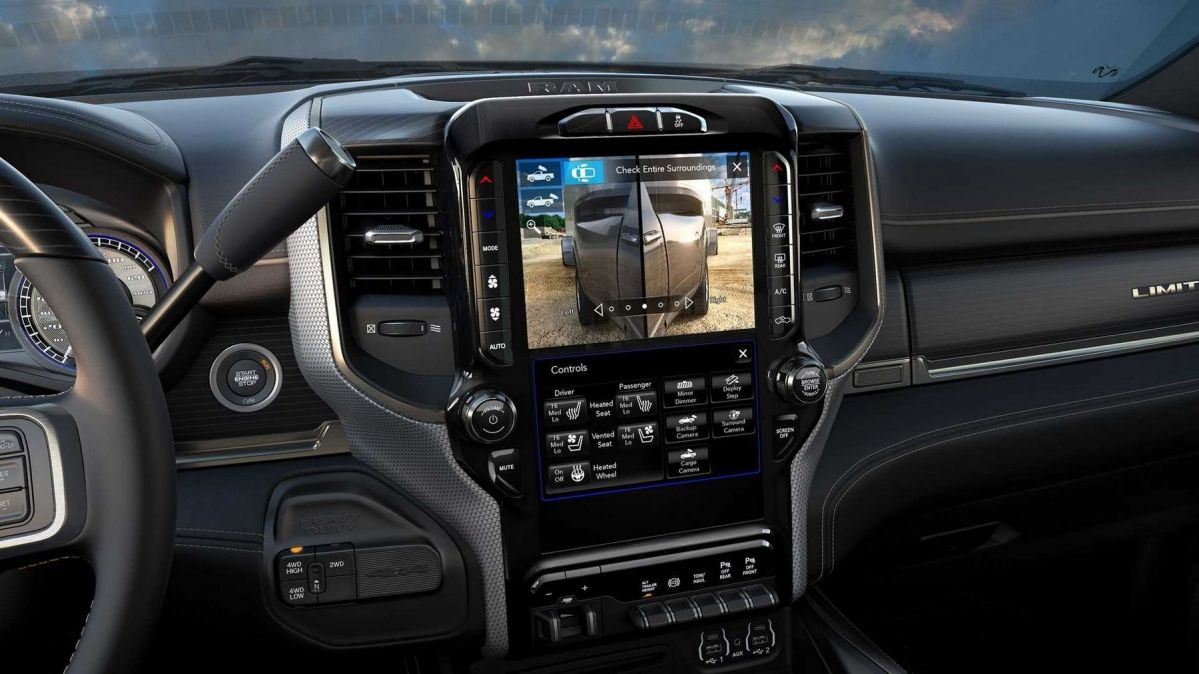 Across all trim levels, the 2019 Ram Heavy Duty features push-button start and a redesigned rotary e-shifter dial (HEMI V8 only). The new shifter area also groups new feature buttons, including Hill Descent Control, axle lock, and transfer case controls, when equipped.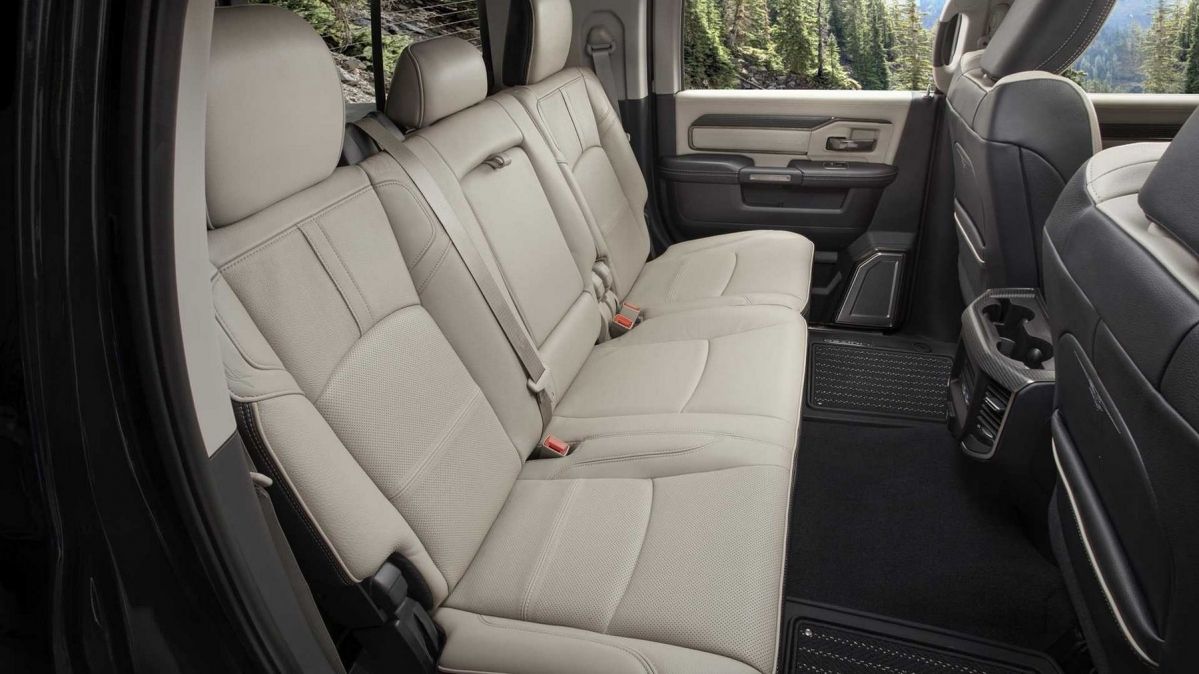 Mega Cab offers most interior storage capacity in the segment at 258 liters — more than twice the amount of closest competitor. Ram offers the Heavy Duty with a five years/100,000 miles warranty for its diesel powertrain.
The 2019 Ram Heavy Duty is built at the Saltillo Truck Assembly Plant in Coahuila, Mexico. No words yet about its price but don't expect it to be much more expensive than the current generation.
READ MORE: Is the 2019 Ram 1500 the most opulent pickup in the world?