Nissan Armada Mountain Patrol debuts as a one-off project for overlanding fans
It showcases how the massive SUV can be equipped for adventure
Nissan is showcasing the overlanding potential of its biggest SUV with the Armada Mountain Patrol project vehicle.The fact it will be unveiled at Overland Expo West (May 18-20), the world's most famous overlanding event, is certainly not a coincidence. Interestingly, Nissan has used feedback posted on social media by enthusiasts to build the vehicle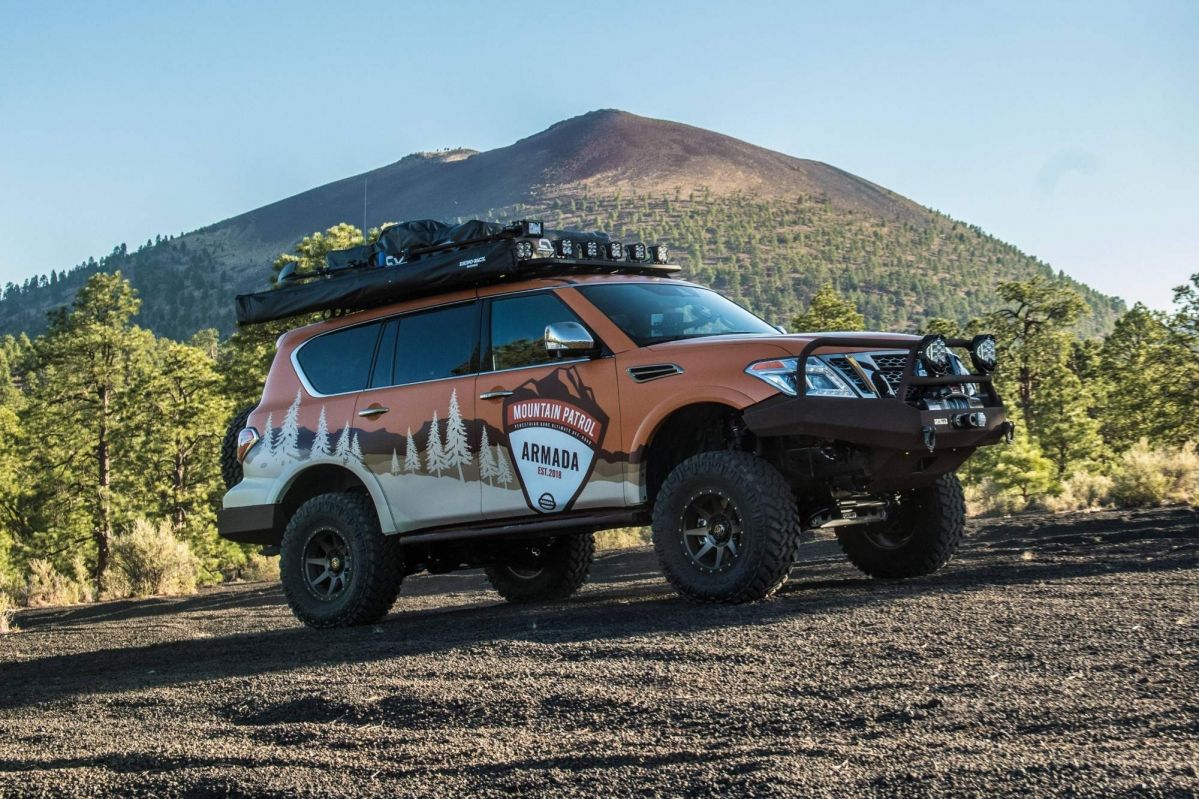 Described as "the ultimate overlanding family adventure full-size SUV," the one-off project turns the rugged stock Armada into an extreme adventure vehicle, adding things like modified suspension and exhaust systems, vehicle protection, lighting, storage, and auxiliary "recovery" systems.
Following in the footsteps of last year's Nissan Titan-based Project Basecamp, the Armada Mountain Patrol features a roof-mounted, four-person camping tent from Cascadia Vehicle Tents complemented by a Rhino Racks-supplied custom awning, another pop-up tent, sleeping bags, and chairs.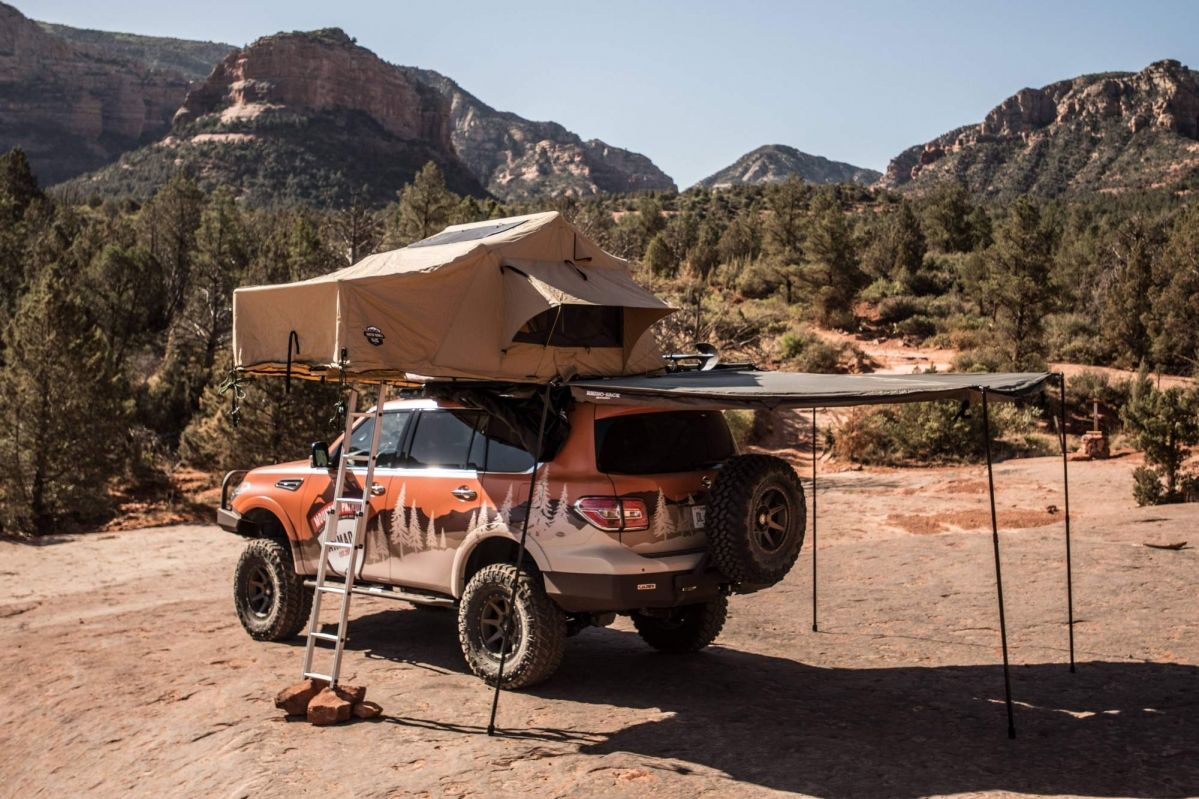 That's not all, as the Armada Mountain Patrol is loaded with many custom comfort, convenience, and storage features. Those include a Lowrance navigation system, off-road radio system from Rugged Radios, Dometic refrigerator/freezer, Otterbox Venture coolers, Pelican gear cases, aluminum back-bone pioneer tray from Rhino Racks, and ARB pull-out drawer system, among other things. Auxiliary fuel storage comes courtesy of RotoPax.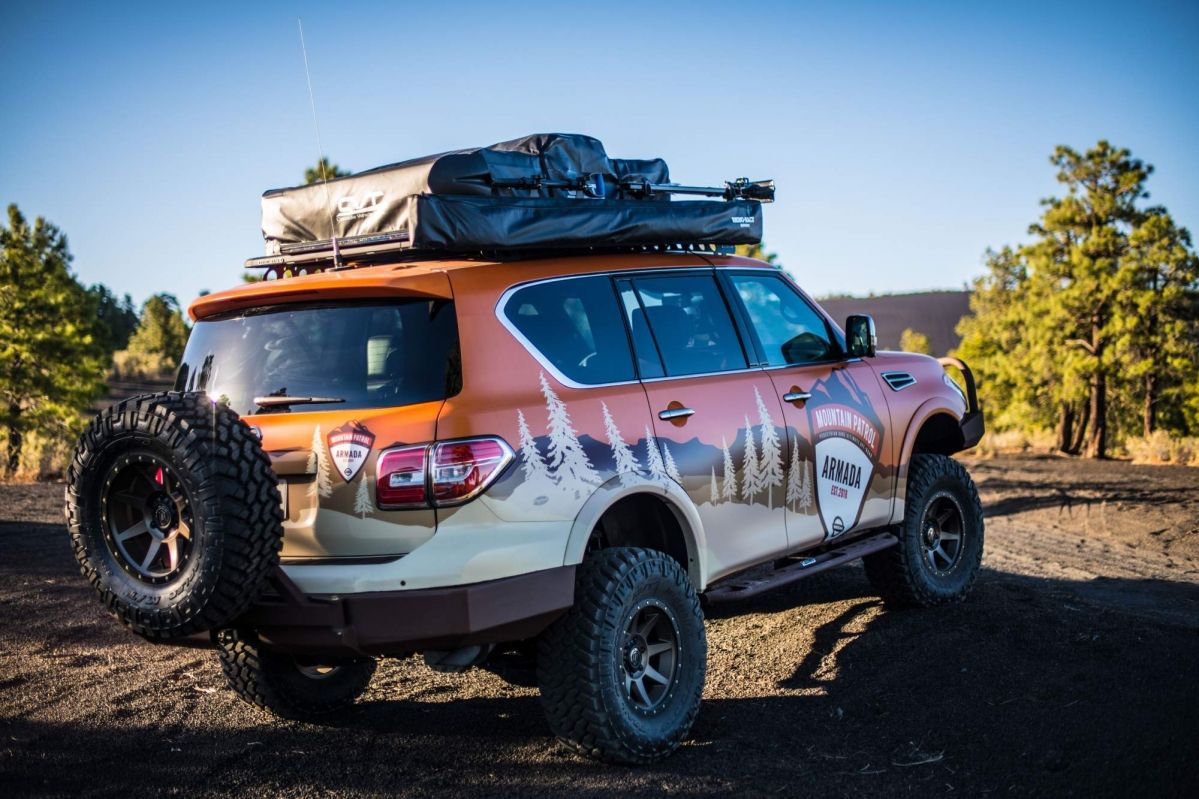 Since the stock Armada is already a capable vehicle off-road, Nissan didn't make too many changes to the show car's drivetrain. The eight-passenger SUV gained a Magnaflow cat-back exhaust system to allow the 390-hp 5.6-liter V8 power plant breathe easier in the mountain air, as well as 17-inch Icon Rebound wheels shod with Nitto Ridge Grapplers 35/12.25/17 off-road tires.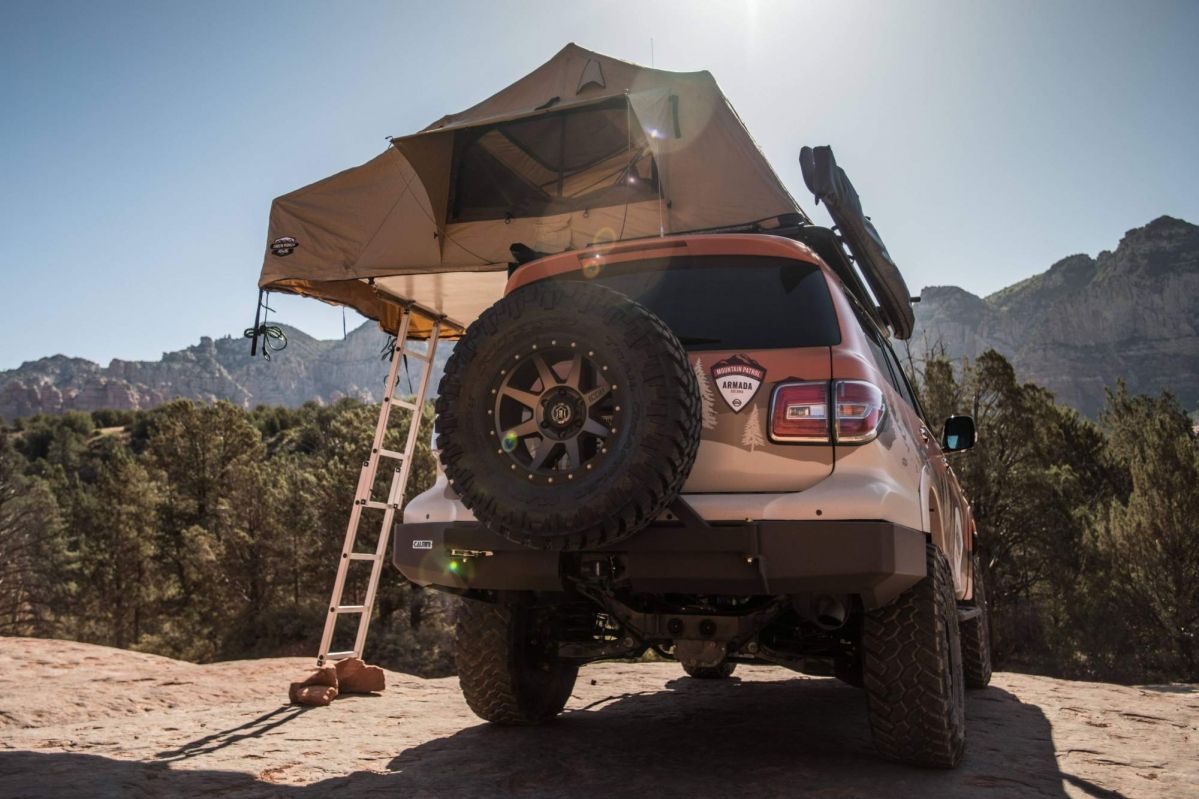 Besides that, the Armada Mountain Patrol comes with added protection for the bodywork consisting of Calmini rock sliders, spare tire swing-away, and custom made front and rea r heavy-duty steel bumpers. Recovery tools onboard include a 12,000-lb Warn Platinum Series winch, rack-mounted MaxTrax vehicle recovery boards, Hi-lift vehicle jack, and Rhino Rack shovels.
Finally, the unique body wrap comes from Rocket West Off-Road, while Baja Designs supplies the roof-mounted LED light bar, bumper-mounted fog lights, and wheel well lighting.
READ MORE: Nissan Armada Snow Patrol is another one-off project based on the massive SUV