This Tesla Allterrain Offroader Will Take You Places Model X Can't
Just wait until you see the price tag
With Model 3 reservations piling up like bees in a nest, Elon Musk's company can now focus on developing new models to populate the car industry's ever-evolving segments.
If we are to look at the second phase of Musk's master plan - during which Tesla will build a semi truck and a bus, both imbued with some sort of self-driving tech - it's hard not to think of a potential offroad-oriented SUV joining the existing EV line-up.
Enter the Tesla Allterrain concept, a bold proposition for a two-door electric off-road vehicle governed by the Tesla brand and product ecosystem, wearing the signature of Jason McGinnity, who, besides providing the visual portfolio, took the time to envisage the car's specs and price tag. It's also worth mentioning that Jason came up with the Tesla Allterrain design study during his internship at Tesla's Design Studio in Hawthorne, California.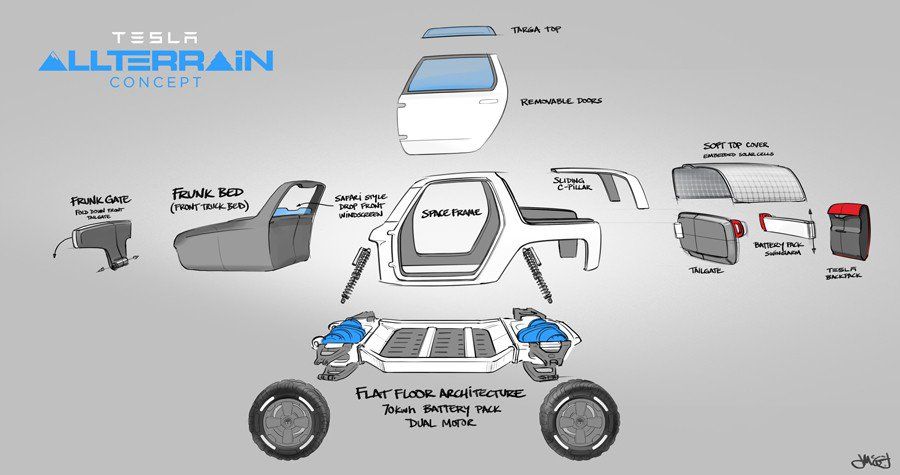 On that note, the Tesla Allterrain should sit on a flat-floor architecture sheltering a 70 kWh battery pack in charge of juicing up two dual electric motors for all-wheel drive capability and a maximum range of around 220 miles (354 km).
Theoretical top speed stands at 120 mph (roughly 193 km/h), and the sprint from 0 to 60 mph (96 km/h) should take just four seconds, provided that the Tesla Allterrain tips the scales at 4,200 lb (1905 kg).

The project also involves removable doors, a targa top, a safari-style drop-down windshield, and a 10 kWh Tesla battery 'backpack' acting as a range extender. When the landscape fades from asphalt to mud, ramps, and rocky sections, the Tesla Allterrain responds with 66-degree and 74-degree approach and departure angles, respectively.
As ambitious as this whole project might sound, the most challenging aspect is the price tag it should wear, since the suggested sticker of $36,000 would place it just $1,000 over the Model 3 and halfway down the road to the entry-level $74,000 Model X, of course, sans the fancy amenities and level of comfort provided by the latter.
Oh, and if you're getting deja-vus while you browse through the photo gallery, that's because Jason's Tesla Allterrain prototype uses styling cues inspired by the likes of 2000 Jeep Wrangler and 2007 Toyota FJ Cruiser.