The brand-new A6 C8 generation is ready for battle in the large luxury segment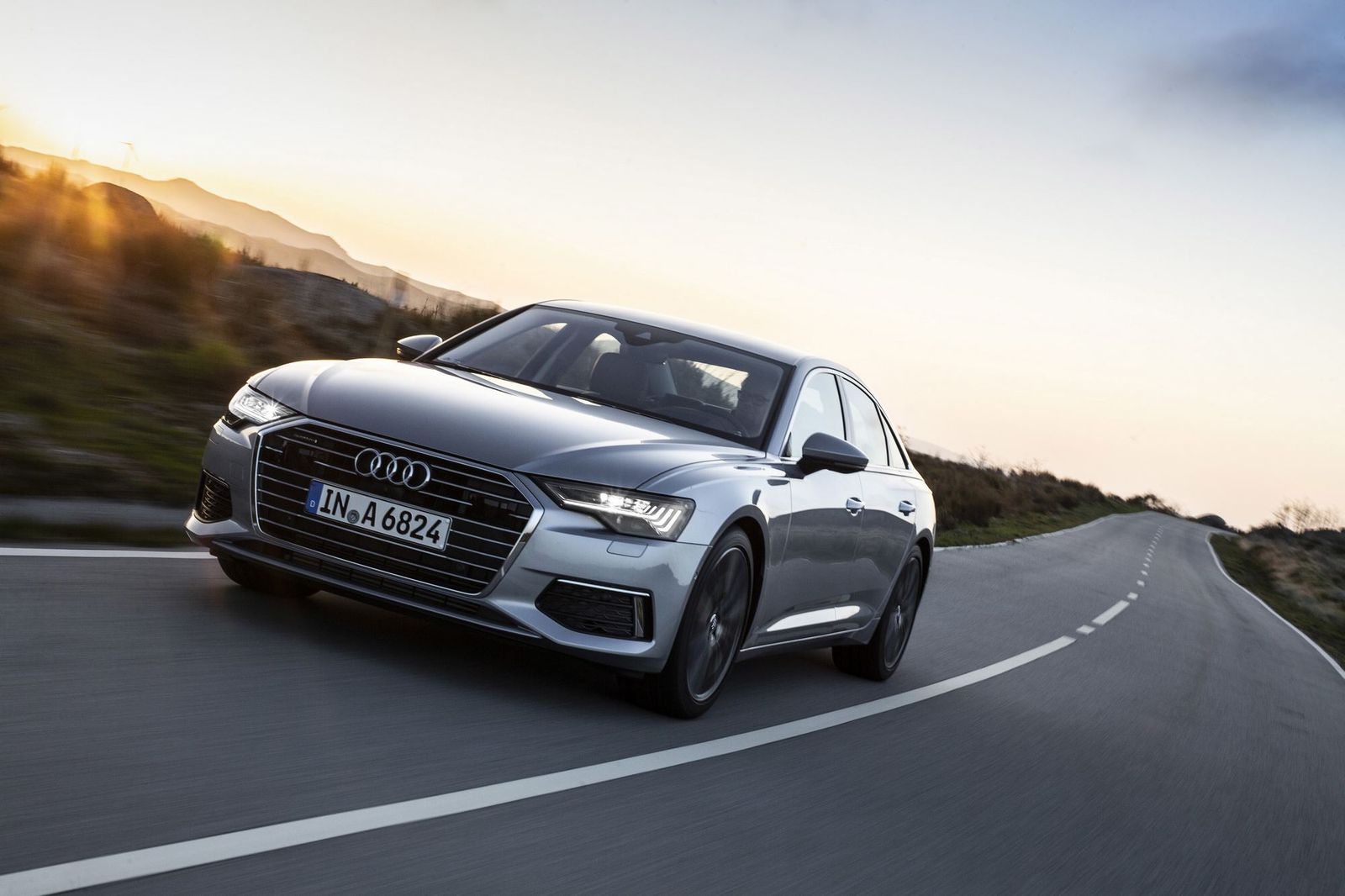 The all-new 2019 Audi A6 has a starting MSRP of $58,900 for a 2019 Audi A6 with 3.0-liter TFSI V6 engine
The new Audi A6 is finally available for ordering in the US. Bringing next-gen driving assist and connectivity functions, the new A6 C8 will try to revive the brand's sales in a segment dominated by the Mercedes-Benz E Class, the BMW 5 Series, and Lexus ES. Currently in the seventh position, behind the Genesis G80, the A6 should climb back up due to the heavily upgraded model launched this year.
Standard equipped with an all-new 3.0-liter TFSI turbocharged V6 engine mated to a seven-speed S-tronic transmission, the A6 delivers 335 horsepower and 369 lb-ft of torque. A standard 48-volt mild-hybrid system (MHEV) supports the TFSI engine. Compared to its predecessor, it's 30 pounds lighter and delivers more power and torque – 44 lb-ft of peak torque more than the previous generation, available between a range of 1,370 and 4,500 rpm. As a result, the A6 can sprint from 0 to 60 mph in 5.1 seconds.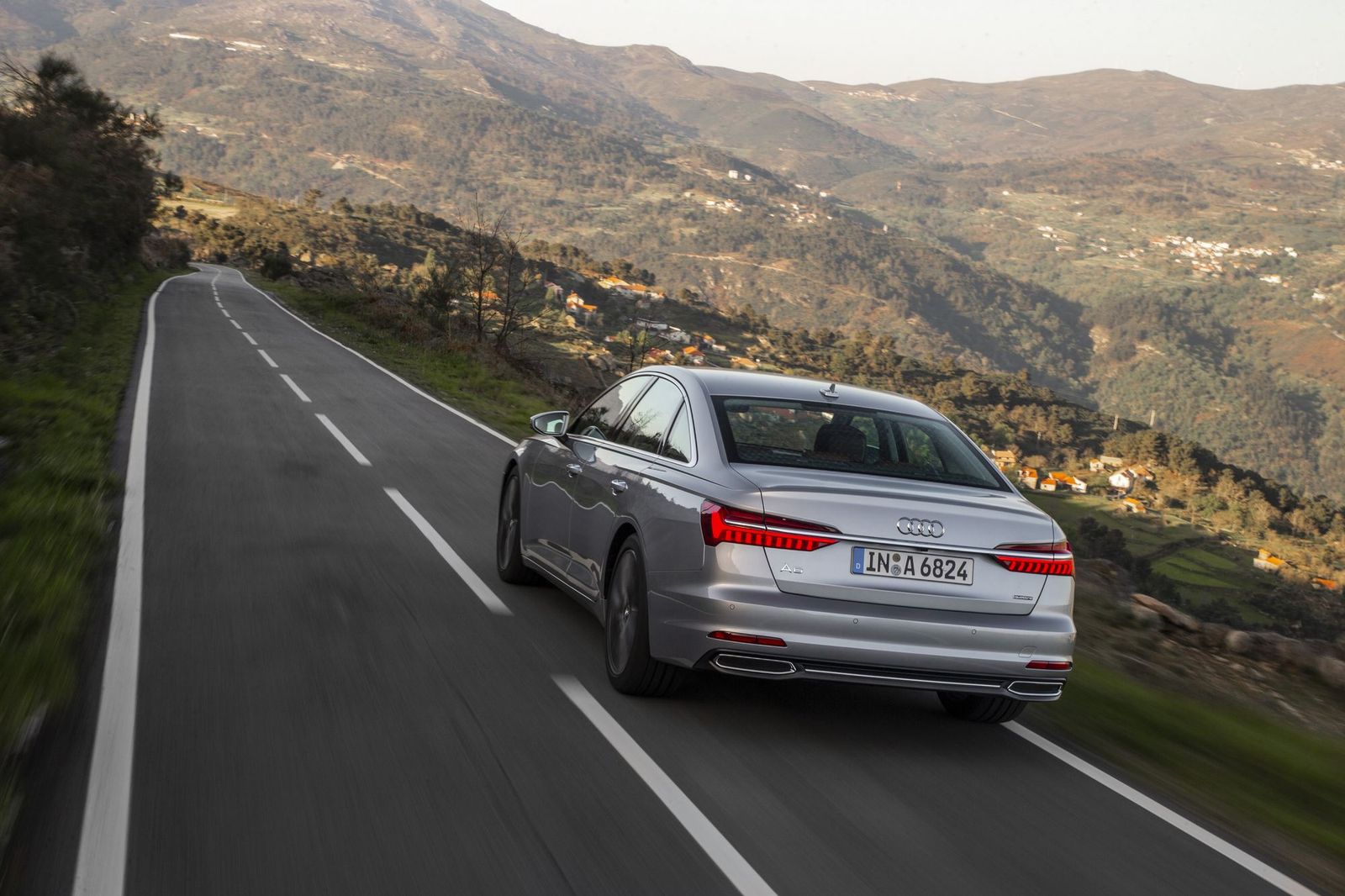 We discussed the new Audi A6 in detail in our first article about the car, so we'll highlight only some of its major functions:
– the upgraded MMI navigation plus system now includes an intelligent route guidance function and car-to-X services such as traffic light information.
[NativeAd]
– the MMI touch response replaces the rotary dial and the conventional buttons and controls of the previous model with two large, high-resolution touch displays. The upper 10.1-inch display (8.8-inch on Premium models) controls the infotainment, allowing the user to arrange the location of central vehicle functions using a drag-and-drop technique, making it intuitive to use like a smartphone. Up to 32 shortcuts can be stored, allowing drivers to customize their preferences for functions such as radio stations, phonebook contacts or favorite apps (with compatible devices).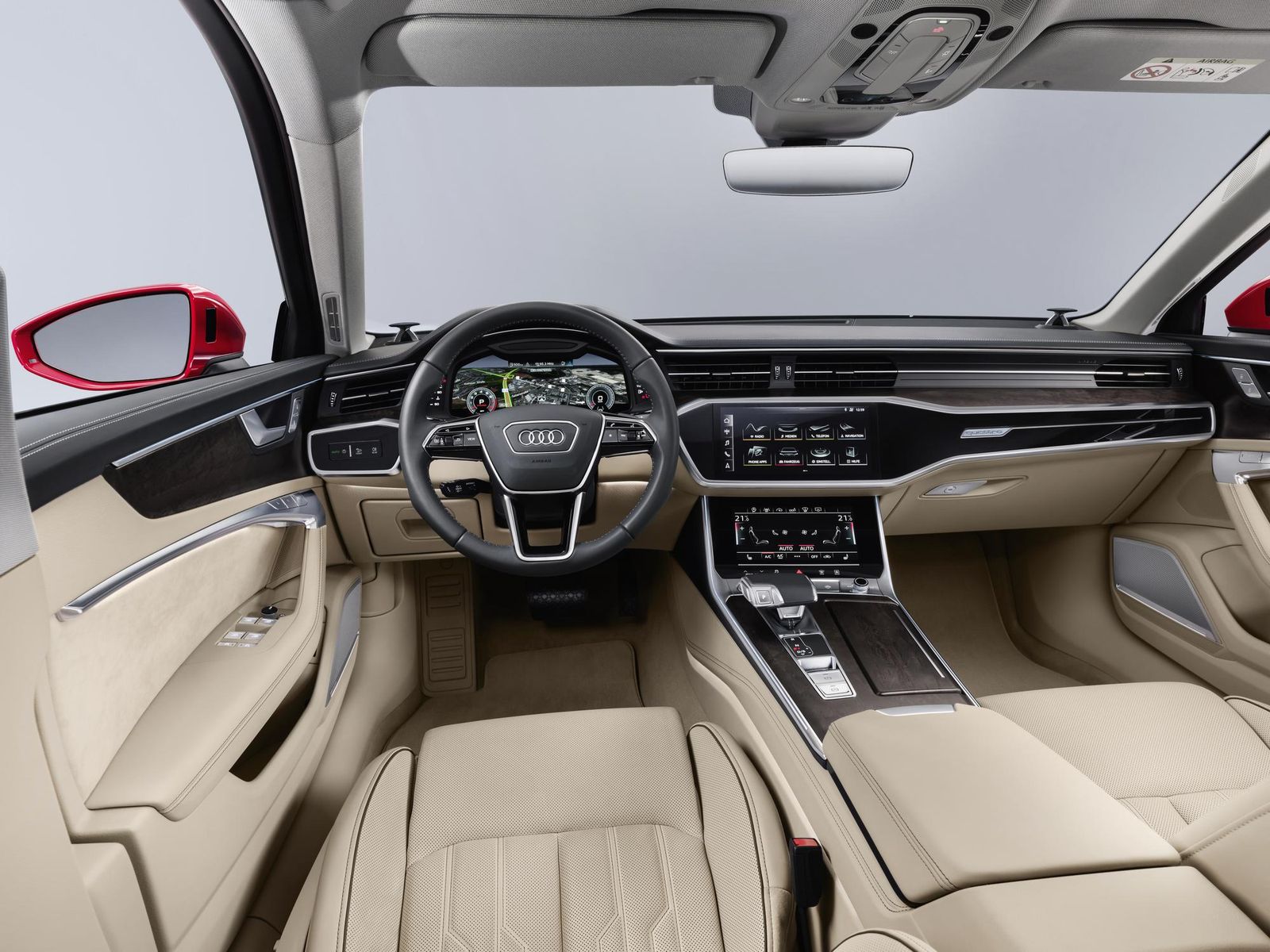 – the lower, 8.6-inch display is used for climate control, comfort and convenience functions and for natural handwriting input with whole-word recognition. Users can write a word left to right, or in one spot, and the MMI is designed to identify each letter. Alternatively, a full QWERTY keyboard can be used, like on a smartphone.
– also new for this year's model, MMI search is based on free text input and natural voice control. Drivers can speak requests such as, "I'm cold," to which the A6 will respond with, "What temperature would you like to set the cabin to?" The A6 processes questions and commands through onboard stored data and information from the cloud.
– the Audi virtual cockpit featuring a 12.3-inch display that offers HD resolution of 1920 x 720 pixels. The driver can choose between two viewing modes – classic and infotainment. The virtual cockpit helps to enhance the infotainment and navigating experience through the large Google Earth™ imagery or 3D city maps (requires Audi connect PRIME) supported with 4G LTE (where available).
– the new Audi phone box connects compatible smartphones with the vehicle's antenna and charges the phone inductively (standard on Premium Plus and Prestige).
– standard on Prestige models, the full-color head-up display projects relevant driving information in the driver's field of vision.
– standard Audi smartphone interface provides Apple CarPlay™ and Google™ Android Auto integration for compatible devices, making smartphone interactions easier for the driver.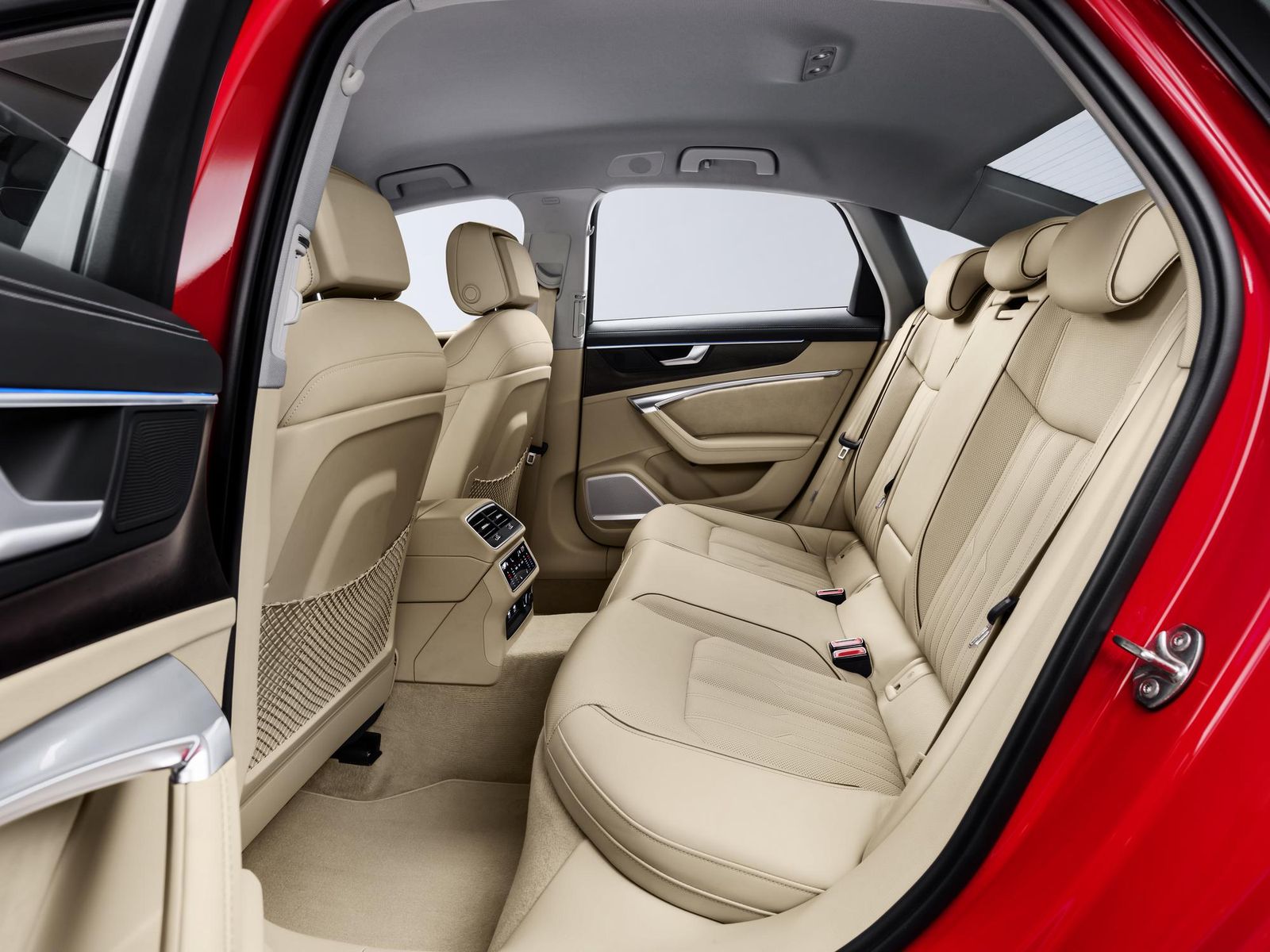 – Audi Connect PRIME and PLUS online services, which package the applications that help connect the vehicle with the internet, the owner and the surrounding infrastructure, are available with a subscription (6-month trial offered on new vehicles). Functions such as parking, weather updates, and Yelp review highlights are now integrated with the MMI and can be accessed through their own icons.
– Launching later this year, the new myAudi app will offer A6 owners access to more digital services through their compatible smartphone, including myAudi Navigation. This allows for a route to be started on a smartphone, continued in the onboard system upon entering the vehicle and then passed back to the smartphone to guide the occupant to their next destination, by foot or public transport.
– HD Matrix-design LED headlights with dynamic indicators and high-beam assistant (standard on Prestige). The HD Matrix-design headlights have five horizontal lines that create a visual emphasis of width and make up the unique light signature of the A6. Fast-moving light animations play in the headlights and taillights when the vehicle is locked and unlocked.
– standard three-zone automatic climate control or available four-zone.
– standard leather seating surfaces with contrast stitching on seats and dashboard.
– standard heated eight-way power front seats with four-way power lumbar adjustment and available heated rear seats.
– standard Mild Hybrid Electric Vehicle (MHEV) technology. The 48-volt system is extremely compact and is supplied from the 10Ah battery to a belt alternator starter (BAS) to enhance the comfort of the start/stop system.
Driver assistance features on the new 2019 Audi A6 C8
Depending on the trim, you can get the Adaptive Cruise Assist (ACA), a "hands-on" system that helps the driver with acceleration and braking, maintaining speed and following distance, and with lane tracking over a speed range of 0-95 mph and during traffic jam situations. Standard Audi pre sense city helps detect vehicles, pedestrians, and cyclists in the vehicle's path, at speeds of up to 52 mph and can initiate braking when a potential collision is detected.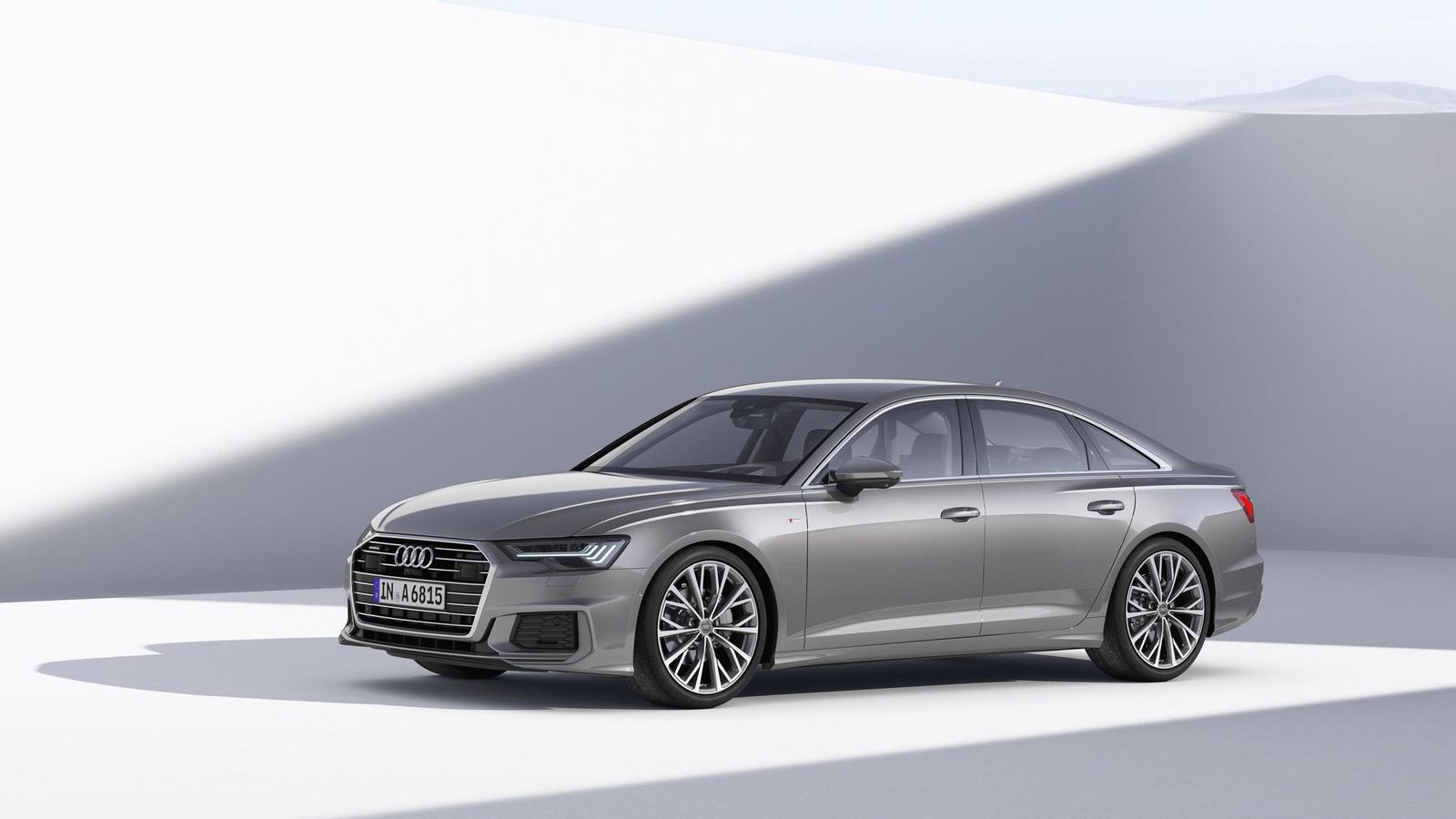 Top view camera system (front, rear and side views) with virtual 360-degrees surround view combines four wide-angle cameras on the outside of the vehicle to project a real-time 3D model of the A6, allowing the driver to toggle around the vehicle and zoom in and out to help with maneuvering in tight spaces. The optional intersection assist monitors cross traffic when pulling through an intersection or crossing lanes and can help notify the driver of a potentially hazardous situation by applying the brakes at speeds of up to 6.2 mph or with visual and audio warnings at speeds of up to 18.6 mph. Also optional is the turn assist function that can help prevent a collision with an oncoming vehicle when turning left by applying the brakes and keeping the vehicle within its own lane.
Available traffic sign recognition (as part of the Driver assistance package) includes vehicle speed warning and can detect speed limits and displays the information in the Audi virtual cockpit. New for 2019 are "Right Turn on Red" signs as well as recommended exit and on-ramp speed limit signs.
Audi side assist (standard on Premium Plus and Prestige trims) provides blind spot monitoring via LED indicators on the exterior mirror housings at speeds above 9 mph.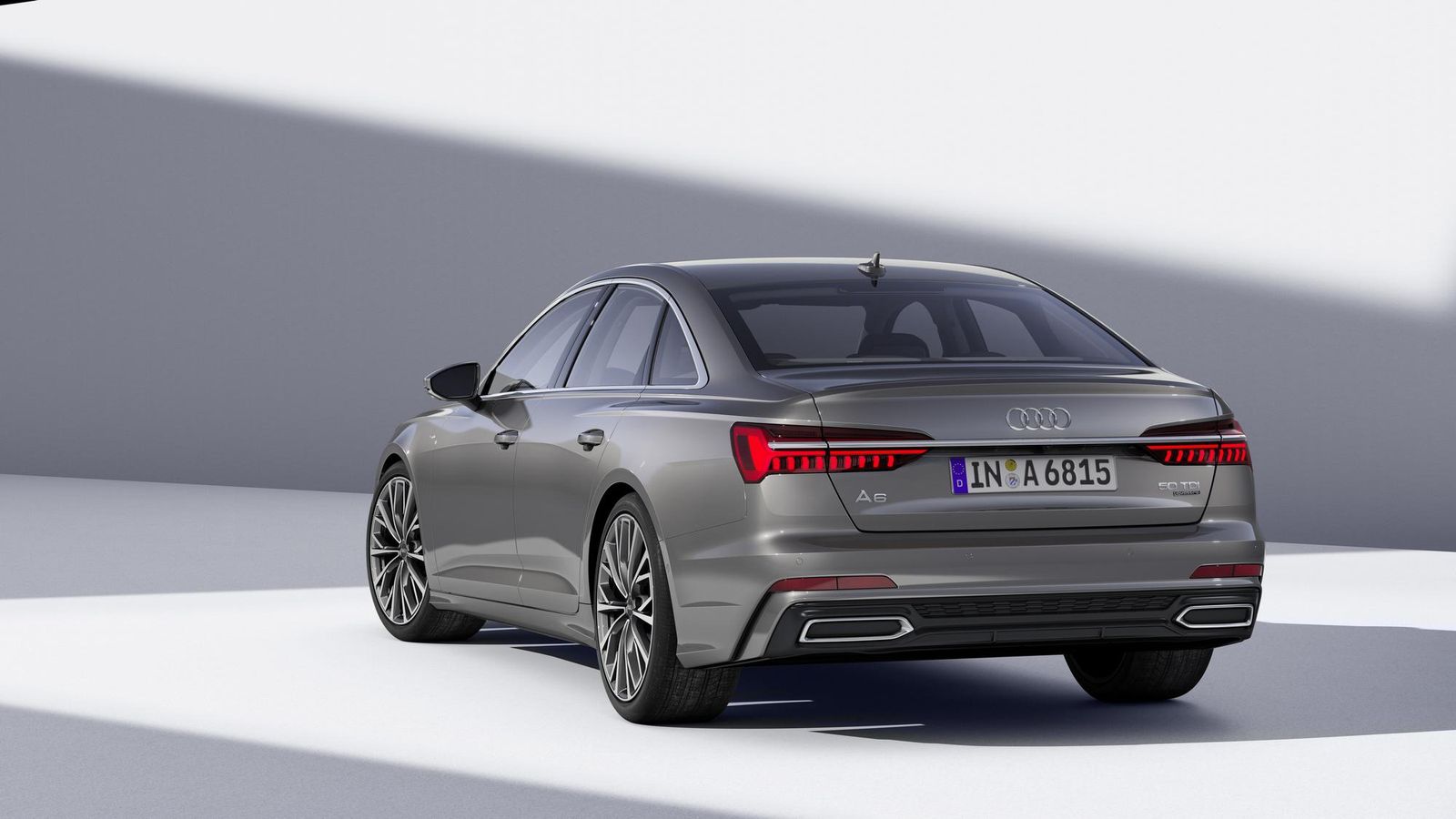 Audi pre sense rear (standard on Premium Plus and Prestige) helps monitor the traffic following the vehicle and can close the windows and sunroof and tension the seatbelts in the case of a rear-end collision. Vehicle exit warning (as part of Audi side assist) can help prevent incidents when moving objects are approaching from behind as the vehicle doors are opened with a visual red indication on the interior LED light strip of the door trim, acoustic warning, and new for A6, a one-to-two second delay in the door handle release. Rear cross traffic assist (as part of Audi side assist) supports the driver when reversing out of a perpendicular parking space and can help alert the driver through a brake jolt in certain situations, for example in the case where an approaching vehicle is detected.
2019 Audi A6 prices
As stated, prices start at $58,900 for the Premium trim; you have to pay $62,700 to reach the Premium Plus trim and $67,100 for the Prestige version that comes with a lot of included bells and whistles. The new Audi A6 is already available for ordering on the brand's website.
SEE MORE: 2018 Audi A7 Sportback 50 TDI quattro review: who needs luxury SUVs?