It previews a production model that will challenge the BMW X6 from 2018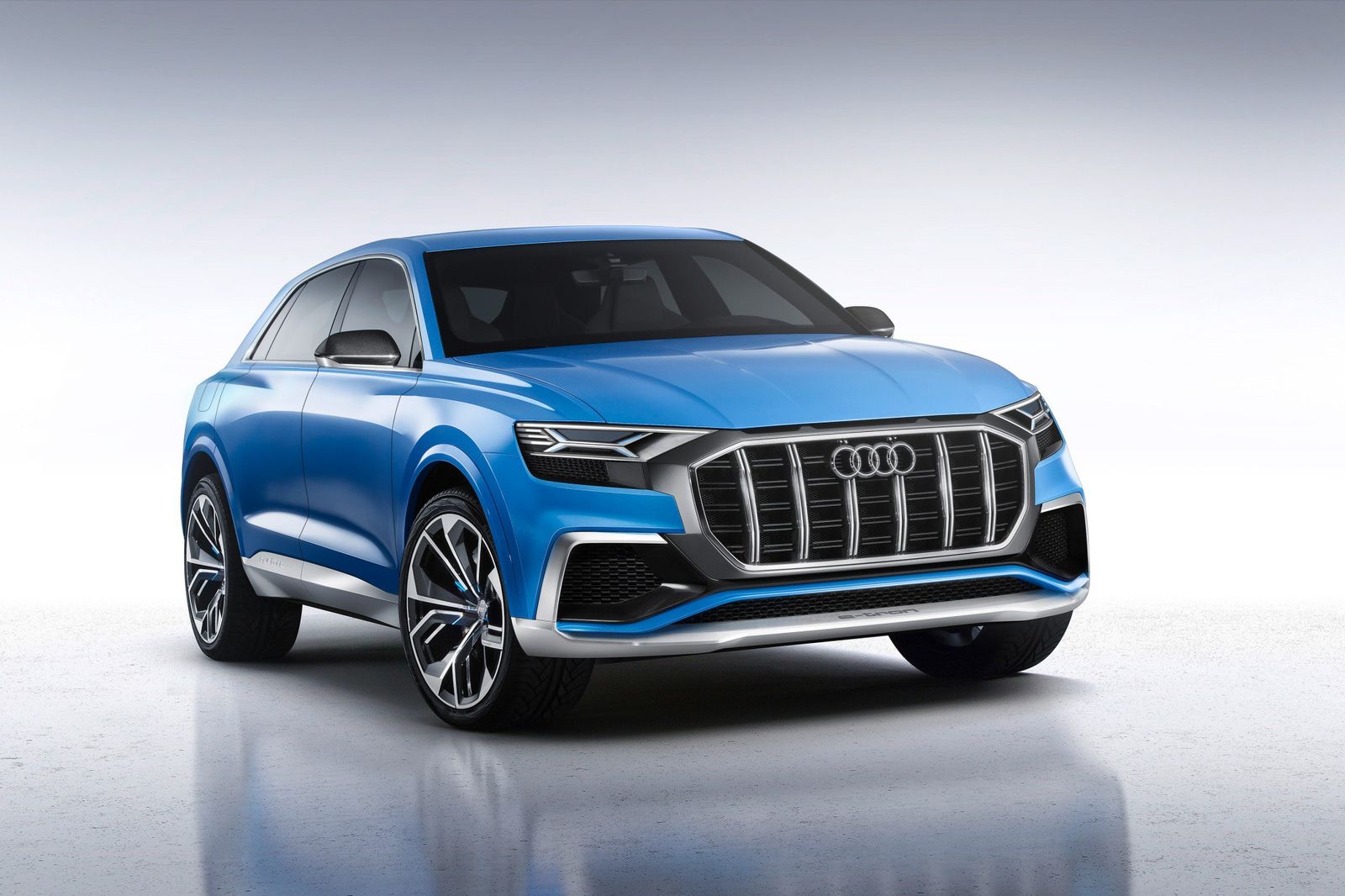 Audi has finally lifted the veils off its latest SUV design study, the Q8 Concept, at the Detroit Auto Show.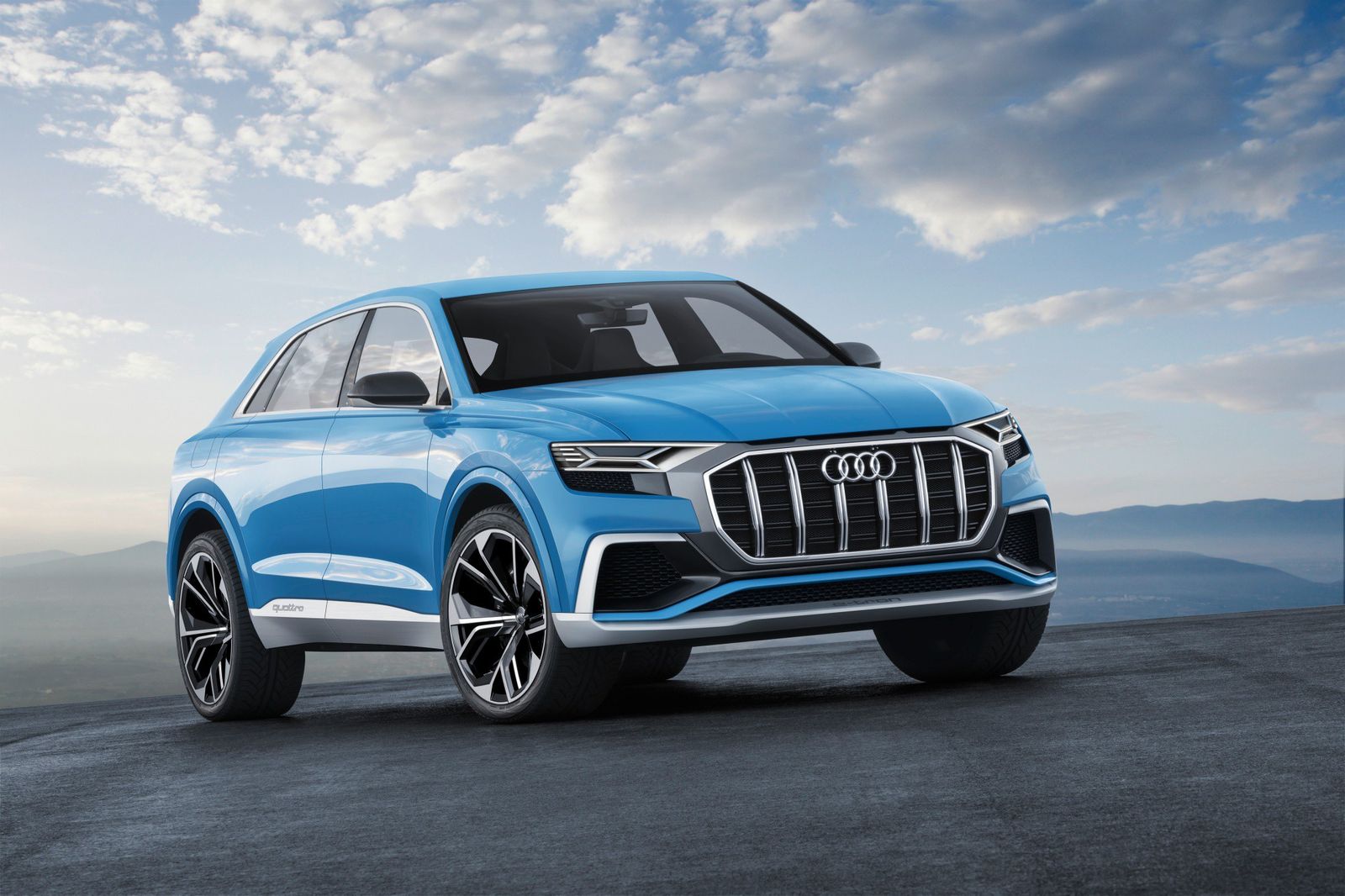 Previewing a sportier and more luxurious SUV than the Q7, the Q8 Concept combines the practicality of a sports utility vehicle with "the emotional lines of a coupé," as Audi puts it. At 5.02 meters (16.5 ft) long, 2.04 meters (6.7 ft) wide, 1.70 meters (5.6 ft) high, and with a wheelbase of 3 meters (9.8 ft), the Q8 Concept is an imposing SUV. Audi says it offers plenty of space for four passengers and their luggage (630 liters/22.2 cu ft of cargo volume), despite the sloping roofline.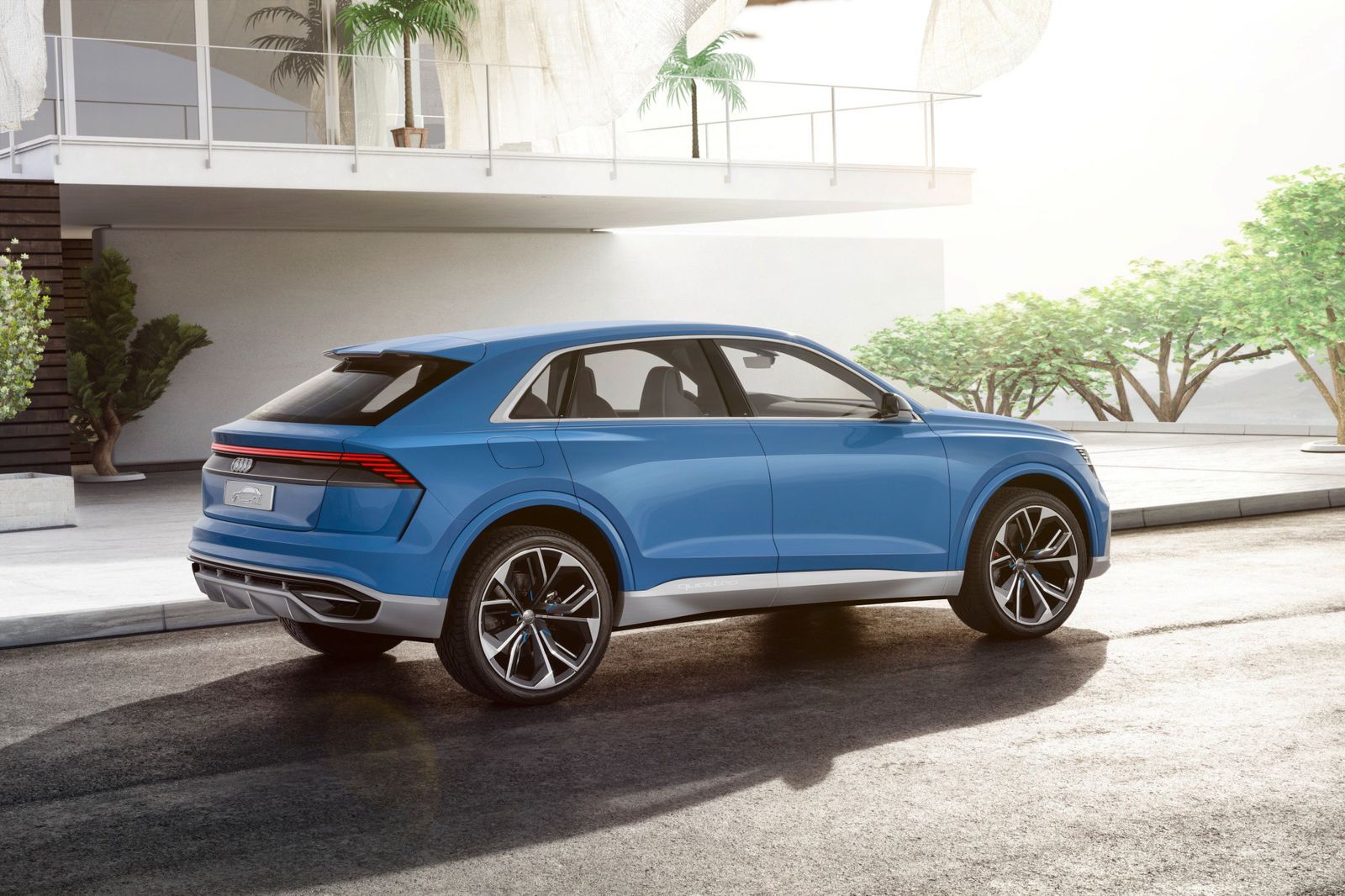 Styling highlights include a broad, sculpted octagonal Singleframe grille with honeycomb insert, wedge-shaped Matrix LED headlights with air inlets beneath them, a clean and dynamic profile with a very wide C-pillar, 23-inch alloys, LED taillights that extend over the entire width of the rear end, and an aluminum rear diffuser.
Inside, the Q8 features an evolution of Audi's current interior layout, featuring fully digital instrument panel and controls. The driver changes gears via a shift-by-wire lever that floats above the center tunnel, with Audi saying the console's appearance resembles "the stern of a sailing yacht."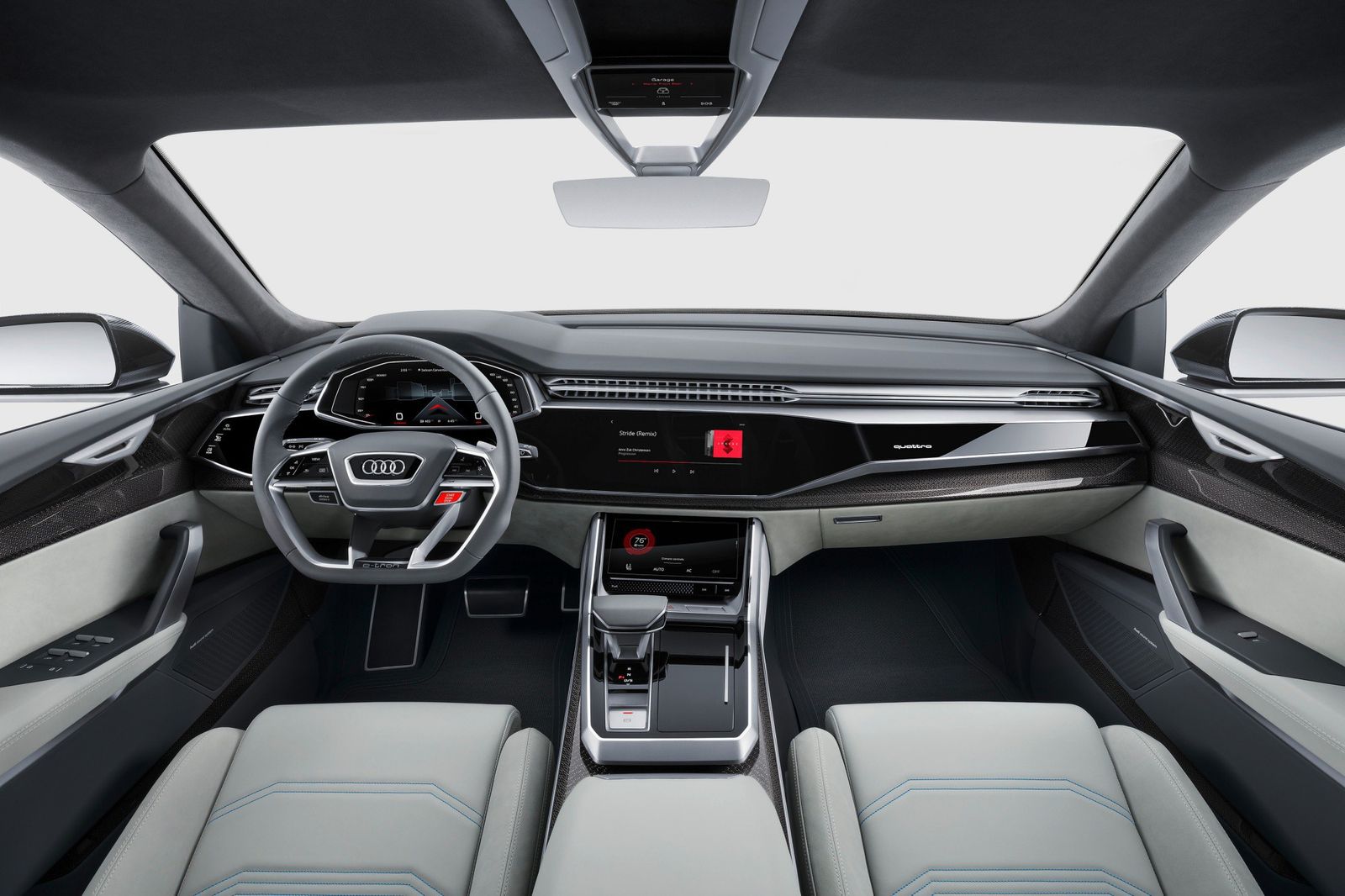 The control concept consists of large touchscreens, a new version of the Audi virtual cockpit with a resolution of 1920 x 720 pixels, and a contact-analogue head-up display. Materials used inside include high-gloss carbon, aluminum in a brushed finish, as well as Fine Nappa leather and Nubuk leather, both in pastel silver.
Power comes from a plug-in hybrid system with a combined output of 330 kW (443 hp) and 700 Nm (516 lb-ft) of torque, sent to all four wheels via the quattro permanent all-wheel drive system. The drivetrain consists of a 333 hp 3.0 TFSI combustion engine and a 100 kW electric motor which is integrated into the eight-speed tiptronic transmission together with a decoupler.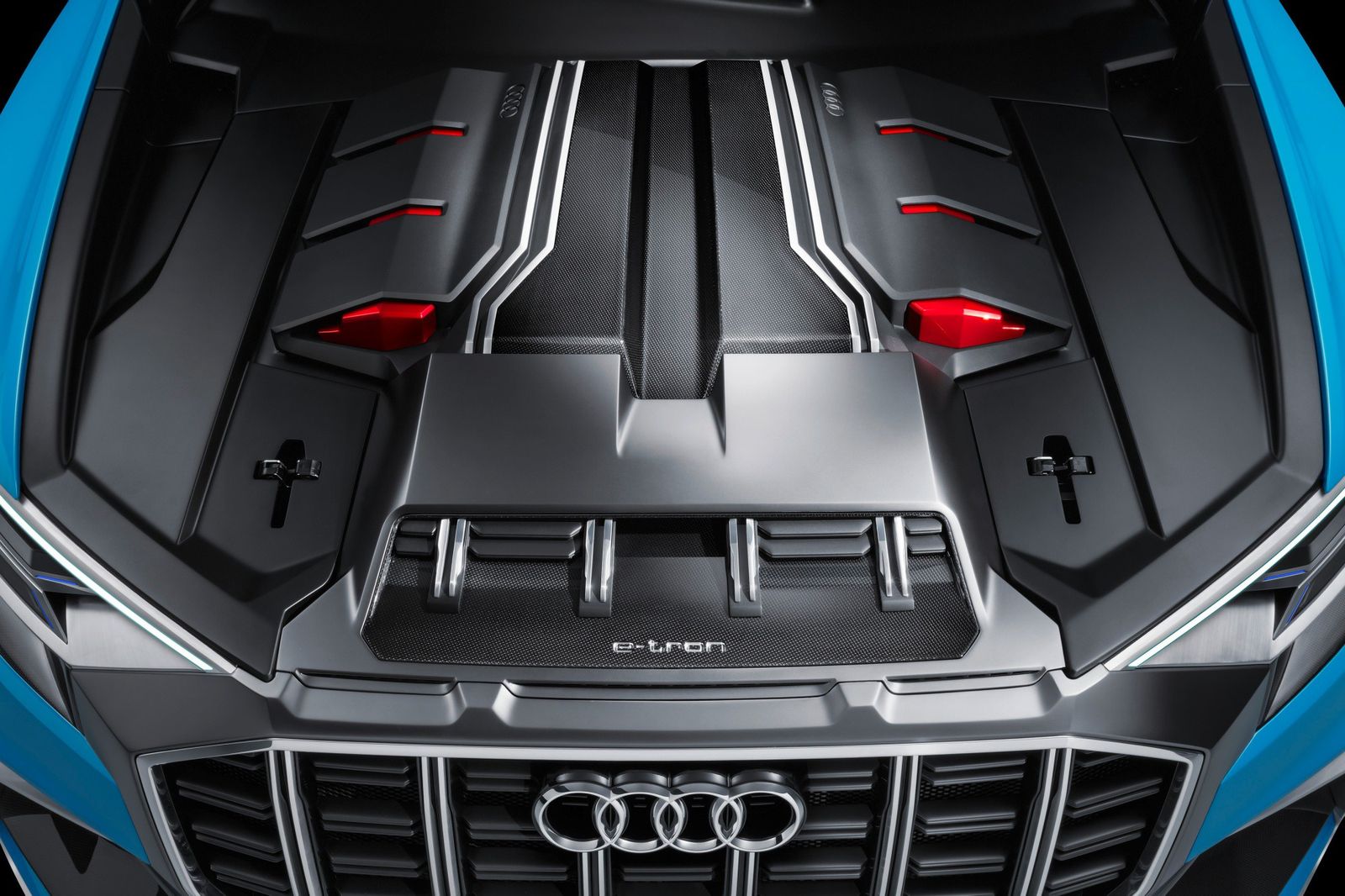 As a result, the Audi Q8 Concept accelerates from 0 to 100 km/h (0-62 mph) in 5.4 seconds and reaches a top speed of 250 km/h (155 mph). It's also extremely efficient: according to the standard applicable for plug-in hybrids, it burns just 2.3 liters of fuel (102.3 US mpg) per 100 kilometers in the NEDC, equivalent to CO2 emissions of 53 g/km (85.3 g/mi).
Thanks to a 17.9 kWh lithium-ion battery located in the rear, the Q8 has an all-electric driving range of 60 km (37 miles), while combined range is up to 1,000 km (621 miles). A full charge of the battery with 7.2 kW output takes about two and a half hours.