Camaro SS runs on the SkyDrive in Dubai, showing off an impressive 0-100-0.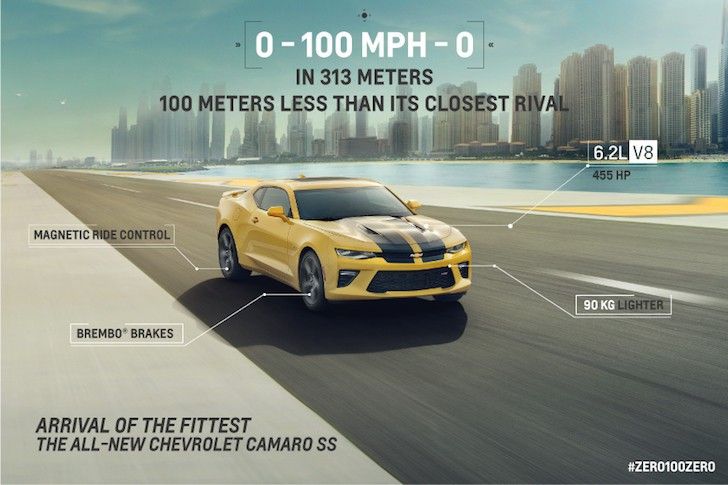 If you are into modern muscle cars, Chevy Camaro SS has some pretty impressive figures to show you.
Using the 6.2-liter naturally aspirated V8 as its heart, the Camaro SS boasts some 455 hp and 455 lb-ft of torque to the rear wheels, being able to run from zero to 60 mph in four seconds flat. Top speed: a decent 155 mph.
The selling point for the SS would be its weight: it lost some 198 pounds over the outgoing model, tipping the scale at 3,470 lbs now (that's one and a half tonne for Europeans).
Now, Chevy shows us that the Camaro SS can do a 0-100-0 (that's sprinting from zero to 100 mph to a standstill again) over just 313 meters, '100 meters less than its closest rival'.
And what better way to show this than having a go on SkyDrive Dubai runway, risking to plunge the Camaro SS into the ocean? #iknowright?
We can't tell you how much of this is real, but, considering it is, we can't say but "those Goodyear tires, bro." Its stopping power is indeed impressive.