There were only seven of these cars, costing $2.85-million a pop; now that's down to six…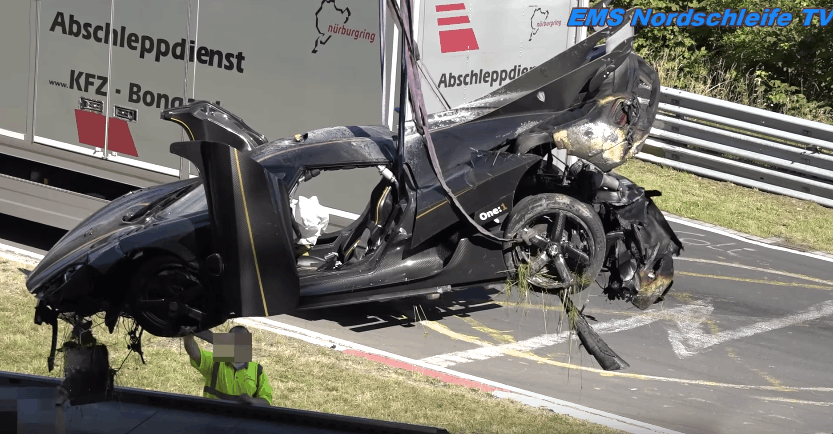 One of Koenigsegg's mad One:1s, called that because it has one horsepower per each of its 1,360 kilograms of weight, crashed on the Nurburgring a few days ago; it's also one of only seven examples built. Up until today, we really didn't know why it was there and what it was doing, but now thanks to an official statement issued by the company we've learnt additional details.
Apparently, the car was being driven by a professional driver in an attempt to break the Nurburgring lap record. The crash was quite severe, as the car looks like it has significant damage at both ends, and there's even evidence of fire at the back.
Thankfully, the driver escaped alive and with all limbs intact, being swiftly taken to hospital, which he left hours later as it was deemed he was completely fine.
According to the first official statement, posted on the official Koenigsegg site, the car was participating in Industry Pool testing on Monday 18th July, where it had been for a week's time each of the last two months. Apparently, they were "working primarily on vehicle setups both for ongoing vehicle development and for an attempt at a Nurburgring lap record at some time in the future."
The company went on to say, in a separate post, that it was a faulty antilock brakes sensor on one of the wheels. Apparently, "the dashboard ABS warning light was triggered as soon as the ABS wheel sensor malfunction occurred," and while the dash light itself was on before the incident, "is located centrally in the dashboard but may be difficult for the driver to see when he is wearing a helmet and concentrating on high-speed driving around the circuit. The driver may not necessarily notice any difference in the braking feel as long as he is not near the ABS braking zone, i.e. braking hard enough that it would have triggered the ABS system."
Now, while there are currently just six of the seven One:1s made, the one that was crashed is getting rebuilt and repiared, so the number will be brought back up to seven again.
Video and opening photo courtesy of EMS Nordschleife TV