The fourth-generation Miata gets new coupé version at the New York Auto Show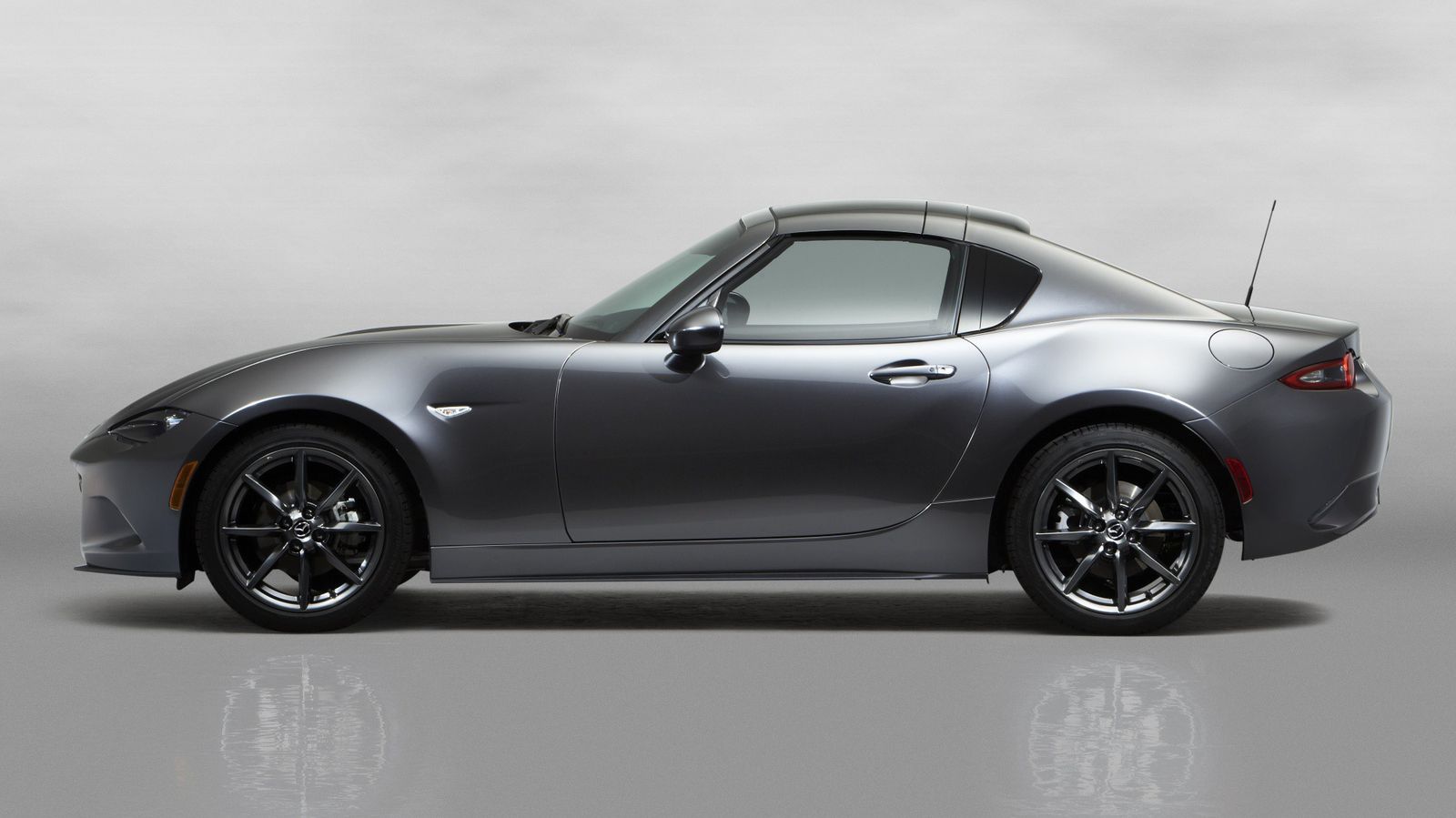 The world's best-selling convertible is now available as a coupé as well – or, as the automaker calls it, as a "retractable fastback." Unveiled at the 2016 New York Auto Show, the 2017 Mazda MX-5 RF features a retractable hardtop similar to roofs from much more expensive models like the Porsche 911 Targa or Ferrari 488 Spider.
If you're wondering why Mazda went to the trouble of building the MX-5 RF, it's because the current model's predecessor also offered a version with a retractable hardtop. However, while the previous MX-5 Roadster Coupé featured a three-piece folding hardtop that fully retracted in the boot, the MX RF has a more complicated construction.
The center panel is stored vertically behind the seats and a retractable rear window, with the rear panel remaining in place. With the roof down, the MX-5 RF is a Targa which turns into a coupé when the roof is up. The power roof opens and closes in 12 seconds with the press of a button at speeds of up to 10 km/h and takes up the same space as the soft top when folded, which means the RF offers the same boot space as the regular MX-5 – a modest 130 liters.
The automaker says the MX-5 RF makes the roadster experience "accessible to a broader range of drivers," which is Mazda's way of saying that it aims a segment of customers who are not comfortable with the idea of a fabric soft top.
The RF features the same engines as regular MX-5s: the 129 hp SkyActiv-G 1.5 or the 155 hp SkyActiv-G 2.0, depending on the market. The United States only get the larger engine, while European customers will be able to order both. The standard transmission is a six-speed manual while a six-speed automatic is optional – the RF is the first MX-5 in Europe to get it.
Mazda says the MX-5 RF's suspension and steering are re-tuned, but no official performance specs are out yet. However, you shouldn't expect improvements compared to the roadster version, as the roof is rumored to add about 100 lbs (45 kg) to the car's curb weight.
Mazda is very proud of the MX-5 RF's Machine Grey body color, a new premium three-coat paint that has "a precise, high-quality finish that looks as if it were hand-painted by a master craftsman," in the automaker's words. The new color will be later offered on other Mazda models as well, including the all-new CX-9 crossover. Expect to see the 2017 MX-5 RF in dealerships in late 2016 in Europe and early 2017 in the U.S.