The first-ever C-Class Cabriolet arrives just in time for the warm season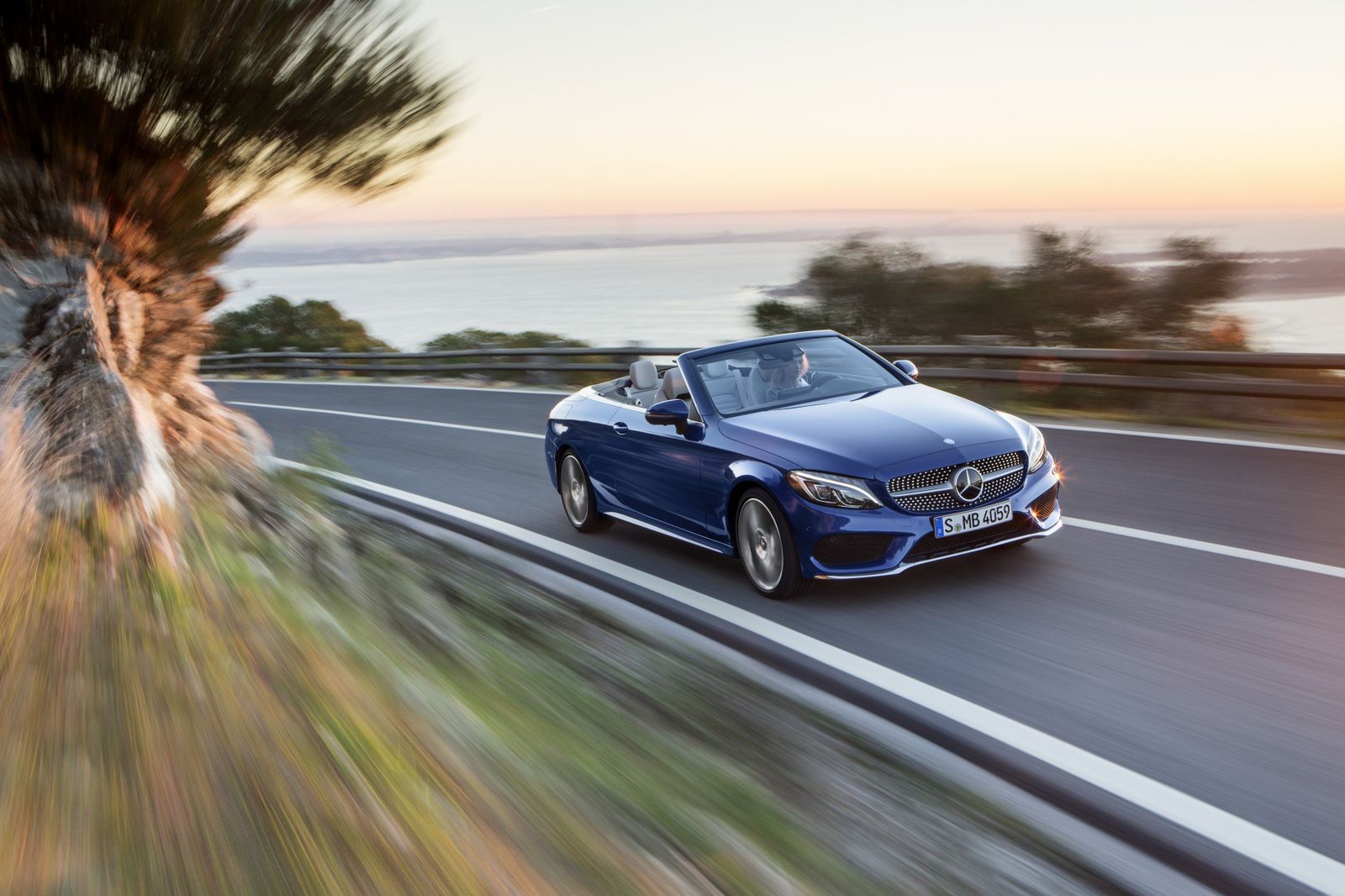 Based on the current C-Class Coupé, the open-top version comes with a (too) familiar design and a wide range of engines with outputs ranging from 156 PS to 367 PS. Launching in summer 2016, the C-Class Cabriolet will be available with the AIRCAP automatic draught stop system and AIRSCARF neck-level heating, both aimed at improving comfort during open-top driving. The model can also be equipped with the optional AIRMATIC air suspension and the 9G-Tronic automatic transmission (available for all engine variants).
There's not much to say about the design, as the C-Class Cabriolet looks just as you'd expect, mimicking the looks of the larger, more luxurious S-Class Cabriolet. As with the range-topping convertible, it comes with a fully automatic multi-layer fabric soft top that can be ordered in optional contrasting colors such as dark brown, dark blue, dark red or black. It can be opened and closed in less than 20 seconds up to a speed of 50 km/h. Furthermore, it doesn't take up too much space from the trunk: the full capacity of 360 liters gets reduced to 285 liters when the roof is open.
Mercedes-Benz will offer the C-Class Cabriolet with eight engine variants in Germany, two of which are diesels. The C 220 d Cabriolet comes with a 2.2-liter four-cylinder diesel rated at 170 PS while the C 250 d Cabriolet features an uprated version of the same unit with 204 PS. Gasoline models include the C 180, C 200, C 250, C 300, C 400 4Matic and the range-topping Mercedes-AMG C 43 4Matic.
The C 180 is powered by a 1.6-liter four-cylinder unit rated at 156 PS, while the C 200, C 250 and C 300 all feature turbocharged 2.0-liter units with 184 PS, 211 PS and 245 PS, respectively. The C 400 4Matic gets a biturbo 3.0-liter V6 with 333 PS while the C 43 4Matic features a tuned version of the same engine that puts out 367 PS.
The 4Matic all-wheel-drive system is offered as an option on the C 220 d and C 200 while the C 400 and C 43 gets it as standard. As expected, the most economical model is the C 220 d Cabriolet, with 4.5 l/100 km over the European combined cycle. The fastest is the C 43 4Matic Cabriolet (no surprise here), which reaches 100 km/h from standstill in 4.8 seconds and has an electronically-limited top speed of 250 km/h.