It's also rear-wheel drive with Mazda Miata underpinnings and has about 115 hp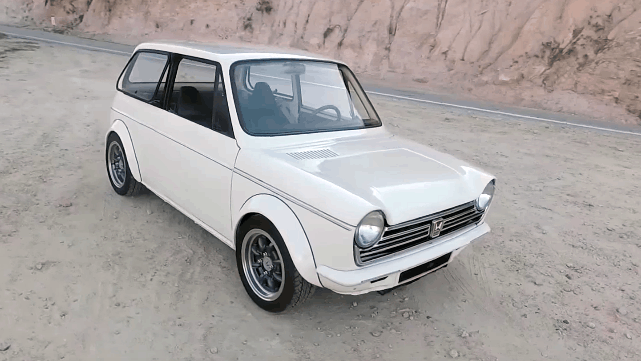 Classic Honda N600 city cars, built in the 1970s, are Japan's idea of a Mini and they are still quite popular. They tick the right boxes for those looking either at a classic city runabout, as well as those who want to go crazy with mods, as is the case here with this extensively reworked and engine-swapped example.
Modding it to the current state apparently took some five years in total in which time it gained first-gen Mazda Miata suspension and brakes, as well as the 800cc V4 heart from a Honda VFR800. All of the engine's 115 hp is sent to the rear wheels via the six-speed sequential bike transmission that's operated through paddles placed behind the steering wheel.
You still have to use the clutch to shift, but once you've gotten used to that, driving this car shouldn't really be that challenging. You just have to rev the nuts off it (it goes all the way to 12,000 rpm) and hold on, as Matt Farah did in this TST video. Judging by his reaction, this little bruiser is an assault on all the senses, but one you just don't want to end.