Toyota 86 and Chrysler Pacifica solve their differences at the drag strip
You may be tempted to dismiss this drag race as useless, but don't jump to conclusions just yet
The odds of seeing a Toyota 86 and a Chrysler Pacifica side by side at a stoplight are rather big. Both are popular choices in their respective segments, so they're built in high numbers.
Why would the driver of a Toyota 86 want to drag race a Chrysler Pacifica is another question, but the folks from Cars.com have a point here: if these cars were to get involved in a drag race, which one would win? For us, that's a legitimate reason to set up a duel and find out which of the two cars is quicker in a straight line. We won't spoil it for you, but you may be in for a surprise.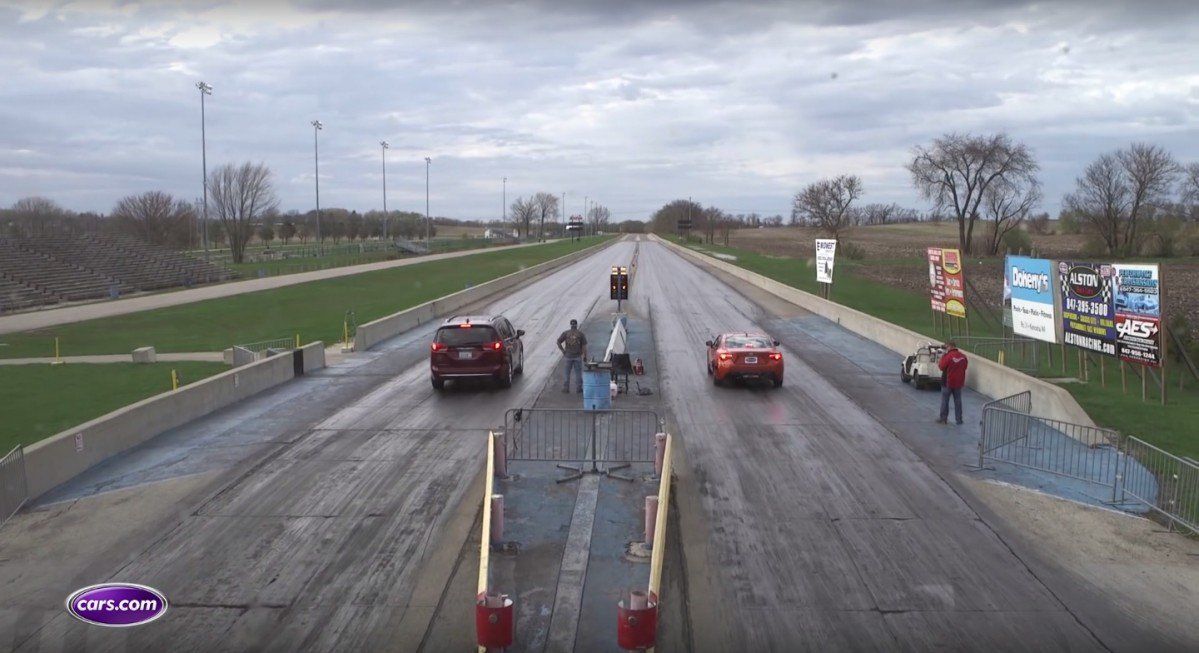 Before placing your bets, here are some essential facts about the two cars. The 2017 Chrysler Pacifica is powered by a 3.6-liter Pentastar V6 engine that delivers 287 hp at 6,400 rpm and 262 lb-ft (355 Nm) of torque at 4,000 rpm. The engine is mated to a nine-speed automatic transmission that sends power to the front wheels. But the most important thing to remember is that the minivan tips the scales at 4,330 lb (1,964 kg).
On the other hand, the rear-wheel-drive Toyota 86 with the six-speed automatic transmission weighs just 2,815 lb (1,277 kg) while packing a 2.0-liter flat-four engine that produces 200 hp at 7,000 rpm and 151 lb-ft (205 Nm) of torque at 6,400 rpm.
On paper, the 86 should bag this, thanks to a weight-to-power ratio of 6.38 kg/hp, compared to Pacifica's 6.84 kg/hp. After all, Top Gear chose the Toyota as their "reasonably-fast car" in the latest season. Does that make it quick enough to beat the Pacifica? Check out the video to find out. And if you like drag races with unexpected endings, this story has enough of them to quench your thirst.