Why don't all cars feature Nissan's Easy-Fill Tire Alert system?
The feature tells you when a tire is deflated and then when to stop inflating it
The most successful inventions are always the simple ones, and that seems to be the case with Nissan's new Easy-Fill Tire Alert system. It does what a typical tire pressure monitoring system does, but it doesn't just alert the driver about the loss of pressure.
When the driver starts inflating the tire, it also signals when the recommended tire pressure has been reached, eliminating the need for a handheld pressure device or looking up the correct tire pressure numbers. The car will simply honk to tell drivers when to stop filling the tire with air. If the tire is over-inflated, the horn will sound again, and the hazard indicators will flash three times, letting the driver know he or she will need to release some air (from the tires).
Nissan claims the feature allows under-inflated tires to be filled to the recommended pressure in about half the time compared to using a traditional tire gauge. You can see how Easy-Fill Tire Alert works in the following video, which Nissan also uses as a pretext to roast Honda. Ouch!
On a more serious note, low tire inflation is not only a safety risk for drivers but also costs them money due to premature tire wear and reduced fuel efficiency. According to the National Highway Traffic Safety Administration (NHTSA), four out of five consumers are driving with improperly inflated tires (either too much or too little air pressure). Driving with properly inflated tires would save those consumers as much as 11 cents per gallon on fuel and extend the life of a tire by 4,700 miles (7,564 kilometers).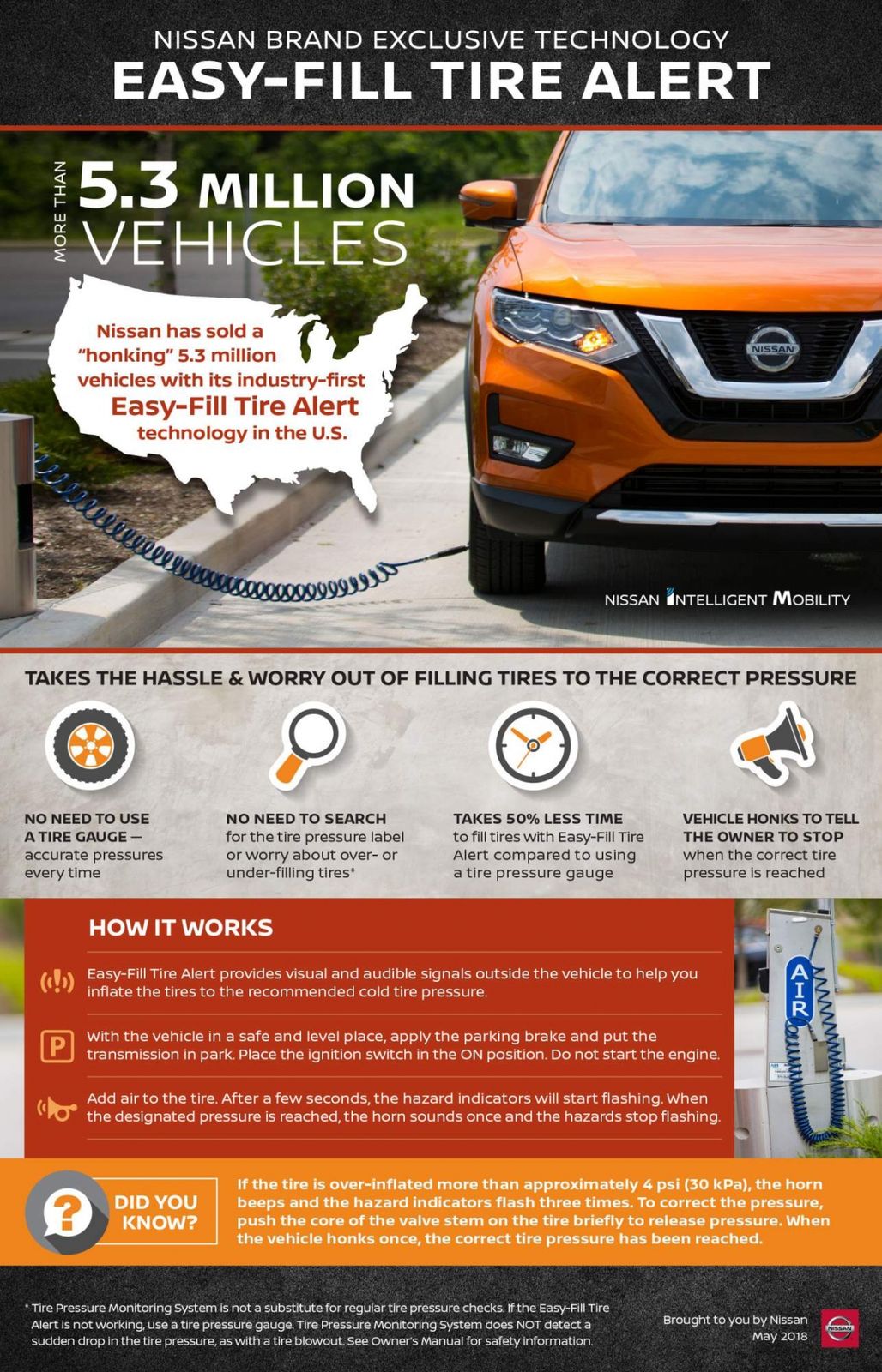 Nissan says it has already sold 5.3 million vehicles equipped with this system in the United States. Easy-Fill Tire Alert is a standard feature on the brand's most popular models, including the Rogue and the LEAF. In total, the system is available on 12 models: Altima, Armada, LEAF, Maxima, Murano, Pathfinder, Rogue, Rogue Sport, Sentra, TITAN, Versa and Versa Note.
READ MORE: One in four cars has tires that don't meet safety standards