A new niche is also born with it: the premium midsize pickup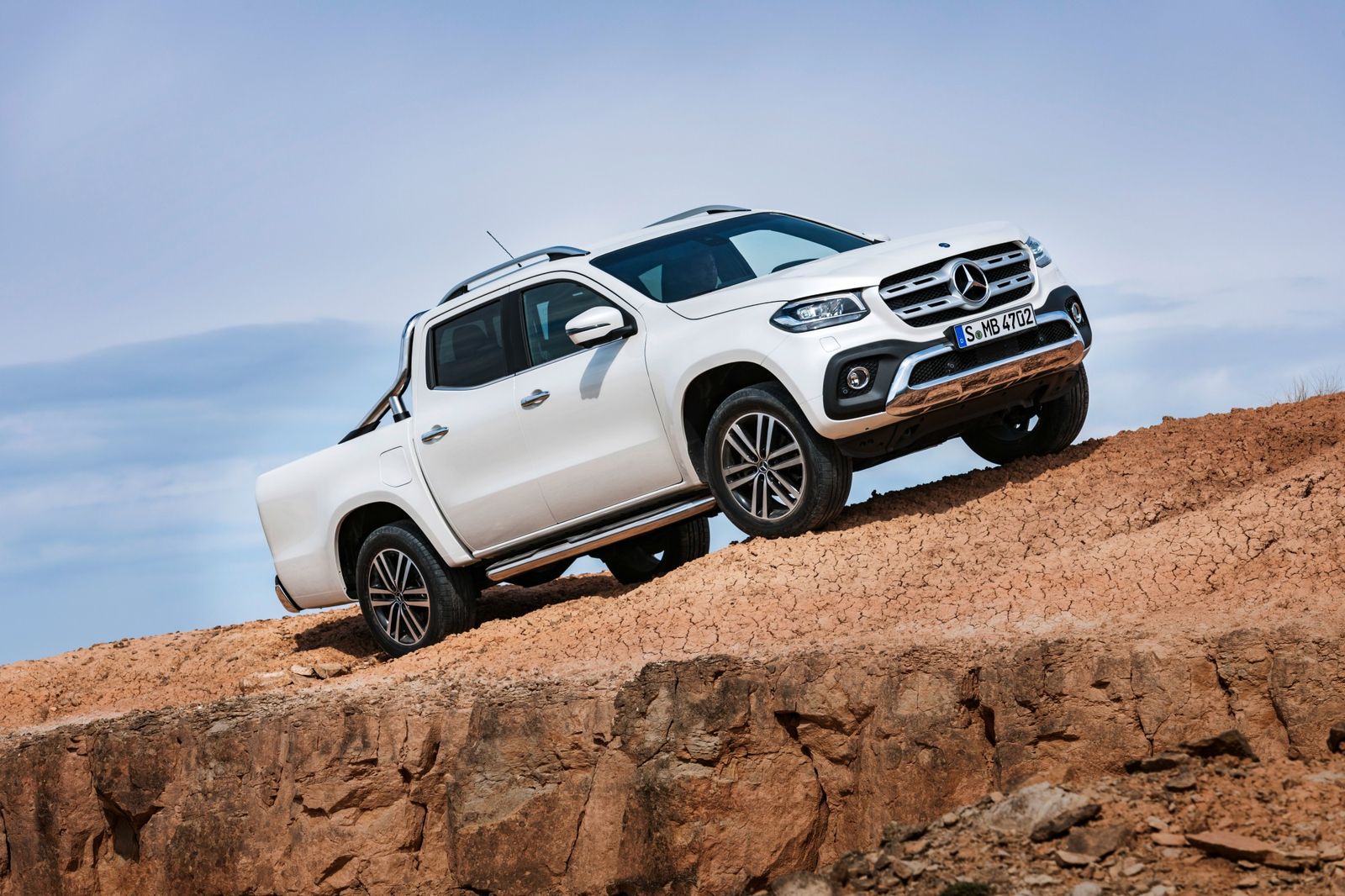 Mercedes-Benz finally lifted the curtains on their X-Class pickup in Cape Town, South Africa, after a year-long campaign that included a concept vehicle and the requisite teasers.
Ever since day one, Mercedes insisted that the X-Class will be a bearer of the brand's blazon, despite sharing its underpinnings with the less glamorous Nissan Navara NP300/Renault Alaskan.
Here comes the world's first premium #pickup: The #MercedesBenz #XClass! #XtraClass pic.twitter.com/Tmq9fWFBsG

— Mercedes-Benz (@MercedesBenz) 18 July 2017
Daimler CEO Dieter Zetsche called it "the Superdad or Supermom of cars" but also a "cowboy." But before we get to draw a proper conclusion, here's what the Mercedes-Benz X-Class pickup is about.
Their first appearance in public in #CapeTown: That's how the world's 1st premium pickups look like: the @MercedesBenz #XClass! #XtraClass pic.twitter.com/f5Z8NUvSnE

— DaimlerTruckBusVan (@Daimler_CV) 18 July 2017
The X-Class can carry a payload of 1.1 tons (2,430 lb) – in Mercedes-Benz's literature, that's exemplified as "17 full 50-litre barrels of beer in the cargo area" – and brags with a towing capacity of up to 3.5 tons (7,720 lb). Drivers have two means of handling engine resources: a six-speed manual gearbox or a seven-speed automatic transmission.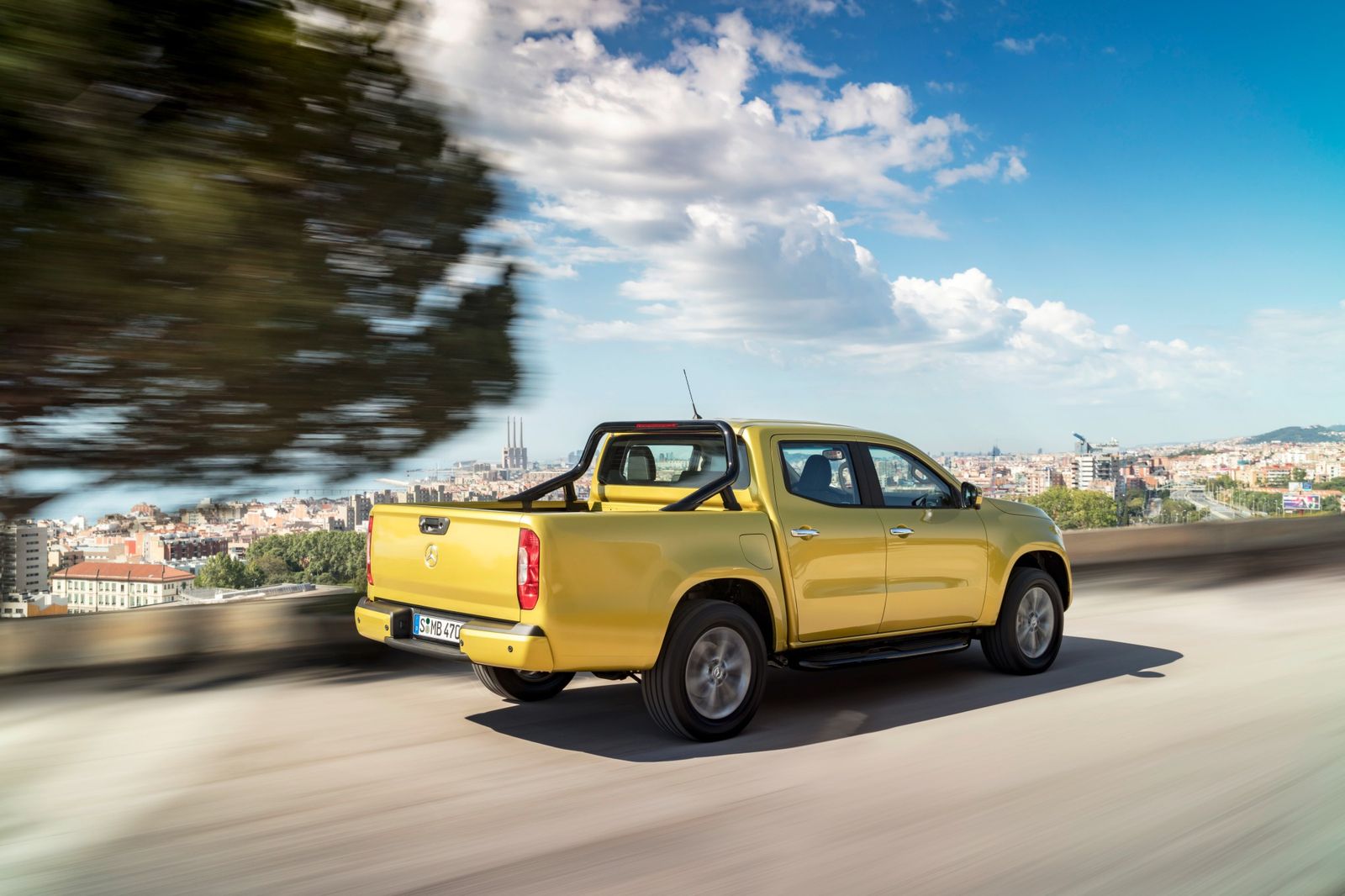 Speaking of engines, the powertrain lineup for the Mercedes-Benz X-Class pickup looks like this: four engines and three drive systems. The diesel club consists of a 2.3-liter inline-four unit fitted with a single turbo (X 220 d) for 163 hp or two different-size turbos (X 250 d) for 190 hp. No word about an AMG version, but don't get your hopes up because such an iteration is unlikely.
Now available in our content webspecial: a wide range of pics, footage and infos on the new @MercedesBenz #XClass! https://t.co/YEt0JLiyTD pic.twitter.com/UrzGLiV8bp

— DaimlerTruckBusVan (@Daimler_CV) 18 July 2017
However, Mercedes will offer a diesel V6 (mid-2018) with 258 hp and 550 Nm on tap inside the range topping X-Class X 350 d. The powerplant will be exclusively available with the brand's seven-speed 7G-Tronic Plus automatic gearbox and permanent all-wheel drive.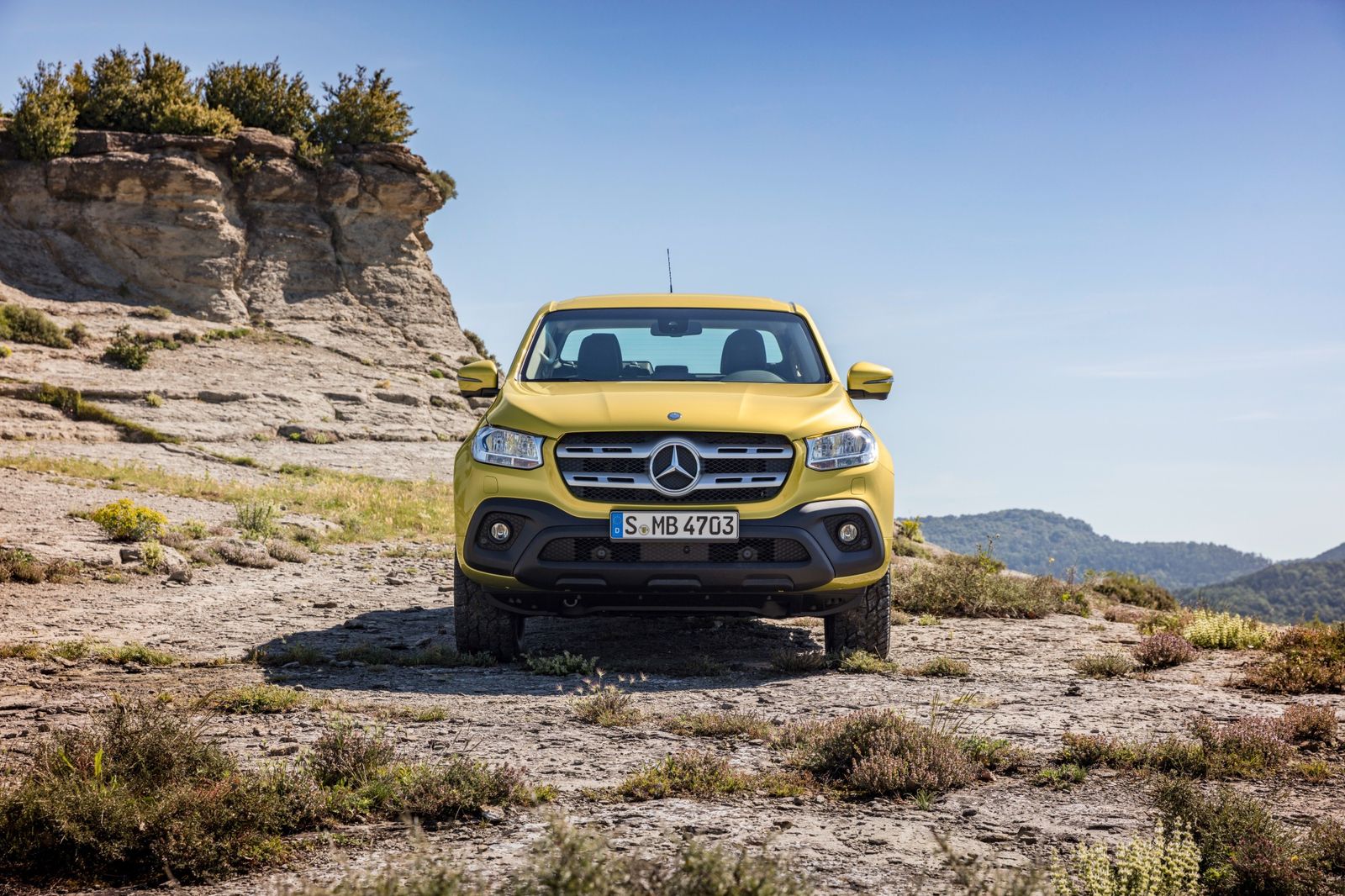 "The segment for mid-size pickups is ripe for a premium vehicle. With the X-Class we will open up this segment to new customer groups, just as we redefined the off-road segment with the M-Class more than 20 years ago. Our pickup convinces as a workhorse, yet also as a family and lifestyle vehicle. In short, the X-Class is the Mercedes among pickups."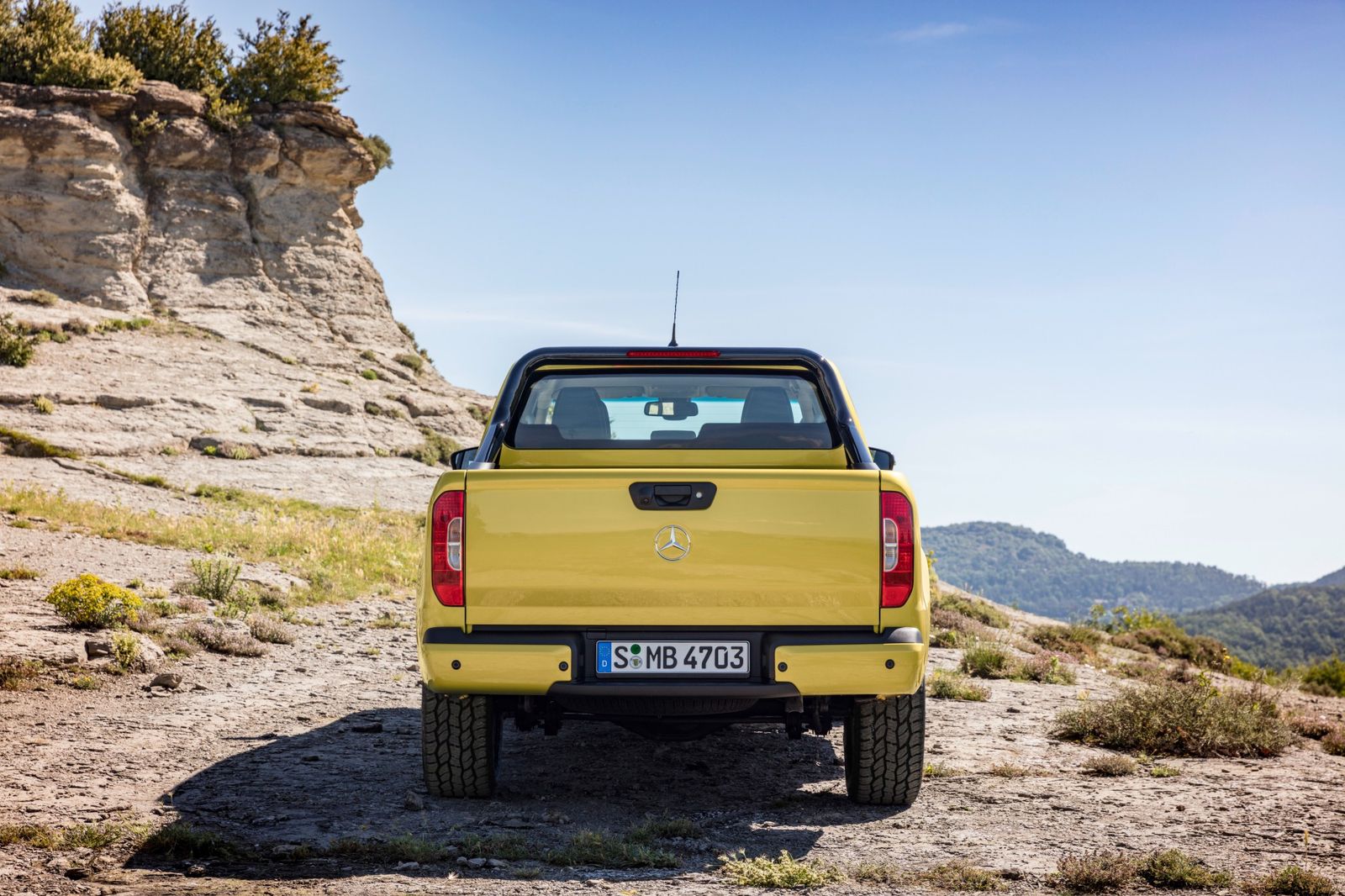 The gasoline camp is represented by an inline-four powerplant with 165 hp on tap (X 200), only available as a left-hand drive vehicle with rear wheel drive – that's because Mercedes had to meet market requirements in Marocco and Dubai.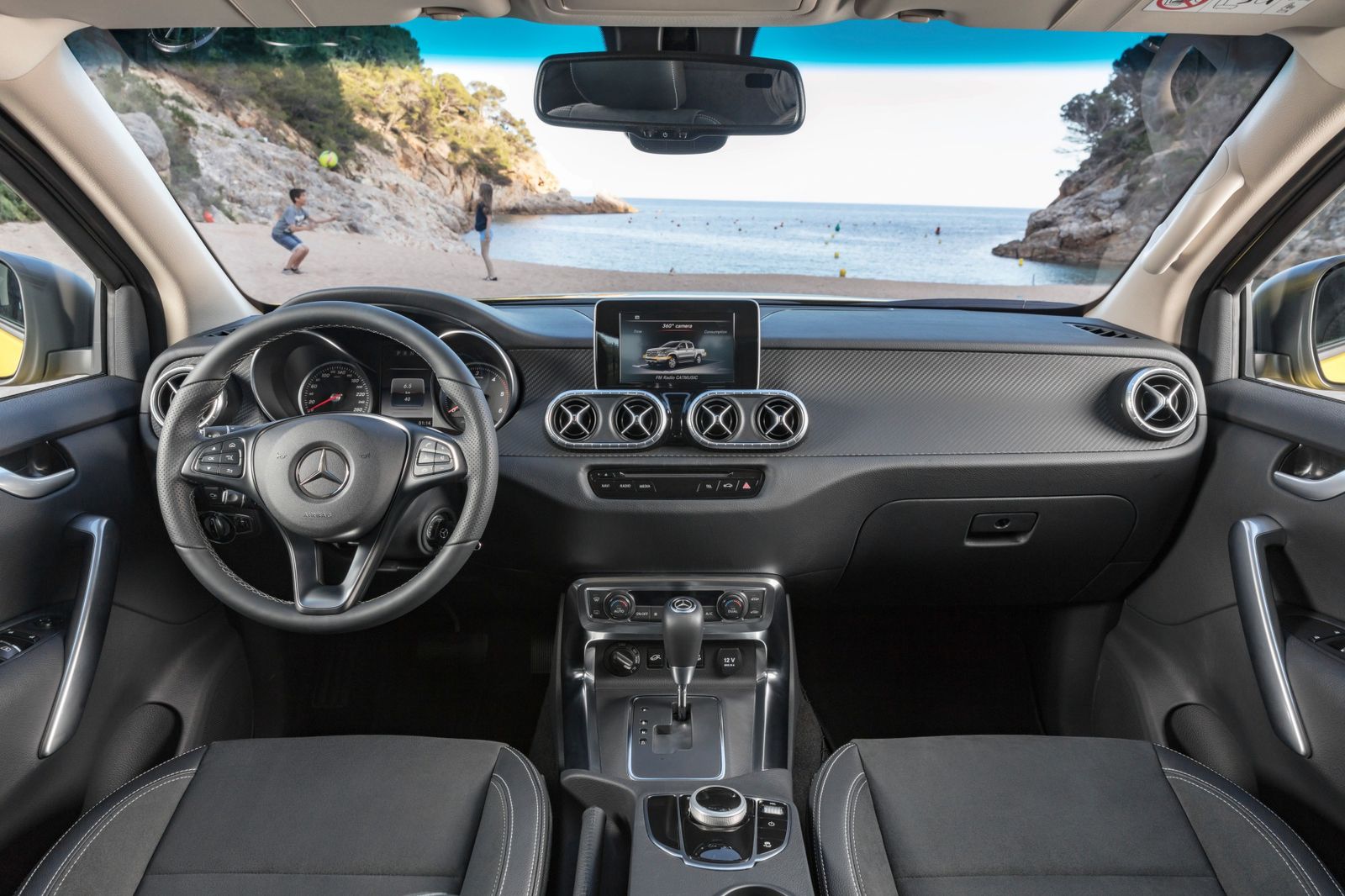 Depending on trim, the X-Class offers rear-wheel drive, selectable all-wheel drive or permanent all-wheel drive (the latter will also arrive mid-2018).
Users will be able to alter the drive program via MB's Dynamic Select feature by choosing one of the five availalbe modes: Comfort, ECO, Sport, Manual and Offroad.
Here it is, Merc's long awaited #XClass bakkie. pic.twitter.com/EfzCbfzE4J

— Jason Woosey (@JasonWoosey) 18 July 2017
Three designs and trim levels are available – Pure, Progressive and Power, each customizable via various additional equipment and features: running boards and even a power sliding rear window. Furthermore, nine exterior colors are at the customer's disposal, together with wheel options varying from 17 to 19 inch.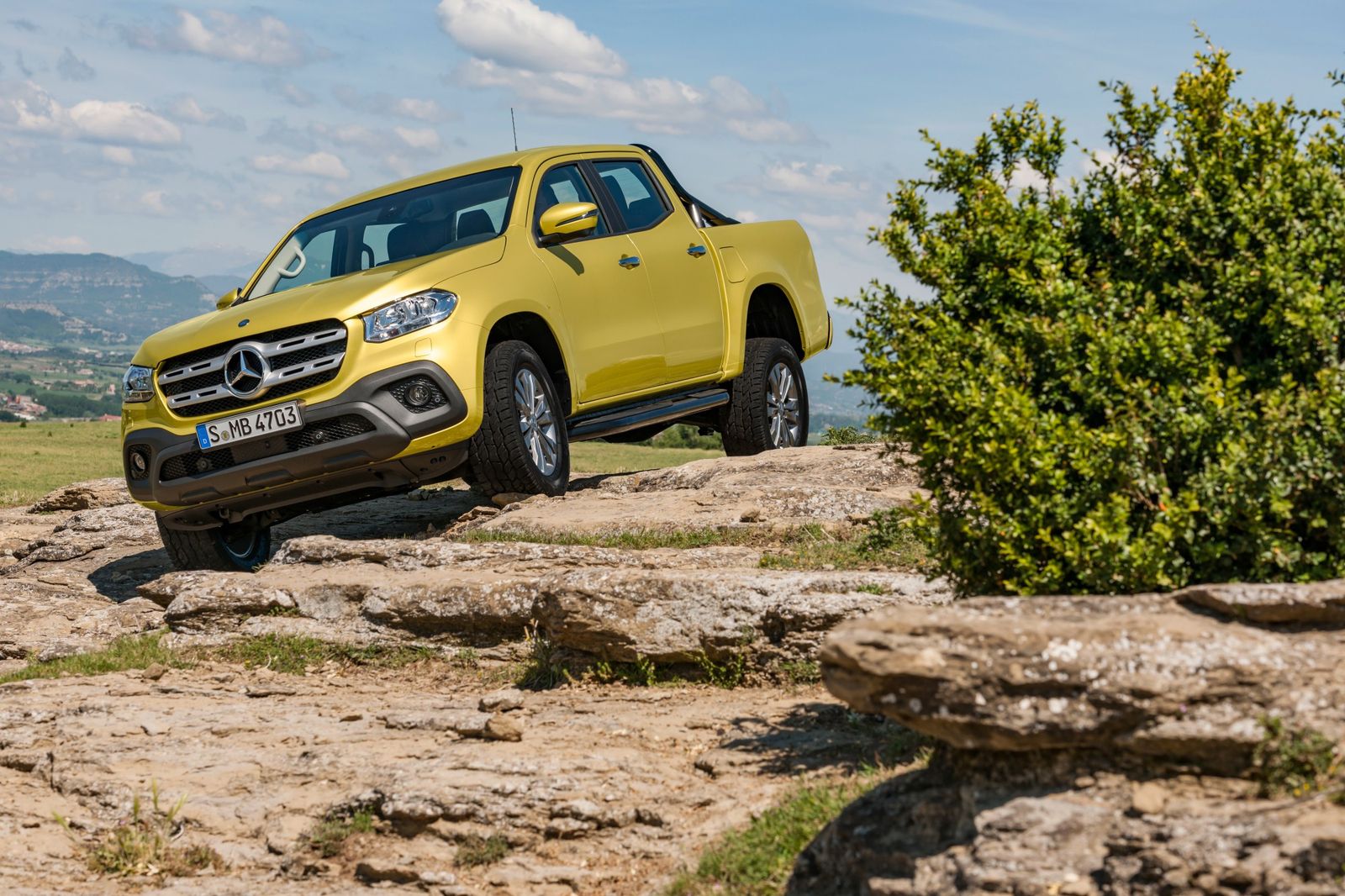 Back in October 2016, MB's concepts showed a rugged off-road-ish version accompanied by a more polished variant, probably something they believe people might use to get to the opera, a philosophy that has been trasferred to the production models as well.
Here we are! #xclass @MercedesBenz_SA @MercedesBenz pic.twitter.com/45ZMSPlSUC

— Charleen Clarke (@womanonwheelsza) 18 July 2017
Inside, the new X-Class borrows cues from both the C-Class and the V-Class. Besides the familiar cues, Stuttgart fitted the cabin with wear-resistant materials, without overlooking the tech part. The V-Class also lends Mercedes' 8.4-inch infotainment system positioned on top of the center console. Garmin-sourced navigation is also available throughout the range.
What's more, mid- and higher-range models additionaly get a 5.4-inch digital display between the speedometer and tachometer.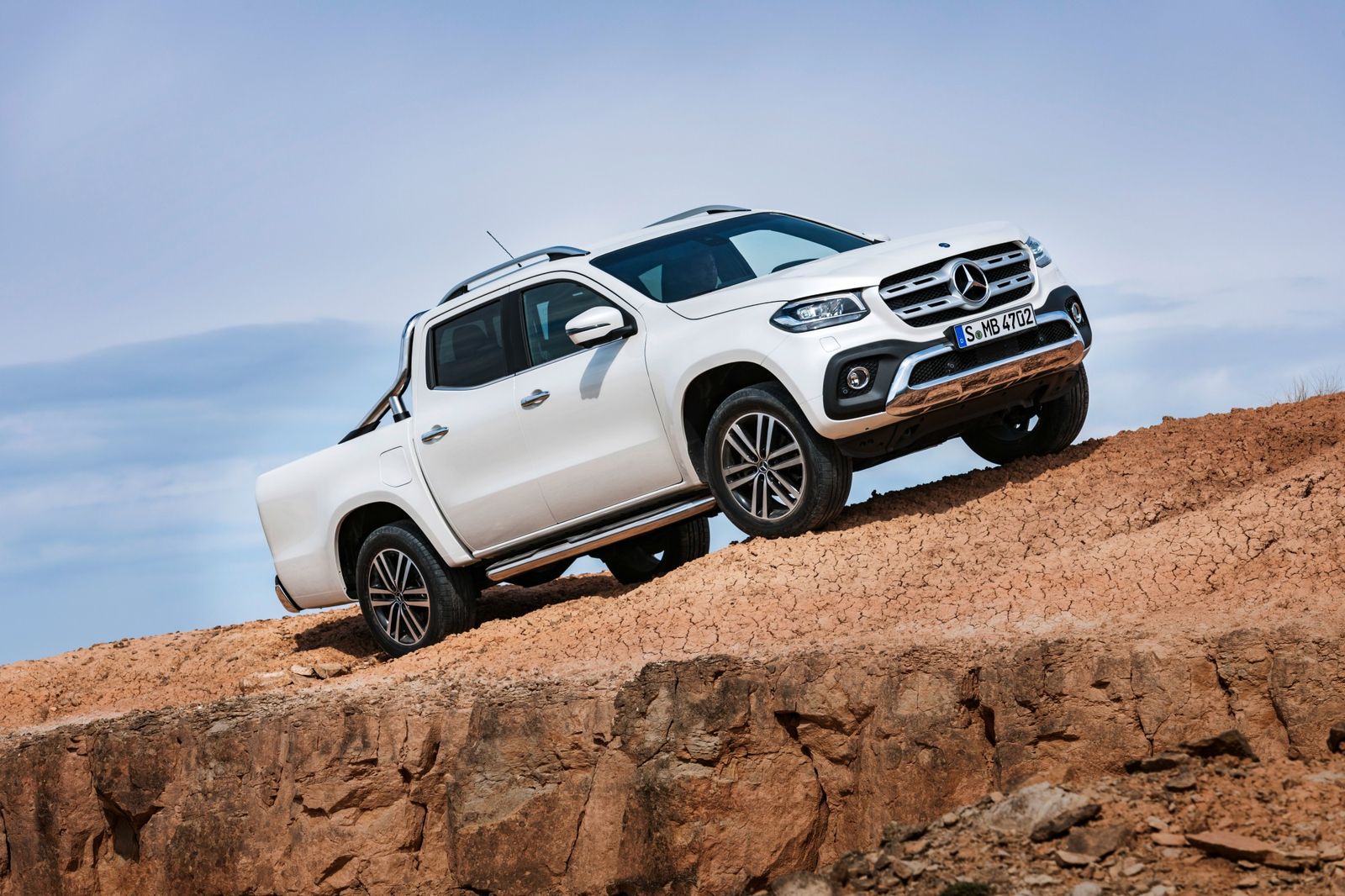 In Germany, the X-Class pickup starts at €37,294 (including VAT). Mercedes-Benz will split the X-Class assembly tasks between the Nissan's plant in Barcelona which will build the pickup for the European, Australian and South African markets, while the Renault plant in Cordoba, Argentina, will build the X-Class targeted at the Latin American Market.
The first cars are expected to reach customers in January 2018.