With looks to die for, the latest generation Ford Mustang is supposed to be more of a sports car and less of a pony car
Overall Score 76/100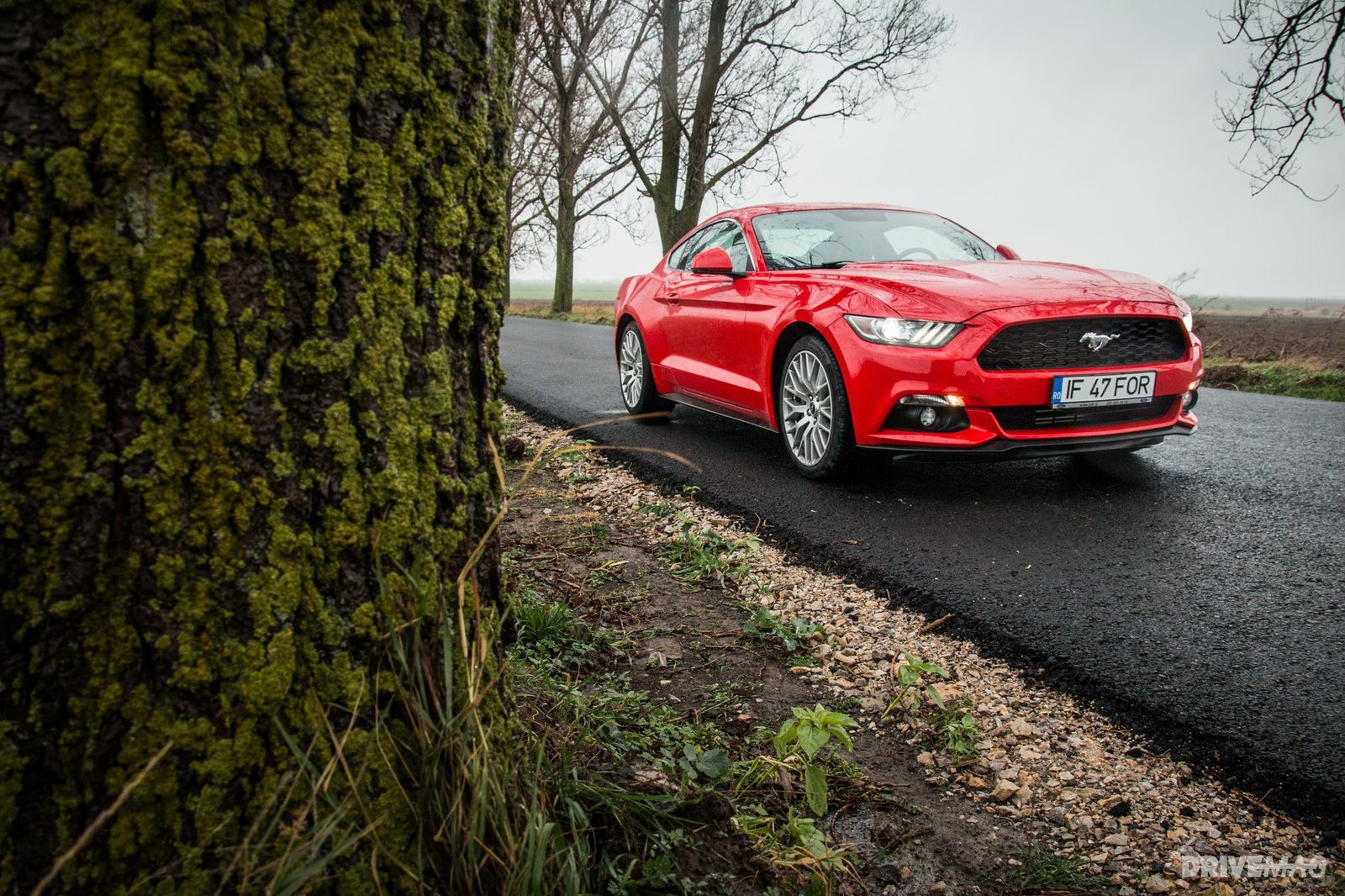 With looks to die for, the latest generation Ford Mustang is supposed to be more of a sports car and less of a pony car. In other words, it should be better than ever on twisty roads with its independent rear suspension, while retaining the iconic Mustang look. We put it to the test in the Romanian Danube Delta to see what's what.
---
IN BRIEF
RECOMMENDED FOR:
Managers, Young And Single
BANG FOR THE BUCK:
Excellent
---
DRIVE
Powertrain 7/10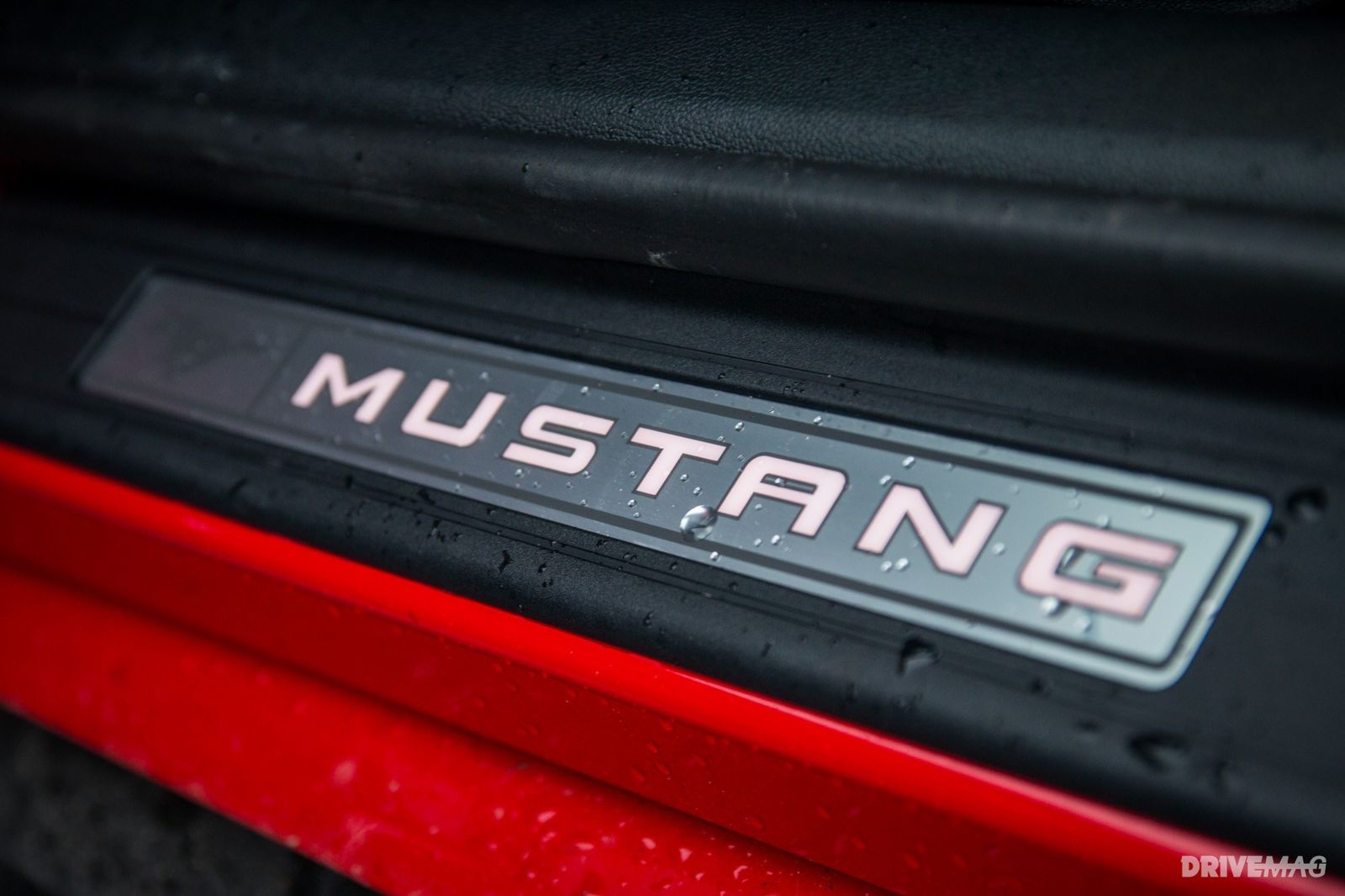 The new Ford Mustang is available with three engine choices in the United States, starting with a 300 hp 3.7-liter V6 as a base package, and then climbing up the ladder to an all-new 2.3-liter inline-four turbo EcoBoost unit, with a 5.0-liter V8 pushing 435 horsepower to the rear wheels waiting at the top of the regular power chain.
I drove the 310 hp 2.3-liter EcoBoost variant with a six-speed manual transmission (an automatic with paddle shifters is available as an option), and I have to say that I was intrigued. Sure, few things come close to the sweet burble of a V8, but for an everyday car, I think the 310 hp Mustang is a winner.
There's a Sport+ mode and a Track mode, and the car does feel a bit nimbler when switching between Normal and the other two. Also, you get a mode for winter driving or wet conditions.
The gear shifter has a short, confident throw, and it will obey your madness each and every time you choose to have a little fun with it.
There's enough punch at low revs to cruise quietly around town, and when you want to open the taps on the highway, the four-cylinder EcoBoost complies very nice. A little too nice, if you ask me, though, because I think that once you put your bum on the driver's seat of a Mustang, you expect an explosion of joy and excitement, but in the EcoBoost the explosion is left to be desired.
Don't get me wrong, the car is reasonably fast, with a 0-62 mph time of 5.8 seconds, and imperceptible turbo lag. It's just that when you want to unleash hell – well, it won't be up to it. Also, the enhanced engine note that's funneled towards you through the speakers is unimpressive and a bit tinny at times, which is another joy buster when accelerating hard through bendy tarmac bits.
If you want to get a sweet engine note, you have to go for the 5.0-liter V8, which will put a grin on your face every time you press the throttle with confidence. As an added bonus, of course.
However, keep in mind that a lot of people won't have any idea about what's under the hood of your car, so going on looks and practicality alone, the EcoBoost will fulfill your daily needs without skipping a beat.
---
Handling 7/10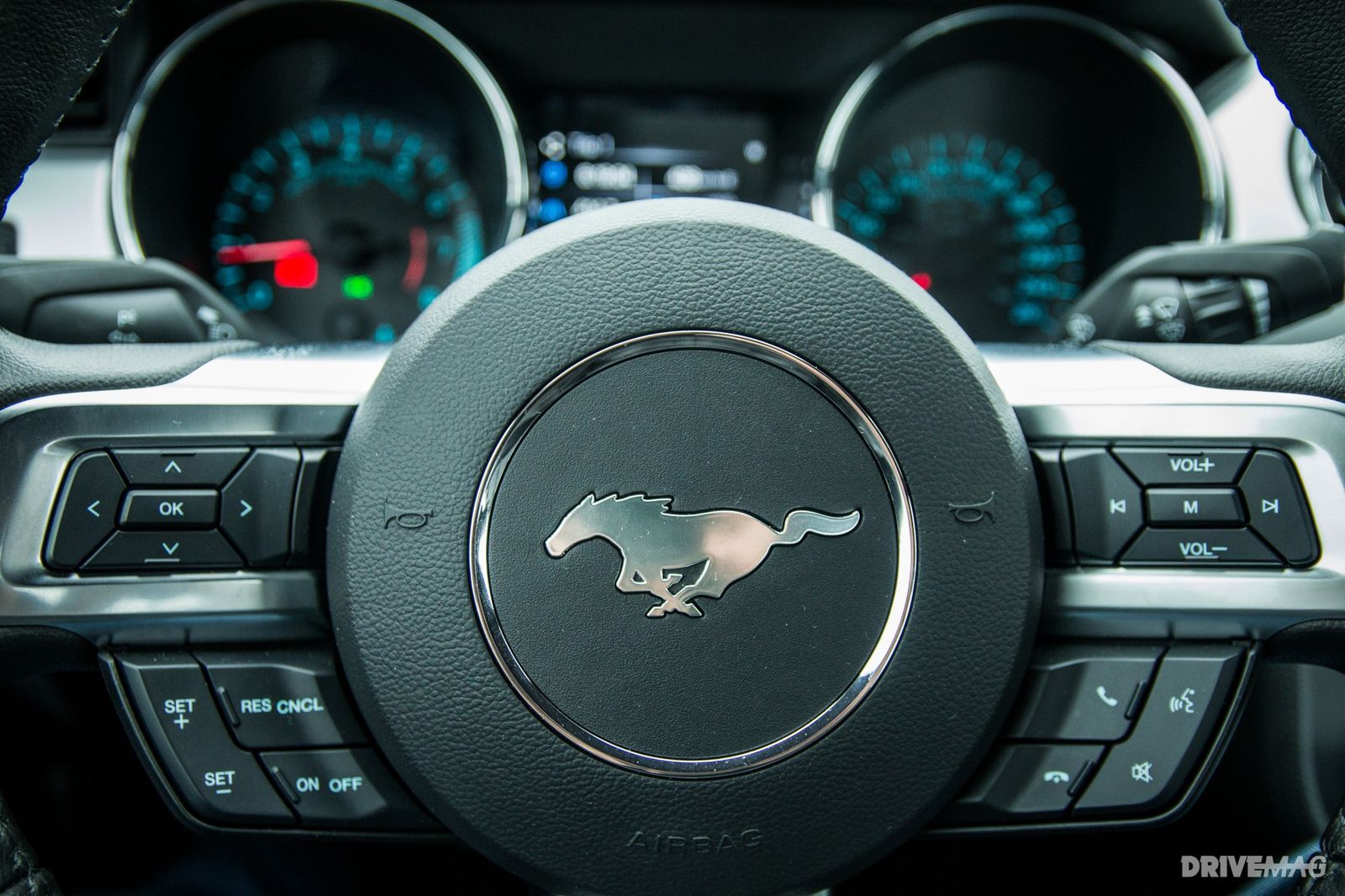 With its independent rear suspension setup, the new Mustang is like a space ship compared to Mustangs of old that had a live axle. The car sits well on the road and isn't afraid of curves, which couldn't be said about previous generations.
There's a tiny bit of body roll, but it's nothing to worry about, and the suspension manages bumps in the road superbly. Actually, I didn't have any issues driving the thing on dirt roads either, which wasn't something I thought I could do with peace of mind.
Weighing in at 3,532 lbs. (1,602 kg), this isn't a light car, and it feels heavy when braking hard before corners. Also, there's quite a bit of inertia when stepping off the gas pedal.
The steering is the Mustang's biggest flaw, if you ask me. It's alright for cruising on highways and around town, but it feels numb and doesn't inspire confidence when driving hard around corners, even in the Sport+ mode.
This, then, is a serious grand tourer, with looks that turn a million heads, especially when you're driving one painted bright-red like I did.
---
Safety 8/10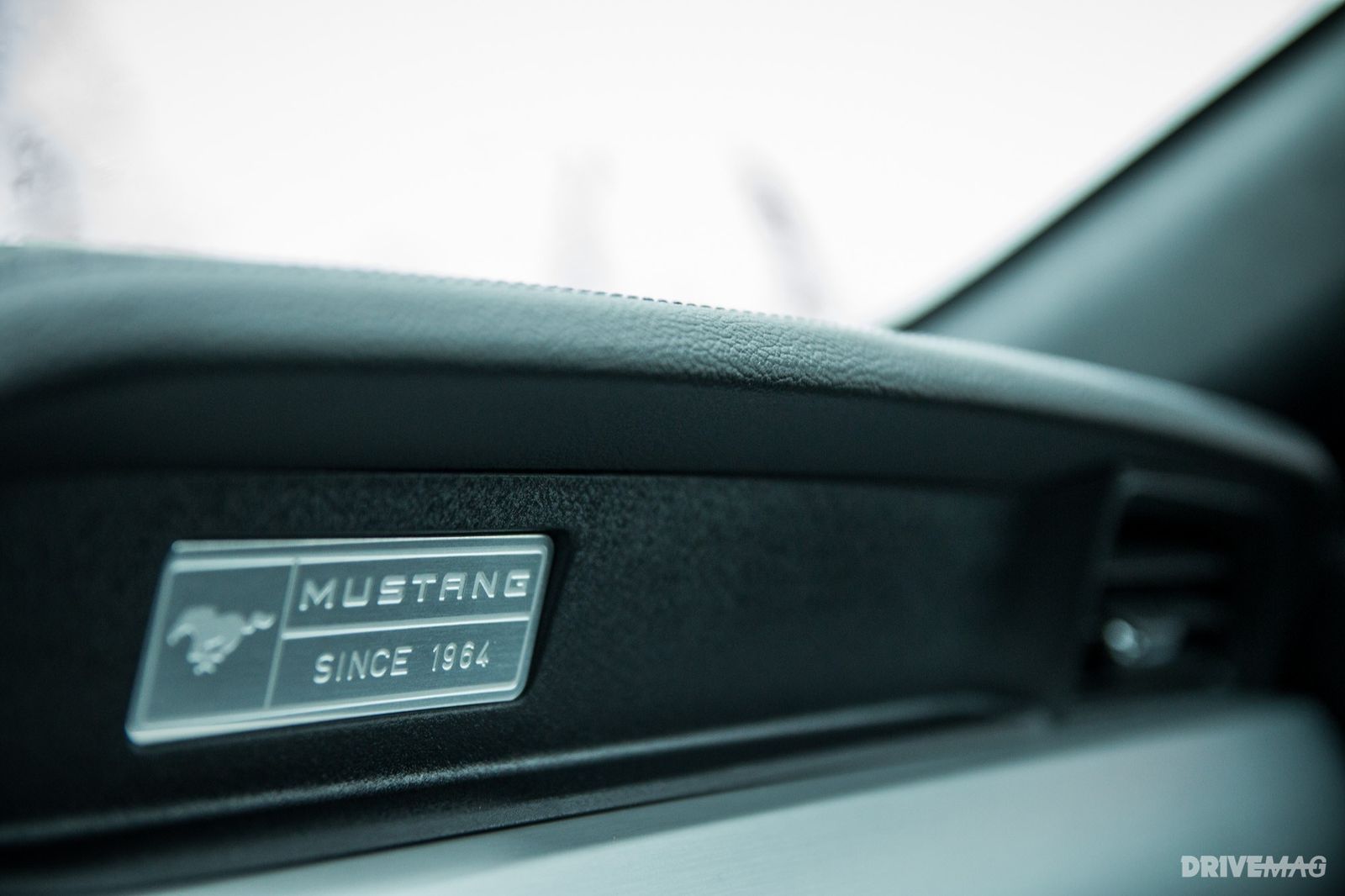 The 2015 Mustang comes with front, side and curtain airbags as standard, as well as a knee airbag for the driver. Also, it can be equipped with blind spot monitoring with cross-traffic alert, adaptive cruise control, and rain-sensing windshield wipers.
The latest generation Ford Mustang has not yet been tested by the NHTSA or Euro NCAP for accident safety, and it can't be fitted with automatic emergency braking.
Visibility is good all-around, the only problematic area being the rear pillars. Other than that, everything is as it should be, although I have to make a suggestion: dear Ford, put a wiper on the rear window because when you're driving through heavy rain in slow moving traffic, water builds up on the glass and it's really hard to see outside.
---
INTERIOR
Comfort 7/10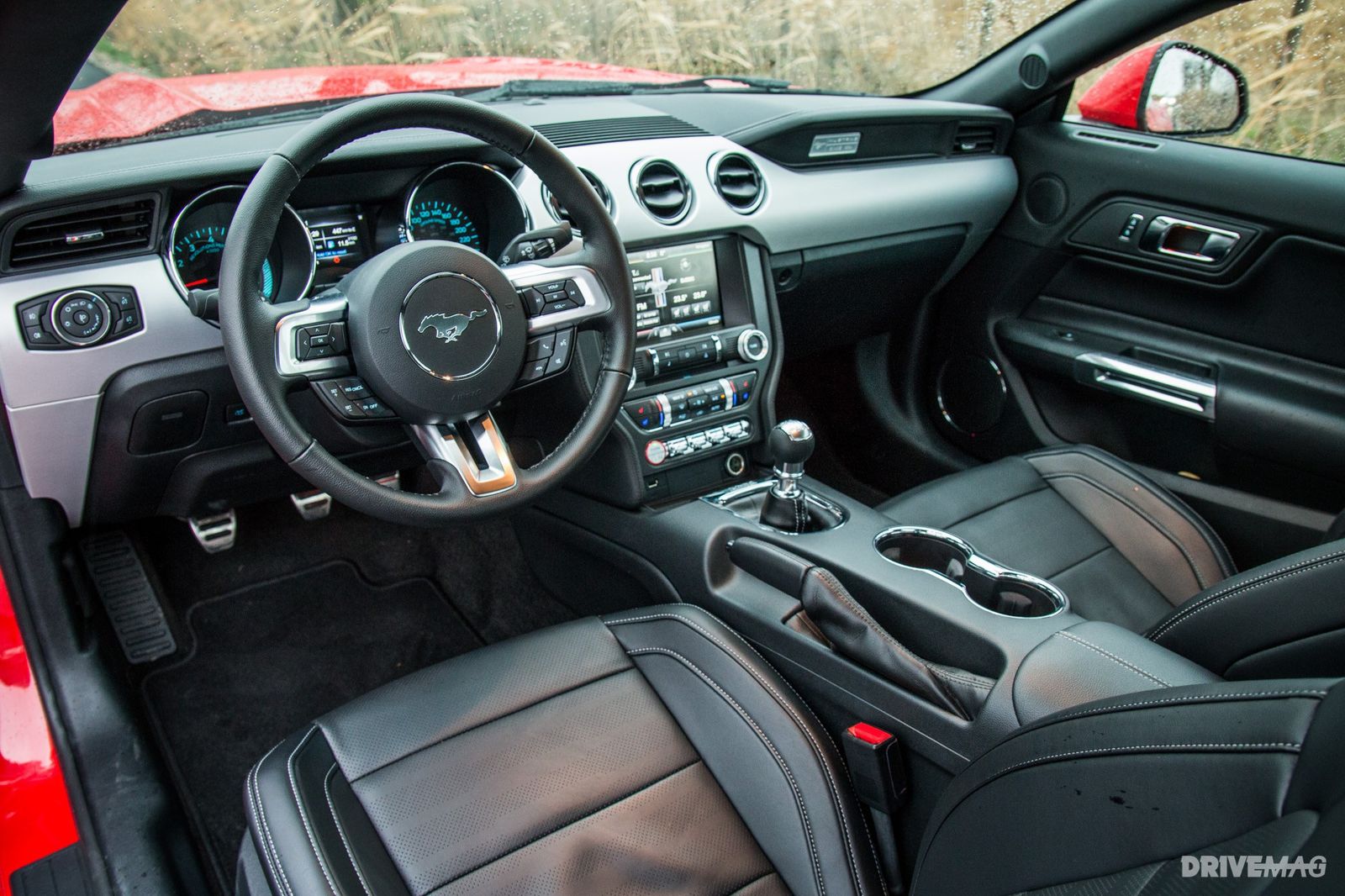 The cabin is spacious, considering the fastback body style, and the front seats should be comfortable enough for most people. However, after a couple of hundred miles, I found that my back wasn't feeling too well – not enough to pull over and catch a breath, but I did have to adjust the lumbar section to feel better. You may not have this problem, but I put it out there so you know it can get a bit painful if you have a dodgy spine.
Noise insulation is great, with little of it getting inside the cabin at high speeds.
---
Quality 8/10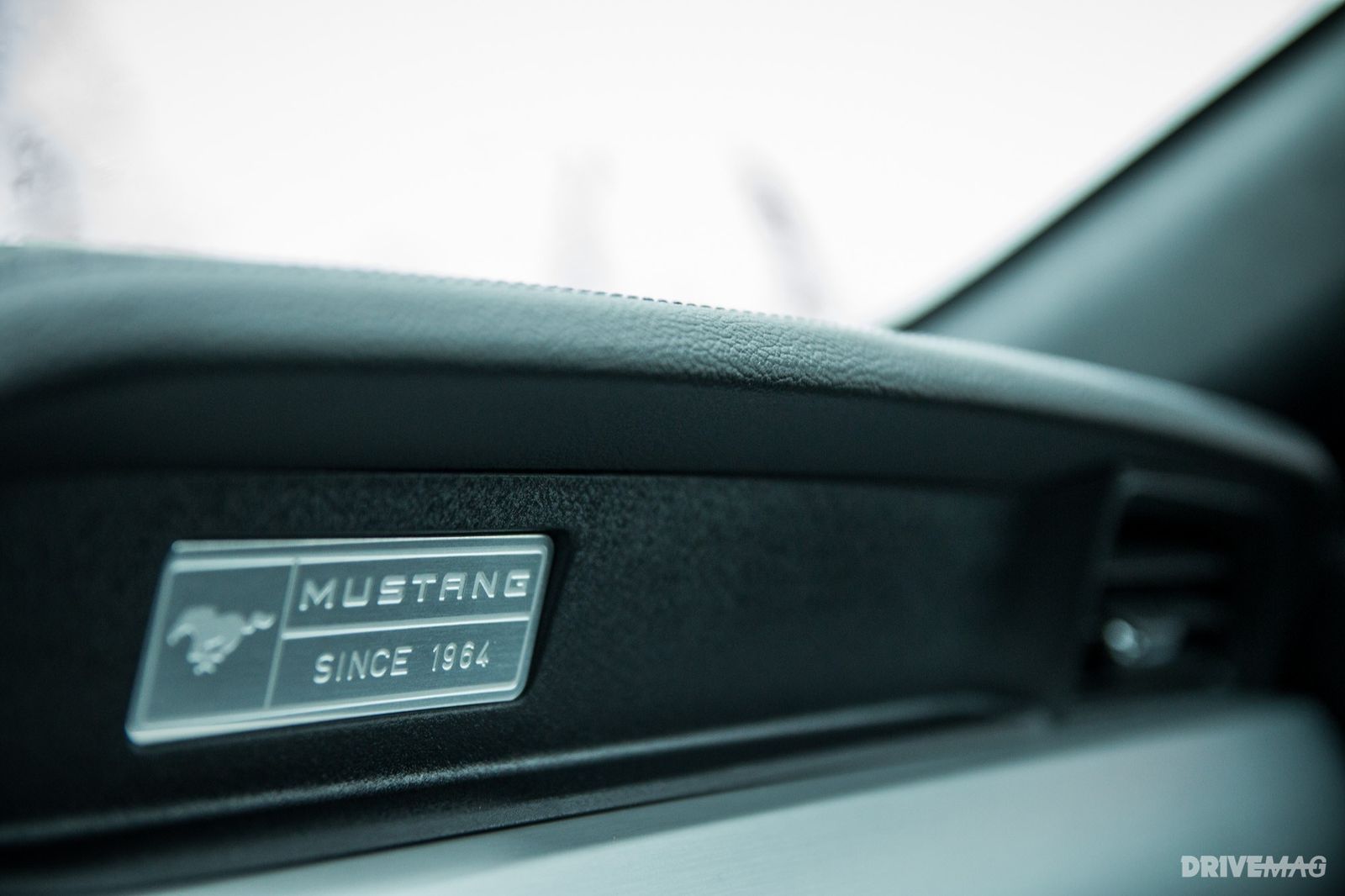 The materials and build quality are great, considering the price tag. There are soft touch plastics just about everywhere you look, and the faux-aluminum trim looks and feels right.
There are still some quirks, though – like the knock-off plastic "stitching" found around the center console – but as a whole it's everything you could hope for in an American coupé.
---
Practicality 8/10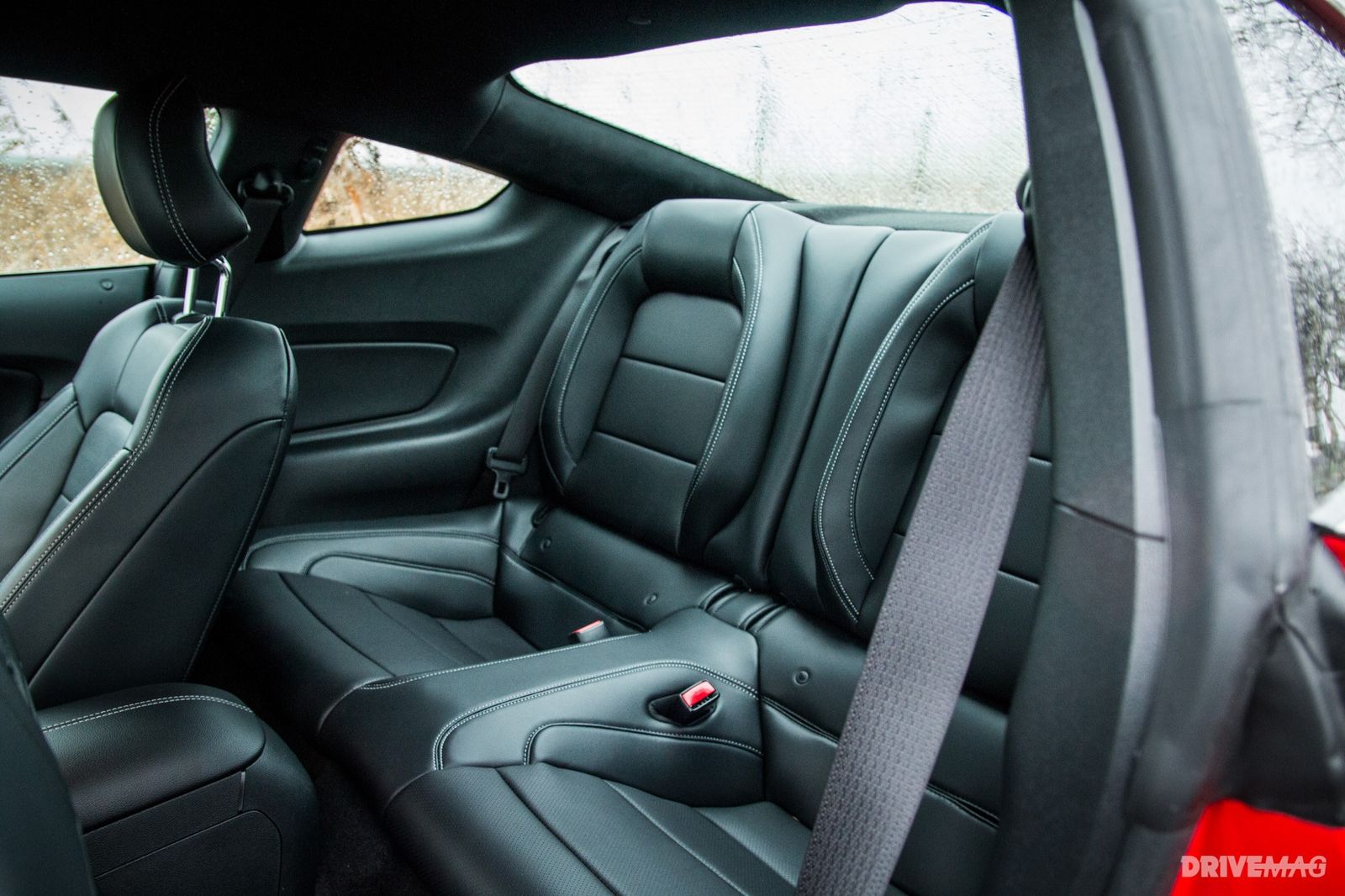 The leather front seats offer just enough space for fit drivers, but could prove problematic for those who have wide hips.
There are door bins that can fit a small water bottle each (on its side) and some other small stuff, and two cup holders on the center stack. Also, you get a hidden drawer to the left of the steering wheel, where you could put your keys.
The rear seats are okay for two children or small adults, but that's about it because the raked glass cuts hard into the headroom, and legroom is at a premium if those sitting in front are taller than average.
Under the trunk lid lies an impressive 13.5 cu-ft (408 liters) of cargo space, where we were able to fit our quadrocopter and our luggage, so yes, it's definitely a good car for long journeys.
---
Infotainment 8/10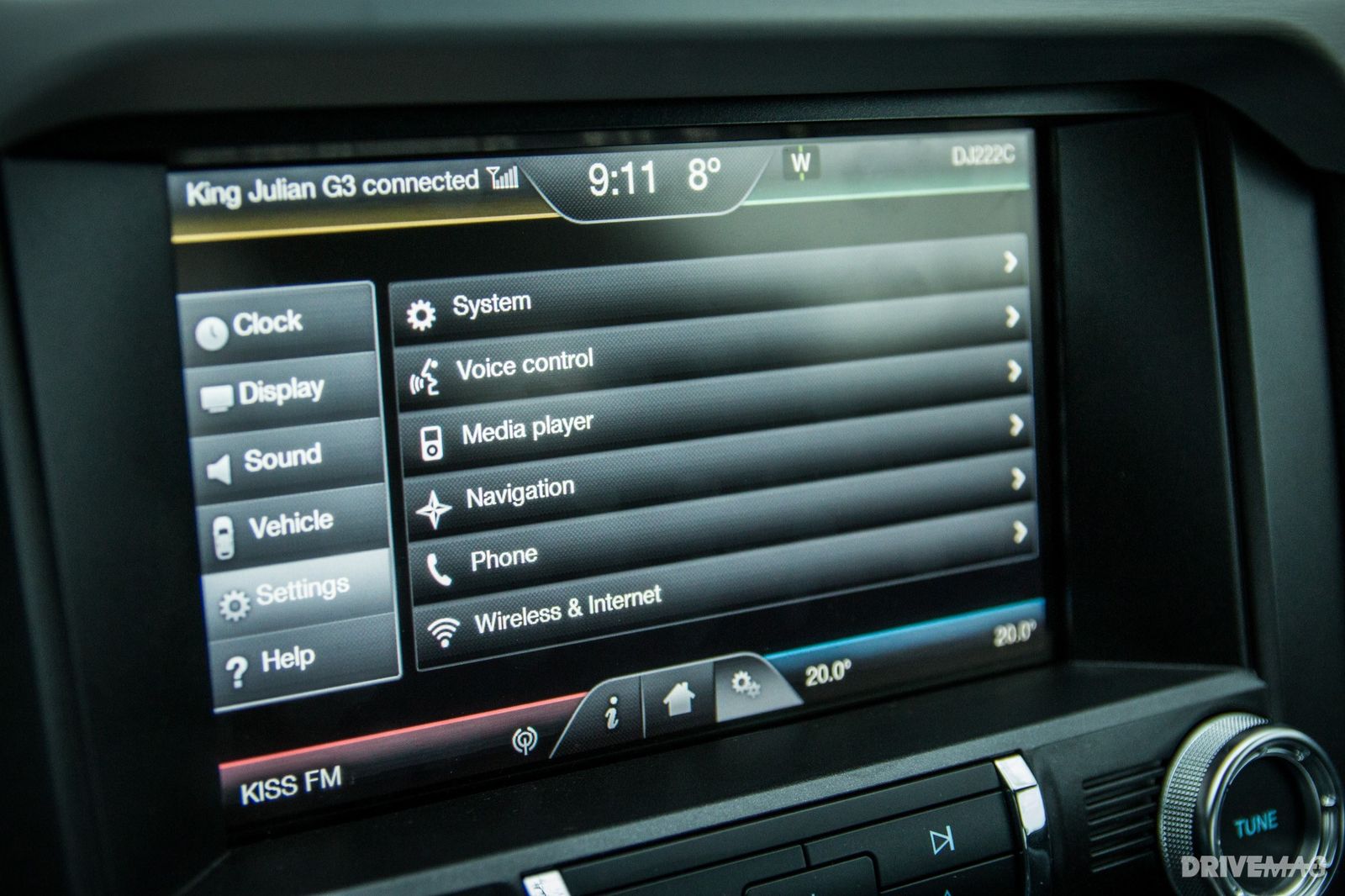 The 2015 Ford Mustang comes with Sync2 that can be fitted with GPS navigation, voice-activated controls and a tight integration with your smartphone. It works very well, with fairly well laid out controls and one of the best voice control systems in the industry.
But it's not perfect. The animations are laggy sometimes, and you have to press too many buttons to do simple tasks like calling someone in your address book. All of this should be sorted out with the next-generation Sync3, though, that can be fitted on the 2016 model year Mustang.
---
BUDGET
Efficiency 7/10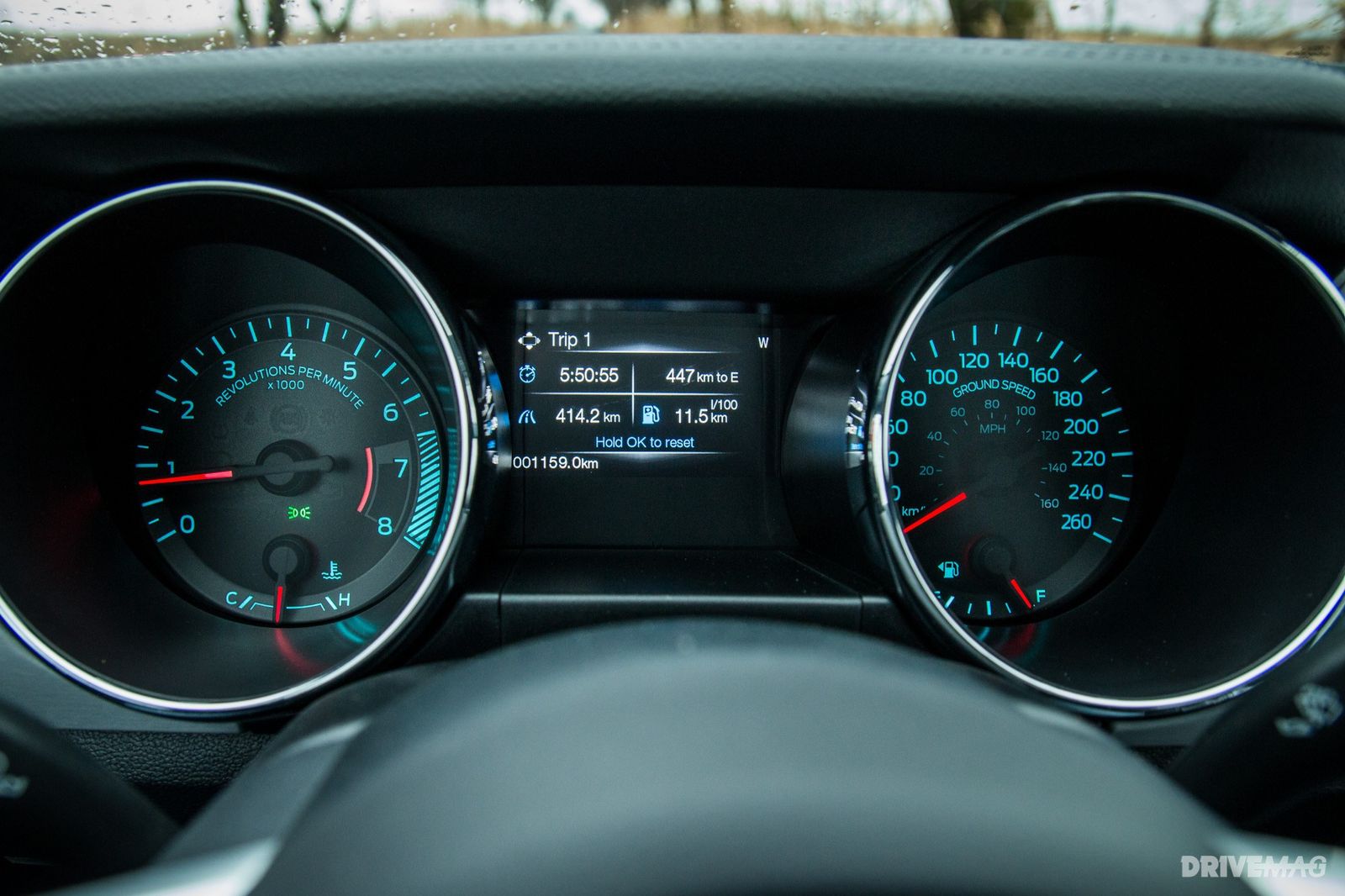 In theory, the EcoBoost gets 22 mpg City and 31 mpg Highway, which I found to be fairly accurate, with a combined fuel economy of about 21 mpg after three days of hard driving on curvy roads and around town. But still, I think it could be better for an engine that's only 2.3-liters. In comparison, I got the same fuel economy with a BMW M4 in similar conditions, but that has a 3.0-liter engine and more power.
---
Equipment 7/10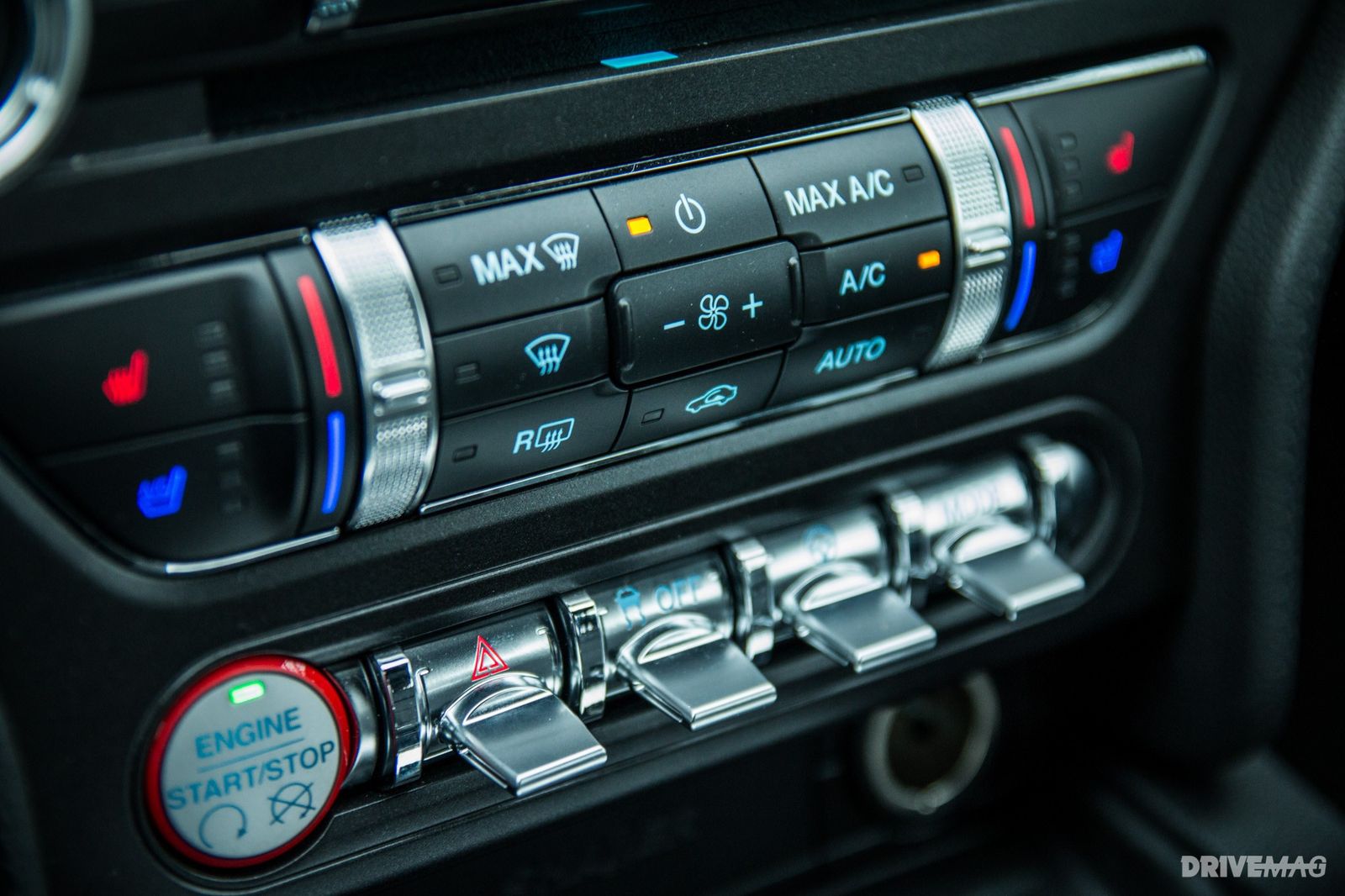 In the United States, the Mustang EcoBoost comes with standard equipment that includes cloth seats, power windows, cruise control, a CD-player with MP3 and Bluetooth capabilities, leather-wrapped steering wheel, manual air conditioning, a six-speed manual transmission, and 17-inch aluminum wheels.
It's a comprehensive kit that can be improved with the Premium package that comes with a 9-speaker audio system (the base one has six), GPS navigation with voice control, dual-zone automatic air conditioning, 18-inch rims, and leather upholstery, among others.
---
Acquisition 9/10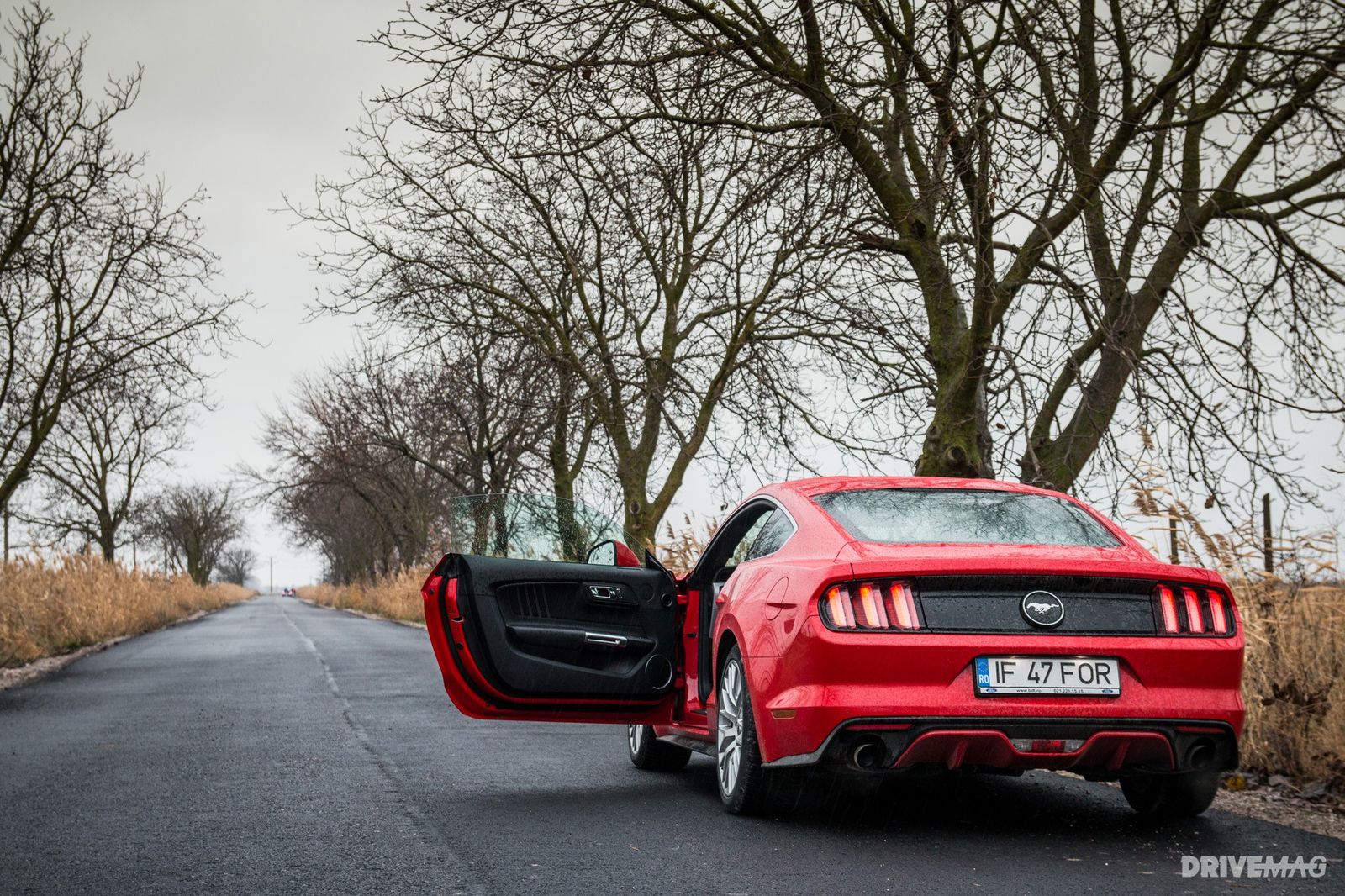 Even if you unleash the optional extras, you should be able to keep the price under $35,000, and that's just a ridiculously low amount of money for such a car.
In Europe, prices are significantly higher than in the States – in Germany, but even still it's much cheaper than any BMW 4 Series or Audi A5.
The latest generation Ford Mustang is a great cruiser with killer looks, and it can manage not only straight roads, but the bendy stuff as well. The steering isn't perfect, but it more than makes up for it with a huge trunk and bags of character.
Photo credit: Iulian Dnistran, Ionuț Ivana