The Chuck Norris of pick-up trucks is back with more tech, a meaner face, and no-nonsense industrious temper
Overall Score 72/100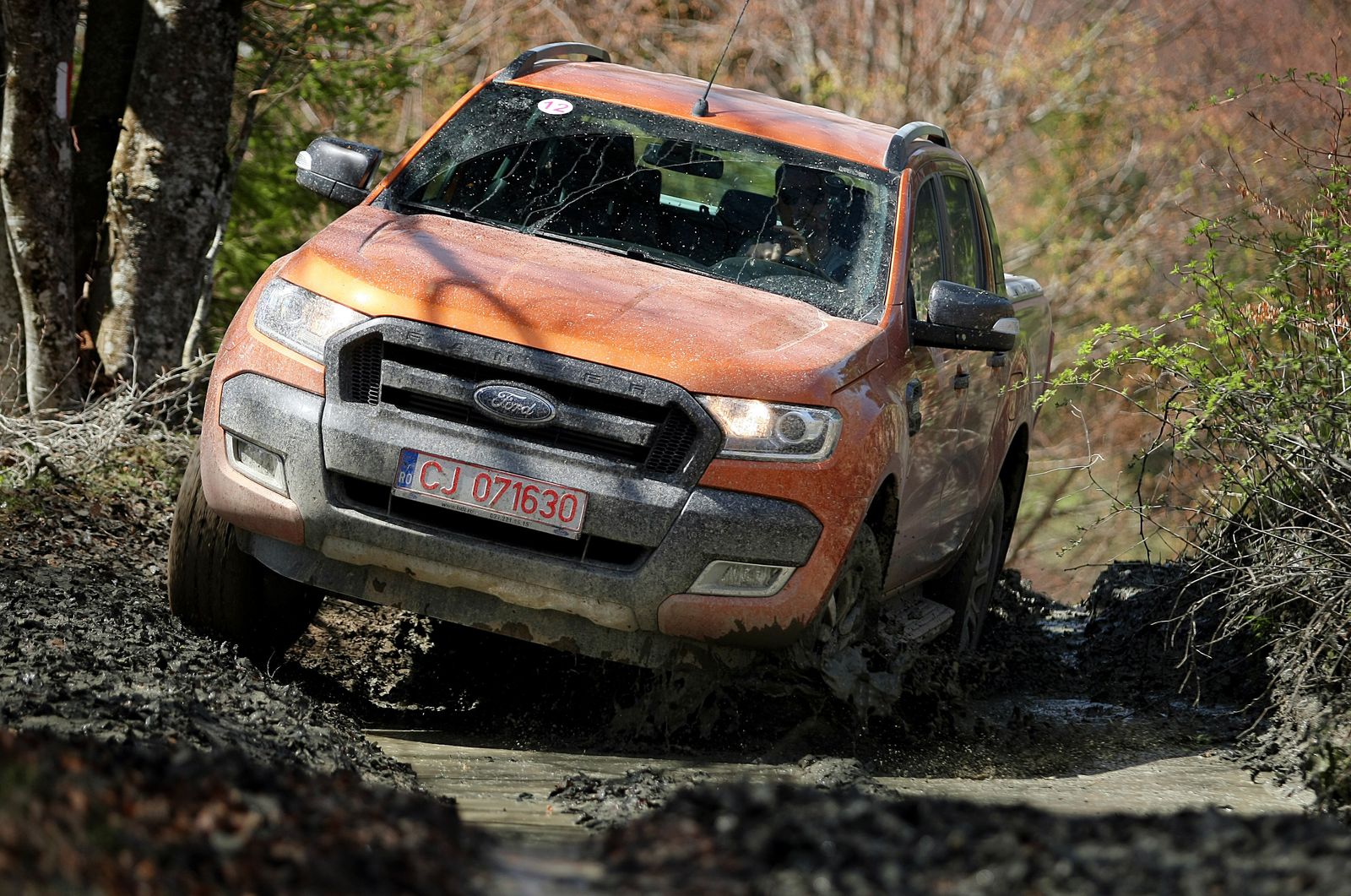 Ford Ranger is the freshly crowned 2015 pick-up sales champion in Europe, with sales going up by 27% compared to 2014, an increase which brings the tally to 27,300 Ranger units sold throughout the Old Continent. So now FoMoCo want to pick up the pace – pun intended – with a revamp for their workhorse.
---
IN BRIEF
RECOMMENDED FOR:
Young And Single
HATS OFF FOR:
Luggage Space, Modularity
---
DRIVE
Powertrain 8/10
Three diesel engines can sit under the Ranger's hood: a 2.2-liter TDCi available with either 130 or 160 hp and the chest-beating 3.2-liter TDCi good for 200 hp. The Ford Ranger Wildtrak we tested relied on the latter, a gorilla-mannered power plant that oozes strength and pull capacity (347 lb-ft/470 Nm of torque, spread between 1,300 and 3,300 rpm) but fails to provide any refinement whatsoever.
Come to think of it I'm not sure I would want it any other way. After all, you splashed the cash on a Ranger instead of a Fiesta for a reason, right?
So the 3.2-liter is rather noisy when put to work, but the six-speed automatic gearbox manages to keep it composed by jumping smoothly from one gear to another. However, the transmission lacks proper response when the back of the gas pedal meets the floor: the only repercussions here are clattering sounds, vibrations but no sign of acceleration, kind of like Toyota's CVTs. Alternatively, you can go for relatively accurate six-speed manual.
---
Handling 6/10
The least Ford could do handling-wise was fit the Ranger with a power-assisted, rack-and-pinion steering which softens considerably at low speeds in an attempt to compensate the pick-up's massive size. Well, it doesn't always succeed, because indoor parking spaces are a nightmare.
Then there's the rear suspension. It might do an Atlas-worthy job when the cargo area is full, but keep the Ford Ranger load-free and you get a bouncier rear axle than rivals like Nissan NP300 Navarra and VW Amarok have to offer.
The Ranger is not the kind of car you take on a winding mountain road for sporty thrills, but given its purposes, cornering is not that bad. Yet the vehicle's utilitarian ego makes for some body roll, but potholes, bumps, train tracks and other so-called obstacles are mitigated well enough by the suspension.
In off-road land, the Ranger finally meets its destiny, courtesy of an electronically-controlled transfer box with three modes – 2H (rear-wheel drive), 4H (four-wheel drive high-range) and 4L (four-wheel drive low-range). 4L allows the driver to get over patches of mud or highly inclined downhill sections without worrying about getting stuck.
Plus, the Hill Descent Control gizmo works like a charm on inclined areas, granting that feeling of security very much needed in extreme situations. The impressive 800 mm wading depth complemented by 28 degrees approach and departure angles plus the 25-degree ramp angle allow you to conquer right about every hill standing in your way, in wet or dry conditions.
---
Safety 10/10
Euro NCAP tested the Ford Ranger back in 2012, but since the "new" Ranger is just a facelift, the pick-up's safety credentials stay intact since the car remains largely unchanged. Therefore, the results favored a five-star overall rating plus excellent protection for adult occupants (96%), children (86%), and pedestrians (81%).
Ford offers no less than seven airbags on the Ranger, including driver and passenger frontal airbags, side body airbags, side head airbags and driver knee airbags, along with ESC as standard. Needless to say, the Ranger does feel safe mostly because of its size, 2-tonne+ weight and blimp ground clearance (232 mm).
There is a comprehensive safety pack offering assistance features like Lane Keeping Assist, Lane Keeping Aid, Adaptive Cruise Control with Forward Alert, Traffic Sign Recognition, and ESC with rollover mitigation and trailer sway control.
---
INTERIOR
Comfort 7/10
Provided you're either the driver or the front passenger, the comfort levels offered by the Ranger are on par with your expectations. The seats are nice and comfortable on the back but seem to lack side support, yet they enhance a pleasing driving posture. However, engine noise is omnipresent, naturally joined by road and wind noise at higher speeds, since the car has the aerodynamic coefficient of a tall, moving brick.
Although welcoming enough, the back seats lack comfort when the Ranger is free of payload. Blame the leaf spring rear suspension for that inconvenient, but fret not as head, leg, and shoulder room improve the general atmosphere. Three can sit decently at the rear, but for best conditions stick to only two passengers.
I appreciated the commanding position behind the wheel for two reasons: first, it gives a proper all-around view, so you know where the car's extremities are, and second, there's the extra strong feeling of safety I already mentioned.
---
Quality 6/10
Don't expect the Ford Ranger to spoil its passengers in terms of interior finish and quality of materials. As you first enter the cabin, you get the same feeling as you would in a Focus, but with rougher plastics. However, the Wildtrak trim makes up for this lack of tactile refinement with a more live colored design approach.
Otherwise, the cabin feels sturdy and well-built and our ears couldn't detect any squeaks or rattles, exactly what every client would expect from this type of vehicle.
---
Practicality 8/10
What should I begin with? The multitude of pockets and storage compartments or the 8.5-liter storage bin dug in the center console? Then there's the cargo bed (1,560 mm wide, 1,549 mm long – on the double cab variant, and 511 mm deep) which can ingurgitate over 1,000 kilos worth of payload and a towing capacity of 3,500 kilos for braked trailer or 750 kg for unbraked trailers.
---
Infotainment 7/10
Ford's SYNC 2 is in charge with keeping the Ranger in line with the latest infotainment trends from the Blue Oval's range. Truth be told, it's not something you desperately need in a pick-up truck but Ford's smallest workhorse risked being left behind its rivals.
The system is the same as seen on the Ford Mustang, meaning graphics look good, there are no glitches, and you also get a much-needed rear-view camera on the 8-inch tactile display, along with the regular suite of Bluetooth and USB connectivity.
---
BUDGET
Efficiency 6/10
All that grunt and pulling power take a toll on fuel consumption. For the 3.2-liter TDCi engine coupled with the auto 'box on our tester, Ford offers a theoretical fuel consumption value of 8.9 l/100 km (31.7 mpg). However, after taking the Ranger both on and off the road, the onboard computer displayed 12 l/100 km, the equivalent of 19.6 mpg.
Also, make sure you take CO2 emissions into account as you make a buying decision. With 234 g/km worth of CO2, the 3.2-liter Ford Ranger Wildtrak is no green car. Things look better as you go down the range, but even the 2.2 Duratorq mill won't emit less than 171 g/km of CO2.
---
Equipment 7/10
Four trim levels are available for the revised Ford Ranger: XL, XLT, Limited, and the range-topping Wildtrak. Every Ranger comes with ESC as standard, 16-inch steel wheels, front power windows, body-colored bumpers plus electric and heated side mirrors. Also, three cabin configs are on the menu, namely Regular Cab, Super Cab, and Double Cab.
XLT takes things to the next step with 16-inch alloy wheels, chrome mirror caps, radio/CD, a 4.2-inch TFT screen, cruise control, and manual air-con.
Next in line is the Ranger Limited comprising 17-inch alloys, Ford's SYNC 2 infotainment system, 8-way adjustable driver's seat, dual-zone air conditioning, leather seat trim and heated front seats (only for the Double Cab).
The tip-of-the-pyramid Wildtrak version gets 18-inch alloy rims, a rear-view camera, and seven-color ambient lighting.
Optional amenities include the driver assistance pack, a tow bar, satellite navigation, Style-X bed liner and hardtop, soft or aluminum tonneau covers and wind deflectors.
---
Acquisition 7/10
Facelift or no facelift, the Ford Ranger remains the same reliable pick-up truck but the revamp brings a twist of technology and a more upmarket aspiring trim level aka Wildtrak.
But while the Ranger still lacks refinement when put next to its rivals from Nissan and Volkswagen, Ford managed to come up with a facelift recipe that preserves the pick-up's heavy duty loyalty and reliability. The engine line-up is well-tailored for a utilitarian vehicle in terms of available torque and power, but noise should be taken into consideration.
The cheapest Ranger money can buy is the XL version fitted with the 2.2-liter TDCi engine, which will set you back €27.846, but keep in mind that a well-equipped variant like the Ranger Limited and Wildtrak wears a starting price tag of €39,686 or €41,501, respectively.