The range-topping version of the fourth-generation Mazda MX-5 takes the world's best-selling roadster to new heights
Overall Score 85/100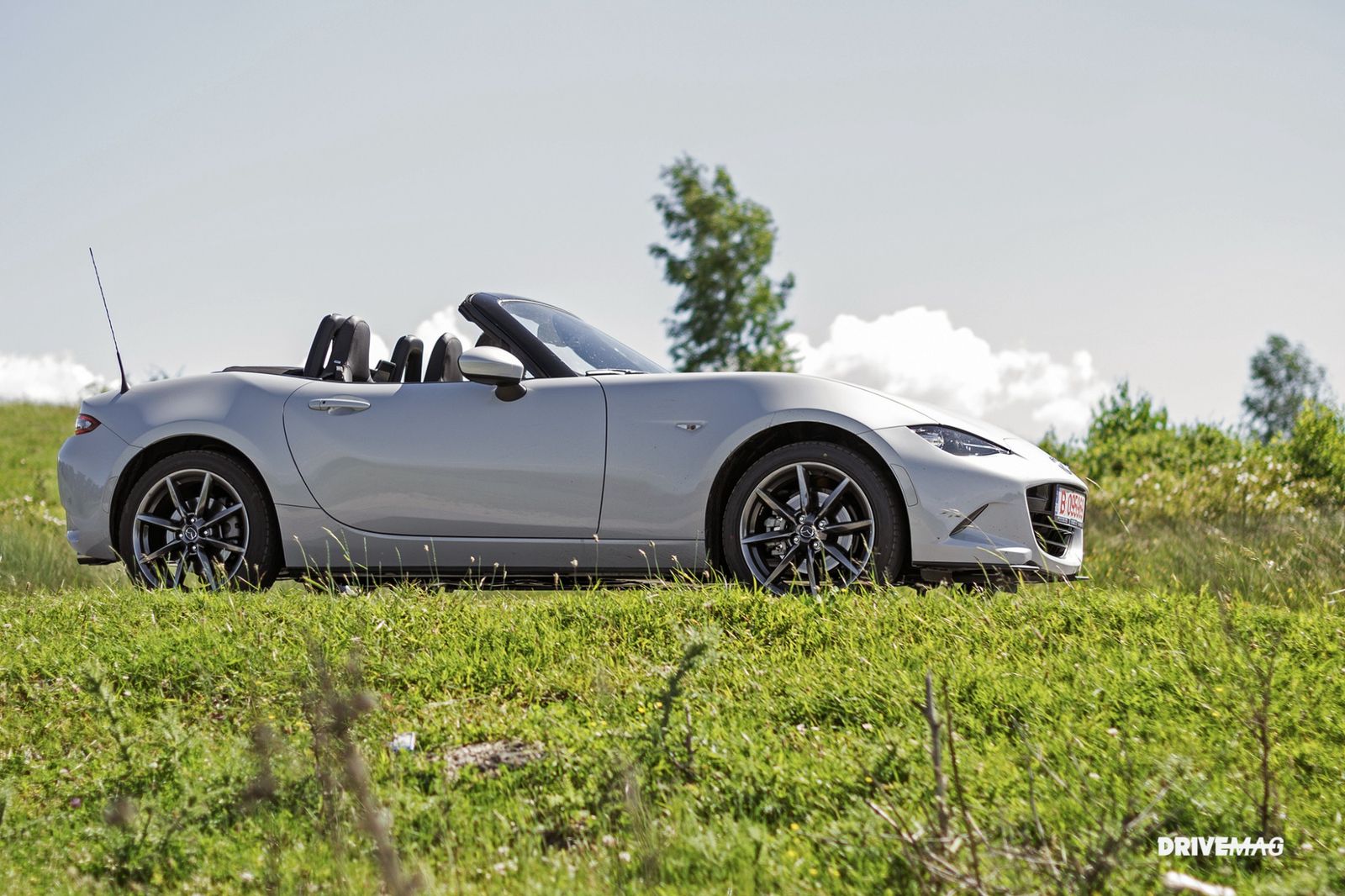 There's a reason the Mazda MX-5 Miata is the world's best-selling two-seater convertible sports car in history, even though it only launched in 1989. The Miata proves you don't need hundreds of horsepower and the most sophisticated technologies to bring a broad smile to a driver's face. All you need is a lightweight, balanced chassis, a responsive naturally-aspirated engine mated to a short-throw manual gearbox, and the all-important rear-wheel drive. The MX-5 ticks all these boxes and adds an affordable price tag to the mix, with all these things making it the people's sports car.
Launched in late 2014, the fourth-generation MX-5 has been widely acclaimed as the best one ever. We totally agreed with that after having an earlier go in the 1.5-liter model, so we had to find out if the most powerful and performance-focused MX-5 – the one equipped with the 160 PS (158 hp) 2.0-liter engine – is better. Stay tuned because we liked this car a lot.
---
IN BRIEF
RECOMMENDED FOR:
Driving Nuts, Young And Single
CREATED FOR:
Track, Winding Roads
HATS OFF FOR:
Road Handling
BANG FOR THE BUCK:
Excellent
---
DRIVE
Powertrain 9/10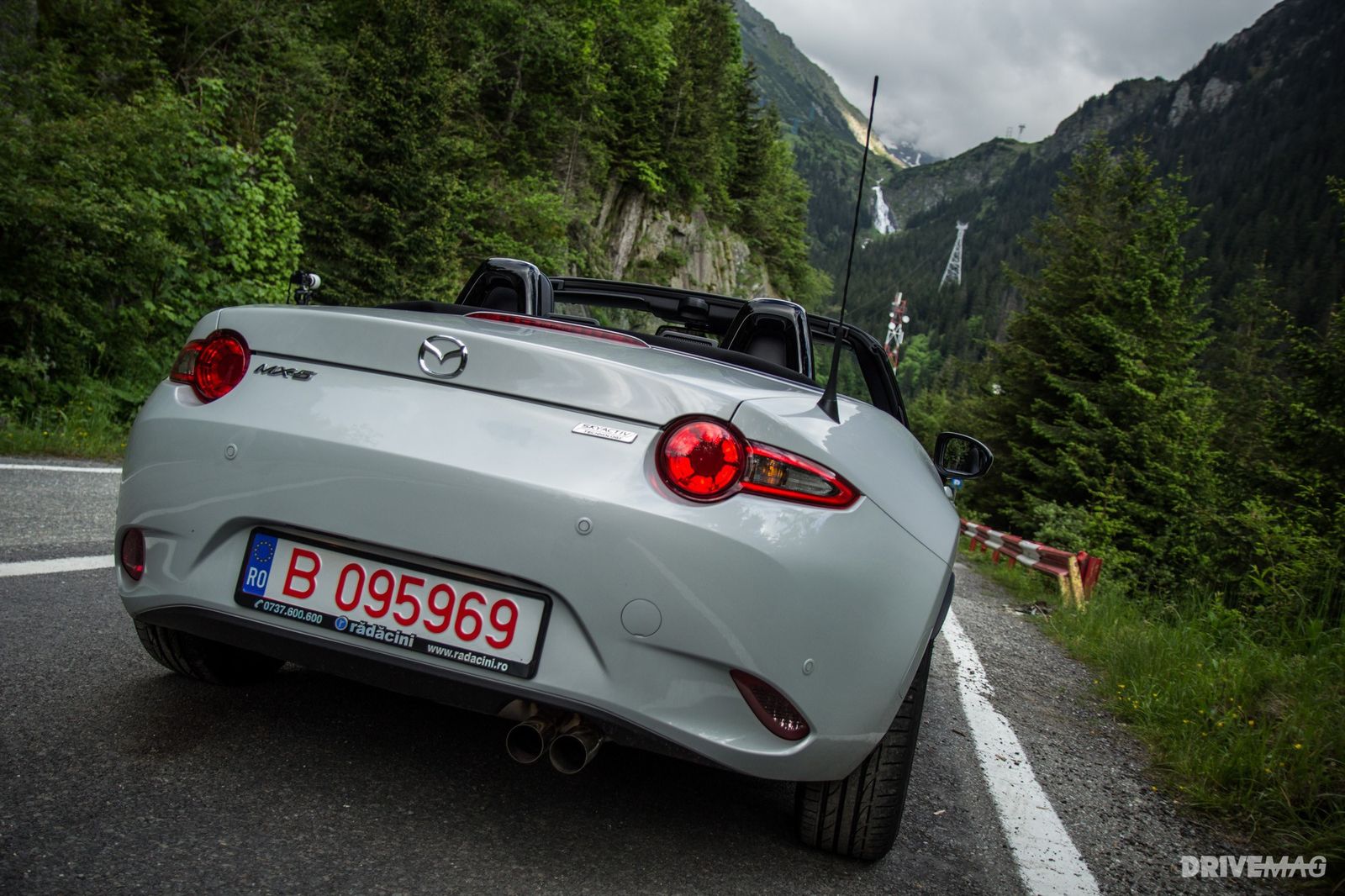 Mazda is one of the few car companies that has been resisting the turbocharging trend – at least until the 2017 CX-9 and its 2.5-liter turbo-four arrived earlier this year. But the MX-5 we drove came with a naturally aspirated 2.0-liter engine that packs plenty of punch (200 Nm/148 lb-ft) despite the lack of forced induction.
Sure, you have to rev it beyond 4,000 rpm to feel something, but once that happens you're all smiles. Although it's a four-cylinder unit, it comes with an exciting soundtrack and good performance. A lot of that is due to the short-throw shifter of six-speed manual transmission which is a joy to operate. It's precise, and it tricks you into believing you can shift gears faster than an automatic transmission. You won't, but you'll have way more fun while trying.
---
Handling 10/10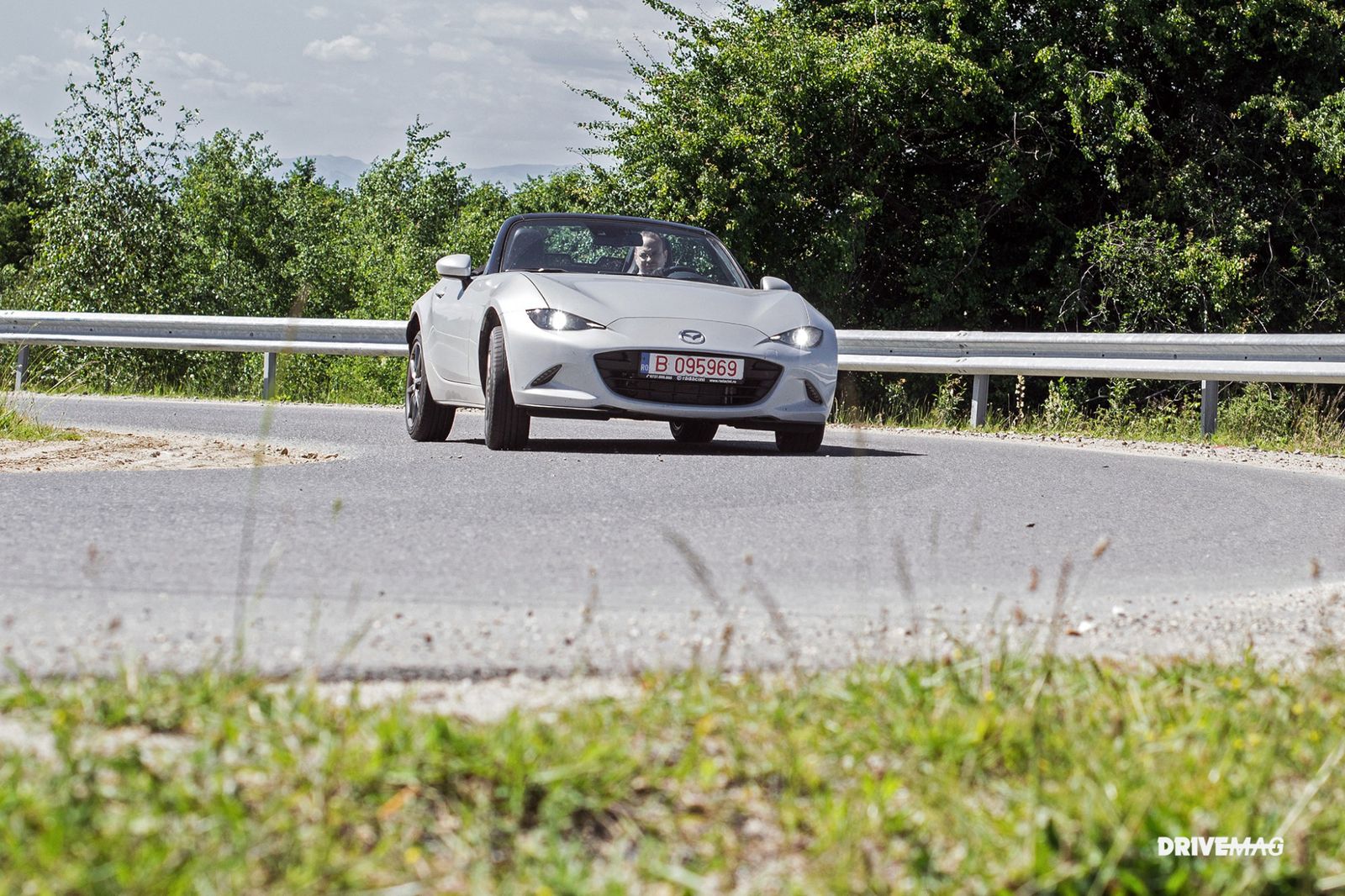 There's hardly any convertible at this price point that can compete with the MX-5 when it comes to handling precision. A lot of that is due to the limited slip rear differential that comes standard on the 2.0-liter model, as well as the Bilstein dampers that have a firmer setup that those fitted to the 1.5-liter version. Oh, and did we mention the new MX-5 is up to 200 lbs (90 kg) lighter than its predecessor?
Chances are you'll reach your limits faster than the Miata's chassis, which can take a lot of abuse with remarkable effortlessness. The car leans less through turns than its less powerful sibling and is slightly harder to drift. However, once you get the hang of it, you'll try to slide your way through all the corners.
---
Safety 7/10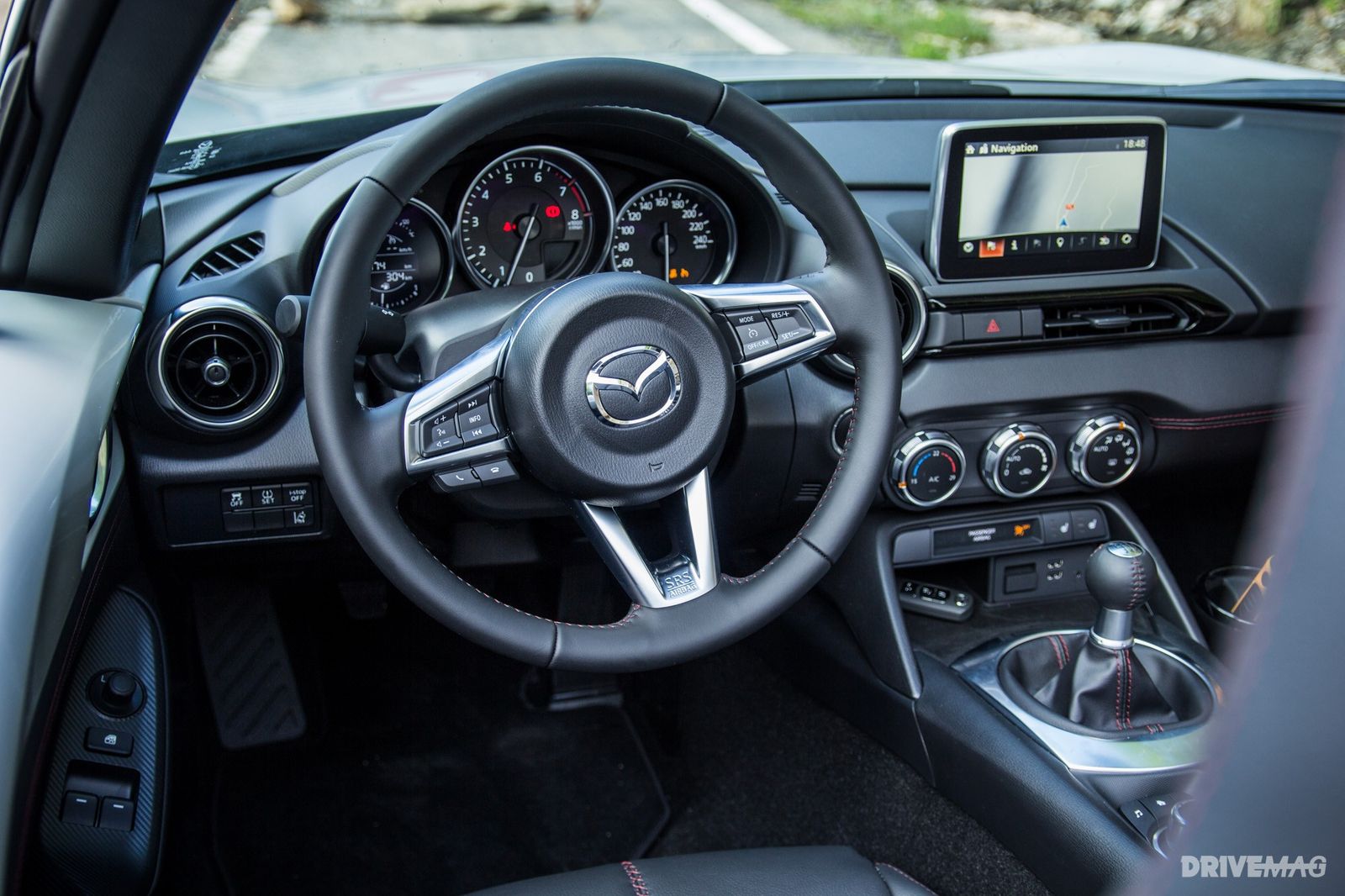 The fourth-generation Mazda MX-5 Miata hasn't been assessed by the NHTSA or IIHS yet, but Euro NCAP has tested the European-spec model in 2015. The Japanese roadster failed to score the maximum five-star rating because it doesn't offer an autonomous braking system (neither as standard nor as optional).
Adult occupant protection was rated at 84 percent, child occupant protection at 80 percent while pedestrian protection at a remarkable 93 percent. The lowest score was for safety assist systems (64 percent) as the MX-5 lacks an autonomous braking system.
---
INTERIOR
Comfort 8/10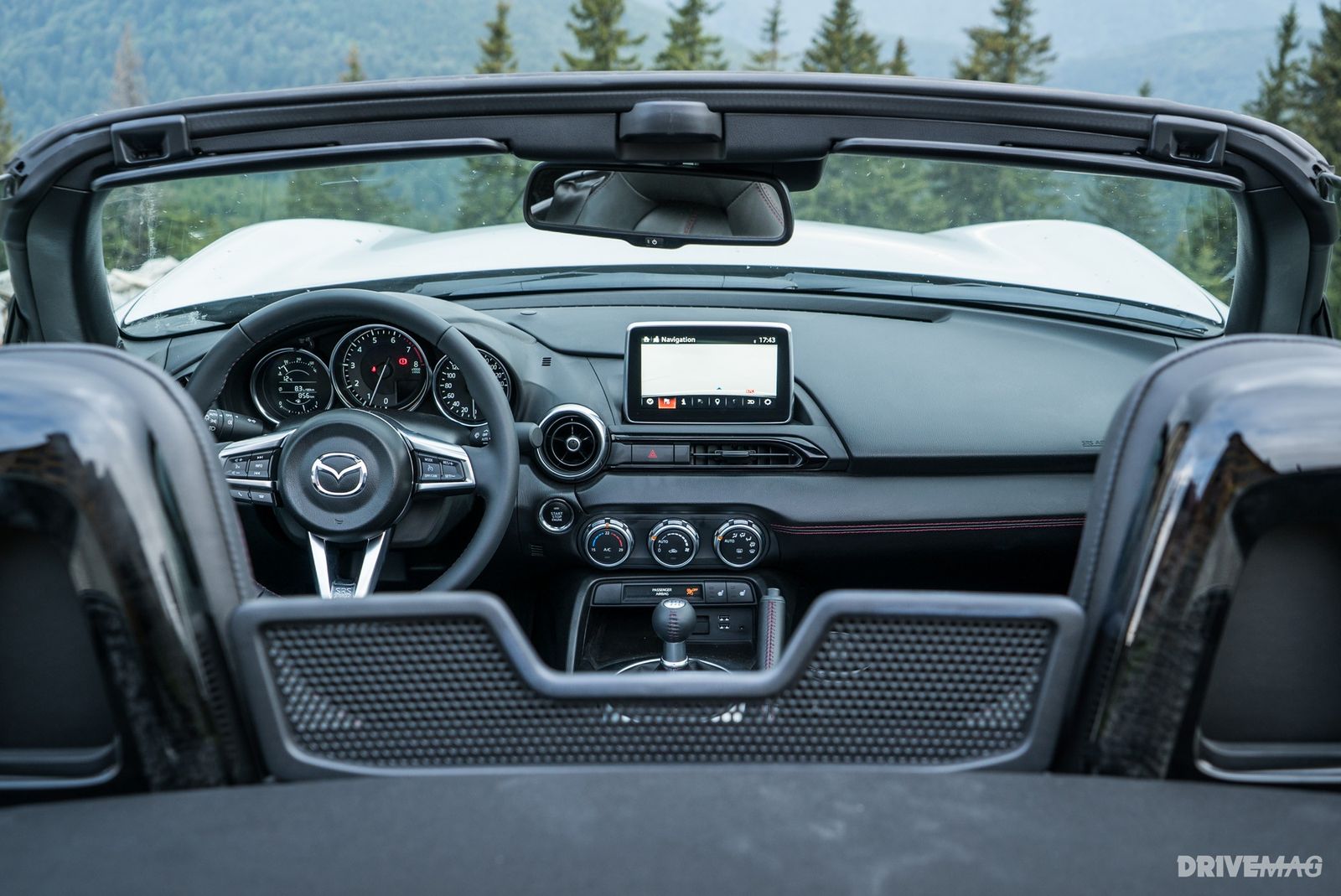 The MX-5 offers a good compromise between handling accuracy and ride quality, but the former is clearly favored. The ride is slightly firmer than on the 1.5-liter model, but that's to be expected since the 2.0-liter MX-5 targets hardcore driving enthusiasts. However, over poorly maintained roads you'll count the miles to your destination.
As long as you're under 6 ft 5 (1.95 m), finding a good driving position is easy. You sit very low, and the seats are comfortable enough, although rather narrow. The controls are where you would expect them to be, and that means you can feel at home in the MX-5 right as you drive away.
---
Quality 8/10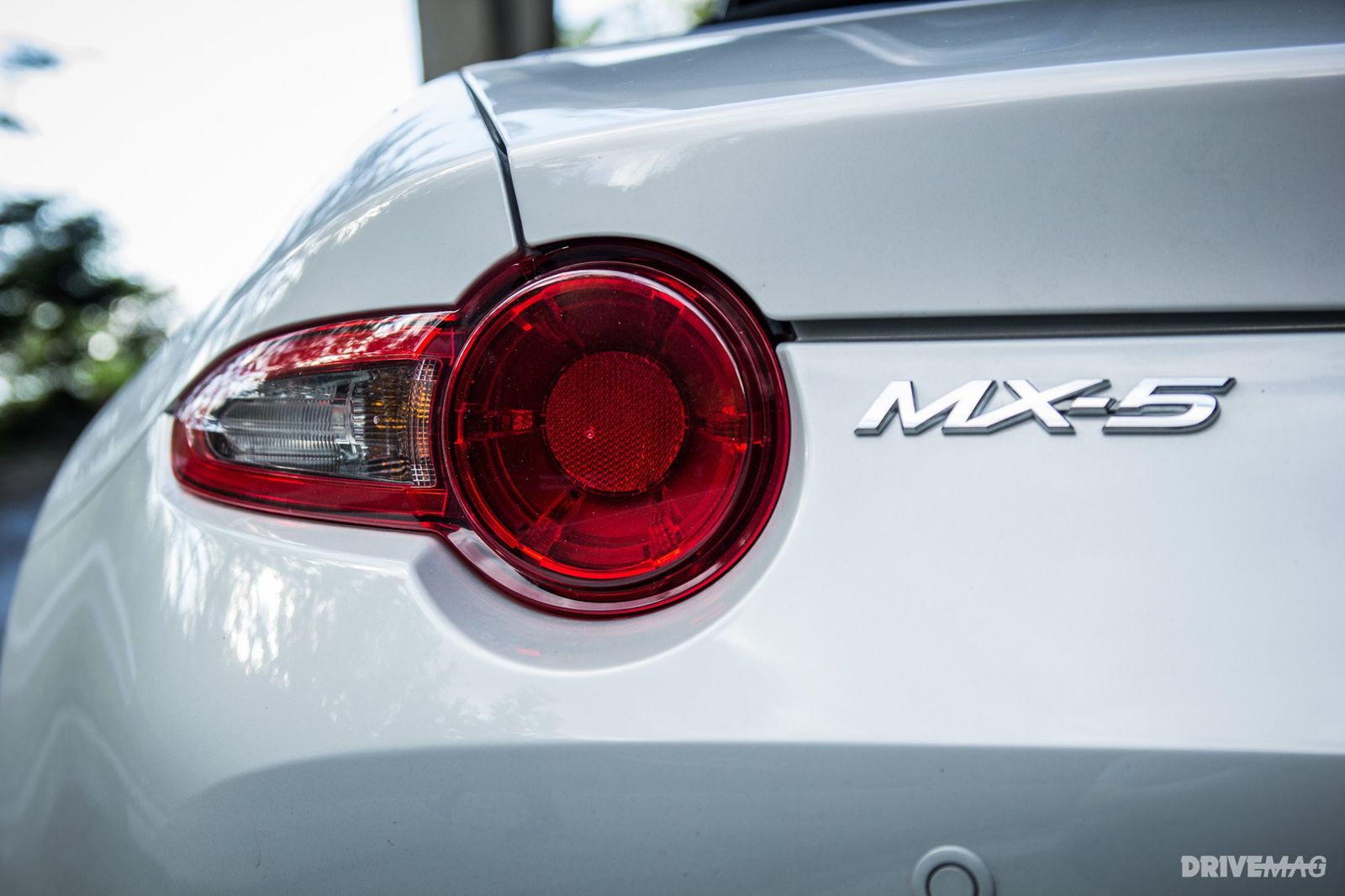 Material quality has improved significantly compared to the previous generation MX-5, particularly on higher grades that get upgraded trim on the doors, dashboard and center console. The Revolution model we drove featured a black leather upholstery with red stitching, as well as a leather-wrapped steering wheel, gear knob, and parking brake lever.
However, even this top-of-the-line model doesn't look and feel like a premium car inside. Noise levels are quite high even with the fabric top up, but that's hardly a surprise from a convertible.
---
Practicality 7/10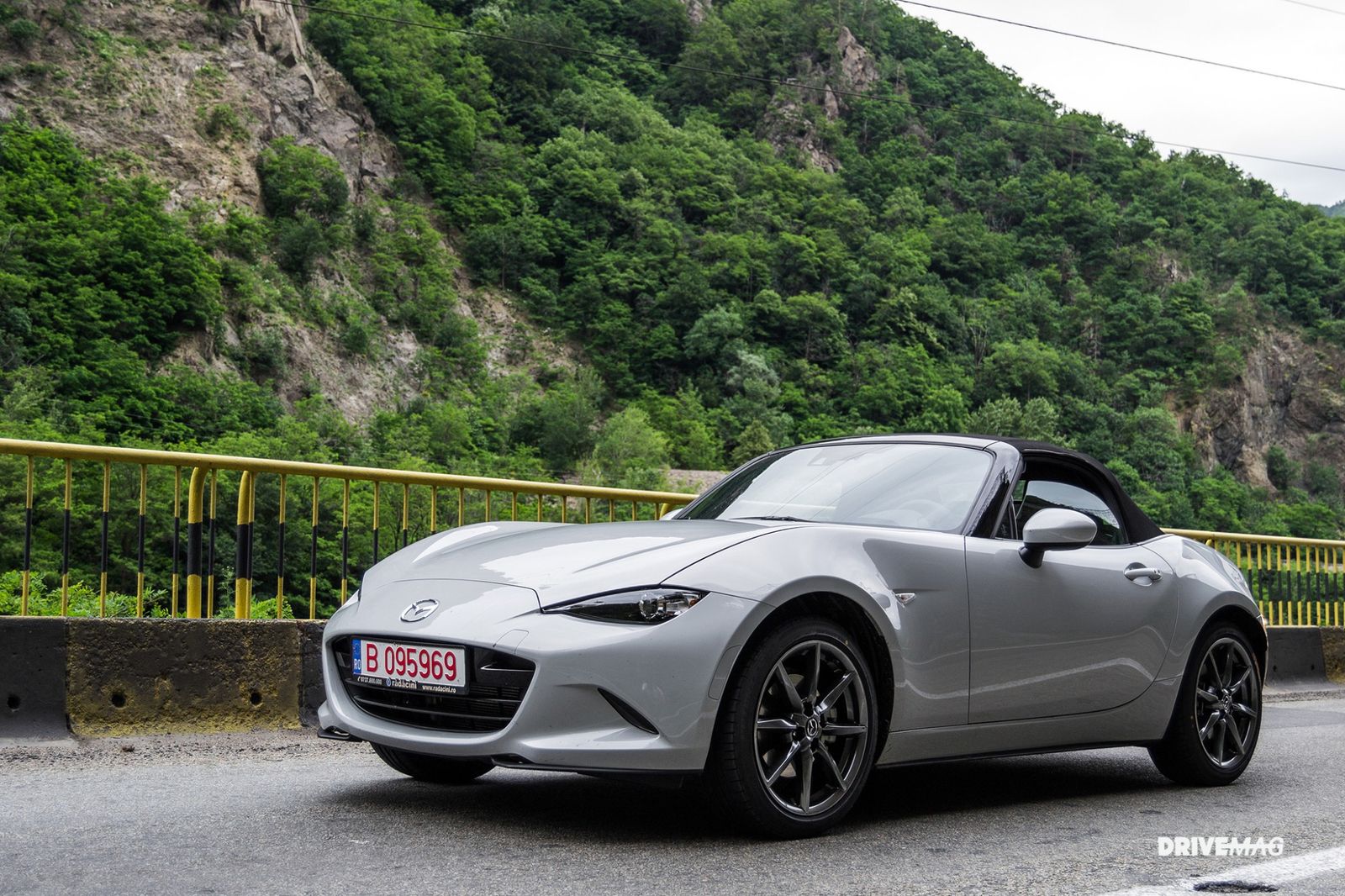 No one buys a Mazda MX-5 because it's practical. Trunk volume is minimal and the dashboard lacks a glove compartment. There's a shortage of storage spaces: the door pockets are tiny, and the center tunnel houses a space that can't hold more than a 5-inch smartphone and the car key.
Still, there's a decent-sized storage space behind the rear seats that can be locked when you park the car with the top down. Mazda also offers three removable cupholders that can be attached behind the seats and on the right side of the center tunnel.
---
Infotainment 8/10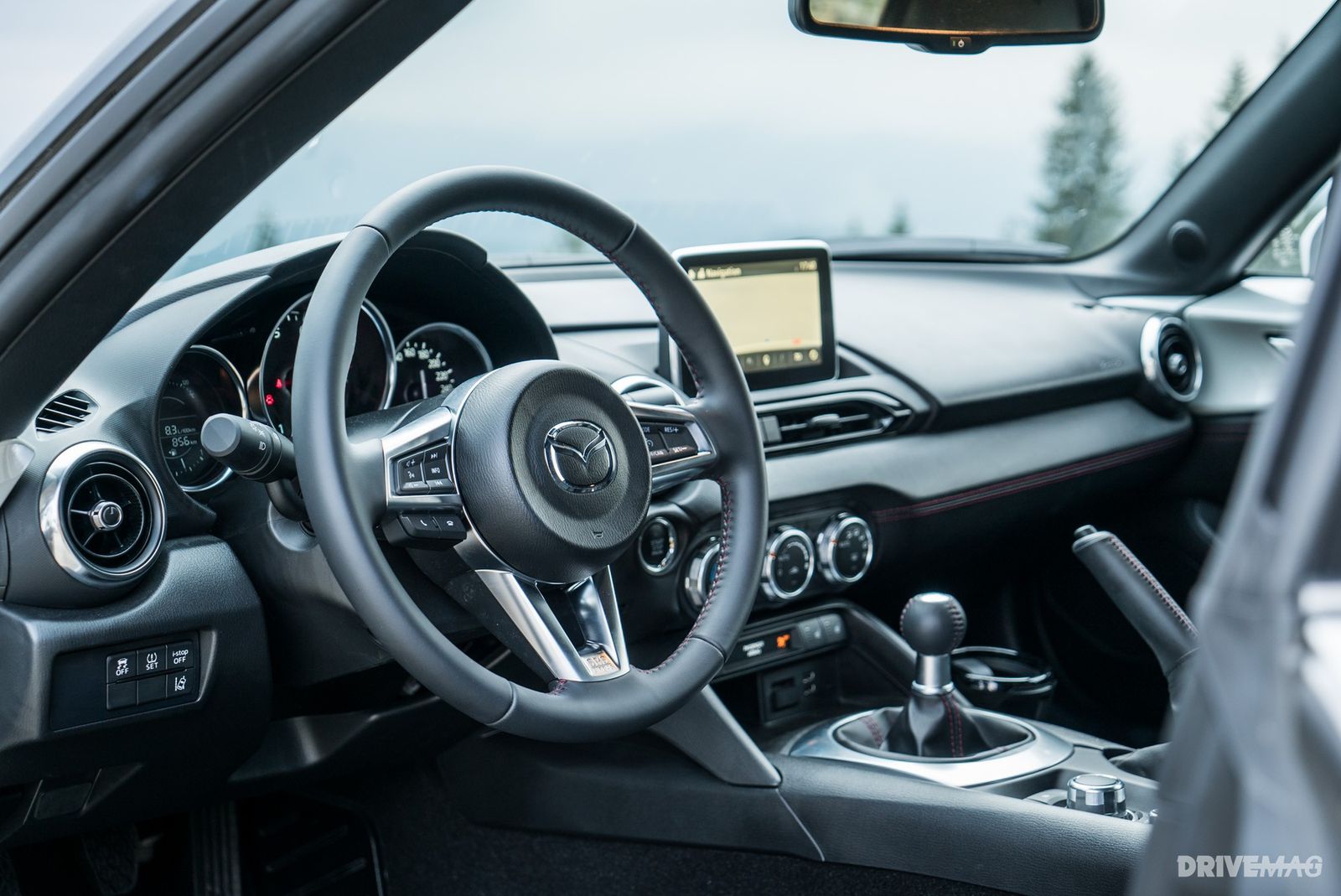 The MX-5 packs an infotainment system that is similar to BMW's iDrive, although less complicated. The 7-inch touchscreen works together with a rotating knob that makes it easy to access the system's functions while on the move. The interface is clear and intuitive, but the touchscreen needs a hard push to work. Another problem occurs when driving with the top down in sunny weather – you can't see much on the screen when it faces the sun.
The car we drove also featured an excellent nine-speaker Bose sound system, including a subwoofer that occupied valuable space on the left side of the passenger's footwell.
---
BUDGET
Efficiency 9/10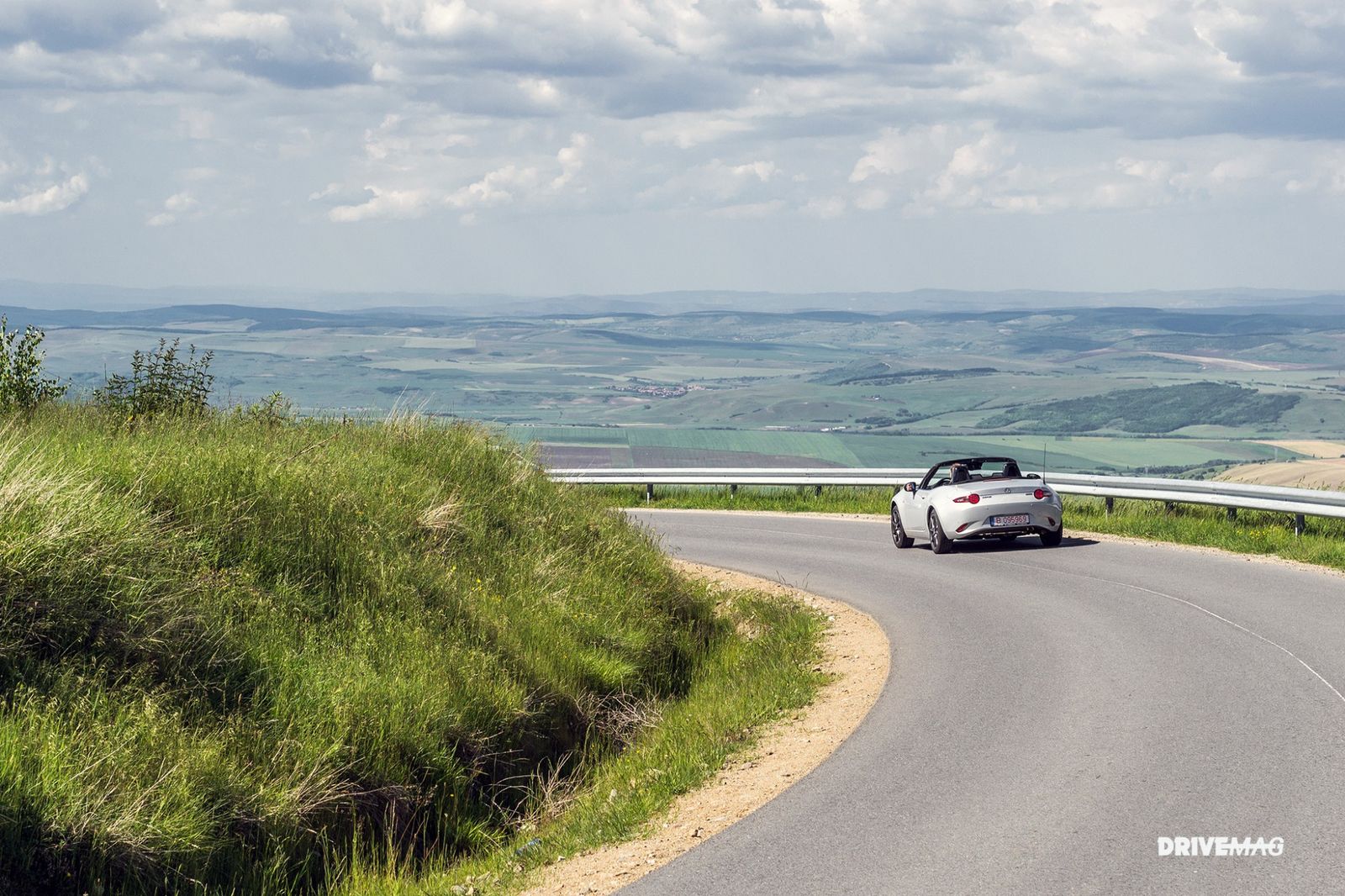 Fuel economy is not a big concern for a sports car owner, but the Miata probably offers the most fun per liter of consumed fuel. Mazda claims the MX-5's average fuel economy is 6.9 l/100 km according to the European standard and 30 mpg combined according to US measurements.
Although we pushed the car hard on twisty mountain roads, the board computer rarely showed more than 8 l/100 km (equivalent to 29.4 mpg US) of average fuel consumption. The i-stop and i-ELOOP (brake energy recuperation) systems fitted to our car contribute to these figures.
---
Equipment 9/10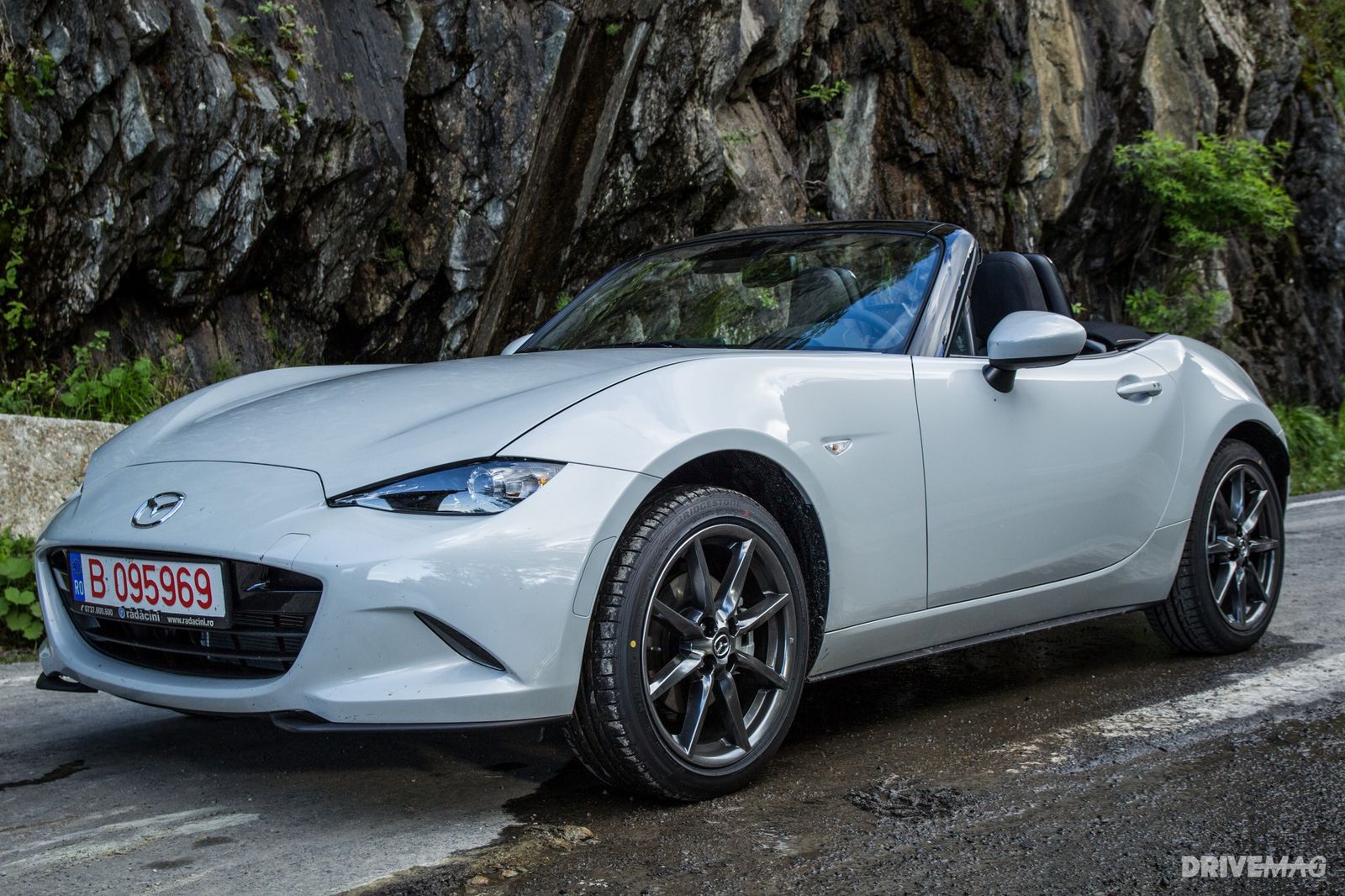 The Revolution grade (called like that in some European countries) is well-equipped – there's nothing more you would need. Besides features we've already mentioned, it also gets automatic air conditioning, cruise control with speed limiter, rain-sensing wipers, automatic headlights, power windows and mirrors, rear parking sensors, 17-inch alloy wheels, Smart Key access, and more.
Safety features include eight airbags, ABS, DSC, traction control, and Lane Departure Warning System.
---
Acquisition 10/10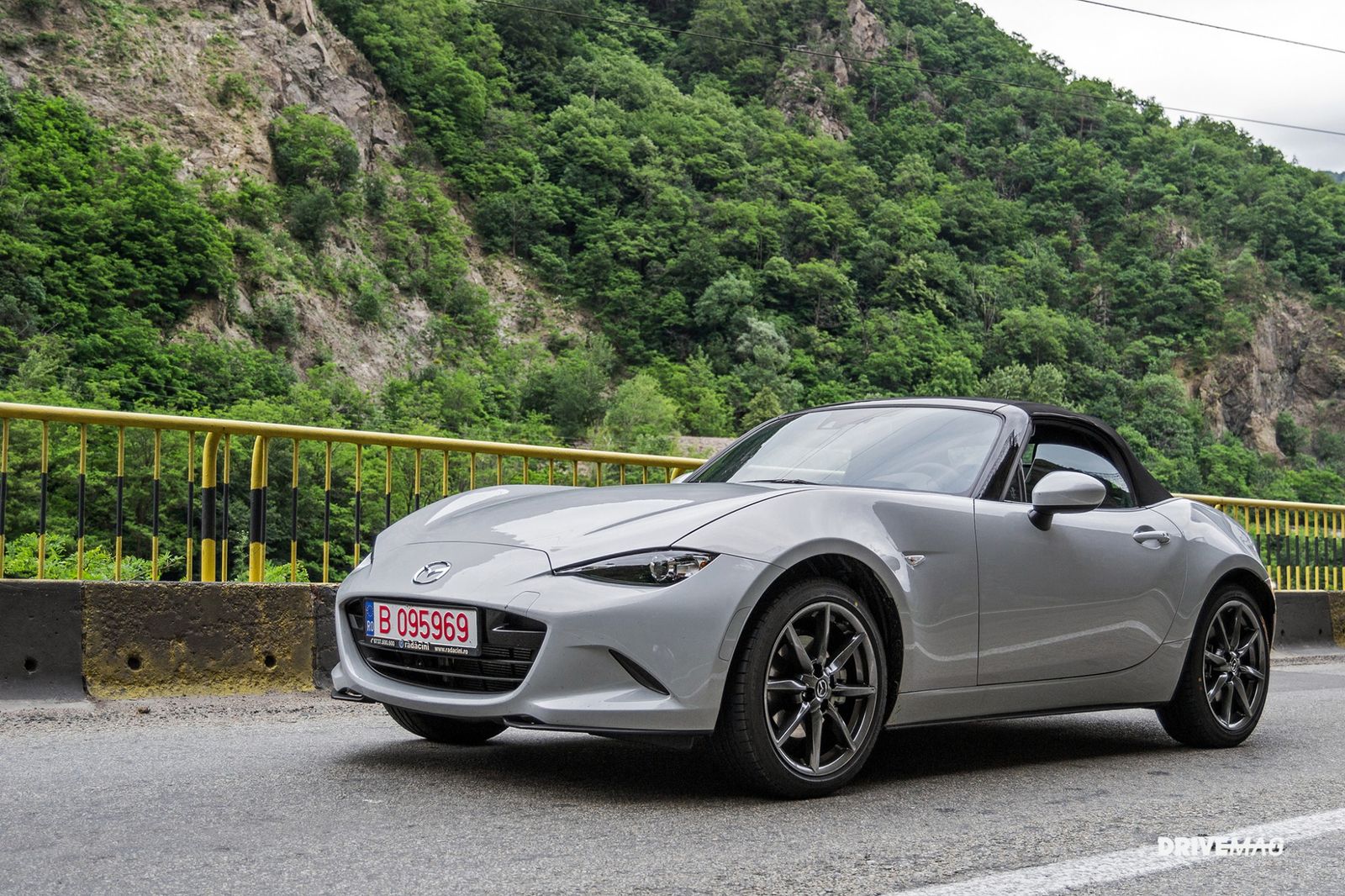 The question you have to ask yourself is not whether it makes sense buying an MX-5, but rather why haven't you bought one already. Yes, the fourth-generation Miata is that great – no car lets you have as much fun at this price. An entry-level 1.5-liter model starts at just under €21,500 in Europe, while a well-equipped 2.0-liter model like the one we drove retails for about €29,000.
In this price range, you can find front-wheel drive hot hatches or a Mini Cabrio (also FWD), but you won't find a rear-wheel drive convertible that drives like this.