Thor's new SUV is a mini-Asgard on wheels
Overall Score 91/100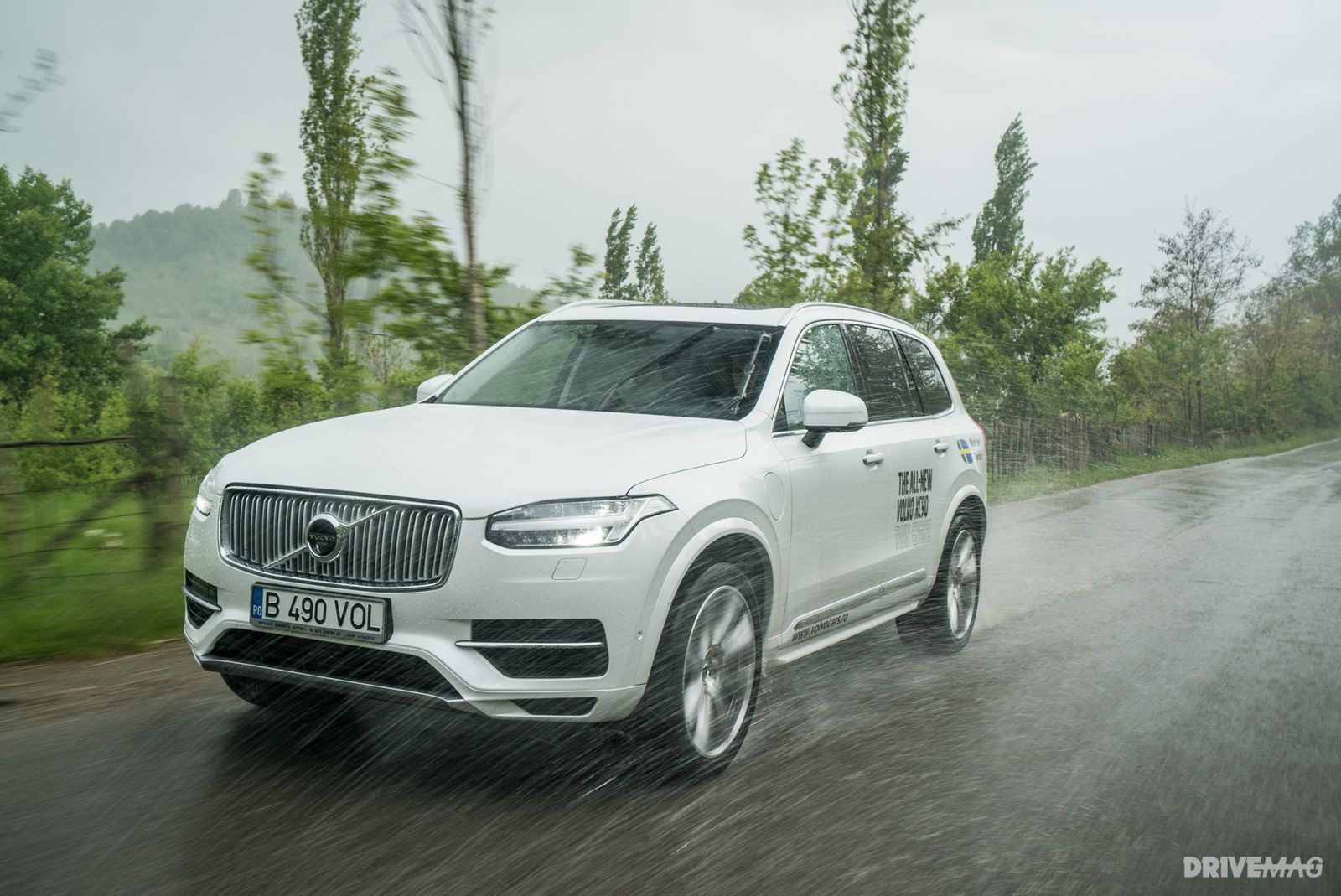 Chinese money, new engine tech, eye-catching design and better-than-ever interiors are just some of Volvo's weapons of choice as the Swedish carmaker makes a comeback in the SUV segment, an ambition spearheaded by the new XC90 T8 Twin Engine.
However, the XC90 faces stern competition in a segment that's getting crowded and crowded as I write these lines.
So far, the main threat comes from the BMW X5, Audi Q7 and Mercedes-Benz GLE – yes, again, the Germans – but the likes of Land Rover Discovery and Acura MDX (in the US) won't just sit and watch how Volvo tries to grab a piece of the pie.
As things stand, Volvo has another shot at proving its worth in the segment. Not to mention the XC90 must fill big shoes because the original Volvo XC90 was everything a well-off family would ever want, something nicely highlighted by the model's sales figures.
Volvo offers the XC90 with an assortment of four-cylinder petrol (T5, T6), diesel (D4, D5) and hybrid powertrains mated exclusively to automatic transmission. Our tester was of the latter category, namely the T8 Twin Engine.
Power outputs range from 190 PS to 407 PS (for the hybrid XC90) and there's also the option of choosing between all-wheel drive and front-wheel drive.
That being said, there's one question that needs answering: is the new XC90 up to the task? Here's what we found out.
---
IN BRIEF
RECOMMENDED FOR:
Families, Managers
HATS OFF FOR:
Comfort, Engine Power, Ergonomics, Luggage Space, Passenger Space, Safety, Sound System
BANG FOR THE BUCK:
Excellent
---
DRIVE
Powertrain 9/10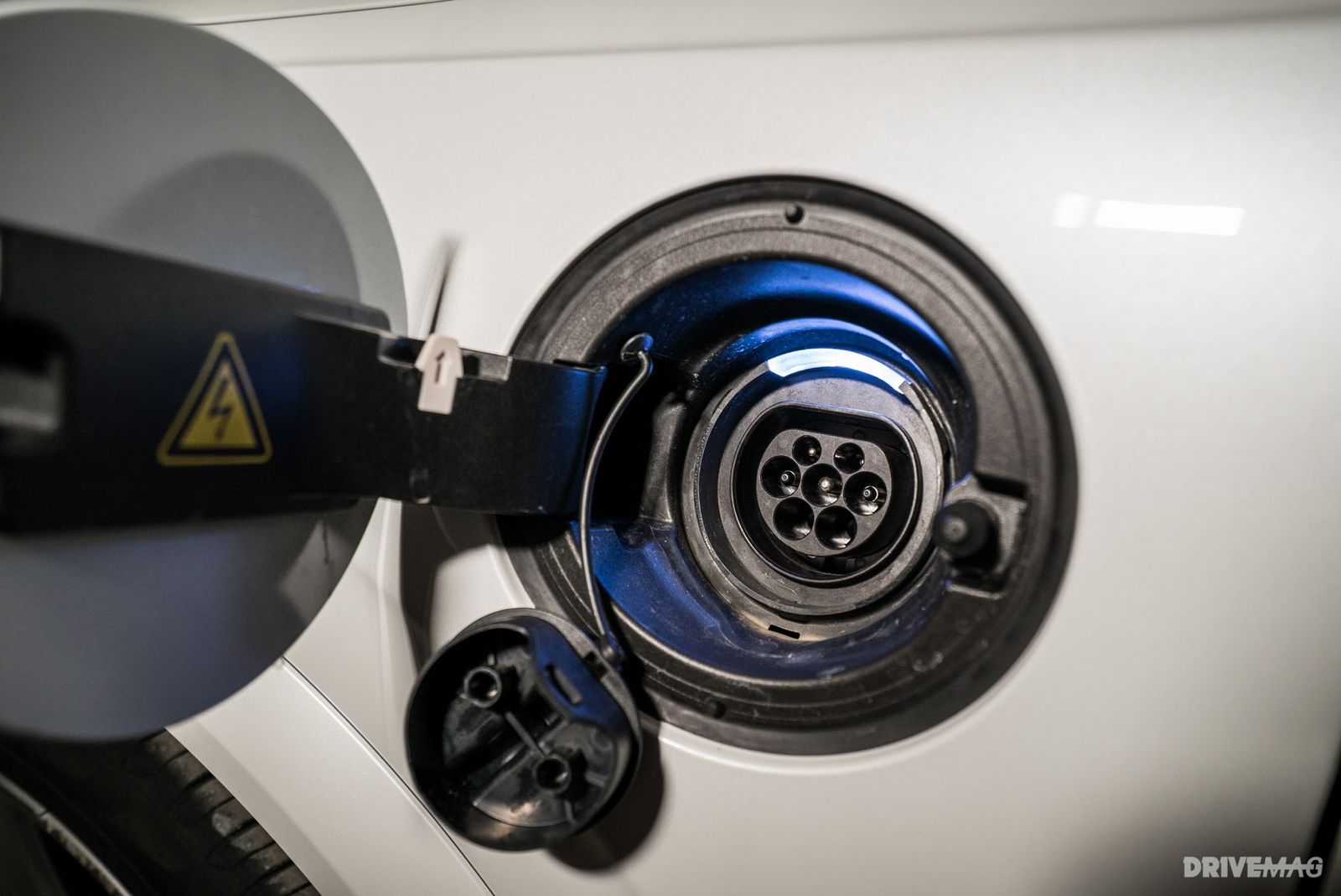 In Volvo language, T8 means a combo between gasoline and electricity. In the XC90 T8, we're talking about 400 hp and 650 Nm (472 lb-ft) of torque coming from a turbocharged and supercharged 2.0-liter four-cylinder engine assisted by an 80-horsepower electric motor commanding the rear axle for all-wheel drive capabilities.
The result of all you've read above can be summed up in just one word: power. Not necessarily in Jeremy Clarkson's voice, but enough to make the SUV's hood stand up during heavy acceleration as seen from the outside. From the inside, however, smoothness takes over brutality and you can choose what plate you're being served by browsing the XC90's drive modes: hybrid, pure electric, power, AWD and save. There's only one complaint I must make here, which is related to the gasoline engine's refinement – a bit out of context for such a ritzy vehicle.
However, the XC90 doesn't feel rocket-fast, yet you are always aware of just how much resources lie under your right foot. What I am trying to say is that as you pound the throttle, acceleration resembles that of an Airbus taking off. Nevertheless, the best compromise here is keeping the hybrid mode on for well-channeled, comfortable pace.
Another catalyst for that driving serenity is the eight-speed automatic gearbox provided by Aisin, an industrious but ghostly transmission that manages to move a two-tonne+ SUV without the smallest glitch disturbing your magic carpet ride.
Then there's the two-stage regenerative braking system rounding up the extremely capable powertrain. Just like the gearbox, it works silently but efficiently in the background so you don't really know when the system swaps between the hydraulic and regenerative braking phases.
---
Handling 7/10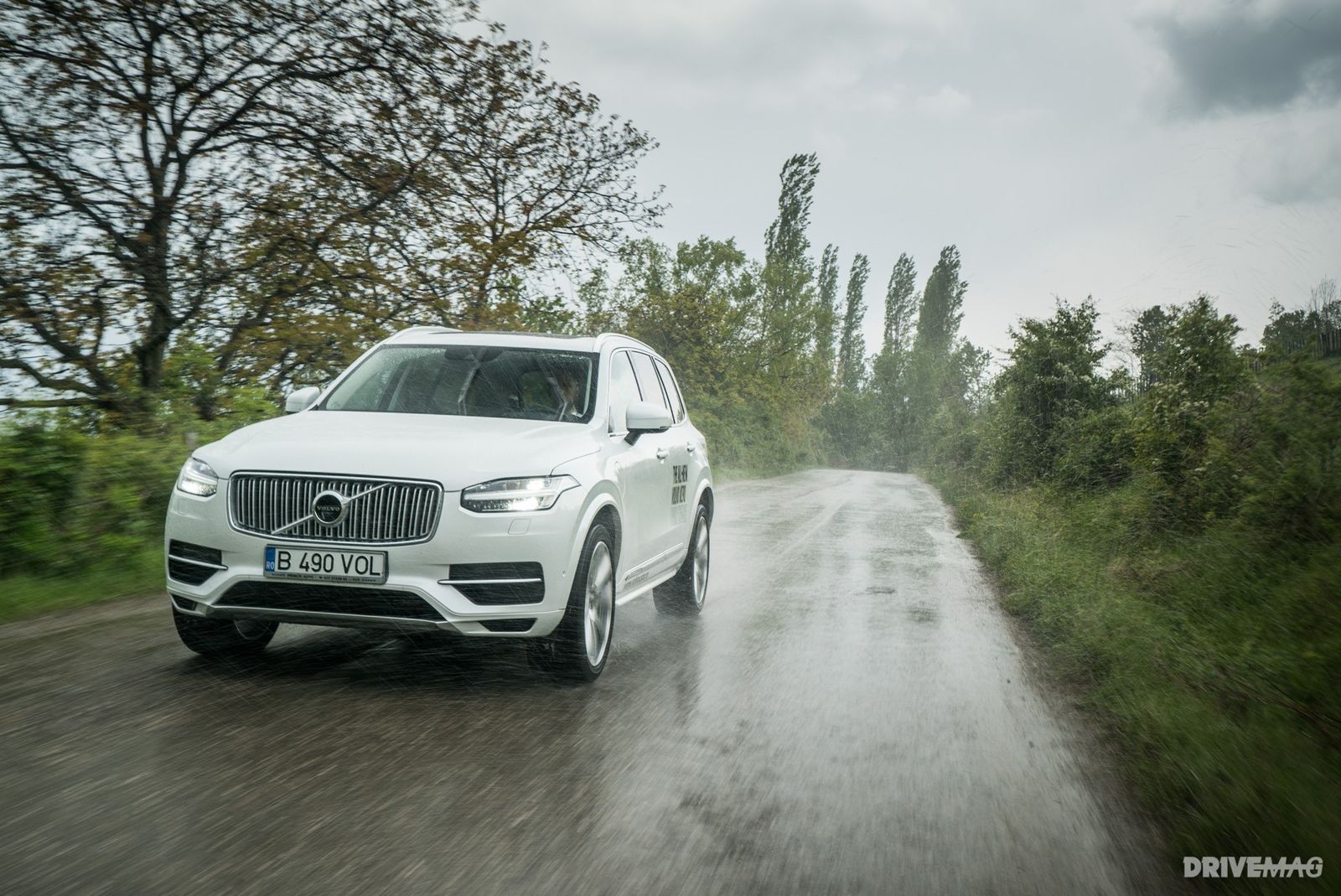 I was inclined to say the XC90 T8 handles on land like a yacht on water. But I've never been in command of a yacht and that's a cliché anyway, right?
What I can tell you is that body control is king and there's so much grip you literally don't know where to put it. Body roll shows up only when you're too enthusiastic when negotiating turns, however, noise and vibrations generated by rough patches of asphalt, potholes, and railway crossing aren't invited to this party.
Just stating the obvious, but the XC90 is a massive four-wheeled piece of engineering. At almost 5,000 mm long and just over 2,000 mm wide, you could say your driving licence needs an additional category that testifies you previously completed a dedicated course on parking and steering the XC90 through the urban environment.
But in reality, the steering lets you know where the wheels are and it softens or hardens as speed decreases or increases. Feedback is a rare commodity, I must add, yet I can't think of another setup better-suited to highway cruising.
---
Safety 10/10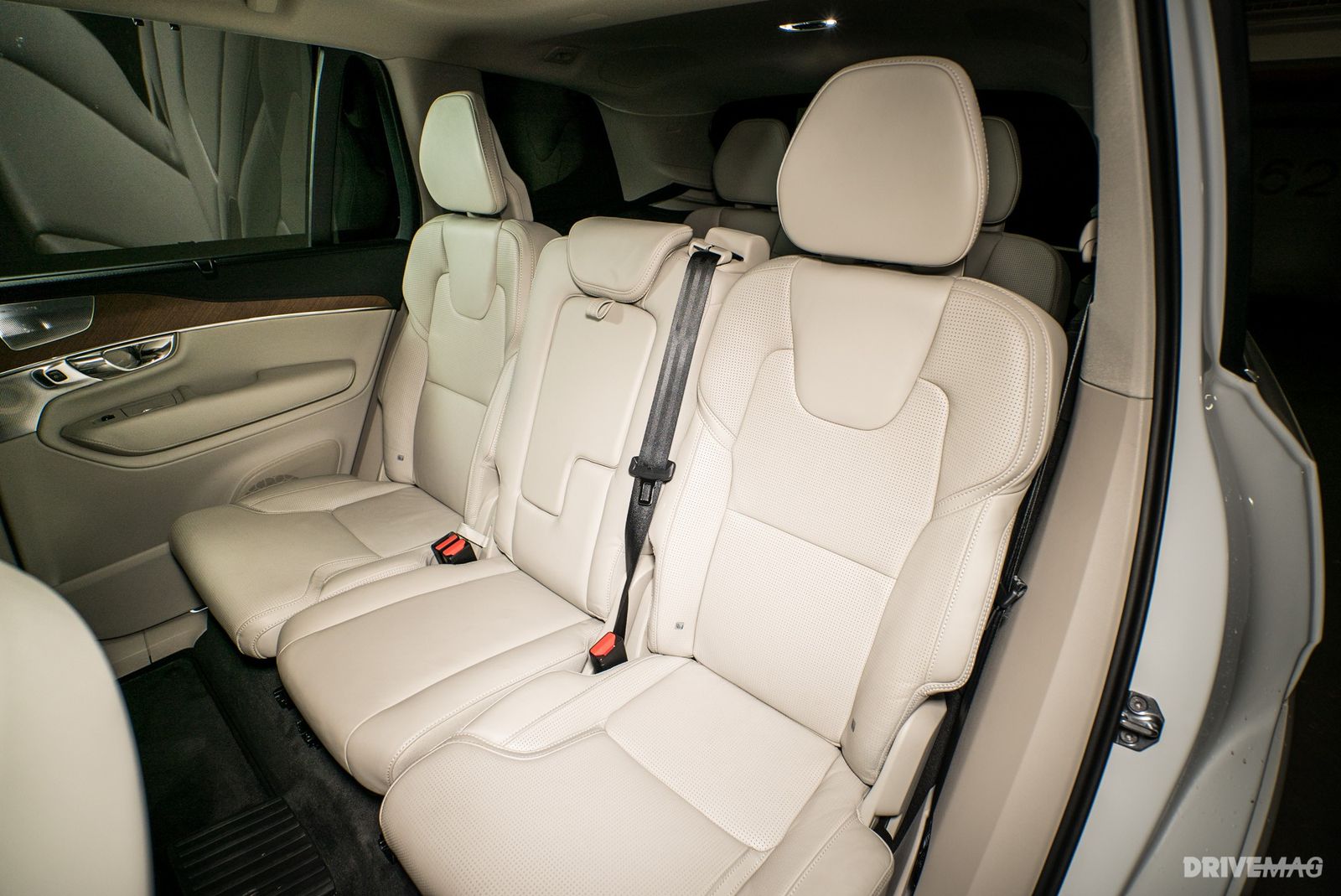 Well, what should I start with? The XC90 was awarded five stars by Euro NCAP thanks to outstanding scores in the adult (97%) and child (87%) protection sections and flawless safety assist (100%) credentials.
Moreover, the Volvo XC90 also secured a Top Safety Pick+ rating from the IIHS and as a (fun) fact, you should know the carmaker doesn't offer rear side airbags (not to be confused with side-curtain airbags) because Volvo engineers did such a good job in delivering a strong C-pillar and reinforced doors.
Yet it should be noted that the Volvo XC90's safety credentials don't come (exclusively) from its sheer size. The very core of Volvo's safety-oriented philosophy lies in the IntelliSafe technology and the City Sense package, which essentially scans the road for car, pedestrians and cyclists regardless of the given weather conditions and acts accordingly if the driver is not aware of potential hazards.
However, I felt that around the city, the system is a bit too intrusive at times, making the dashboard light up like a Christmas tree although from the driver's perspective, everything was under control.
Other safety features include Pilot Assist, Park Assist Pilot, cross traffic alert, blind spot info plus energy-absorbing seats and pre-activated safety belts, in other words, Volvo's way of working towards the promise that "no one should be killed or seriously injured in a new Volvo car by 2020."
---
INTERIOR
Comfort 10/10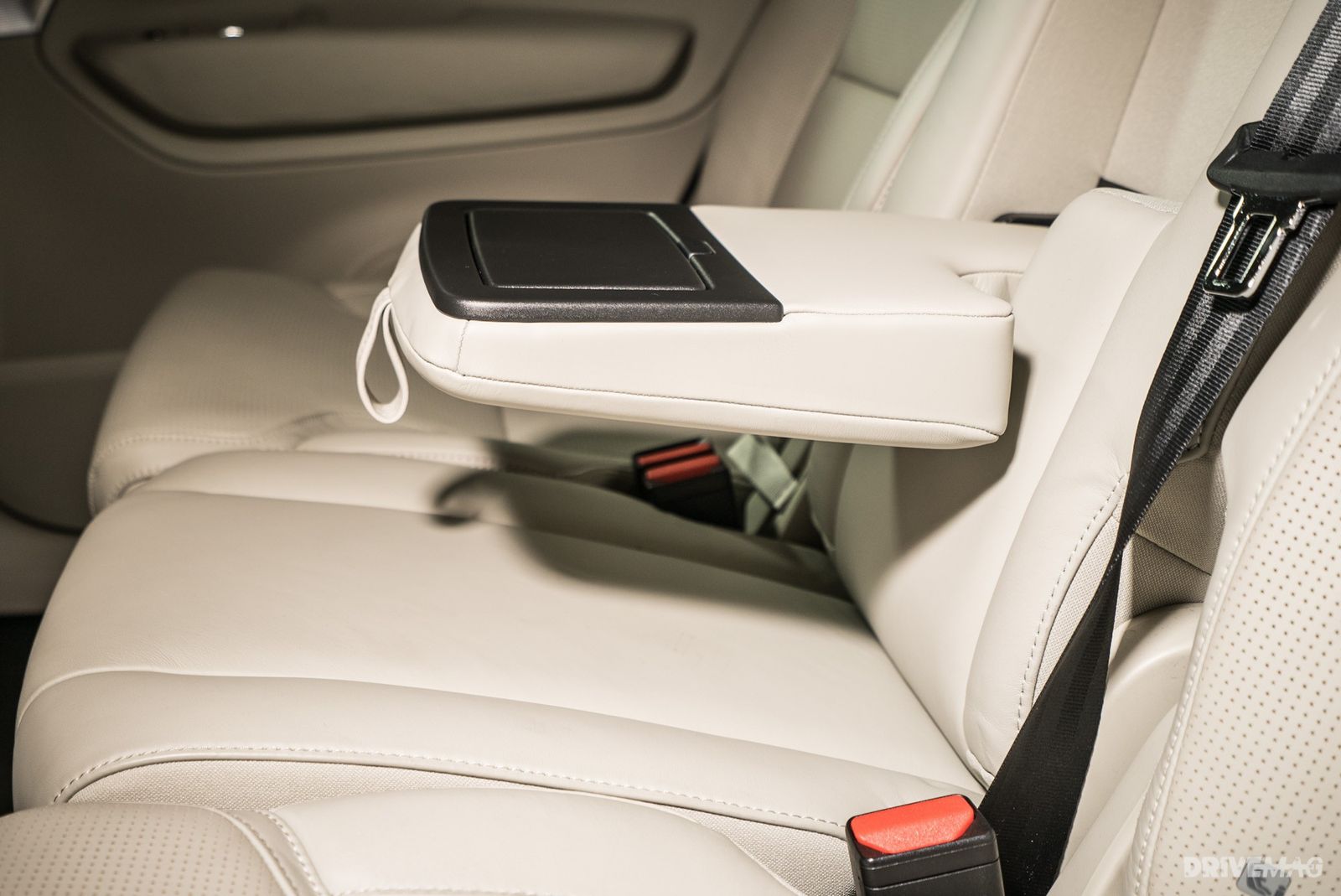 If "Thor's Hammer" is the name of the game for the front LED lights, the inside of the Volvo XC90 T8 is the Asgard of all SUV interior when it comes to comfort.
You sit high behind the wheel, with excellent visibility all around the car, in a setup that could have easily been named "A Game of Front Seats".
You need to experience the superb support offered by the discrete seats to realize what I am talking about, but the level of comfort and care focused on your posture is simply addictive: you'll want more even if that means sitting in two seats at a time. But remember, the driving position favors comfort instead of dynamics, which is only natural for this type of car.
Also striking is the fact that Volvo's mad scientists (aka interior designers) found a formula for simplicity without compromising ergonomics. Yes, I'm talking about the fact that there are now only seven controls left on the dashboard, out of which one button opens the glovebox while a square diamond-cut knob turns the engine on or off.
The second row of seats is actually made of three seats – two adult-sized and one smaller in between the larger ones, suitable for a child. Plus, there's a third row of seats – which can be folded flat – which actually offer enough space, as advertised, unlike other seven-seaters on out there.
As an adult, get ready for a throne-like treatment at the back – it's like Volvo people got their hands on a luxury sedan, tore it apart and remodeled it into an SUV, which, if you ask me, puts a refreshingly deep wound into the market-dominant German aesthetics.
---
Quality 10/10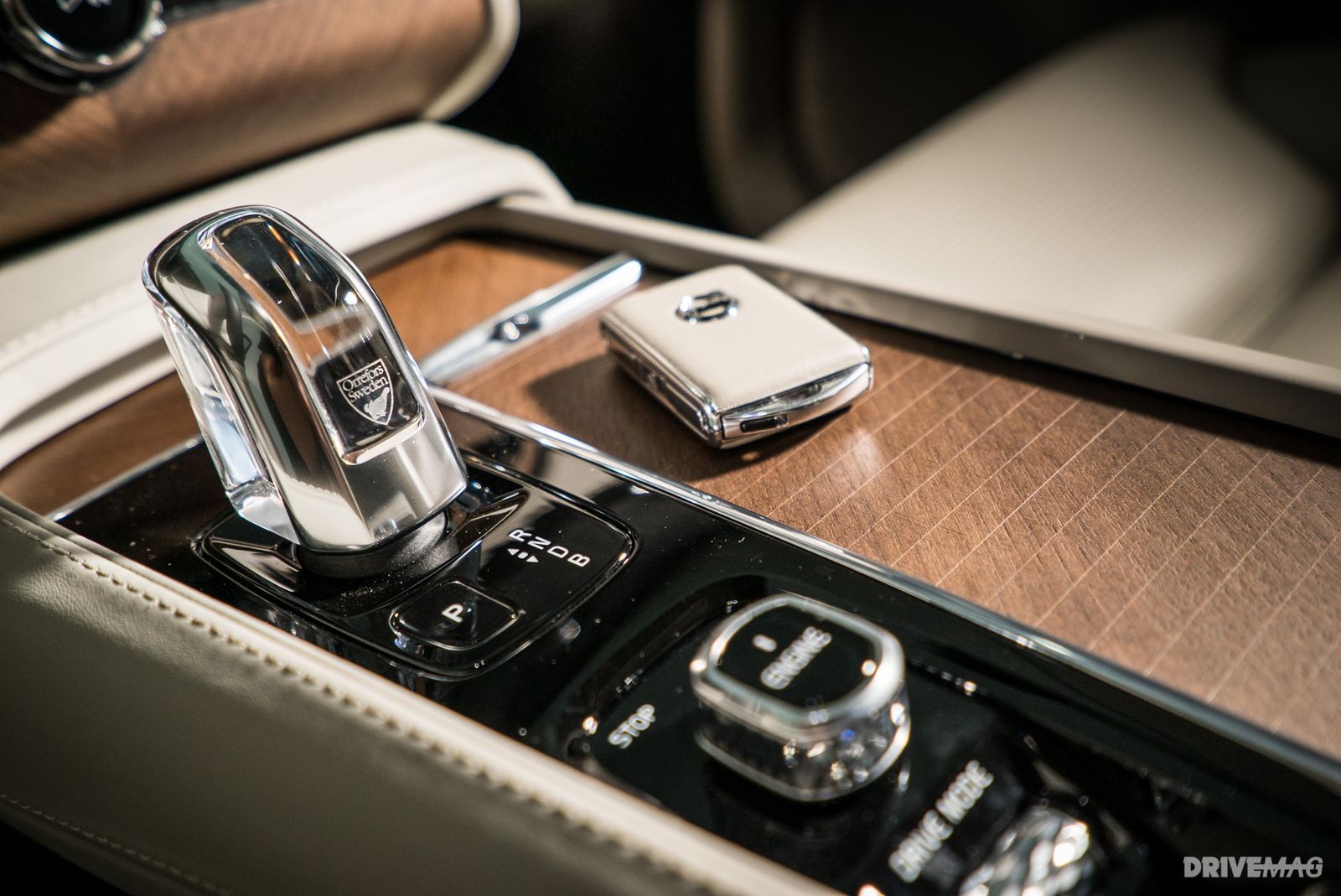 Mercedes-Benz S-Class territory with ease. There's a huge amount of refinement in how the leather upholstery dresses every seat, just as there's exquisite taste in the way Volvo designers managed to blend the wood and aluminum trim on the doors and dashboard with the hi-tech zest of the digital instrument cluster and infotainment tablet. But there's also a jewel to this crown: the crystal glass gear lever, offered only on top-spec models.
Passenger or driver, place your elbow on either the door or central armrest and you'll instantly feel the creaminess of the cushions. So it's needless to say, the XC90 T8 interior is a sense-replenisher from both a tactile and visual standpoint, fit and finish are impeccable and I'd even dare to say that I've been describing a sans-pareil cabin.
---
Practicality 10/10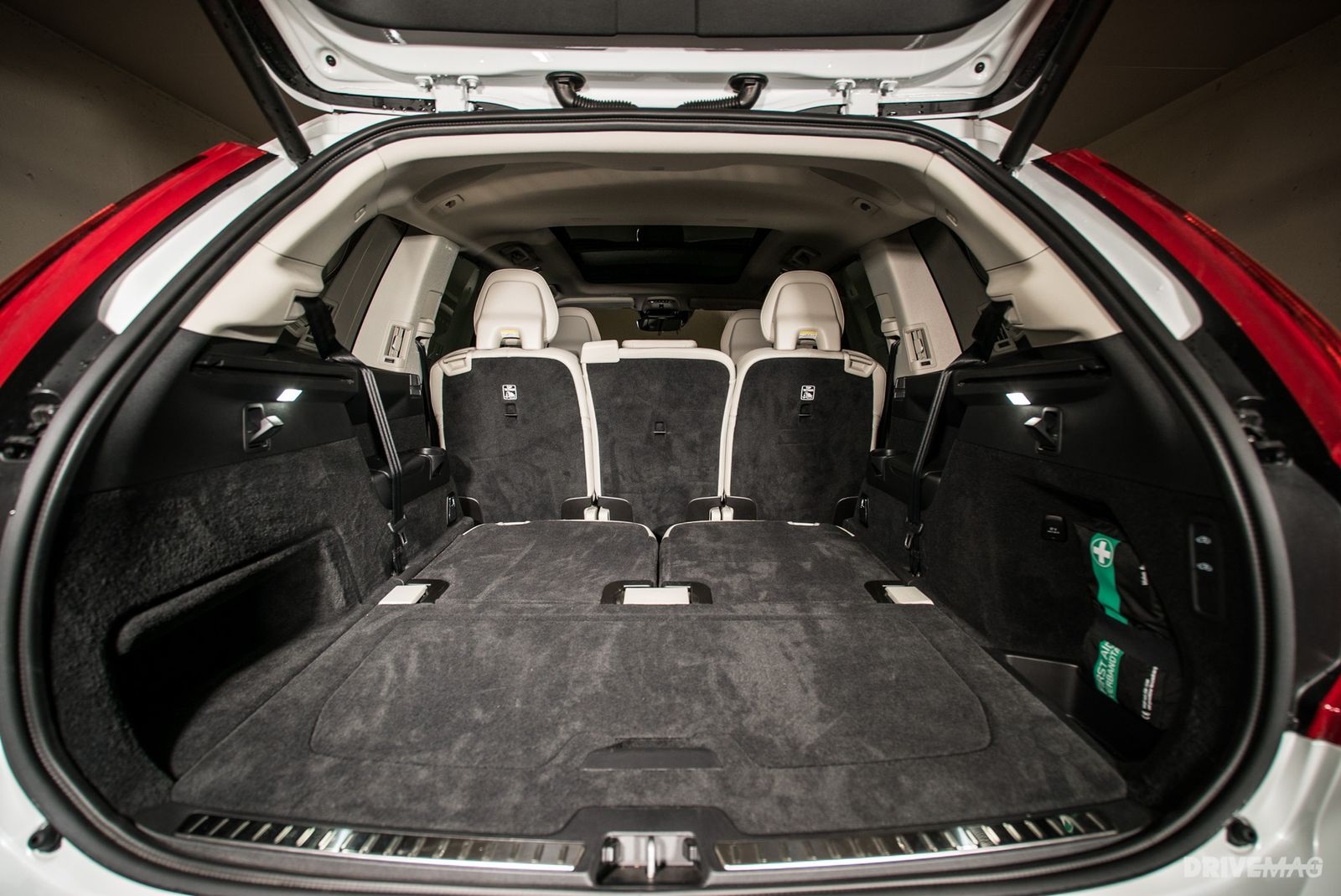 Volvo assembles the XC90 SUV in Sweden on the SPA platform (Scalable Product Architecture). Besides driving dynamics, the architecture was designed with practicality in mind. Again, I must praise the cabin for the storage options it provides, but also for how designers implemented pockets and cubby holes underneath the Norse design.
The wheelbase is 2,984 mm long, and that's easily illustrated by the amount of space inside, but also by how swiftly you can get in or out of the car. Cargo volume stands at 670 liters, or a cavernous 1,816 liters with the third row of seats folded down.
---
Infotainment 10/10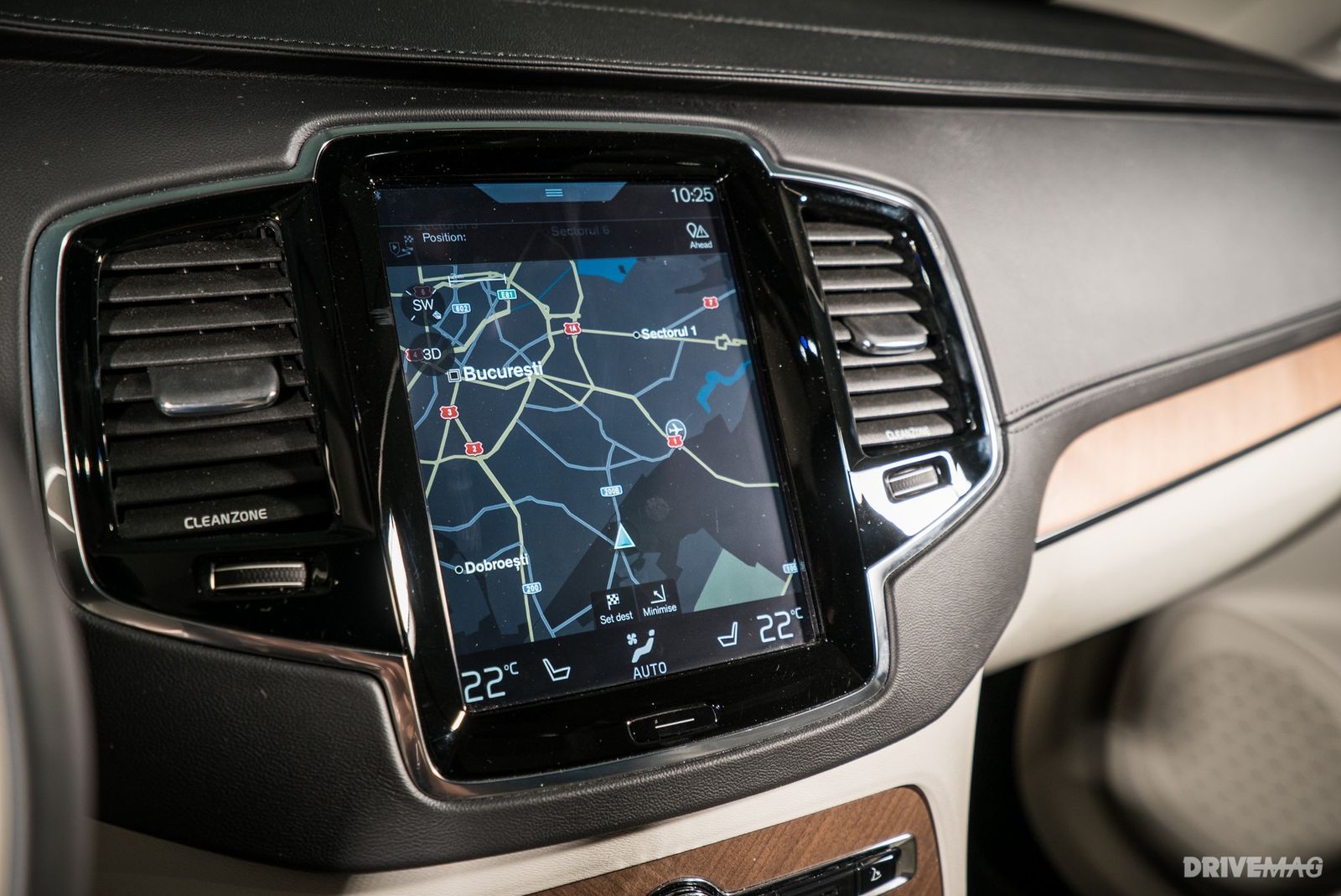 The whole dashboard of the Volvo XC90 T8 can be easily mistaken with an extended infotainment system. It all starts with the digital instrument cluster, with crystal clear synesthesia-triggering graphics of at least the same caliber as those offered by the likes of BMW X5 and Audi Q7.
If there's something I would have liked more about the instrument cluster, that has to do with the way they organized it. Sure, you can change the way gauges look and personalize the entire setup, but I feel the area between the speedometer and tachometer was a good place to display navigation info or at least the speed, maybe in a two-digit format, when the optional HUD is not present.
The thing is, I'm only beginning to dig into the infotainment department, which revolves around the 9-inch central tablet with its Apple-esque home button, that Tesla-inspired solution but much better implemented than the one found on Elon Musk's Model 3 or more recently, on Renault's Talisman and Megane GT.
The tablet offers portrait orientation but its magic is all about integrating all the car's functions – even climate control – under digital blankets sustained by proper hardware. However, this choice leads to congestion as you have a lot of well-designed icons, menus and submenus to handle, which at some point will become annoying, despite the fact that glitches and delays are extinct species.
Volvo tried to keep things simple, therefore swiping right from home screen – split into four tabs: navi, audio, phone, and recently used – will take you to a plethora of audio and app settings while swiping left puts you in command of the vehicle's functions.
Sometimes you need one tap too much to get what you want, but I do appreciate how the screen is oriented towards the driver and its elevated position that doesn't require your eyes to drift away from the road for too much time.
Lastly, the inside ambiance is also about spoiling one's eardrums. Our tester was fitted with the optional Bowers and Wilkins sound system which uses Kevlar midrange units and replicates the acoustics of the Gothenburg Concert Hall, a recording studio or a stage environment. Need I say more?
---
BUDGET
Efficiency 7/10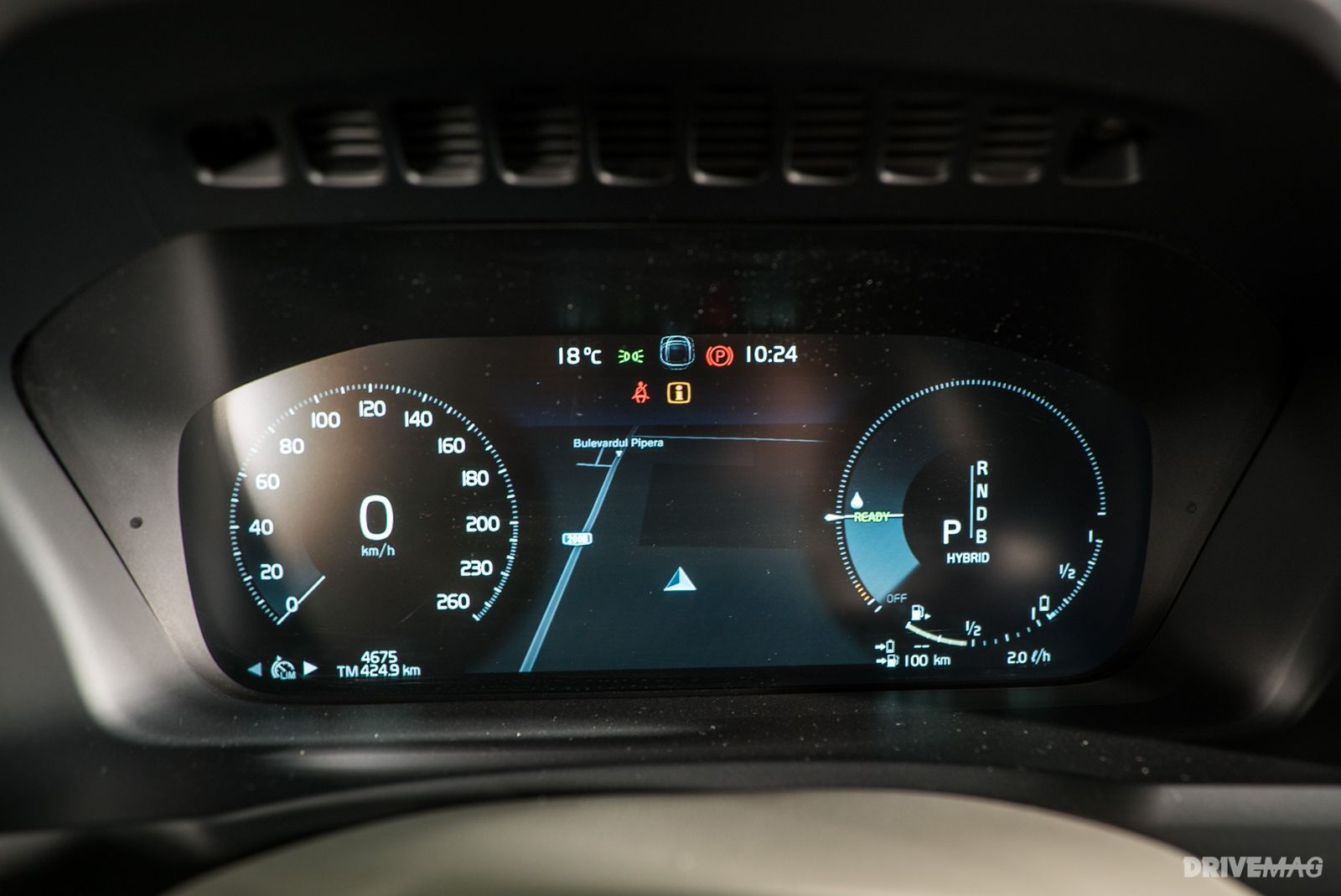 On paper, the XC90 T8 Twin Engine advertises it car return as much as 134.5 mpg, the equivalent of a full consumption figure of 2.5 l/100 km. However, that's far from the what real life has in store for the SUV that can also sprint from 0 to 62 mph (100 km/h) in 5.6 seconds.
What we got, after mixing urban driving with highway journeys and B-road travel, was a fuel consumption average that settled around the 20.6 mpg (11.5 l/100 km) mark.
However, Volvo claims you can travel for 25 miles (40 km) on full-electric power, provided the battery is juiced-up 100%. We managed to travel only 15 miles (24 km) with only the electric motor spinning the rear wheels, but the figure depends a lot on traffic flow and how heavy your right foot is.
---
Equipment 10/10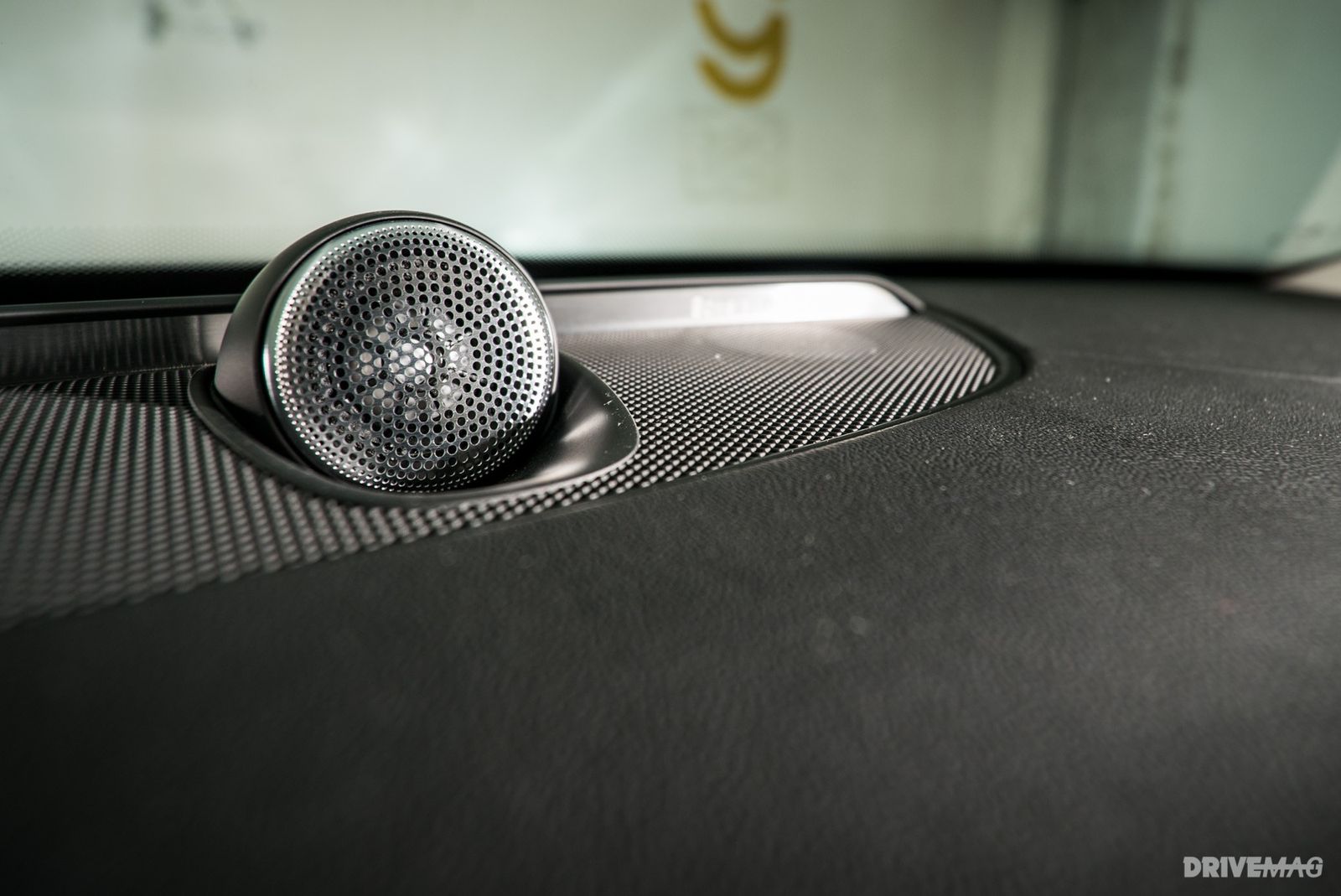 Every XC90 T8 comes with a standard equipment palette consisting of eAWD, 19-inch spoked alloys, adaptive LED headlights with Thor's Hammer daytime running lights and power cushion extensions for the front seats.
Go one step further and opt for the Inscription trim level and you get ambient lighting inside the cabin, aluminum roof rails, Nappa leather upholstery and Nappa leather inserts for the dashboard, upper door panels and key fob, ventilated front seats and a crystal gearshift knob.
---
Acquisition 8/10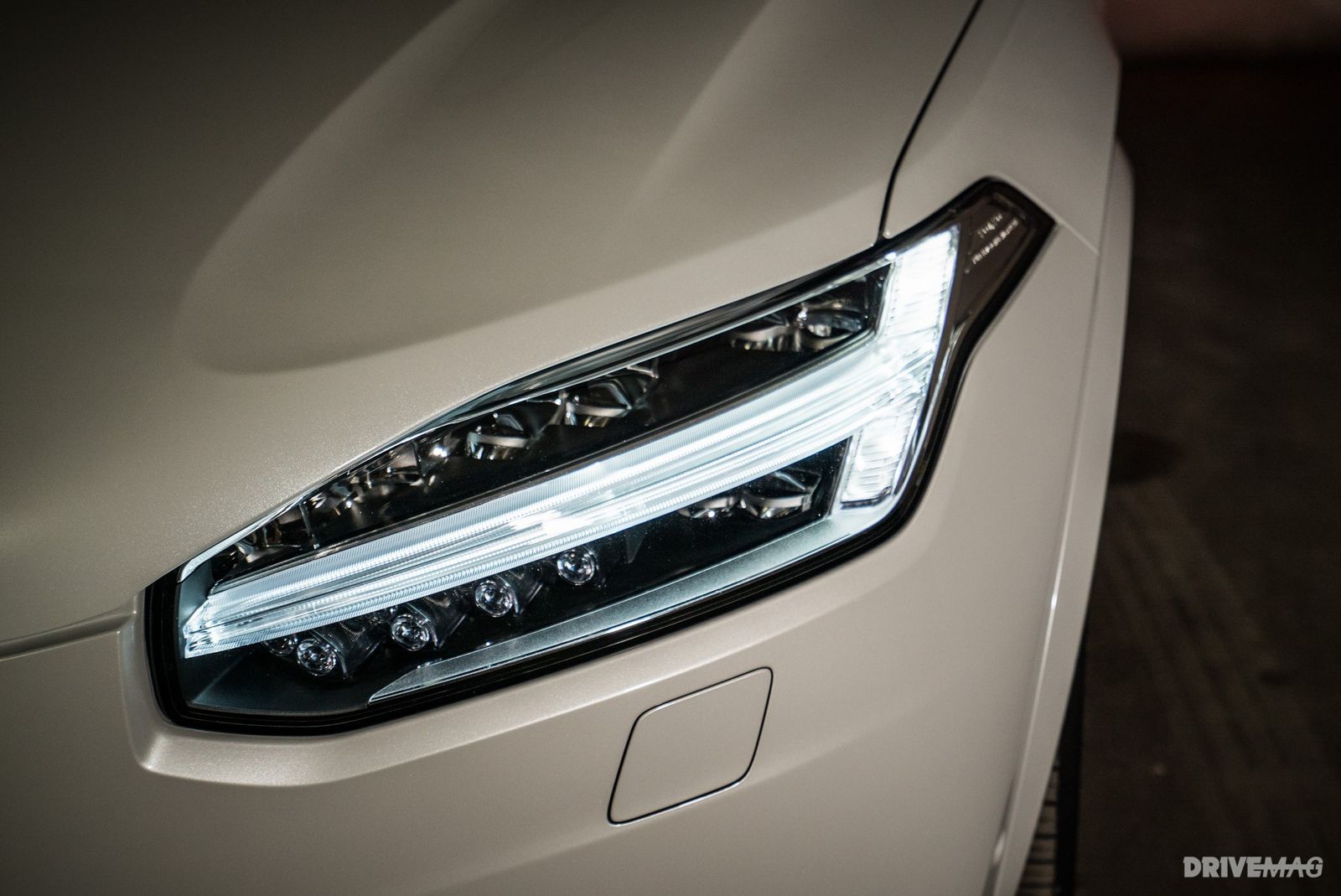 In the US, the starting MSRP for the Volvo XC90 T8 is $68,100 for the Momentum version. The R-Design variant costs at least $70,000 MSRP, while the range-topping Inscription will require a minimum investment of $71,600 MSRP. Of course, you can take that price tag close to six-figure territory by just playing with the optional equipment available for the XC90. In Europe, the XC90 T8 Twin Engine starts at £60,455 (roughly €72,585).
As for what the XC90 stands for, it's one of the most attractive packages in the SUV segment at the moment, combining classy Swedish design with top-shelf performance, ergonomics, cabin serenity, and practicality. It's a car that's equally adapted to the needs of a large family or a CEO for that matter. However, consider the diesel range if you're looking for frugality but if the Benjamins are not a problem, then it's worth going for the T8 Twin Engine.