For the rich and stylish who don't want to give up on driving thrills
Overall Score 89/100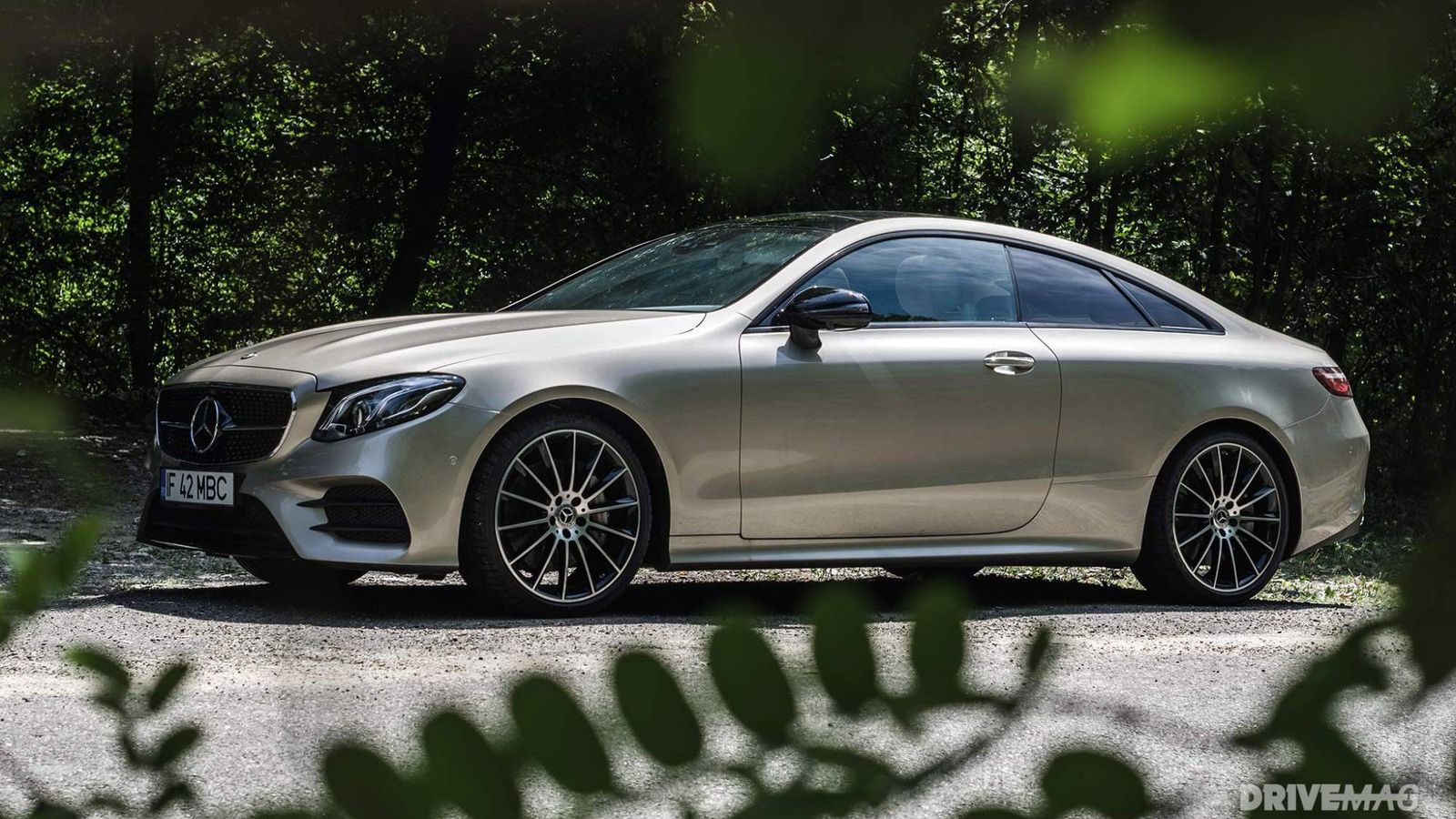 Unlike its predecessor which abused the E-Class Coupé name (it was in fact based on the W204 C-Class platform), the all-new model truly deserves to bear the E-Class moniker.
That's because it uses the same platform as the W213 E-Class sedan, despite adopting a rather confusing C238 codename. As a consequence, it boasts a roomier cabin, with rear passenger benefiting the most of it. What also improves is the appearance: hands down, this is one of the best-looking Mercedes-Benz coupés of all time. I honestly couldn't find one awkward angle of the E-Class Coupé — and believe me, I probably spent more time staring at the E 400 than driving it.
Then there's the interior: you'd have to be very picky to find something wrong with it, particularly if you're looking at a well-equipped E 400 4MATIC Coupé like the one I reviewed. High-quality materials like leather, wood, and polished metal come together so nicely with the sophisticated technology, an array of comfort features, and tasteful design that you won't want to get out of the E-Class Coupé at the end of your journey.
Truth be told, I was surprised by many of these qualities, having driven the E-Class sedan last year. So I wanted to find out if the E 400 4MATIC Coupé was fun to drive, given that it's the range-topping version and the driver's choice in the E-Class Coupé lineup — at least until Mercedes-AMG acknowledges the existence of the two-door E-Class and starts rolling out the E 43 and E 63 performance versions.
---
IN BRIEF
RECOMMENDED FOR:
Driving Nuts, Managers, Young And Single
CREATED FOR:
Highways, Winding Roads
HATS OFF FOR:
Comfort, Engine Power, Gadgets, Road Handling, Safety, Sound System
---
DRIVE
Powertrain 9/10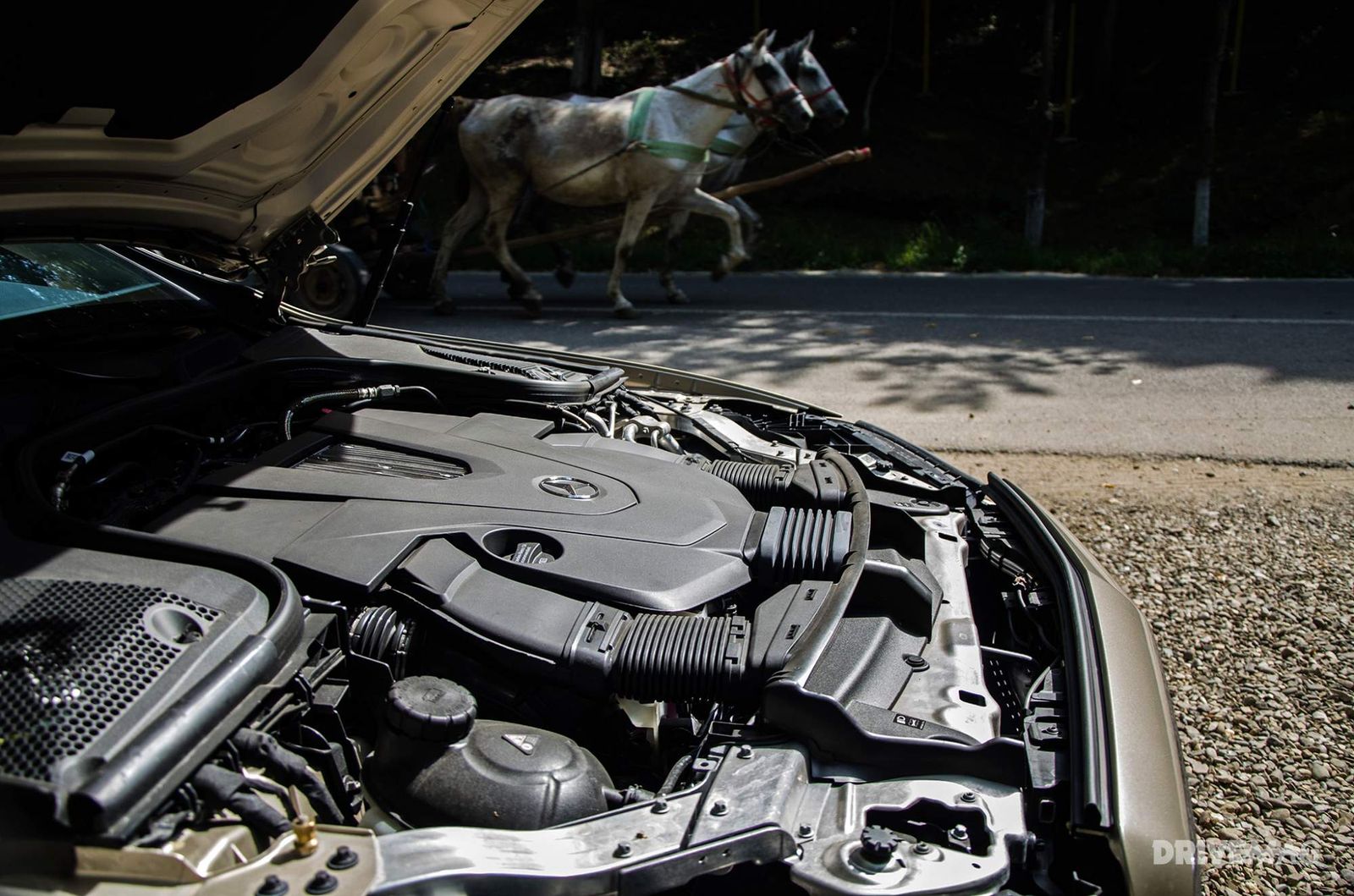 Three liters. Three hundred and thirty-three horsepower. Why didn't they call it the E 333 then? Joking aside the twin-turbo V6 gasoline engine hooked to the 9G-Tronic nine-speed automatic transmission and the 4MATIC AWD system makes the E 400 Coupé a laid-back gran tourer with ample reserves of power.
The peak torque of 480 Nm is constantly available from 1,600 rpm to 4,000 rpm, making possible a 0 to 100 km/h sprint of 5.3 seconds. You can pull away very quickly from the stop lights, and the sensation of speed is amplified by the gruff noise the six-cylinder makes under acceleration — you can rev it to 6,000 rpm, by the way.
---
Handling 8/10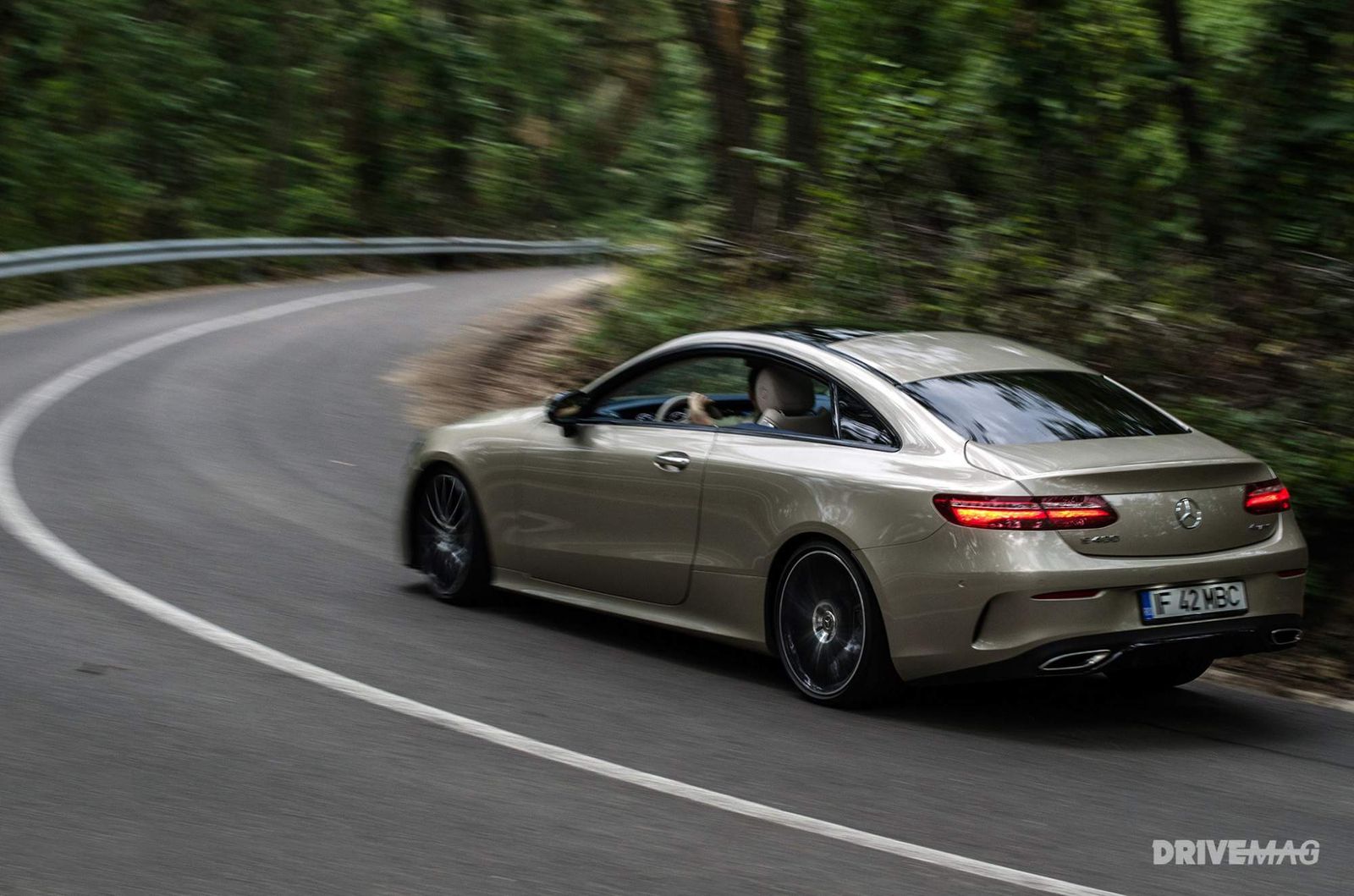 Let's make one thing clear: the E 400 4MATIC Coupé tips the scales at 1,845 kg (4,067 lb), so it's no featherweight. But it sits closer to the ground than the sedan, with the lower center of gravity favoring sharper handling characteristics.
Our tester had optional 20-inch alloys with ultra low-profile tires that helped further reduce body roll. Plus, the optional Air Body Control suspension in Sport+ mode does a surprisingly good job of keeping the big coupé glued to the tarmac even when pushed hard in corners.
---
Safety 10/10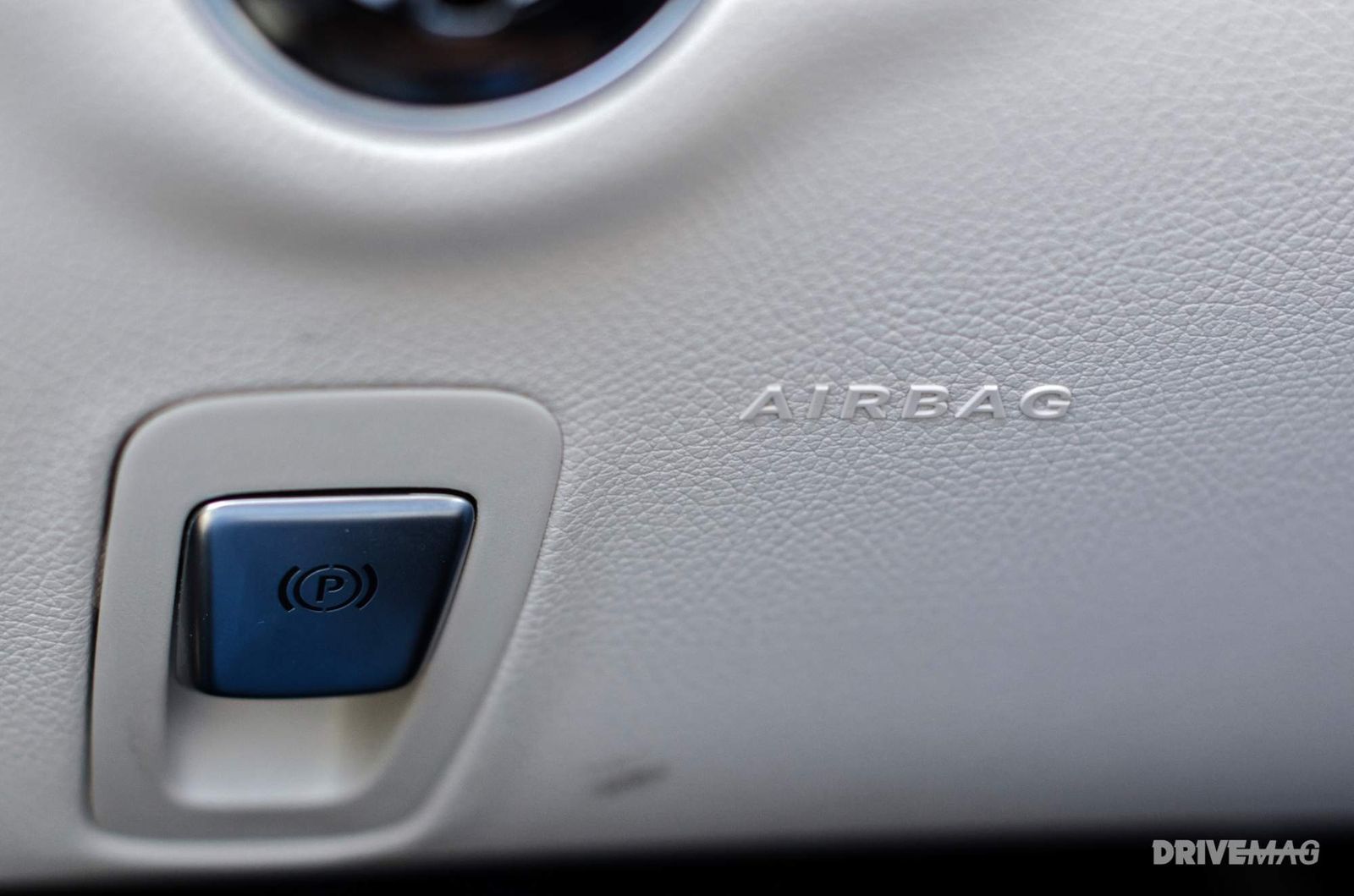 The E-Class Coupé hasn't been tested by EuroNCAP, IIHS, or the NHTSA for that matter, but given that it shares the platform with the five-star E-Class sedan, there should be no reasons to worry. The car we tested featured the optional Drive Pilot semi-autonomous driving system, which can take over driving duties on the motorway and even in stop and go traffic.
Drive Pilot can switch lanes by itself when the turn signal is activated, provided that the maneuver is safe to undertake. The tester also had self-parking technology so it's safe to say one would have to be truly committed to getting involved in an accident with the E-Class Coupé.
---
INTERIOR
Comfort 9/10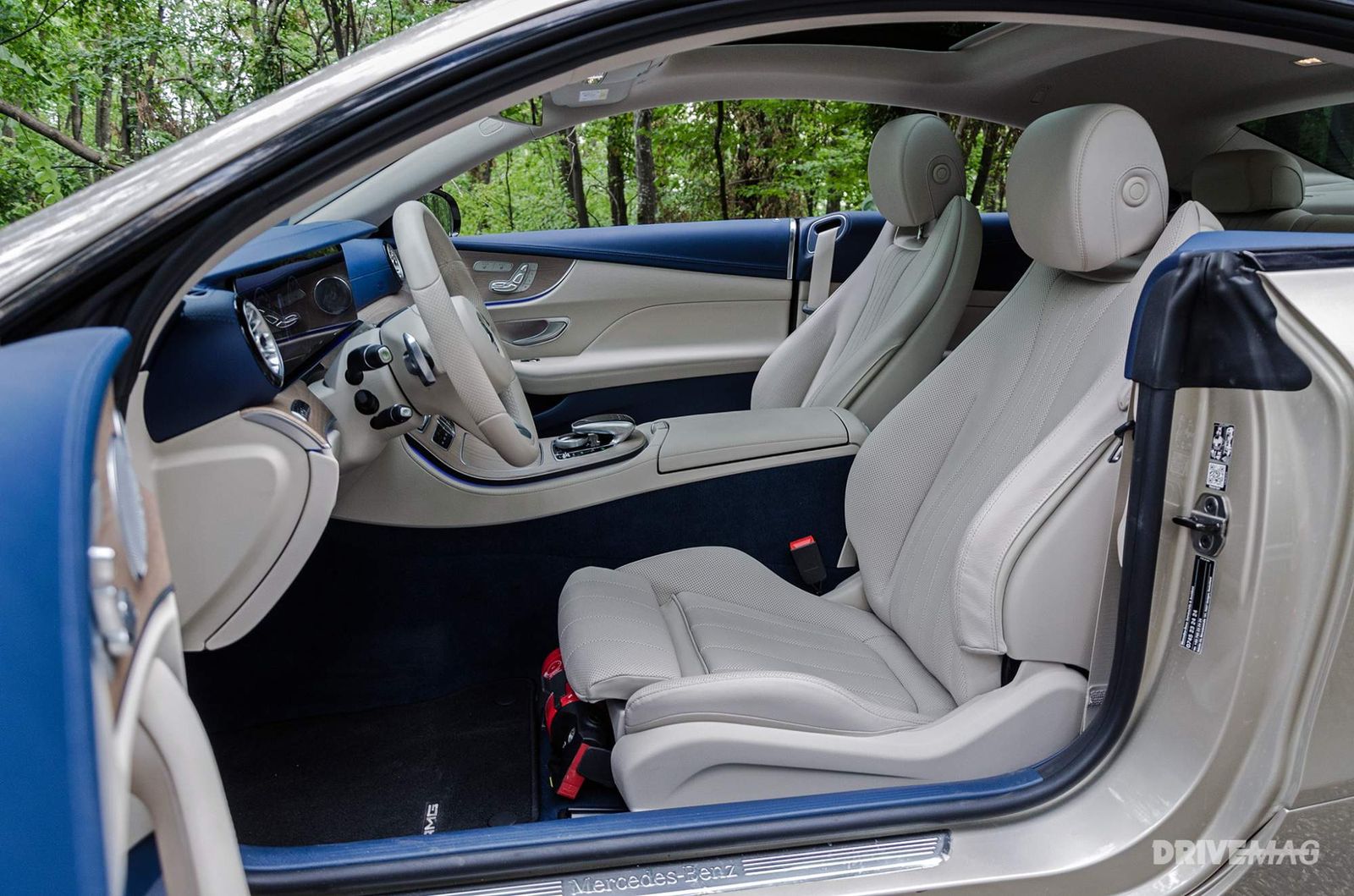 Put the Air Body Control multi-chamber air suspension in Comfort mode, and the E 400 4MATIC Coupé starts wafting along as if nothing could upset its cosseting ride. Except there is something: potholes. Moderate to severe road irregularities can unsettle the E-Coupé, and the cracking noises coming from wheels are not pleasant at all. I suspect the 20-inch alloys share a big part of the blame, so if you go for standard 18-inch rims (or even 19-inch wheels), this issue should be significantly reduced.
There's nothing else one can criticize about the comfort of the E Coupé: the seats are very cozy, the cabin is silent (although less so than the sedan because of the frameless window doors), and the smooth transmission and steering make it really easy to drive.
---
Quality 10/10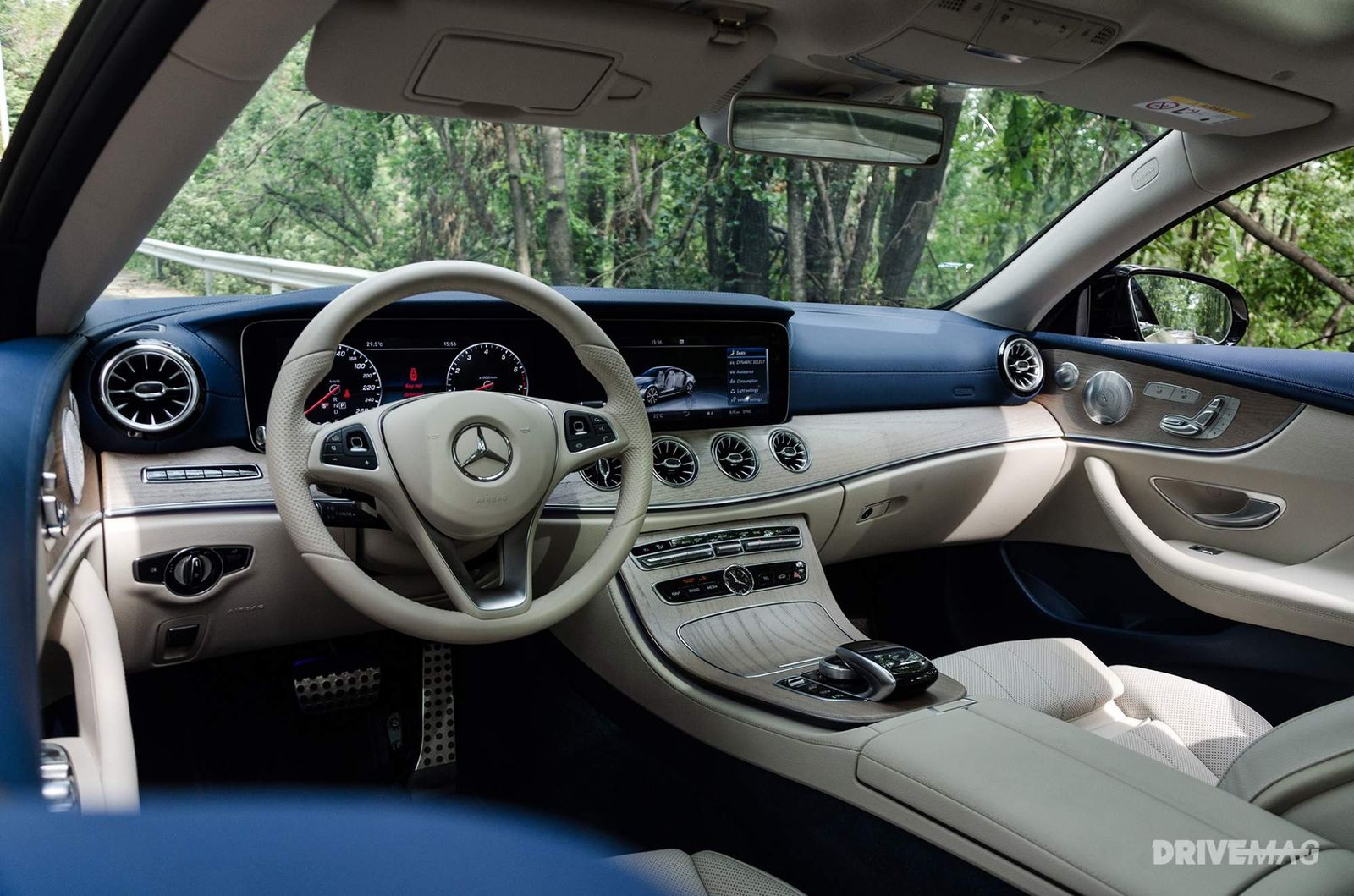 I don't think there's any interior in the executive segment that comes anywhere near this one. Our tester treated us with a tasteful combination of lovely beige and blue leather, soothing elm wood trim, and polished metal switchgear — all of which are pure ecstasy for your eyes and fingers. The turbine design of the air vents, unique to the Coupé and Convertible, is a nice touch, as is the Widescreen Cockpit.
The analog clock is so last century compared with the fully-digital instrument panel, yet somehow looks like it belongs there. The cabin oozes quality from every pore and has a calming effect on passengers. There could be World War 3 unfolding outside, and it would still leave passengers unfazed.
---
Practicality 8/10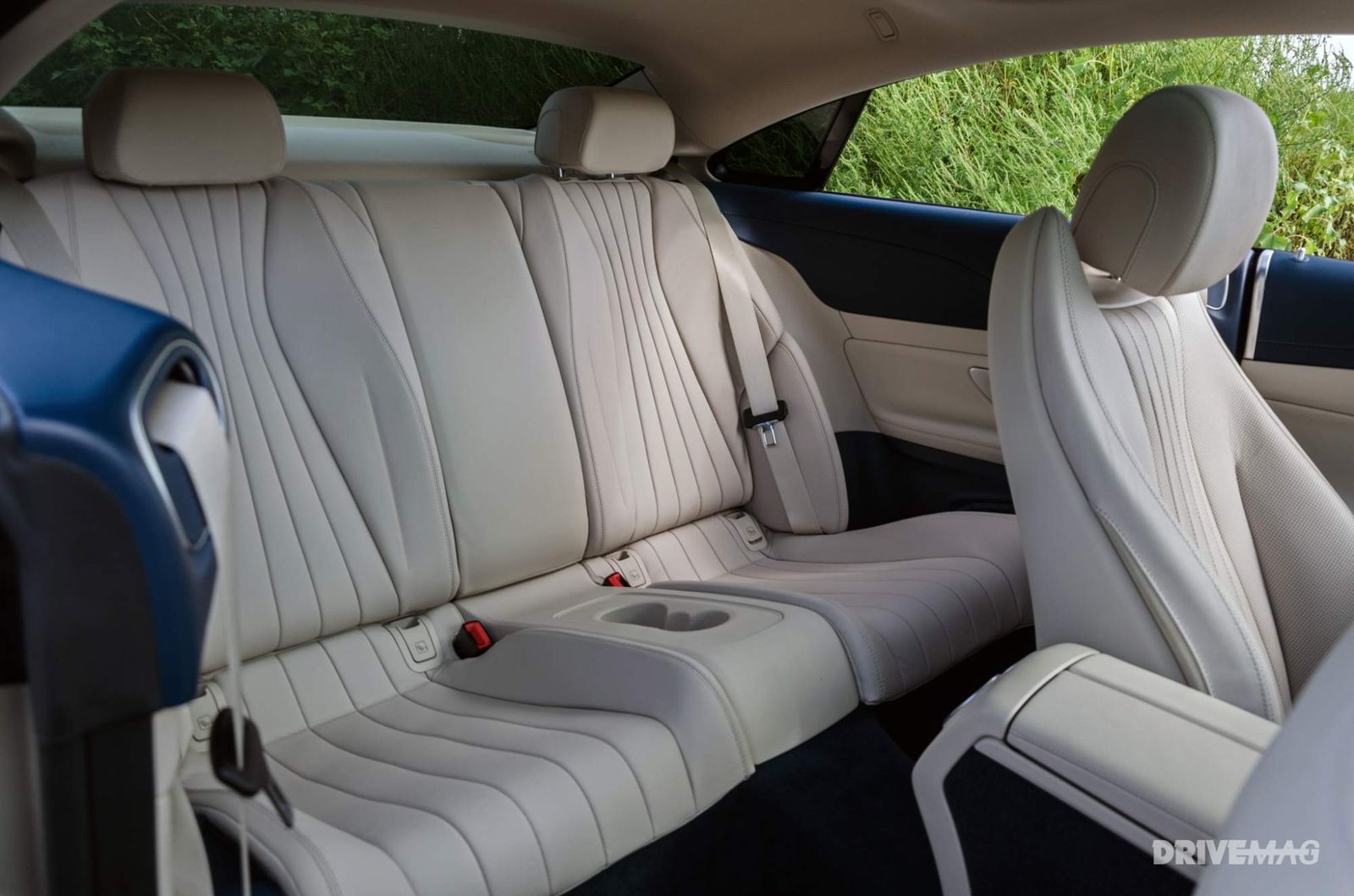 I won't get into details about practicality since that's not a primary concern for an E-Class Coupé customer, but I will tell you that four adults can travel comfortably over long distances, and there's enough room for their luggage as well — albeit the boot opening is a bit small. The roomier interior is due to the wider body (+74 mm) and longer wheelbase (+112 mm) of the new model compared to its predecessor.
I'm 6-ft (1.83-meter) tall, and I enjoyed generous knee room, legroom, and elbow room in the back of the E 400 4MATIC Coupé. However, headroom is a bit tight on models with a sunroof like our tester: while the top of my head didn't touch the ceiling, there was very little room left in between.
---
Infotainment 9/10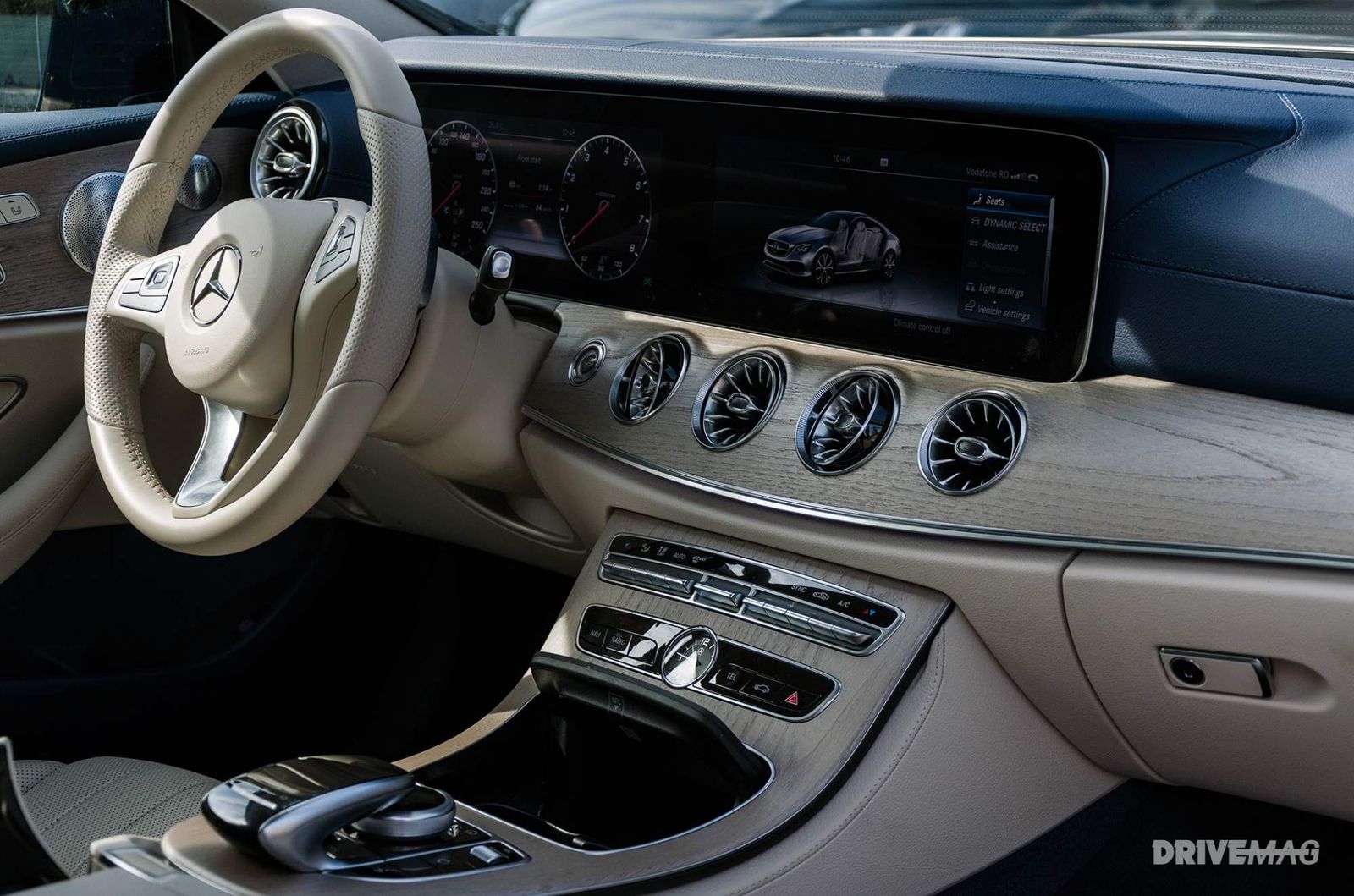 Our car had the range-topping Comand Online infotainment system which works great if you're used to it but takes some time to adapt if you come from BMW's iDrive, for example. The menus are a bit complicated for my liking, and sometimes you have to go through too many steps to launch a command.
Other than that, the interface is hard to fault: the graphics displayed by the twin 12.3-inch displays are top notch, the response is quick, the swipe buttons on the steering wheel are a breeze to use, and sound quality is from another planet with the optional Burmester surround system.
---
BUDGET
Efficiency 8/10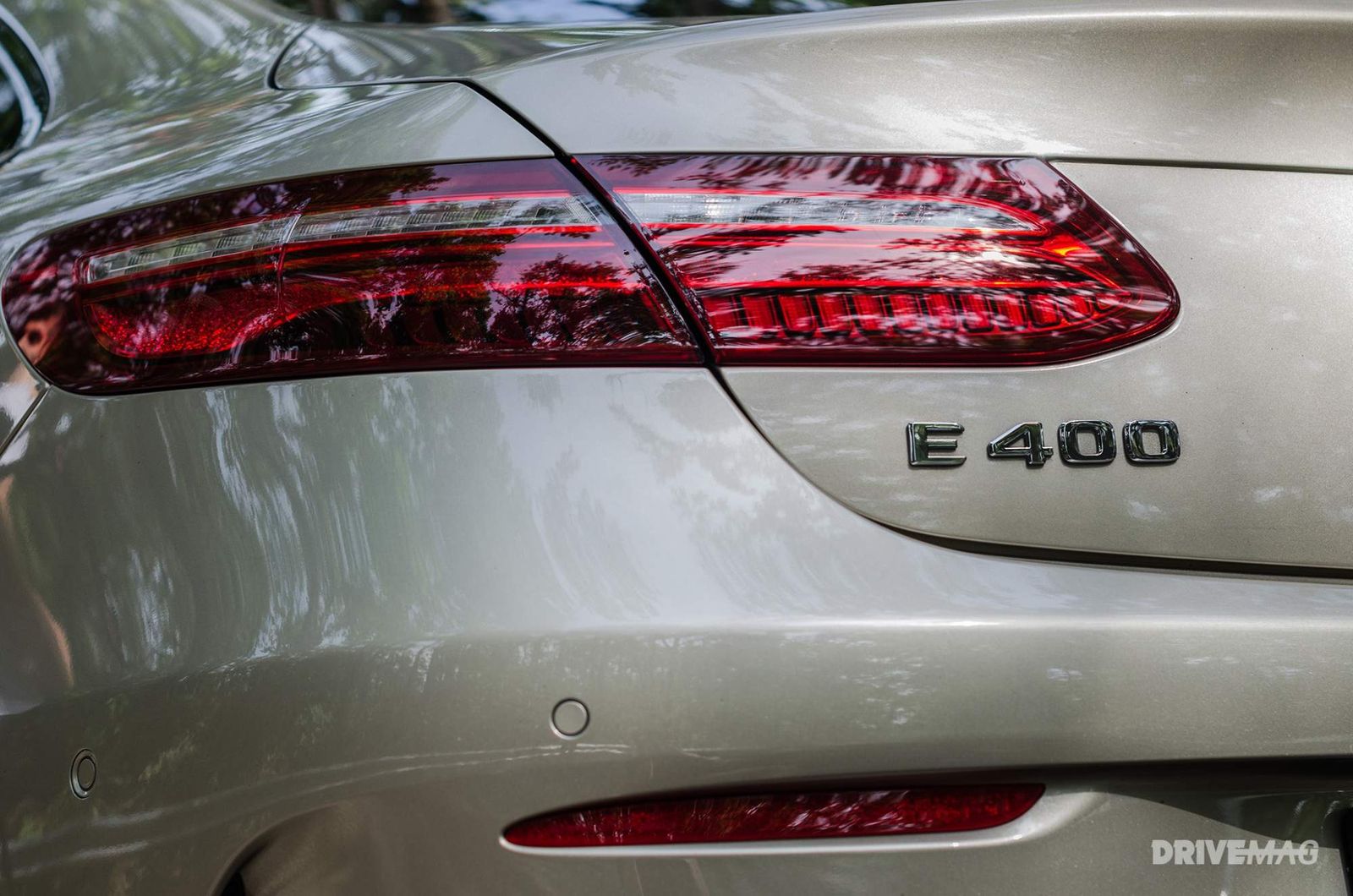 It goes without saying that a 3.0-liter twin-turbo V6 gasoline engine isn't too friendly with your wallet. That said, you can get decent mileage in the E 400 4MATIC Coupé — although not quite the claimed average of 8.4 liters/100 km. The lowest fuel consumption figure we saw was 9.7 l/100 km, but that was recorded almost exclusively outside the city.
The E 400 benefits from a gliding function that decouples the combustion engine from the transmission, allowing the vehicle to coast freely when the driving situation and charge level of the battery allow it — thus reducing fuel consumption.
---
Equipment 9/10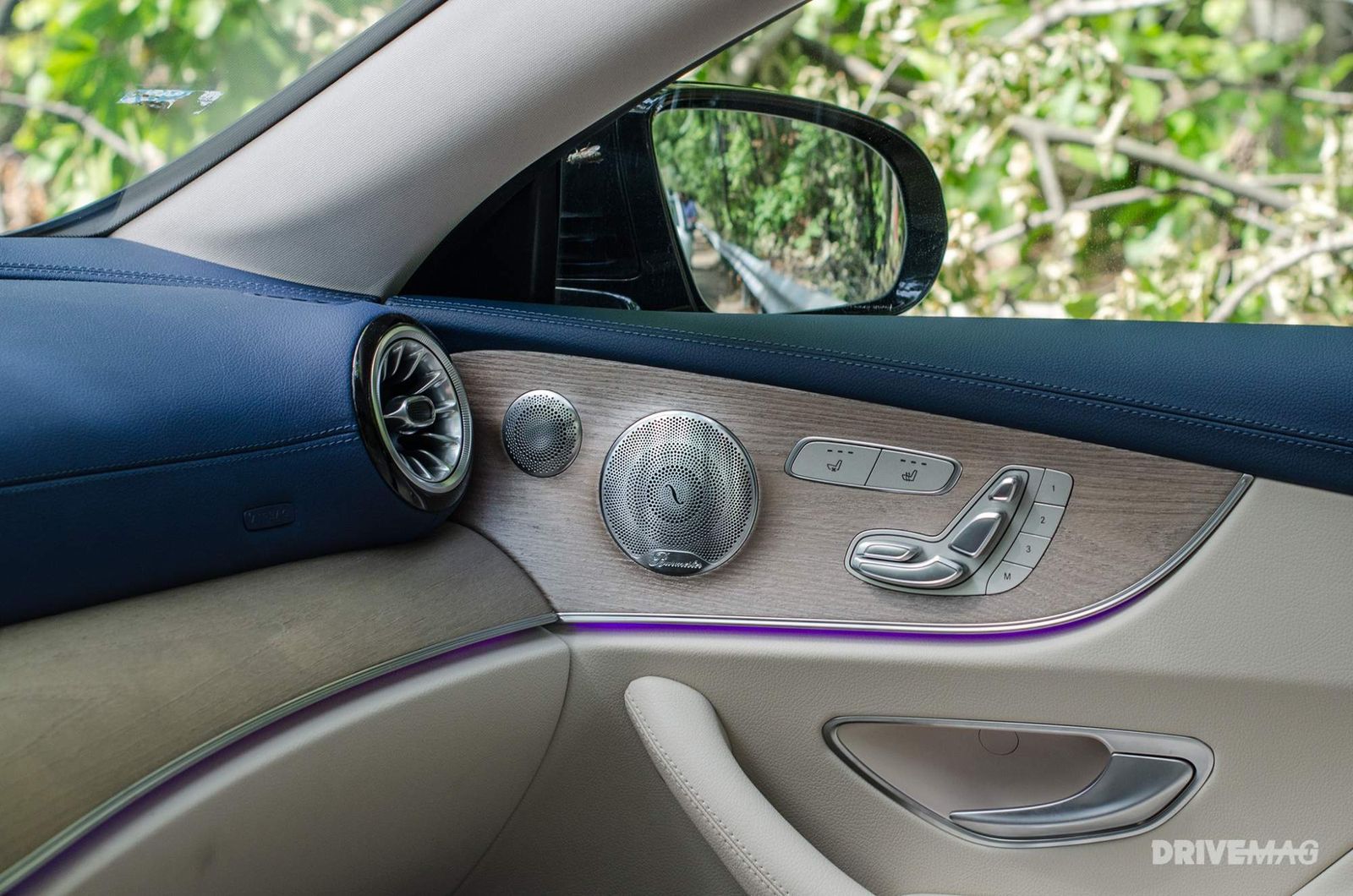 Whoever configured this press car knew what he or she was doing. Nothing was missing from the E 400 4MATIC Coupé: self-driving and self-parking capabilities, Multibeam LED headlights, 360-degree cameras, air suspension, and much more.
It had €23,000-worth of optional extras, including multi-contour front seats with heating, ventilation and massage functions, panoramic sunroof, and Keyless-Go package, among other things. Your imagination and bank account size are the only limits when configuring an E-Class Coupé.
---
Acquisition 9/10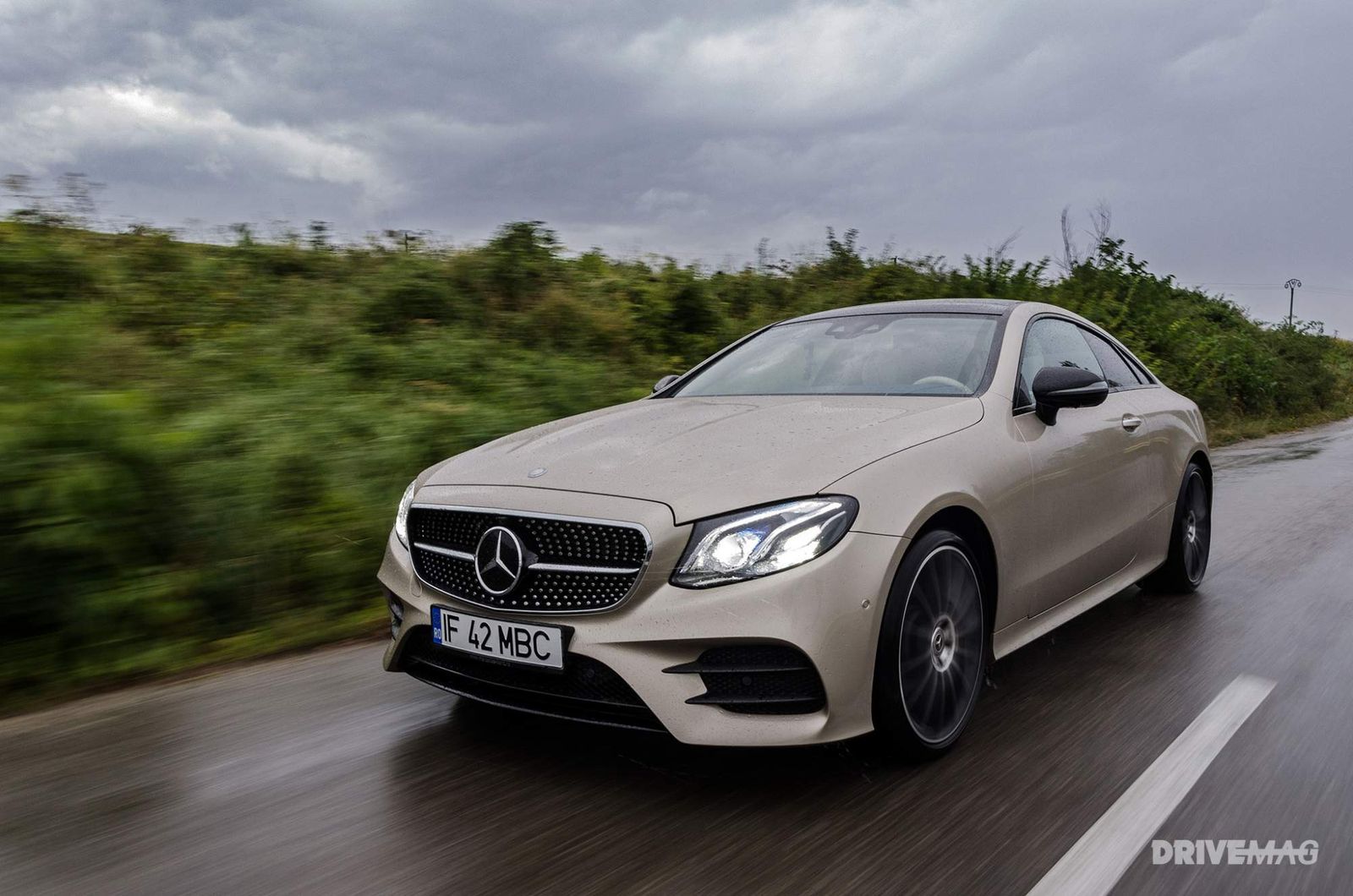 A base E 400 4MATIC Coupé starts at €64,807 in Germany, and you do get a decent amount of kit for your money. Standard features include LED headlights, four-way electrically-adjustable front seats, Thermatic dual-zone climate control system, Audio 20 USB infotainment system with 8.4-inch display, Dynamic Select driving modes, rain-sensing wipers, split-folding rear seats, and more.
However, the standard equipment only scratches the surface of what you can have on the E-Class Coupé. But if you like it, go ahead. Especially since there's no direct competitor for this car yet — the Audi A5 and BMW 4-Series Coupé are much cheaper and smaller, while the 6-Series Coupé is slightly bigger, more expensive, and about to be replaced.