Completing the X suite, the new BMW X2 is also one of the most capable vehicles Bavaria has to offer, sales-wise. This young superstar is ready to cash
Overall Score 88/100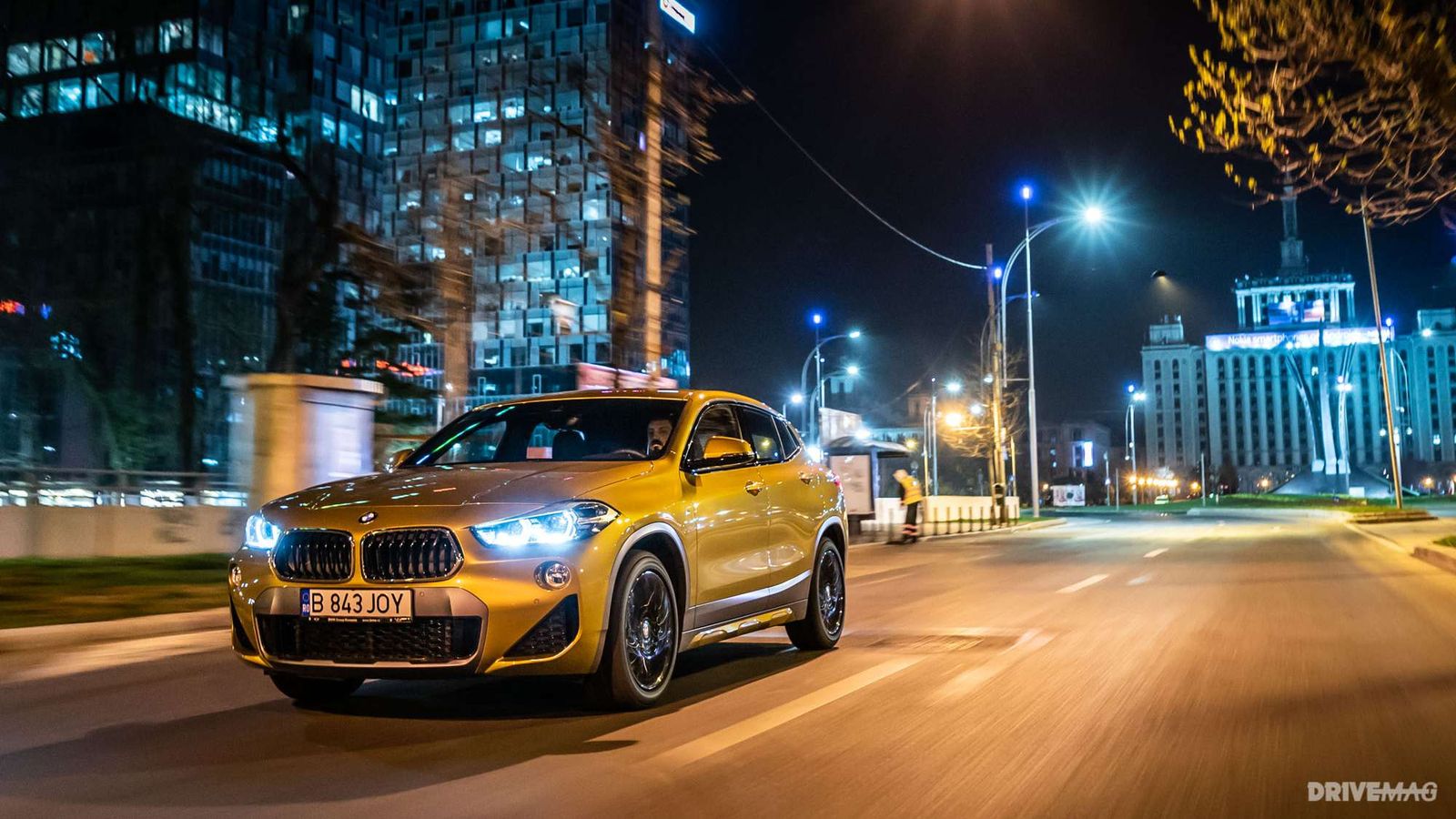 It's not even a surprise that the BMW X2 has been born. It was the sole number left in Bavaria's X suite (where I'd consider the X7, X8, etc. additions, not completions). But, this time, something special happened: the odd-numbered X doesn't bear some kind of avantgardist, funky, bit useless outfit. No, the X2 tries to look special without compromising the practicality. It is almost as useful as its run-of-the-mill sibling X1, actually; and not just on paper, as we've discovered.
The "special look" is, of course, a matter of taste. Its face? Not necessarily on our taste. There's a daring blend of shapes on the X2's front fascia that makes us question things, just like we'd do in front of an abstract painting. It might make sense to others, you know?
From a rear-side view, you're bombarded by the white-blue badge, mounted on the boot lid and the C pillar as well. On the C pillar, exactly, just like the prestigious CSL "Batmobile." You see, the X2 is a bit of a rebel just like the rest of the odd-numbered BMWs.
There are a lot of things that would see this apple falling a bit too far away from the tree, and not just because of its grille that widens at the bottom. Or the fact that it looks like an insecure hatchback. It doesn't make you think "sheer driving pleasure," and its underpinnings can't convince a BMW fan otherwise: in standard guise, it's front-wheel drive, and the biggest engine that fits under the bonnet is a two-liter four-pot. The entry-level unit is a three-cyl.
Compared to the BMW family's oddball 2 Series Gran Tourer, the latter does at least know its purpose. The X2 is a bit of everything but stands for nothing in particular. Which is why the X2 might just be Bavaria's next superstar, sales-wise, because it has something the modern public is after. Design statement? Check! Practicality? Check. Efficient engines? Check! Tech? CHECK! (The X2 is the second BMW model to feature wireless Apple Car Play connectivity, after the 7 Series.)
---
IN BRIEF
RECOMMENDED FOR:
Families
CREATED FOR:
Highways, Urban Driving
HATS OFF FOR:
Gadgets, Road Handling, Safety, Sound System
---
DRIVE
Powertrain 9/10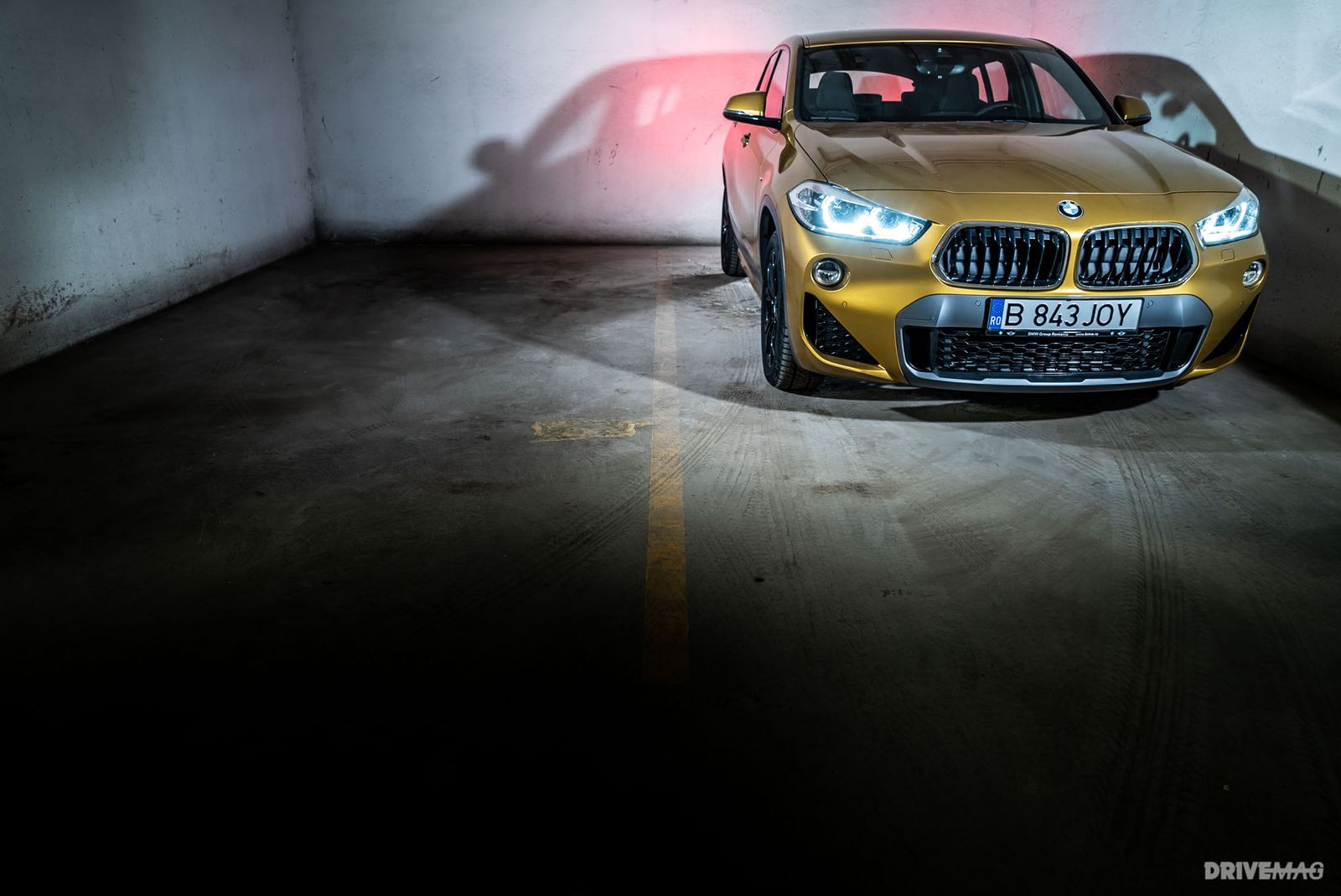 Although I'd personally love my hatchback-turned-crossover to have a petrol engine (like the 228-hp xDrive28i sold in the US) instead of a diesel you're still good to go with the 25d. It's a two-liter four-pot packing 231 metric horsepower (170 kW) and 450 Nm (332 lb-ft) of torque boasting a naught-to-sixty(-two) miles per hour in 6.7 seconds. So it's not bad, except maybe for its not-at-all-attractive voice. However, this is the most powerful X2 available in Europe, and it will most likely keep this title.
In its simplest form, the X2 hardly resembles the BMW that we were used to: front-wheel drive, six-speed manual, 1.5-liter engine. But even if you're OK with a three-cylinder, FWD X2 don't hesitate to pay some extra for the Steptronic gearbox as it dramatically changes your life behind the wheel. It's worth every penny.
---
Handling 10/10
For some reason, the X2 resembles a hatch even more than its platform brother, and our tester had all it needed to even feel like one. The X2 wants to be this sporty, funky alternative to the X1, and it can deliver if you ask it.
The M Sport suspension makes the car sit a bit lower and stiffens the hell out of those dampers, granting a more than enjoyable ride, if by "ride" you mean hooning it through the city at night like, um, some friend of mine did. Is it enjoyable? Yes! Is it comfortable? Not quite.
---
Safety 10/10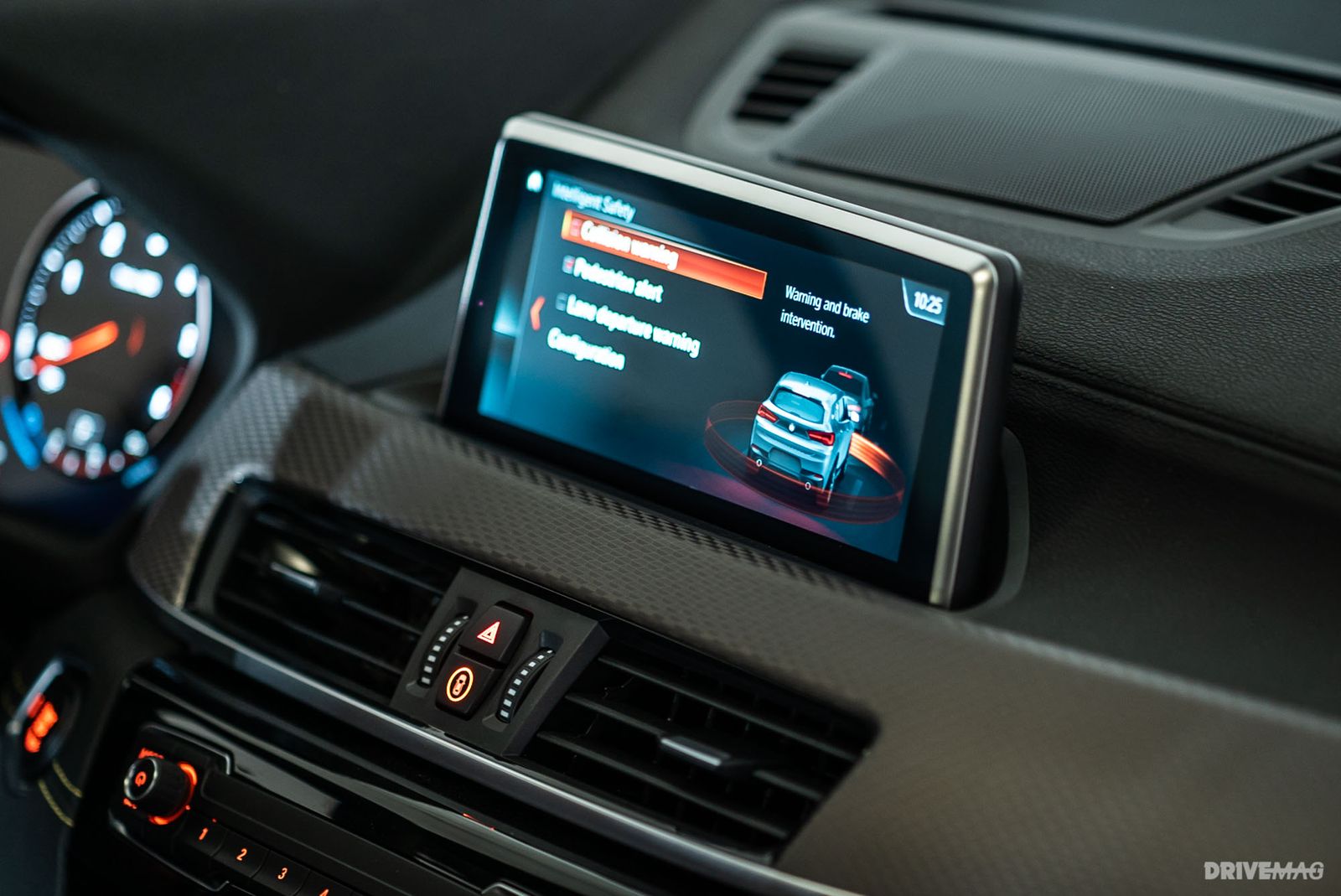 The BMW X2 might not make you feel safe like an SUV does but it has a plethora of tech to keep you safe in case things tend to turn ugly in an instant. Besides airbags all around the X2 comes with forward vehicle collision warning and autonomous city brake assist as standard.
As expected from a premium brand, the optional goodies include Traffic Jam Assitant, adaptive cruise control, BMW head-up display, and many more. Tested by the EuroNCAP alongside the X1, BMW X2 scored, just like its brother, the maximum five-star rating.
---
INTERIOR
Comfort 6/10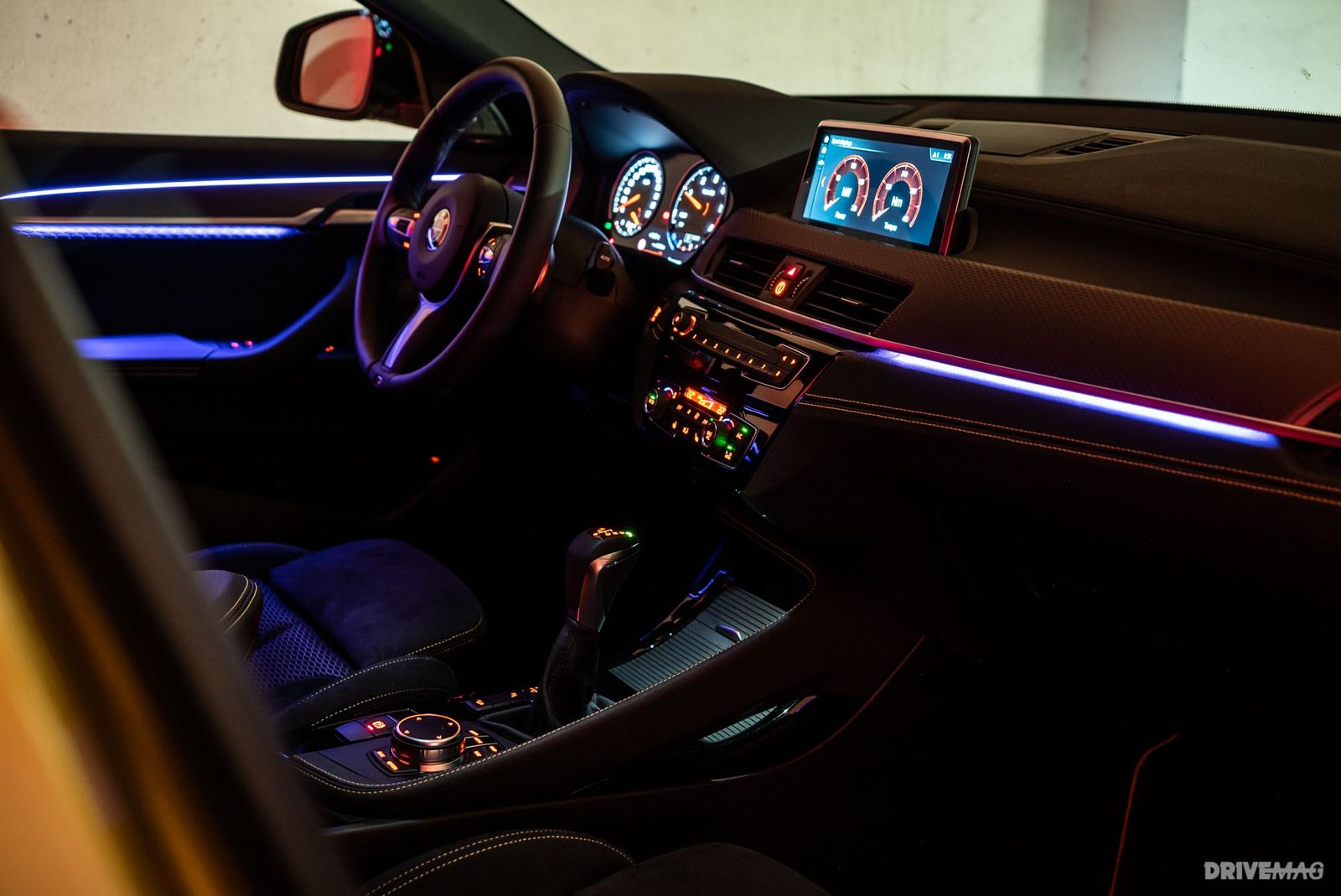 After driving the X2 I can tell you how uncomfortable it can be rather than the other way around. Our tester was in its sportiest guise ever, sitting on 20-inch alloys and bearing the optional M Sport suspension system. It was all right until I landed on some cobblestone and instantly felt the need for a bathroom. Now, this doesn't mean it's all bad. It just proves that the X2 can be THAT stiff if you really want but you shouldn't. Settle for some smaller rims, and aim for the adaptive suspension and it's already better.
As for the room it offers, here's the thing: you might think (just as we — and the rest of the world — did) the X2 looks better so it can't be as spacious as the X1. Well, it's not much more crowded either. Actually, four adults can share X2's cabin without shoving their elbows into the others' ribcages — unintentionally, of course.
---
Quality 10/10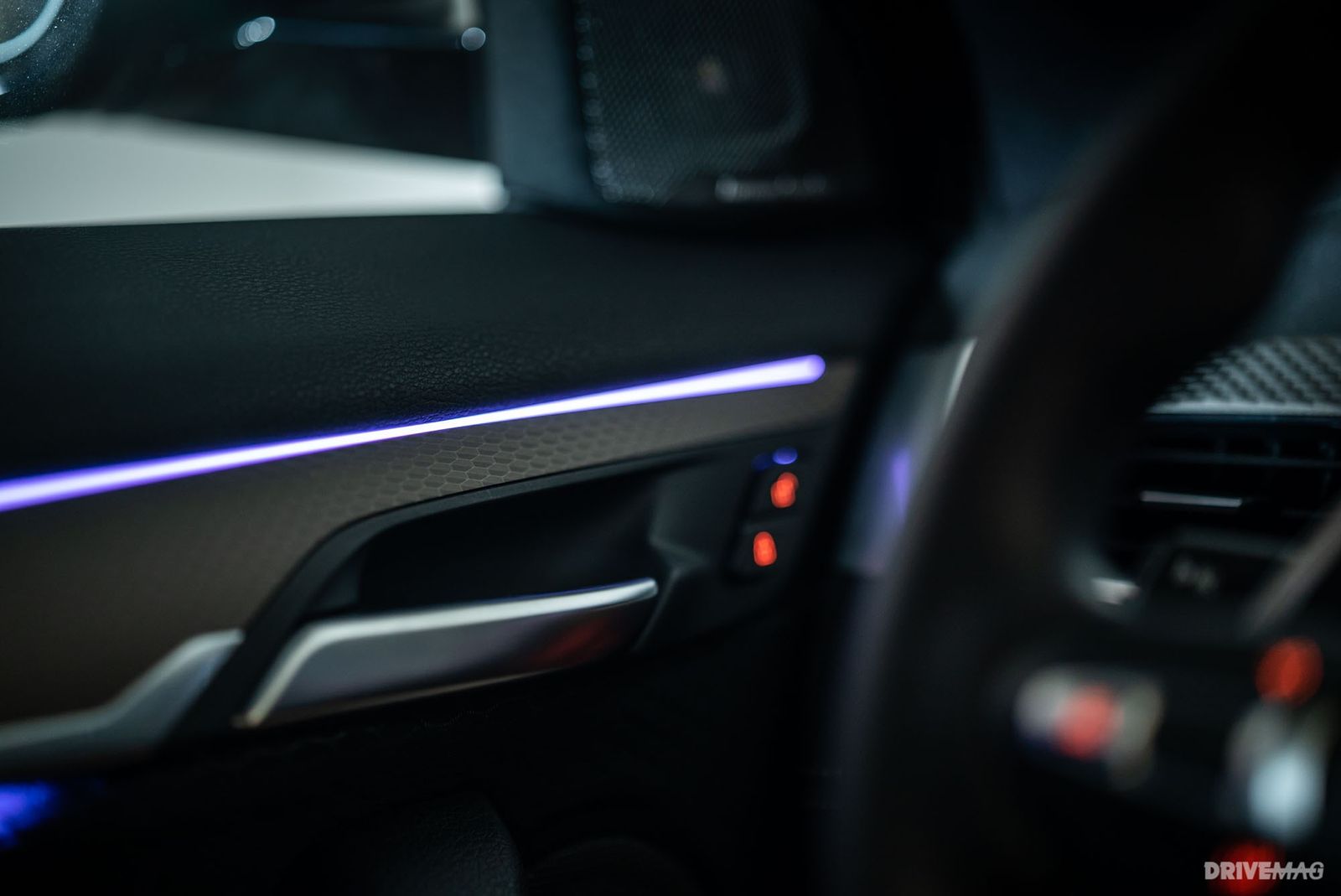 Searching for harsh plastics might prove a challenge although it would eventually return some results. This, of course, means that in the everyday use you won't encounter them so you have to be really picky to find that fly in the ointment.
Our tester has a top shelf X2 rigged out with several thousand Euro worth of good stuff, like the cloth/Alcantara upholstery, aluminium inserts on the dashboard, leather-covered M steering wheel and even some BMW Individual ornaments. We'd reckon it's a bit much (budget-wise) and you can have a decent X2 cabin with less money.
---
Practicality 8/10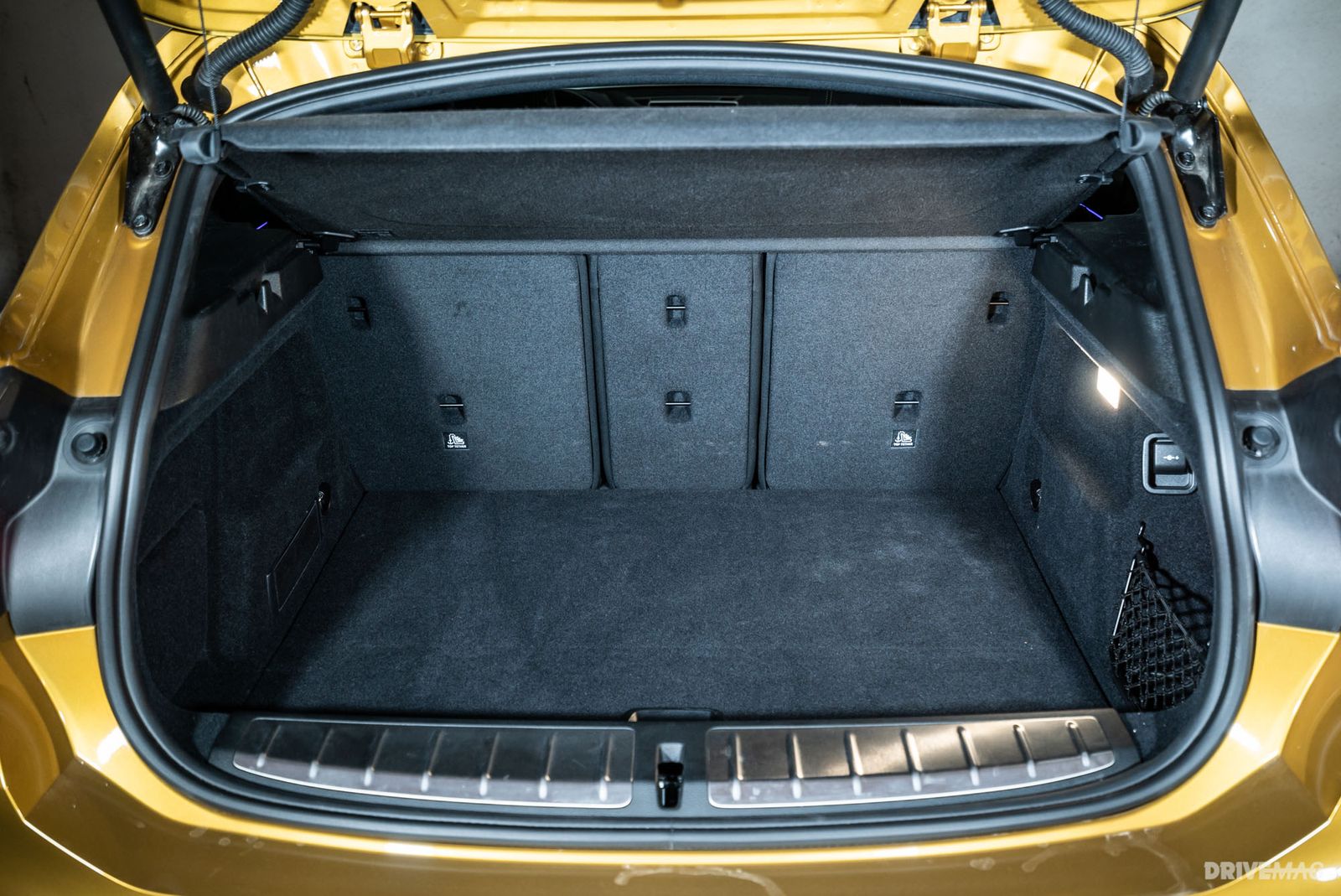 The X2 is the first even-numbered BMW to not having compromised its practicality in favor of the design; well, at least not dramatically. In other words, the cabin is almost as spacious as in the X1, although the presence of a €1,250 panoramic roof would make the rear seats' tall passengers feel a bit cramped. You'd say the kids would appreciate the rear seats but the window's high cut begs to differ.
The same happens with the boot: at 470 liters, it's a bit smaller compared to the X1's but you still feel like you have a useful car more than a fashion accessory. As with almost any BMW model, I got angry over the door pockets' size and shape. Has anyone found a purpose for those?
---
Infotainment 10/10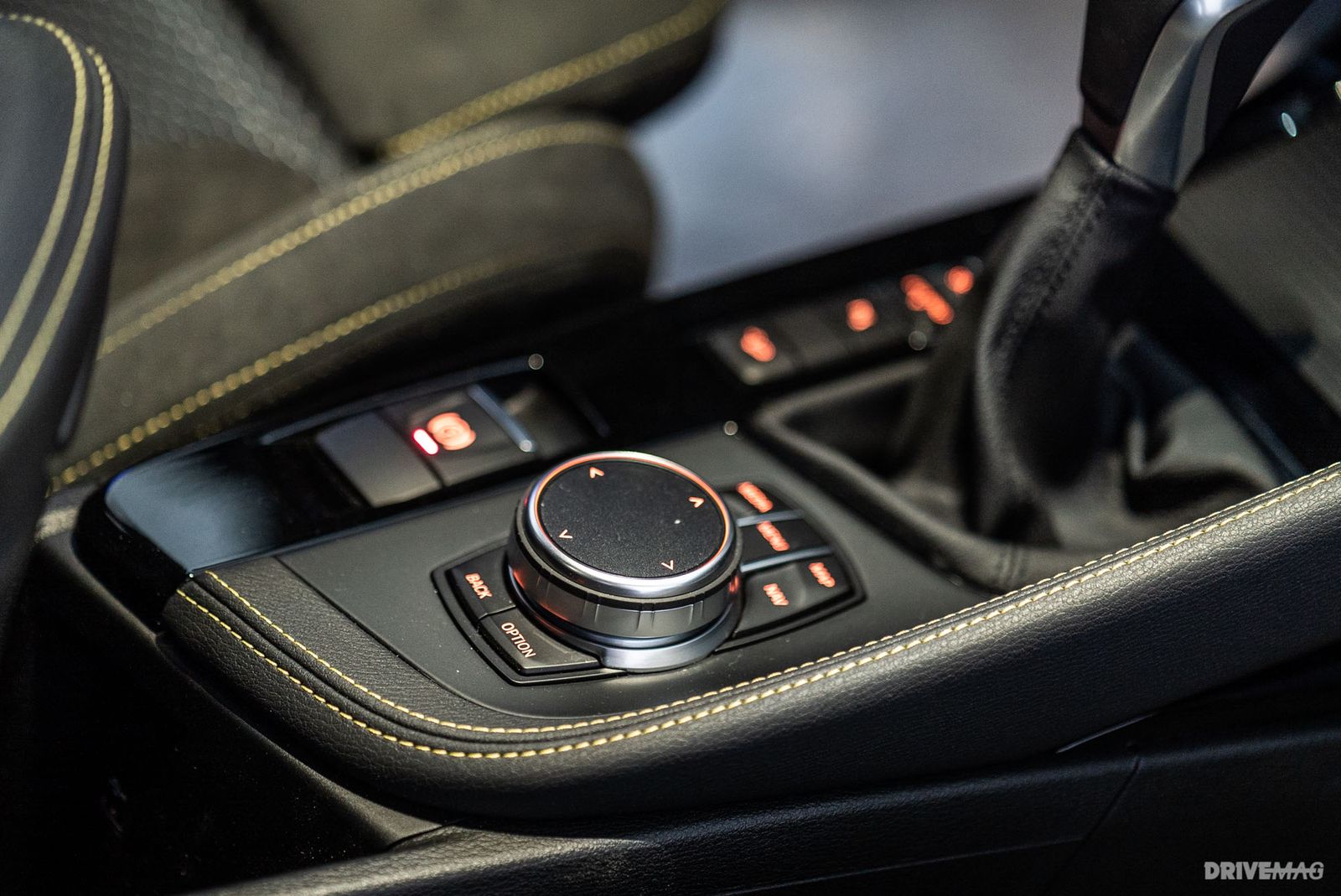 I'd love to go on an on here about how much good the optional Harman Kardon sound system can do to your life but there are more important things to discuss about the X2 iDrive: it not only features wireless charging but it can also connect your iPhone to the Apple Car Play without the use of wire as well. This is definitely a first in this class — this technological gimmick was used for the first time in the 7 Series. A small step for BMW, a big in-car infotainment commodity.
---
BUDGET
Efficiency 7/10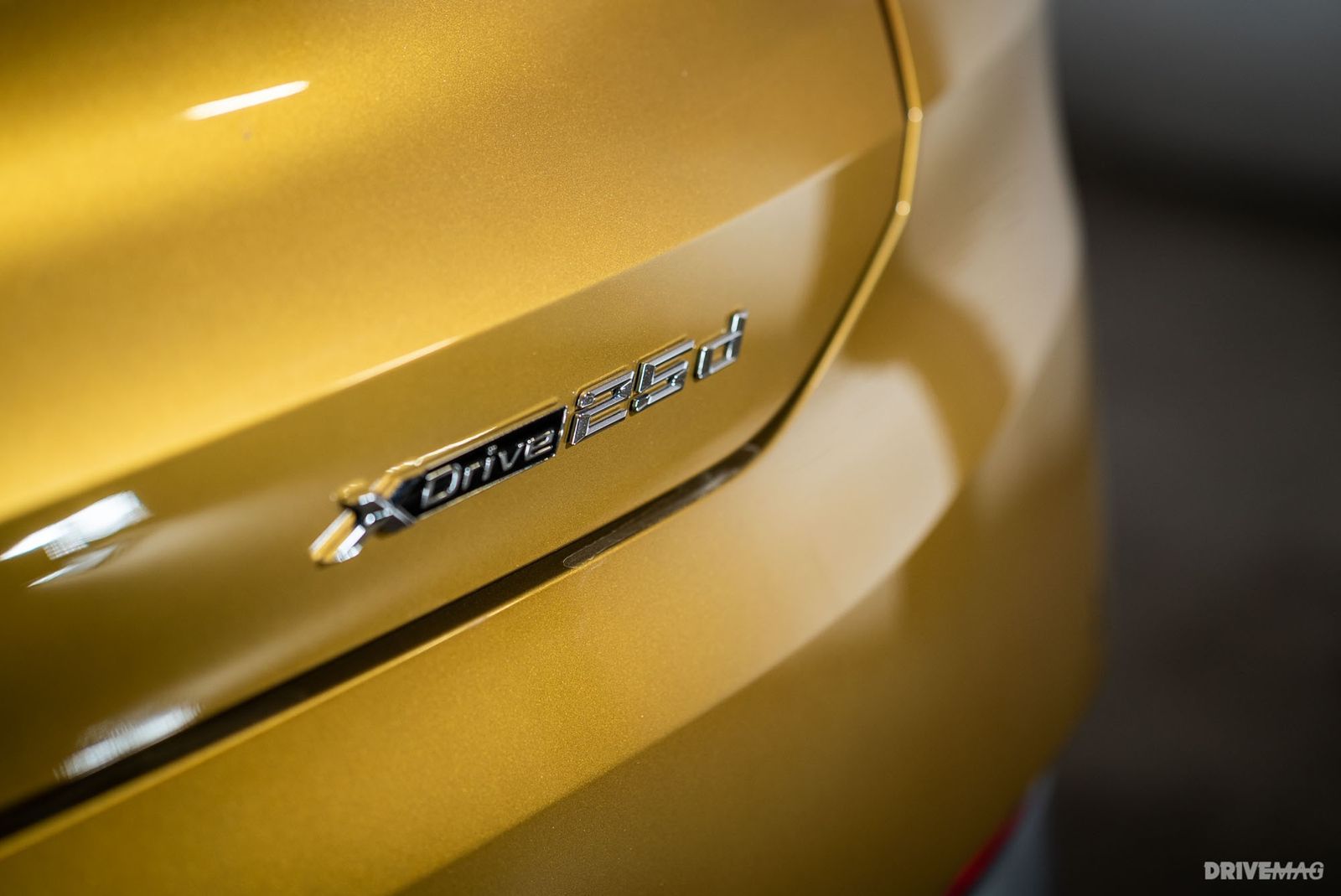 With the 25d being the most powerful X2 version at this moment, there are surely more fuel-efficient solutions in the catalog. On paper, the front-wheel-drive sDrive18d is the most frugal one, boasting a 4.5 l/100 km fuel consumption. But, as always, people's choice will be the 20d running the 190-hp 2.0-liter which promises an idealistic 4.9 l/100 km mixed cycle fuel consumption.
I sincerely have no idea how much did our tester gulped during the night drive but, given the utter absence of traffic on the road, it'd have been an impossibly-to-match-on-a-daily-basis rating anyway.
---
Equipment 8/10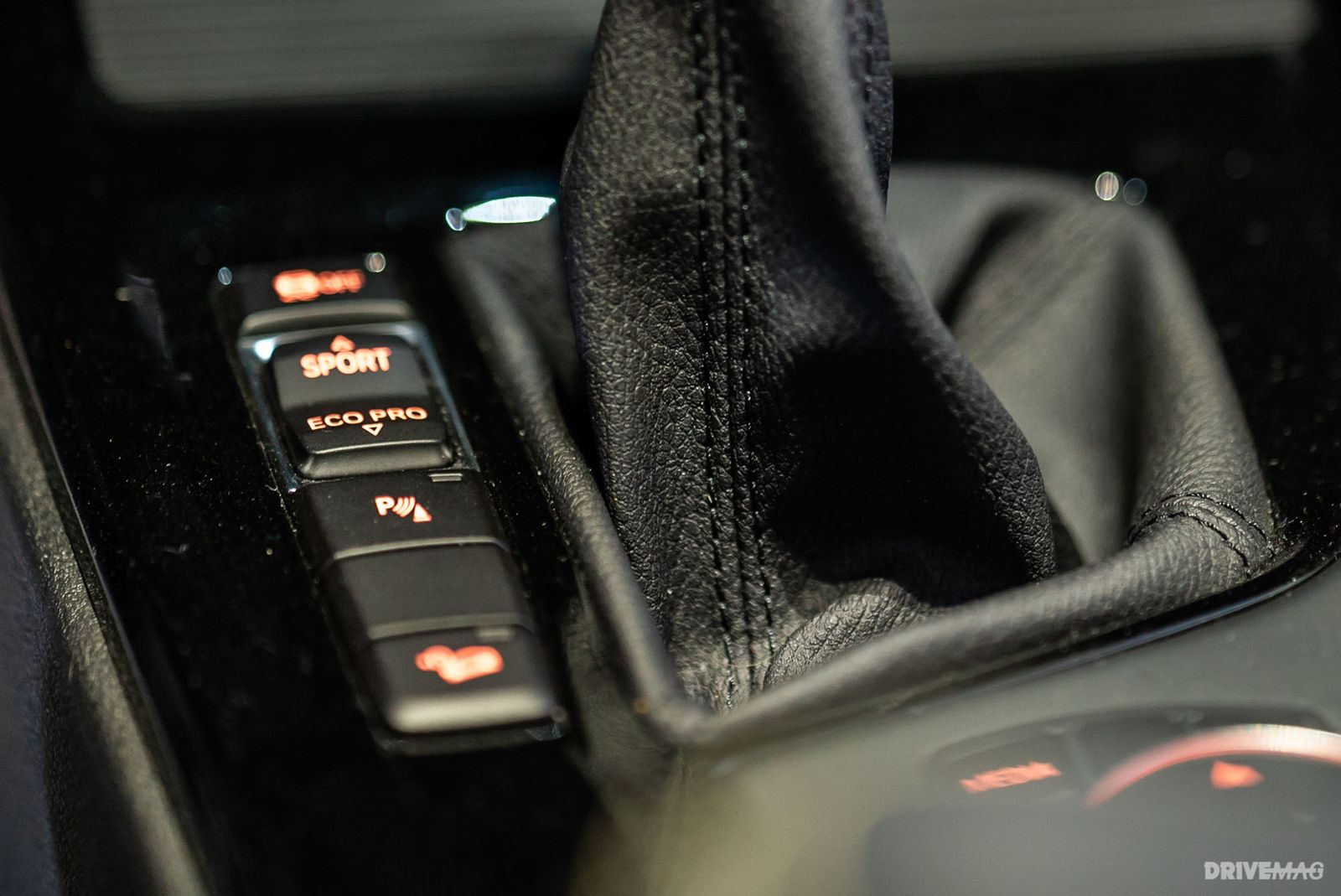 €15,000 worth of extras on our tester is surely a lot of money but this car's purpose is to show us just how good the X2 can get in terms of looks, materials, and technology. However, looking doesn't involve feeling good. For example, going for the biggest wheels and the M Sport suspension might please the eye but would not be appreciated by your bottom.
If you want to avoid being offered things you don't need, our advice is this: go round the enticing packages. Spend more time in the configurator and check your wanted extras carefully.
---
Acquisition 10/10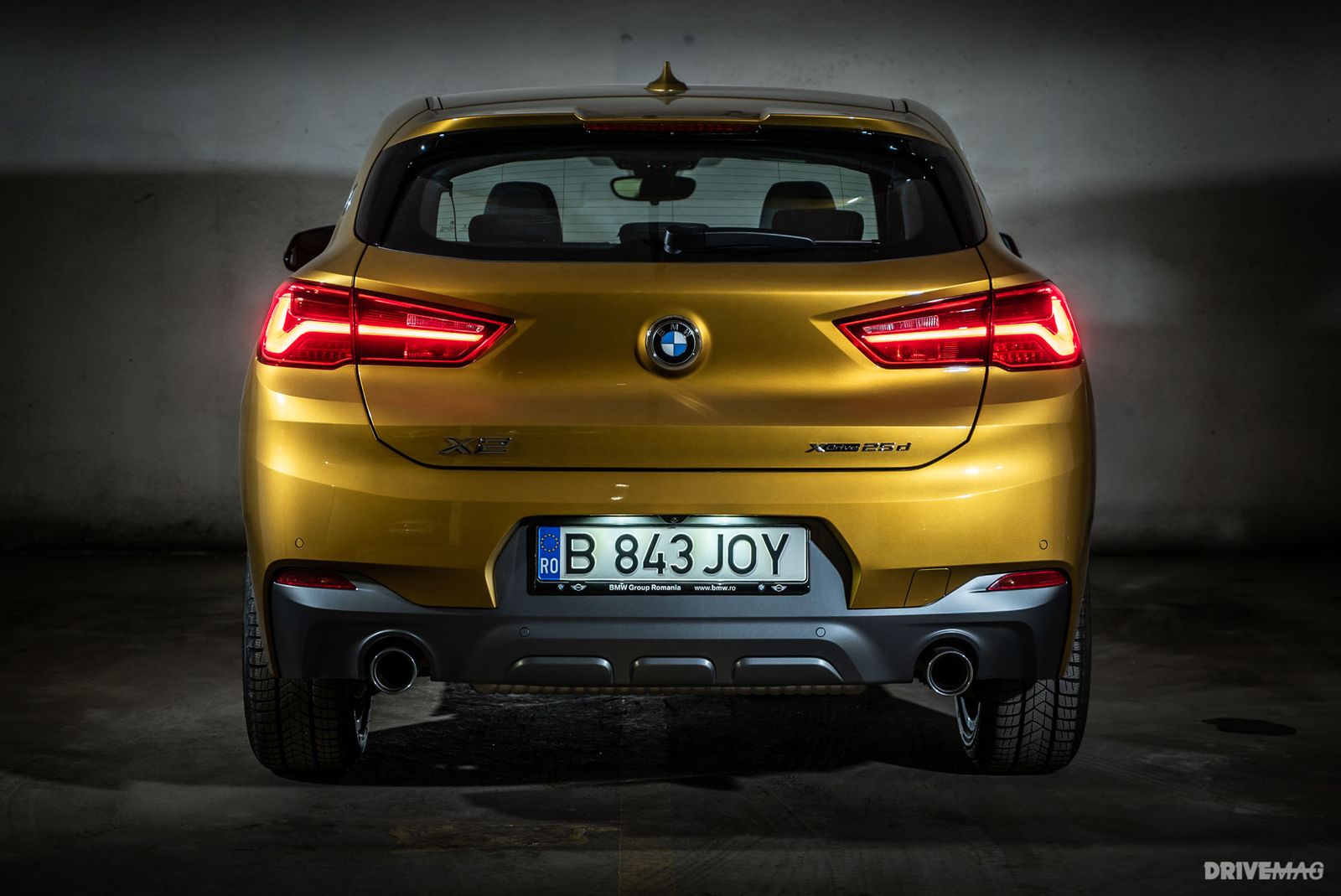 Here's another area where the X2 registers a first: it's the first even-numbered BMW to make sense in terms of (relatively) smart acquisitions: this time you're not buying just a better dressed SUV but you're also getting almost as much as the X1 has to offer, in terms of room and practicality. Asking for around a couple thousand more Euros than the X1 but sitting well below (€5,000) than a similarly engined X3, the X2 found a very comfortable spot within the X family.
Prices for the X2 start at €34,050 for the manual sDrive18i but the one that'll sell like hot cakes will most probably be the €43,800 xDrive20d. Now here's the good part: the bland-looking (albeit a bit more practical) X1 in the xDrive20d form is €42,200. You're basically paying less than €2,000 for a better makeup. Some people spend more than that for actual makeup.