Scalpel-like handling meets (moderate) day by day usability
Overall Score 86/100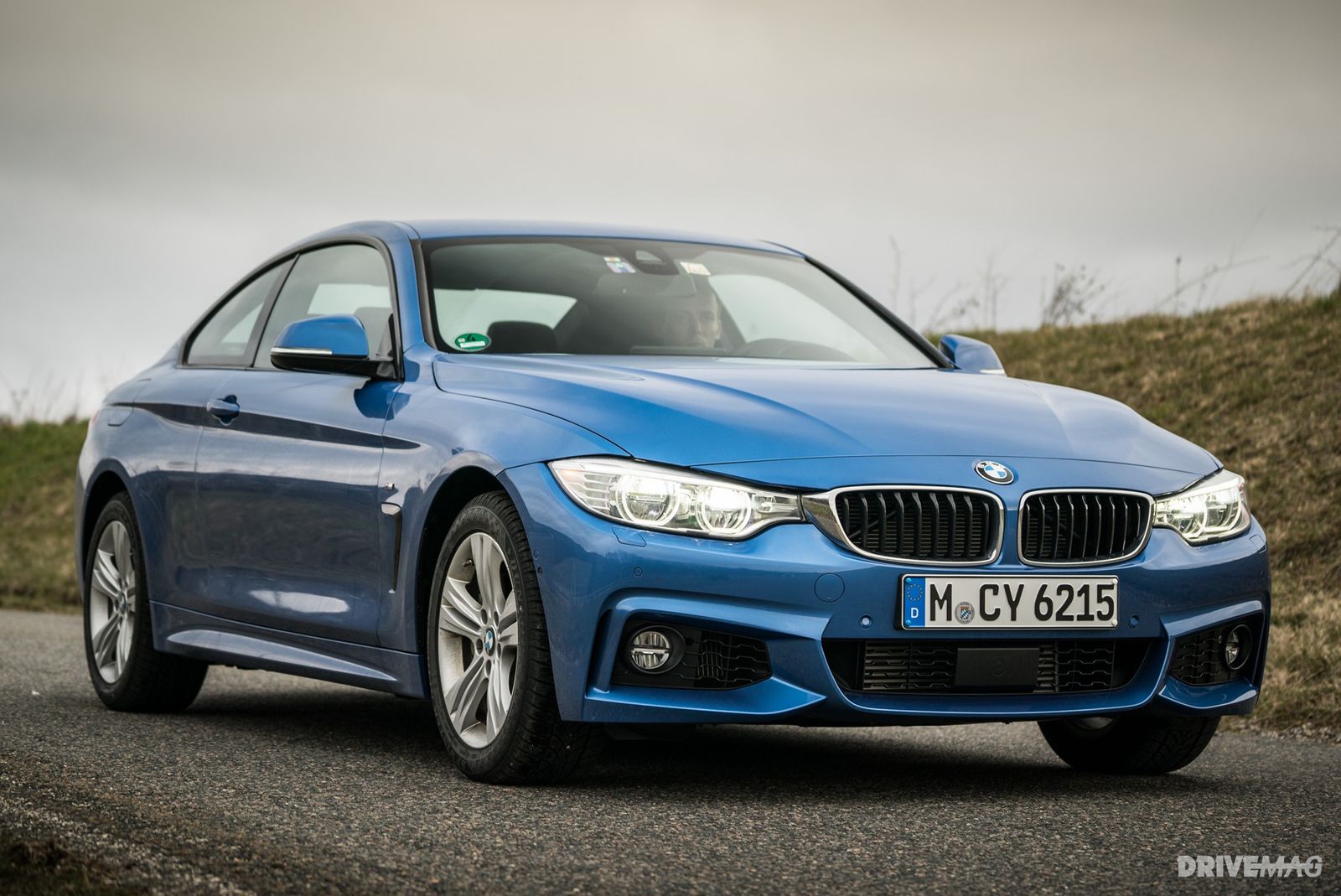 We knocked on the door of this year's Geneva Motor Show with an atypical winter beater impersonated by BMW's 4 Series Coupé in 435i flavor and equipped with the brand's xDrive four-wheel drive system.
And while its face is less attractive than the C-Class Coupé's kisser, the 4 Series impressed with composure and the way is carried itself on the road in general.
---
IN BRIEF
RECOMMENDED FOR:
Young And Single
CREATED FOR:
Highways, Winding Roads
HATS OFF FOR:
Engine Power, Road Handling
---
DRIVE
Powertrain 10/10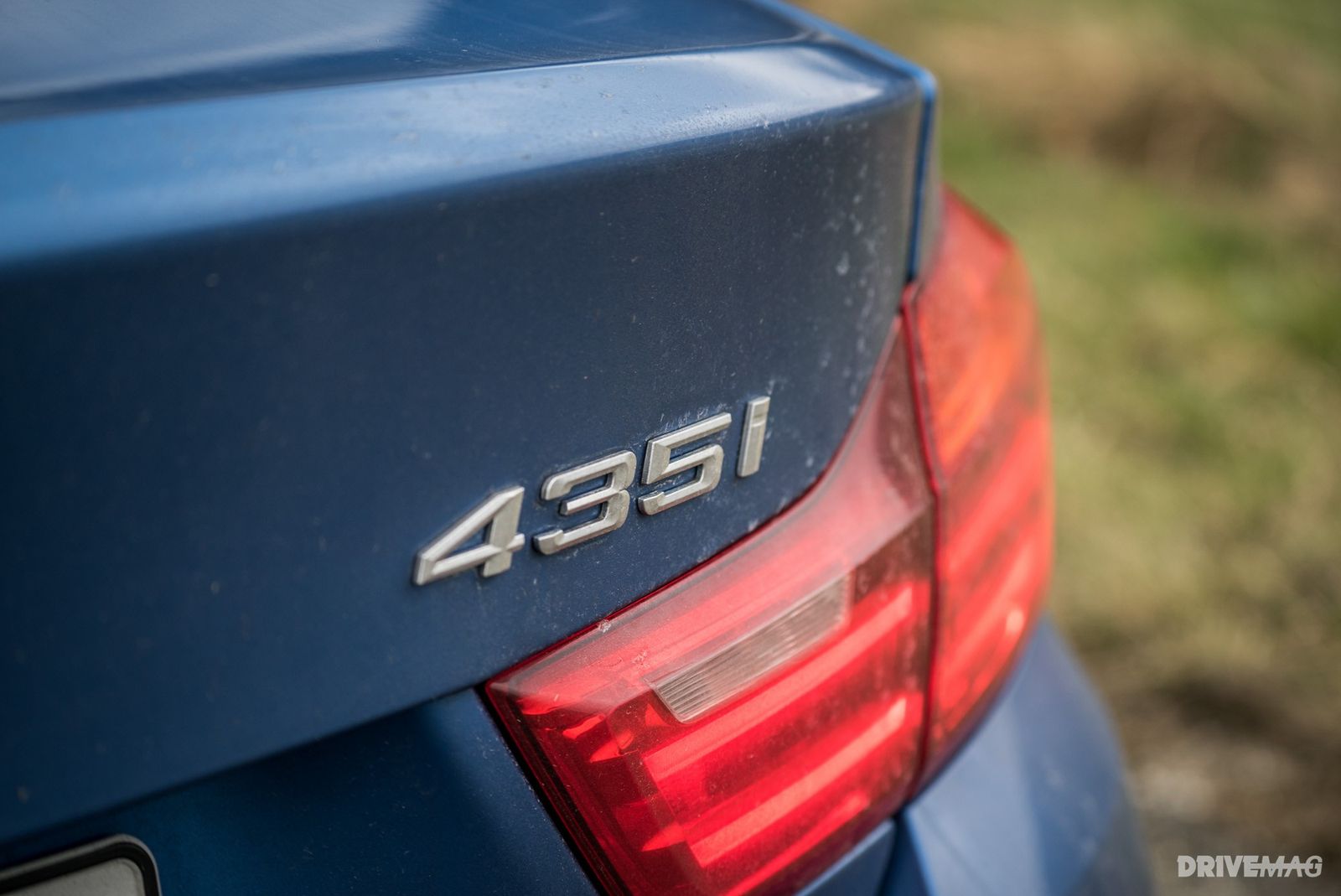 In 435i pretense, the BMW 4 Series uses a 3.0-liter turbocharged 306-horsepower in-line-six petrol unit that usually sends resources to the rear axle, that is when the xDrive badge is not involved. Response-wise, the six-pot plant delivers immediate acceleration, with a faded hint of turbo lag. Also, the Auto Stop/Start feature is a bit more intrusive, but you'll quickly get accustomed to its temper.
Most important, you get a nibble of power in almost any gear provided you send the accelerator deep enough, which is a nice thing to have on highways like the German autobahn. The powerplant also comes with a pleasant tune of its own to complement its flamboyant ways of making the rpm needle dance in front of you.
You never feel the car's underpowered which is also the merit of the sportiness-inclined eight-speed automatic gearbox. In fact, this engine's versatility comes from its ability to carry out tasks in and outside the city, in a somewhat frugal way.
Of course, there's always the possibility of upgrading to an M4 for example, or as an intermediate solution, adding a BMW M Performance kit into the mix might prove useful for those looking for even more grunt.
---
Handling 10/10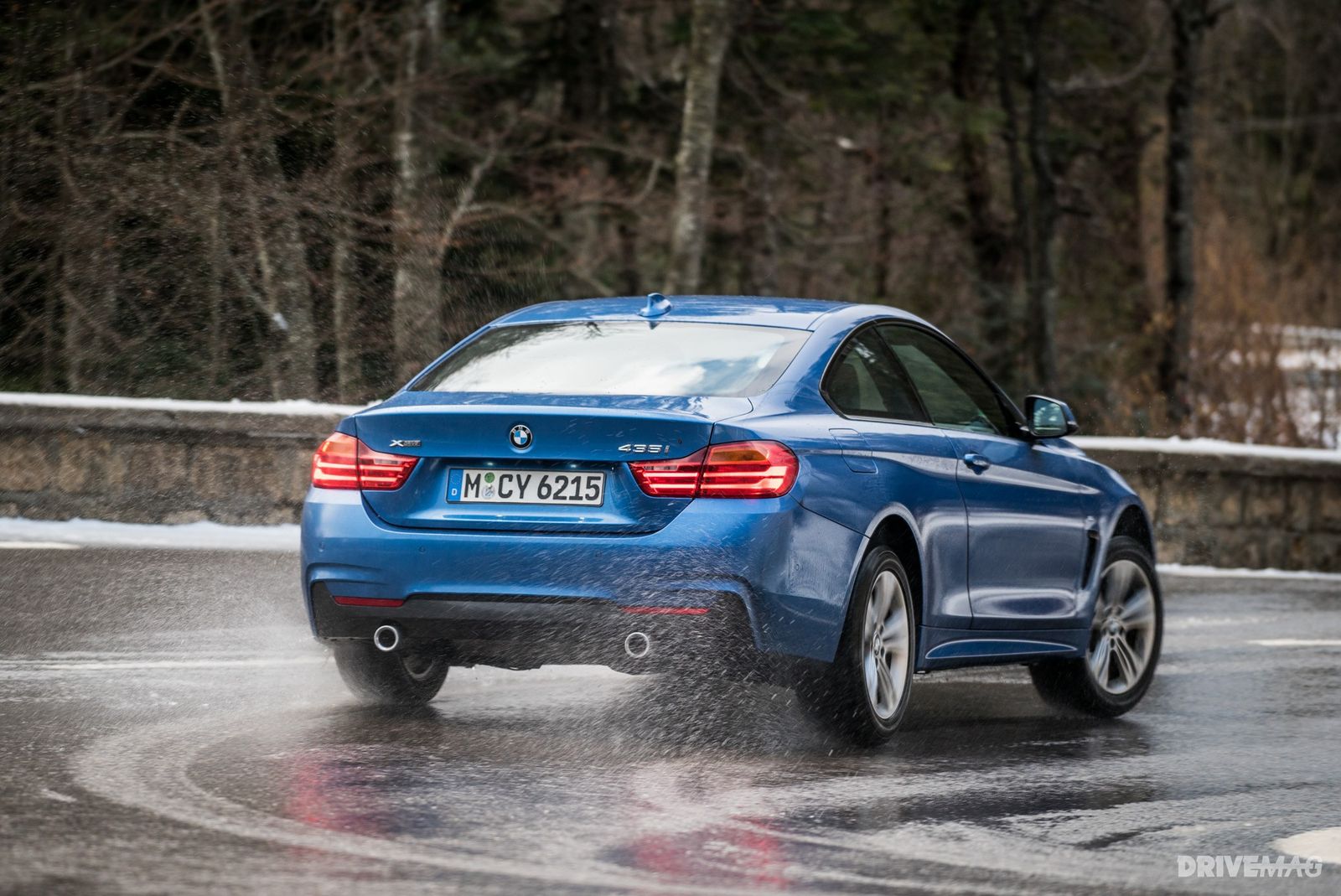 The ideal 50:50 weight distribution makes the 4 Series a useful tool to have when the road gets wet and snaky, outpacing the C-Class coupé in this department, although the car feels a bit heavier, yet this doesn't affect the throttle-steerability in corners.
Again, the engine-gearbox couple is smooth as silk, but just when you thought driving couldn't get better, the precise power-assisted steering and the stiff-ish M Sport suspension (available with the M Sport pack featured on our tester) remind you that you're driving a BMW. Which equals to knowing where your wheels are at any given time and being able to accurately position them in the desired direction.
Selecting Sport Plus as a drive mode allows some tail-shaking fun in corners and sharper engine response, but don't take that for granted: the car will apply a well-aimed slap behind your head as soon as it detects you are misbehaving.
---
Safety 9/10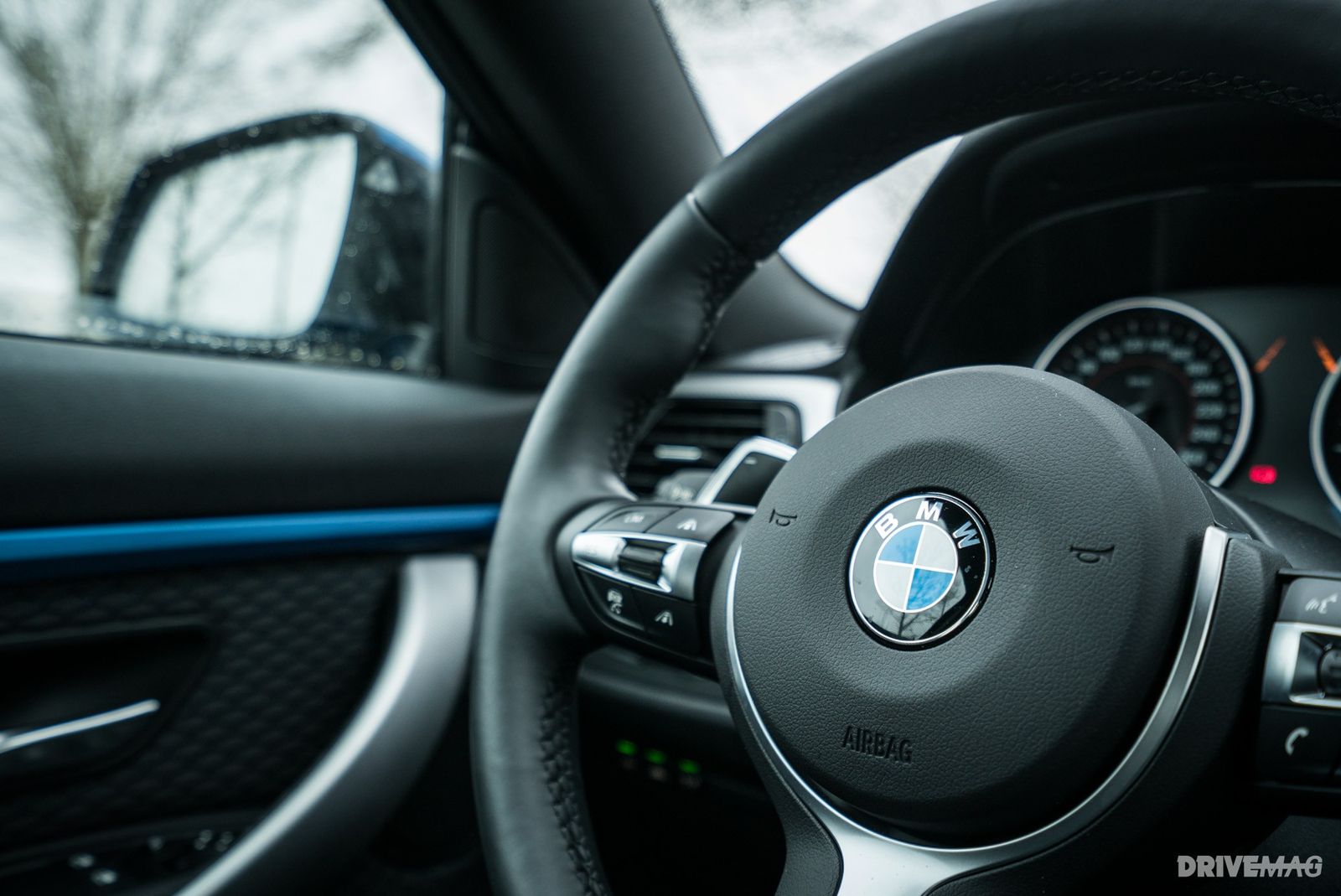 The 4 Series was never tested by Euro NCAP so we cannot give it the maximum points. But judging by the reassuring safety bubble created by the five-star 3 Series, there shouldn't be any concerns in this regard.
Moreover, BMW fitted the 4 Series with an array of safety systems to keep the driver out of trouble (DSC, ABS, DCT and dynamic brake control) plus six airbags and crash-activated front head restraints.
---
INTERIOR
Comfort 7/10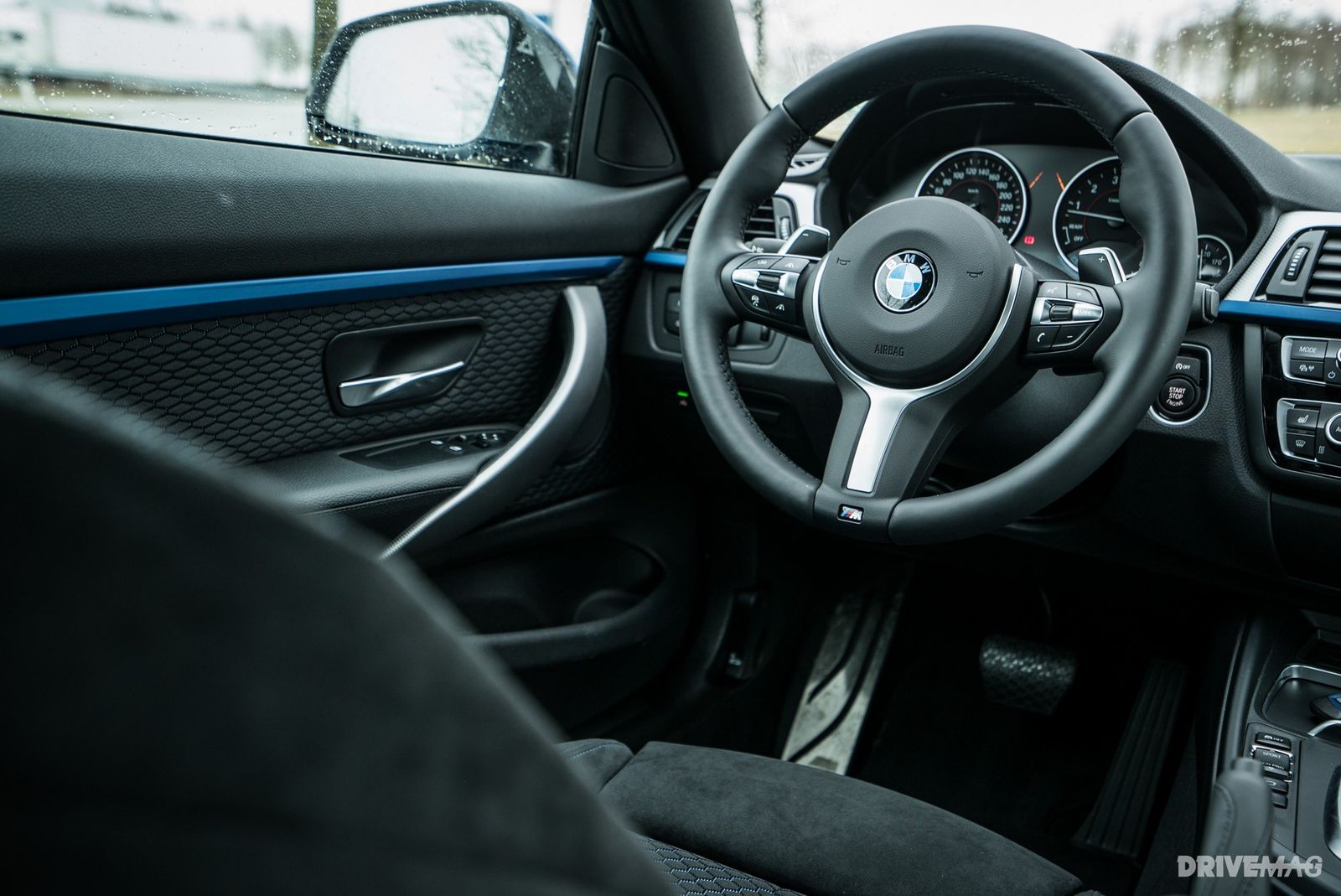 A two-faced matter for the 4 Series, simply because the cut-away shape in the back leaves a limited amount of space for those sitting in the backseat. Keep their number to just two, because space is cramped here, access takes some mobility, and longer trips will eventually translate into fatigue.
The main culprit here is posture, really, because taller passengers have to adopt a semi-crouched position because of the lowered roof, or sit with their shoulder blades on the backrest, which puts pressure on the lower back.
Take the driver's seat or the front passenger's post for the best comfort levels available inside the 4 Series. Although not as eye-pleasing as the front seats of the C-Class Coupé, the Bimmer's seats offer good support and a chiropractor-proof posture.
It's what I like to call a focused state of comfort, which still keeps you alert and doesn't disconnect the senses from what's happening with and around the car.
---
Quality 8/10
On par with expectations: no squeaky materials, nice plastics both from a visually and tactile perspective and quality materials all around, except maybe for some of the areas that don't usually fall in the occupant's line of sight.
---
Practicality 9/10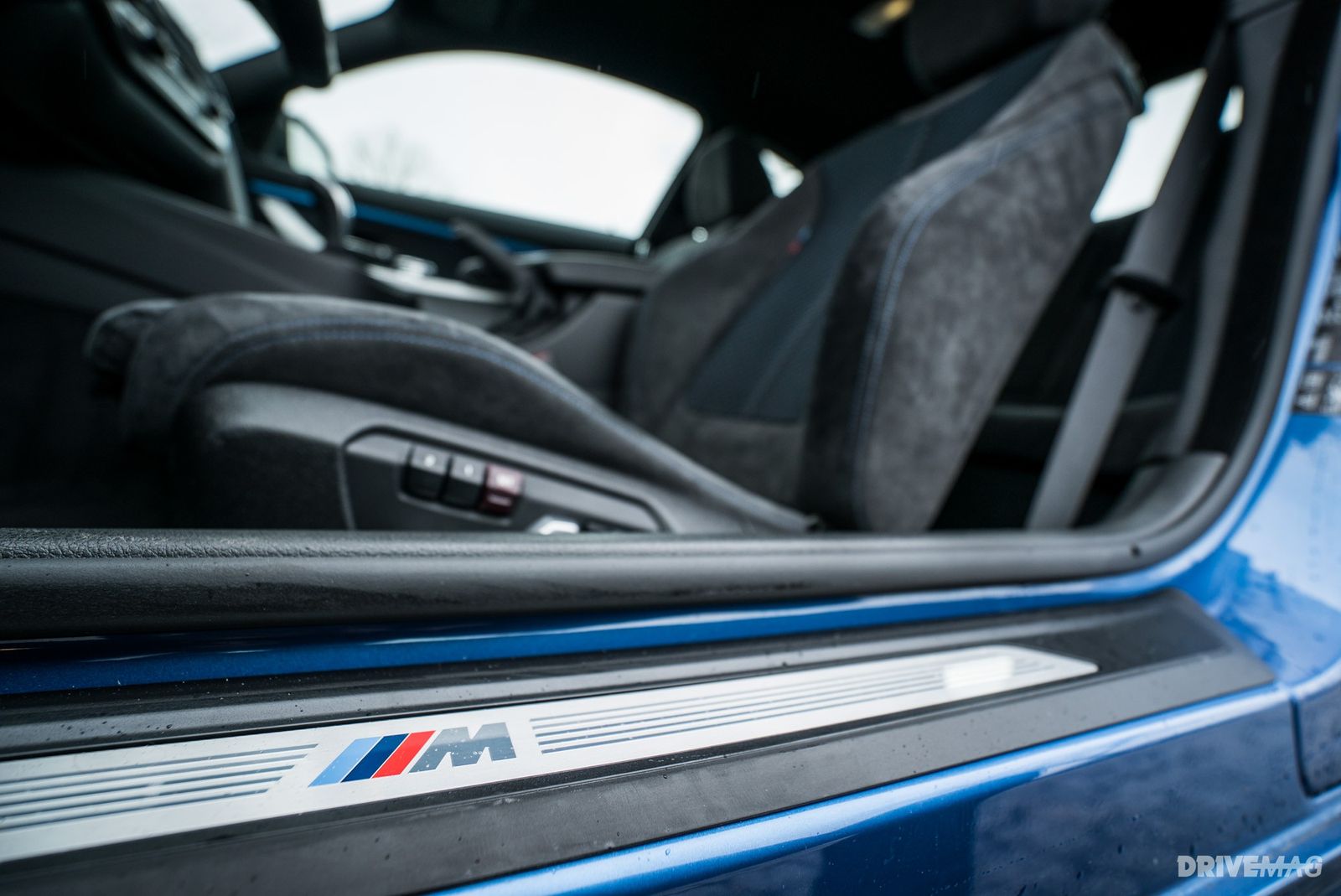 Not ideal, but that's something you expect from a coupé, especially when it comes to storage compartments around the cabin. However, the cargo area presents itself quite encouraging for those looking to escape in a longer roadtrip, and the figures confirm that: 445 liters are more than enough for two people and comforting for a family of three.
As an option, the back seat can be folded in a 40:20:40 split, allowing the storage of a pair of snowboards or skis.
The massive doors are an issue in tight parking spots, and as mentioned before, entry and exit in and out of the backseat pose a mild challenge, unless you're a gymnast. Otherwise, you can definitely live in harmony with the 4 Series on a daily basis without having to think about getting a second car.
---
Infotainment 9/10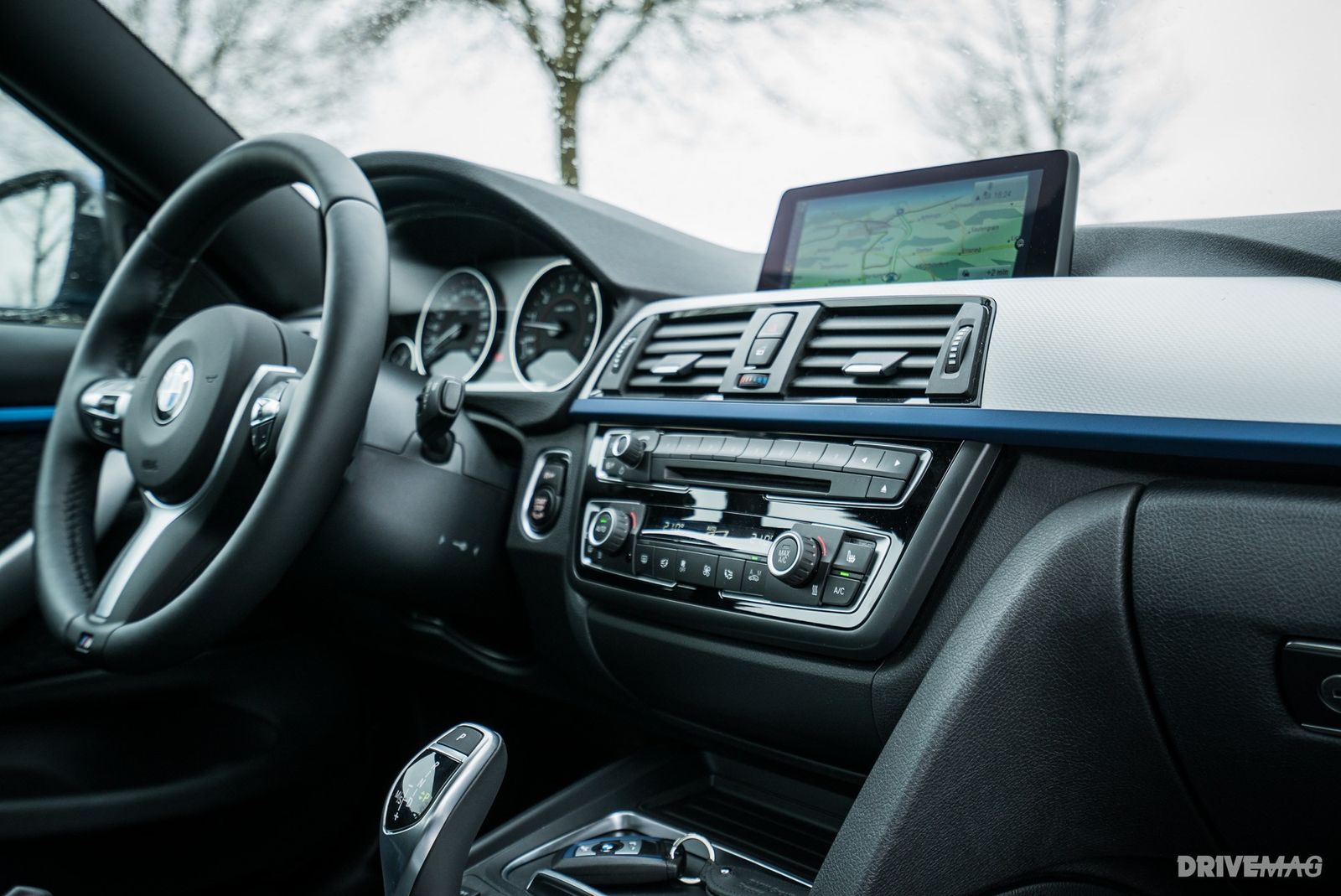 Things are kept simple but effective here since the iDrive infotainment setup is one of the most straightforward and intuitive systems on the market. Those familiar with the feature know they should expect crisp graphics, absolutely no lag whatsoever and the signature touch controller positioned on the center console.
Additionally, BMW offers real-time traffic information and an optional HUD (head-up display), plus the ConnectedDrive suite with the BMW Connected app.
---
BUDGET
Efficiency 8/10
BMW advertises a combined fuel consumption of 7.6 l/100 km but after the traffic congestions in Geneva and a fair share of no-speed-limit-hit-it autobahn charges, the BMW 4 Series 435i xDrive displayed 9.1 l/100 km on the instrument cluster.
However, if you're stubborn enough to keep the Eco Pro driving mode on at all times – coupled with a gentle right foot, sharp anticipation skills and nerves of steel – we reckon the theoretical value claimed by BMW is attainable in real-life conditions.
---
Equipment 9/10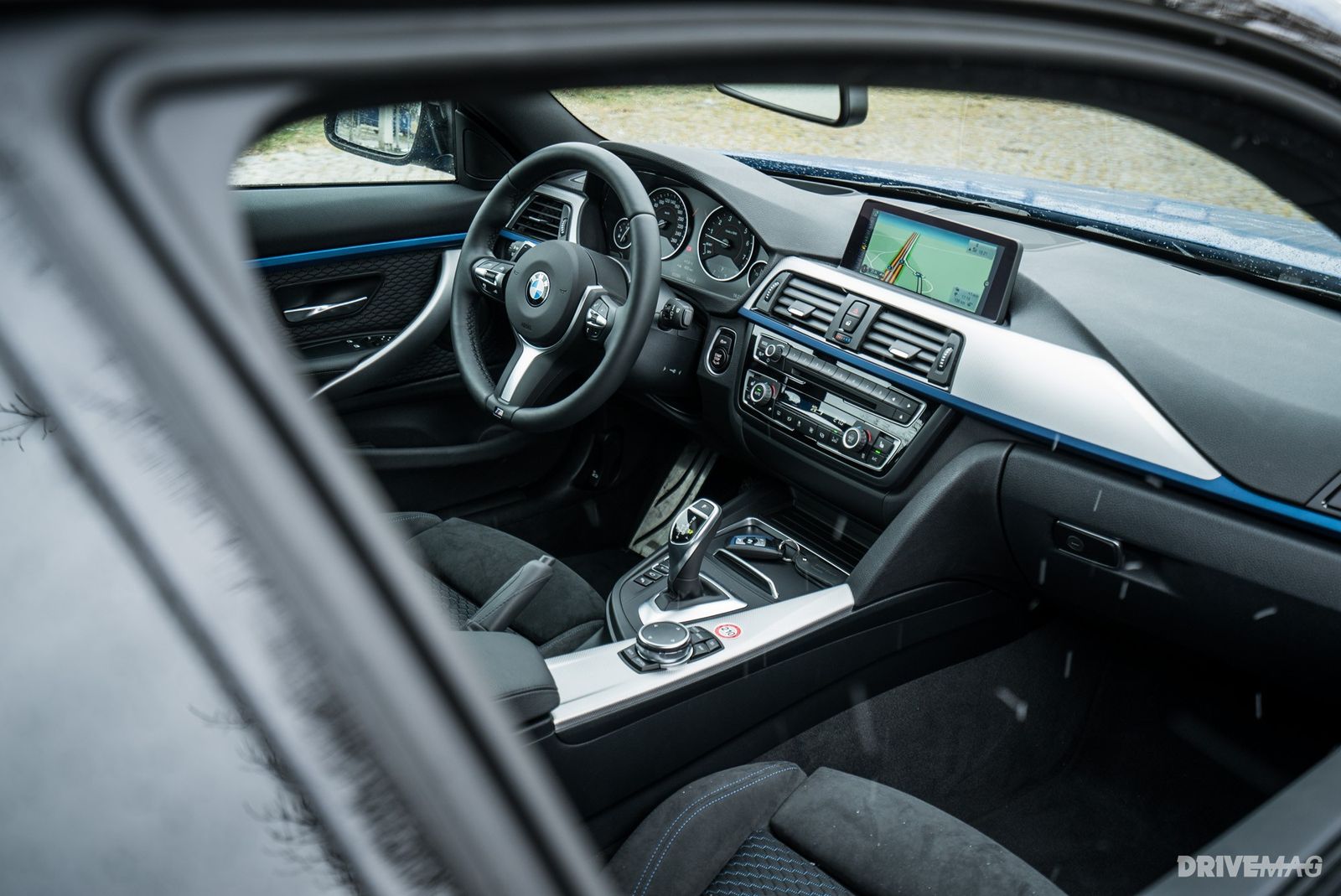 Every BMW 4 Series comes with ABS, traction and cruise control, parking sensors and alloy wheels as standard.
Additionally, customers can choose between three equipment combos – Sport Line, Modern Line and Luxury Line – topped by the M Sport package, as it was the case with our tester.
Sport Line brings glossy trim kidney grille and side breathers along with black exhaust pipes and 18- and 19-inch (optional) wheels.
Modern Line upgrades the Sport Line with matte chrome kidney grille and satinated aluminum side air breathers, a dark oyster steering wheel and four trim surfaces for the interior, available in Pearl Gloss chrome.
In Luxury Line, clients get high-gloss wood strips, chrome elements and leather seats on the inside, while the exterior stands out through a high-gloss chrome strip in the rear apron and chrome final exhaust.
M Sport comes with the Estoril Blue exterior hue, larger spoilers and side skirts and the M steering wheel, plus an Alcantara/Hexagon cloth trim for the seats.
---
Acquisition 7/10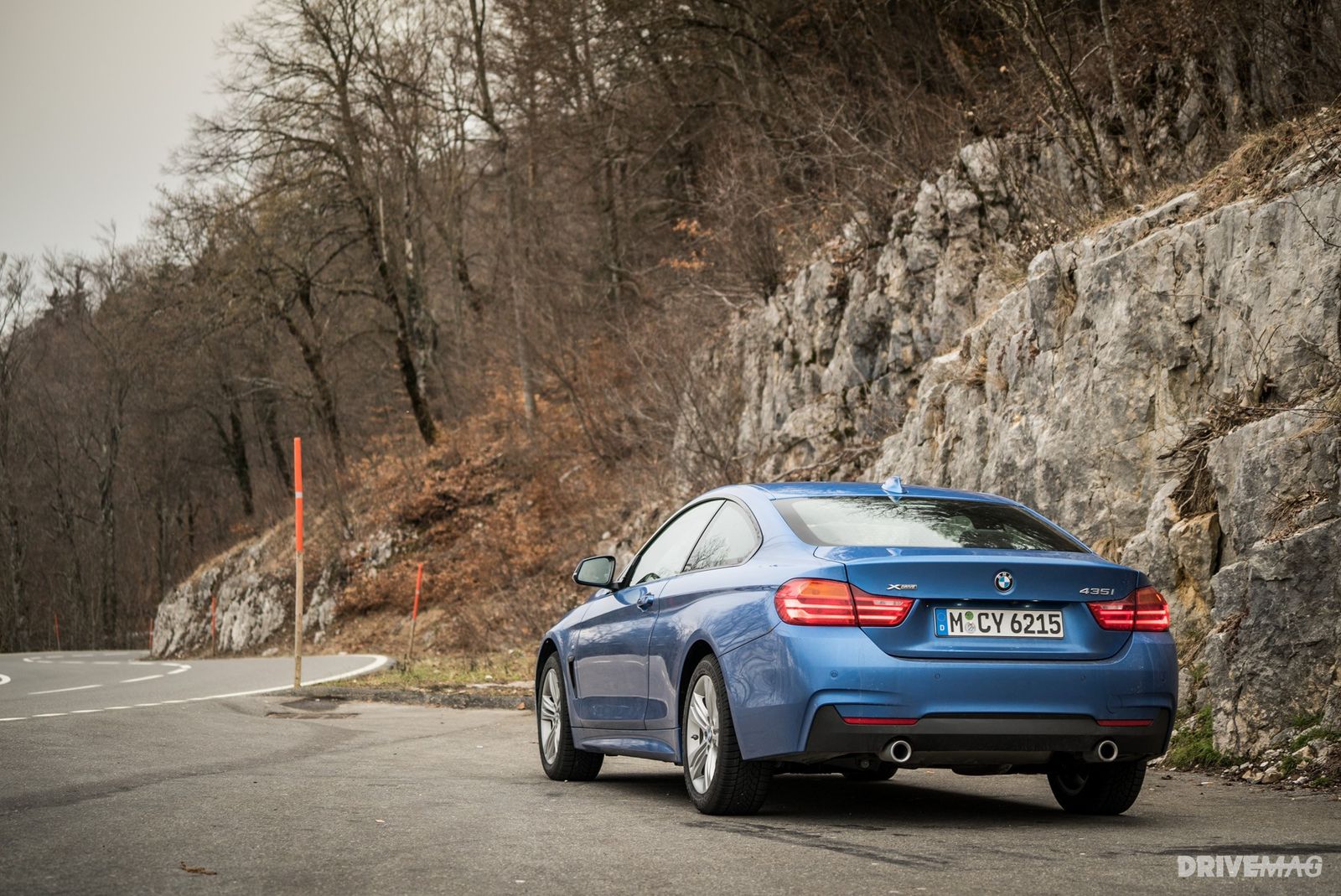 Price-wise, the 4 Series 435i xDrive starts at €50,300 when equipped with a manual gearbox, but fitting the automatic transmission will take the sticker to €52,450, yet be advised: a well-equipped model like our tester can easily break into €70,000 territory.
So, is the 4 Series 435i xDrive adequate for daily driving? Yes, but it's not the best option out there since practicality and comfort (especially for those at the back) are not the model's strongest points, but the spacious cargo area fixes these lows to some extent.
Fuel economy is decent, but a featherweight right foot surely helps, yet in terms of agility, handling and grip, the 4 Series champions the segment ahead of the C-Class Coupe.