A donut-free Porsche, an out-of-control Ferrari and Range Rover on two wheels are among this post's stars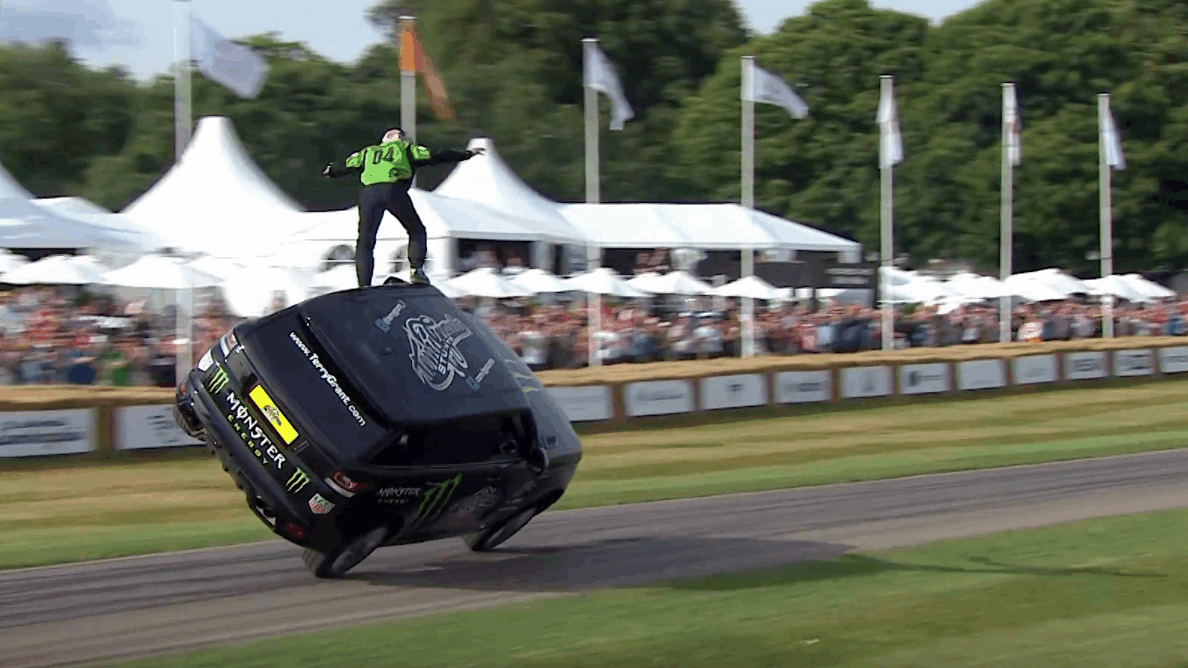 Every year since 1996, the Goodwood Festival of Speed is the perfect automotive break between the two majestic motorsport events: the 24h Le Mans race and the Formula One Grand Prix.
This year made no exception, with a very beautiful lineup of historic runners and modern sports cars and supercars. Before you enjoy the half-an-hour clip above, full of engine roaring as they go up the 1.16-mile (1.86 km) hill climb track, here are some highlights:
The Porsche 911 GT2 RS is so stuck to asphalt, it can't even do donuts. Following its recent debut at the 2017 E3 (during a Forza 7 presentation), the 911 GT2 RS is the most powerful and quickest Neunelfer ever made.
NASCAR racer tries a right turn, crashes. Ed Berrier's NASCAR Chevrolet left the hillclimb track in the first corner (a right one) and ruined its face; the impact severed the front left suspension, rendering the car unable to continue the race. Jokes aside, the most plausible cause for this to have happened is cold tires.
Iconic Ford RS200 meets grass, gets thrown into the haystack. This is an extra rare (and super-expensive) Ford RS200 Evo 2, a 600-horsepower Group B rally car that does what any Group B rally car does best: tries to kill its driver. Luckily, Rosie's (yes, it has a name, and it's a she) driver — former rallycross racer Pat Doran — escaped the crash without a single scratch. Moreover, he managed to replace the damaged fiberglass panels and get Rosie ready for another run.
Nissan 370Z drifts its way into the same haystack the RS200 crashed. Well, this might have been a bit embarrassing for the 2016 Formula Drift Champion, but his Nissan 370Z got a bit too excited while drifting its way up the hill, and spun out in the same haystack the RS200 planted itself before.
Remember that hay buffer? A Ferrari 458 GT2 also got personal with it. AF Corse's Heinz Swoboda's Ferrari 458 GT2 lost grip while exiting a left-hander — the same corner that troubled the Group B Ford RS200 and the Nissan 370Z drift car.
A Range Rover Sport SVR goes on two wheels, stays on two wheels for the most part of the hill climb. It was all meant to be this way, actually. Stunt driver Terry Grant battled gravitation with the 5,148 lb (2,335 kg) luxury SUV, while a daring co-pilot climbed out of the passenger window and waved at the public… while standing up on the car. The representation ended in a cloud of smoke — as a brief reminder, the Sport SVR packs 550 hp, so obliterating the tires is one of its favorite things.