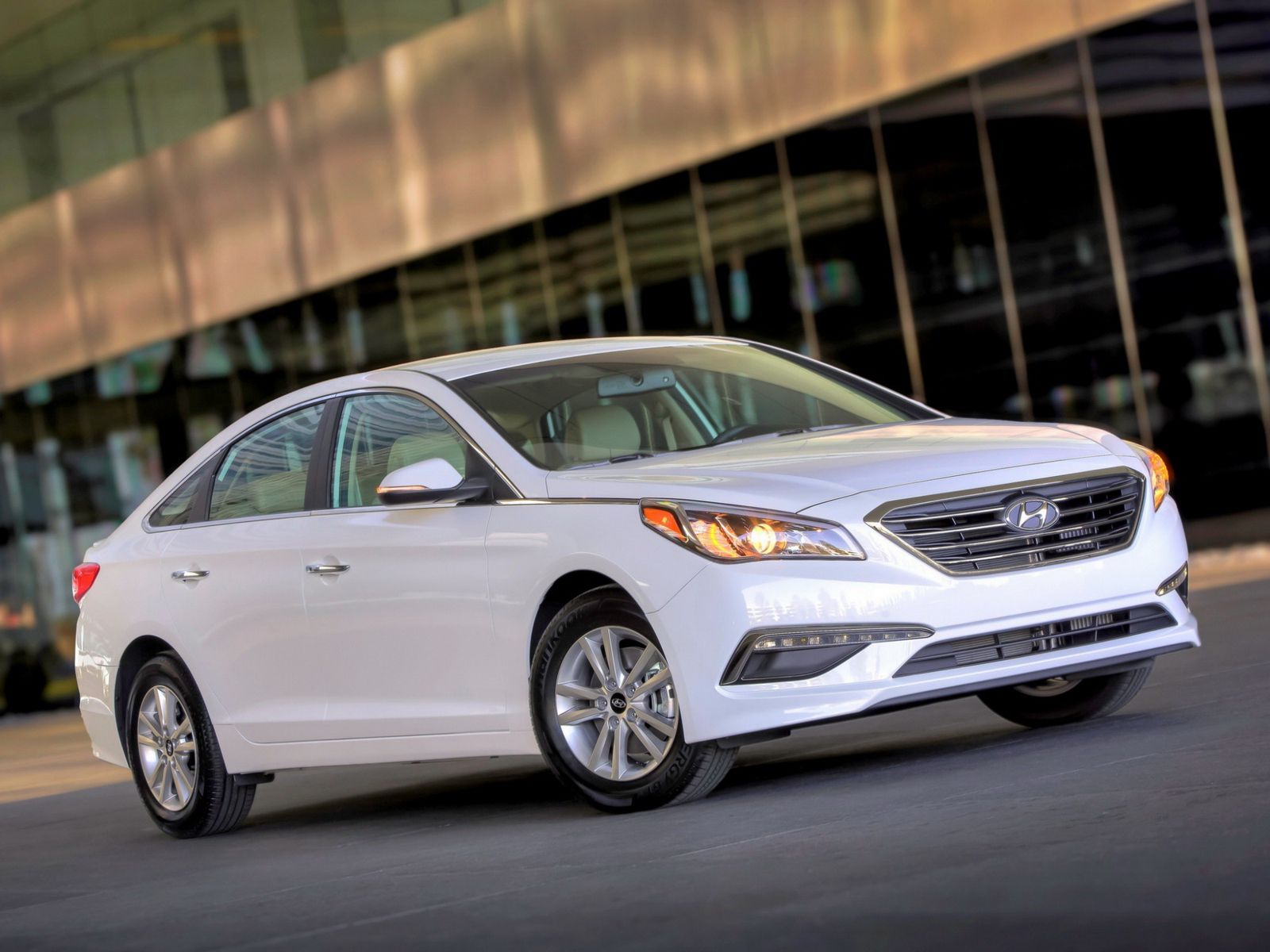 The seventh-generation Hyundai Sonata arrived in the United States in 2014 as a 2015 model year and became the first Sonata to offer a plug-in hybrid version. A significant improvement over its predecessor, the mid-size sedan is a very competent model that closes the gap to the segment leader, the Toyota Camry, but has room for improvement in some areas. The Sonata offers real value for money thanks to a generous standard equipment, comfortable and spacious cabin, as well as smooth ride quality. Its rather conservative approach to styling and rather tight rear headroom for taller passengers count among its downsides.
---
PROS & CONS
Pros
Strong Points
Well-Equipped
Excellent Ride Quality
Roomy And Quiet Cabin
Above Average All-Electric Driving Range (Sonata Plug-In Hybrid)
Intuitive Infotainment System
Recommended Versions
Base 2.4-Liter Models
Sonata Eco (Best Performance/Fuel Economy Ratio)
Sonata Eco (Best Performance/Fuel Economy Ratio)
---
Cons
Weak Points
Tight Rear Headroom For Taller Occupants
Disappointing Acceleration (Sport 2.0T)
Small Trunk (Sonata Hybrid And Plug-In Hybrid)
Dull Looks
Stay Away From
Sport 2.0T (Slow And Expensive)
---
Attention
Known Problems & Recalls
October 2016: Hyundai Recalled Certain Model Year 2015-2016 Sonata And Sonata Hybrid Vehicles Equipped With The Panoramic Sunroof Option To Repair The Wind Deflector Anchor Plate, Thus Preventing The Sunroof From Detaching
August 2016: The Automaker Recalled Some Model Year 2016 Sonatas To Replace The Driver's Frontal Airbag Module That Didn't Offer Adequate Neck Protection
April 2016: Some Model Year 2015-2016 Sonatas And One 2016 Sonata Hybrid Were Recalled To Replace The Driver's Frontal Airbag Module That Prevented The Second Stage Deployment In Certain Crashes
October 2015: Hyundai Recalled Certain Model Year 2015-2016 Sonata Vehicles To Update The Abs Control Unit Software That Caused The Vehicle's Brakes To Lock Up During Hard Braking
June 2015: Certain Model Year 2015 Sonata Sedans Were Recalled To Repair Or Replace A Faulty Front Passenger Seat Belt Buckle
December 2014: Hyundai Recalled Some Model Year 2015 Sonatas Equipped With The 1.6-Liter Engine To Inspect And Replace The Left Axle Shaft Of The Transaxle Differential To Prevent It From Separating From The Transaxle
June 2014: Some Model Year 2015 Sonata Vehicles Were Recalled To Replace One Or Both Front Brake Calipers Because They Could Fracture
June 2014: Hyundai Suspended Sales Of Certain Model Year 2015 Sonatas On Which The Power Steering Assist Didn't Function Properly
---
CAR DETAILS
Drive
Powertrain
The Hyundai Elantra offers five four-cylinder gasoline engine choices in the United States: a standard 185 hp naturally aspirated 2.4-liter, a 178 hp turbocharged 1.6-liter, a 245 hp turbocharged 2.0-liter, and two hybrids — the 193 hp Sonata Hybrid and 202 hp Sonata Plug-in Hybrid. Both hybrids combine a 2.0-liter four-cylinder Atkinson cycle gasoline engine with electric motors, batteries, and a six-speed auto. The base engine offers good bang for the buck, while the 1.6L turbo unit higher torque offers slightly quicker acceleration. The Sport 2.0T model is slower than expected. Eco-conscious customers should go for the Sonata Hybrid — the Plug-in Hybrid is a too big compromise.
Handling
Compared with the previous-generation model, the Sonata drives confidently for a front-wheel-drive car, but that's not to say it's a sports sedan. It feels composed through turns and offers a nice balance between ride quality and handling — obviously favoring the former. The driving experience is not involving, however, and that's disappointing especially on the Sport 2.0T trim, which is nowhere near as quick as a 245 hp, 260 lb-ft vehicle should be. The Sonata Hybrid is not exciting to drive either, but its six-speed auto is more enjoyable than CVTs typically found in hybrid vehicles. The same goes for the Sonata Plug-in Hybrid, which is penalized dynamically by the extra weight, however. Interestingly, the Eco trim is the pick of the range for driving enthusiasts, as the 1.6-liter turbo packs more punch than both the standard 2.4-liter and the force-fed 2.0-liter.
Safety
The NTHSA has assessed the Hyundai Sonata and Sonata Hybrid's safety with an overall five-star rating, with a maximum of five stars for frontal crash and side crash, and four stars for rollover. The Sonata Plug-in Hybrid was not tested but should be equally safe. The IIHS rated the Sonata similarly, giving it a maximum "Good" rating for moderate overlap front impact and side impact, as well as for roof strength and head restraints & seats. However, it got an "Acceptable" mark in the trickier small overlap front crash, "Basic" for front crash prevention, and a "Marginal" score for the ease of use of child seat anchors.
---
Interior
Comfort
That is one of the Sonata's top qualities. Whether we're talking about the ride, quietness, and refinement, the Korean midsize sedan is a very comfortable car. Particularly remarkable are the quiet cabin and the top-notch ride quality — the Sonata soaks up road irregularities with confidence and effortlessly. Even the base seats are comfortable and suitable for long-distance cruising, but in the Sport 2.0T they feature additional bolstering for better lateral support in corners. It takes a little time to get comfortable behind the wheel, and the controls are easy to use and straightforward.
Quality
Compared with the previous-generation model, materials and build quality have improved — even on the base SE trim level. Higher grades get additional cabin accents and plusher door covers that are comparable to those of the Sonata's rivals. Overall build quality is solid, with excellent fit and finish as well as a good selection of materials. The Limited trim is particularly attractive, thanks to its two-tone color schemes and new wood grain trim. Regardless of trim levels, the layout of the dashboard is rather bland, though.
Practicality
The Sonata offers more than generous space for four adults and their luggage. Headroom and legroom are ample for all occupants, but those who are taller than average will have limited headroom on the rear seats because of the Sonata's sweeping roofline. For shorter distances, three people can travel decently in the back, although the transmission tunnel may affect legroom a little. Conventionally-powered Sonatas have a bigger than average trunk, with a volume of 16.3 cu ft and standard 60/40-split-folding rear seat. However, the batteries eat into the cargo capacity of the Sonata Hybrid (13.3 cu-ft) and Sonata Plug-in Hybrid (9.9 cu-ft).
Infotainment
The seventh-generation Sonata gets a new 7-inch touchscreen replacing the 5-inch unit from the previous model. The interface is intuitive and easier to operate thanks to its larger size. The optional navigation system offers clear maps and comes with an even bigger, 8-inch display. Both screens have sharp resolutions and attractive fonts. If touching a screen while driving is not your cup of tea, though, Hyundai offers physical buttons for essential functions such as radio, media, phone, and navigation.
---
Budget
Efficiency
The base 2.4-liter four-cylinder engine in a 2017 Sonata offers reasonable fuel economy: it's EPA-rated at 29 mpg combined (25 mpg city/36 mpg highway). The Sonata equipped with the 2.0-liter turbo-four fares worse, though, averaging 26 mpg combined (22 mpg city/31 mpg highway). The most economical version (not including the hybrids) is the 1.6-liter turbo, which returns 31 mpg combined (28 mpg city/36 mpg highway), thanks in part to the seven-speed, dual-clutch transmission (all other models come with a standard six-speed auto). The Sonata Hybrid returns 40 mpg combined (38 mpg city/43 mpg highway), while the Sonata Plug-in Hybrid is rated at 99 MPGe combined, thanks to its all-electric driving range of 27 miles (43 km).
Equipment
Standard equipment is generous even for the base SE trim level. Besides what has already been mentioned, the list includes 16-inch alloy wheels, air-conditioning, automatic headlights, cruise control, heated mirrors, full power accessories, rearview camera, a six-speaker sound system with CD player, Android Auto and Apple CarPlay compatibility, and more. The mid-range Limited grade adds creature comforts such as a sunroof, leather upholstery, heated front and rear seats, dual-zone automatic climate control, a six-way power passenger seat, and more.
Acquisition
A base 2017 Hyundai Sonata SE starts from $21,950 (excluding a $835 destination charge) — slightly cheaper than a 2017 Honda Accord LX which starts from $22,455 (plus $875 destination) or a 2017 Toyota Camry LE ($23,070 plus $885 destination). Taking into account that the Sonata has a more generous standard equipment, it makes sense as an acquisition for those who don't want to buy the cars everyone else does. Whatever you do, keep in mind that the resale value for mid-range Sonata models is higher than for entry-level versions.