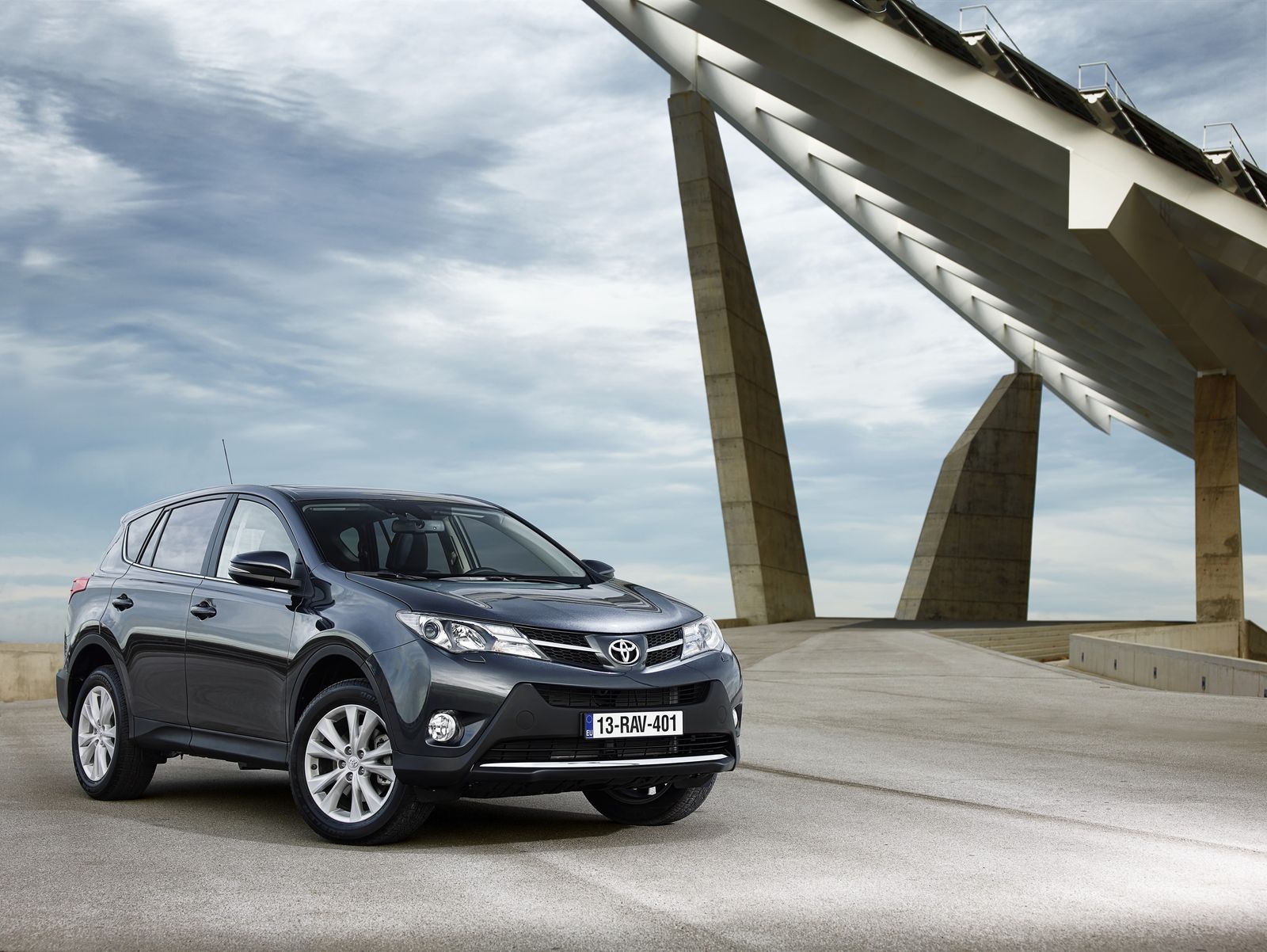 The fourth and current generation Toyota RAV4 (XA40) was introduced in 2012 on US soil, at the Los Angeles Auto Show. European sales kicked-off one year later with customers having to choose between a 2.0-liter gas engine or two diesel variants – a 2.0-liter engine followed by a 2.2-liter unit. A couple of changes were operated by Toyota regarding the engine lineup, which now offered only in-line four-cylinder units, as well as regarding the model wheelbase, reduced to a single size. Main rivals: Ford Kuga, Mitsubishi Outlander, Mazda CX-5 and Honda CR-V.
---
PROS & CONS
Pros
Strong Points
Very Spacious Cabin
Big Boot
Reliable
Good Resale Value
Recommended Versions
The 2.0-Liter Diesel Engine Is The Most Frugal In The Lineup
Go For The 2.2-Liter Turbodiesel If You Need To Tow Stuff
Go For The 2.2-Liter Turbodiesel If You Need To Tow Stuff
---
Cons
Weak Points
Weak Engines
Expensive To Run
Low Refinement
Disappointing Quality
Stay Away From
Base-Spec Versions
Front-Wheel Drive Variants, Unless You're Not Planning To Leave The City
---
Attention
Known Problems & Recalls
Most Complaints Are Pointed At Problems With Interior Accessories
Clients Have Also Been Blaming Body Paint Issues And Ac / Heater Problems
Some 2013-2014 Models Have Been Recalled For Minor Exterior Lighting Issues And Trailer Hitches Malfunction
---
CAR DETAILS
Drive
Powertrain
Toyota went easy on the gas line-up for the fourth generation Toyota RAV4, offering only one choice, namely a 149-horsepower engine working together with a CVT gearbox. In the diesel camp, the 2.0-liter offers 122 horsepower and can be mated to a manual six-speed transmission. The more powerful 2.2-liter, 148-horsepower mill is available with four-wheel drive only and can be connected to a six-speed manual transmission or as an option, to a six-speed automatic gearbox. Although performance figures looks decent on paper, most customers will go for the diesel engines, but these units are far from being flawless, as you'll feel them basically running out of power. In order to correct that, you'll have to work the transmission hard.
Handling
There's a big difference between the fourth-generation Toyota RAV4 and its predecessors in terms of handling. Previous models offered a good dynamic behavior for a small SUV, but things are not the same with the latest RAV4. However, the car feels safe and stable regardless of road conditions, but nonetheless, it's a car made for urban areas although it hasn't completely lost its off-road skills. You'll appreciate the good level of grip and the soft ride, although expect a hefty amount of body roll when cornering, especially on tight bends. Plus, there's not too much precision in the steering, although it's rather easy to maneuver the car in thigh spots.
Safety
The RAV4 was awarded five stars at the Euro NCAP crash tests, where it also earned a rating of 89% for adult occupant protection and 82% for child occupant protection. That performance was enhanced by the seven airbags available on every fourth-generation Toyota RAV4 model and the front seats built to counter the effects of whiplash. In addition, safety features like the Blind Spot Monitor, lane departure warning and the auto high beam assist sum up an extensive safety package.
---
Interior
Comfort
Comfort-wise, the RAV4 does its job without a fuss, mostly due to the great amount of space available inside the cabin. The driving position is high and visibility excellent, just as you'd expect, but note that only top-spec variants come with proper lumbar and lower-back support. However, the most important aspect lies in the fact that the fourth-generation Toyota RAV4 improved in terms of comfort if we look at its predecessors. Those sitting behind will experience the more generous legroom thanks to the longer wheelbase, while noise is better kept under control, so expect a silent cruise at higher speeds, especially on the motorway. Go for the diesels and the amount of engine noise in the cabin will go up a bit, but nothing too disturbing.
Quality
As it is the case with almost every model built by Toyota, the fourth-generation RAV4 displays a good overall quality and a sturdy build. This means residual values should be strong for the current generation. In addition, you should keep in mind that it's the mid-range equipment trims that have the most appeal towards customers, more frequently in combination with the all-wheel drive system.
Practicality
First things first: boot space is rated at 547 liters and the tailgate is top-hinged, replacing the sometimes impractical side-hinged solution offered by the previous generations. In addition, Toyota kept the 60:40 split-folding rear seats in place, a solution that not only increases boot space to 1,000 liters but also allows you to transport large items. There are plenty of storage spaces, cubby holes and pockets spread around the cabin, so you'll be able to store a lot more objects than your phone, a cup or a bottle of water.
Infotainment
The centre piece here is the Toyota Touch multimedia system with DAB digital radio, Bluetooth connectivity and a rear-view camera display. However, Toyota Touch can be taken a notch further with the Touch & Go option (of course, you'll have to pay extra for it) which brings satellite navigation with 3D maps, access to email and Google search. Reading the Sat-Nav might be a bit difficult in direct sunlight and the interface might be glitchy every now and then.
---
Budget
Efficiency
While being the most refined option available under the RAV4's hood, the gas engine offered by Toyota is not as efficient as its diesel counterparts. We're talking about an average of 39.2 mpg, which some clients might find too expensive. In the diesel camp, the 2.0-liter unit turbodiesel offers an average fuel consumption value of 57.6 mpg while the beefier 2.2-liter D-4D mill settles for 50 mpg in the combined cycle. Furthermore, the cheapest variant to buy and run is the 2.0-liter Active diesel, while the most popular so far proves to be the 2.2-liter Invincible diesel with the automatic gearbox.
Equipment
As usual, Toyota keeps the RAV4 well-equipped in all trim levels. For example, the entry-level Toyota RAV4 comes with 17-inch alloy wheels, air-con, Bluetooth and fog lights. Go up a notch and you'll find amenities like the Toyota Touch multimedia system, cruise control, electrical tailgate, automatic headlights and windshield wipers plus electric folding mirrors. The top-of-the-range configuration adds roof rails, keyless entry and start, heated seats and parking sensors.
Acquisition
The recipe is simple in this regard: the fourth-generation Toyota RAV4 is, all in all, a comfortable and practical proposition. Nevertheless, keep in mind that the interior only looks expensive and might be hard to digest from a visual point of view for most customers. But it keeps the advantages that turned the RAV4 name into an icon, namely safety and predictability on the road. Also, fuel economy is competitive compared to what its rivals deliver, but you should also know the RAV4 is not the most exciting to drive SUV out there.