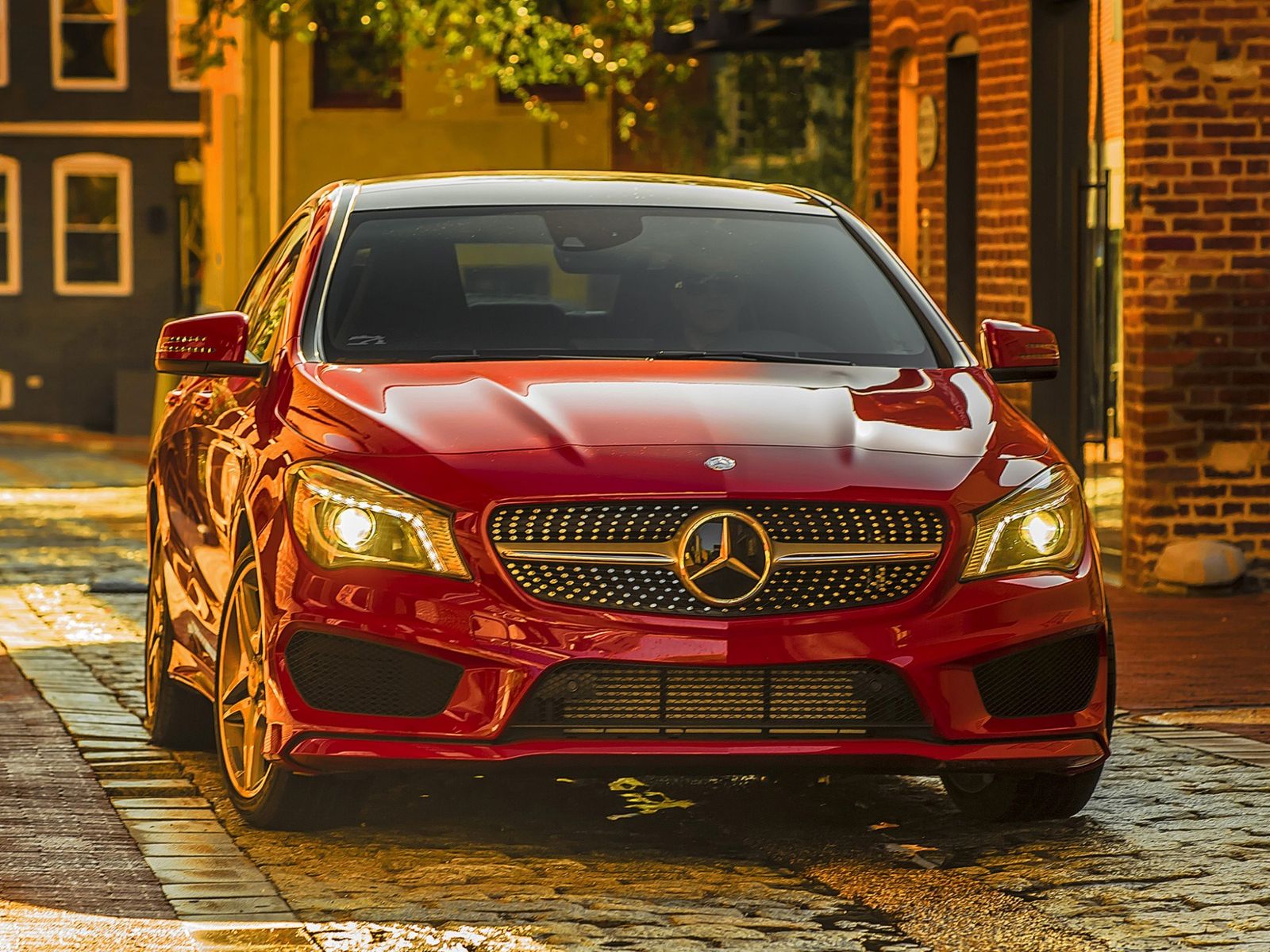 The Mercedes-Benz CLA is the brand's first front-wheel drive sedan (or four-door coupé as it likes to call it), as well as the most affordable vehicle the company sells in the United States. Based on the same front-wheel drive platform as the GLA, A- and B-Class, the CLA is only sold as a four-door coupé in the U.S., while Europe also gets a CLA Shooting Brake variant. The CLA targets premium vehicles like the Audi A3 Sedan and Acura ILX, as well as non-premium models from mainstream car manufacturers.
---
PROS & CONS
Pros
Strong Points
Cheapest Entry Ticket Into The World Of Mercedes-Benz Luxury
Powerful Engines (U.s.)
Good Standard Equipment
Fuel-Efficient Diesel Versions (Europe)
Stellar Performance From Cla 45 Version
Recommended Versions
Cla 250 (U.s.)
Cla 220 D (Europe)
Cla 220 D (Europe)
---
Cons
Weak Points
Limited Headroom In The Back (Sedan)
Uncomfortable Ride (On 2014 Models With Standard Sports Suspension)
Jerky Dual-Clutch Transmission At Low Speeds
Poor Rear Visibility
Stay Away From
Optional Sports Suspension
---
Attention
Known Problems & Recalls
Mercedes-Benz Recalled Certain 2014 Models In July 2015 To Check Passenger-Side Interior Fuse Boxes That May Have Been Incorrectly Installed.
Some 2015 Cla 250 And Cla 250 4Matic Models Were Recalled In October 2015 To Replace Intake Or Exhaust Camshafts Whose Welds Could Fail And Possibly Cause Engine Damage Resulting In A Stall.
Many Customer Complaints About 2014 Models That Are Going Suddenly In "Pre-Safe" Mode.
---
CAR DETAILS
Drive
Powertrain
Mercedes-Benz offers U.S. customers only two powertrains: a 208 hp 2.0-liter turbocharged four-cylinder in the entry-level CLA 250 model (also available with the 4Matic all-wheel-drive system) and a 375 hp 2.0-liter turbo four in the Mercedes-AMG CLA 45 performance model. The base engine gives the CLA a hot hatch-like acceleration (0-60 mph takes 6.9 seconds) and good fuel economy (30 mpg combined). The engine doesn't sound that refined at low revs, but it delivers a sporty noise when revved hard. As usual, Europeans have a lot more engines to choose from, including three different diesel units.
Handling
With the CLA, Mercedes-Benz didn't quite achieve a harmonious balance between precise handling and comfort. 2014 models came equipped as standard with a sports suspension and it's best to avoid those if you don't like an overly stiff ride quality. Mercedes has fixed that on 2015 models, which got a more comfort-oriented standard suspension. Handling-wise, 2014 CLAs were obviously more precise, while 2015 models with the more comfortable suspension lean more in corners and exhibit more body roll. The electric steering is surprisingly accurate, and the front-wheel drive setup doesn't spoil the fun at all. As expected, the CLA 45 offers excellent handling capabilities.
Safety
Neither the NHTSA nor the IIHS performed a crash test with the Mercedes-Benz CLA. However, Euro NCAP assessed the CLA in 2013 and gave it a full five-star overall rating. The CLA scored 91 percent for adult occupant protection, 75 percent for child occupant protection, 74 percent for pedestrian protection and 81 percent for safety assist systems. Standard safety features include up to ten airbags, ABS, stability and traction control, as well as technologies such as Collision Prevention Assist Plus, Attention Assist, a blind spot warning system and Lane Keeping Assist.
---
Interior
Comfort
Most people won't have a hard time finding a comfortable driving position in the CLA. However, if you are taller than average, you'll have less headroom than in the Audi A3 Sedan, for example. The front seats are quite comfortable on longer drives, but they lack under-thigh support on pre-2016 models. Mercedes-Benz has bragged a lot about the CLA being the most aerodynamic production car, with a drag coefficient of 0.22. You will realize they weren't exaggerating while cruising in the CLA, as very little wind noise enters the cabin. The ride is more comfortable than in the A-Class, especially if you stay away from the sports suspension and the run-flat tires.
Quality
While the CLA's cabin has a stylish appearance, the central display screen looks a bit out of place – more like an aftermarket addition fitted to the dash. Although the CLA lacks the premium feel of the C-Class and the materials are not as plush as those in the Audi A3 Sedan, it feels well built for an entry-level premium sedan. The big analog gauges, the round air vents that remind of the SLS AMG supercar, and the tight fit and finish help create a pleasant ambiance inside.
Practicality
The Mercedes-Benz CLA is not the kind of car you choose for its practicality credentials. It's the CLS-inspired design that sells the CLA, and that comes with some sacrifices. The rear seats are not recommended for anyone over 5 ft 10, as the swooping roofline affects headroom. Legroom is not great either, but the CLA makes up for it with the boot, which is almost as big as the C-Class sedan. The CLA's trunk can accommodate 11.7 cu-ft according to the U.S. standard or 470 liters according to Europe's VDA measurement. The CLA Shooting Brake is more practical and offers a slightly bigger trunk (+25 liters), although not as big as one would expect from an estate.
Infotainment
The CLA gets Mercedes' Comand infotainment system that pairs the awkward-looking 7-inch central display with a rotary controller placed on the center tunnel. The system lacks a touchpad as found on the C-Class. For the 2016 model year, Mercedes-Benz has updated the infotainment system with the latest software introduced in newer models like the C-Class and S-Class. Chances are you won't miss the touchpad, as the rotary controller and dedicated buttons on the center console for navigation, radio, telephone, and so on grant an user-friendly experience.
---
Budget
Efficiency
In the United States, the most fuel-efficient model is obviously the CLA 250, which returns a combined 30 mpg in front-wheel drive configuration. Choosing the all-wheel-drive CLA 250 4Matic means trading 3 mpg in combined fuel economy, while upgrading to the mental CLA 45 4Matic means settling for a combined fuel economy rating of 26 mpg. The most fuel-efficient CLAs are those with diesel engines sold in Europe, though. The economy champion is the CLA 180 d equipped with a Renault-sourced 1.5-liter diesel engine, which averages as low as 3.7 l/km.
Equipment
The base Mercedes-Benz CLA 250 offers a decent level of standard equipment including 17-inch alloy wheels, an eight-way power driver seat with memory function, a tilt-and-telescoping steering wheel, MB-Tex premium vinyl upholstery, dual-zone automatic climate control, ambient lighting, and a 60/40-split folding rear seat. The infotainment system offers standard Bluetooth phone and audio connectivity, HD radio, a USB port, a media player interface, a CD player and an auxiliary audio jack. Be careful with the optional extras, though, as you can end up with a CLA that costs as much as a C-Class.
Acquisition
Mercedes-Benz launched the 2014 CLA in September 2013 with a $29,900 starting price, but that turned out to be just a marketing gimmick. The base 2016 model starts from $32,050, making it about $1,100 more expensive than its key rival, the 2016 Audi A3 Sedan. Sticking to the base CLA 250 in standard configuration is a wise choice – otherwise, the pricey optional extras make it unreasonably expensive for an entry-level Mercedes-Benz sedan. The CLA 45 4Matic is for hardcore performance car enthusiasts only.